Is your business going on the right track to meet your business objectives? In order to analyze what works on your site and what changes you need to make, you'll need to focus on some key eCommerce metrics. Let's take a look at some key eCommerce metrics you need to track on your site to boost your business.
1. Newsletter Form Conversions
It goes without saying that your email list is one of the biggest online assets for your eCommerce businesses. Building an email list enables you to connect with your leads and customers, improve onboarding experience, make your customers more engaged with your brand and retain your customers for long.
In order to build a sustainable eCommerce business, it's essential to grow your email list constantly. This is why keeping an eye on newsletter form submissions is vital for your business.
Using the MonsterInsights' Forms addon is the easy way to track newsletter form submissions in Google Analytics. With the Forms addon, you don't have to create a separate Google Analytics goal for every form you publish on your site. Upon activating the addon, it automatically tracks form submissions as Google Analytics event without further configuration.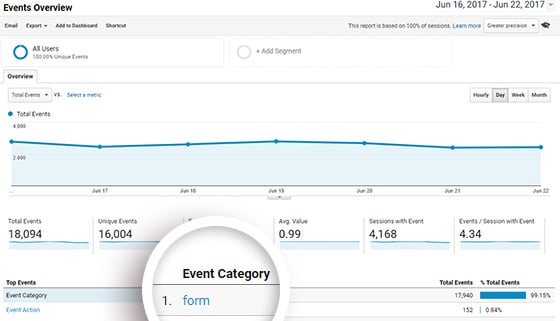 Read how to track newsletter form conversions.
2. Transactions
To be able to track eCommerce transactions on your store, you'll need to enable eCommerce tracking with Google Analytics.
By enabling eCommerce tracking, you can track all basic key performance indicators (KPIs) that are vital to your business. This way you can make data-driven decisions to generate more sales and revenue from your eCommerce store.
While it's not obligatory, you can turn on Enhanced eCommerce tracking to get detailed insights into more KPIs like shopping cart abandonment rate.
3. Conversion Rate
In addition to tracking eCommerce transactions and revenue, you'll also have to track micro conversions in your store that you deem to be of value. Tracking all user interactions allows you to figure out which interaction leads to eCommerce sales.
With Google Analytics, you can track all user interactions that you find valuable, including white paper downloads and mobile app downloads by setting up Google Analytics goals on your site. To find the conversion rate, you can go to Conversions » Goals » Overview.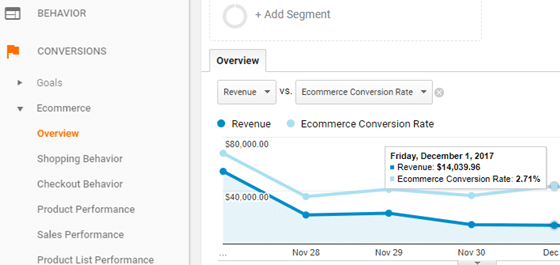 4. Gross Margin
The revenue you generate is the bottom line of your business whereas gross margin is how much is left with you after the bills are paid.
Gross margin is your company's total sales revenue minus its cost of goods sold (COGS). The higher the gross margin, the more you retain on each dollar of sales after other costs.
Calculating your gross margin is important as you look to reinvest in growing your business.
5. Average Order Value
Do you want to know the average value of eCommerce transactions in your online store? You can easily figure it out by looking at the Average Order Value metric in Google Analytics.
Average order value (AOV) tells you on average how much revenue each order brings in. Focusing on AOV gives you insights into how to entice your customers to spend more on your store while making a purchase.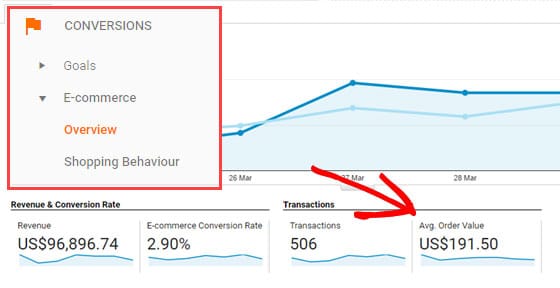 A few ways to improve the AOV of your store are:
Promote bulk orders: Offer a special discount when your customers make bulk orders.
Set a minimum free shipping threshold: If you don't offer free shipping on every order, you might make a minimum free shipping threshold to persuade users to spend more on your store to get free shipping.
Upsell: You can promote addon products to your customers once they've added a product to the cart.
Read how to find your average order value in Google Analytics.
6. Customer Acquisition Cost
Customer acquisition cost (CAC) is a critical metric that can make or break your eCommerce business.
The customer acquisition cost tells you how much you spend in your marketing campaigns to acquire a new customer. It can be calculated by dividing all the marketing spends by the number of customers acquired.
Obviously, the lower the cost you spend to acquire a customer, the higher the ROI.
7. Customer Lifetime Value
Lifetime value is projected revenue that an average customer will generate during their lifetime as a customer. Tracking the lifetime value of your online shop is essential because it allows you to make informed decisions on customer acquisition costs, customer retentions rates, etc.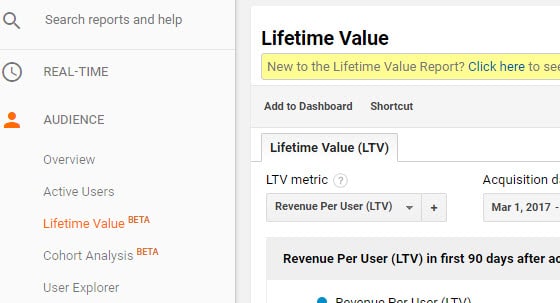 For example, once you know your average customer lifetime value, you can make informed decisions on how much you could spend to acquire new customers and retain them to make your business profitable. You can also compare your marketing channels to see which one drives you the best ROI so that you can make budget adjustments based on the data.
Learn how to find your lifetime value report in Google Analytics.
8. Customer Retention Rate
It's cheaper to retain a customer than acquiring new ones. Sadly, only 32% of customers actually order second time over the course of the first year as a customer, meaning most of your customers leave your site after their first purchase.
This is mainly because most customers are in the process of filling a need and aren't interested in a long-term engaging relationship with your brand. If you have a retention strategy in place, you can nurture your first-time buyers and persuade them to make repeat purchases.
By using the Shopping Behavior report that you get by navigating to Conversions » Ecommerce » Shopping Behavior, you can analyze the performance of your first-time and repeat customers.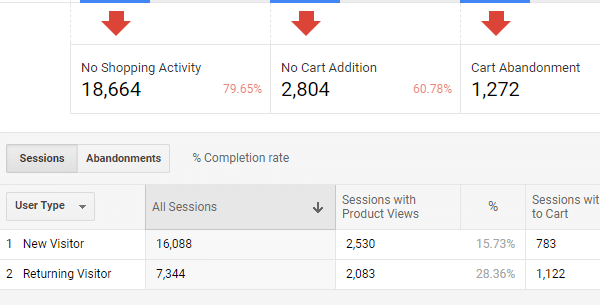 9. Shopping Cart Abandonment Rate
Shopping cart abandonment is the single largest obstacle that eCommerce merchants to overcome.
In order to understand what makes your customers abandon the cart before completing, you need to track your shop's abandonment rate in first hand.
To be able to track your abandonment rate, you need to enable Enhanced eCommerce tracking on your site. You can then find your cart abandonment rate by going to Conversions » Ecommerce » Shopping Behavior in your Google Analytics report.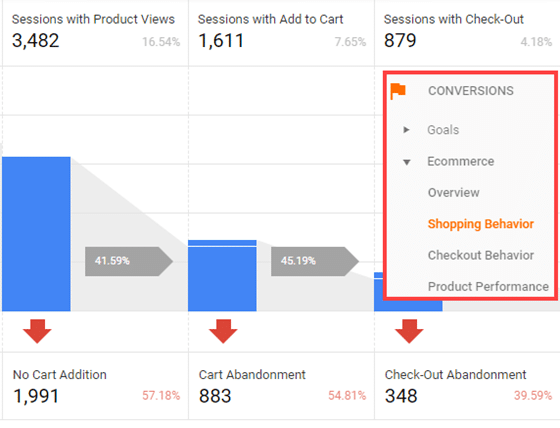 Read 11 smart tactics to reduce shopping cart abandonment.
10. Net Promoter Score
Net Promoter Score is a measurement of customer satisfaction. With Net Promoter Score, you can label your customers on the scale of 1 to 10 based on a survey question – "how likely are you to recommend us to your friend?"
According to the consulting firm Bain & Company, who built the NPS, every company's customer base can be divided into 3 categories.
Promoters: (answered 10 to 9) These are loyal brand advocates who spread the word out about your company and keep buying from your store.
Passives: [answered 8 or 7] These customers are satisfied but will likely easily wooed by the competition.
Detractors: [answered 6 to 0] These are unhappy customers trapped in a bad relationship.
To track NPS, you can use Retently that helps you effectively measure customer satisfaction and turn detractors into promoters.
If you enjoyed this article, you may also want to check out these smart ways to increase your sales funnel conversion rate. And don't forget to follow us on Twitter and Facebook for more Google Analytics tutorials.