Wondering how to find realtime reports in Google Analytics? Realtime reports show you activity on your site right when it's happening. You can view the number of active users on your site at any given moment, their geographic locations, the pages they're viewing, and more.
Realtime reports are really useful for marketers to track responses to marketing campaigns, product releases, and new articles. In this article, we'll show you how to find realtime reports in Google Analytics and share some tips on how to use them.
Video Walkthrough
1. Find Google Analytics Realtime Reports in Your WordPress Dashboard
Let's get started with the simplest way to see Google Analytics Realtime reports. If you use the MonsterInsights plugin with WordPress, you'll find Google Analytics Realtime reports right on your dashboard.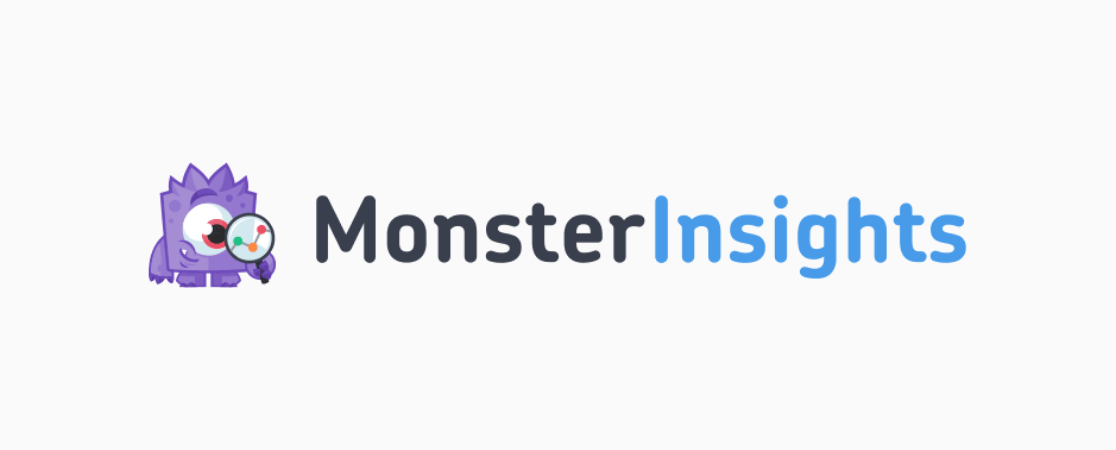 MonsterInsights is the best Google Analytics plugin for WordPress. It allows you to install Google Analytics into WordPress sites with just a few clicks, so you can see comprehensive reports without leaving WordPress.
First, you'll need to download the MonsterInsights plugin. Make sure you get MonsterInsights Plus or above in order to get access to Realtime reports in WordPress.
After you get MonsterInsights, go to the Downloads area and click Download MonsterInsights to save the plugin on your computer.

Now, log in to your WordPress site and go to the Plugins » Add New page.

Click the Upload Plugin button on the next screen, then browse and select the MonsterInsights plugin .zip file that you just downloaded. Go ahead and click Install Now and the plugin will install itself.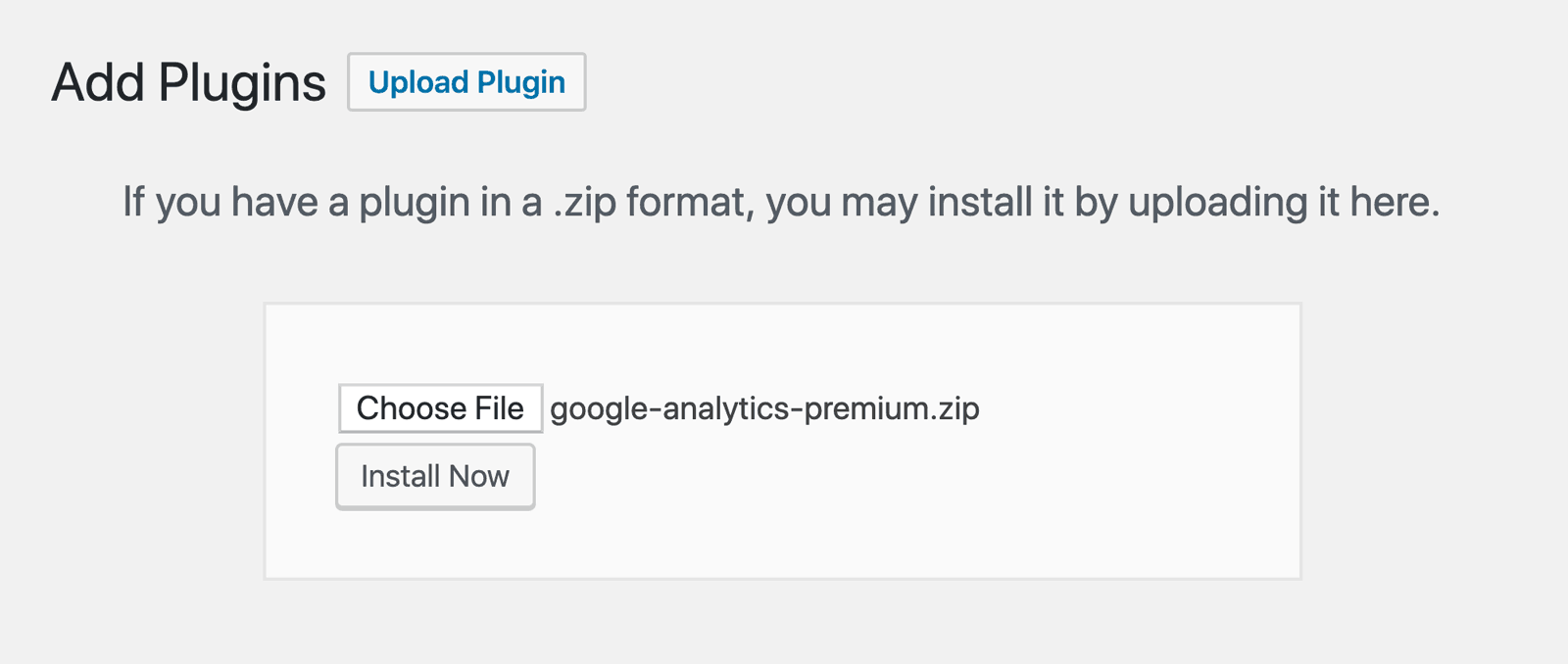 Next, we'll click the Activate Plugin button, and MonsterInsights is running on your site!

At this point, simply follow the MonsterInsights Setup Wizard to finish connecting your site to Google Analytics. It will start collecting data right away, but you may need to wait up to 24 hours to see accurate information about your site traffic.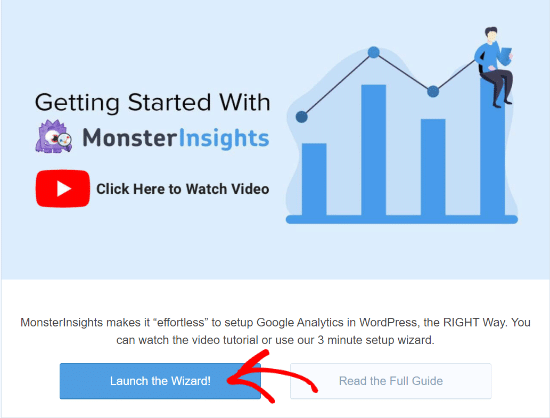 For more detailed instructions, here's our step-by-step guide on how to set up Google Analytics in WordPress with MonsterInsights.
How to View Realtime Reports in WordPress
After you've connected your WordPress site to Google Analytics, you can view Google Analytics Realtime reports on your WordPress dashboard. Go to Insights » Reports in the WordPress dashboard and then click the Realtime tab.
Now you can see your site's Realtime reports, as shown in the example screenshot below: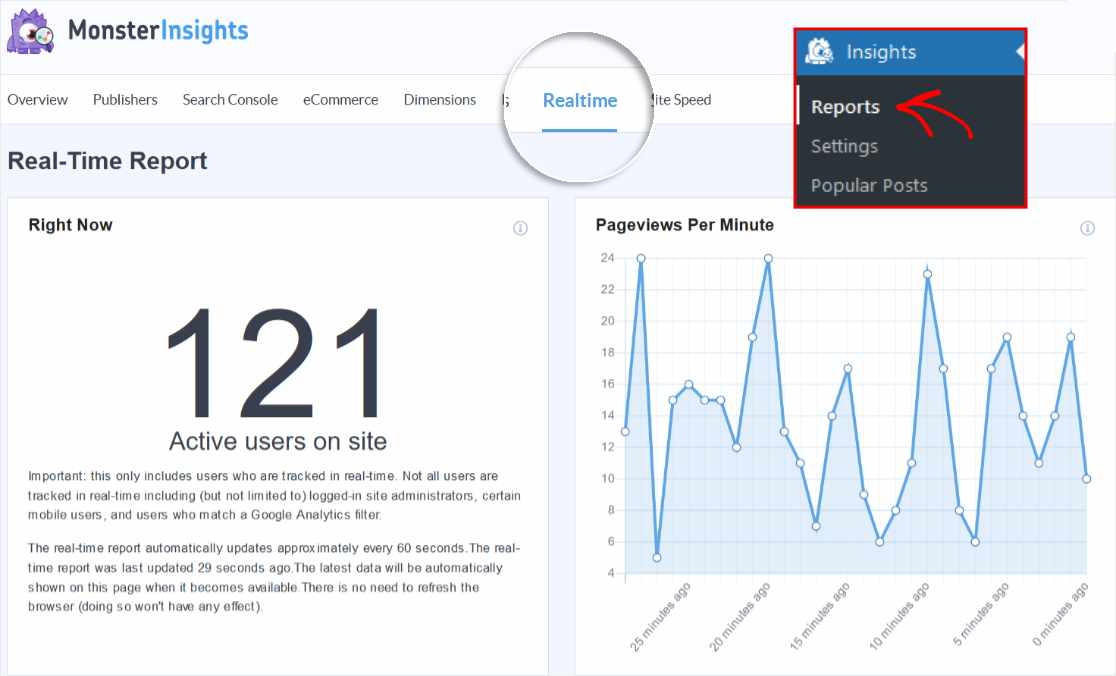 The MonsterInsights Realtime report includes the following information:
The number of active users on your site, updated every minute
Pageviews per minute for the past 30 minutes
Top pages users are viewing on your site
Percentage of visitors on each of your top 50 pages
Top countries visitors on your site right now are browsing from
Top cities where visitors on your site are located
In some reports, like Top Pages, you'll see a button at the bottom that allows you to view all pageviews. When you click the button, the full report opens in Google Analytics.
2. View Realtime Reports in Google Analytics 4 (GA4)
You can also view a realtime report inside your Google Analytics account.
After you've logged in, select the property for which you want to see current visitor activity. Then click the Reports icon in the left sidebar and click on Realtime. You'll see the Realtime overview screen.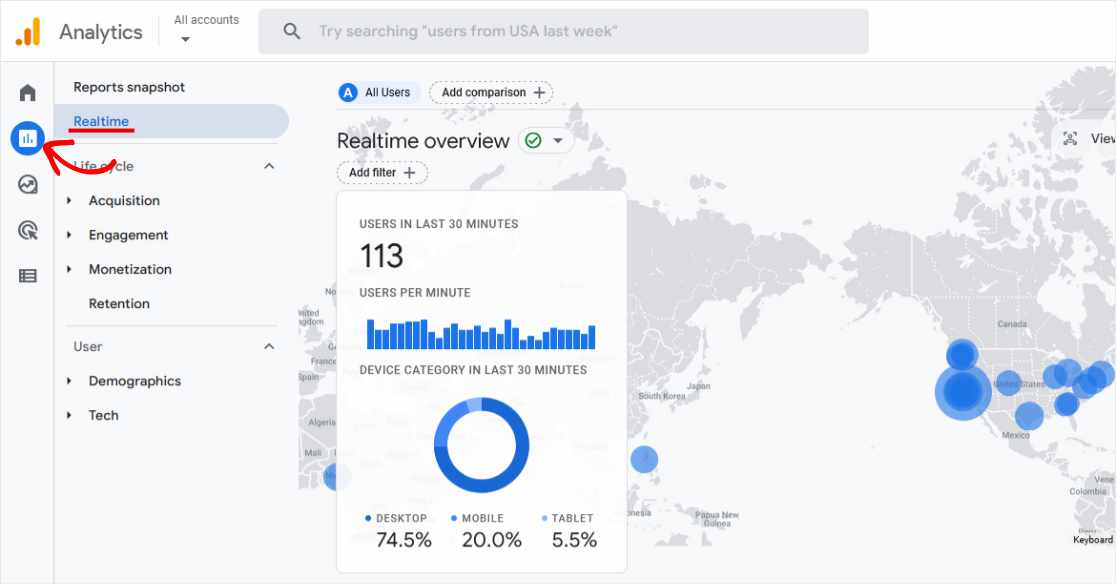 The Realtime overview report in GA4 gives you data about site visitors who've been active over the past 30 minutes. This page gives you a lot of information, including:
Total users, and users per minute over the last 30 minutes
Percentage of users by device category
Users by source, medium, or campaign
Page views by title
Users by audience
Conversions by event name
The Realtime report in Google Analytics 4 also lets you create comparisons. You can find out things like how two marketing campaigns are currently performing, or compare the numbers of active visitors by their age groups.
How to Analyze and Use Realtime Reports
The Realtime reports in Google Analytics are very important for website owners. These reports give you more detailed insights and data to help analyze your marketing campaigns and grow your business.
3 Major Benefits of Using Realtime Reports
1. You can track the number of active users on your site and discover when the busiest times are for traffic. You'll also be able to see exactly what kind of content visitors are consuming at various times of the day. You might use that information to decide when to publish major announcements, product releases, and blog articles.
2. Next, you'll find out how your email marketing, social media marketing, and other paid marketing campaigns are performing right after you send or publish. Is your latest email campaign driving traffic and conversions on the pages you expected?
With Realtime reports, you don't need to wait until a later date to see how users react to new marketing campaigns and new products. If you wait for a week or a month to make adjustments and improvements, you're losing potential sales that you could have converted.
3. Finally, the Top Places data in the Realtime reports will help you to better understand your audience demographics. When you know from where and when most visitors on your site are coming, you can create marketing campaigns that appeal to those specific audiences, and publish them at the right time to maximize conversions.
In conclusion, if you know what to look for and how to use the data, Google Analytics Realtime reports will take your website marketing to the next level.
We hope this article helped you learn how to find Realtime reports in Google Analytics and how to use them. You may also want to read this guide on how to track conversions on your WordPress site.
Not using MonsterInsights yet? What are you waiting for?
And don't forget to follow us on Twitter, Facebook and YouTube for more helpful Google Analytics tips.