The Google Analytics landing pages report is an awesome collection of data that can help you make decisions that'll grow your business.
The landing pages report, though, like any report in Google Analytics, can be overwhelming. How do you find it? How do you use it? What actionable insights can you take from it?
We'll answer those questions for you here in this guide to the Google Analytics landing pages report.
What is a Google Analytics Landing Page?
A landing page in Google Analytics is the page a user first sees (or "lands" on) when visiting your website. For example, if you found this article you're reading right now on Google and clicked on it there, this page is your landing page on our website.
A landing page is the first page a user sees no matter where he or she clicked from, whether it's from Google search results, a link in an email, a link on another website, on social media, or anywhere else.
Where is the Google Analytics Landing Pages Report?
In Universal Analytics, you can find the landing pages report under Behavior » Site Content » Landing Pages: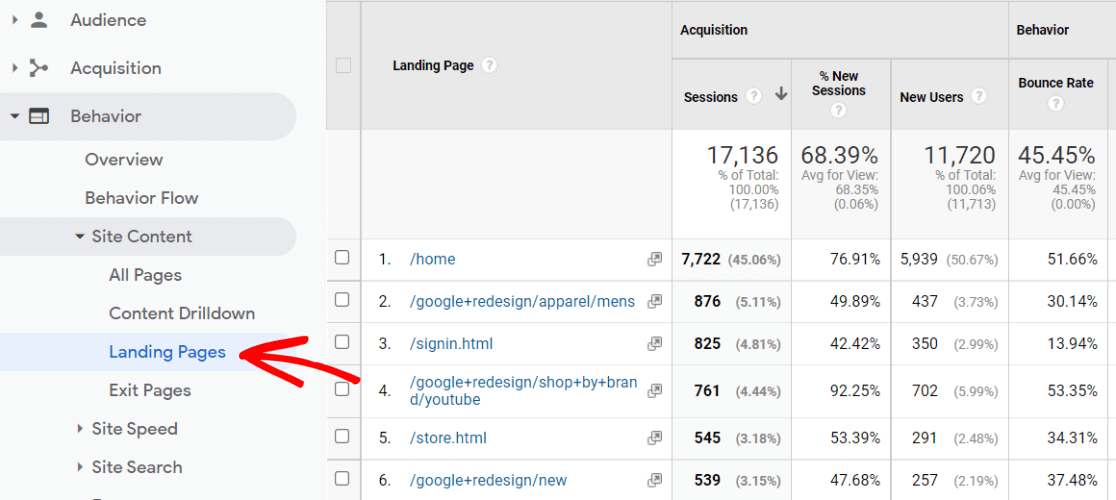 When looking at the data, make sure to choose the dates you'd like to look at with the date selector in the top right corner of Google Analytics: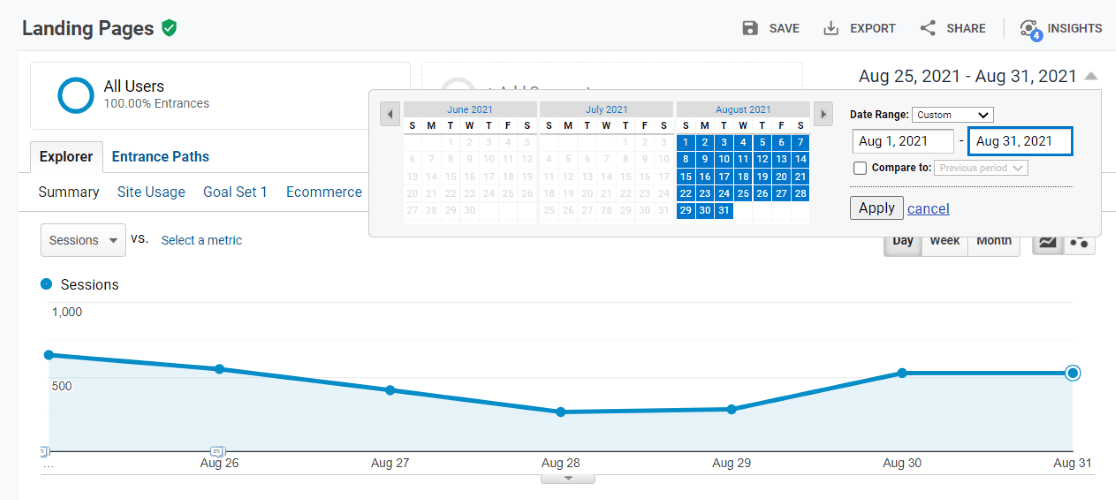 What Data is in the Google Analytics Landing Pages Report?
The landing pages report is a list of the top, or most common landing pages on your site, with a bunch of data points called "metrics" for each page:
Sessions – How many times users started their visit on your site on that particular page
% New Sessions – An estimate of the percentage of users making first-time visits to your site
New Users – The number of users making first-time visits to your site
Bounce Rate – The percentage of users who left without taking action (clicking a button or filling out a form, for example) or visiting another page on your site
Pages/Session – The average number of pages viewed in one session when a user landed on that page
Avg. Session Duration – On average, how long users spent on your site when they landed on that page
Goal Conversion Rate – The percentage of visits that resulted in the conversion you have chosen in the dropdown
Goal Completions – The number of times that goal was completed
Goal Value – The value of the conversions of that goal
The table with all of these metrics looks like this: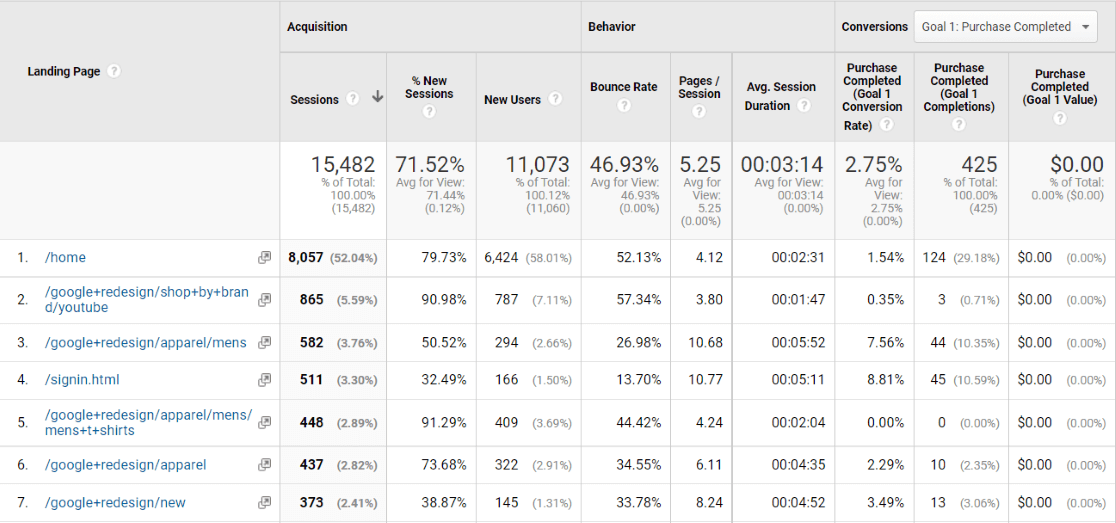 How to Use the Landing Pages Report
Alright, so now you know what data is in the landing pages report. The big question, though, is this: What actionable insights can you take from it? How do you use it to make your website or marketing campaigns better?
Let's go over a few examples.
High Bounce Rate
When you're looking at your list of landing pages, are there a couple that have a higher bounce rate? That means that those pages maybe aren't as engaging as the others.
Ideally, you want your landing pages to pull users further into your website or have them take some sort of action, like filling out a form or clicking a button. If a high number of them are leaving without visiting another page or taking an action, you might be able to improve that page to draw them in further.
For instance, let's say you have a blog post that people are clicking on to read, but then leaving your site right away. To make it better, you could:
Add more links throughout your content to other relevant content on your site
Put a more visible call to action button near the top of the page
Add an enticing offer somewhere in your content
Use a popup or banner to ask visitors to subscribe
Low Sessions
Is there a page that you thought would be further up toward the top of your landing page report, but it's not there?
Maybe you wrote a piece of really good content, or there's a lot of buzz around something right now that you've written about, and you think that page should be getting more landing page sessions.
To get more visits to that page, you could:
Share it on social media
Send it out in an email
Build links to it from other content on your site
Build links to it from other websites
Promote it in an ad campaign
High Average Session Duration
If you have a couple landing pages that are resulting in high average session durations, you can use those pages to inspire some growth-minded decisions.
For instance, let's say you have one particular blog post that's bringing in visitors who are spending quite a while on your site. What is it about the post that's bringing in engaged users? What's working here?
Use the post that's doing well to:
Brainstorm new content ideas that are related
Think about offers or links to other content you could promote in it
Dig into what worked in your marketing strategy. Can you replicate it?
An Easy Way to See Landing Pages in WordPress
If your website is built with WordPress, the easiest way for you to keep tabs on your landing pages is with MonsterInsights.
MonsterInsights is the best Google Analytics plugin for WordPress. It allows you to easily connect your WordPress site with Google Analytics, so you can view all the data that matters most right in your WordPress dashboard.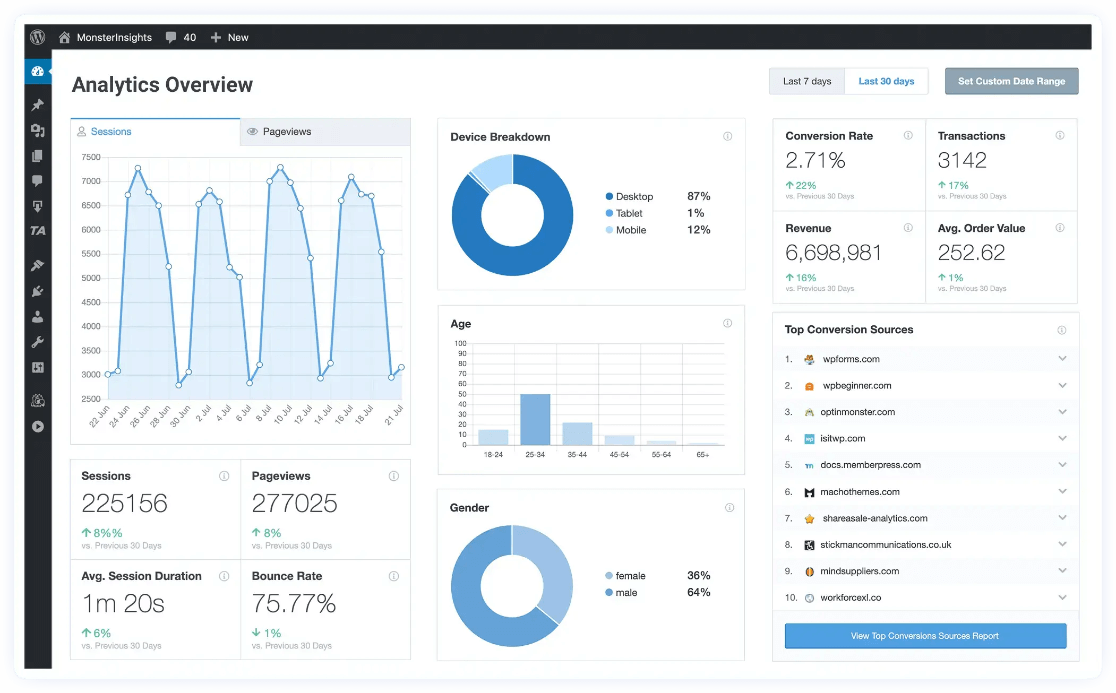 Plus, with the click of a button, you can set up sophisticated tracking features such as event tracking, eCommerce tracking, form tracking, custom dimension tracking, outbound link tracking, and more.
With MonsterInsights, your landing pages report is always available at the click of a button, without having to open Google Analytics.

Get Started with MonsterInsights Today!
We hope you found some great tips in this guide to Google Analytics landing pages. For more on the reports you get when you're a MonsterInsights user, read Your Ultimate Guide to MonsterInsights Dashboard Reports.
And don't forget to follow us on Twitter, Facebook and YouTube for more helpful Google Analytics tips and tutorials.