Want to learn how to isolate specific traffic sources in your Google Analytics account? Learning how to create Google Analytics advanced segments is a great way to find out how site visitors from different traffic sources behave once they land on your website.
In this article, we'll show you how to create advanced segments in Google Analytics.
Why Use Advanced Segmentation in Google Analytics?
You might be asking yourself why using Google Analytics advanced segments is a good idea. After all, you can see plenty of helpful data in other parts of your Google Analytics account.
And, if you use MonsterInsights, the most advanced Google Analytics plugin to date, seeing data such as sessions, pageviews, and bounce rate, right from your WordPress dashboard is super simple.
Not to mention, you can see your website's top referral sources in the Overview Report, which is good for knowing where your site visitors are coming from.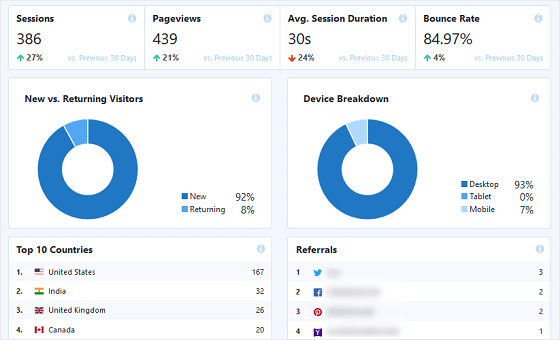 However, there are lots of reasons why you might want to create an advanced segment in Google Analytics:
Check out all standard and custom reports for users and visits that match certain criteria, all from one spot
Include demographics such as age, gender, and interests in your advanced segments
Import other advanced, or custom, segments, created by other Google Analytics users
Share advanced segments with others using a simple sharing link
So, now let's take a look at this in-depth way of seeing information about people that land on your website from different traffic sources.
Step 1: Create a Google Analytics Advanced Segment
In the past, we've discussed how you can use Google Analytics segments to find traffic sources to page on your website. And, while you can still do this, there's another way to narrow down specific data about your site visitors.
The first thing you'll want to do is log into your Google Analytics account. And, if you haven't already, make sure to read up on how to connect Google Analytics to your WordPress website.
Next, go to Audience » Overview and click on the +Add Segment section.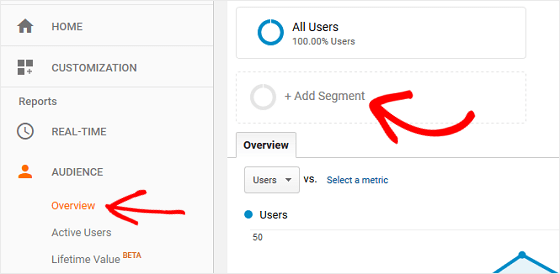 Click on the red +New Segment button.

Step 2: Choose a Google Analytics Advanced Segment
Now you can name your segment and choose from one of five types of segments:
Demographics. Segment users by age, gender, language, affinity category, in-market segment, other, or location.
Technology. Segment users based on OS/version, browser/version, screen resolution, device category, and mobile/device branding/model.
Behavior. Segment users based on sessions, days since last session, transactions, and session duration.
Date of First Visit. Segment users based on the first time they visited your website.
Traffic Sources. Segment users based on how they found you, including campaign, medium, source, or keyword.

Step 3: Customize Advanced Segments in Google Analytics
For example, we'll segment users based on Behavior. To make things simple, we'll only segment our users based on how many sessions have been initiated in the timeframe.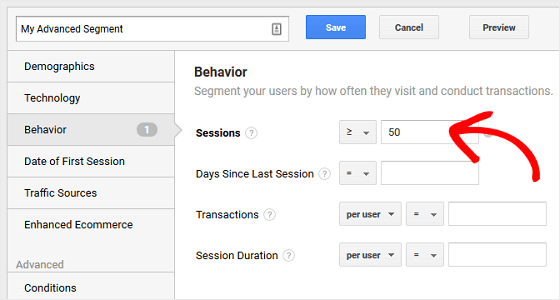 Before you save your segment, you can preview it by clicking on the Preview button.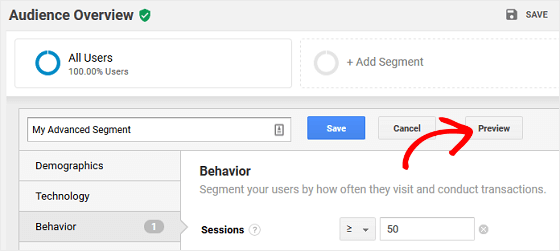 Once you click the Preview button, you'll see updated data on the right hand site.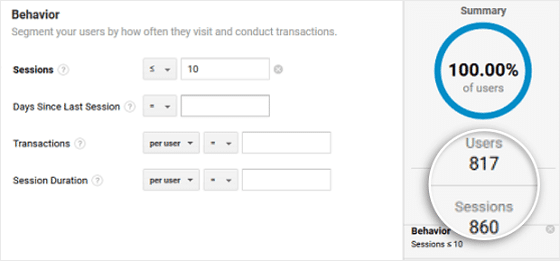 When the segments are set up the way you like, click Save.
Lastly, we'll take a look at the sixth segment type that, when used with MonsterInsights, can help you gather some helpful information about your eCommerce shop.
Let's take a look.
Step 4: Create an Enhanced eCommerce Advanced Segment
Segmenting your users based on traffic sources and their shopping behavior is a great way to learn more about your target audience, find out which traffic sources bring you the most revenue, and places you need to optimize your eCommerce website to nurture more leads and convert more sales.
The only way you'll see the sixth advanced Google Analytics segment type, Enhanced eCommerce, is if you have enhanced eCommerce enabled on your Google Analytics account.
And if you do, you'll get additional eCommerce data in Google Analytics such as:
Shopping behavior
Checkout behavior
Products lists performance
Sales performance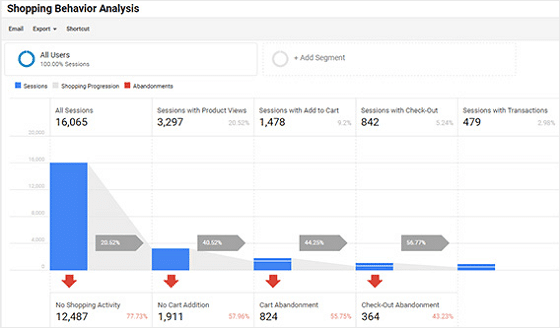 Luckily, if you're using MonsterInsights, and the eCommerce addon, you can enable enhanced eCommerce tracking not only in Google Analytics – for creating advanced Google Analytics segments – but to gather more information about your online store that can help you grow your business using the eCommerce report found right in your WordPress dashboard.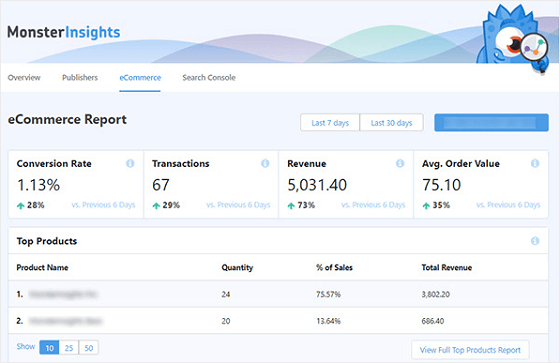 For more details, check out our tutorials on enabling enhanced eCommerce for Easy Digital Downloads and enabling enhanced eCommerce for WooCommerce. This way it's enabled on both your Google Analytics account for creating advanced segments, and in WordPress.
One great example of using enhanced eCommerce in Google Analytics to segment users is to define your segment to show how much revenue your online shop is generating.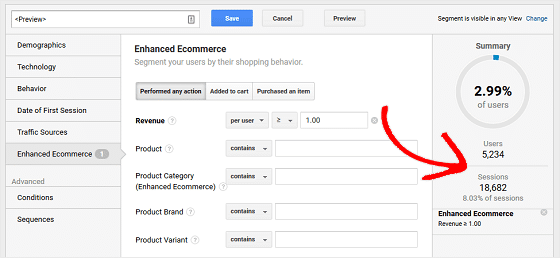 You can also segment users based on product, product category, product brand, and product variant.
Again, you can preview your segment, and once it's the way you want it, click Save.
And there you have it! You now know how to create Google Analytics advanced segments for finding out in more detail how people behave on your website when they come from different traffic sources.
If you want to learn ways to make more money online, read about some eCommerce metrics that can help you boost your revenue.
And don't forget to follow us on Twitter and Facebook for more helpful Google Analytics tips.