You can only make the best decisions about your website and marketing campaigns when you have all the data you need. But which web analytics tools are going to give you the best data? Which tools are going to launch your business's growth?
There are some great web analytics tools out there that can give you the data you need to take your business to the next level. To give you a leg up, we've picked out the best ones.
Let's take a look.
Web Analytics Tools Video Walkthrough
What Are Web Analytics Tools?
Web analytics tools are platforms and software that gather user/visit data on your website. Depending on the tool, they arrange data differently to help you make sense of what visitors are doing on your site. This data then helps you make the right growth-focused business decisions.
9 Best Web Analytics Tools to Use Now
We've tried out a whole bunch of web analytics platforms and tools and hand-picked the best. Let's check them out!
Of course, Google Analytics is in the top spot. While some people find success with other web analytics platforms, Google Analytics is always the one we recommend first. It's constantly being improved and innovated on, it's free, and there's tons of information out there about how to use it (including on our own blog).
Google Analytics is also the most widely used analytics tool out there. So, it's the tool you're going to find the most resources for, and the most people who know how to use it.
A drawback, though, is that Google is obviously a huge company, so you certainly can contact them, but you don't get personalized support like some of the other tools on our list.
If your website is on WordPress, though, you're in luck! Check out our next tool on the list to help you understand Google Analytics and use it way more easily.
Get started with Google Analytics.
If you're a WordPress and Google Analytics user, MonsterInsights is a must-have plugin.
MonsterInsights is the best Google Analytics plugin for WordPress. It allows you to easily connect your WordPress site with Google Analytics, so you can view all the data that matters most right in your WordPress dashboard.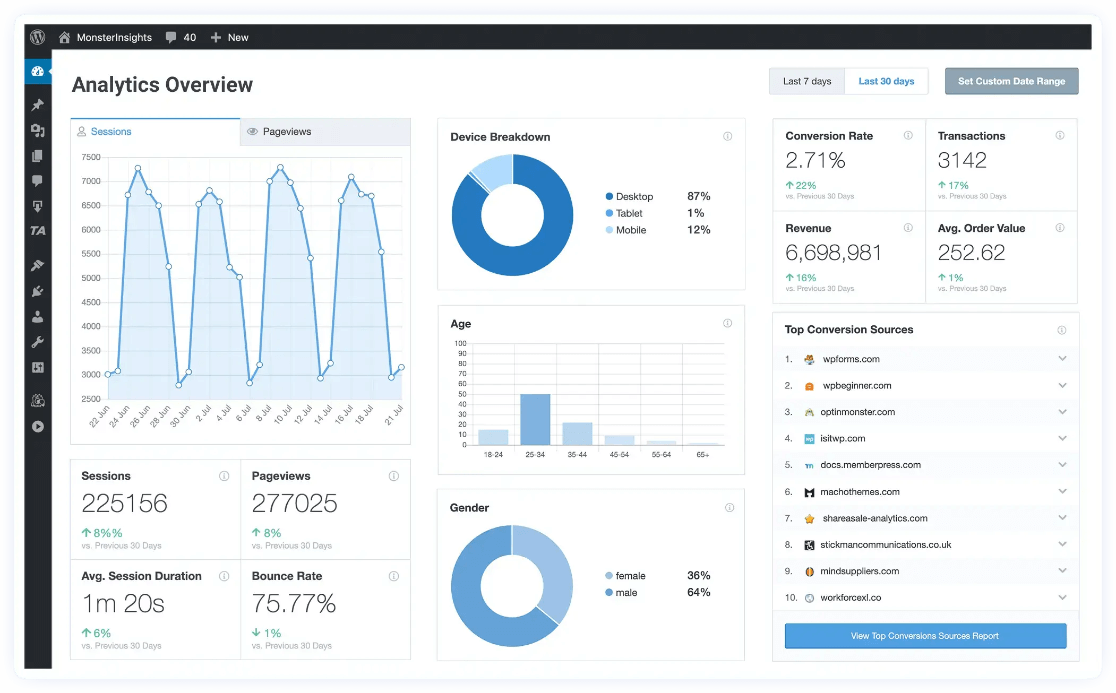 Plus, with the click of a button, you can set up sophisticated tracking features that Google Analytics doesn't come with out of the box, such as:
Button click tracking
Customer journey tracking
Form tracking
Outbound link tracking
Video play tracking
Cart abandonment tracking
And more!
So, if you're using Google Analytics and WordPress, MonsterInsights makes setting up and using Google Analytics a cinch.
Get started with MonsterInsights.
HubSpot is a whole set of marketing tools, including analytics, that can help any business thrive. You can get started with their CRM and then add tools with the Marketing Hub, Sales Hub, or whichever Hubs match your business's needs.
With the Marketing Hub, for instance, you'll get analytics, email marketing, live chat, landing pages, and more.
While HubSpot isn't the most in-depth and advanced analytics, the other tools that you can add on really make it an awesome sales, marketing, and analytics platform.
Mixpanel is a product-focused analytics solution, built specifically for eCommerce websites. With Mixpanel, you can go beneath the surface to learn which features are popular, who your power users are, and the behaviors tied to long-term retention.
You can also build funnels with a few clicks and easily analyze conversion rates.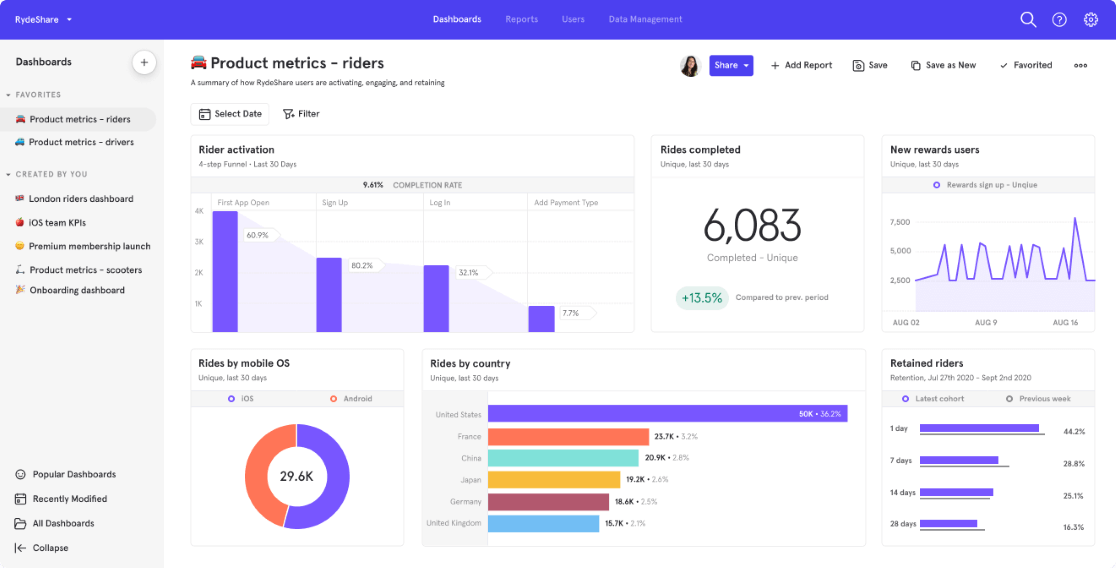 Mixpanel does have a free version to get you started. Then, plans start at $20/month.
Google Search Console is an excellent, free web analytics tool to use to check on your website's performance in Google's search engine, plus see your backlinks, point Google to your sitemap, and more.
When you can see the keywords and topics that people are finding you for on Google Analytics, you can optimize your website to meet their needs. You can also see which pages aren't doing as well, so you can triage those and update them to perform better.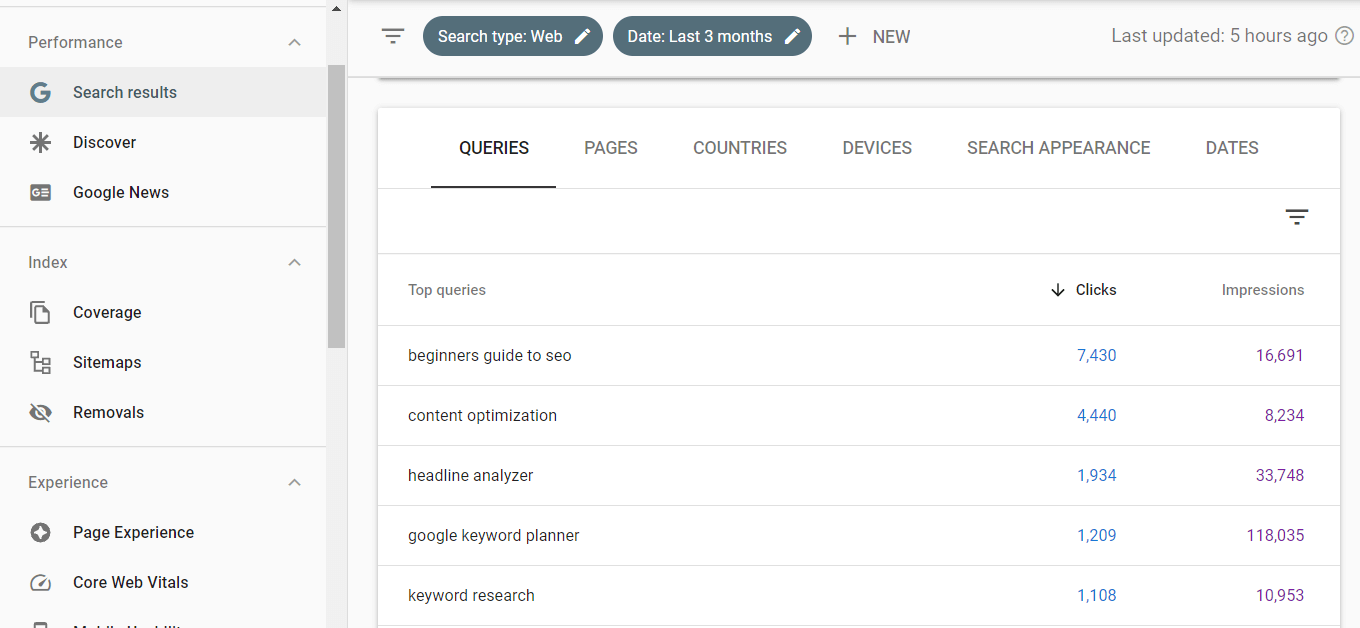 Backlinks are also important for SEO and organic traffic, so monitoring those is super helpful.
Plus, if you're using MonsterInsights, you can easily and quickly connect Google Search Console to Google Analytics and your website.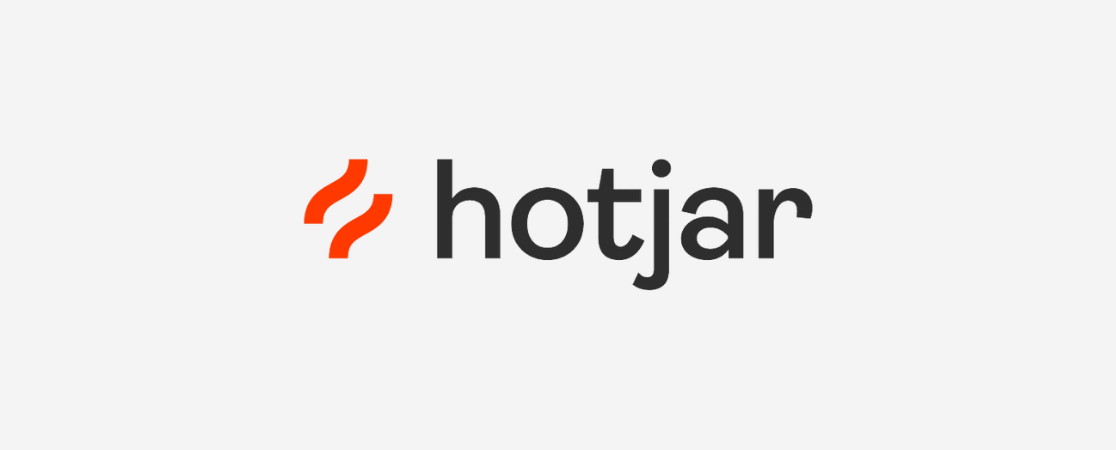 Hotjar is also not a stand-alone analytics platform, but it does have some pretty cool analytics features that you might want to check out.
Primarily, Hotjar is a heatmap tool that can show you how far down on your pages your visitors are scrolling and where they're clicking. It can also gather feedback from your visitors about their experience on your site.
Kissmetrics is a web analytics tool for SAAS and eCommerce companies that focuses on users and their interactions with your site instead of anonymous visits.
This tool is focused on SAAS and eCommerce companies, helping them gain insights into how their customers use their websites to make purchases. The platform has some pretty cool features that you'll want to check out.
However, Kissmetrics is not free. It costs $299 per month and up. If you've got the means, though, this tool can definitely help you increase your revenue.

Matomo is a Google Analytics alternative that's focused on privacy protection and data ownership, in order to make sure you're GDPR compliant. With 100% data ownership you get the power to protect your user's privacy. You know where your data is stored and what's happening to it, without external influence.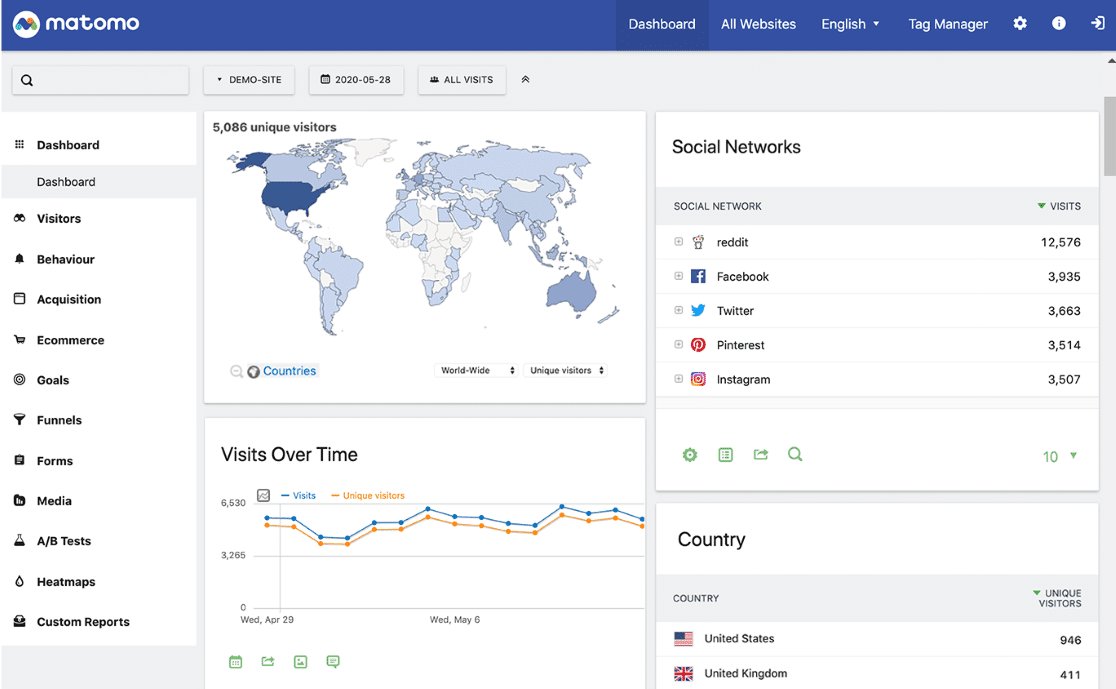 As far as features go, Matomo has a lot of the features that Google Analytics does, as well as heatmaps and A/B testing.
Your pricing depends on how many visitors you get per month, plus whether you're hosting the tool on your own servers or Matomo's. For easy setup on Matomo's servers, the monthly price starts at $23.
Semrush is an all-in-one tool suite for improving online visibility. It focuses on organic traffic and keywords, and is used primarily for keyword research and understanding what people are searching online, and which websites are getting traffic from those keywords.
With Semrush, you can gain the insight you need about how much traffic keywords and topics get. With that kind of analytics intelligence, you can decide what to focus on to build your organic traffic.
We hope you've found a web analytics tool or platform that you can use to grow your business from our list.
If you liked this post, you might also want to check out Top 11 Important Google Analytics Metrics to Track.
Not using MonsterInsights yet? What are you waiting for?
And don't forget to follow us on Twitter, Facebook and YouTube for more helpful Google Analytics tips.