Can people find your website when they search online? Search engine ranking reports show where your webpages rank on Google (and other search engines) when users type in a particular search term.
One of the best ways to get new visitors to your website is to rank highly for popular search terms related to your site's content. There are lots of things you can do to improve your rankings!
But, how do you know when, and how much, your rankings improve? Successful online marketers use search ranking reports to get this data.
What Is a Search Engine Ranking Report?
A search engine ranking report shows you where keywords from your website rank in search engine results pages (SERPs). In general, a webpage with a higher position will attract more clicks and more traffic than a lower-ranked page.
Here's a typical search engine results page from Google, with results for the search term search engine ranking: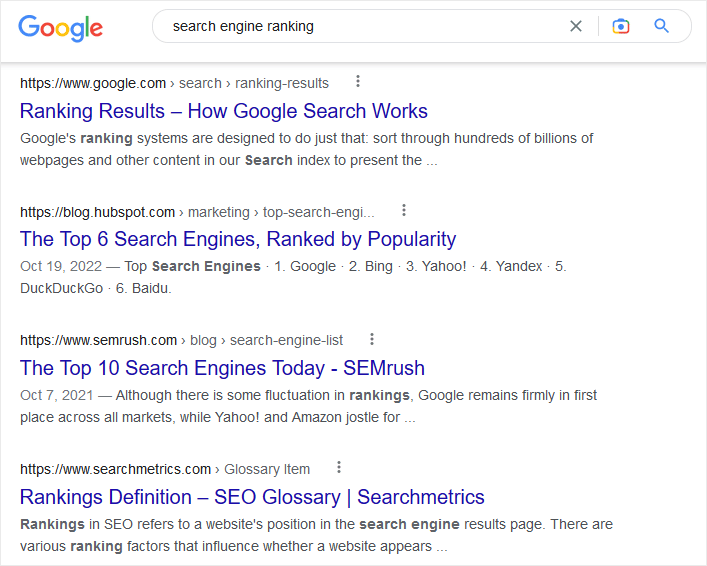 The higher you can get your webpages to rank in this list, the more clicks you'll get. So, any work you do to boost your ranking in search results should pay off with increased traffic to your site.
But first, you need to know where your site's pages rank for your keywords. Also, you need to make sure your keywords match the search queries that people type into Google.
You get all of this information from search engine ranking reports. As you might guess, search engine ranking reports are a key element in search engine optimization (SEO) and content marketing strategies. You can also create reports to see your competitors' keyword performance compared to your own.
In the rest of this article, we'll review the best search engine ranking report tools. We'll also include some tips on how to use ranking reports to optimize your website.
How to Use Search Engine Ranking Reports
You can use search engine ranking reports to see a bunch of different bits of data about how your website is doing.
Most people use ranking data for two major reasons:
First, you want to make sure the content on your site is optimized for your target keywords. Every page of content should have one primary keyphrase, or focus keyword, that is a good match for searchers' online queries.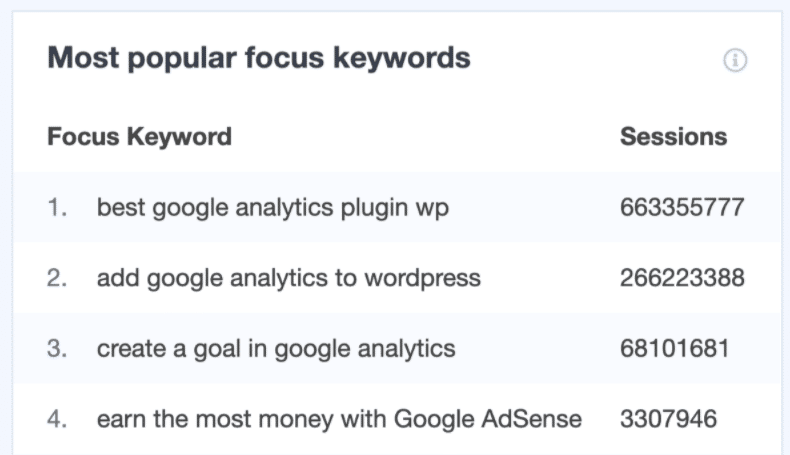 Ranking reports will help you find out if your site is coming up in Google for your chosen keywords, and how many people are actually searching and finding your site with each keyword.
The second thing most people use search engine ranking reports for is to track results and progress over time. This is how you know if your SEO efforts are having a positive effect.
As you make changes to your website and optimize your content, you'll want to see how those changes affect your search rankings. Improving your webpages' rank in Google search results is the best way to get more organic traffic to your website.
Where Do You Get a Search Engine Ranking Report?
You'll find different types of ranking reports in a lot of different available tools. You can get ranking data from websites, SEO software, WordPress plugins, and other sources.
The best choice in ranking tools depends on your website's complexity and your business needs. Some websites have hundreds of pages and thousands of keywords to track. You might have ten pages and 50 keywords.
Okay, let's move on and look at a few powerful tools that provide ranking data and other search engine metrics.
Google Search Console Ranking Reports
Google offers their own set of tools to see how your site is performing in their search results. It's called Search Console, and you can easily connect your website by registering with a Google account.
Search Console's search engine ranking reports give you important insights into Google search behavior. You can see how traffic changes over time for different search terms.
You'll also discover the search terms that are most likely to show your site, and see which of your webpages have the highest click-through rate (CTR) from search results.
When you log into Search Console, you'll find the rankings report by clicking on Search Results in the main menu. On the Performance report screen, there are two main sections: a graph and a table below.
The graph shows daily changes in total clicks, total impressions, average CTR, and average ranking position for all of your webpages that were shown in Google searches.

Search Console Queries Ranking Report

The first tab in the graph, labeled Queries, shows you the search terms, or queries, that people typed into Google. There, you can also see how many Clicks each query generated. These are the searchers who clicked on your webpage link.
The next column, Impressions, shows you how many times your webpage was shown to searchers in the search results. Next, CTR is a percentage of how many of those impressions led to a click.
The final column in the report shows your webpage's average Position for each search term.
You can use this information to optimize your site content to better match search queries. Additionally, you can try to improve CTRs for pages that already rank high, but don't generate much traffic.
Search Console Pages Ranking Report
The Pages tab on Search Console's Performance report shows you the same metrics as the Queries tab, but for your top performing webpages.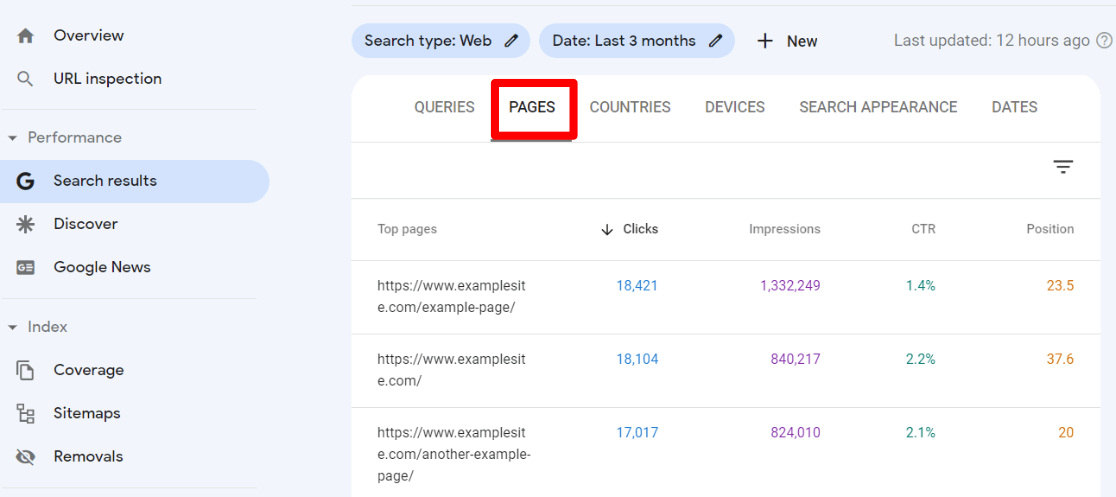 So, now you can see which pages show up in search results, what average position they appear at, and how many searchers see and click your links in Google search.
The other tabs show you the same 4 metrics, once again, but with results categorized by Countries, Devices, Search Appearance, and Dates. You can use this data to optimize your webpages for certain countries and device types, and to find out which types of content rank more highly on your site.
As a free service from Google with the most accurate, up-to-date information, we highly recommend Google Search Console for anyone interested in getting free search engine ranking reports.
For more ideas on using Google Search Console, check out How to Use Google Search Console for SEO: Top 11 Hacks.
Using Semrush for Search Engine Ranking Reports
Semrush is one of the oldest and most trusted SEO and keyword research platforms. They provide extensive search engine optimization tools and data for everyone from small businesses to large enterprises.
While Semrush does much more than simply track keywords and search engine rankings, it does offer one of the best sets of ranking reports and tools.
For this article, we'll focus on Semrush's Position Tracking reports. To access these reports, click on the Keyword Research » Position Tracking in the main Semrush menu.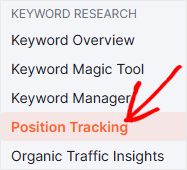 Semrush's Landscape Ranking Report
Now, the first report you'll see is the Landscape report. This gives you a high-level view of how many keywords your site ranks for, how much traffic you can expect to receive from these keywords, and the average position of all your site's keywords combined.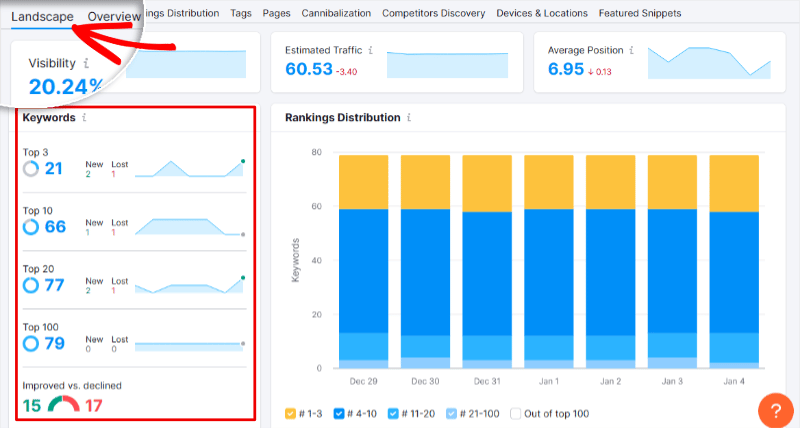 You'll also find out how many of your keywords rank in the top 3, top 10, top 20, and top 100 of search results. Not only that, but how these numbers have changed over a selected time period.
If you scroll down this page, you'll get more data about your Top Keywords, and which have improved or declined in ranking the most. To see the position ranking of all of your keywords in Semrush, click the View all xx keywords button.

Semrush's Pages Report
Next, let's look at one more tab on the Position Tracking screen. Go ahead and click the Pages tab to see our next ranking report in Semrush.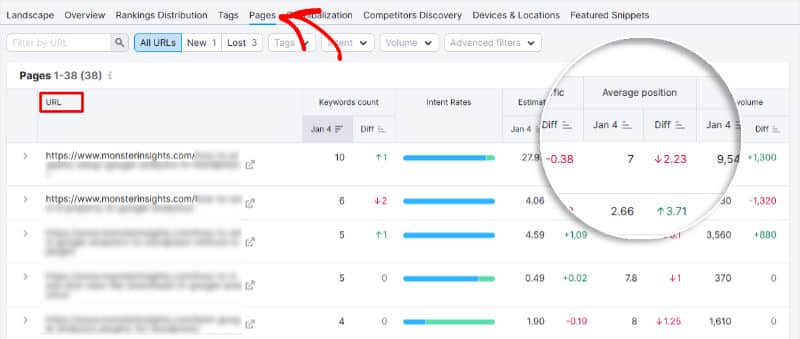 In the Pages report, the first column shows the URLs of your webpages that are ranked in search engines. The second column shows the number of keywords that each webpage is ranked for in search, and whether that number has changed over time.
As you can see, one page on your site can rank for multiple keywords. In the 5th column, you can see the average position of each webpage in search, and how its position is trending up or down.
This information gives you the ability to see how rankings change over any time period you choose. Then, you can track the effect that your SEO changes have on page rankings.
You can also quickly see which of your pages are falling in the ranks and take measures to maintain or boost their positions.
Using MonsterInsights to See Search Engine Rankings in WordPress
MonsterInsights is the best Google Analytics plugin for WordPress. It gives you traffic metrics and detailed user behavior information right in the WordPress dashboard.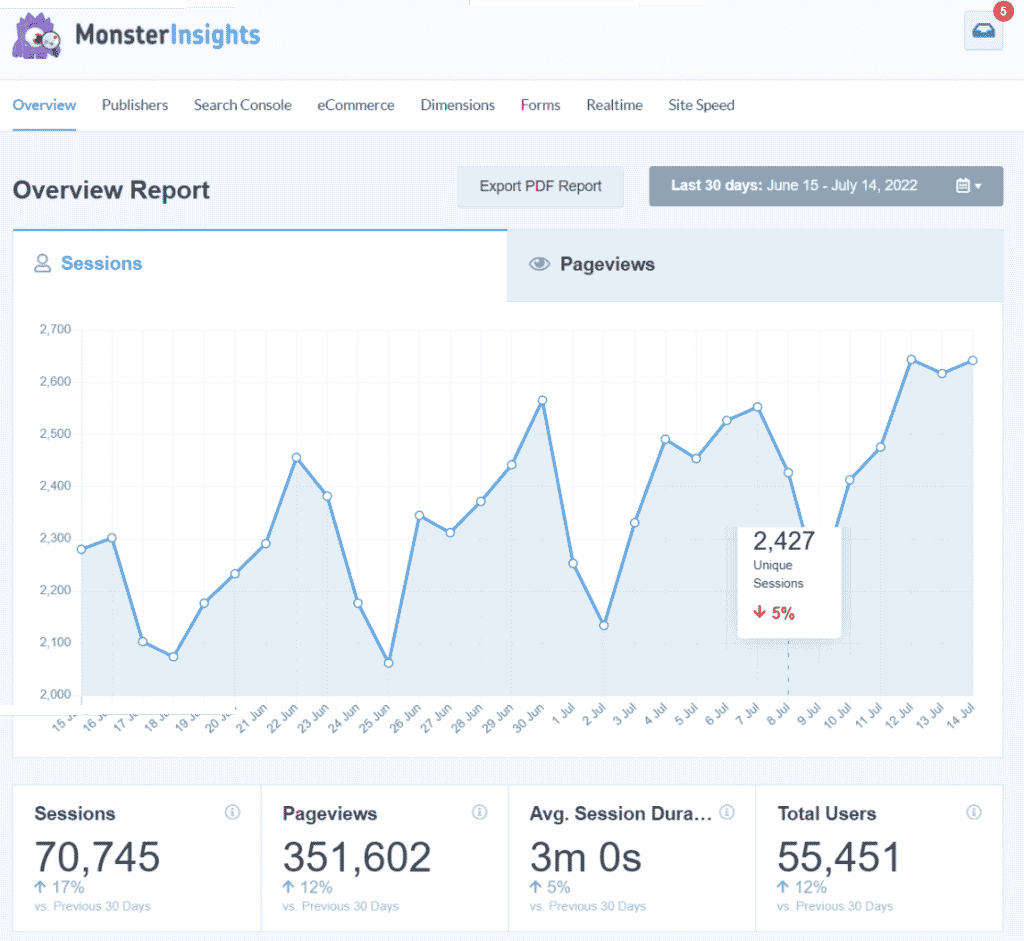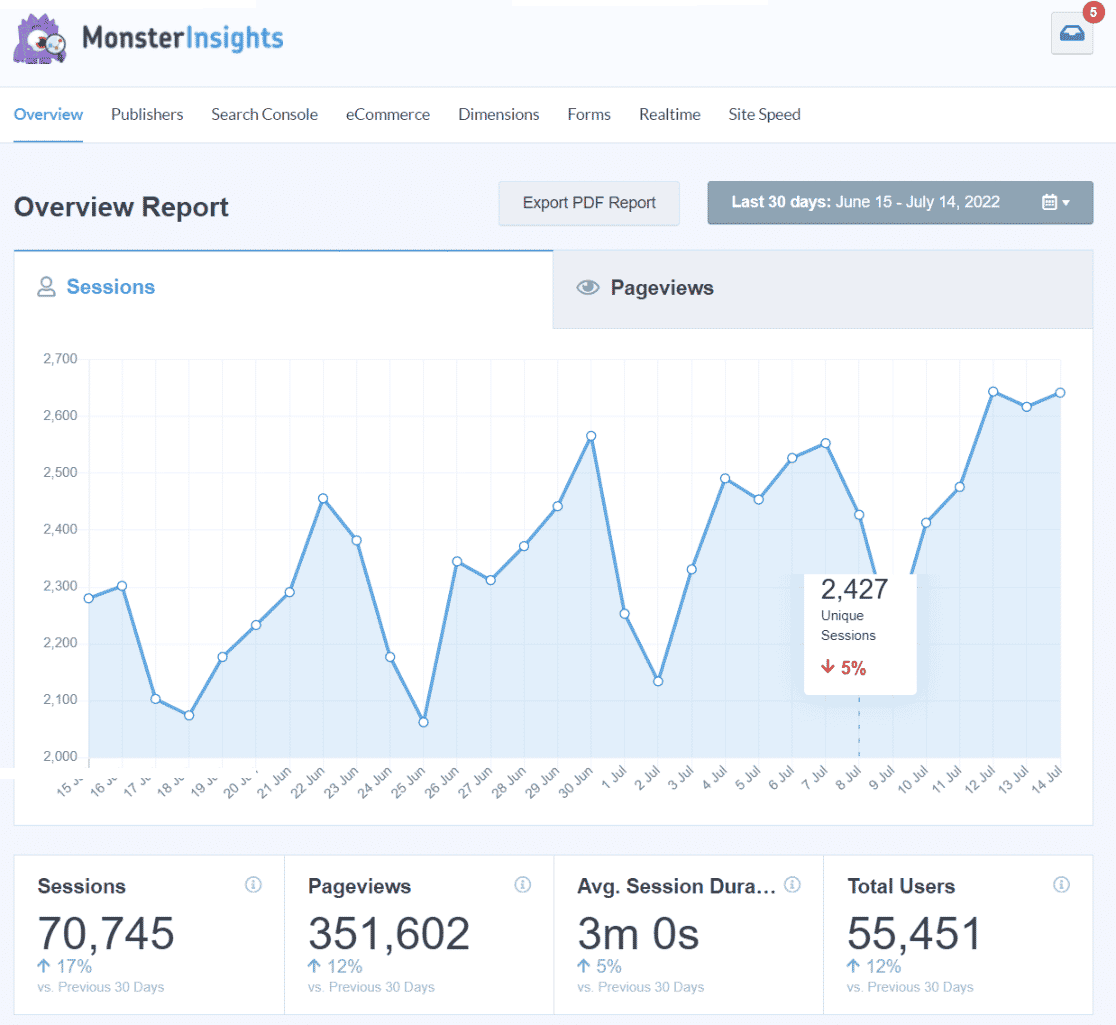 When you connect MonsterInsights with Google Search Console, you can see which search terms sent the most visitors to your site. Simply log into your site and click Insights » Reports, and then click the Search Console tab.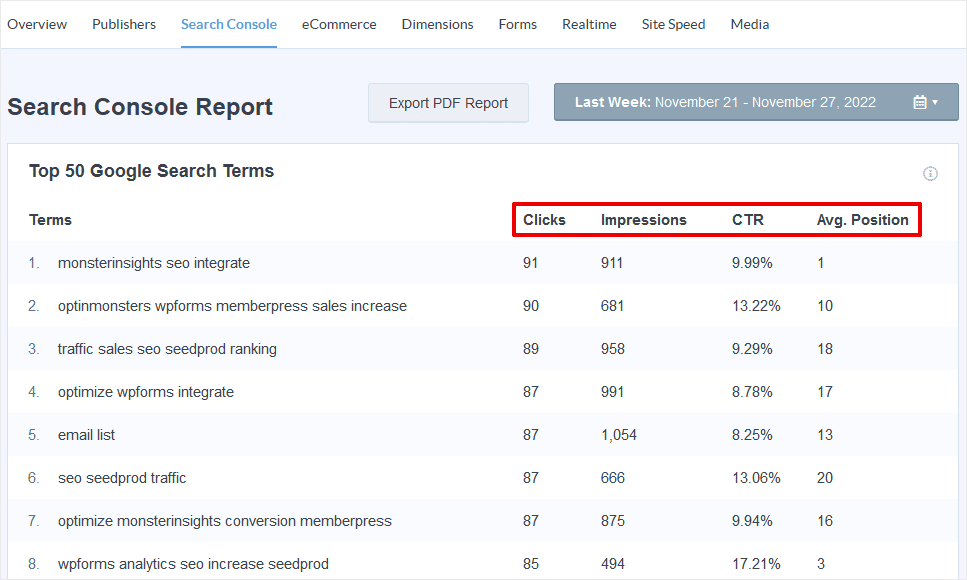 The first column, Terms, shows the keyphrases that searchers typed into Google to find your site. The Clicks column tells you how many of those searchers clicked your link and landed on your website.
You also get data on Impressions, Click-through Rates (CTR), and the Average Position in SERPs for every search term.
With this report, you can compare your intended focus keywords to the terms people actually use to find your site. Are those the same? Ideally, your target keywords match the terms that searchers type into Google and Bing.
How to Use the Search Console Report
How should you use the MonsterInsights' Search Console report? Just like Google Search Console, you can use this data as a key tool in optimizing your site for organic traffic.
The Search Console report is simple, but this data is enough to help many site owners make significant improvements in ranking and organic traffic.
In addition to its search engine ranking report, MonsterInsights gives you a huge amount of other analytic data regarding your site traffic. Do you need to track ad campaigns, eCommerce conversions, form submissions, or other user behavior?
MonsterInsights does all of that, plus much more. If you want the easiest way to get reliable traffic stats, right inside WordPress, MonsterInsights is the best solution.
And that's all for our guide to using search engine ranking reports. If you liked this post, you may be interested in how to measure you SEO performance in WordPress.
Still not using MonsterInsights? What are you waiting for?
Don't forget to follow us on Twitter, Facebook and YouTube for more helpful Google Analytics tips.