Looking for ways to boost your eCommerce sales and revenue? Experimenting with random conversion tips and advice from around the web may not work for you. Every site is different, and to truly boost your conversions you need to study your conversion funnel for leaks and fix them.
In this article, we'll walk you through how to attract more shoppers to your eCommerce conversion funnel, and how to optimize your conversion funnel to increase sales.
What Is a Conversion Funnel and Why Is It Important?
A conversion funnel is a model that lets you visualize where your prospects are in the process of making a buying decision. With a conversion funnel, you can better address the needs of your site visitors and ultimately convert them into loyal customers.
95% of your first-time visitors are not ready to purchase from your store right away. That means before you can sell your products to new prospects you need to connect with them, anticipate their needs and convince them to buy your product.
Conversion funnels are usually divided into stages, and there are lots of different models for those stages. But a simple conversion funnel can include the following stages:
Acquisition
Activation
Purchase
Retention
Let's take a detailed look at them below and learn how you can optimize each stage to bring in more sales and revenue.
1. Awareness
In this stage, you attract potential shoppers to your website through various user acquisition tactics like driving organic traffic, running paid campaigns, etc.
Most of these shoppers are first-time visitors on your site. Since they've not heard about you before, most of them aren't ready to purchase from your store.
For that reason, before you try to sell them, you might want to raise awareness about your brand. According to Social Media Today, 70% of consumers learn about a company through articles rather than ads. You can create a blog and drive traffic to your site and establish an authority for your brand.
With Google Analytics, you can effectively track and analyze your awareness campaigns. For example, you can look at the Search Console report to analyze how well your organic traffic is performing. You can also review the AdWords campaign by looking at the AdWords report in Google Analytics.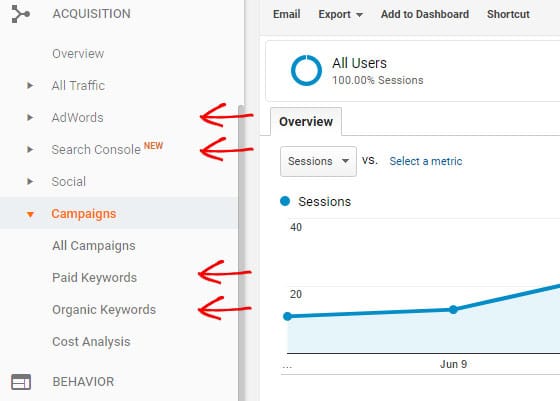 In addition, keep an eye on the keywords that attracted traffic to your site. You can also refine results and look for the keywords that include your brand name.
To unveil more demographic data about your visitors, make sure to enable demographics and interests report in Google Analytics.
2. Activation
In this stage of the funnel, your visitors move from awareness to actual interaction with your brand. During this stage of conversion funnel, you want to encourage your potential customers to connect with you by subscribing to your email list, registering on your site, etc.
For example, in order to encourage users to create an account on the site, eCommerce giant AliExpress offers 1000 coupons every day to their first-time customers.

Similarly, you can also promote a list building campaign to connect with your prospects and nurture them to become your customers.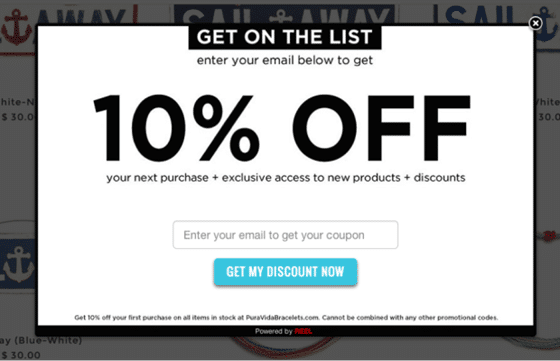 Keep in mind that the goal here is not to make an immediate sale, but to convince them to connect with your brand by creating an account on the site or signing up to your email list.
If you're looking to build an email list, here are a few tools that you may find useful:
OptinMonster: OptinMonster is the best lead generation tool in the market that lets you create multiple forms like popups, floating bar, slide-ins etc. It helps you grow your email list by creating beautiful optin forms that are targeted to your campaigns. With its exit intent technology, you can detect user behavior and prompt a targeted campaign at the precise moment your visitors are about to leave your site.
WPForms: WPForms is the best beginner friendly WordPress forms plugin. With WPForms, you can create any types of forms like user registration forms, email newsletter forms, etc.
The MonsterInsights Forms addon: MonsterInsights is the best Google Analytics plugin that allows you to easily connect Analytics with your site. With our Forms addon, you can easily track form submissions and analyze optin conversions in Google Analytics.
To further optimize this stage of your conversion funnel, you may also want to read our article on tracking email newsletter campaigns in Google Analytics.
3. Purchase
Now that you've connected your prospects with your email list, the next thing you need to do is to convince them to purchase your products.
With MonsterInsights, you can easily analyze and optimize the sales data for your WooCommerce or Easy Digital Downloads store. You can track the sales data for your store by installing the MonsterInsights eCommerce addon.
Once you activated the addon, you can keep track the performance of your sales. You can also make data-driven decisions to generate more revenue from your eCommerce store.
For more details, you can learn how to track eCommerce sales in Google Analytics.
4. Retention
Did you know that only 32% of customers actually order a second time over the course of the first year as a customer? That means a vast majority are not interested in having a long-term relationship with your brand.
The best thing about retaining your existing customers is that it is easier and more profitable than acquiring new customers. If you're looking to boost the ROI (return on investment) of your business, you need to track the purchasing behavior and look for lapsed customers, who stopped buying from your site for a while.
Then, create a marketing plan targeting those lapsed customers to re-engage with your site and ultimately, convincing them to make repeat purchases.
To better track the purchasing behavior of your customers, you might want to enable custom dimensions on your site.
In Google Analytics, custom dimensions are just like default dimensions, except you create them yourself. Custom dimensions are greatly helpful to collect and analyze data that matter to your website, which Analytics doesn't automatically track.
With the MonsterInsights Custom Dimensions addon, you can track the purchasing behavior of your logged in users.
For more details, you can read everything you need to know about custom dimensions.
Optimizing your eCommerce conversion funnel is a powerful strategy to boost sales. We hope the best practices shown here will be helpful to optimize your own conversion funnel.
If you enjoyed this article, you may also want to check out how to track conversions by creating a goal in Google Analytics. And don't forget to follow us on Twitter and Facebook for more Google Analytics tutorials.