Looking for ways to attract more visitors and boost your site's conversions? Then optimizing your sales funnel is where you should start.
Conversions are important for any type of website, whether it is a blog or an eCommerce store. By improving your conversion rate, you can generate more sales and revenue.
And a simple way of doing that is by analyzing how your customers move through your website and then guiding them through the funnel.
In this article, we'll walk you through how to create a conversion funnel for your WordPress site. So, you can then attract more people, convert them, and increase your sales.
What Is a Conversion Funnel?
A conversion funnel, also known as sales funnel or click funnel, is a model that lets you visualize where your customers or users are in the process of making a buying decision.
With a conversion funnel, you can better address the needs of your site visitors and ultimately convert them into loyal customers.
It's just like an actual funnel where you'd attract many people to your site, move them through different stages, and then help them accomplish a goal, such as buying a product.
Here's an illustration of what a funnel looks like: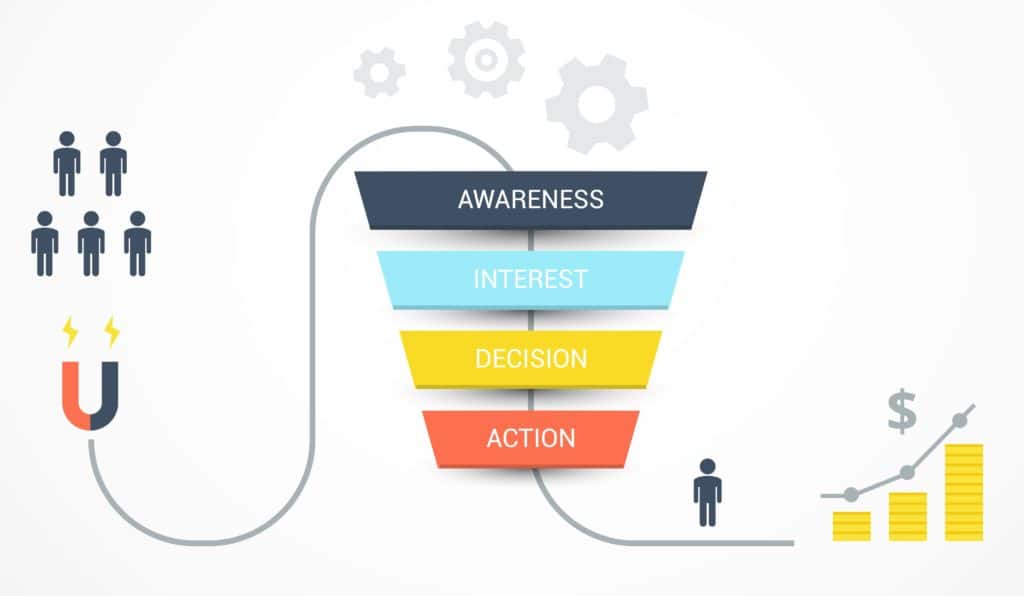 A conversion funnel is important because 95% of your first-time visitors are not ready to purchase from your website right away.
That means before you can sell your products to new prospects you need to connect with them, anticipate their needs and convince them to buy your product.
There are 4 stages in a sales funnel and include:
Awareness
Interest
Decision
Action
Let's take a detailed look at each of them…
1. Awareness
Awareness is the most important stage, as you attract potential visitors to your website through acquisition tactics like driving organic traffic, running paid campaigns, creating a social media campaign, and more.
Since most people haven't heard about you before, this is your chance to get their attention and make them visit your site.
And if users find the right information, chances are that he will convert in the first stage.
But the goal of awareness stage is to familiarize your brand with your visitors, help them engage with your business, and get them to return to your site.
2. Interest
In the interest stage of the conversion funnel, your visitors move from awareness to actual interaction with your brand.
During this stage, you want to encourage your potential customers to connect with you by subscribing to your email newsletter, participating in polls, filling out forms, and more.
For example, in order to encourage users to subscribe to an email newsletter, OptinMonster offers a useful guide for free to visitors. If the guide is of their interest, they'll signup for the newsletter.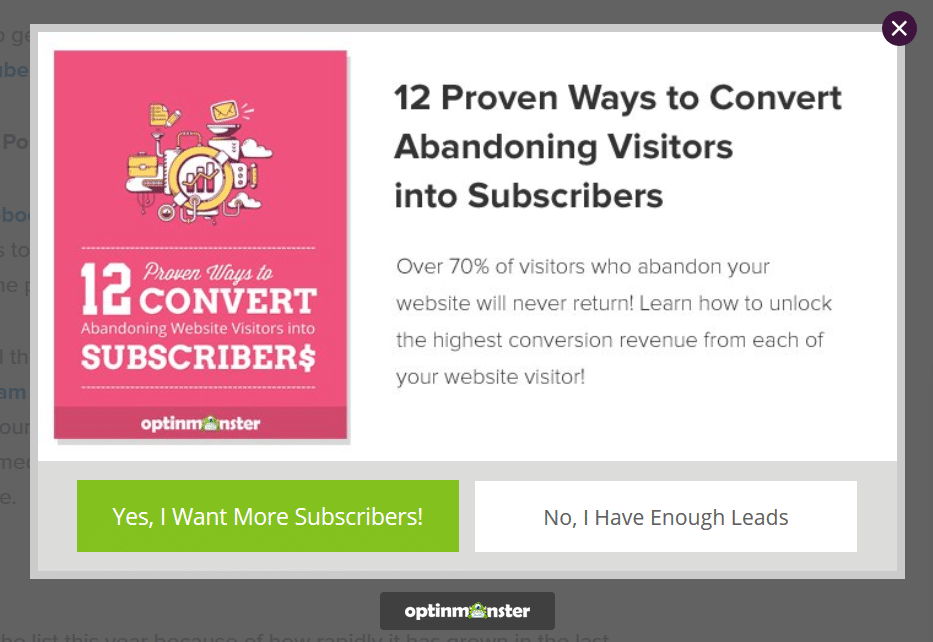 Keep in mind that the goal here is not to make an immediate sale, but to convince visitors to connect with your brand by creating an account on the site or signing up to your email list.
3. Decision
Now that you've connected with your prospects with your email list, the next thing you need to do is to convince them to purchase your products.
This is the decision stage in the conversion funnel. You should offer your best deal at this time to easily convert users.
You can provide discount codes to visitors, free shipping if you have an eCommerce store, or free products or services.
4. Action
The last stage of a conversion funnel is action and it's where you want to retain your customers and turn them into repeat buyers.
The best thing about retaining your existing customers is that it is easier and more profitable than acquiring new customers.
To get the desired action after a visitor has made a purchase from your site, you can ask for feedback, provide support, and then follow up after a few weeks.
With that, let's look at how you can create a conversion funnel.
How to Create a Conversion Funnel
Building a funnel might sound like a tough task but trust us, it's not. Just follow these steps, you'll be able to have a funnel on your website in no time.
Step 1: Find Out Who Are Your Audience
The first step is to identify your audience, where they're coming from, and how are they using your website.
This is important because a better understanding of your visitors lets you build an effective sales funnel.
To start, you can use the MonsterInsights WordPress plugin. It helps you view Google Analytics reports in your dashboard and makes advanced configuration very easy.
After installing the plugin, you can view the Overview report. Now look for the device breakdown and see if your visitors are using a mobile, tablet, or desktop to access your website.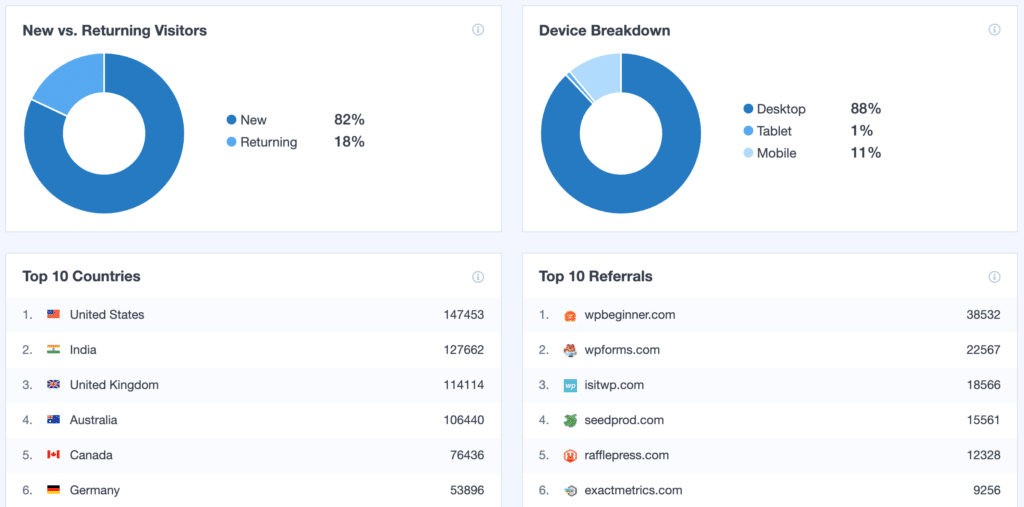 This is important because when optimizing your click funnel, you need to make sure that the user experience is smooth and error-free on all devices.
Along with that, you can look at the Top 10 Countries report. It will give you an idea which regions bring in the most traffic to your site. You can then use this information to create a conversion funnel for people from different countries.
Similarly, you can use the Top 10 Referrals report to lookup sources that drive visitors to your website. Using this data, you can then provide exclusive offers for people for specific websites.
Another report that can help you understand how your audience uses your website is MonsterInsights Publishers report.
For instance, you can view the top Interests report to see what areas your audience is interested in. This information will help you create a conversion funnel around each interest.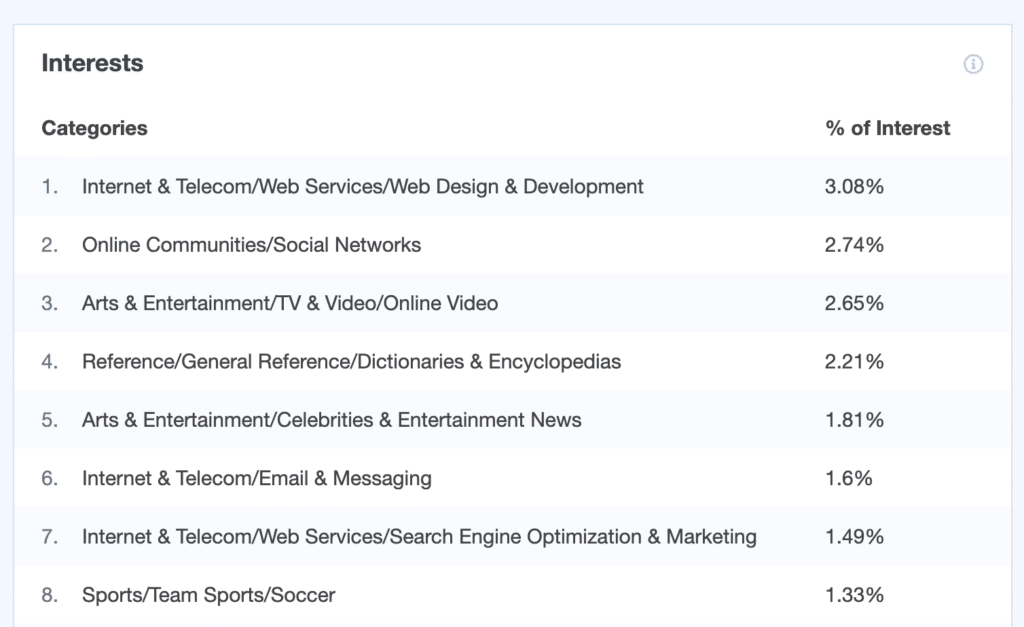 You can follow our detailed guide to Google Analytics for publishers for more information on how people use your website.
Step 2: Attract Visitors to Your Website
Once you have an idea about your audience, it's time to attract them to your site. There are different ways you can do that.
You can start by creating a blog about your business and driving traffic to your site to establish an authority for your brand.
By helping users with informative guides and other forms of content, you are familiarizing users with your products and services.
Blogs also help you build a presence on search engines. So, when anyone searches for solutions regarding your business, your website appears in the search results.
And if you want to know what queries your prospects use to find your website, you can use the MonsterInsights Search Console report. It will show the top 50 keywords along with their clicks and average position.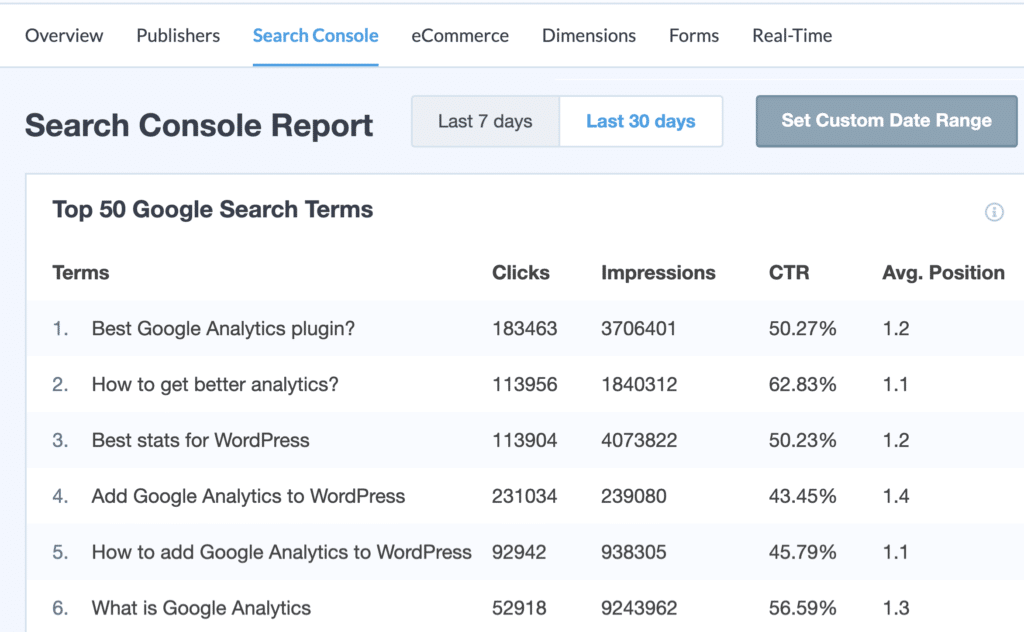 Along with blogs, you can also run a giveaway. These are a great way of generating engagement, social followers, and increasing brand awareness.
Other ways include running paid ads (PPC), social networking campaigns, sending out a press release, and more.
You can also check out this guide to improve your conversions throughout your sales funnel.
Step 3: Interact with your Audience
As you start to generate traffic, it's time to capture their interest and get them to interact with your website. The goal here is to help users learn more about your products and services, so they can easily convert in the next step.
To do that, you can offer gated content, where users have to subscribe to your email list to download or view content.
Take the case of Trading Strategy Guides, as it added 11,000 subscribers to its email list using gated content on different blogs.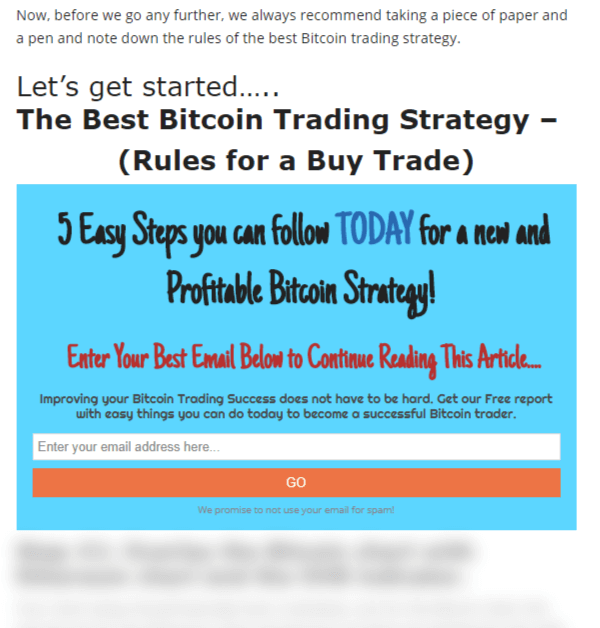 Another way to get people to engage with your site is by filling out different forms, taking part in polls and surveys, doing a quiz, and more.
Once you have captured leads, you can then run an email newsletter to educate your users. And if you post video content then you can ask people to subscribe to your YouTube channel.
Step 4: Convert Your Website Traffic
The fourth step in setting up a conversion funnel is to convert people once they're on your website. This is where your landing pages structure and your call-to-action (CTA) play an important role.
MonsterInsights scroll tracking feature can help you here in placing the CTAs. For instance, you can add CTAs before your visitors scroll through and leave your site.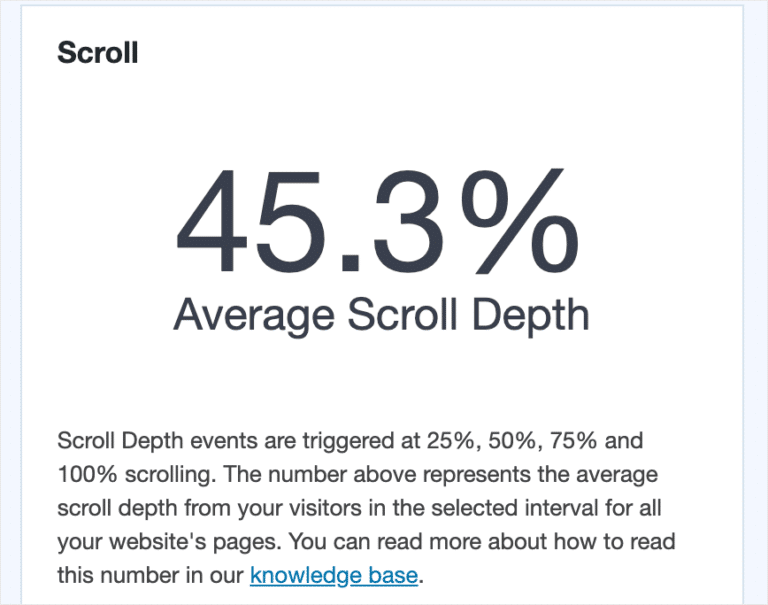 And when you're creating a CTA, you can use action words, focus on value, show benefit, and create urgency.
Another way of increasing your conversions is to add a recent sales notification to your landing page and use the power of social proof to increase your conversions.
You can also use countdown timers on your landing page to create urgency and get customers to purchase your products.
Here are more ways you can increase conversions on your eCommerce website.
Step 5: Bring Back Visitors
The last step in how to create a conversion funnel is to get customers to return to your website. Don't think that your job is done once a visitor makes a purchase from your site.
As we said earlier, it's more profitable to retain customers and make them into repeat buyers than to acquire new customers.
To get people to come back to your site, you can use your email list. If you have a new product or an upcoming sale, send an email blast to your existing user base.
You can also leverage the power of social media to stay in touch with your customers and get them to return to your website.
You can go through our article on 7 proven ways to increase your returning visitor rate.
And that's it!
As you can see, optimizing your conversion funnel is a powerful strategy to boost sales. Using the best practices shown here will be helpful to optimize your own click funnel.
We hope you liked our article on how to create a conversion funnel for your WordPress site. You may also want to check out how to track links and button clicks in WordPress.
Don't forget to follow us on Twitter and Facebook for more Google Analytics tutorials.