Want to track the performance of your Google Ads campaigns in Google Analytics and WordPress? By enabling Google Ads conversion tracking in Google Analytics and connecting it with your WordPress website, you can see what happens after people interact with your ads, whether they made a purchase, or signed up for your newsletter.
In this article, we'll show you how to use Google Analytics to track conversions from your ads.
What Is Google Ads Conversion Tracking?
Google Ads (formerly known as Google AdWords) conversion tracking tells you what your visitors do after interacting with your ads. It tells you whether people completed an action that you've defined as valuable.
Conversion tracking for your ads is important because it tells you whether your ad campaigns are paying off or if they're wasting your advertising budget.
A few benefits of Google Ads conversion tracking are:
Identify which keywords, ads, ad groups, and campaigns are profitable in terms of driving conversions.
Make informed decisions on your ad spend for optimizing your ad campaigns.
Gain insights into how to optimize your ads for boosting return on investment (ROI).
By setting up conversion tracking on your WordPress site, you can identify how effectively your ad clicks lead to the desired customer activity on your websites, such as product purchases, form submissions, and more.
That said, let's see how to track Google Ads conversions in Google Analytics and WordPress.
How to Add Google Ads Tracking to Your WordPress Site
Just follow these steps to add Google Ads conversion tracking to WordPress.
Step 1: Create a Conversion Action
To start, sign in to your Google Ads account. In the upper right corner, click the wrench icon, and then, click Conversions under Measurement.

Then, click the + button.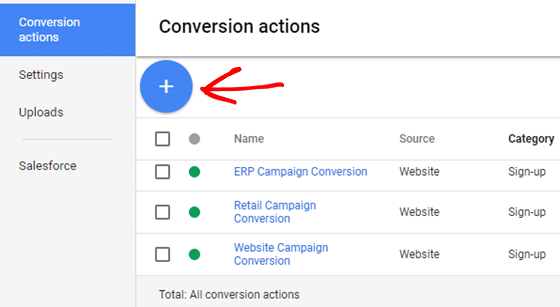 Next, click Website.

Specify an appropriate conversion name and choose the right category from the dropdown.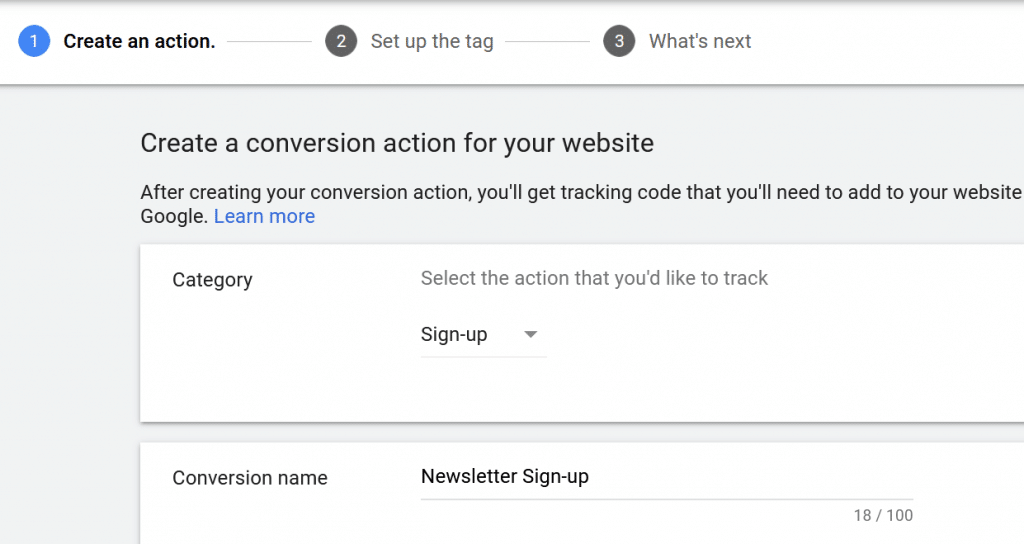 You'll also need to specify the conversion value and counts per your needs.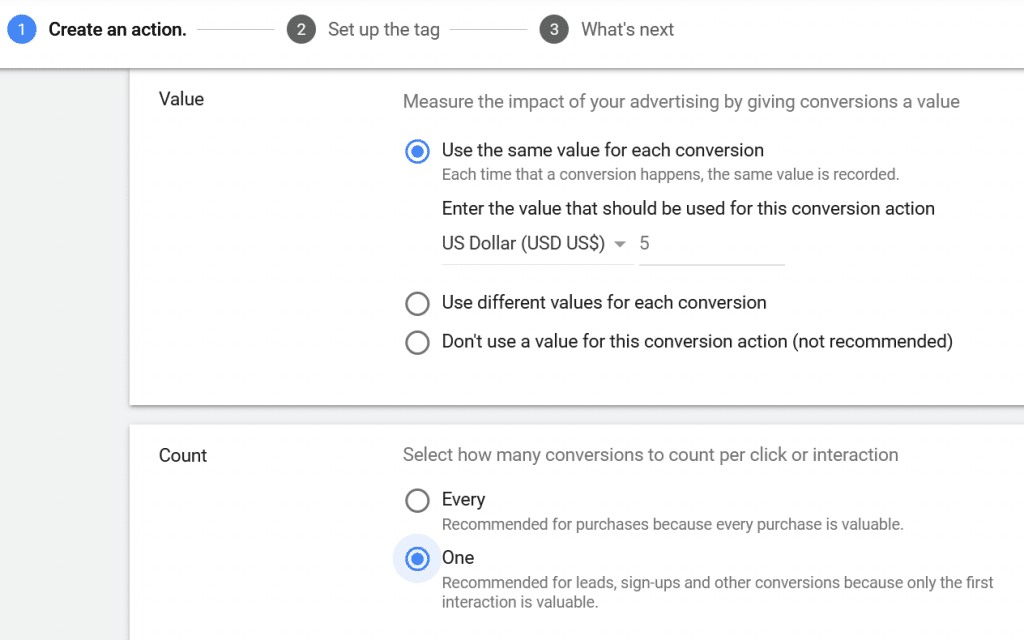 Then, click CREATE AND CONTINUE.
After that, Google Ads will now show you 3 ways to add the tracking tag to your website. Just click on the Use Google Tag Manager option.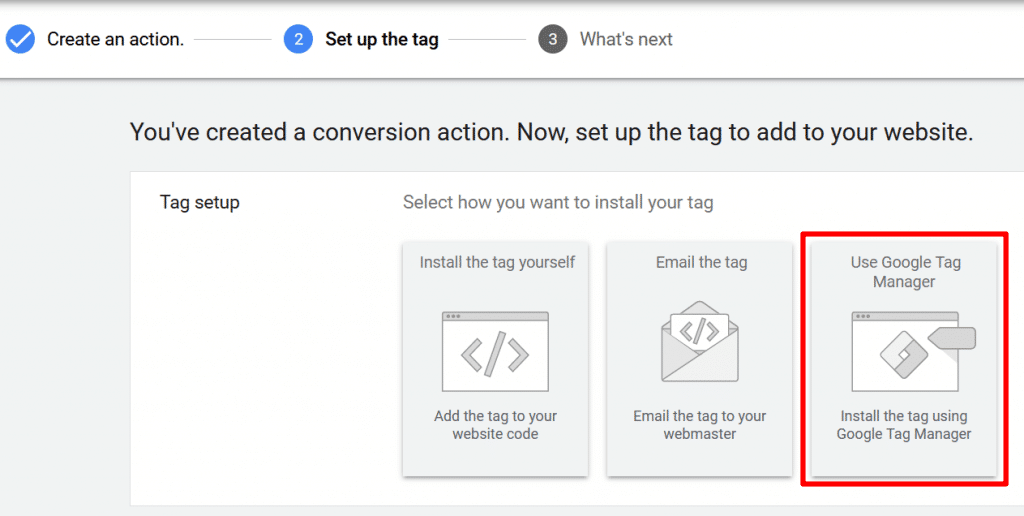 You will now see the Conversion ID and Conversion Label that you'll need in a second: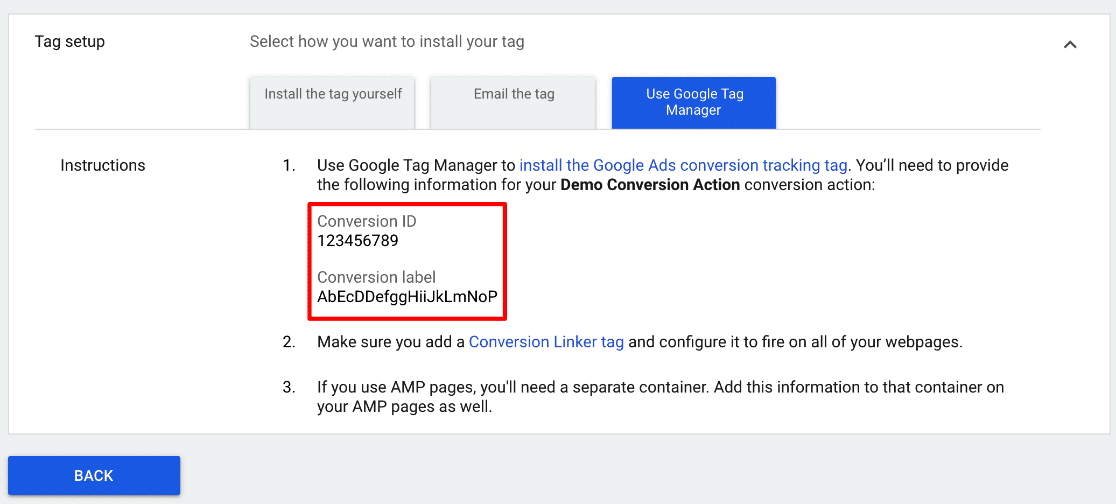 Just leave this window open and move onto the next step.
Step 2: Install and Activate MonsterInsights
You can use MonsterInsights to add Google Ads to your WordPress site without the need to edit code. It's the best Google Analytics plugin for WordPress and offers advanced tracking features, including ad conversion tracking.
Start by installing MonsterInsights at the Pro license level on your website. You can download the plugin from your Account area, under the Downloads tab.


Next, go to your WordPress website and upload the plugin by going to Plugins » Add New » Upload Plugin.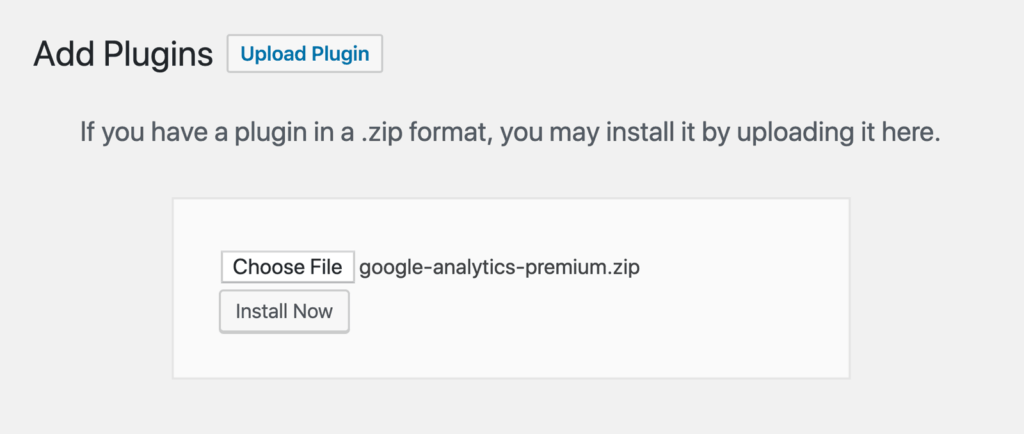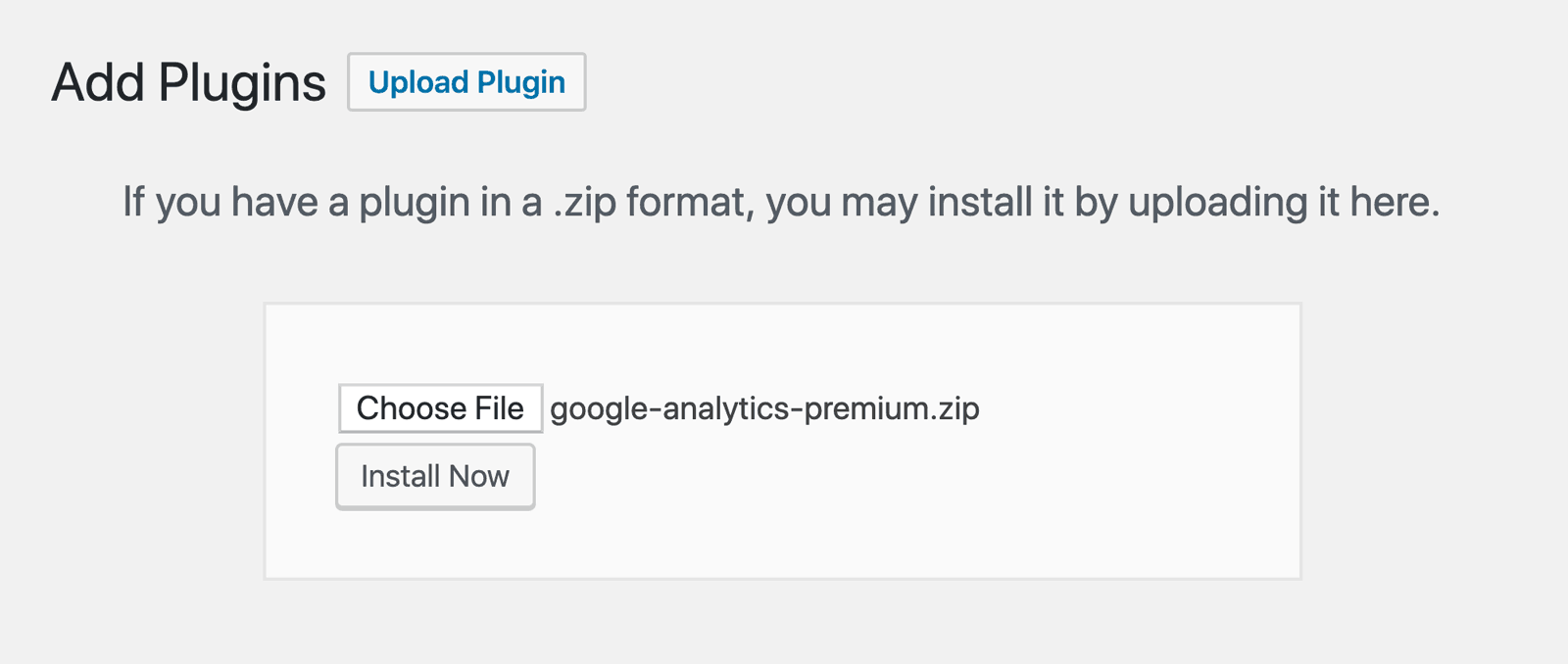 Once that's done, install and activate MonsterInsights on your website.

Step 3: Connect Google Analytics using MonsterInsights
Next, connect Google Analytics with your WordPress website. MonsterInsights helps set up analytics without the need to hire a developer or write code.
Simply use its setup wizard and follow the steps to add Google Analytics tracking code.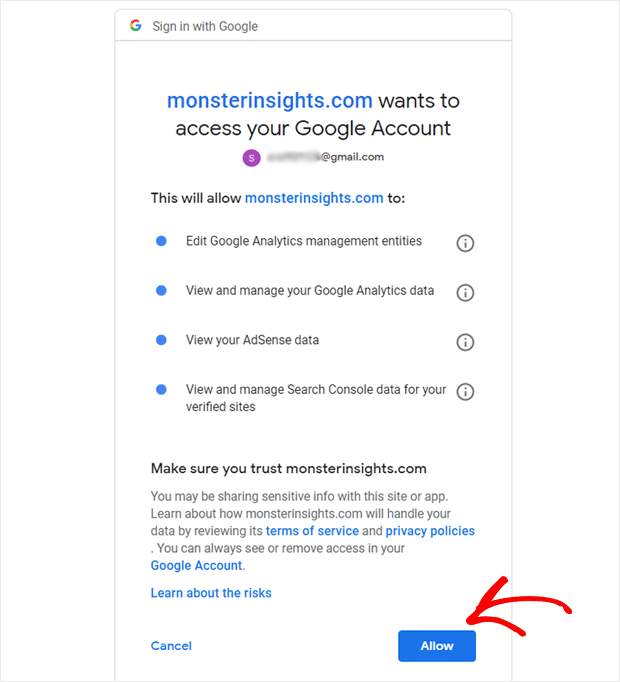 Step 4: Install MonsterInsights Ads Addon
After that, you'll need to install and activate the Ads addon. Make sure you're on MonsterInsights Plus or higher plan to use the addon.
To install the addon, go to Insights » Addons » Ads and click the Install button. Now wait for a few seconds and it will automatically activate.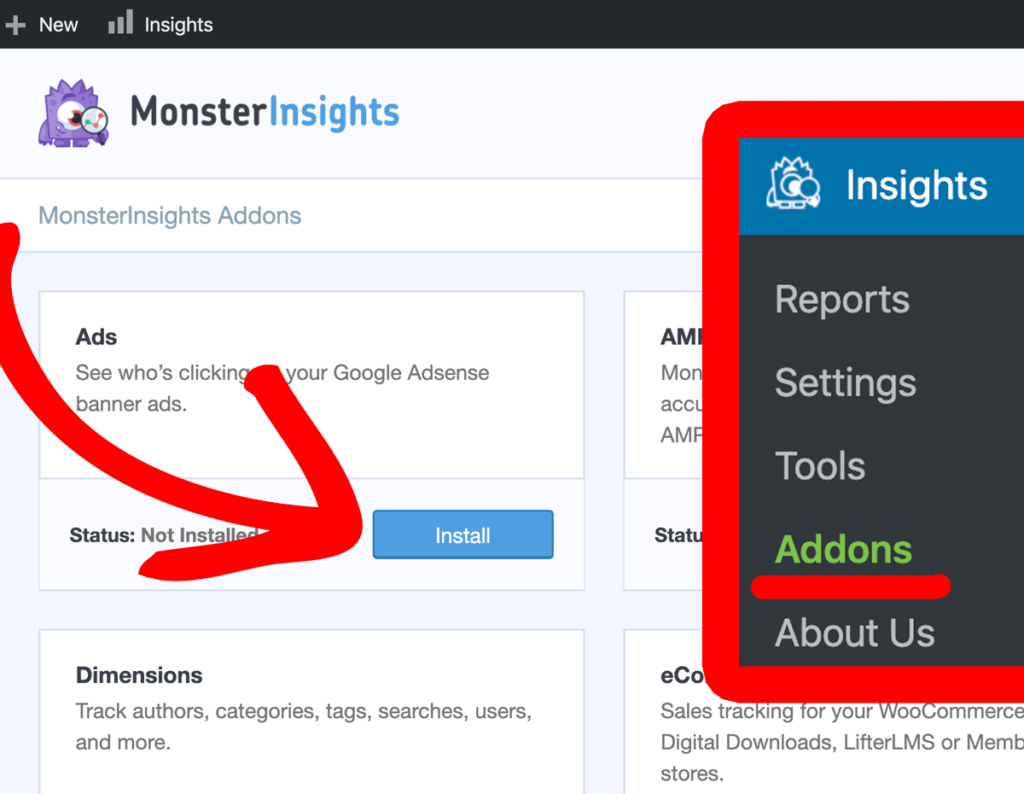 Step 5: Add Your Google Ads Conversion ID and Conversion Label
The next step is to add your Google Ads Conversion ID (and Conversion Label in some cases) in MonsterInsights.
Go back to your open Google Ads tab and copy your Conversion ID. It will be a 9 digit code and will have an AW-123456789 format.
After copying the ID, go to Insights » Settings » Publishers in MonsterInsights and navigate to Ads Tracking. Paste your Conversion ID into the field.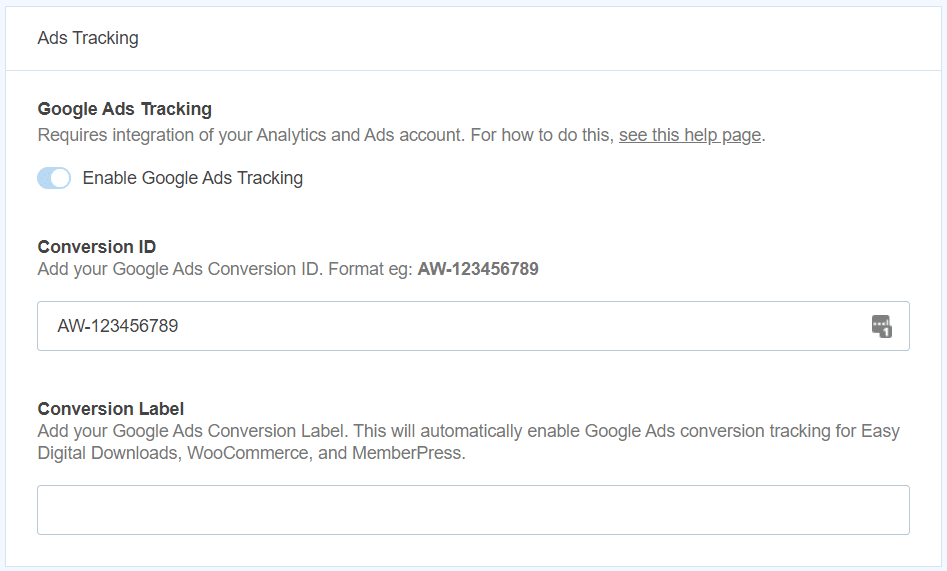 Now, if you're using WooCommerce, Easy Digital Downloads, or MemberPress, you need to also copy and paste your Conversion Label from Google Ads into the Conversion Label field in MonsterInsights.
Step 6: Add the Event Snippet to the Conversion Page
NOTE: You can skip this step if you're using WooCommerce, Easy Digital Downloads or MemberPress and you've pasted your Conversion Label into MonsterInsights.
Head back to your Ads tab and click the Back button. Now, click on the Install the tag yourself option: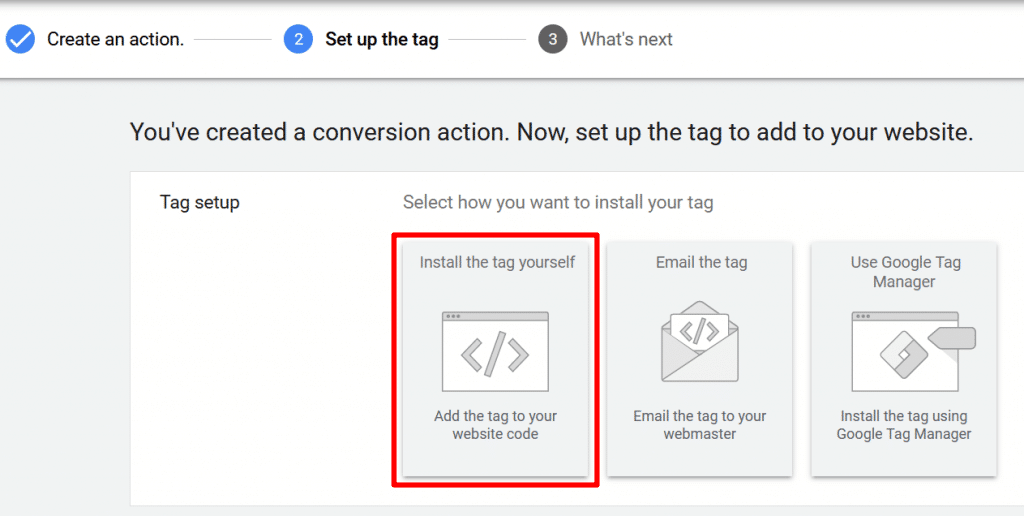 Scroll down to the Event snippet: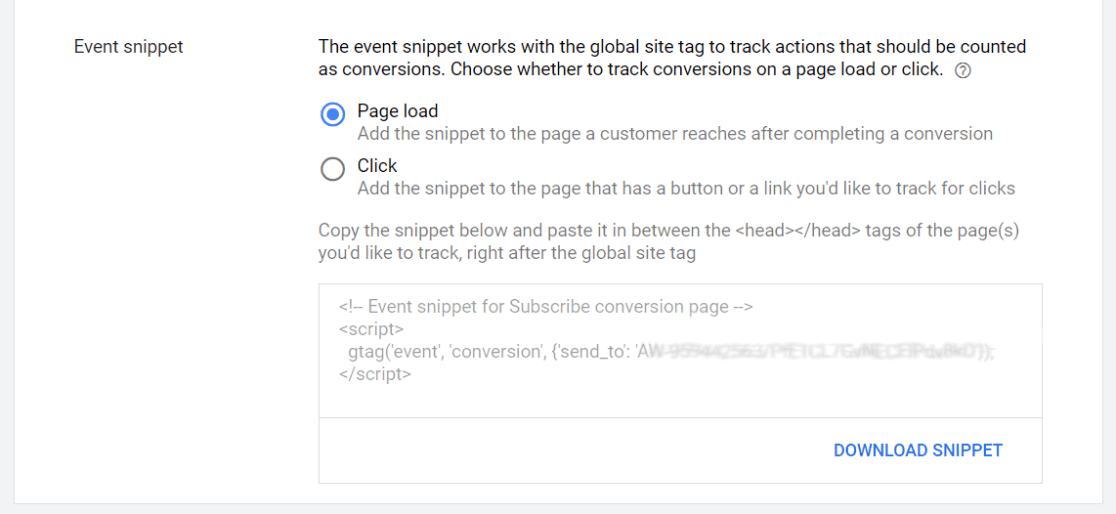 If your conversion is on a destination page, such as yoursite.com/thank-you, you'll add the snippet to that page. If your conversion is a click, like on a "download now" button, you'll add your snippet to the page that the button is on.
While Google Ads suggests putting the code in the header, it can also work to put it at the top of the HTML of the page in your WordPress page editor. You could also use a plugin to insert the code in the header on a specific page.
Congrats! You've successfully set up Google Ads conversion tracking on your WordPress site.
Why Should You Link Google Analytics With Google Ads?
If you've set up Google Analytics on your WordPress site, your Analytics account will already have an abundance of customers' interaction data. If you want to make use of your Analytics data to better track the interaction of your customers you acquired through the ads campaign, you need to link your Analytics account with Google Ads.
Some more benefits of linking Google Analytics with Google Ads are:
See your ad performance report in Google Analytics along with other site data.
Import Google Analytics metrics, goals, and eCommerce transactions into your Google Ads account.
Get richer data in the Analytics Multi-Channel Funnels report.
How to Link Google Ads with Google Analytics
Sign in to your Google Analytics account, and select the right website from your list.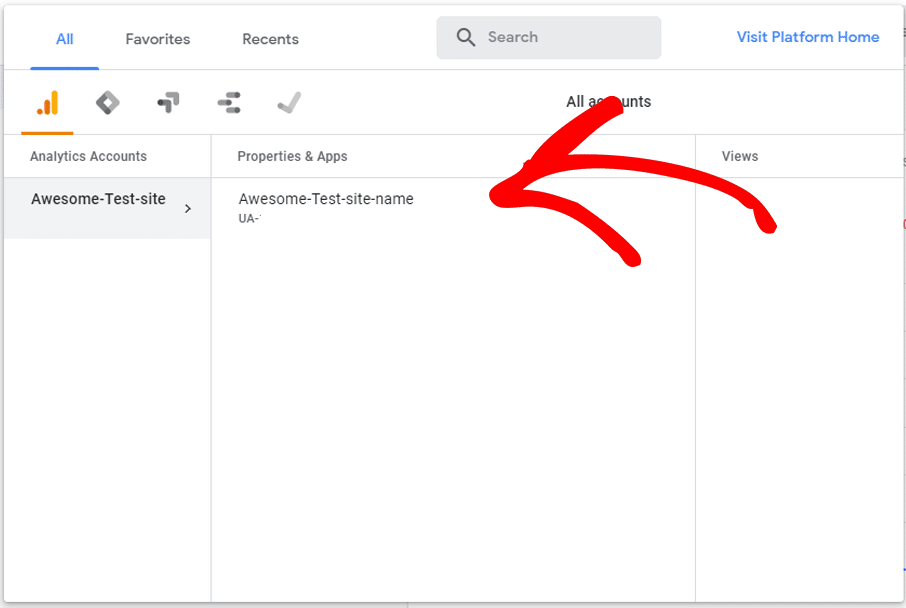 Click Admin in the left taskbar.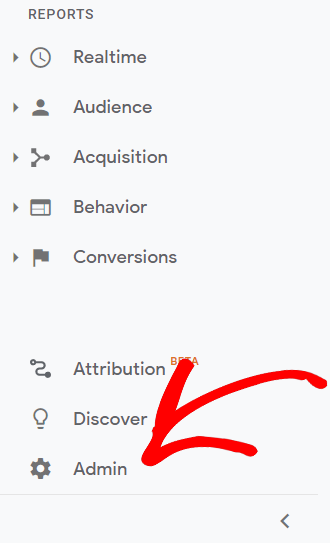 In the middle column, click Google Ads Linking.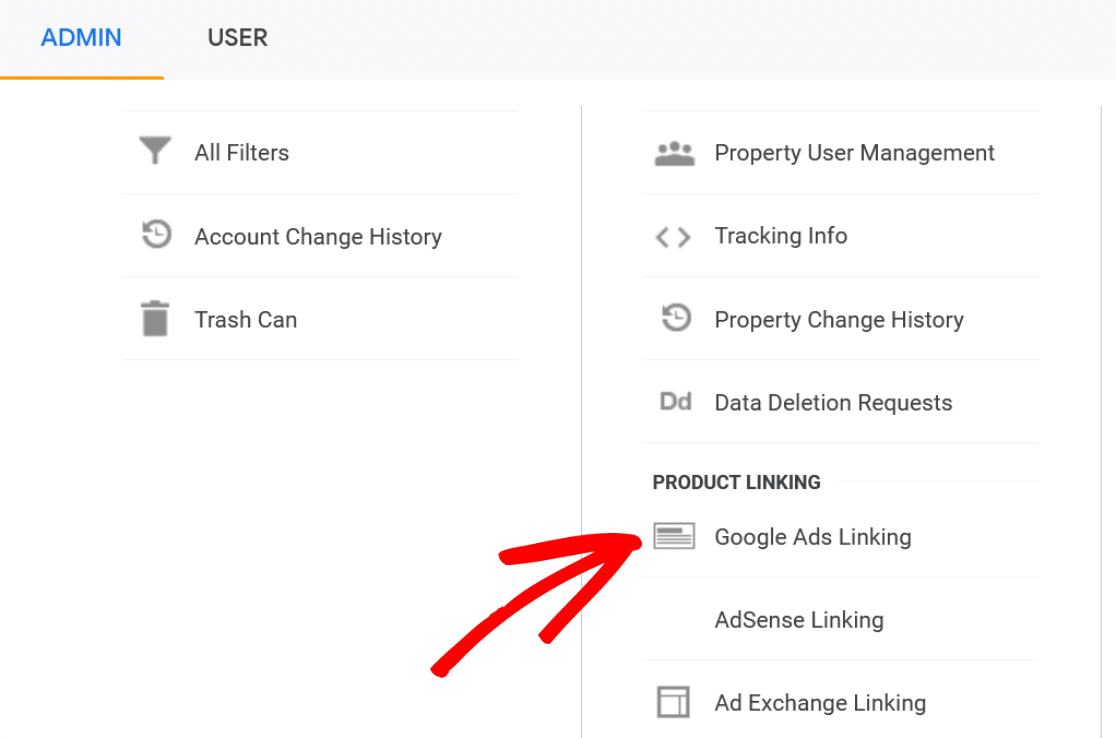 Select the right Google Ads account and click Continue.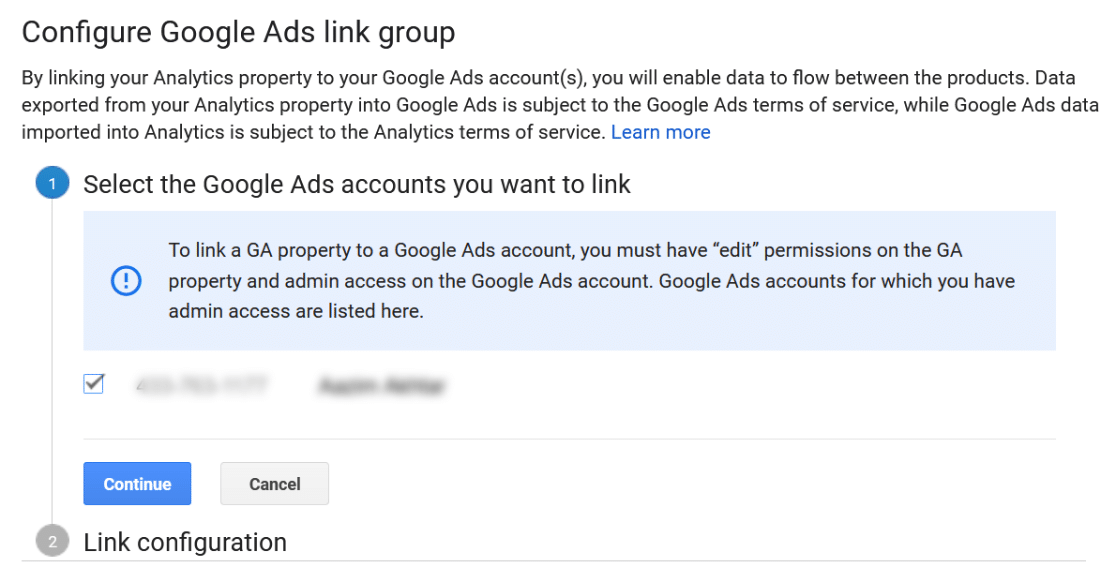 Specify an appropriate title for the link group and toggle On the link for the right view. Once that's done, click the Link accounts button.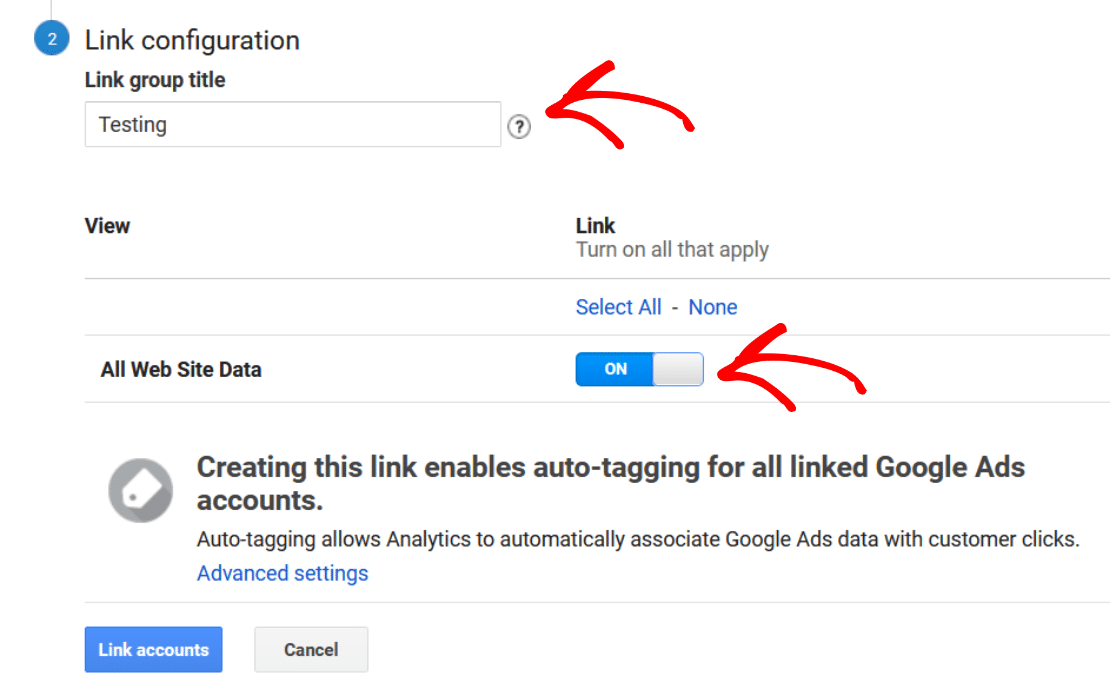 Congrats! Your accounts are now linked.
That's it!
We hope this guide helped you to find out how to use Google Analytics for Google Ads conversion tracking on your WordPress website. If you're running remarketing campaigns, you might want to learn how to collect WordPress visitor demographics data in Google Analytics.
And don't forget to follow us on Twitter, Facebook and YouTube for more helpful Google Analytics tips.