What do you know about your customers? Are they satisfied? Are they loyal to your brand? Would they like to see a new product feature or better customer service? How about their shopping habits? Good customer survey questions are the key to finding those answers.
As a business owner, your ultimate goal is to keep your customers happy and satisfied with your products or services. Still, in today's digital age, customers have more options than ever before, and their expectations are higher than ever.
So, how can you know if you're meeting expectations? By asking the best customer feedback questions!
There are tons of different feedback questionnaires, but the goal is always the same. Customer survey questions gather relevant information to help you better your business and make informed decisions.
With this in mind, we've compiled a list of the best feedback survey questions to understand your customers' needs and start improving your business!
Here's everything we'll cover in our guide to meaningful customer feedback questions:
Ready to get started? Let's dive in…
Is Customer Feedback Important?
Yes! Customer feedback is important for helping businesses gather client and visitor data quickly and easily. It can help you meet customer requests, find testimonial opportunities, hone your brand, drive growth, and more.
By listening to existing customers, you can uncover opportunities to enhance your products or services, improve your customer journey, discover useful information about your customers, and ultimately increase revenue.
Customer feedback falls into two main categories:
Passive Feedback: Customer feedback that you get without asking (blog comments, third-party reviews, support chats, etc.).
Active Feedback: Customer feedback you get directly from the customer by asking (testimonials, survey responses, etc.).
In this article, we're going to focus on active customer feedback and the types of customer survey questions you can use to gather different information about your business and customers.
What is a Customer Survey? (Types Explained)
There are lots of different customer surveys that all aim to uncover something different. They're often categorized in many different ways, but we're going to use 4 simple categories for our customer feedback questions:
Survey Questions to Measure Customer Experience: These are customer satisfaction survey questions and other types of questions that aim to uncover your customer journey, customer loyalty, and other customer sentiments about your product, business usability, and customer support.
Customer Survey Questions about a Product or Feature: These are questions to help you improve your business's product or service, find out what's working or not for your customers, and do market research for new features or products.
Feedback Survey Questions to Help Your Brand and Marketing: These questions help you find out more about your brand from the voice of the customer, see your customers' opinions, learn about your competition, and find ways to make your marketing more effective. They can also be great survey tools to gather customer responses that showcase your business or a specific product to use in your marketing campaigns!
Feedback Questions to Understand Your Customers: These questions help give you a more in-depth understanding of your customer base by asking demographic questions and collecting more data about how your business fits your customers' needs.
Take a look at this awesome example of a customer feedback survey, created with our favorite online survey tool, UserFeedback. This survey gathers multiple types of data by using follow-up questions.
The first is a question to understand your audience. It's used to discover what expertise level your target customers fall into in your industry, which plays a big part in your marketing strategy.
Meanwhile, the second question focuses on product feedback by gathering data about what services or products your customers are most interested in and whether that correlates to their expertise level.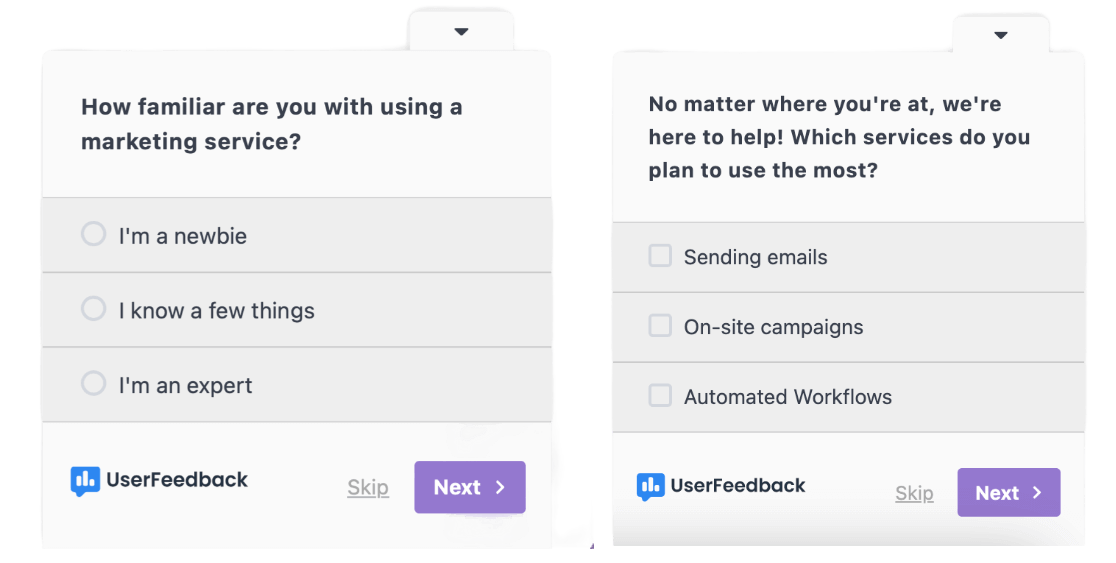 The third question is a goldmine because depending on how they answered the product question, they'll see a tailored email capture question.
That way, you can grow your email list with targeted information about which products they're most interested in and how experienced they are, which is extremely helpful for audience segmenting.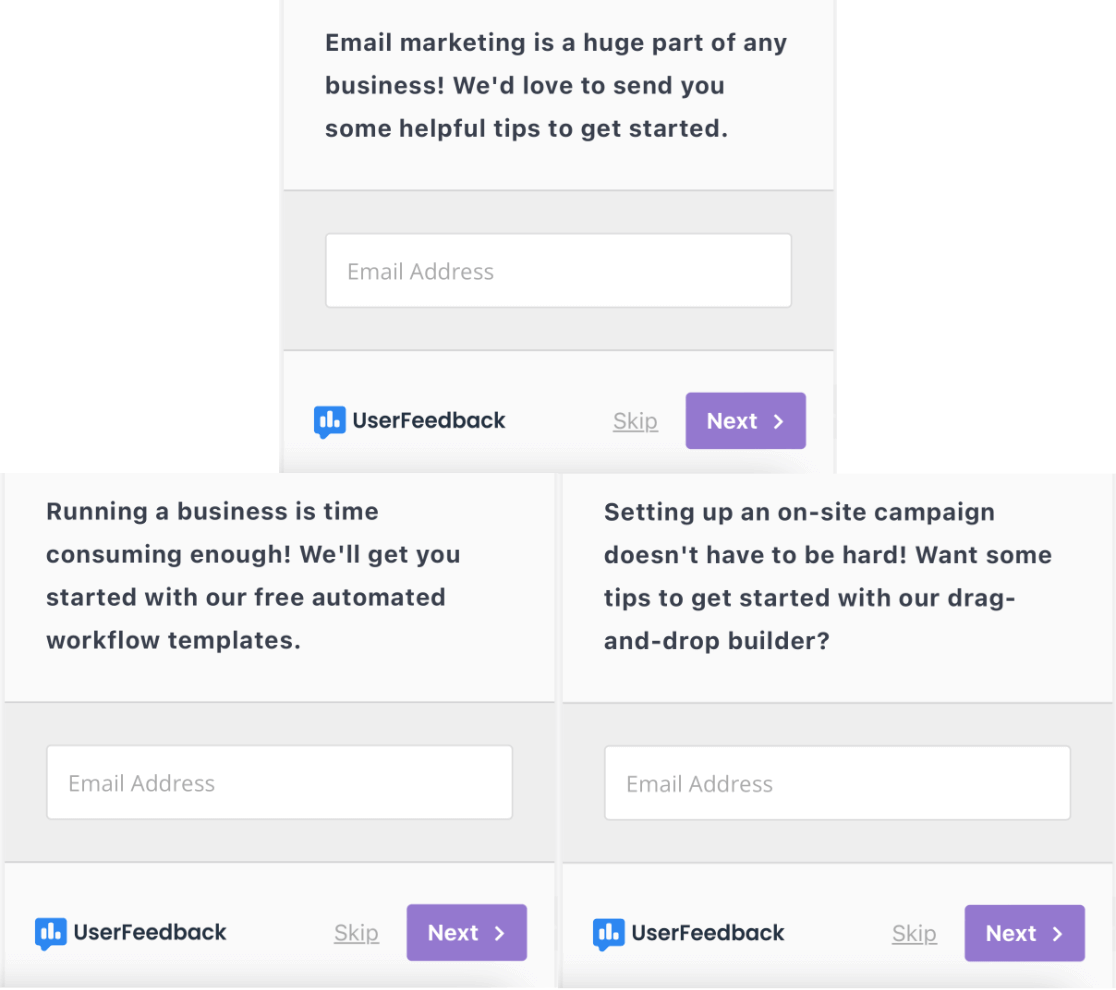 44 Best Customer Survey Questions
Now that you understand the types of customer surveys we'll be covering, let's get into each one and see some examples of good feedback survey questions.
Survey Questions to Measure Customer Experience
There are 3 primary customer experience surveys that use a rating scale to find an overall score, which are important metrics to track and improve upon.
First, we'll go over the feedback survey questions for each standard survey type with a visual template. Then, we'll also give you some other non-standard feedback questions to gain more valuable insights about the customer experience.
1. Customer Satisfaction Survey (CSAT Survey)
Wondering what questions to ask on a customer satisfaction survey? It's a standard survey with 2 questions. The first is used to measure your customers' overall satisfaction levels with a specific aspect of your business, like your customer service team, or their overall experience with your business.
It uses a 5-point rating scale to determine the number of satisfied customers and find your CSAT (Customer Satisfaction) score. Meanwhile, the second asks for open-ended customer suggestions for improvement.
Overall, how satisfied are you with our product/service/feature?
What can we do to make our product/service/feature better?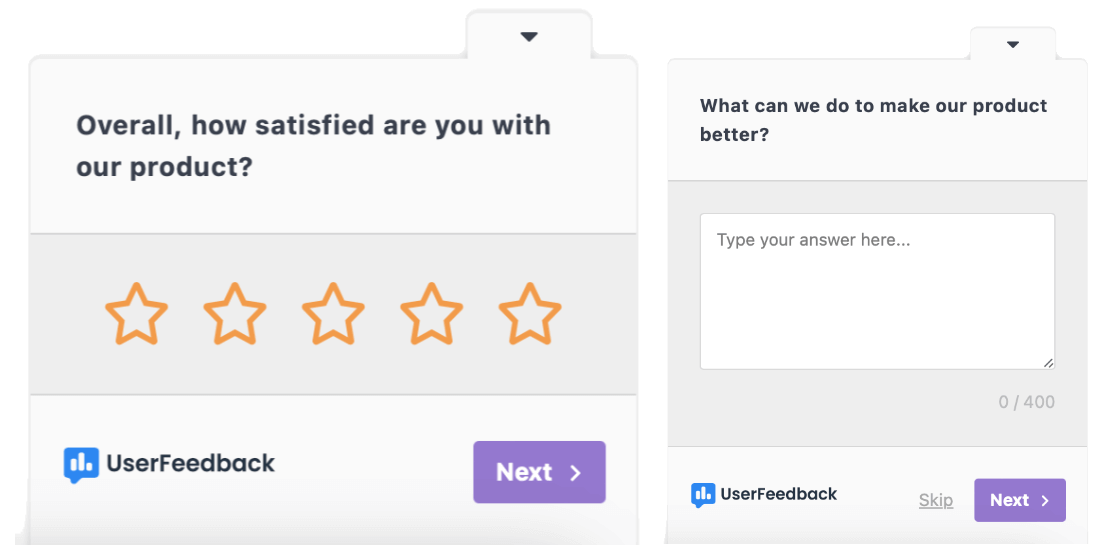 Want to know how to make a Customer Satisfaction Survey like the one above for your WordPress site? Check out: How to Create a Customer Satisfaction Survey on WordPress.
2. Net Promoter Score Survey (NPS Survey)
The NPS survey asks just one customer survey question that measures how loyal your customers are to your brand. Customers answer with a 10-point rating scale, which uncovers how many loyal customers you have (promoters) vs. unloyal (detractors) to arrive at your brand's Net Promoter Score (NPS).
How likely are you to recommend our company/product/service to a friend or colleague?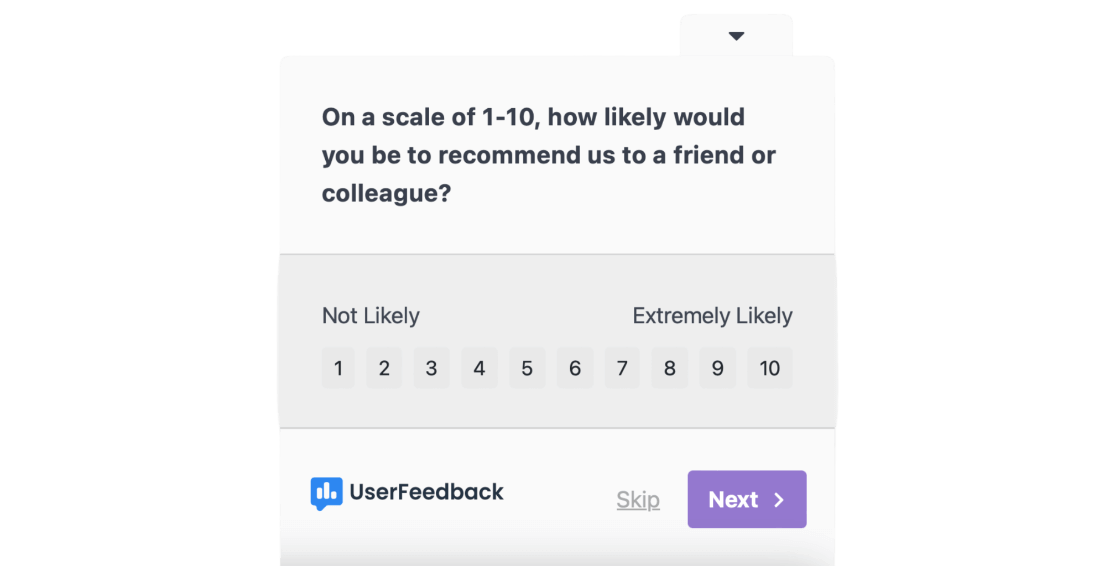 Want to know how to make an NPS Survey like the one above for your WordPress site? Check out: Tutorial: Net Promoter Score® (NPS®) Survey in WordPress.
3. Customer Effort Score Survey (CES Survey)
This standard feedback survey question measures how easy it is for customers to use your business or complete a specific action, like paying online or contacting support. The responses are used to find your Customer Effort Score (CES), which is an important metric for understanding the user experience.
You can use scale questions to ask how much your customers agree with a statement like "I found this website easy to use." Or, use a rating question, like the one below.
How easy was it to use this product/service/feature?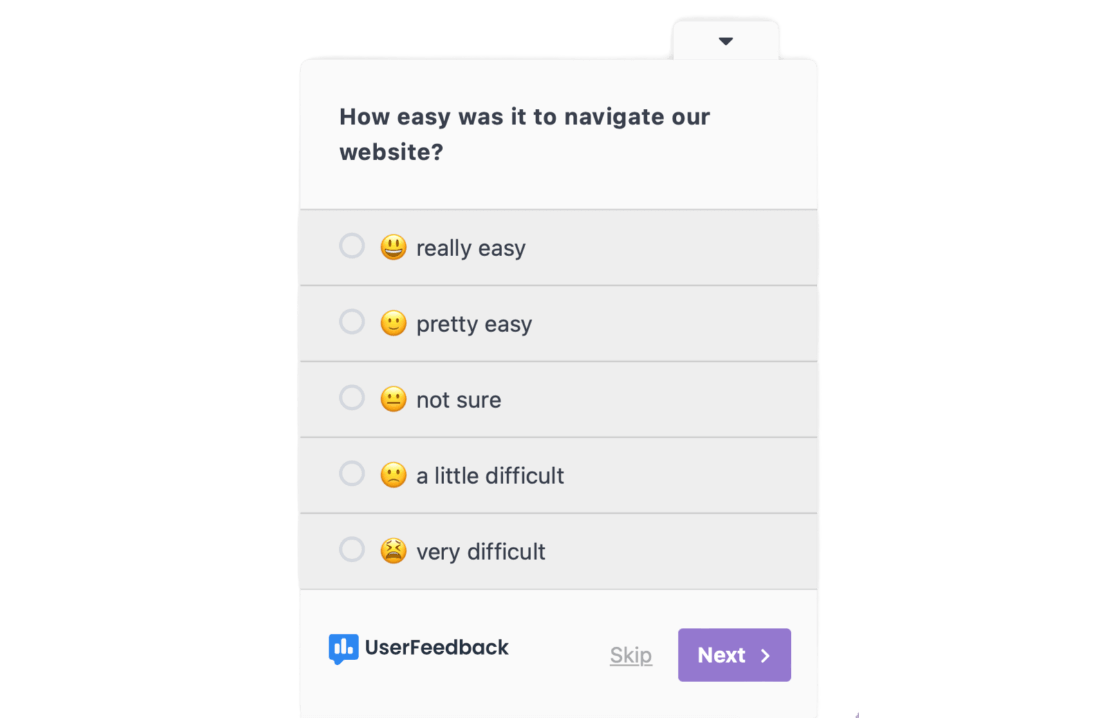 Now that we've covered the standard customer survey questions to find your Customer Satisfaction Score, Net Promoter Score, and Customer Effort Score, let's take a look at some more feedback questions you can ask to understand the customer experience.
Did you find what you were looking for today?
How happy are you with our selection of products?
Is our return policy fair?
Was our website easy to find?
What would have made it easier for you to find what you were looking for?
Customer Survey Questions to Ask About a Product or Feature
Here are some great customer feedback questions to use when you want to dive deeper into the specifics of certain products, see if there's interest in a new product, or find out how your customers feel about product-related aspects of your business like price.
And remember, customer surveys aren't only for eCommerce. You can gain really valuable feedback about anything your website offers. Want to find out if a new topic on your blog is landing with your readers? Surveys are a great tool to gather feedback about visitor engagement and more.
Check out this great example of an engagement survey for a popular blog post. Notice how the second question changes depending on the answer to the first? That's called conditional logic and it's an incredibly useful tool!
Did you find this content (product/feature/anything) engaging (useful/helpful/etc.)?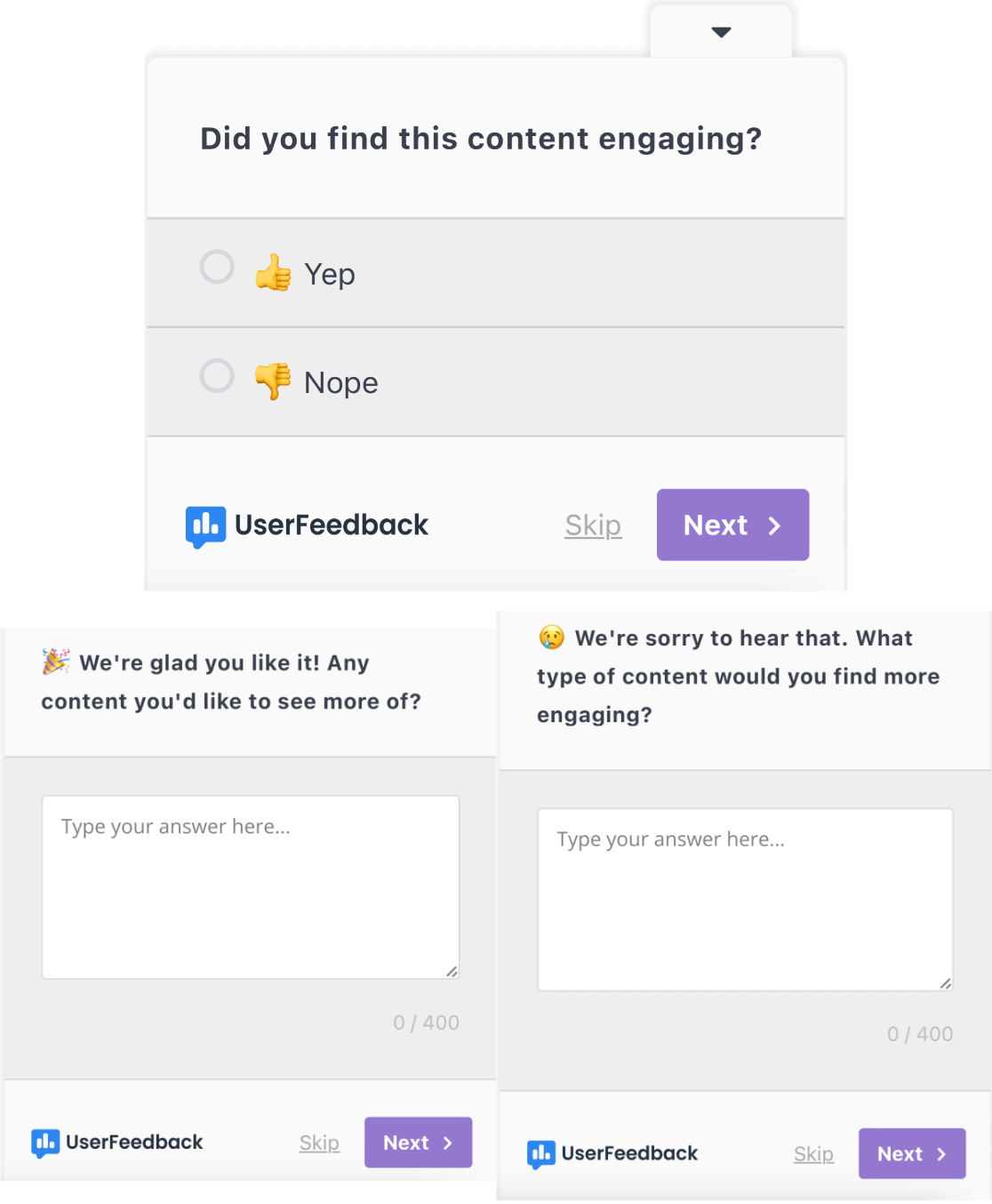 What is one feature you would like to see in our product?
Would you buy (new product) if we had it?
How much would pay for (new product/feature)?
Are our products priced appropriately?
Was the experience and service/product you received worth the price you paid? (This can be useful for seeing a possible why behind churn rate)
Which of the following words would you use to describe this product?
Based on your experience with our product, would you buy it again? (This can be helpful for predicting customer retention)
How is the (design/fit/quality/etc.) of the product?
What nearly stopped you from purchasing our product? (This can help you identify potential reasons behind abandoned carts, and mitigate them before they become a bigger problem)
Do any of the following products interest you? If so, which one would you be most interested in purchasing?
Feedback Survey Questions to Help Your Brand and Marketing
Now let's take a look at some customer survey questions to help understand your brand in the voice of the customer, gather more insight into the consumer's relationship with your business, collect testimonials, and do competitive research.
Check out another example used to find out if the customer has used a competitor's product in the past with a follow-up conditional logic feedback question to narrow down which competitors the visitor used in the past.
Have you used a similar product/service before?
What were you using before you found us?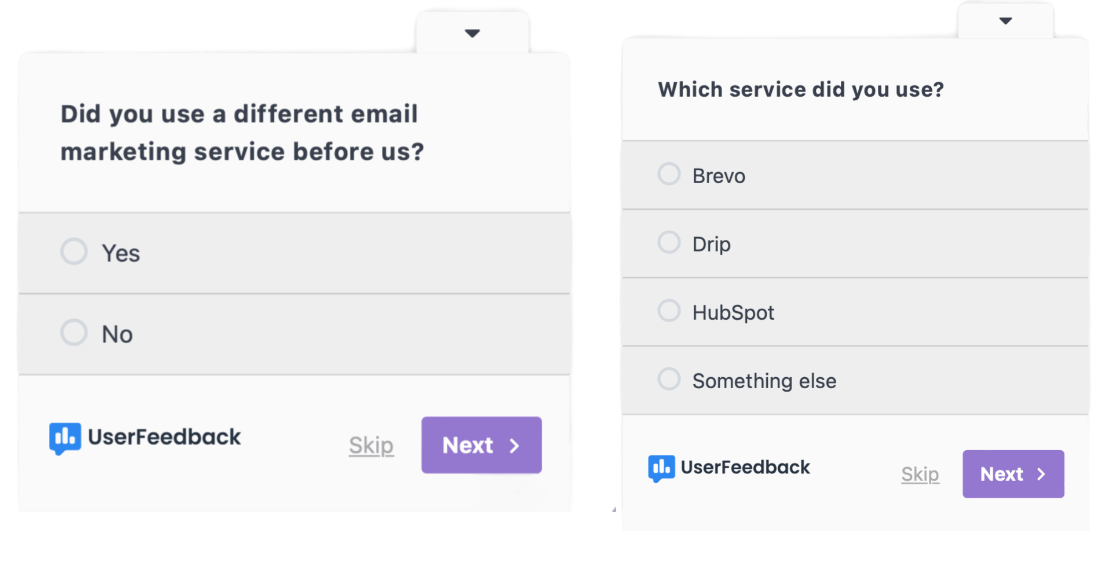 You can also use other customer feedback survey questions like these to help with competitive research.
How did you find us? (Referral, social media, advertisement, etc.)
What did you like about the previous product/service you used?
What made you want to try our brand?
Here are some more ideas to help you get a sense of customer relationships with your brand and business.
How would describe our brand in 3 words?
How long have you been a customer?
Where did you first hear about us?
Which of the following aspects of a business is most important to you? (Brand recognition, environmentally friendly, etc.)
How do you use our product/service?
Customer survey questions can also be an awesome tool to gather positive feedback to use for social proof and testimonial marketing. Here are some questions to get started with.
What is your favorite thing about our product/feature/brand?
What would you tell a friend or colleague about us? (This is a great way to find potential customers by redirecting to a referral form after the survey question)
Did any part of your experience with our business exceed your expectations?
How has our product/service made a difference to you?
How would you describe your customer experience in one sentence?
Feedback Questions to Understand Your Customers
Lastly, let's take a look at some customer survey questions that are helpful for understanding your target audience better and getting a sense of how your business fits into their lives.
You can also use less direct feedback questions to gather demographic and interest data about your users. Adding an example of the type of answers you're looking for in the question is a helpful trick, like this survey example.
How would you describe yourself in three words?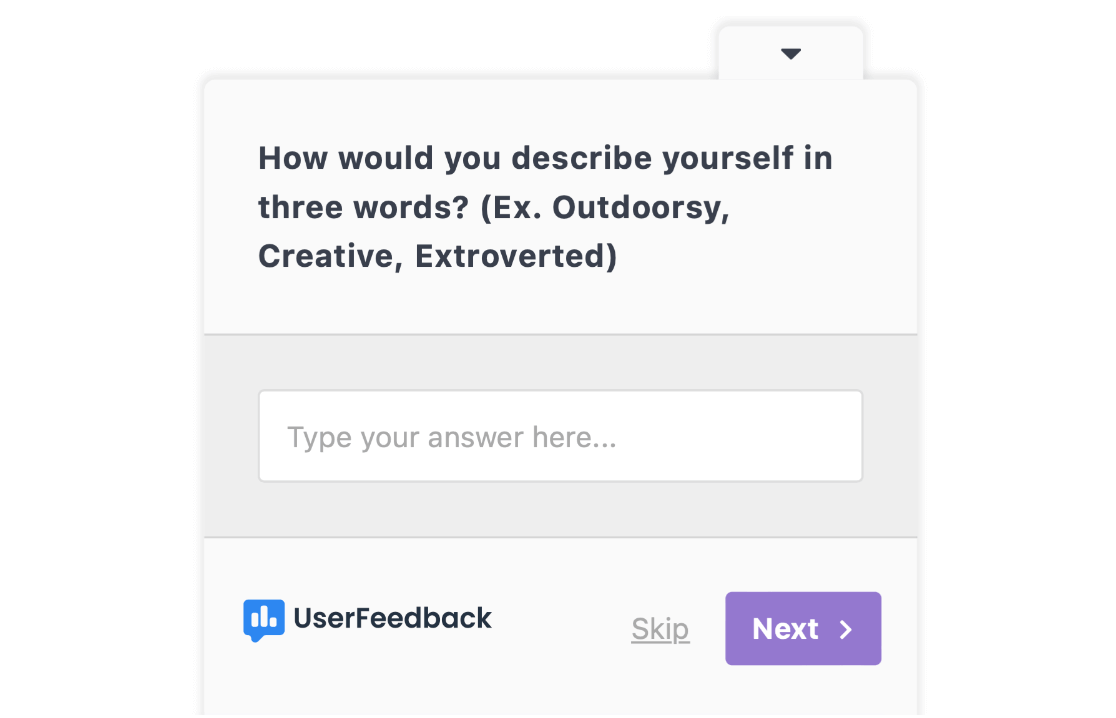 How would you describe yourself in one sentence? (Ex. I'm a 30-year-old writer from the East Coast that enjoys hiking).
What is your main goal in using our website/product?
What is your biggest concern about using a product/service like ours?
What level of expertise do you have in (area related to service/product)?
Are you purchasing this for yourself or as a gift? (You can also follow up by asking who the gift is for, husband, wife, child, friend, colleague, etc., to gain more demographic data)
Do you prefer quick and convenient or detailed and customized?
Do you use free trials or coupons?
Do you use a T.V., smartphone, or laptop more often?
Is the product, experience, or price most important to you when you shop?
How to Ask Feedback Questions
Asking customer survey questions doesn't have to be hard! Especially now that you have plenty of ideas to create your own customer survey. The only thing left is figuring out how to actually do it.
Luckily if you're a WordPress user, we have the perfect tool to collect feedback easily, and we'll also share a few tips to keep in mind when running your customer surveys.
The Best Tool for Creating Customer Survey Questions
UserFeedback is the best plugin for user feedback surveys on WordPress. Use its short surveys to find out what your visitors really think, make more money, increase engagement, and grow your business faster with candid customer feedback.
It's easy to set up and comes with a ton of survey templates. Or, you can create completely customized surveys to ask your users anything you want and any number of questions.
Plus, UserFeedback gives you detailed reports and integrates directly with MonsterInsights and your website's Google Analytics. You can track your forms and see all of your important metrics right inside your WordPress dashboard. Here are some of UserFeedback's key features:
Unlimited surveys, questions, and responses
Automatically display the widget in the bottom corner of your site, or use a shortcode to place it anywhere
Browse our library of pre-built templates for survey ideas
Customize your design, including a custom logo
Ask just one or several questions in each survey
Use conditional logic to create multiple possible series of questions
Many question types, including open-ended questions, multiple-choice radio buttons or checkboxes, yes/no, star ratings, Likert scales, email capture, and more
Smart targeting and scheduled surveys
And more!
Get started with UserFeedback today to start creating your own customer surveys and collecting valuable feedback!
Tips for How to Ask for Customer Feedback
Firstly, you want to use the right tool to ask for customer feedback. We already shared our favorite online survey tool, but you'll want to find something that fits with the type of business you run if you don't use a website.
Next, make sure to follow these important tips to gather meaningful customer feedback.
Ask the Right Questions
With the ability to ask customers any number of feedback questions, it can be tempting to get carried away. Just remember, data is only helpful if you can do something with it. So, be sure to ask the most important questions to get actionable insights to improve your website or customer experience.
Plus, even if you ask a million questions, chances are that your customers won't answer them all, and worse, you could even lower your overall response rates since visitors may simply leave your website if there are too many survey questions.
If you're not sure where to begin, focus on any known issues that you need to dig deeper into or start with one of the standard survey types (Customer Satisfaction, Customer Effort Score, or Net Promoter Score). All 3 standard surveys give you important metrics that you'll want to keep an eye on as your business grows.
Choose Your Placement Wisely
If you're using a tool like UserFeedback, you can choose specific pages to place your customer feedback questions on. Think about where your survey appears from the perspective of your customer and how it may affect responses,
For example, you probably don't want a popup box that's intended to gather testimonial feedback showing up on your refund policy page. But, asking "Is our return policy fair?" on that page could be a perfect way to determine if some recent complaints were a fluke or need more attention.
Think About Your Timing
When to ask customer feedback questions is another important thing to think about that also affects the responses you'll get.
For example, let's say you want to ask customer survey questions about your normal product pricing, but you have a promotion coming up. Running your survey during any overlap with the sale could give you inaccurate data.
However, if you ran one survey before, and then a different survey with the same questions during the promotion, you'd have great pricing feedback to compare!  With its advanced scheduling feature, UserFeedback makes it really easy to set up multiple surveys in that way.
And remember, these survey tips apply whether you're using on-site popups, email surveys, phone surveys, or even in-person feedback questions.
Well, that's it for our list of feedback survey questions! We hope you found some useful tips and questions to start using in your business!
If you enjoyed this article, be sure to check out: How to Find Out Where Your Email Subscribers Are Coming From.
Not using MonsterInsights yet? What are you waiting for?
Don't forget to follow us on Twitter, Facebook, and YouTube for the best WordPress tutorials and Google Analytics updates.