Are you wondering why your website visitors aren't converting into leads or sales? That's because you're probably missing out on some amazing conversion rate optimization (CRO) tricks.
Conversion rate optimization is an important process for any business. It involves increasing the percentage of website traffic into completing the desired action, like signing up for your email list or purchasing a product.
A small jump in conversion from 1% to 2% can give your sales and revenue a huge boost. But achieving this increase is where most people get caught out.
In this article, we've rounded up conversion rate optimization stats to show what you've been missing from your strategy. Let's begin.
Why Do You Need Conversion Rate Optimization?
CRO is still a growing field, and if you're a new business owner or have just created a website, then it's time to pay special attention to your optimization strategy.
As a report by Econsultancy shows that 50% of companies say conversion rate optimization is a crucial part of their digital marketing strategy.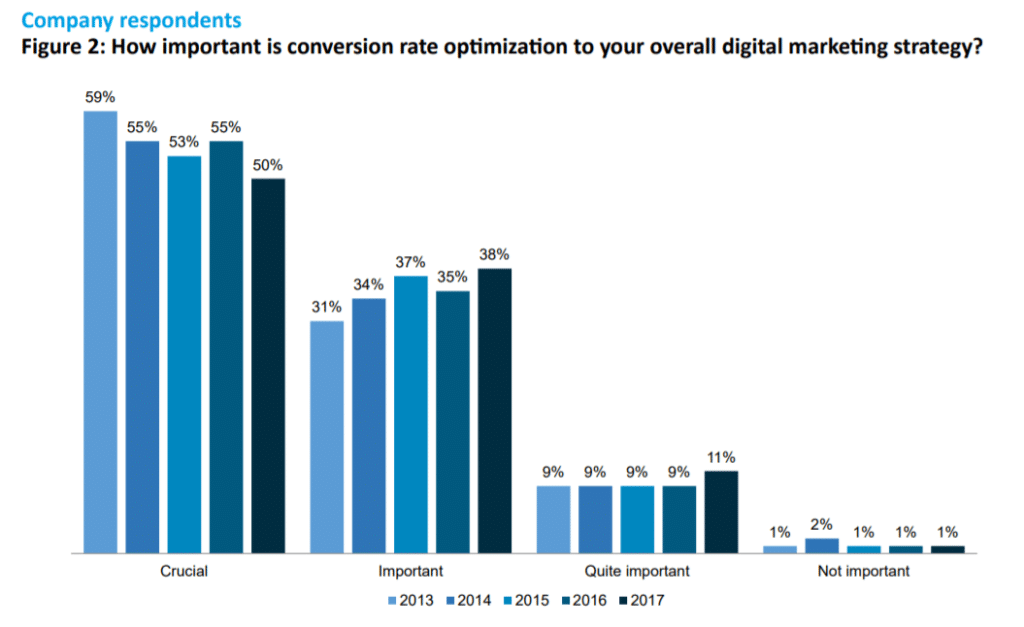 However, Econsultancy also reports that only 1% of companies were very satisfied and 22% were quite satisfied with their conversion rates. Which shows that there is a lot of room for improvement in the area of CRO.
What is Considered a Good Conversion Rate?
A good conversion rate depends on your industry. According to Search Engine Land, the average landing page conversion rate is 2.35%.
That said, the top 10% landing pages have a much higher conversion rate (11.45% on average). For instance, pages in the top 10 in the financial industry have an average conversion rate of 24.48%.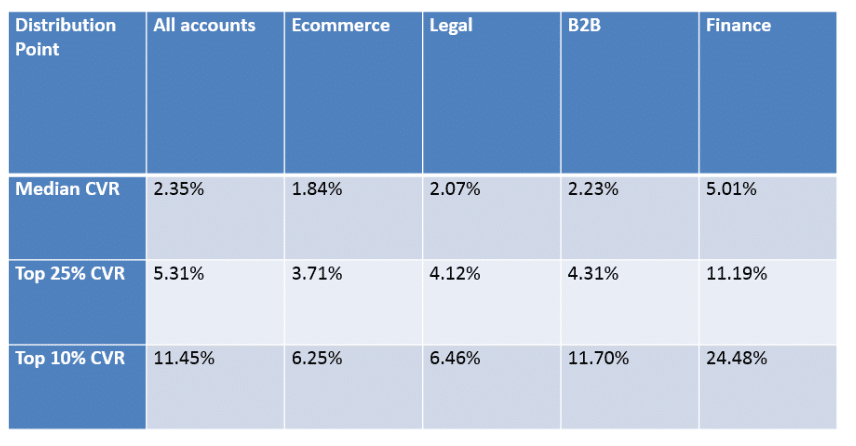 This shows that the top 10% of landing pages get 3 to 5 times more conversions in any industry. Now let's see different stats about sales conversions.
Sales Conversion Rate Statistics
For any business to be successful, it's important to convert leads into sales, especially in B2B. A study of 2,200 American companies found that you're 7 times more likely to convert a lead if you tried to reach it within the first 60 minutes.
And instead of asking all the questions at the start of the call, it's better to space them out during the conversation. You'll have more chances of conversion if it doesn't sound like an interview.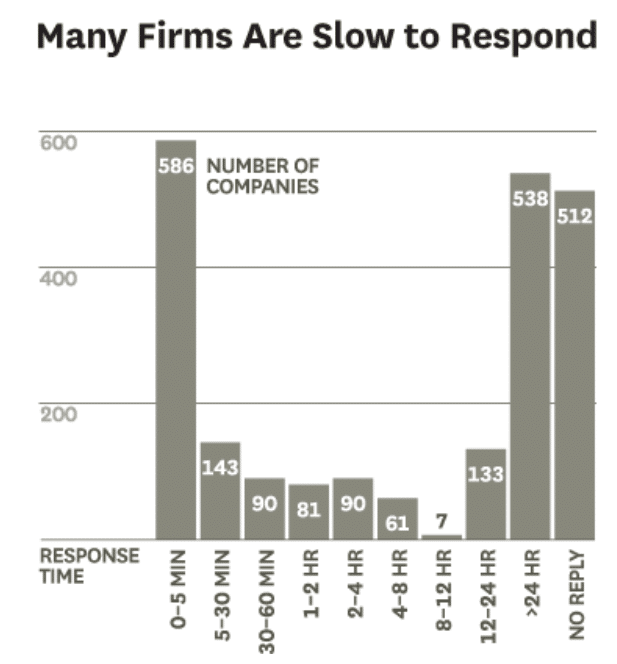 The importance of CRO among salespeople is growing across different industries. HubSpot reports that 69% of the marketers feel lead conversion of top priority.
Using marketing automation tools also helps to boost the conversion rate. In B2C companies, the conversion rate has grown by 50% because of marketing automation.
Landing Page Conversion Optimization Statistics
Landing pages are an excellent tool to boost your website's conversion rate. But if you don't test them, you won't know what's working and what's not.
Even former President Obama's campaign team was able to raise an additional $60 million using A/B testing and optimizing their landing pages. And 44% of companies use a testing software to split test or A/B test their landing page.
If you're going to create a landing page, then you should create long-form pages. That's because they can generate more than 220% leads. But make sure to test the headline, page design, and call-to-actions (CTAs).
Another great way of boosting the conversion rate of your landing pages is by making them interactive. One way of doing that is by adding videos, as they can increase the conversion rate by 86%.
And if you're in the B2B industry then landing pages have an average conversion rate of 13.28%. But what about the eCommerce industry? Let's see some conversion rate stats about eCommerce websites.
Ecommerce Conversion Rate Statistics
As of the first quarter of 2019, 4.01% of eCommerce conversions are from desktops. It's followed by tablets with 3.54% and mobile with a 1.88% conversion rate.
The statistics show an interesting picture. Although the use of mobiles is growing and even Google has gone mobile-first, users still prefer desktops when making an online purchase.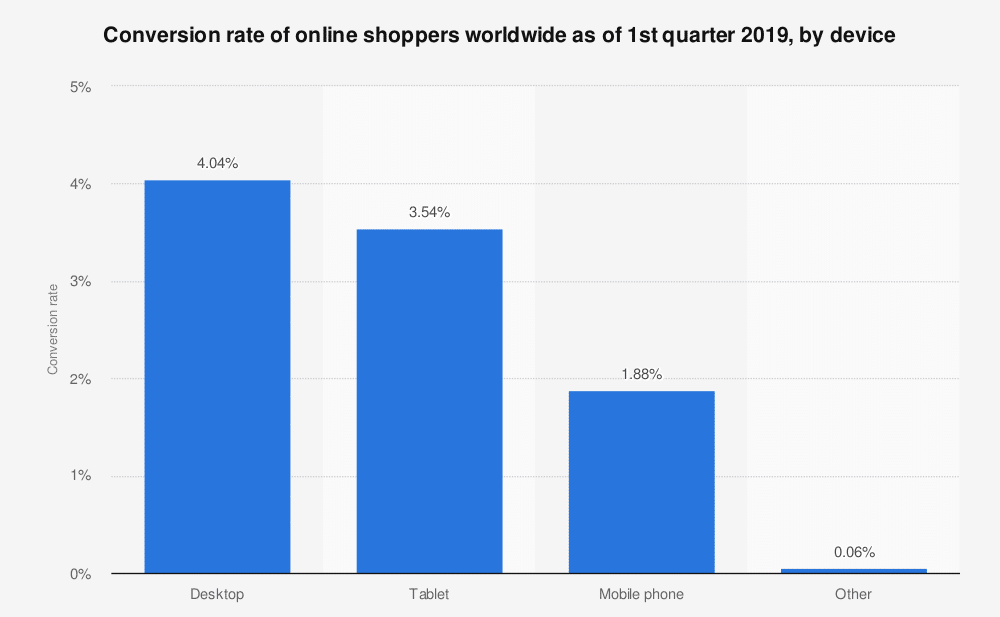 The amount of cart abandonment is also high on mobile. OptinMonster revealed that cart abandonment on the desktop is 67.1%, but the rate jumps to 77.8% on mobile.
A major issue why users don't prefer mobile devices for online shopping is because most websites aren't mobile optimized. This means the landing pages or checkout pages don't work on mobile or have issues with design and layout.
And stats back why mobile experience is important. A single second of delay in mobile page response brings down the conversion rate by 7%.
So, if you have an eCommerce store, then to boost your conversion rates, it's important that your store is mobile responsive and visitors can easily check out, no matter the device they use.
That said, eCommerce conversion rates are higher in Europe (1.51%) than in the US (1.37%). And the UK leads the pack with a 1.8% conversion rate.

SEO Conversion Rate Statistics
SEO or search engine optimization is one of the most important marketing channels for any business, large or small. However, your ranking on the search results plays an important role in how much traffic you can attract to your site.
If you rank number 1 on Google, your click-through rate (CTR) is nearly 30%. CTR drops to 10% if you're third and goes below 2% if you're positioned ninth or below.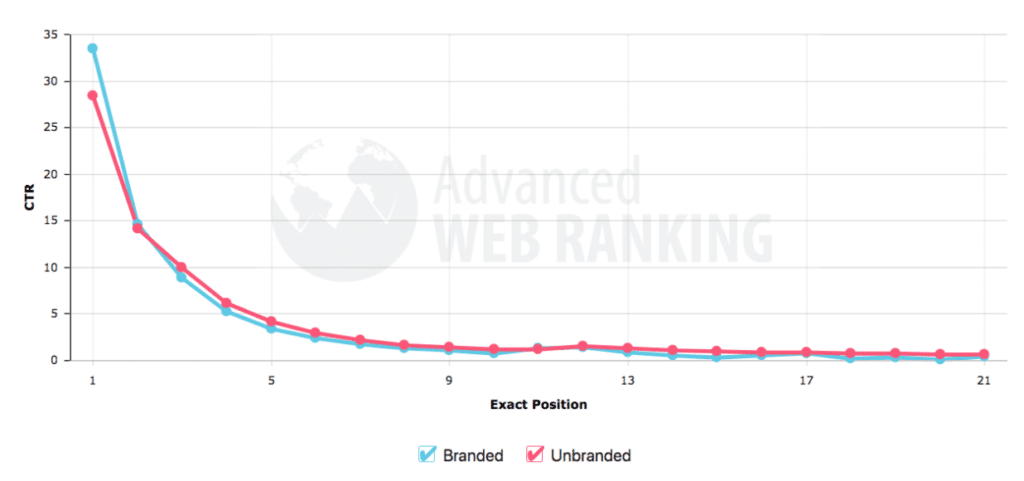 Another reason why you should optimize your website pages for higher rankings is that organic results get 94% of the clicks compared to paid results.
And organic leads have an average conversion rate of 14.6%, which is much better than any leads generated through outbound activities like direct mail. Outbound leads have a conversion rate of 1.7% and costs more.
That said, organic conversion rates can vary across industries:
20% in consultancy and marketing agency
20% in media and publications
11% in retail and wholesale distribution
15% in the technology sector
15% in manufacturing
Ad Conversion Rate Stats
The other important marketing channel compared to organic is the paid advertisement channel.
Facebook and Google lead this industry for the total digital ad spend in the US. It's expected that total ad spending on Google will be 36.3% by 2020 and 19.3% on Facebook.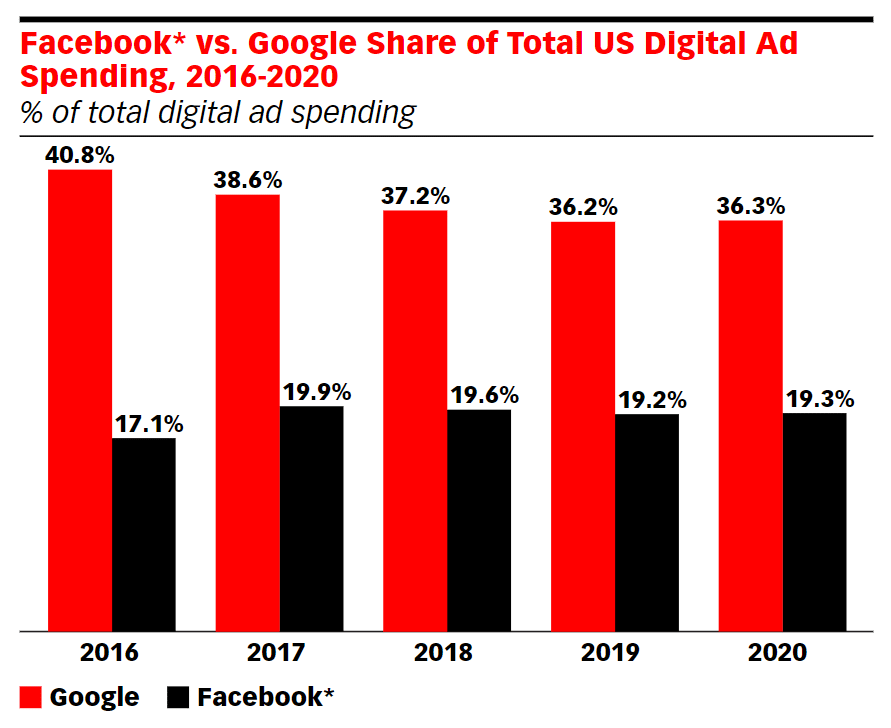 When you're running paid ads on Google, it's better to have a benchmark against which you can gauge your performance. So, the average CTR in Google Ads across all industries is 3.17% for the search network and 0.46% on the display network.
That said, the average cost per click (CPC) across all the industries is $2.69 for the search network and $0.63 for the display network.
Blog Post Conversion Rate Statistics
Blog posts are a great tool for content marketing. If done right, they can get you 3 times more leads than paid search advertising.
One of the ways to improve conversions on your blog is to introduce a pop-up box. They can increase your subscriber list by 1.375%.
The headline of your blog post can also determine the conversion rate. Research shows that 36% of people prefer headlines that have numbers.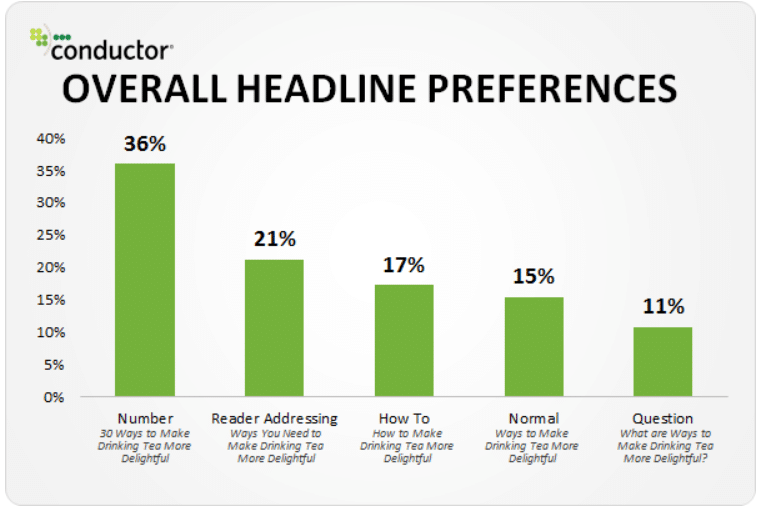 Another way of improving your headlines and boost conversion rate is by adding emotional words. They help trigger a response from your audience and increases your chances of getting a click.
Pro Tip: Use the MonsterInsights headline analyzer tool to get instant feedback on your headline copy inside your WordPress editor. Simply click on the headline analyzer button and get a rating of your title. Do note that you'll need MonsterInsights Plus or higher license to use the tool.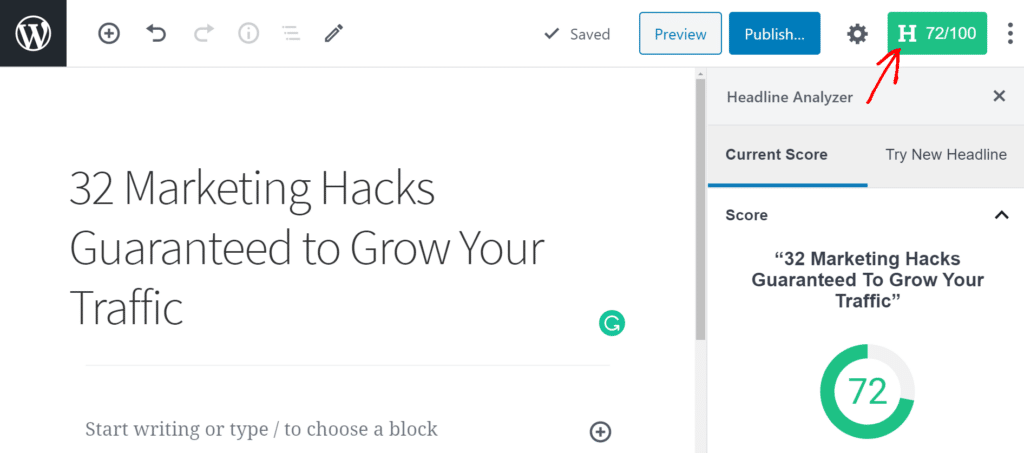 Other than that, CTAs are another key element for blog post optimization.
According to HubSpot, when they optimized 12 of their high-ranking posts CTAs with the search keywords, their visitors were looking for, they increased lead generation by 99% and conversion rate by 87% from those posts.
And it's a good practice to write articles of 2,000+ words so that they can perform better on search engines.
Don't forget to use images and other visuals of real people instead of stock images, as it helps to increase the conversion rate by 35%. Plus, 43% of consumers want more video content, which shows you should use them in your articles.
After you're done writing a killer blog post with all the optimization tips used by other successful websites, let's see how they perform when promoting it on social media.
Social Media Conversion Rate Statistics
We've already mentioned that Facebook is among the top channels for ad spend in the US. That said, it is also the top source to drive referral traffic.
According to Shareaholic, social media drives 31.24% referral traffic to websites. And among different content types shared on social media, user-generated content has the most conversion rate.
When companies across all industries use user-generated content, the average conversion rates increased by 161%. This shows that social proof is very important.
It encourages users to share images and videos while using their favorite brands. And stats also show that 4 in 10 users follow their favorite brand's social media page. When it comes to online shopping, 37% of users say they use social media as inspiration before purchasing.
Even 96% of B2B marketers say that they consider Facebook as a valuable marketing platform.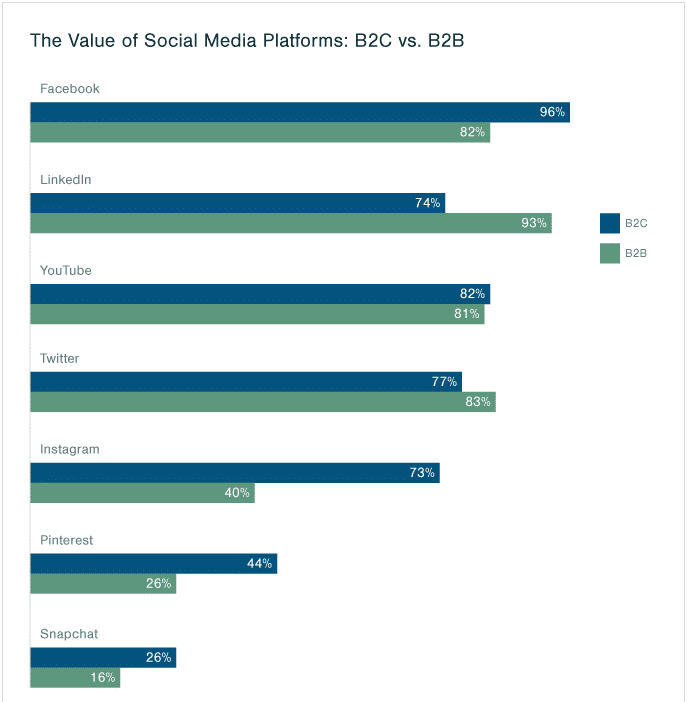 And that's it.
Using these stats, you can make changes to your strategy and boost your WordPress website's conversions.
We hope you liked our article on conversion rate optimization stats to show you what you've been missing. You can also check out our article on how to track WooCommerce conversions.
Don't forget to follow us on Twitter and Facebook for more helpful marketing and Google Analytics tips.