Do you want to increase sales and revenue from your eCommerce shop? Focusing solely on your sales numbers doesn't tell you what is or isn't working on your site. To generate more revenue, you need to know which eCommerce metrics to track.
In this guide, we'll show you some crucial eCommerce metrics to track in Google Analytics that will help you boost your revenue.
How to Measure eCommerce Success
If you really want to know how your eCommerce site is doing, you need to keep track of key performance indicators (KPIs).
KPIs (Key Performance Indicators) are key metrics that help your business understand where your successes are coming from, and what changes you need to make in order to build your customer base and generate more revenue.
Focusing on crucial KPIs for your store tells you whether your business is moving towards meeting your objectives. It also helps you ensure that you are not going off track.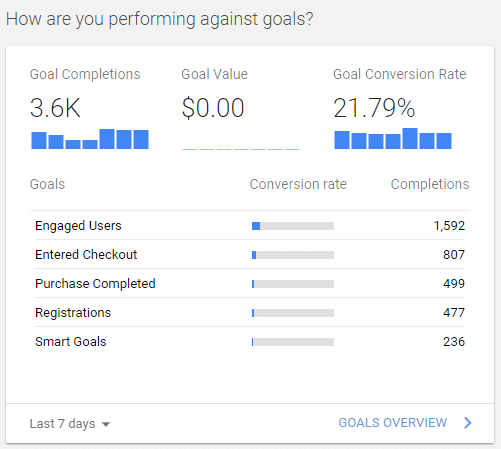 How can different KPIs can help you generate more revenue from your online shop? Here are a few ways:
Increase conversion rate: By increasing conversion rate, you are encouraging more visitors to make a purchase from your online shop.
Increase the average order value: You can entice your customers to spend more on your store when they make a purchase.
Reduce the cost per acquisition: For a sustainable and profitable business, you need to reduce the advertising and other costs you spend for acquiring a customer.
What are the best KPIs for measuring the performance of an eCommerce business?
Let's take a look at what eCommerce metrics you should be tracking.
Enable Tracking to Unveil eCommerce KPIs
To see most of the KPIs listed below, you want to make sure that eCommerce tracking is enabled on your site. With the MonsterInsights eCommerce addon, you can easily enable eCommerce tracking on your WordPress site without having to touch any code.
Read our easy to follow guide on how to enable eCommerce tracking in Google Analytics.
MonsterInsights also allows you to easily enable Enhanced eCommerce for even more data and insights into the shopping behavior of your visitors.
Once it is enabled, you can make data-driven decisions to generate more sales and revenue from your eCommerce store.
Now let's take a look at some crucial eCommerce KPIs to track in Google Analytics and discover why they matter to your business.
1. eCommerce Conversion Rate
Your conversion rate is the percentage of your visitors who took an action on your site. The action can be anything like email newsletter signups, making a purchase, etc.
The conversion rate tells you how effective your site is at encouraging passive visitors to take an action.
If you focus on tracking micro conversions like email signups, file downloads, ad clicks, etc. make sure that they are geared toward meeting your business objectives. You may also want to ensure that micro conversions will ultimately lead to macro conversions like purchasing products, increasing repeat purchases, etc.
To track conversions, you need to set up conversion goals in your Google Analytics account. For more details on setting up goals, read how to create and track Google Analytics goals.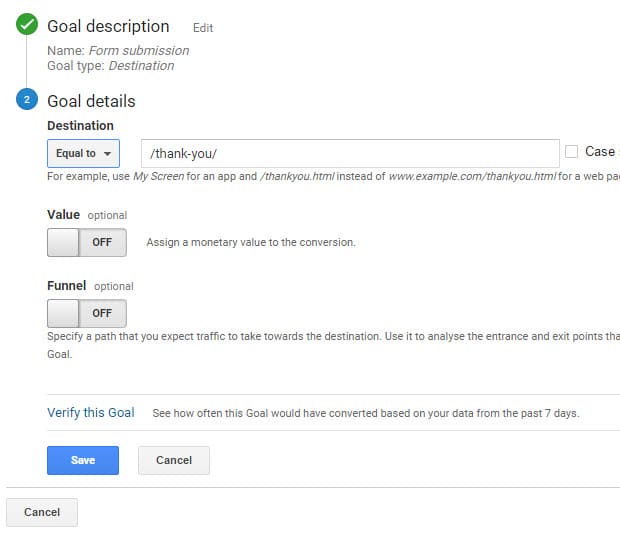 Google Analytics lets you set four different types of goals to choose from. They are:
Destination: You can choose this goal type if you want to treat a pageview or screenview as a conversion.
Duration: You can measure user engagement by treating time spent on a page as a conversion.
Pages/Screens per session: This is another way to measure user engagement. You can measure the number of pageviews per session as a conversion.
Event: You can treat user interaction like button click, video play, or file download as a conversion.
2. Average Order Value
One of the best ways to increase the revenue you generate from your store is by encouraging your customers to spend more when they make a purchase.
To entice customers to spend more on your store, you need to focus on tracking and improving your Average Order Value (AOV).
The higher the AOV, the more income your store generates on each order. The basic calculation is the total sum of revenue generated divided by the total number of orders.
You can raise the AOV for your store through many ways. Some of them are listed below.
1. Upsell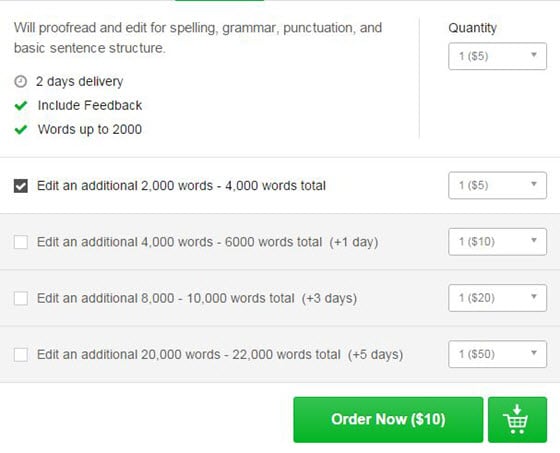 You can persuade your customers to purchase something additional or more expensive ones.
2. Sell Product bundles

For a discounted price, you can sell several products in a bundle.
3. Offer discounts on a minimum spend threshold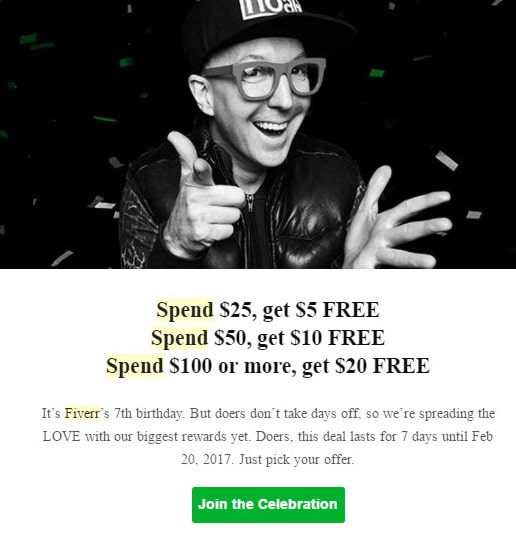 You can convince your customers to spend more while making a purchase by setting a minimum spend threshold.
3. Shopping Cart Abandonment
According to Baymard Institute, on average, 69 out of 100 orders are abandoned before being completed.
You can view your shopping cart abandonment rate in Google Analytics if you have enhanced eCommerce enabled. Just navigate to Conversions » Ecommerce » Shopping Behavior to view a visualization of your funnel, along with the percentage of shoppers that complete or abandon each step.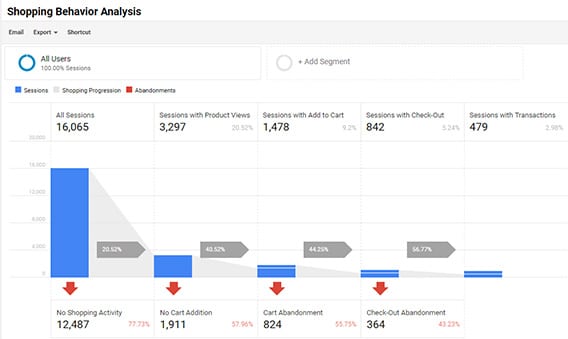 A few reasons that make customers abandon the cart are:
Seeing unexpected costs on checkout.
Not following the promises you make.
No security badges or trust seals.
Too long registration form.
4. Revenue on Advertising Spend
Revenue on Advertising Spend (ROAS) tells you how well the money tossed into online advertising is working. If you're looking to make your advertising campaigns effective, you need to raise the revenue on advertising spend.
You can find the revenue on advertising spend by looking at the cost analysis report in Google Analytics by navigating to Acquisitions » Campaigns » Cost Analysis.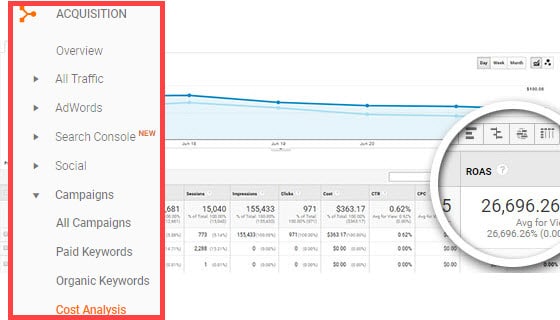 5. Customer Lifetime Value
Customer lifetime value (CLV) is the projected revenue that an average customer would spend on your store during their lifetime.
Calculating your customers' lifetime value helps you estimate marketing costs and analyze your acquisition strategy.
Google Analytics allows you to you see lifetime value for customers you acquired through various channels. You can find the lifetime value report by navigating to Audience » Lifetime Value.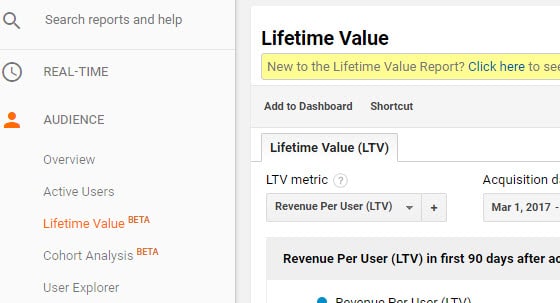 We hope this guide gave you some insights into crucial eCommerce metrics to track in Google Analytics.
If you enjoyed this article, you might also want to read 5 best Google Analytics custom reports for your eCommerce shop.
You can also follow us on Twitter and Facebook for more free tutorials.