Wondering which website analytics tool to use on your WordPress site? If you want a simple-yet-powerful solution, you can use a plugin like MonsterInsights or Google Analyticator.
Both of these plugins connect your WordPress site with Google Analytics to provide you with site metrics; however, there're some big differences in the way they work.
In this article, we'll compare MonsterInsights vs. Google Analyticator and show you the major differences that matter.
Get Started with MonsterInsights Today!
Video Tutorial
1. General Overview: MonsterInsights vs. Google Analyticator
What's MonsterInsights?
MonsterInsights is the most user-friendly, most powerful Google Analytics plugin for WordPress. It helps you to easily add Google Analytics to your WordPress site and provides you with detailed information and stats about your site visitors and their interactions with your site.
MonsterInsights simplifies the entire process of using Google Analytics and empowers everyone who uses it, including beginners. You'll see not only the regular site metrics that Google Analytics offers by default but also sophisticated metrics like eCommerce, ads, form conversions, and more.
Another plus point is that you can view all of these reports in your WordPress dashboard. It includes a dashboard widget to show your website overview report and a report page to let you view the complete report.
In addition, it also provides you with links to the Google Analytics website to view the full reports. It's especially useful to the people who want to use Google Analytics but have no idea how to configure its settings and view reports.
What's Google Analyticator?
Google Analyticator is another simple Google Analytics plugin for WordPress. Like MonsterInsights, it helps you with the easy installation of Google Analytics code on your site without having to edit your theme file to insert the code.
Another similarity of the plugin with MonsterInsights is reporting via a dashboard widget. The dashboard widget lets you view your site's performance at a glance right in your dashboard (yoursite.com/wp-admin).
The dashboard widget shows you a quick summary of your website analytics report, but it's limited. MonsterInsights, in contrast, has a well-designed and comprehensive report page inside your dashboard where you can view all the standard Google Analytics reports as well as advanced metrics.
2. Reporting: Basic Overview vs. Advanced Metrics
The major difference between MonsterInsights and Google Analyticator is reporting features.
Google Analyticator shows only the basic overview of your site's performance, whereas MonsterInsights provides you with advanced metrics in the Reports pages along with the dashboard widget.
Google Analyticator's dashboard widget looks like the screenshot below: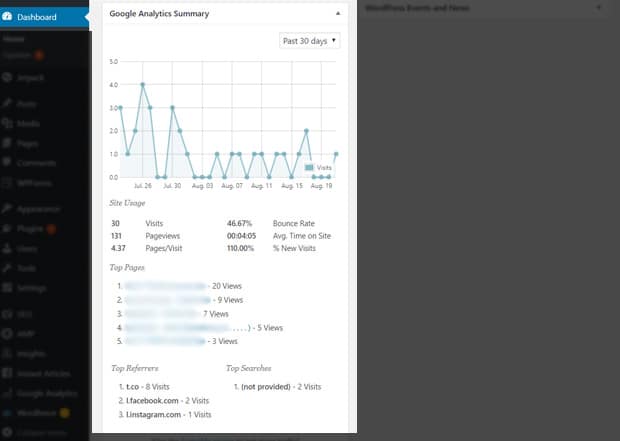 It includes the following reports:
A graph showing the unique sessions your site triggered in the past 30 days (the dashboard widget shows 30 days by default which you can change into yesterday or 60 days).
A quick summary of site usage: total visits, pageviews, pages per visit, bounce rate, average time on site, and percent of new visits
Top 5 referrers to your website
Top search terms used to find your website
That's all the Google Analyticator plugin shows you by default. You can add a few other reports to it by enabling tracking features in its setting page. To configure its settings, you'll need to navigate to Google Analytics » Google Analytics from your WordPress dashboard.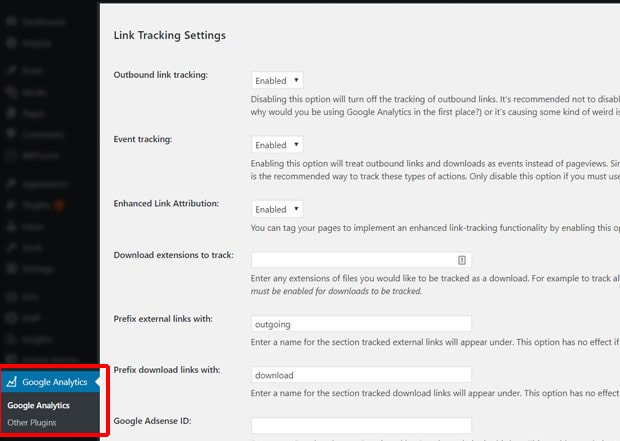 From here, you can enable a few tracking options, as listed below:
Outbound link tracking
Event tracking – if enabled, outbound links and downloads are treated as events instead of pageviews
Enhanced link attribution – if you've 2 or more links to the same destination from one page, this feature will show you which link is getting more clicks
Downloads tracking – if you've downloadable files such as pdf, MP3, etc.
Google Adsense tracking
That's all. There aren't any more tracking options in the Google Analyticator.
So, what about MonsterInsights reports?
Let's go ahead and check its reporting options…
First, here's what the MonsterInsights dashboard widget lets you see:
Overview report – a graph showing your site's unique pageviews in 30 days and a quick summary of total sessions, pageviews, average session duration, and bounce rate.
Top 10 posts/pages for your site with a link to the Google Analytics report to view more than 10 pages. (Google Analyticator shows only 5 top pages)
New vs. returning visitors – pie chart presentation in percent
Device breakdown – percent of users on desktop, tablet and mobile with a pie chart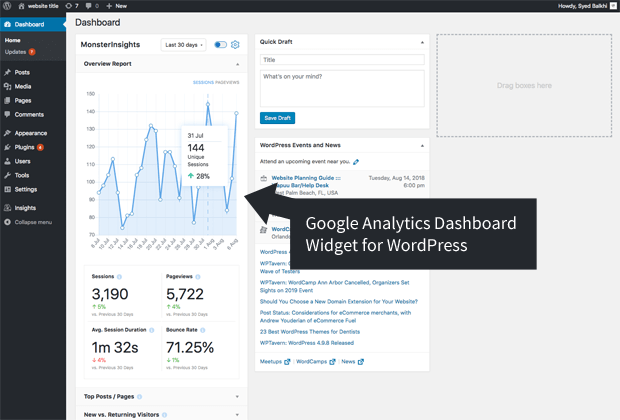 The MonsterInsights dashboard widget lets you have a quick glance at your site's overview report.
To view all the other reports, you need to go to the Insights » Reports from your admin panel. Now, let's see what MonsterInsights reports show you:
i) Overview Report
At first, you'll see the Overview Report. It has Pageviews in the graphical presentation added. And, the top 10 countries from where users are coming to your site.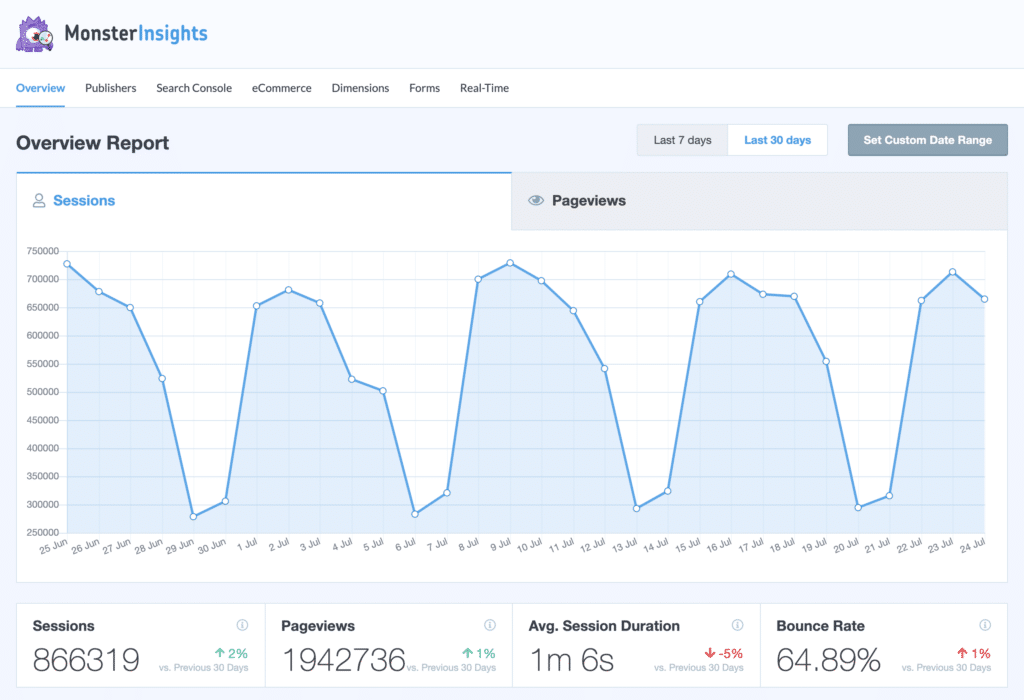 ii) Publishers Report
Next to the Overview tab in MonsterInsights reports is Publishers. Click on the tab to see the following data:
Top Landing Pages
Exit Pages
Outbound Links
Affiliate Links
Download Links
Demographics
Interest Categories
Publishers report has a lot of information that's helpful for bloggers and digital marketers.
First, you can see the top 10 landing pages on your site with the number of visits, average visit duration on the page, and bounce rate. This report is helpful for analyzing the performance of your webpages individually. Google Analyticator misses out on such detailed information for your top pages.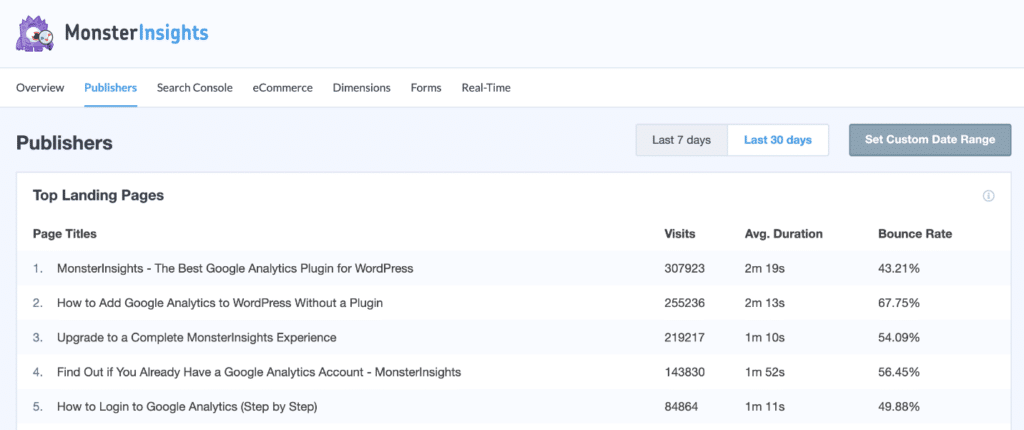 Second, you can see the top exit pages with the total number of exits, page views, and percent of exits. This report is not available in Google Analyticator.
Third, you can see the top outbound links on your site. This feature is also available in Google Analyticator.
Fourth, you can see the top affiliate links on your site. If you've added affiliate links on your site and told MonsterInsights which links they are, then the plugin tracks which affiliate links are getting the most clicks and shows you the reports in Publishers report. Google Analyticator doesn't have this feature.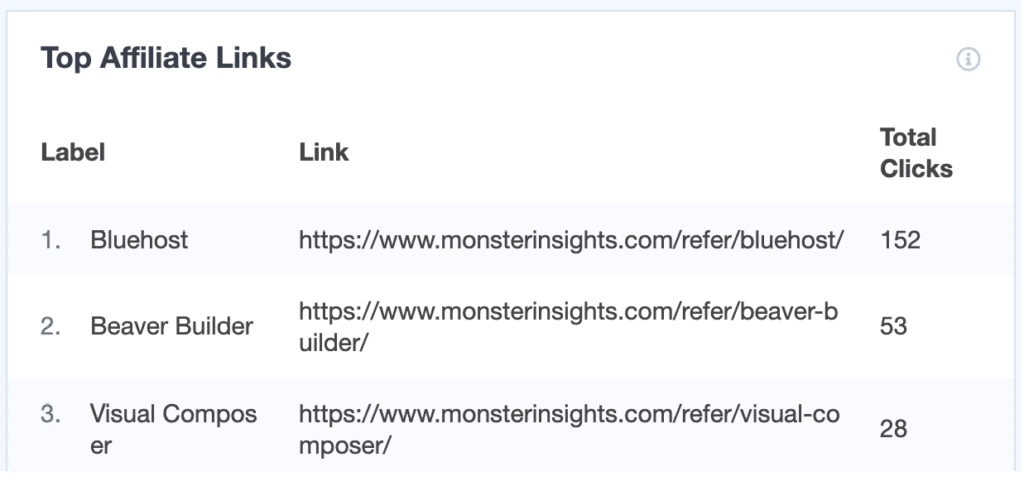 Fifth, you can find top download links, demographic and interest categories reports. These reports can be tracked in Google Analyticator as well.
If you want even more comprehensive data than what the Publishers Report offers, you can always check out our definitive guide to Google Analytics for publishers.
iii) eCommerce Report
Click on the eCommerce tab in MonsterInsights to get a quick glance at how your online shop is doing.
eCommerce tracking is yet another great feature you'll find in MonsterInsights, but not in Google Analyticator. While eCommerce tracking setup in the standard Google Analytics platform is complicated, MonsterInsights makes it very simple that it'll require just a few clicks.
In the first section, you'll see a quick summary of your shop's conversion rate, total transactions, total revenue generated, and average order value. Then, there are your top 50 products with the total number of sales, percent of sales, and total revenue generated by each product.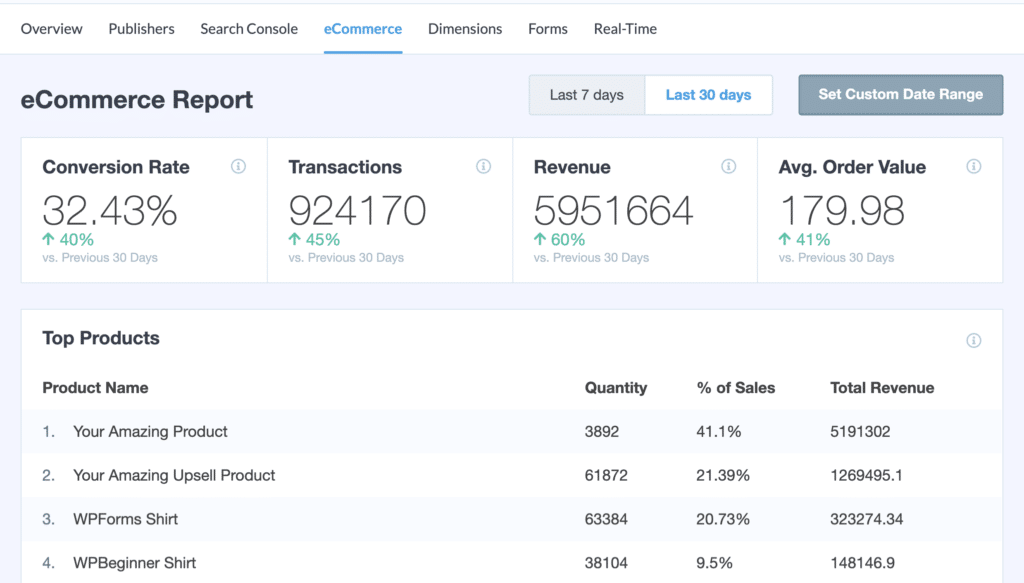 You can also check out how many days it took for site visitors to make a purchase from your website. This includes the number of transactions that were actually finalized.
In addition, you'll see how many sessions it took site visitors to make a purchase. Plus, view how many transactions were finalized, and the total percentage.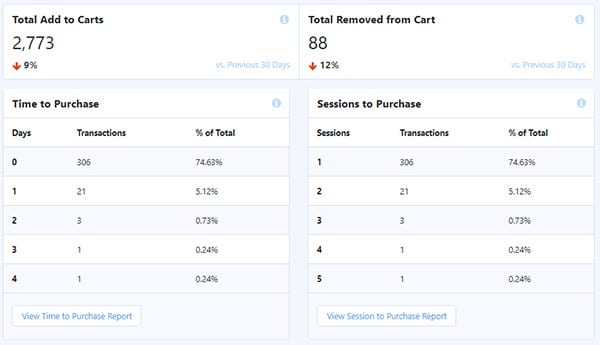 For help with boosting sales in your eCommerce shop, be sure to check out these 11 smart tactics for reducing shopping cart abandonment.
iv) Search Console Report
MonsterInsights lets you view your Google Search Console report inside your WordPress dashboard. First, you'll need to connect your Search Console account to Google Analytics to view this report.
Once it's set up, click on the Search Console Report tab to find out your Top 50 Google Search Terms.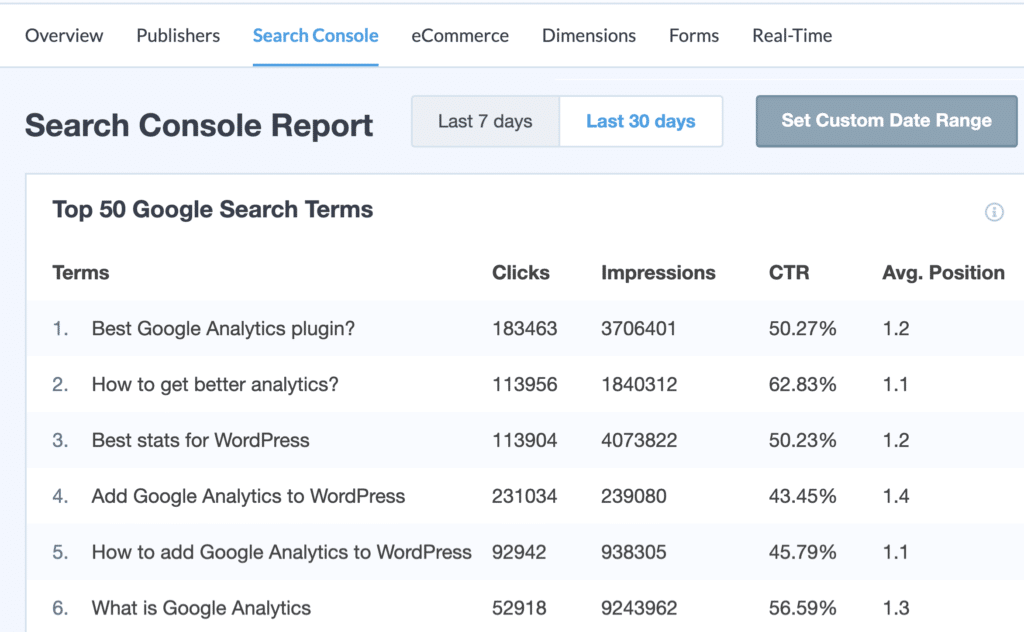 As you can see in the screenshot, you'll see the following after each term:
Clicks
Impressions
Click-Through Rate
Average Position
This gives you a good idea of the keywords that are bringing people to your website. Plus, it helps you see whether people are finding what they're looking for once on your site. This information is useful for improving your keyword research to boost traffic and sales.
The Google Analyticator plugin also shows your site's top searches, but it shows you only 5 terms. And, you can see only the number of clicks for each term. The MonsterInsights report is much more detailed.
v) Custom Dimensions Report
The fifth tab in the MonsterInsights reports is Custom Dimensions. Upon clicking the tab, you can find the following reports in it:
Which author's posts generate the most traffic
The keywords you're using and which ones are doing well in search engines
SEO score tracking to see which blog SEO scores are the most popular
Which categories and tags on your site are clicked the most
Which custom post types are the most well-liked by site visitors

MonsterInsights makes it easy to set up tracking for custom dimensions. It's quite tricky in the standard Google Analytics. And, you can't find this option in Google Analyticator.
vi) Forms Tracking Report
Another very important tracking feature in MonsterInsights is form tracking. You can find the forms report by clicking the Forms tab in the MonsterInsights report page.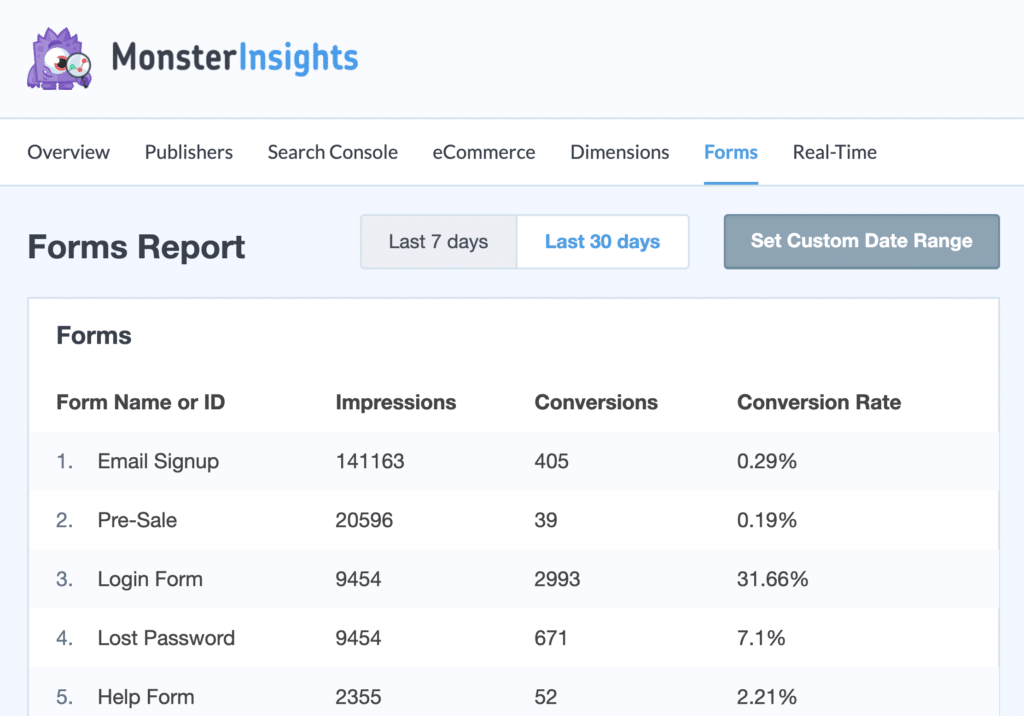 As you can see in the screenshot above, it shows you the total impressions, conversions, and conversion rate for each of your forms.
Forms tracking in the standard Google Analytics platform requires you set up event tracking, but it's automated in MonsterInsights. This feature isn't available in the Google Analyticator plugin.
That's about it for what aspects MonsterInsights can track. Now, let's see which plugin is more accurate and optimization-ready.
3. Accurate Tracking and Optimization
Both MonsterInsights and Google Analyticator connect Google Analytics to your WordPress site's metrics; however, MonsterInsights is more accurate with its power addons.
For example, if you've enabled Google AMP, it can boost your mobile rankings, but it can skew mobile analytics. While the standard Google Analytics script fails to track the AMP visitors accurately, MonsterInsights' AMP addon adds helps to track them accurately.
Also, the MonsterInsights Performance addon helps you to adjust site speed and sample rate for Google Analytics.
If you're running a high-traffic site, you may hit the Google Analytics processing limit. So this addon helps you to stay within its limit by allowing you to specify what percentage of users should be tracked.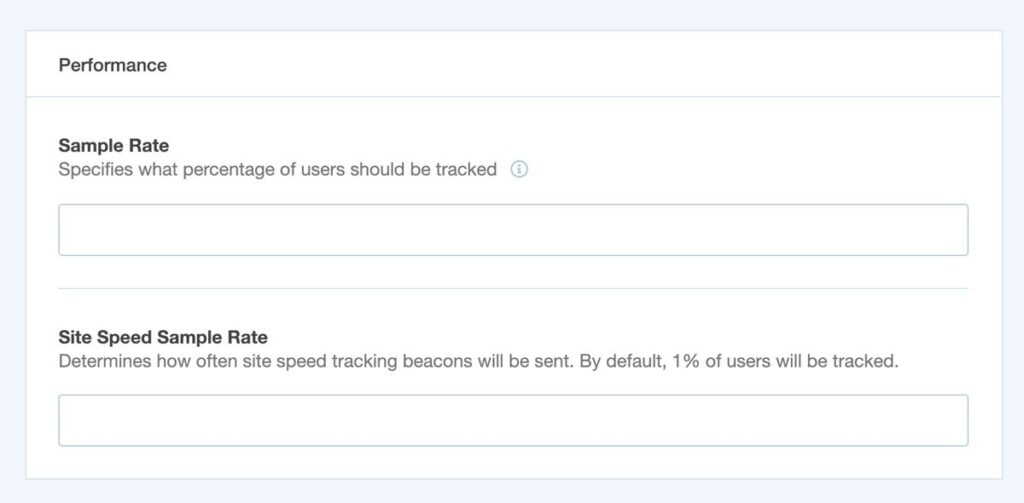 Furthermore, MonsterInsights lets you use split testing and personalization with its Google Optimize addon. The addon helps you to connect your Google Optimize account with Analytics and lets you use your Analytics data to conduct A/B tests and improve user experience and conversions.
Plus, it features easy integration with Facebook Instant Articles and insights on your Facebook audience.
You can explore more on MonsterInsights features.
4. Google Analyticator vs. MonsterInsights – Which Plugin Should You Use?
After our review of all the reporting options these 2 plugins offer, it's probably obvious which plugin you should use.
But if you're still wondering, here's the checklist for you to review these 2 plugins once again.
Reporting Options: MonsterInsights is clearly the WINNER as it allows you to track advanced analytics metrics and shows you the reports inside your WordPress dashboard. Google Analyticator provides you only the basic overview of your site analytics in the dashboard widget.
Ease of Use: Both MonsterInsights and Google Analyticator are easy to use; easy installation of Google Analytics code and dashboard widget to view reports directly.
Plugin Settings: Both the plugins' settings are quite simple. There're more settings in MonsterInsights but they're beautifully crafted and well-designed.
Data Accuracy: MonsterInsights has powerful addons like Google AMP and Performance addon to ensure data accuracy.
Tutorials and resources: If you're stuck at any point while using MonsterInsights, you can check out its documentation. It has highly comprehensive articles to help you out. Additionally, you can also find resources in the MonsterInsights blog but it's hard to find such tutorials and resources for Google Analyticator.
Support and future updates: Similarly, MonsterInsights users can get fully dedicated support from its expert team but you'll need to depend mostly on the support forum for Google Analyticator support. Since the company has other products in priority, their support isn't dedicated like that of MonsterInsights.
Get Started with MonsterInsights Today!
Which Google Analytics Plugin for WordPress is the best?
Without a doubt, MonsterInsights is the plugin you'll need to install in WordPress to track your website analytics entirely. Its advanced tracking features and easy-to-use interface make it the best Google Analytics plugin for WordPress.
So, what are you waiting for? Get started with MonsterInsights today and track how your site is performing with ease. Make sure to check out our guide on how to add Google Analytics to WordPress website.
And don't forget to follow us on Twitter, Facebook, and YouTube for more helpful Google Analytics tips.