Want to set up GA4 conversion tracking on your WordPress website but don't know where to start?
Tracking conversions in Google Analytics is essential for figuring out how your website and marketing efforts are working. If you don't have data, it's really difficult to make the kinds of decisions that'll improve your site and grow your business.
So, in this article, we'll go over all the most important conversions you can track on your WordPress website, and show you how to track them in Google Analytics 4 (GA4).
What is GA4 Conversion Tracking & Why is it Important?
Conversion tracking in Google Analytics is a way of finding out how many people completed a desired action on your website.
The desired action doesn't always have to be purchasing a product. It could be downloading an eBook or PDF, subscribing to your email list, submitting a form, viewing important blog posts, watching a video, and more.
Without setting up conversion tracking in Google Analytics 4, you won't have the right kind of data to make decisions. You'll be relying on guesswork and won't know which strategies are working. As a result, you could be putting in a lot of effort and focus on the wrong marketing channel or unprofitable website improvements.
To change that, you need to set up GA4 conversion tracking. It helps boost your return on investment (ROI), make changes to strategies that aren't working, split test your marketing campaigns, and optimize your campaigns to improve revenue.
GA4 Conversion Tracking Video Walkthrough
Table of Contents
What's the Best Way to Track Conversions in WordPress?
The easiest way of tracking how many people convert on your website is by using MonsterInsights. It's the best Google Analytics plugin for WordPress.
With MonsterInsights, you can add Google Analytics to your site and set up advanced tracking, including multiple different types of conversion tracking, without touching a single line of code or having to use Google Tag Manager.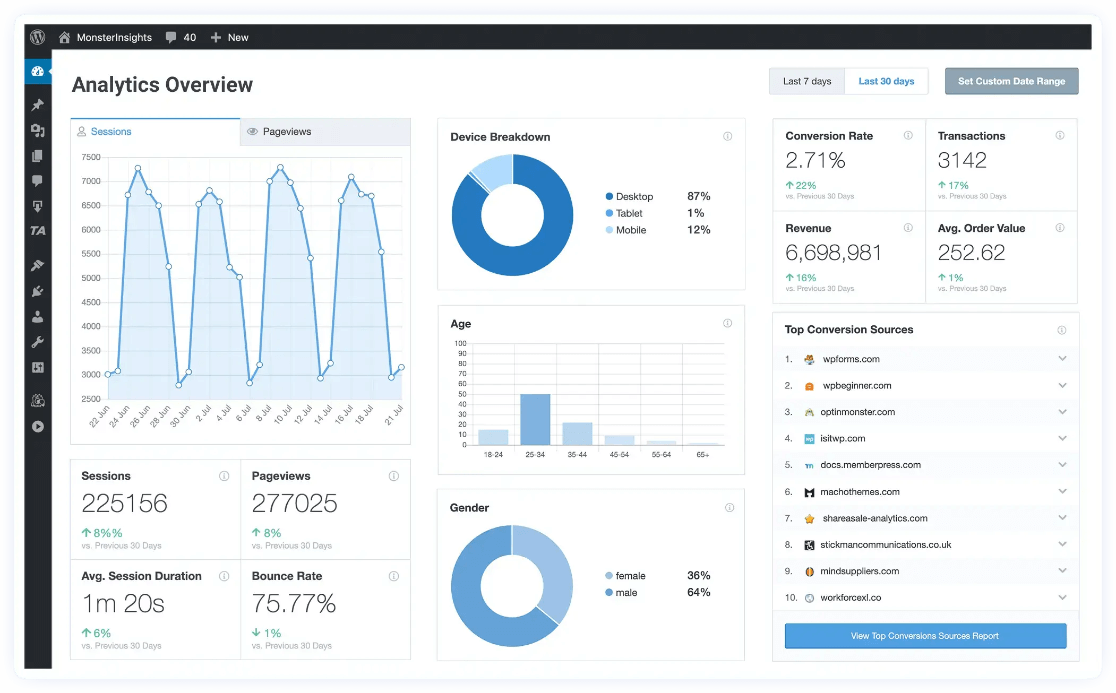 Plus, the plugin helps uncover insights about how people use your website and which marketing strategies are working. You can view the data inside your WordPress admin area, so you don't even have to open Google Analytics to see your most important metrics.
We're going to be using MonsterInsights in the rest of our WordPress conversion tracking tutorial. Get ready to find conversion tracking super easy!
To start, follow these steps:
Step 1: Install MonsterInsights
First, you need to install and activate MonsterInsights on your website. You can start by signing up for a MonsterInsights account and downloading the plugin zip files from your Account area. For this tutorial, we'll be using MonsterInsights Pro. Make sure to choose the license level that includes the conversion tracking features you need.


Next, upload the plugin to your website by going to your WordPress admin area and navigating to Plugins » Add New » Upload Plugin. Select the MonsterInsights zip file and install it on your website.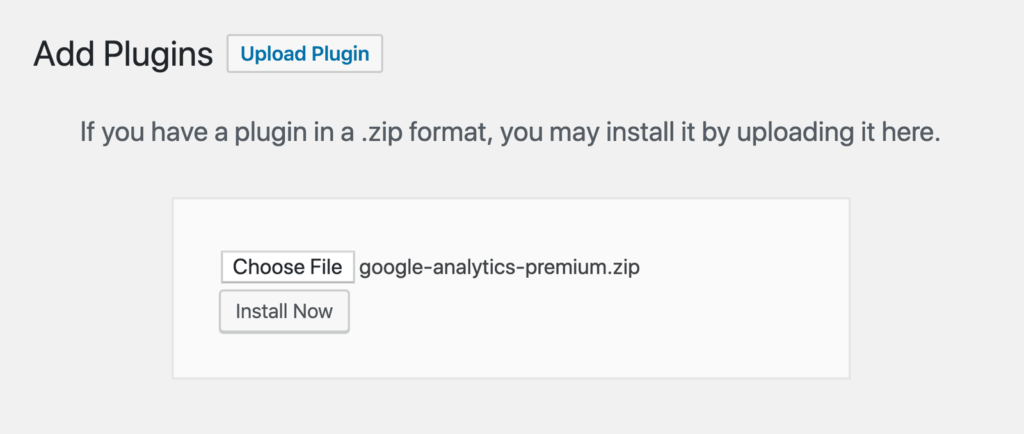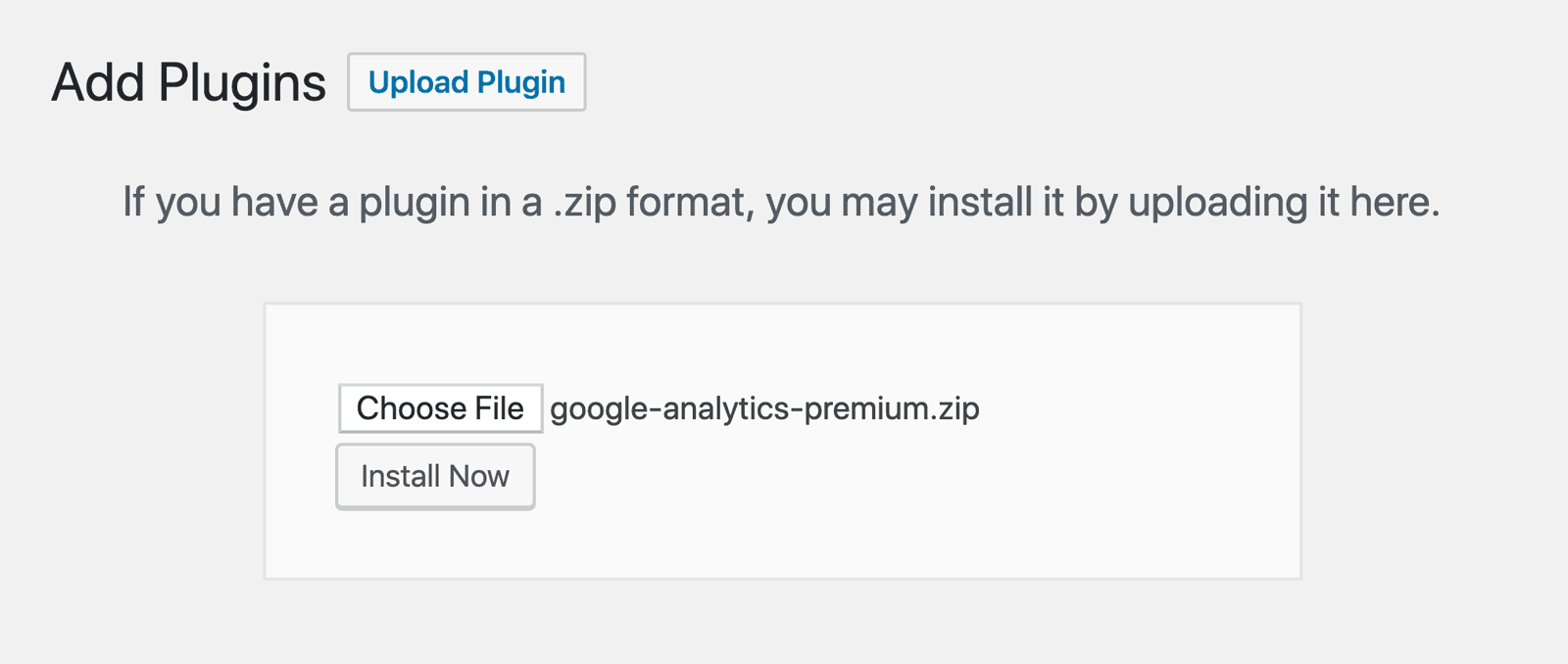 Once the plugin is installed, click the Activate Plugin button.

Step 2: Sign Up for Google Analytics and Connect it to MonsterInsights
Now that you've installed MonsterInsights, the next step is to create a Google Analytics account. You can create an analytics account for free, and if you already have an account, connect it to MonsterInsights.
The MonsterInsights setup wizard will add the Google Analytics tracking code for you. There's no need to hire a developer or edit code. All you have to do is follow the steps in the setup wizard.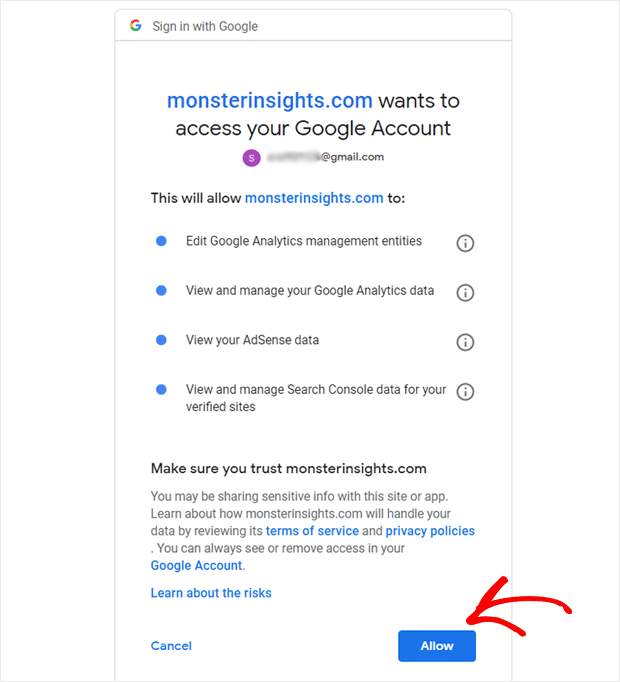 For more details on setting up MonsterInsights, go through our step-by-step guide on how to add Google Analytics to WordPress.
After you've added Google Analytics to your WordPress website, let's see how MonsterInsights makes it super easy to track conversions.
Form Conversion Tracking in GA4 and WordPress
With MonsterInsights, you can track all types of WordPress forms in Google Analytics and see how they're converting. The plugin is compatible with some of the most popular form builders like WPForms, Formidable Forms, Gravity Forms, and more.
All you need is to activate the MonsterInsights Forms addon, and the plugin will take care of the rest. You don't have to manually set up events or add a tracking code to keep an eye on your form conversions.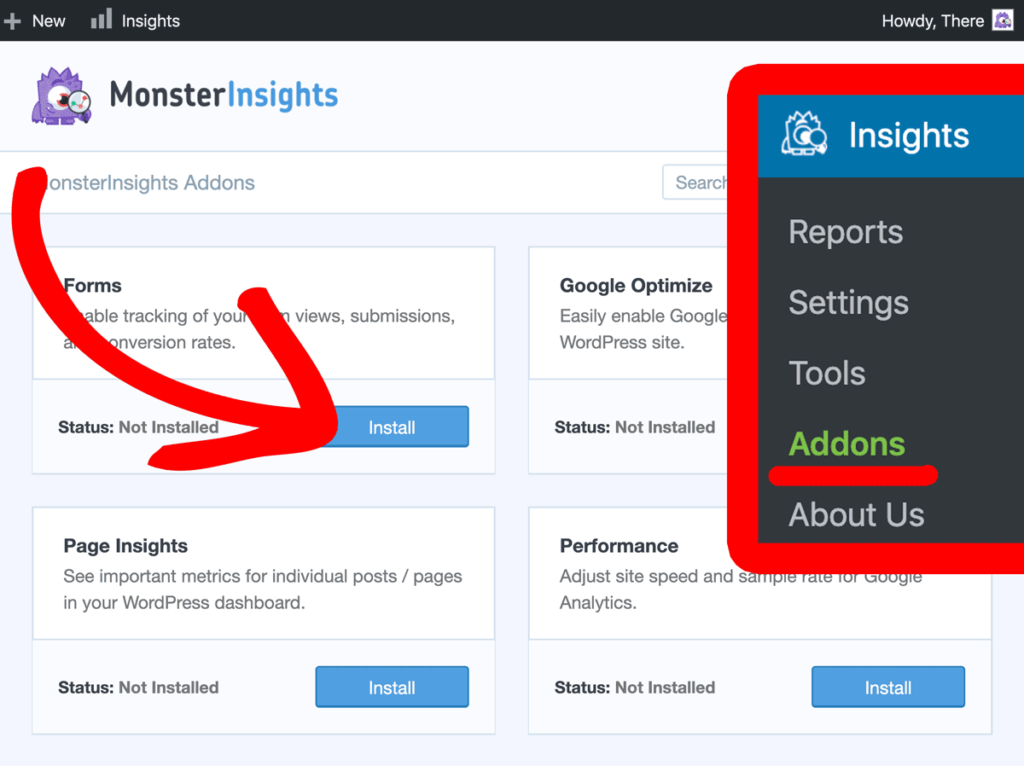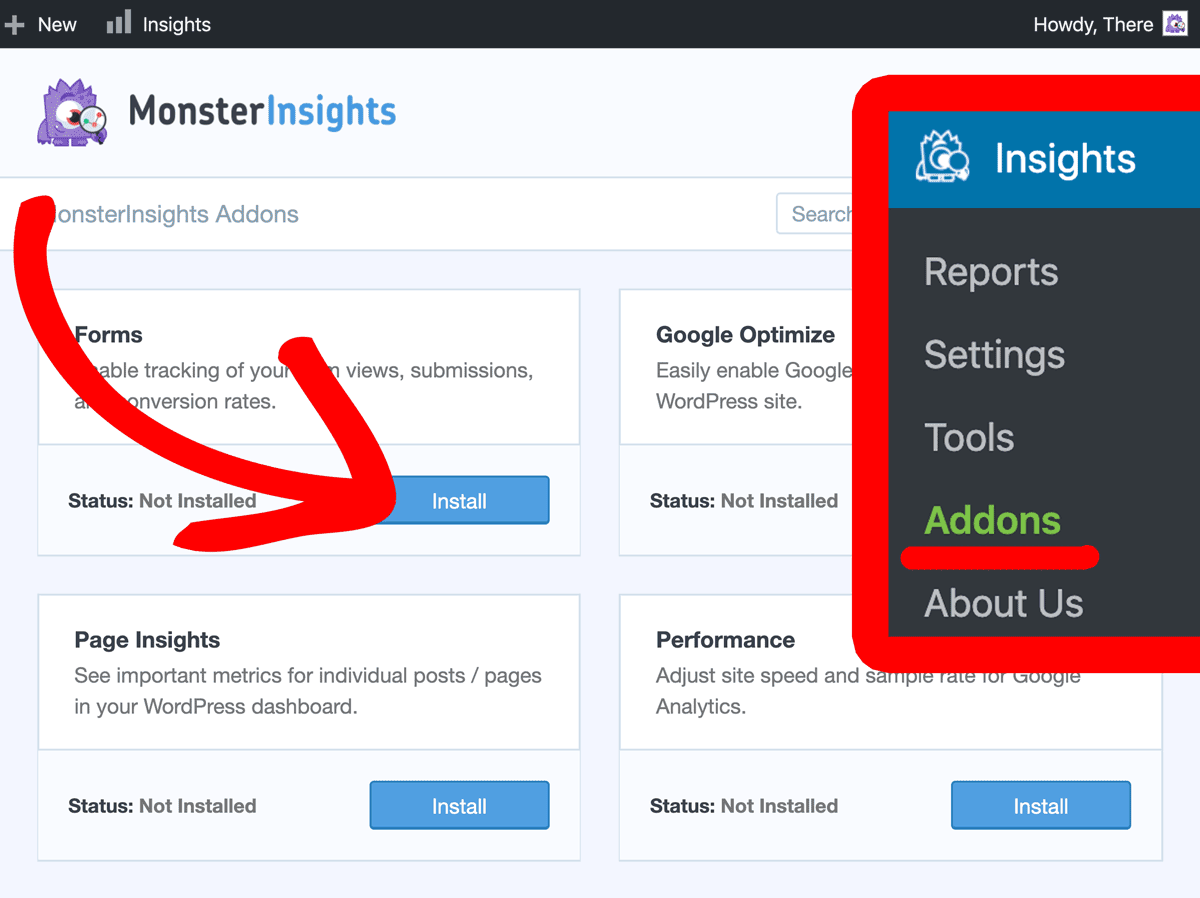 Once you install the addon, you'll be able to access a detailed report in your WordPress dashboard. Just go to Insights » Reports » Forms and see your form conversions. In the report, you can track the number of impressions, conversions, and conversion rates.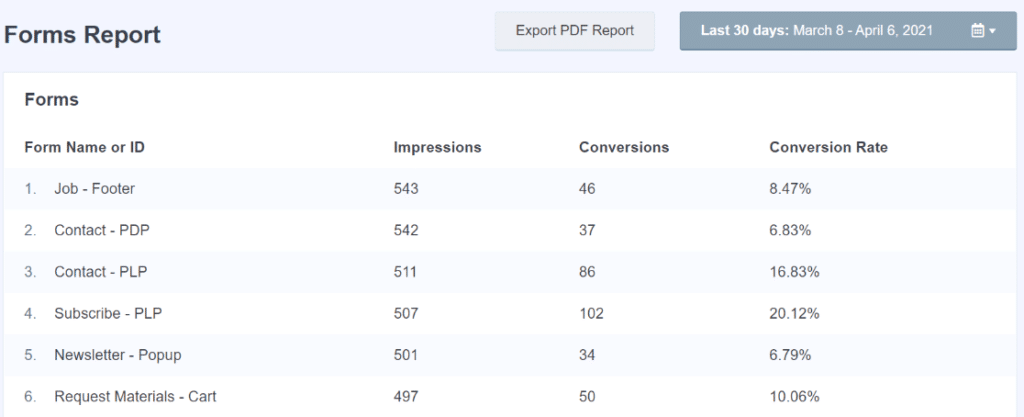 Using this data, you can see which forms have a good conversion rate, and which are underperforming.
Want to dig deeper in Google Analytics 4? Here's a simple custom exploration report that'll show you which source/medium your converting traffic came from. With this information, you can identify the right channels that are working to attract leads.
For example, if a lot of conversions are from a referral website, you can find similar sources to promote your campaign. Or, if you're getting form conversions through Google search results, then you can optimize your website for similar keywords.
Haven't created a custom Google Analytics 4 report yet? Check out How to Create Google Analytics 4 Custom Reports (Step by Step).
To set up the report, head to the Explore tab and start with a Blank report:

Then, in the Dimensions box, search for and import Event name, Form Id, and Session source/medium.
In the Metrics box, search for and import Event count.
You can also give your report a name like Form Conversions by Source. Now, it should look like this: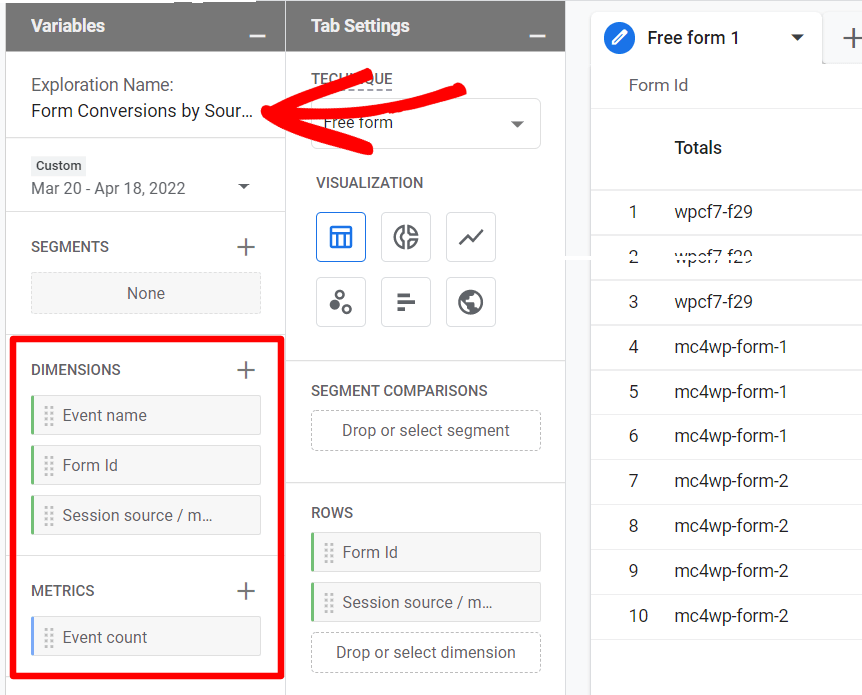 Next, from the Dimensions box, click and drag Form Id and Session source/medium into the Rows box.
Then, from the Metrics box, click and drag Event count into the Values box, like this: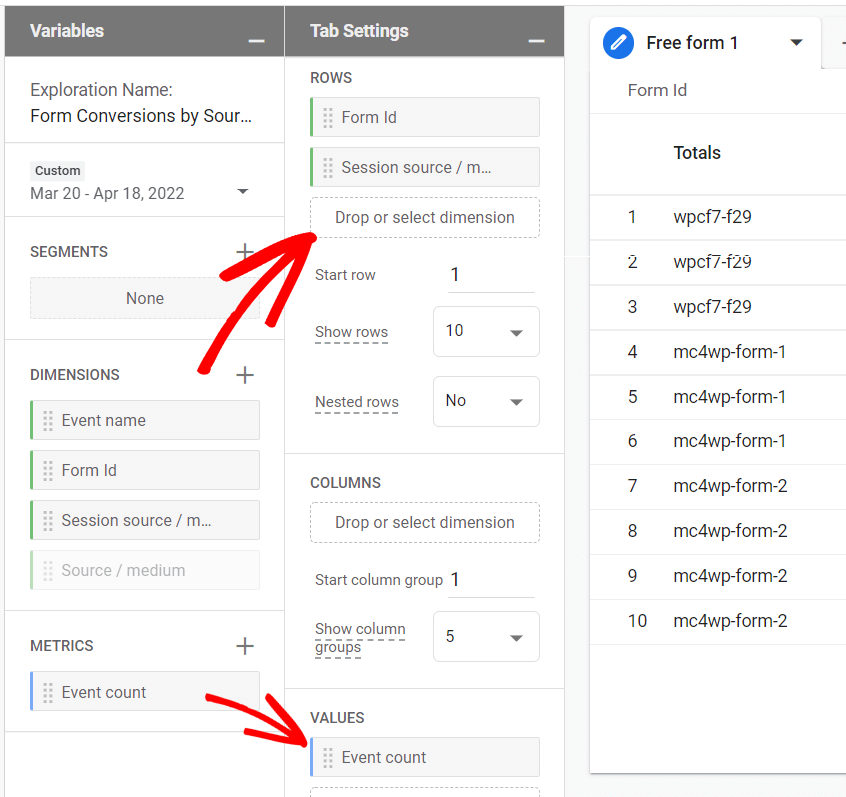 Lastly, drag and drop Event name down into the Filters box. Choose exactly matches for your filter and choose generate_lead for the value.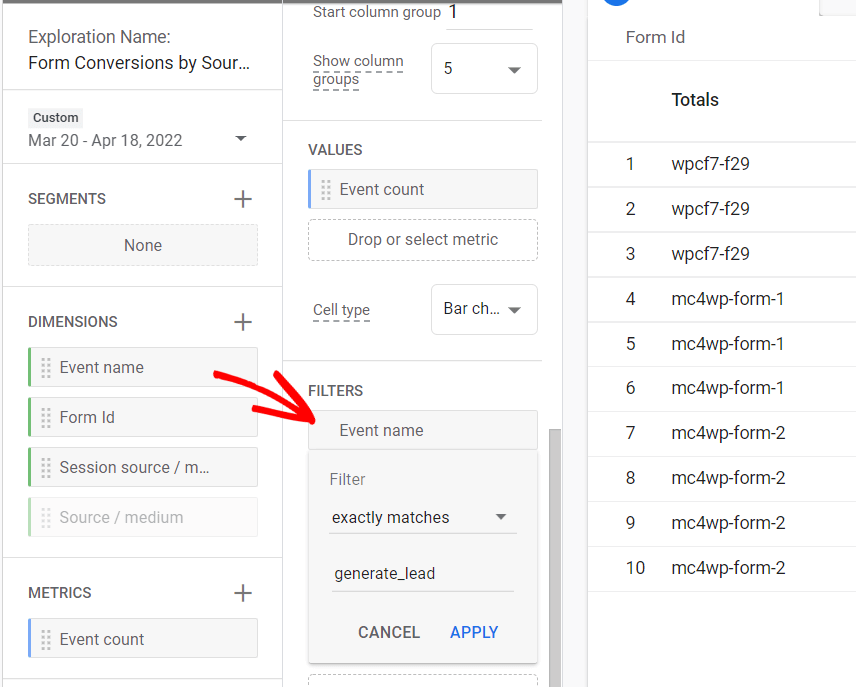 That's it! You now have a custom report you can return to any time that'll show you which sources brought visitors to your site that submitted forms.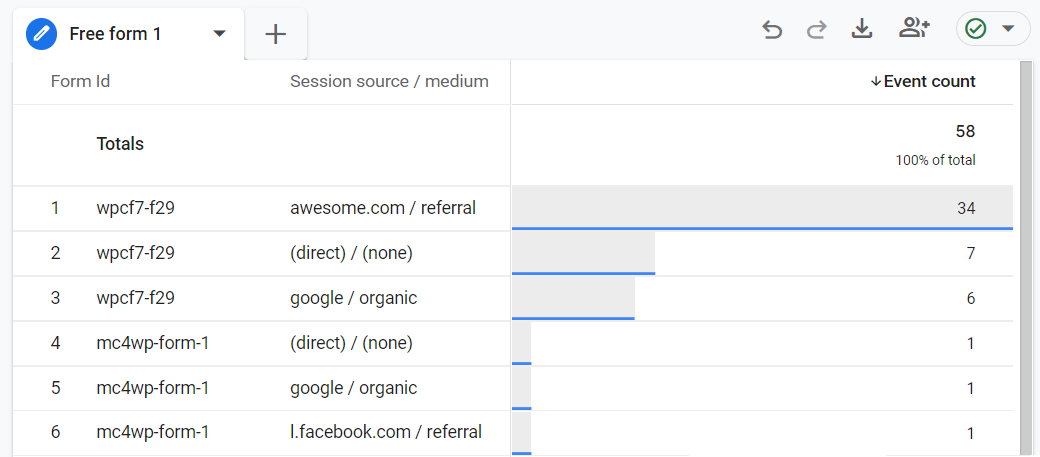 Track eCommerce Conversions in GA4 and WordPress
If you have an eCommerce store and want to know how many conversions you're getting, MonsterInsights can help.
In just a few clicks, the plugin sets up eCommerce tracking in Google Analytics 4, and you don't have to edit a single line of code or go through a complicated Google Tag Manager setup. All you have to do is install and activate the eCommerce addon, and MonsterInsights will start tracking your eCommerce store's performance in Google Analytics.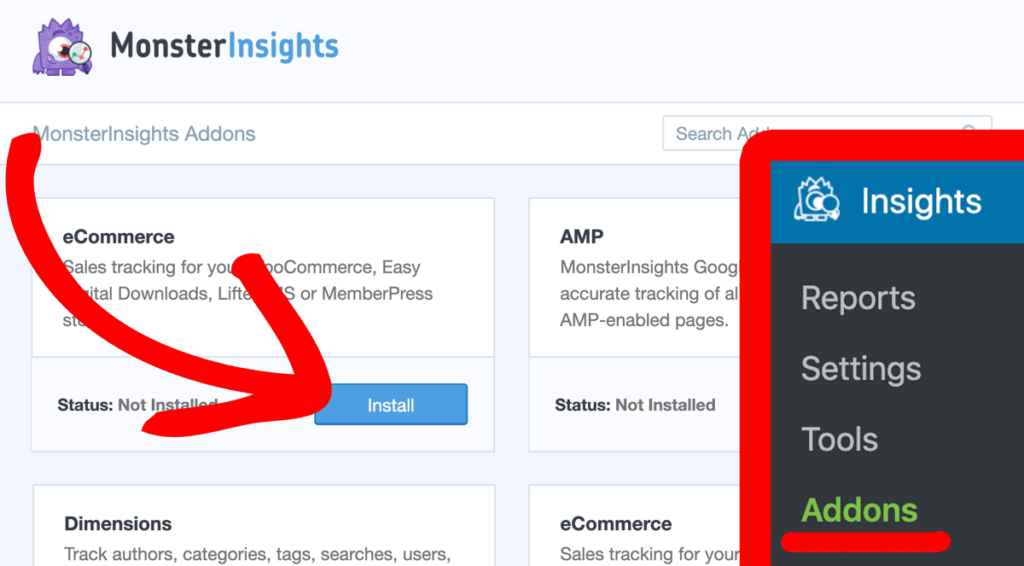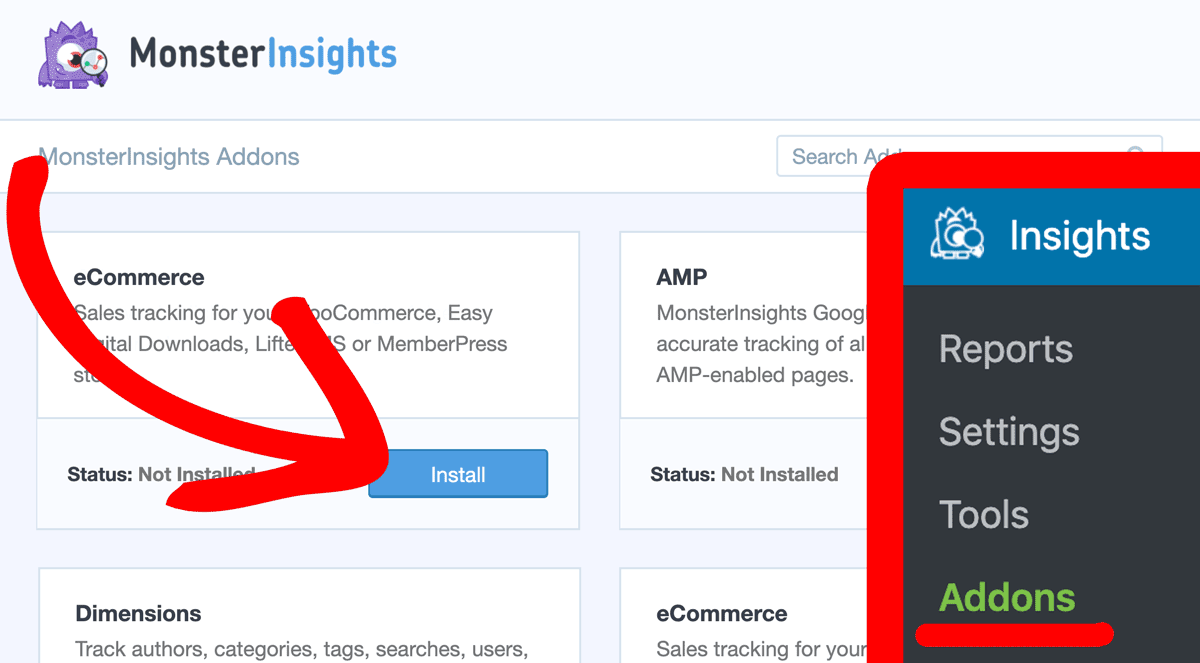 The best part is that MonsterInsights easily integrates with multiple eCommerce platforms, such as WooCommerce, Easy Digital Downloads, MemberPress, LifterLMS, GiveWP, and Restrict Content Pro.
After installing the addon, you can view your eCommerce conversions by looking at the eCommerce report. It will show your store's conversion rate, transactions, revenue, and average order value. Besides that, you can also see your top products and how much revenue they're generating.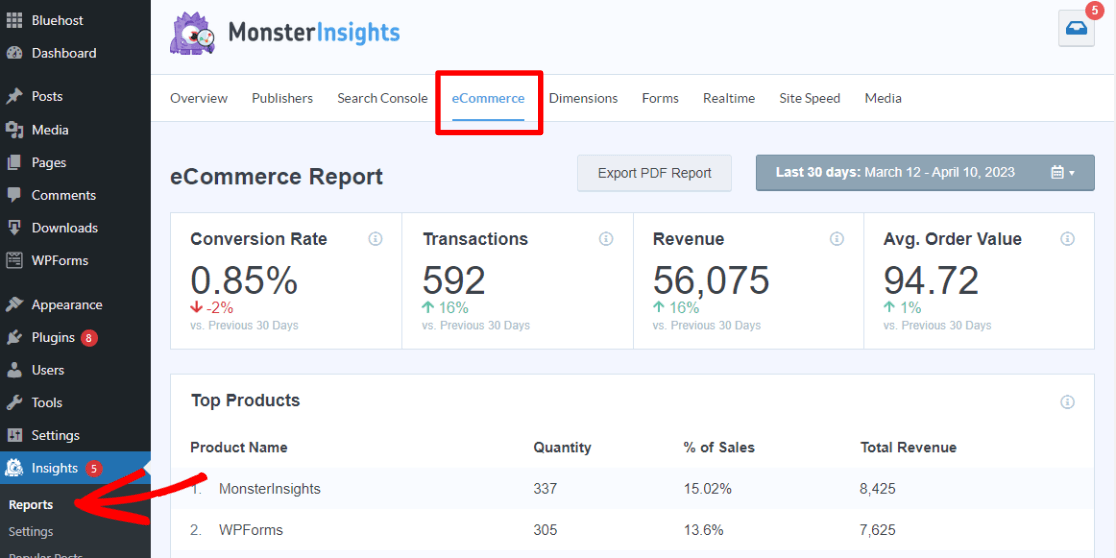 In the MonsterInsights eCommerce report, you can also track your top conversion sources. This helps you find the websites that send customers your way, so you can work to promote your products on similar sources.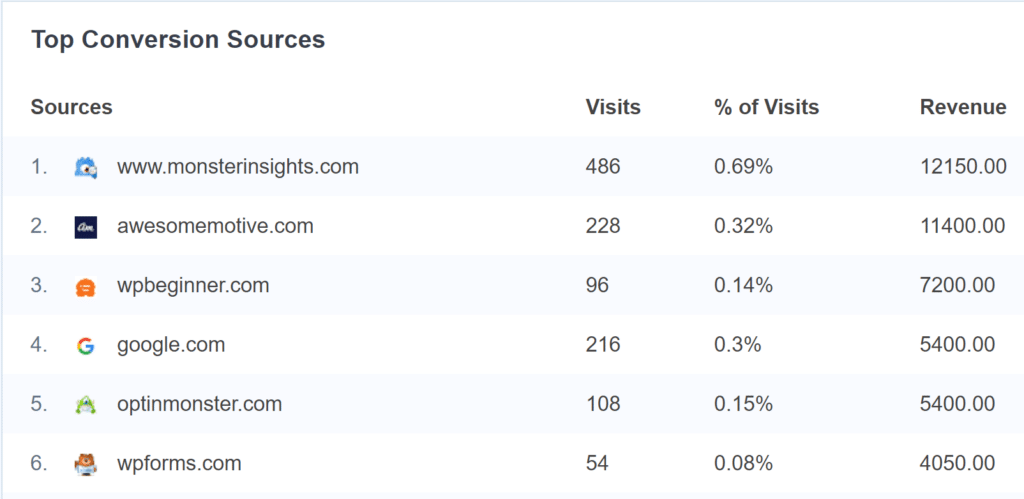 For more details, refer to our guide on How to Set Up Google Analytics 4 eCommerce Tracking on WordPress.
Add Google, Microsoft and Meta Ads Conversion Tracking to WordPress
Running paid ads is a great way to boost sales, capture more leads, promote your content, and more.
While reports from Google, Microsoft and Meta will show conversions from your campaigns, you can go one step further and link your ads to Google Analytics for more data.
For example, let's say you're running a campaign to increase downloads for an eBook. But do visitors land on your page and immediately download your eBook, or did they visit other pages first?
Google Analytics will help you uncover your visitor's behavior after they click on your ad.
To track Google, Microsoft, and Meta Ads conversions in WordPress, you'll need to enter tracking tags.
Now, this requires editing code, as you'll have to enter the tags in the header of your website. This can be tricky for beginners, as any mistake can mess up tracking. Plus, if you're trying to track conversions, that's another spot where you have to insert code.
A hands-down easier way of connecting Ads and Analytics is by using MonsterInsights. Its Ads addon will help you set up Google Ads conversion tracking without editing code. Install the addon by going to Insights » Addons » PPC Tracking and click the Install button.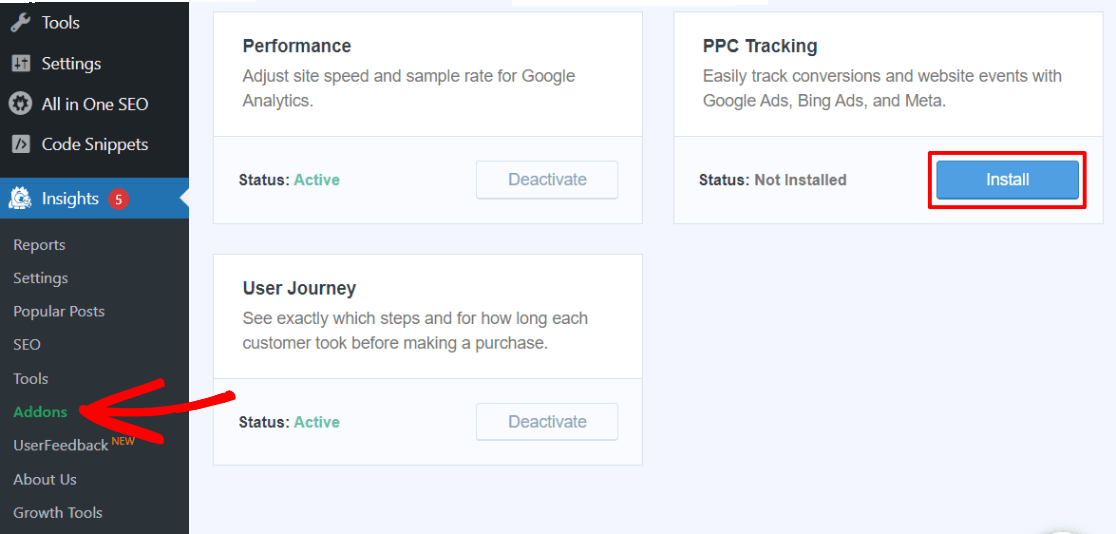 After that, go to Insights » Settings » Conversions and head over to the PPC Tracking section.
Google Ads Tracking
For Google Ads, all you have to do is enter your Google Ads Conversion ID under the Conversion ID field, and MonsterInsights will set up ad tracking for you. If you use Easy Digital Downloads, WooCommerce, MemberPress, LifterLMS or GiveWP, you can also add your Conversion Label here.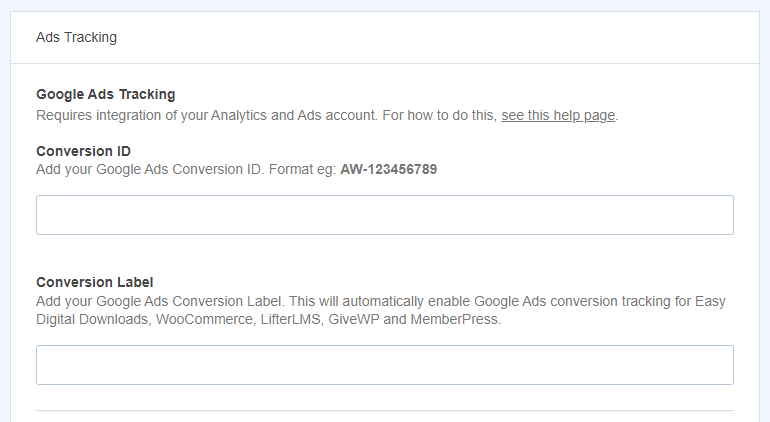 For a complete Google Ads tracking tutorial, check out How to Set Up eCommerce Google Ads Conversion Tracking.
Once that's done, make sure you've set up the link between Google Ads and Google Analytics.
You've now successfully set up Google Ads conversion tracking in WordPress, and you can view the data in WordPress and Google Analytics.
To find your campaigns report in your WordPress dashboard with MonsterInsights, navigate to Insights » Traffic » Campaigns: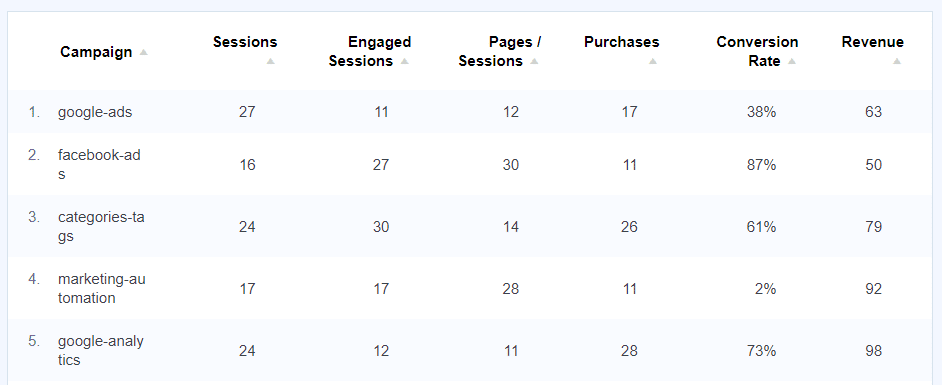 To see a campaigns report in Google Analytics 4, navigate to Acquisition » Acquisition overview. Then, scroll down until you see the Sessions by Session Google Ads Campaign card and click on View Google Ads campaigns.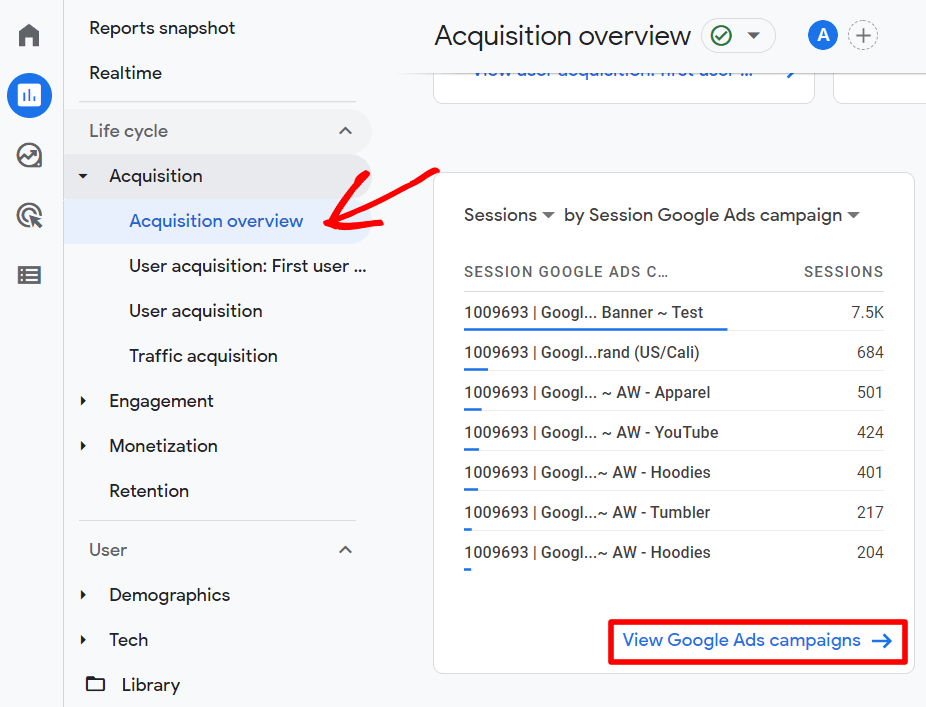 Now, scroll down to the table to find all sorts of data for your Ads campaigns, such as ad clicks, ad cost, cost per click, conversions, revenue, and more.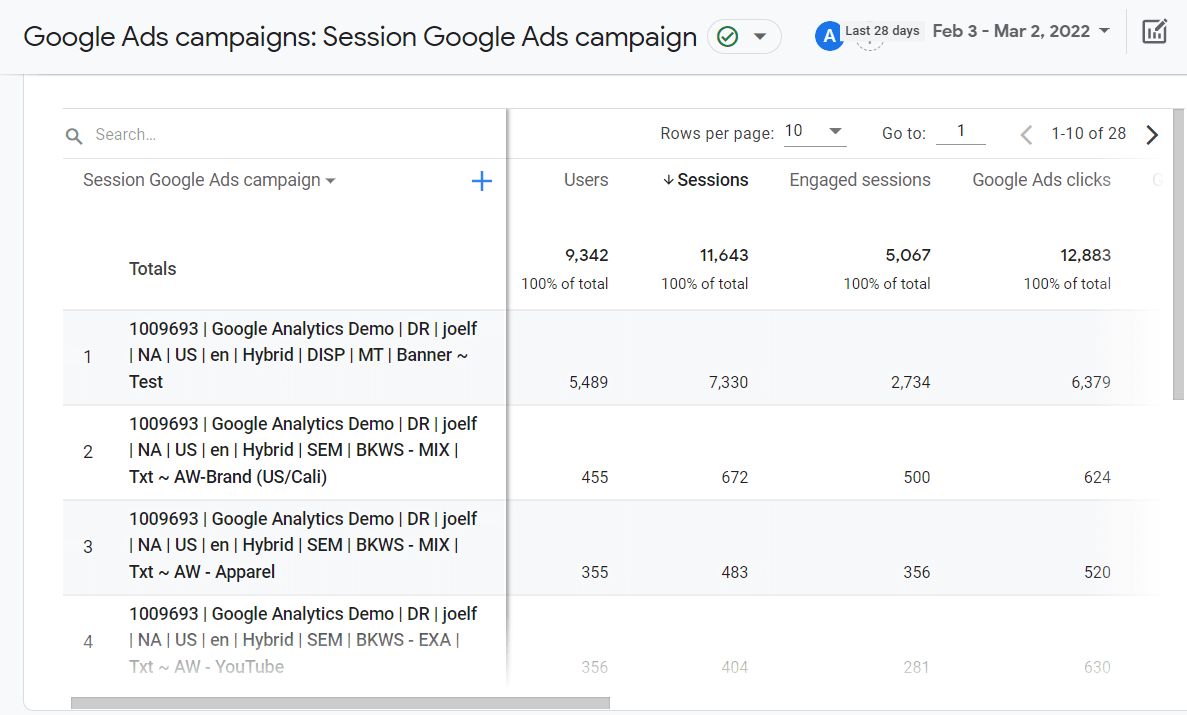 Microsoft Ads Tracking
To track Microsoft (Bing) Ads quickly and easily, just head to Insights » Settings » Conversions and scroll down to the Ads Tracking section. In that section, you'll see Microsoft Ads Tracking.

All you have to do is flip the switch to enable tracking, then copy and past your Tag ID into the box.
Meta Ads Tracking
To track your Meta (Facebook) ads, simply navigate to Insights » Settings » Conversions and scroll down to the Ads Tracking section. In that section, you'll see Meta Ads Tracking.

Just flip the switch to enable tracking, then copy and paste your Meta (Facebook) Pixel ID into the box.
Identify Your Top Landing Page Conversions
Along with keywords, it's also important to know which landing pages are converting the best. Landing page conversions can be people signing up for your newsletter if you're a publisher, or customers buying a product if you have an eCommerce store.
By tracking landing page conversions, you can identify which content people like a lot, so you can cover similar topics on your website.
Plus, you can optimize low converting pages and boost their conversions by changing the layout, adding more call to action (CTA) buttons, and editing the content.
It can also help improve the user experience of your website. It ensures that your pages and CTAs are working properly on mobile, desktop, and other devices.
In WordPress, tracking landing page conversions is super simple with MonsterInsights. It shows your top-performing pages in the Traffic » Landing Page Details report inside your WordPress admin area: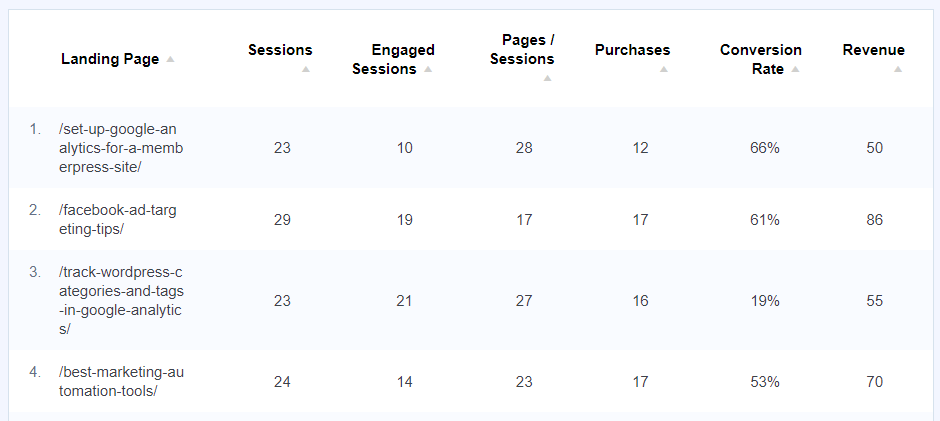 In this report, you can see your conversion rate and revenue for each landing page.
In Google Analytics, navigate to Engagement » Landing page: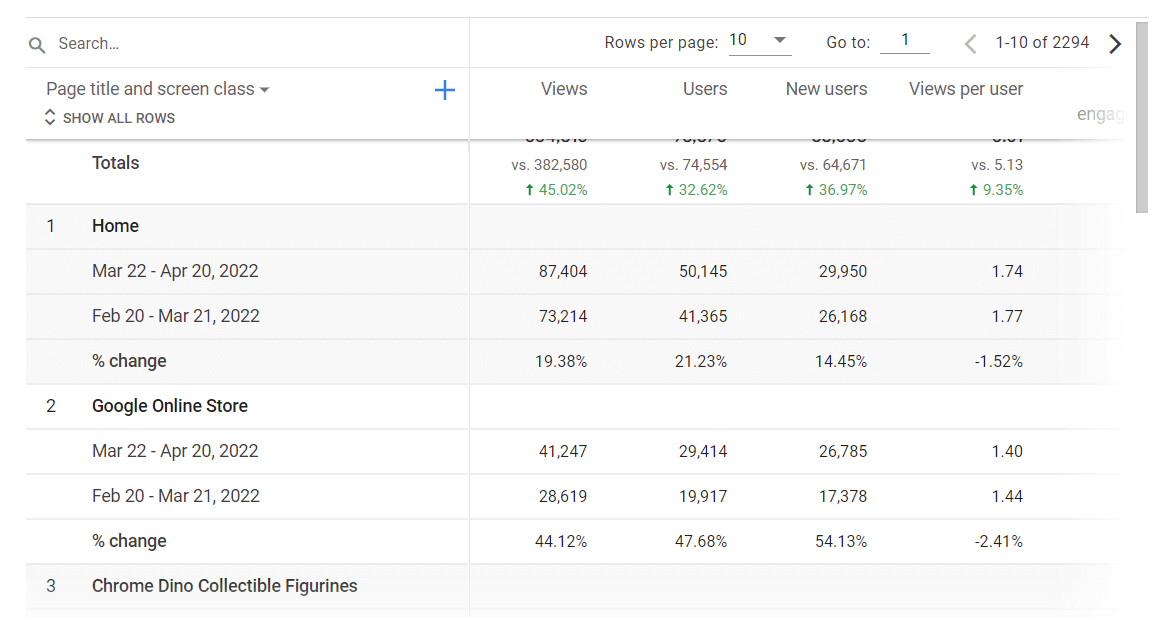 In this graph, you can scroll sideways to find all the following metrics for your landing pages by default:
Views
Users
New users
Views per user
Average engagement time
Unique user scrolls
Event count (set to session_start for landing page views)
Conversions
Total revenue
So, you can easily find conversion and revenue information for your landing pages either in WordPress or in Google Analytics. (If you don't have conversions set up in GA4, please refer to their conversion guide.)
You can also build custom exploration reports using the custom dimensions and events that MonsterInsights automatically creates in your Google Analytics 4 account.
Set Up Affiliate Link Tracking to Measure Conversions
If you have affiliate links on your website, then tracking the number of clicks they get can help boost your conversions.
For example, if a high-traffic landing page isn't leading to many clicks on its affiliate link, it means the solution you're offering isn't what your visitors are looking for. You can replace the low-performing affiliate with a top-performing affiliate link to boost conversions.
To track affiliate links in WordPress, MonsterInsights is the best solution. It makes tracking affiliate links easy.
First, create your affiliate links using a plugin like Pretty Links. Then, all you have to do is define the path of your affiliate links (like /refer/ or /go/) and a label to identify affiliate links in MonsterInsights. The plugin will then automatically track link clicks and show you a report in your WordPress dashboard.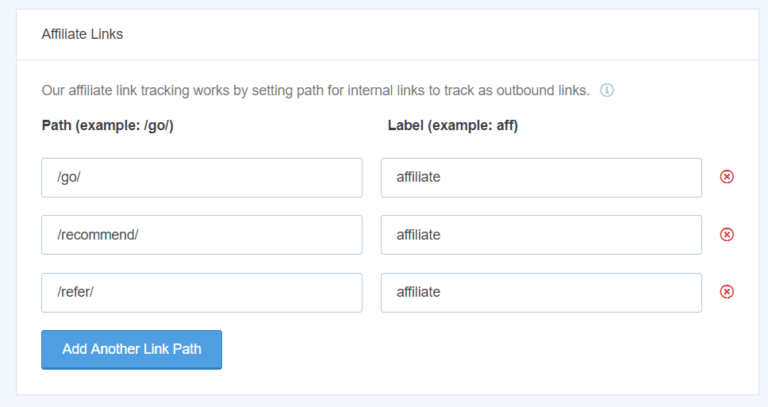 To view the report, go to Insights » Reports » Publishers and then head over to the Top Affiliate Links report. You can see the label, link, and total clicks for each affiliate link.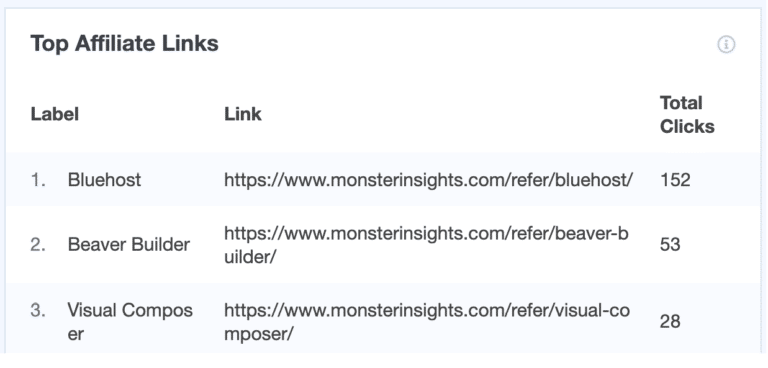 For a full tutorial on tracking affiliate link clicks, check out How to Set Up Affiliate Link Tracking in WordPress (2022).
Track Marketing Campaign Conversions Using Custom URLs
If you're running marketing campaigns like social media posts and email newsletters, tracking conversions in Google Analytics can help you see how they're performing.
But Google Analytics doesn't automatically track certain marketing campaigns or identify the source of your conversions. This makes it very hard to find out if your campaigns are working or where your visitors are coming from.
Some of these campaigns might include sending out email newsletters with links to your products or blog posts. Or they might be offline marketing, where you use traditional marketing channels like print ads or SMS marketing.
A simple way to keep track of your marketing campaigns is by creating custom URLs using UTM parameters. These are additional code snippets that you can add at the end of a URL. Here's an example of what a custom URL with UTM code looks like:
http://www.example.com/store?utm_source=newsletter&utm_medium=email&utm_campaign=spring_sale
You can create custom URLs inside your WordPress dashboard using the MonsterInsights URL builder. Simply go to Insights » Tools » URL Builder and fill out the information about your campaign. Apart from the website URL and campaign source, all other fields are optional.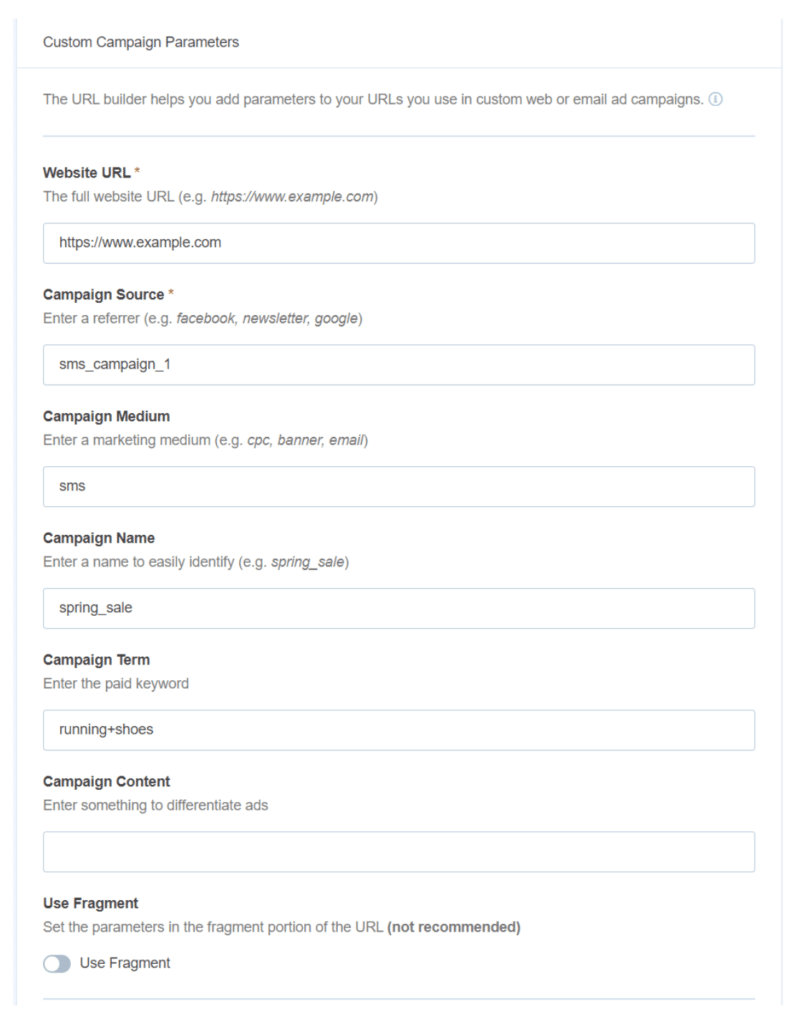 Here's a detailed look at each of the fields in the URL builder:
Website URL: You can enter the website address you want in the link (www.example.com)
Campaign Source: This tells you the source of your visitors, like a newsletter, Facebook, Google search, etc.
Campaign Medium: It shows the type of marketing medium you used, such as emails, banners, ads, and more
Campaign Name: You can give a specific name to your campaign, and it helps to differentiate from other campaigns on your website (spring_sale)
Campaign Term: If you're running paid ads, then you can enter the keywords you used for the campaign
Campaign Content: This field is useful if you want to A/B test your campaign and differentiate it from the variant of your campaign
Use Fragments: We recommend that you keep this option disabled, but if you want to use fragments instead of queries in the UTM code, then you can enable this option
After entering the details of your marketing campaign, you can copy the link that the builder automatically creates and enter in your campaigns.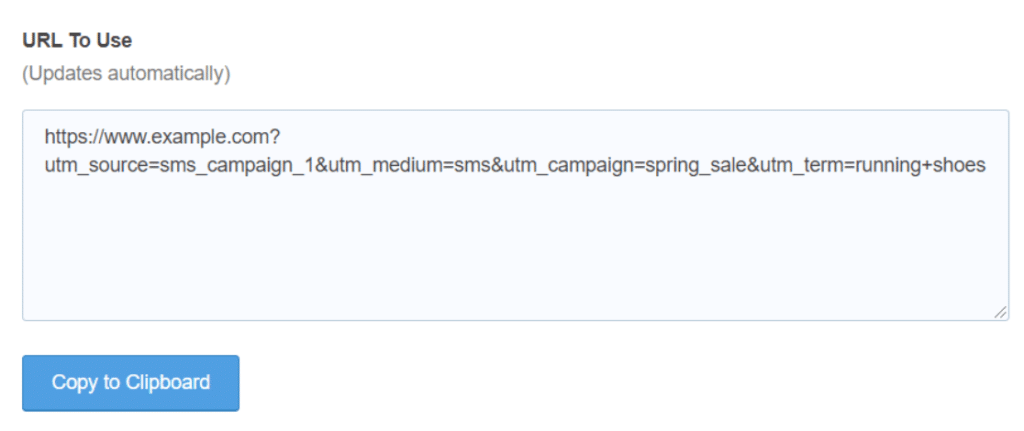 You can then view the conversions from your marketing campaigns in WordPress under Insights » Traffic » Campaigns: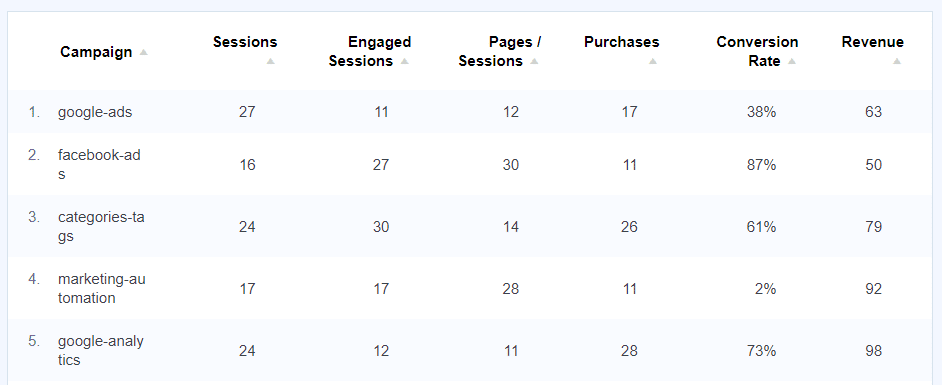 You can also find your campaigns data by logging in to your Google Analytics 4 account and heading to Acquisition » Traffic Acquisition. Then, click the Session default channel grouping dropdown: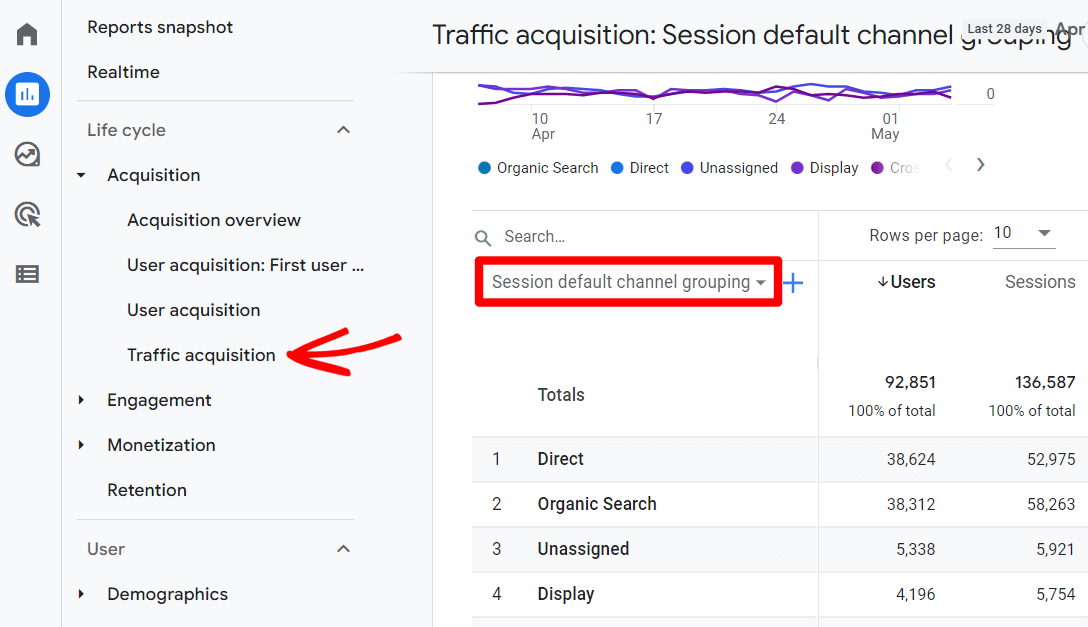 Select Session campaign.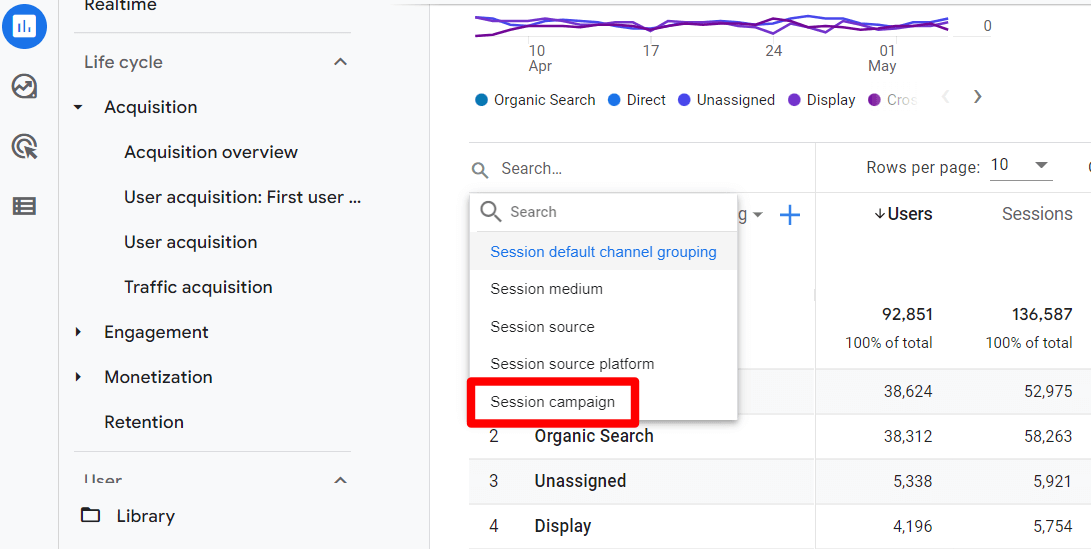 Then, you'll be able to see all your campaigns listed.
If you'd like to see the Source and Medium for each campaign, you can add it to your report by clicking the blue plus sign next to the dropdown: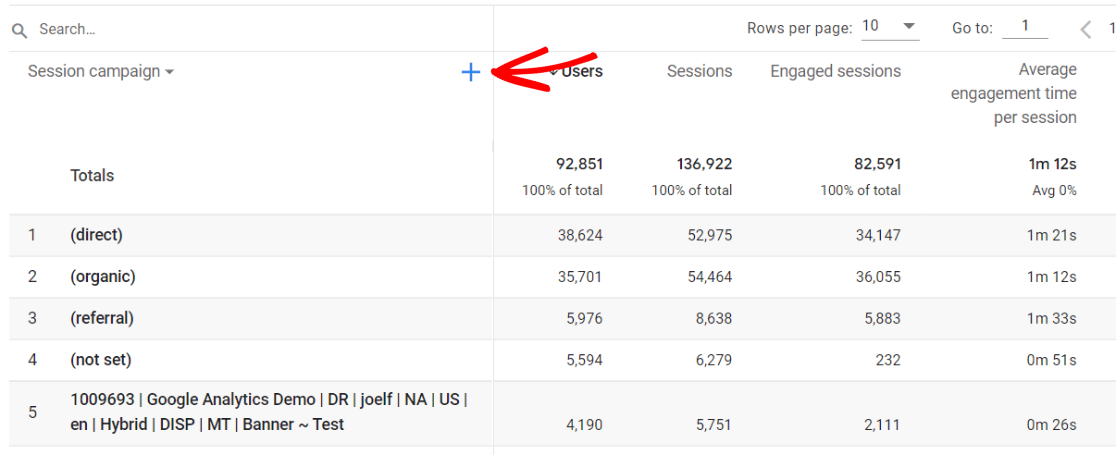 Then, in the Session Acquisition menu, search/select Session source/medium.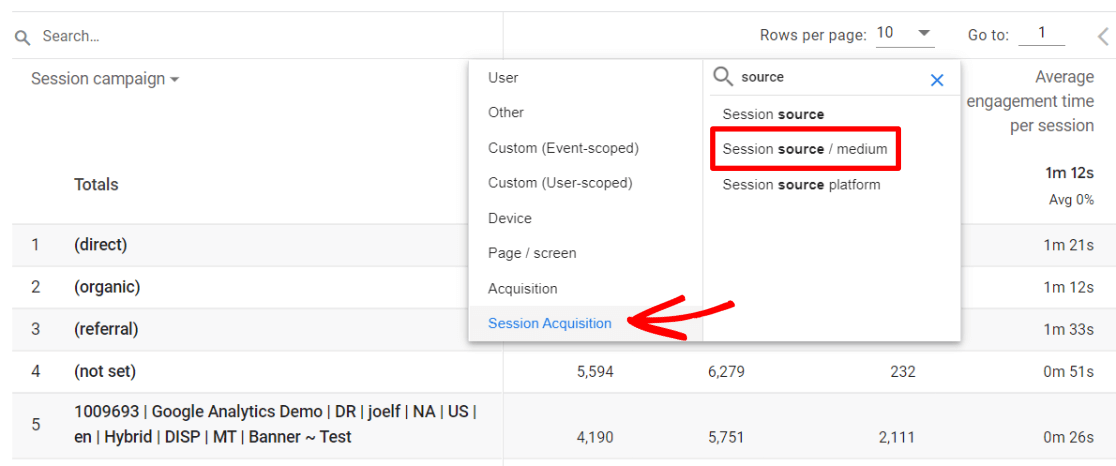 Now you can see the results of your campaigns, including how the users got to your site.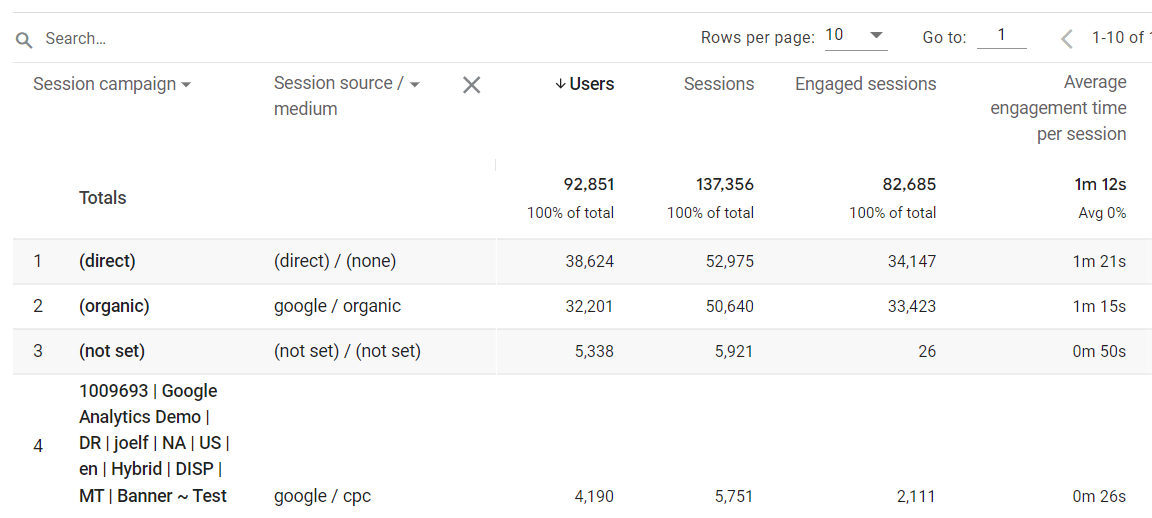 That's it!
You now know how to track conversions and use the data to grow your revenue.
We hope you liked our guide conversion tracking in WordPress. You can also take a look at our guide for How to Track Link Clicks in Google Analytics 4 and WordPress.
Not using MonsterInsights yet? What are you waiting for?
And don't forget to follow us on Twitter, Facebook and YouTube for more helpful Google Analytics tips.