Are you wondering how to set up Google Analytics social media tracking without using Google Tag Manager? Using Google Analytics for social media tracking is really the best way to see how many visits you're getting from social media, plus what those visitors are doing on your site once they arrive. Are your social media marketing efforts paying off?
If you want to track your social media traffic with Google Analytics, including the number of conversions those visitors are making, you're in the right place.
In this article, we'll go over the benefits of tracking social media with Google Analytics, take a look at a quick easy tracking tip for WordPress users, then dive into our tutorial, and finish with some social media tracking FAQ.
Let's get started.
Table of Contents
Video Walkthrough
Benefits of Analyzing Social Media Analytics
Where to Find Google Analytics Social Media Traffic
How to Track Social Media Visits in WordPress
Create Custom URLs for Google Analytics Social Media Tracking
Google Analytics for Social Media FAQ
Video Walkthrough
Benefits of Analyzing Social Media Traffic
If you're a website owner and your business or brand is on various social media networks, it really pays off to set up Google Analytics social media tracking. Here are a few reasons why it's so important to monitor your social media traffic:
You can identify which social media platforms are sending traffic to your site and which ones aren't doing as well.
You can figure out how engaged your social media visitors are by analyzing the time they spend and the number of pages they visit on your site. This data helps you to figure out if you're targeting the right audience and if you're offering the right content they're being promised in your social media marketing. If they're landing on your site and leaving quickly without completing conversions, there must be something you can improve.
You can compare your ratio of new visitors vs. returning ("established") visitors from social media networks. If the rate of returning visits is pretty low, you might want to change your social media strategy to boost re-engagement.
You can monitor how many conversions your social media audience is making. Are visitors from social media filling out your forms? Making a purchase? Completing any downloads? Watching a video at least half way on your landing page? These are important questions to answer about your social traffic using a conversions report.
Where to Find Google Analytics Social Media Traffic
Ready to set up Google Analytics social media tracking? Follow our step-by-step tutorial to set up Google Analytics reports to track your social traffic in no time.
Note for WordPress users: You can see social media traffic right in your WordPress dashboard with MonsterInsights! Skip to the MonsterInsights instructions.
Go ahead and open up your Google Analytics account to get started.
Step 1: View the Traffic Acquisition Report
In Google Analytics 4, navigate to Reports » Acquisition » Traffic Acquisition.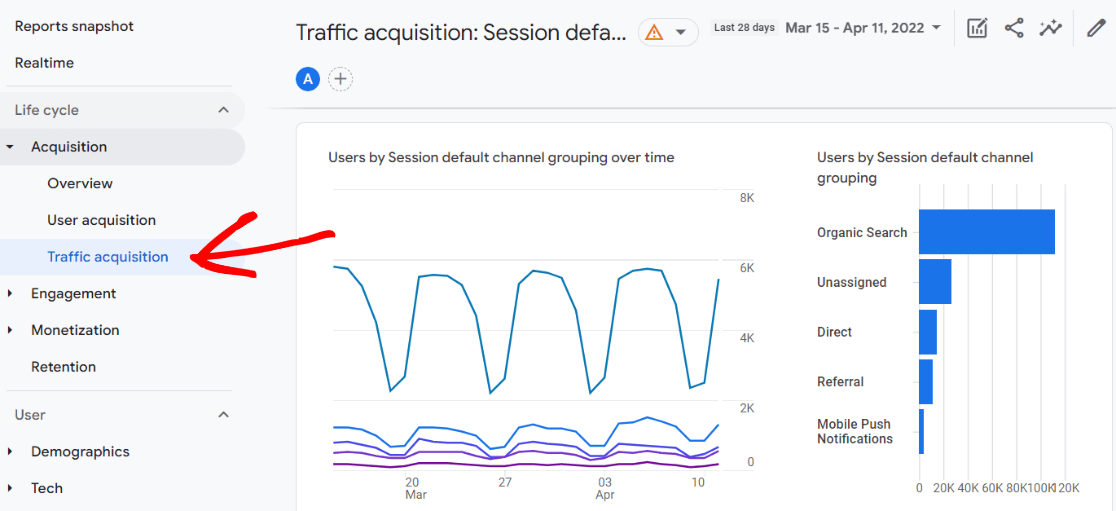 Then, scroll down the page to find the table. If you have social traffic, you'll be able to find Organic Social, Paid Social, or both in this table depending on what social media campaigns you're running. Please note, you may have to add more rows to the page if you don't see your social traffic: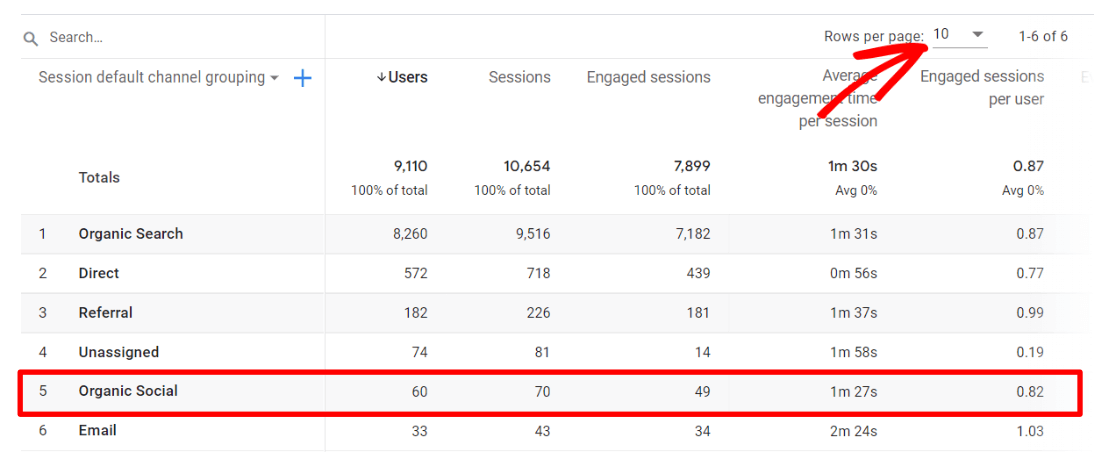 This report tells you about your organic social media traffic altogether. So, you can see in general how your social media traffic is doing – how many users were referred to your site, how many pages they looked at, how long they stayed on your site, how many conversions they completed, and more.
Step Two: Create a Custom Explore Report
But what if you want to see those metrics per social media channel?
For that, you'll need to build a custom exploration report. If you haven't done that yet, here's a handy guide on how to create custom reports in GA4.
Follow these steps to create your custom social media report:
Import the following Dimensions:
Session source
Session default channel grouping
Landing page
2. Import the following Metrics:
Sessions
Engaged sessions
User engagement
Engagement rate
Conversions
Purchases or Transactions if you run an eCommerce website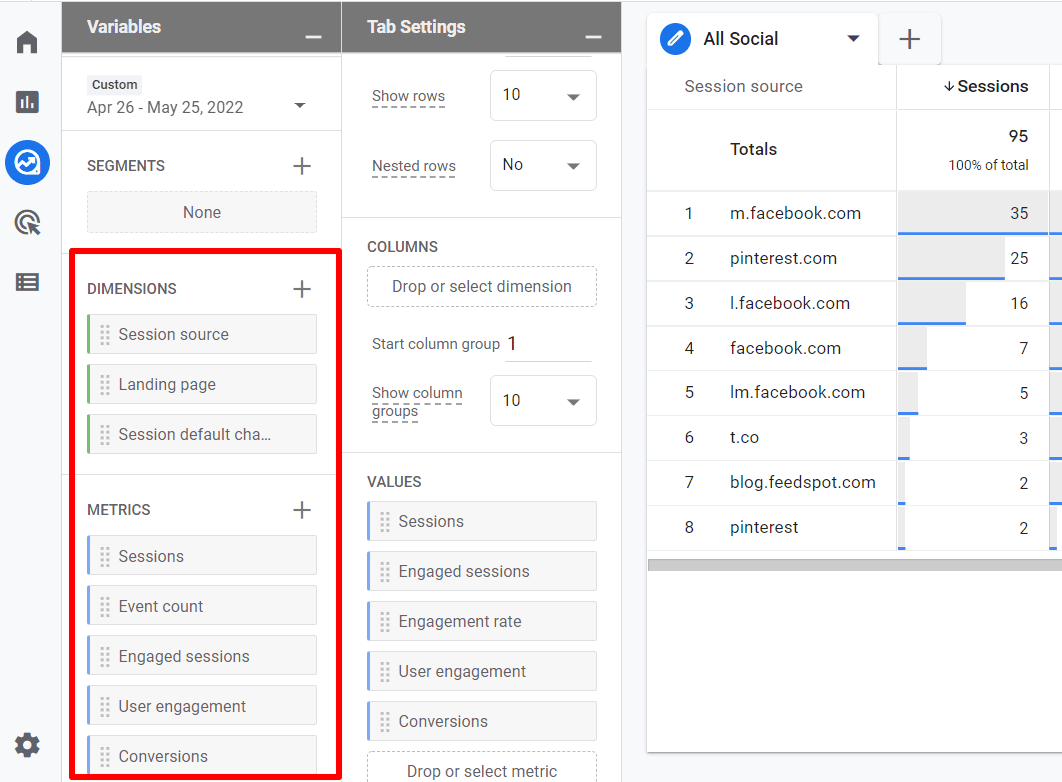 3. Click and drag Session source from your Dimensions into the Rows box.
4. Click and drag all five Metrics into the Values box.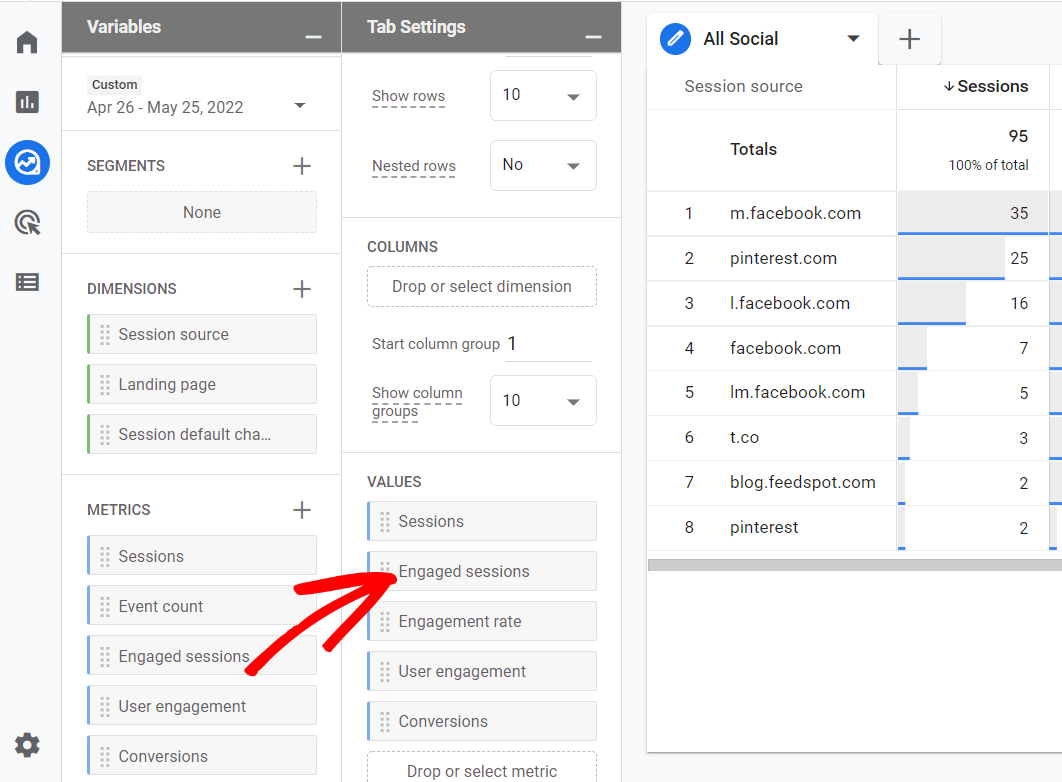 5. Click and drag Session default channel grouping from your Dimensions into the Filters box.
6. Configure your filter to exactly matches and type/choose Organic Social.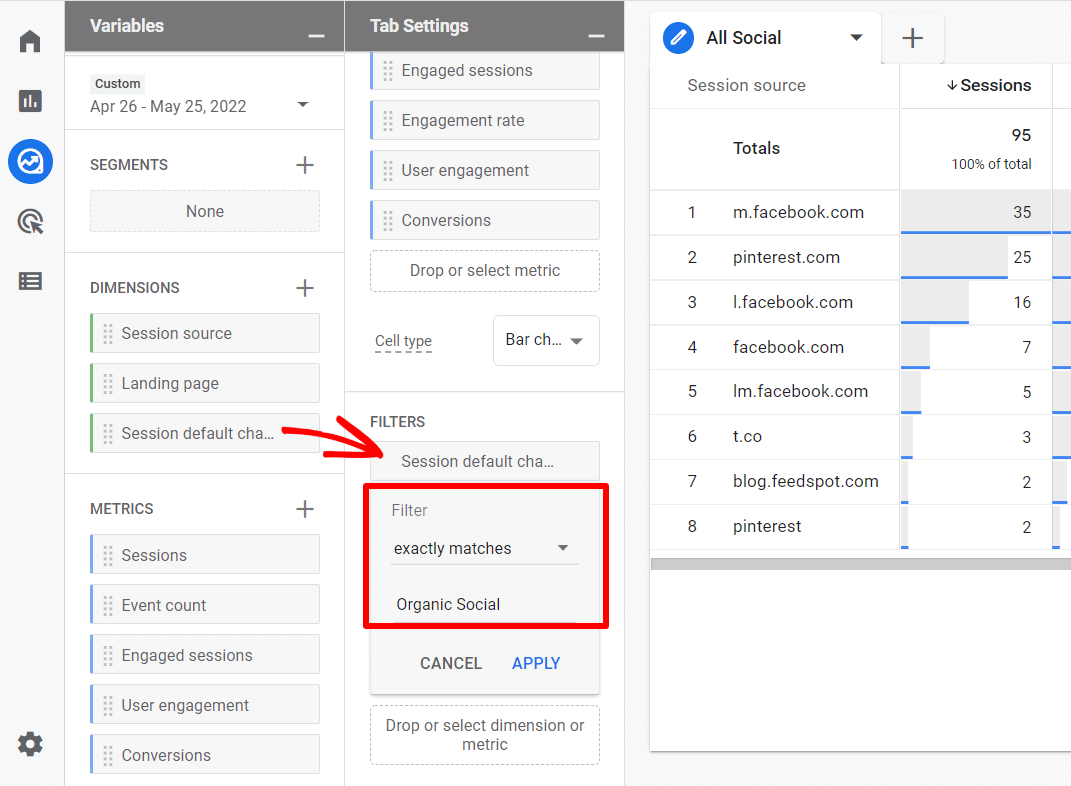 Now, you should have a social media channels report that looks like this: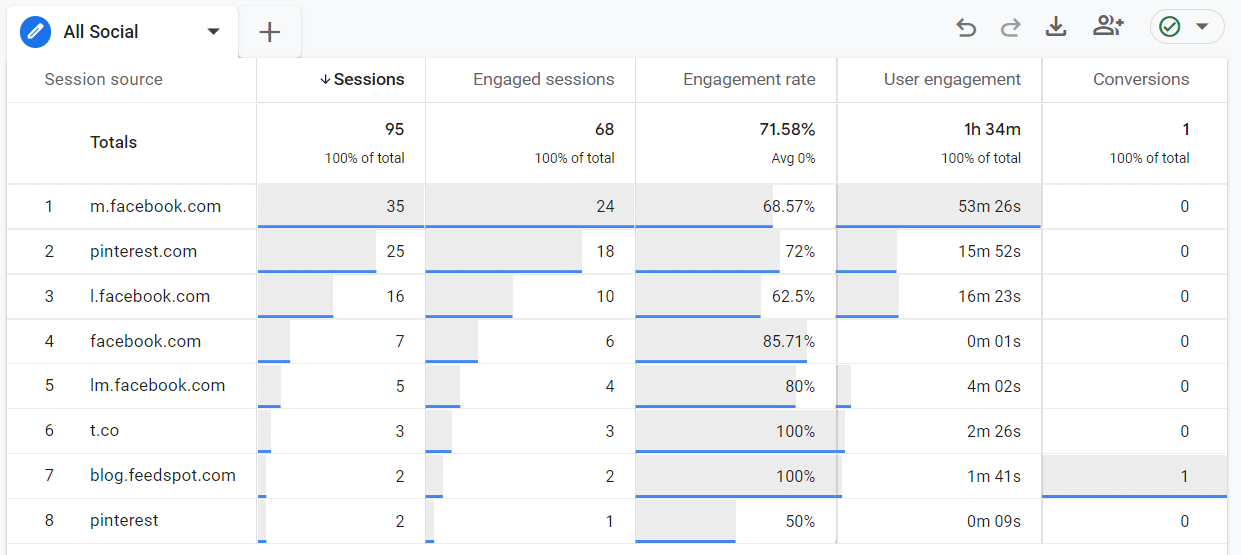 Want to view your social traffic by landing page instead of social network? Just swap out Session source for Landing page in the Rows box.
If you want to see new vs. established traffic, go ahead and add the New/established dimension to the report and drag it over into Rows. Change how many rows are in your report if you need more than 10: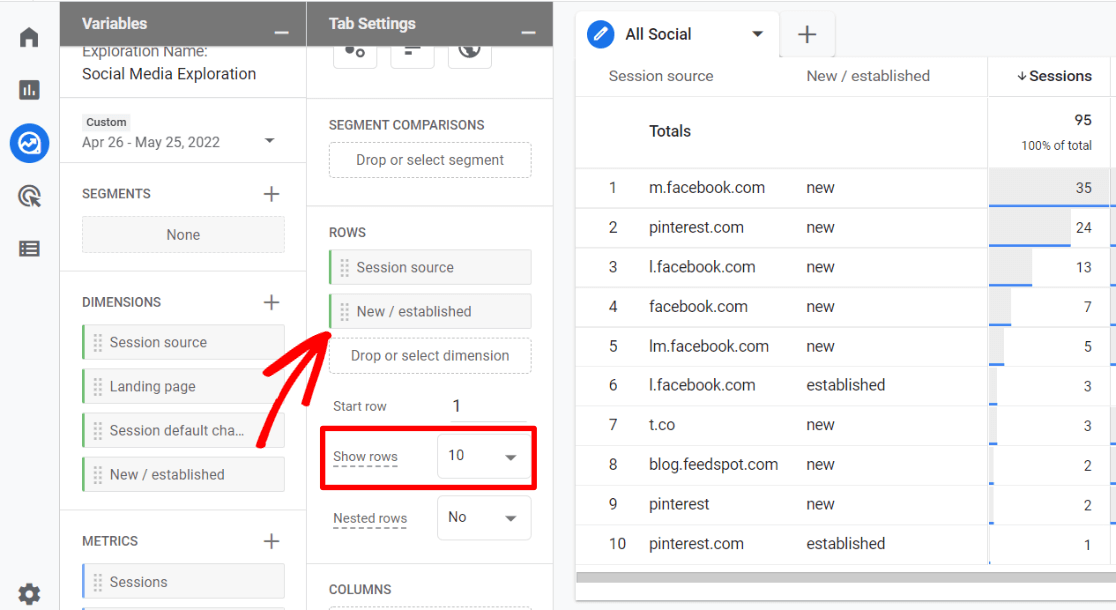 How to Track Social Media Visits in WordPress
Another way to monitor social media traffic if you're using WordPress is with MonsterInsights.
MonsterInsights is the best Google Analytics plugin for WordPress. It allows you to easily connect your WordPress site with Google Analytics, so you can view all the data that matters most right in your WordPress dashboard.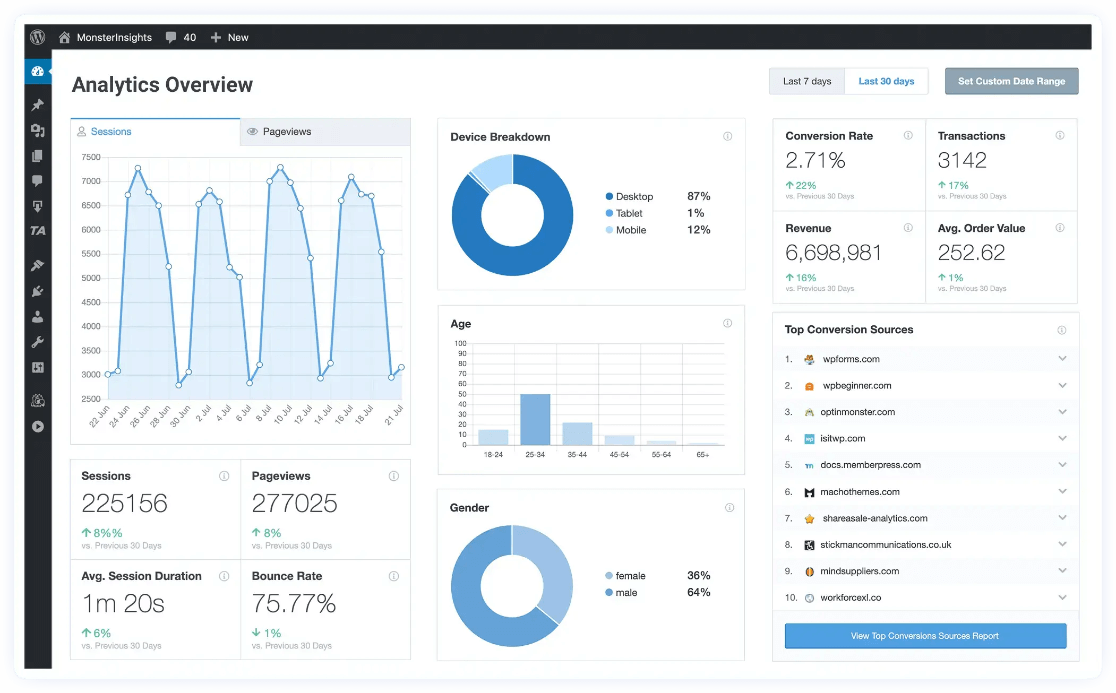 Plus, with the click of a button, you can set up sophisticated tracking features such as event tracking, author tracking, eCommerce tracking, form tracking, custom dimension tracking, outbound link tracking, and more.
With MonsterInsights, you'll get a referral traffic report right inside your WordPress dashboard, so you can see your social media visits at-a-glance.
The MonsterInsights Referral Report
For social media monitoring, MonsterInsights includes a top referrals report right inside its Overview report. If you get a lot of social network referrals from different social media platforms, you'll see them in your report.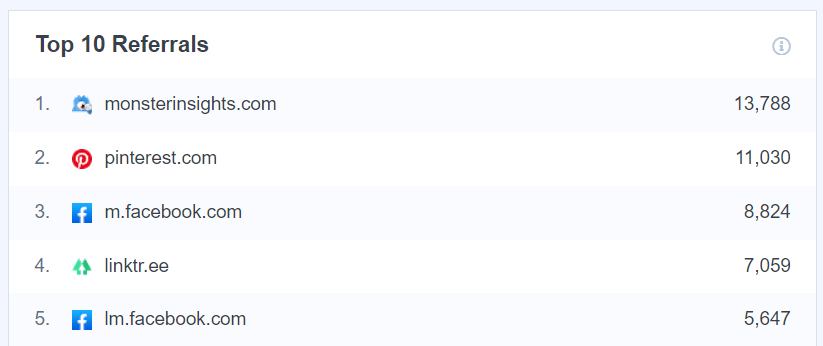 To see more of your referrals than the top 10, there's a link at the bottom of the report that takes you straight to the exact report you need in your Google Analytics dashboard.
The MonsterInsights Source/Medium Report
You can also find your social media traffic inside the Source/Medium report. See specific social channels right in the report along with your other sources, and see if your social traffic brought in any revenue!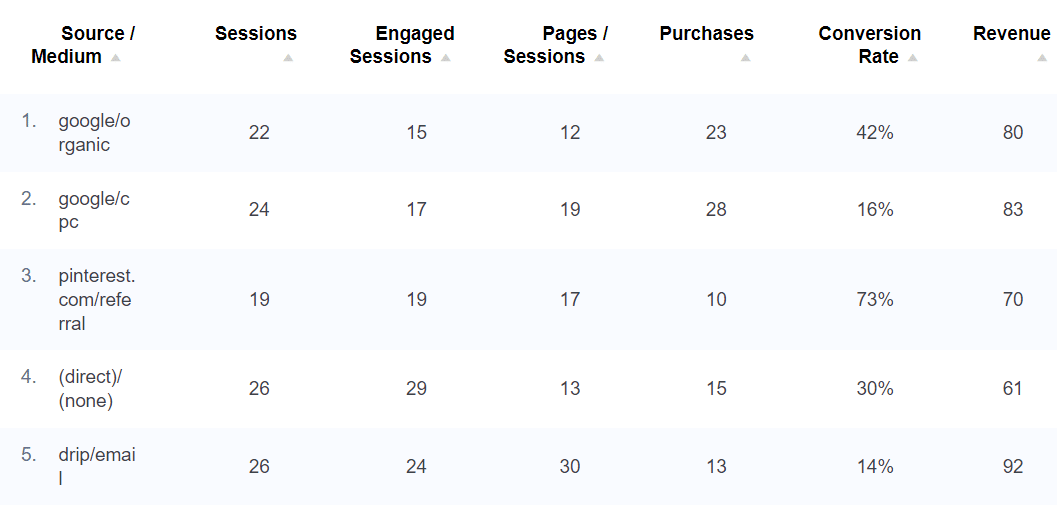 For more on using MonsterInsights in WordPress, read How to Add Google Analytics to WordPress the Right Way.
Custom URLs for Google Analytics Social Media Tracking
Another way you can track social media traffic is by creating custom URLs with UTM codes for your campaigns. Using the MonsterInsights URL Builder, you can add parameters in your URLs, so you'll know exactly where (and from which campaign) your traffic is coming from.
Let's say you have an upcoming spring sale and want to track traffic from Facebook. You can add the following parameters to build a custom URL.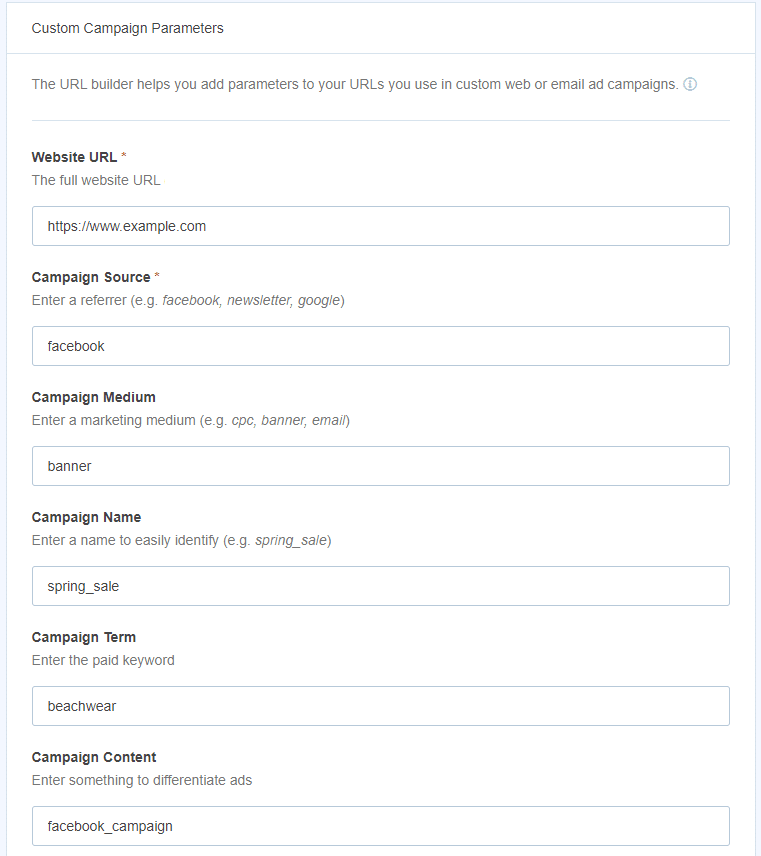 Once you've entered the details, you'll see your custom URL. Now copy the link and use it for promotions on Facebook. Any visitors that come via this link will be automatically tracked in Google Analytics with the parameters you added. This can help you easily and accurately track your social media efforts.

To learn how to find your campaign data in Google Analytics, read A Complete Guide to GA4 Conversion Tracking for WordPress.
Google Analytics for Social Media FAQ
Have some questions about Google Analytics and social media? Here are some answers.
Does Google Analytics track social media?
Yes! However, Universal Analytics had a whole report section devoted to social media tracking, and Google Analytics 4 does not. That doesn't mean it's not available – it just means you have to create the reports yourself, which we'll cover in our tutorial.
What is Organic Social in Google Analytics 4?
Google Analytics 4 breaks down social media traffic by organic and paid. Visits through regular posts and profile links will be categorized in the Organic Social channel, whereas visits from paid social media ads will be categorized in Paid Social.
Can you use Google Analytics for Facebook?
Yes, Google Analytics will track your website traffic that's referred from Facebook.
Can I use Google Analytics for Instagram?
Yes. The trick for Instagram is using custom campaign URLs.
That's it!
We hope this guide helped you to learn how to track social media traffic and reach your social media goals with Google Analytics.
Not using MonsterInsights yet? What are you waiting for?
If you liked this article, we think you might also be interested in 10 Best Social Media Plugins for WordPress.
And don't forget to follow us on Twitter, Facebook and YouTube for more helpful Google Analytics tips.