Are you looking for a quick and simple way to set up WooCommerce Google Analytics?
By adding Google Analytics to WooCommerce, you can track the performance of your online store. You can get insights via eCommerce tracking about which products sell the most, how much revenue you're making, where your customers are coming from, and lots more.
In this article, we'll show you how to set up WooCommerce Google Analytics the right way.
Why Do You Need Google Analytics on WooCommerce?
Why is Google Analytics important for your WooCommerce store? Well, if you want to plan campaigns and make business decisions to grow your revenue, you need eCommerce analytics.
Without any eCommerce data, you'll be guessing at what your audience likes, which could be risky for your website. You could invest in advertising the wrong product or put your efforts into promoting deals that your customers might not like.
So, to avoid these issues and make the most use of your resources and time, it's a good idea to track your WooCommerce store using Google Analytics.
Here are some insights you can get by setting up WooCommerce Analytics:
Top Performing Products – Get to know which products generate the most sales, so you can promote them more
Shopping Behavior – Understand your customers' journeys, which product pages they view, how often they click the checkout button, what how much time they spent on each page/step, and more
Reduce Abandon Carts – By tracking abandoned carts, you can plug the gaps in your WooCommerce store and boost conversions
Measure Campaign Performance – You can track each marketing campaign in Google Analytics and see which one performed better, so you can optimize other campaigns
Identify Top Referral Traffic Sources – Find out which websites send the most converting traffic to your website, so you can create a personalized experience for such users or perhaps strike a deal with the referral website
Measure SEO Performance – Track which pages users are finding via organic search to understand your SEO performance. Then, use data to optimize your WooCommerce site for better SEO.
Even More Event Tracking – With MonsterInsights, you get even more event tracking functionality beyond eCommerce metrics. Track form submit button clicks, file downloads, video plays, and more.
Now, are you ready to learn how to set up WooCommerce Google Analytics?
How to Add Google Analytics to WooCommerce
There are several ways you can track your WooCommerce store in Google Analytics. But the easiest method is by using MonsterInsights.
The Google Analytics plugin seamlessly integrates with WooCommerce, and you can set up tracking with just a few clicks. You don't have to edit any code or hire a developer.
To get started, just follow these steps.
Step 1: Install and Activate MonsterInsights Plugin
MonsterInsights is the best WordPress plugin for Google Analytics. It offers loads of features and detailed reports inside your WordPress dashboard, so you can get metrics that matter for your business.
The plugin makes it very simple to add Google Analytics to your WordPress website without any coding. Besides that, you can set up advanced tracking that's not available by default in Analytics.
And using its EU Compliance addon, you can easily make your WooCommerce site GDPR compliant.
To set up tracking for your WooCommerce store, you'll have to signup MonsterInsights Pro plan. Once you've done that, login and go to your account area.
Then navigate to Downloads tab and click Download MonsterInsights to get the ZIP files for the plugin and save them on your computer.

Now go to your WordPress site and upload the plugin. You can do that by going to Plugins » Add New » Upload Plugin.

Next, click on Choose File and select the ZIP file where you saved them earlier. Then click Install Now.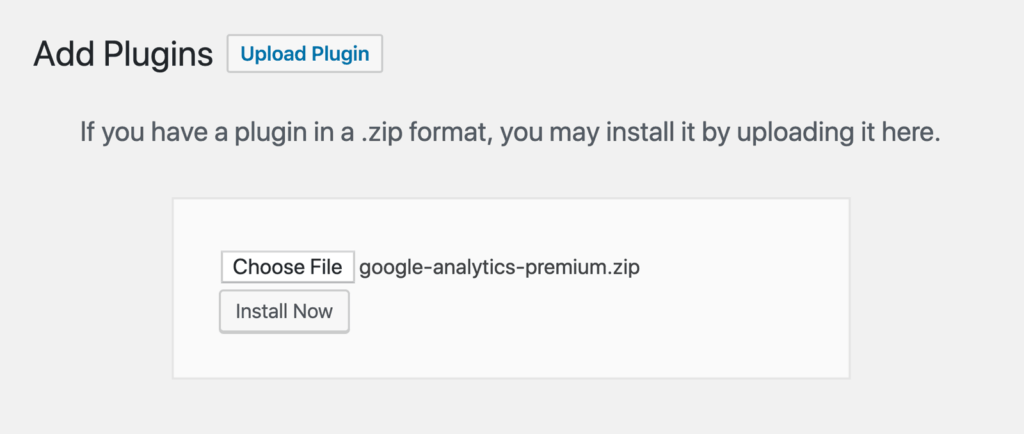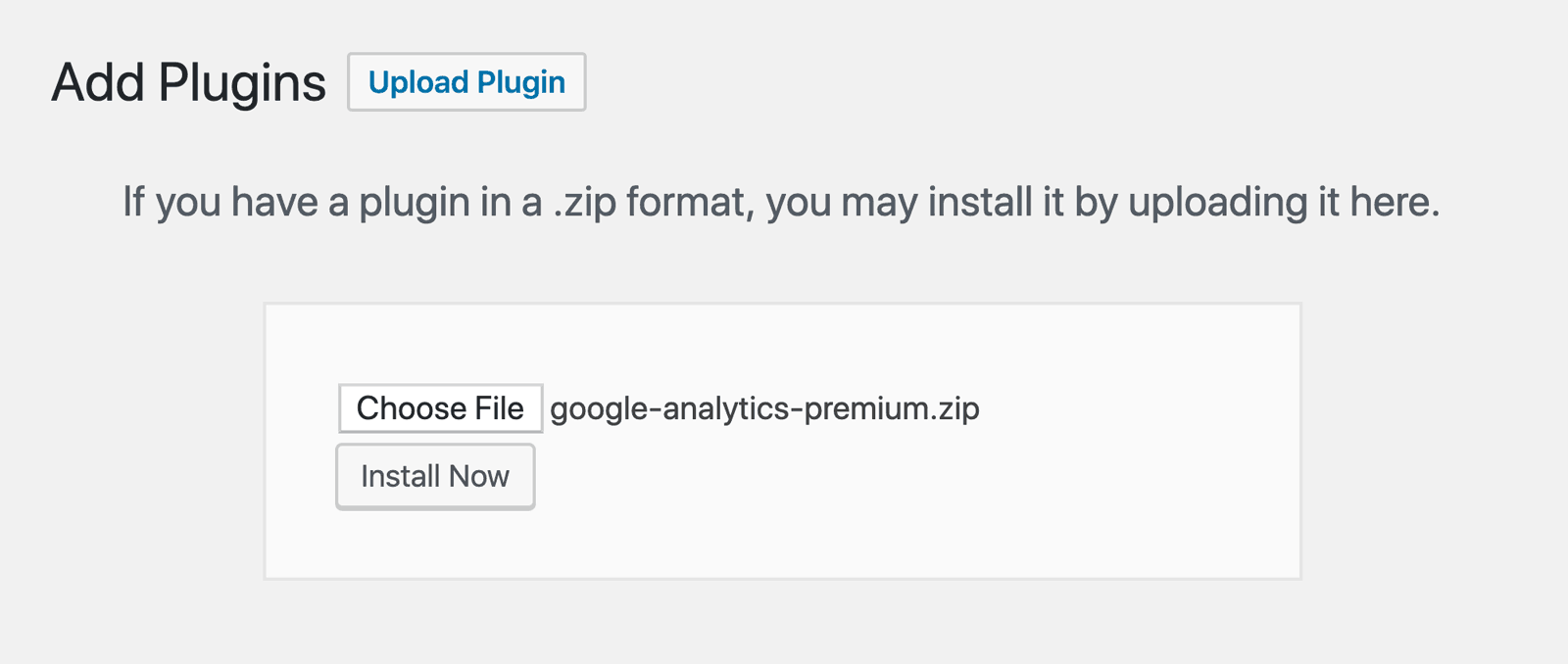 Once the plugin installs, click Activate Plugin and you should see MonsterInsights (look for Insights) in your dashboard.
Now the last thing you'll need to do is verify your license key in the plugin. You can find the key in your Account Area under the Downloads tab. Simply copy the license key.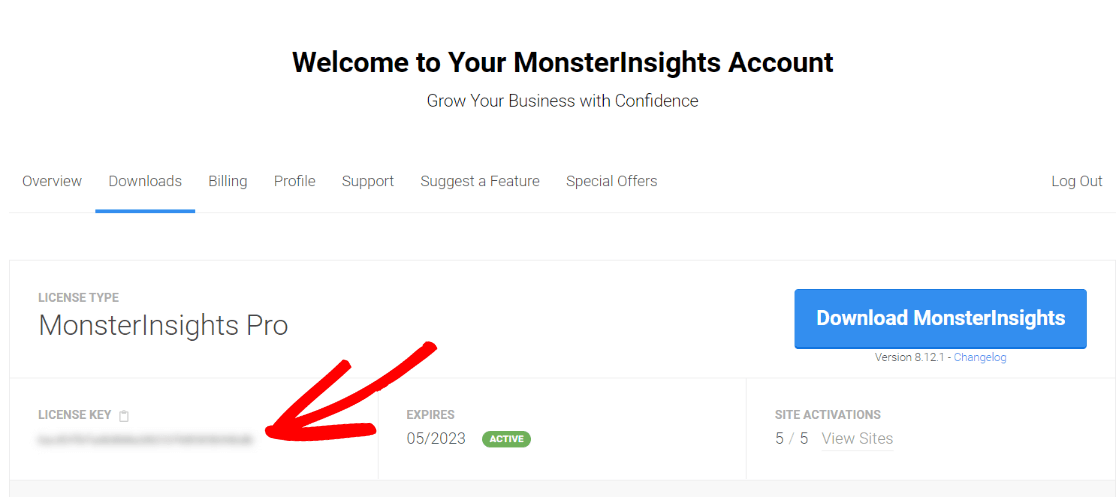 Now go to your WordPress dashboard and then click on Insights » Settings. Under the License Key option, paste the key and then click the Verify Key button.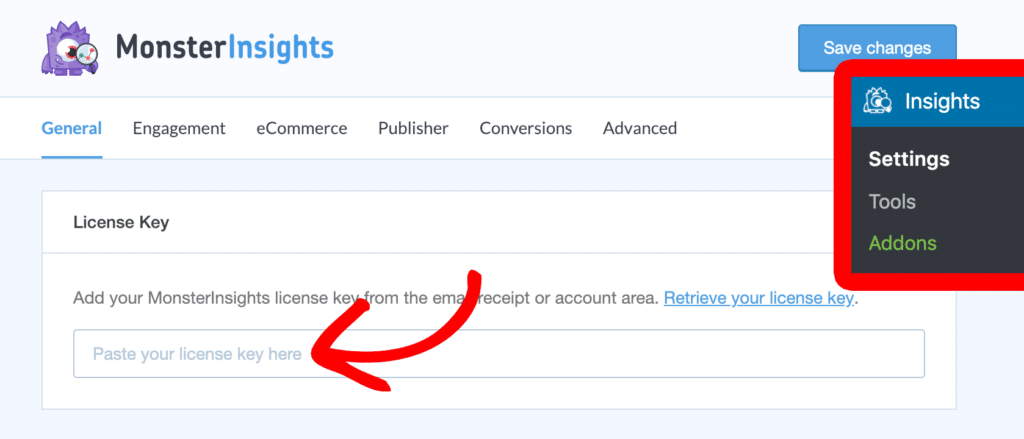 Step 2: Install MonsterInsights eCommerce Addon
Now that MonsterInsights is ready to use on your website, the next thing to do is install and activate its eCommerce addon.
The addon automatically tracks your WooCommerce sales and overall website's performance.
You can do that by going to Insights » Addons and then find your way to eCommerce. Click Install and then Activate to start using the addon.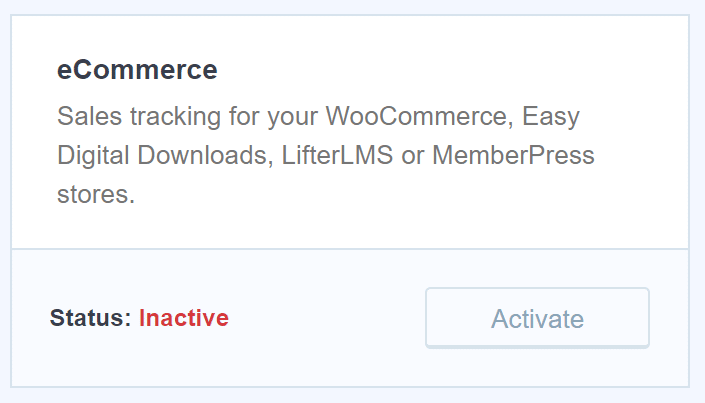 Step 3: Enable Enhanced Ecommerce in Google Analytics
NOTE: Skip this step if you're using Google Analytics 4.
After activating the addon, the next thing you'll have to do is enable Enhanced Ecommerce in Google Analytics for WooCommerce if you're using Universal Analytics.
And you can do that by going logging in to your Google Analytics account. Next, select the property on which you want to configure Enhanced Ecommerce.

Now go to Admin and then navigate your way to Ecommerce Settings under the View column.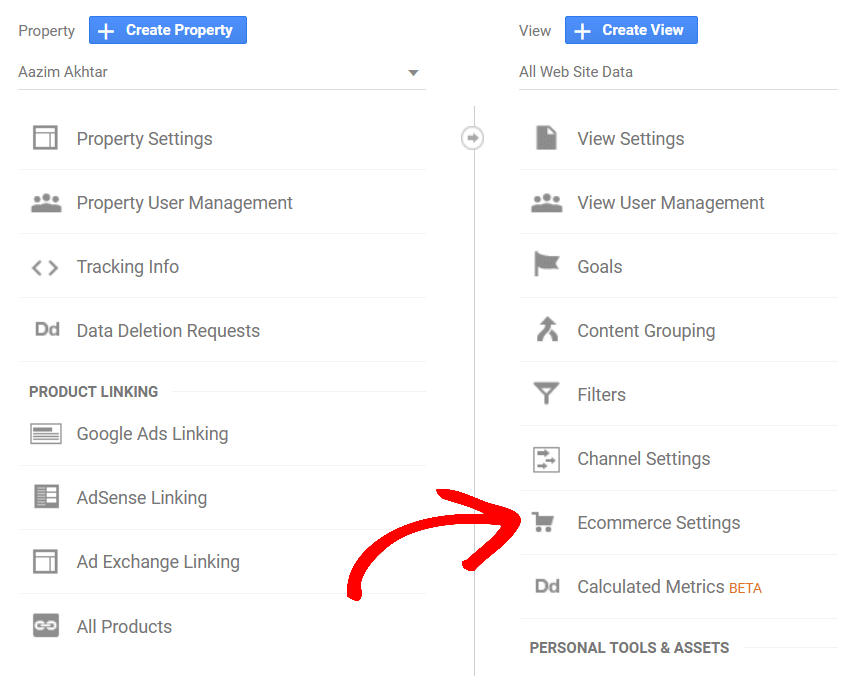 You'll now see Enable Ecommerce option under Ecommerce set-up. Click or toggle the switch to turn it on.
Next, do the same to Enable Enhanced Ecommerce Reporting. If you want, you can even add checkout funnel steps if you want, but you can leave this option as it is and click Save once you're done.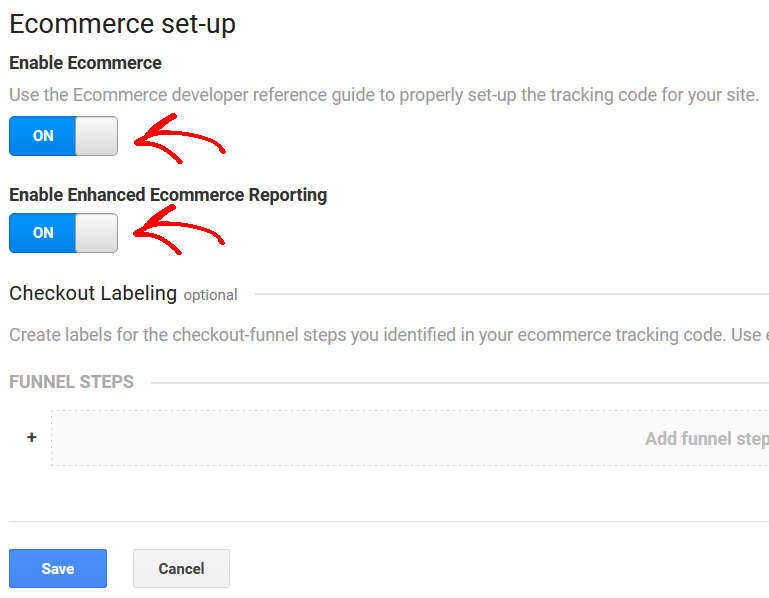 That's it!
View WooCommerce Google Analytics Reports in WordPress
The best thing about using MonsterInsights is that you can view how your WooCommerce store is doing inside your WordPress dashboard.
MonsterInsights is the best WooCommerce analytics plugin because it brings some of the most important reports from Google Analytics and displays them on your website, so you don't have to go anywhere. This is especially helpful if you're a beginner and don't know how to view different Google Analytics reports or find data that matters.
To view stats about your online store, go to Insights » Reports » eCommerce.

Right from the start, you can see your site's conversion rate, transactions, revenue, and average order value for the date range selected.
It also shows a comparison between the last time period (for instance vs. Previous 30 Days), so you know if your store's performance improved or went down.
And if you scroll down, the next report you'll see is of Top Products. These are the best-selling items on your WooCommerce store. For each product, you can view its quantity, percentage of sales, and total revenue.

MonsterInsights also shows your Top Conversion Sources. These are websites where your customers visit your store and buy products. You can see how many people came to your site, their overall percentage, and the revenue they generated.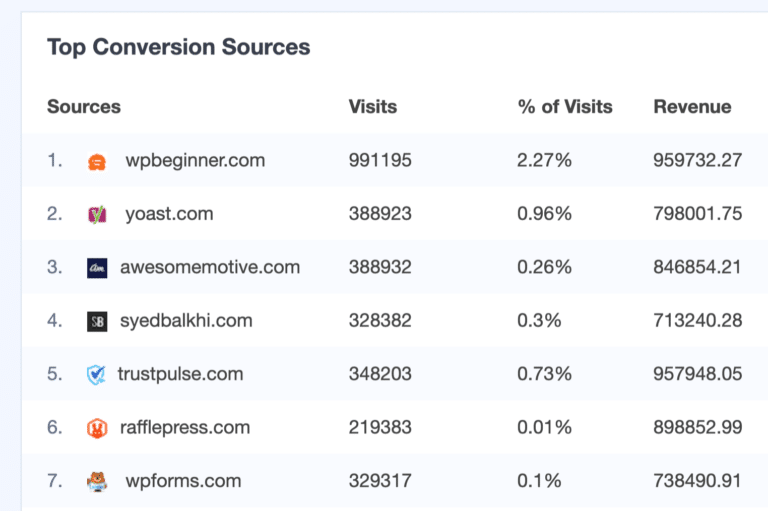 And the last reports you'll see are of Total Add to Carts and Total Removed from Cart. These eCommerce events help you understand the shopping behavior and checkout behavior of your customers.
You can even see how long a visitor takes complete a transaction by looking at the Time to Purchase and Sessions to Purchase reports.

View Ecommerce Reports in Google Analytics 4
To view your eCommerce overview report in Google Analytics, navigate to Monetization » Overview. Here you can see your revenue trend by day, purchases by day, purchases by item name, purchases by item list, and more.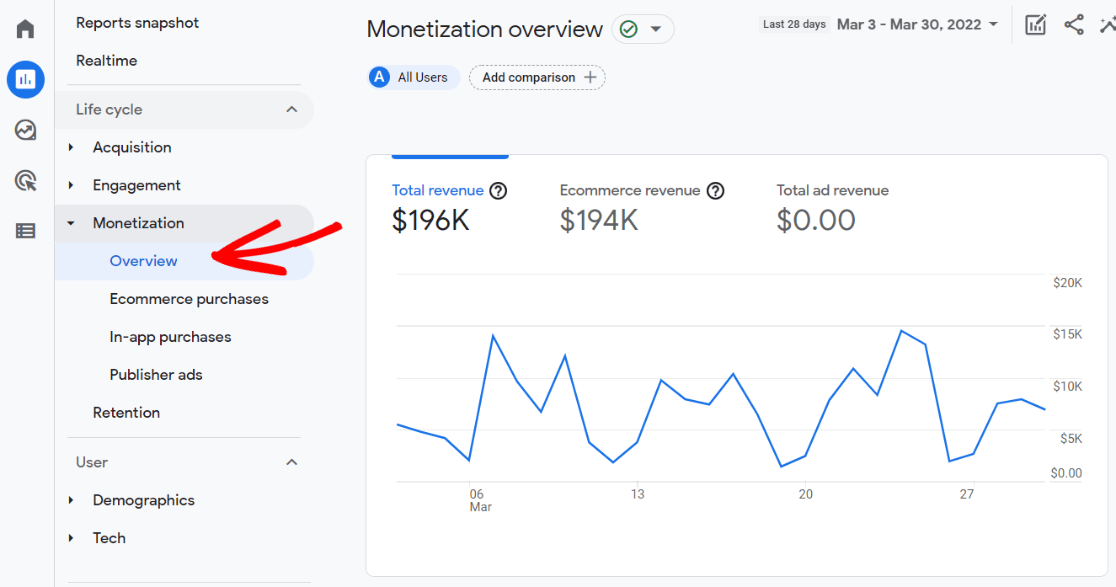 To view Google Analytics eCommerce sales (purchases) and revenue data organized by channel, navigate to Acquisition » Traffic acquisition: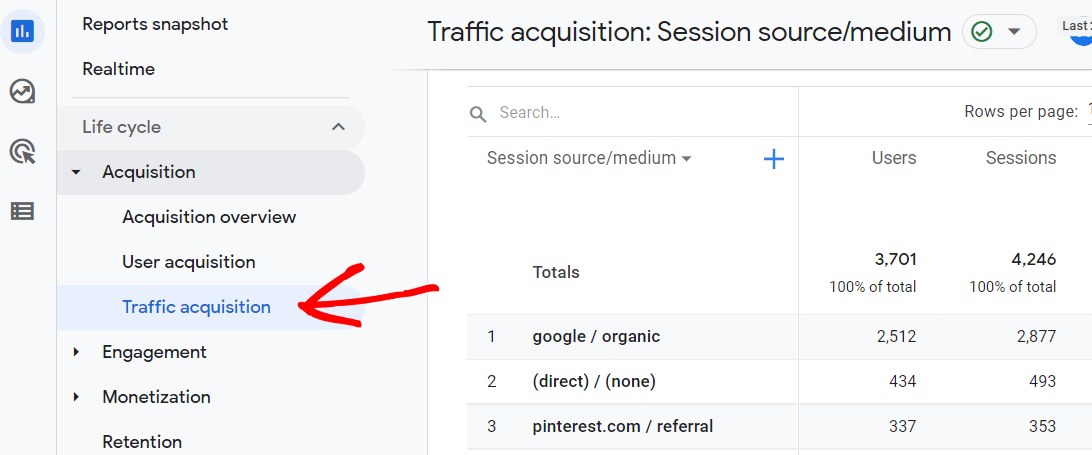 Then, scroll to the right in the table to find Conversions and Total Revenue. Click the All Events drop-down arrow under Conversions and select purchase: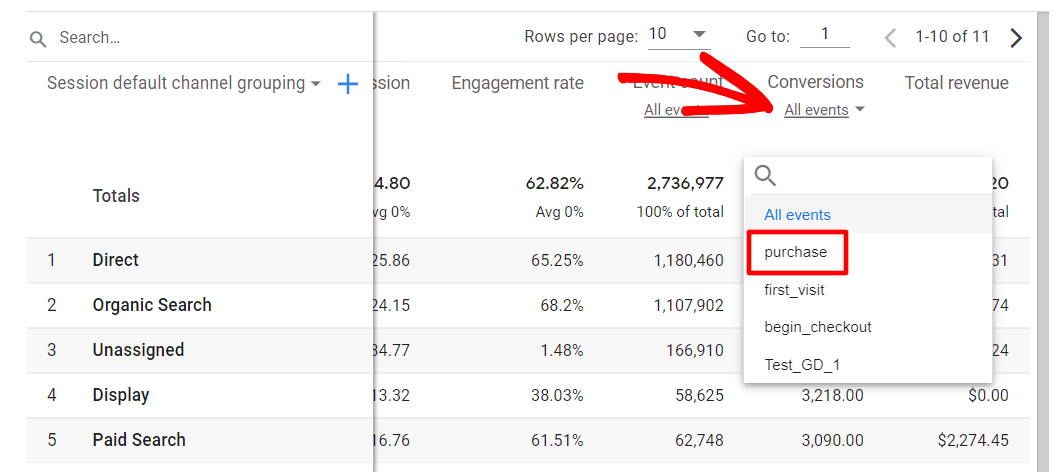 Now, the table is showing total purchases and revenue by traffic channel.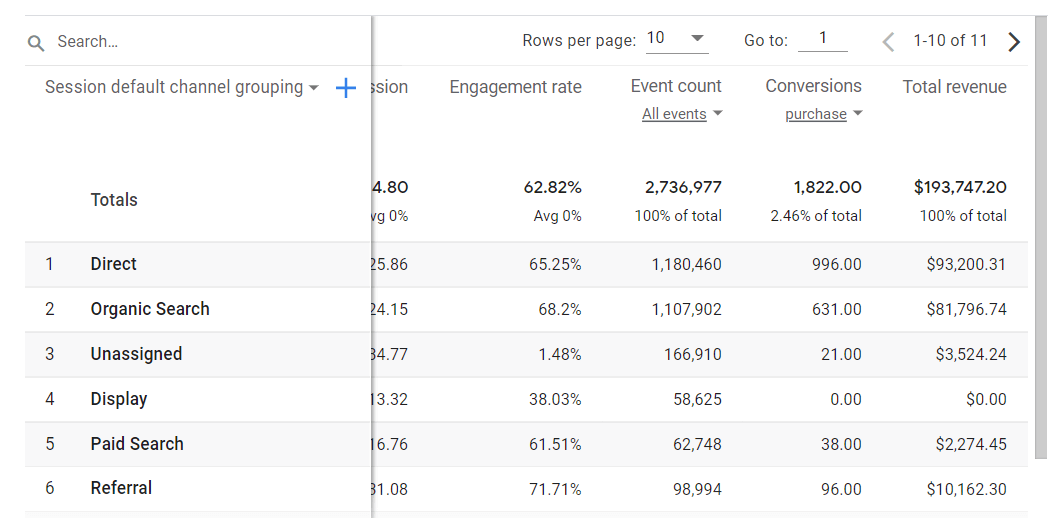 That's all, folks!
You can now easily track the performance of your WooCommerce store in Google Analytics. Using the data, you'll know which products to promote more, how to create personalized marketing campaigns, and better understand your customers.
We hope that you liked our guide on how to set up WooCommerce Google Analytics the right way. You can also go through our guide on WooCommerce conversion tracking.
And don't forget to follow us on Twitter, Facebook and YouTube for more helpful Google Analytics tips.