Do you want to track your website visitors and get stats about their interactions with your site?
MonsterInsights and Jetpack Stats are two widely-used tools for website analytics in WordPress. However, there're some big differences in regard to how they work and what stats they offer.
If you're wondering which one is better for your site, you're in the right place. In this article, we'll compare MonsterInsights vs. Jetpack Stats in-depth to help you choose the best one for your needs.
Get Started with MonsterInsights Today!
1. General Overview: MonsterInsights vs. Jetpack Stats
What's MonsterInsights?
MonsterInsights is the most beginner-friendly and powerful Google Analytics plugin for WordPress.
It helps you easily integrate the most popular website analytics tool, Google Analytics, onto your WordPress site and provides you with detailed information and stats about your site visitors and their interactions with your site.
MonsterInsights simplifies Google Analytics for WordPress users and empowers everyone who uses it, including beginners.
You'll see not only the regular site metrics that Google Analytics offers by default but sophisticated metrics like eCommerce, events, etc. Best of all? It takes only a couple minutes to set up, and you'll never have to touch a single line of code!
Simplicity and the user-friendly approach are what make MonsterInsights superior to using Google Analytics by itself. If you want to learn more about why people use MonsterInsights, read our full comparison on Google Analytics vs. MonsterInsights.
What's Jetpack Stats?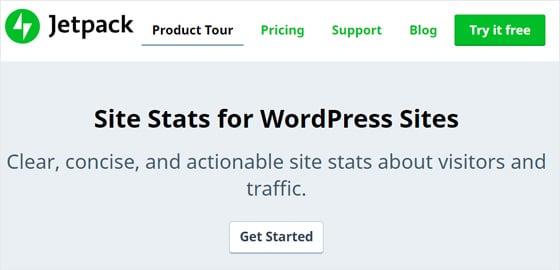 Jetpack Stats is a module of the Jetpack plugin that shows the basic overview of your website's traffic and visitors.
If you don't know what Jetpack is, it's a composite plugin for a number of features including site stats, security, backups, spam protection, performance, social sharing, etc. for WordPress sites.
When you install the Jetpack plugin on your site, you can select which modules to activate and use on your site. If you activate Jetpack Stats, you can get certain data reports about your website's visitors and their interactions via your WordPress dashboard.
Now, are you wondering, do I need Jetpack WordPress plugin or MonsterInsights? Let's go ahead and explore the differences between MonsterInsights and Jetpack Stats.
2. Basic Traffic Overview vs. Advanced Tracking
The first, and perhaps most important, the difference between MonsterInsights and Jetpack Stats is the amount of information they can offer about your site traffic.
While MonsterInsights is a feature-rich and powerful plugin capable of advanced tracking features, Jetpack Stats is a basic tool for a simple traffic overview of your WordPress site.
Using MonsterInsights, you can learn what keywords your users searched for to come to your site, who referred them, what they clicked on while visiting your site, the average time they spent on your site, bounce rate, etc. All of which are displayed in a beautiful way.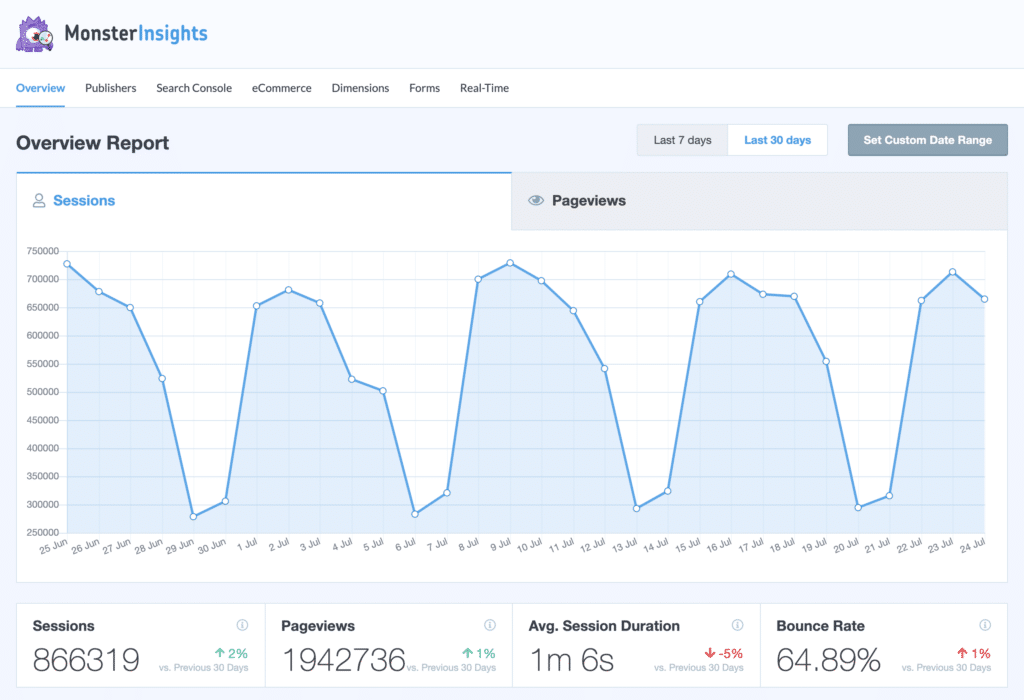 You'll also get detailed information about your website traffic including your visitors' geographical locations, their interests, ages, genders, devices, and what browsers they're using to access your website.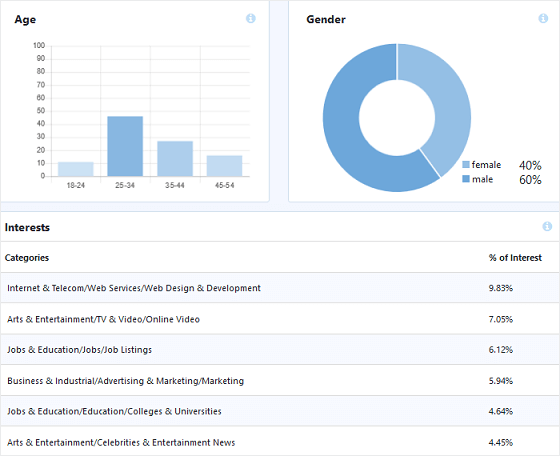 These stats are automatically offered by MonsterInsights as Google Analytics tracks them by default, but you can also configure advanced tracking for your site in just a few simple steps with MonsterInsights.
It comes with dozens of easy-to-use, yet powerful, addons that help you to automate advanced tracking like form conversions, eCommerce conversions, Ads tracking, author tracking, etc.
And, you can configure them completely on your own without having to worry about any complex steps or coding.
On the other hand, Jetpack Stats offers a basic overview of your website traffic with quick information about your daily traffic, best ever daily traffic, and total traffic.
You can also see your site's top content, referrers, search engine terms, and clicks on outbound links.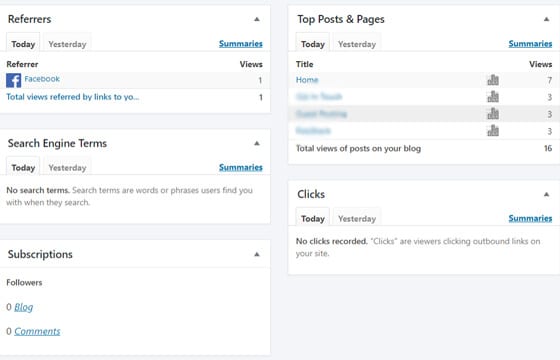 To view the Jetpack Stats data, you'll need to visit Jetpack » Site Stats on your WordPress dashboard.
As you can see in the screenshot above, it provides you with clear and concise information; however, it's limited. The available information and data is much less than what MonsterInsights' reports can offer.
Plus, you cannot add custom tracking for your site using Jetpack Stats; whereas MonsterInsights lets you explore several custom dimensions and other metrics.
Using MonsterInsights Custom Dimensions, you can track your most popular authors, most popular categories, tags, custom post types, etc.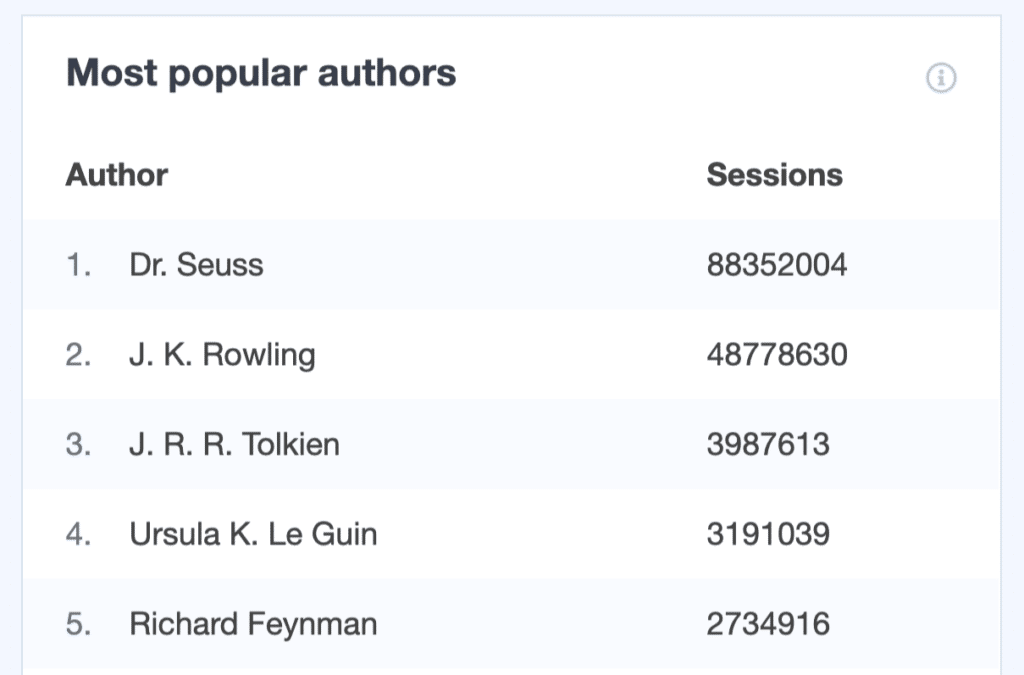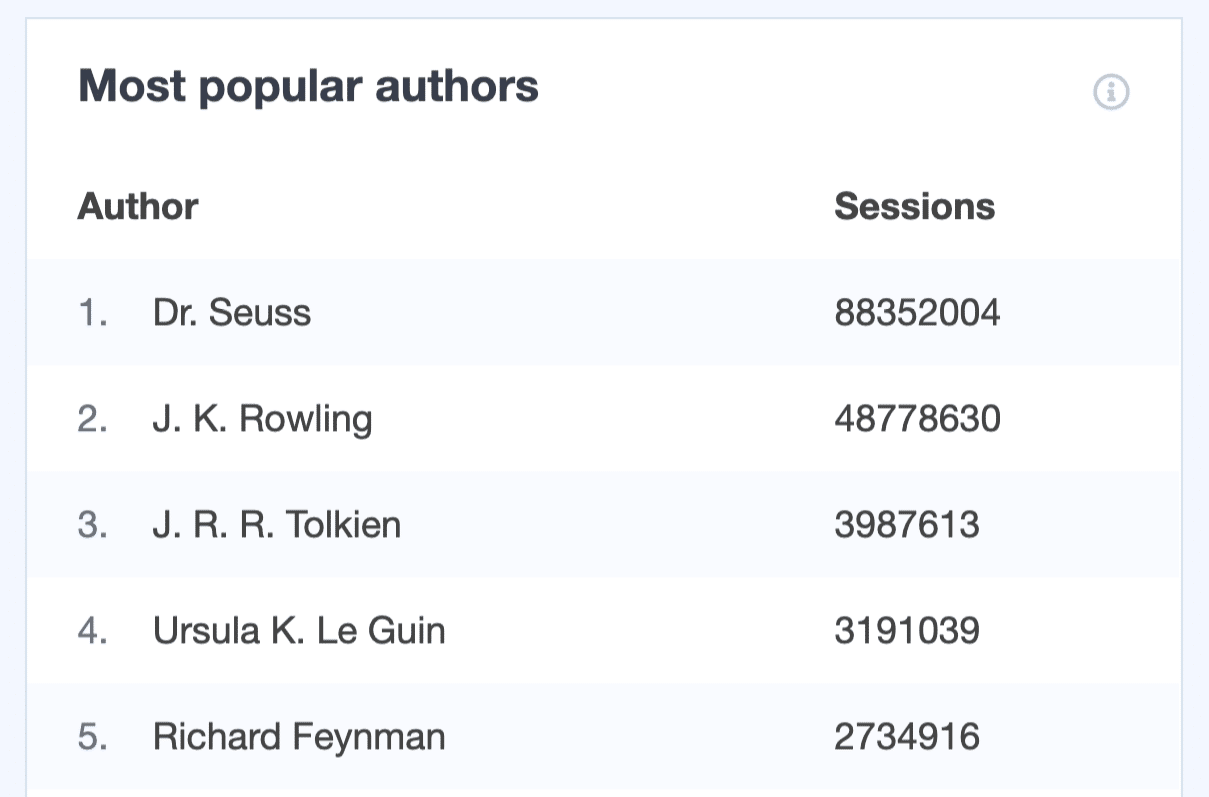 In conclusion, MonsterInsights is your ultimate website analytics tool whereas Jetpack Stats is a simple Jetpack plugin module for your basic website traffic overview.
3. Bloated vs. Lightweight Plugin
Another difference between Jetpack Stats and MonsterInsights is what these plugins are meant for. MonsterInsights is a lightweight plugin built for website analytics exclusively whereas Jetpack Stats is a small part of a larger plugin and cannot be used independently.
MonsterInsights is solely focused on what you need for tracking your site metrics. It's free of unnecessary ads and other useless features. Right from the time of plugin installation, you'll find a consistently simple and clean interface.
On the other hand, Jetpack Stats is one of several Jetpack modules. You cannot use the module independently without installing the package plugin. The Jetpack plugin, with its abundance of modules and features, looks bloated and can be overwhelming for newbies.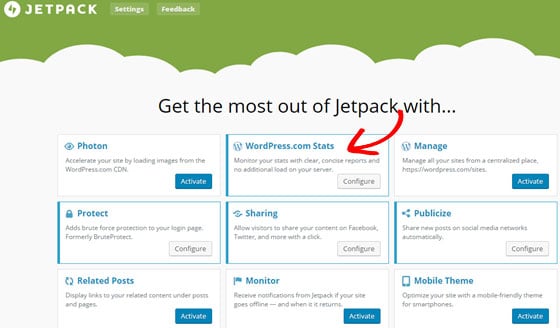 Jetpack Stats is also known as WordPress.com stats (it's created by Automattic, the company behind WordPress.com). When you install the free version of the plugin, you'll come to face with WordPress.com ads and upgrade notifications on a regular basis.
Thus, MonsterInsights is clearly the winner if you want a plugin that's just for website analytics. But, if you want to use Jetpack for other features, Jetpack Stats can be a quick tool for a basic site overview.
4. Data Accuracy: Which is better?
MonsterInsights is a tool based on Google Analytics, the most reliable analytics service available.
Google Analytics is handled by the multi-million dollar company Google itself which has a lot of resources to put into developing its analytics.
Google and YouTube are the most popular search engines cum web platforms, and the MonsterInsights integrated service is more reliable and accurate than anything on the market.
Jetpack Stats, on the other hand, is a side project of the Jetpack plugin. Jetpack is a product of WordPress.com whose main focus is to attract more users to its website building platform. Thus, Jetpack Stats is a tiny little side project for the big company.
In fact, even Jetpack.com uses Google Analytics to track their website analytics (see below). So why didn't they integrate it into their product? We'll never know.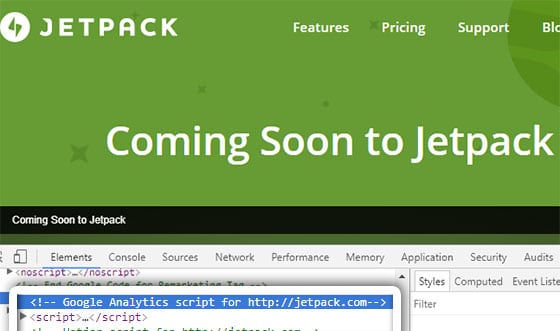 As MonsterInsights works with Google Analytics, the information it provides is more reliable than Jetpack Stats.
5. Authentication and Setup: Which is easier?
Setting up MonsterInsights and authenticating with Google Analytics is a simple process. First, you'll need a Google Account (or personal Gmail account) to set up a Google Analytics account.
Then, with your Google Analytics account, you can easily authenticate your WordPress site for tracking.
If you have a Google account, you don't need to create any other third-party accounts for tracking your website's metrics.
Connecting Google Analytics with WordPress is really easy with MonsterInsights. It'll require just a few steps to fully configure the settings.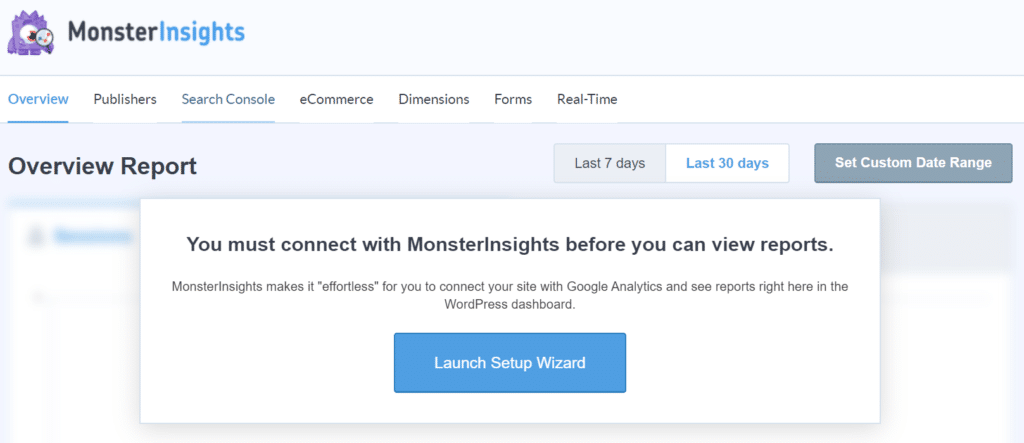 But Jetpack Stats requires you to create a WordPress.com account and connect your site with it. Since it's a product of WordPress.com, you'll need to first make an account on their website to get your website stats. Personally, we're not a fan of unnecessary extra steps.
6. Privacy Policy: Which is better?
Since MonsterInsights uses Google Analytics' tracking code, you don't need to worry about any privacy policies for any country in the world. Google Analytics has privacy policies for every country and has you covered.
Jetpack doesn't. In fact, Jetpack isn't compliant with many countries, like Germany, which has strict privacy policy laws.
As MonsterInsights adds Google Analytics tracking code to your site, you can track stats without worrying about the privacy policies of different countries.
Besides, MonsterInsights is fully compliant with GDPR policies. It comes with an addon called EU Compliance with which you can easily integrate GDPR regulations.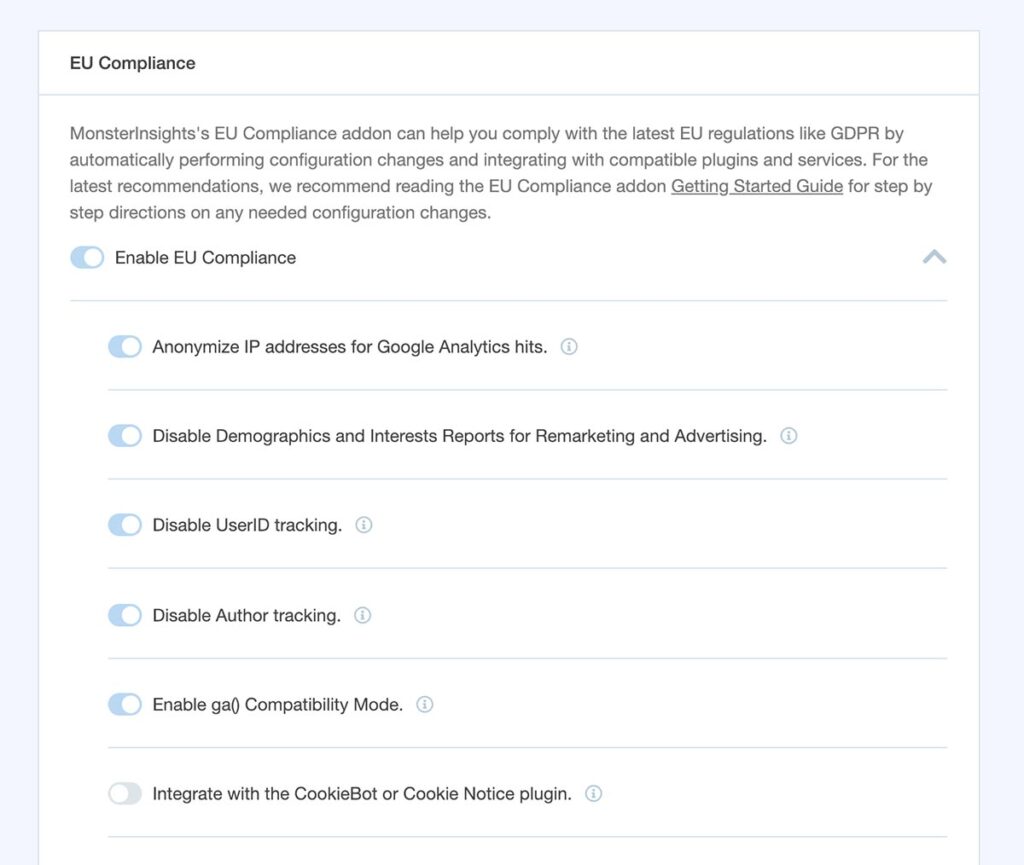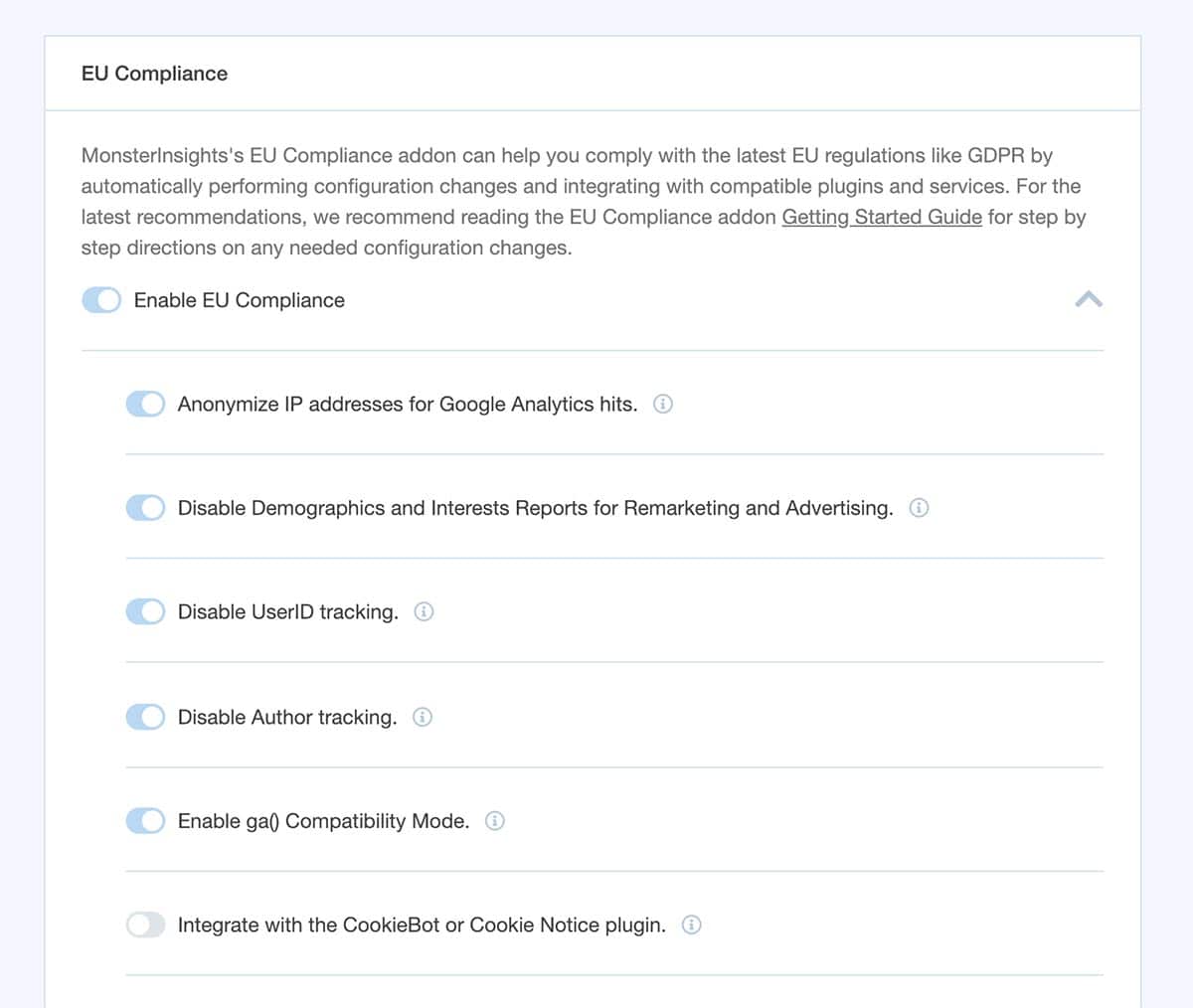 Conclusion
We can conclude that MonsterInsights is a better tool if you're concerned with website analytics. Here are just a few reasons to choose MonsterInsights:
Using MonsterInsights, you can integrate the most powerful analytics tool, Google Analytics, easily and track all the important website data you need for your business growth. Jetpack Stats has limited tracking.
MonsterInsights is a fully-dedicated analytics tool whereas Jetpack Stats is just a small part of the package plugin Jetpack.
MonsterInsights is easy to set up; no third-party accounts required. Whereas you need to create a WordPress.com account to use Jetpack Stats.
With regards to data accuracy and reliability, MonsterInsights is more reliable as it adds Google Analytics' tracking code onto your site for tracking data. Jetpack Stats doesn't.
Get Started with MonsterInsights Today!
We hope that this article helped you to identify which tool you should choose for tracking your website metrics. You may also want to read why website analytics are important for website growth.
If you found MonsterInsights useful, download it today.
Also, don't forget to follow us on Twitter and Facebook for more Google Analytics tutorials.