Looking for the best ways to increase organic traffic to your website? We have just the right tool for you to use for that: Google Analytics.
Google Analytics is one of the best SEO measurement tools. It gives you some awesome insights into how to optimize your website for driving more search traffic.
In this article, we'll show you our top 9 SEO hacks to increase your organic traffic using Google Analytics.
Video Walkthrough
1. Get Detailed Insights from the Queries Report
With the Google Search Console Queries report, you can track how many times your pages appeared in Google's search results, and which search terms they appeared for. Plus, you can even track the click-through rate and average ranking of your pages.
To really get the most out of the Queries report, you'll want to connect it with Google Analytics. That way, you'll get queries and clicks data right alongside your other Google Analytics reports.
If you're using Universal Analytics, connect Search Console by going to Admin » Property Settings: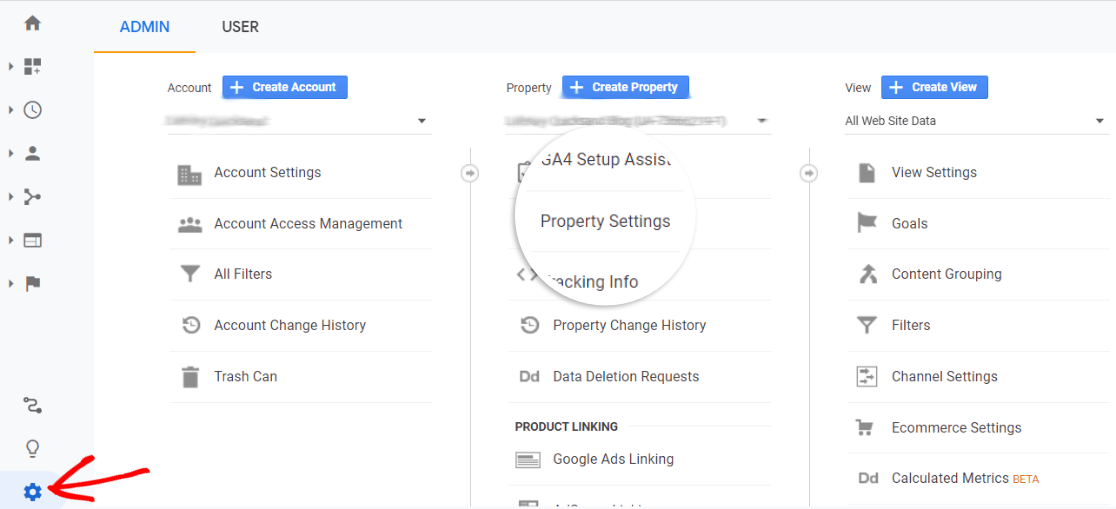 Then, click the Adjust Search Console button: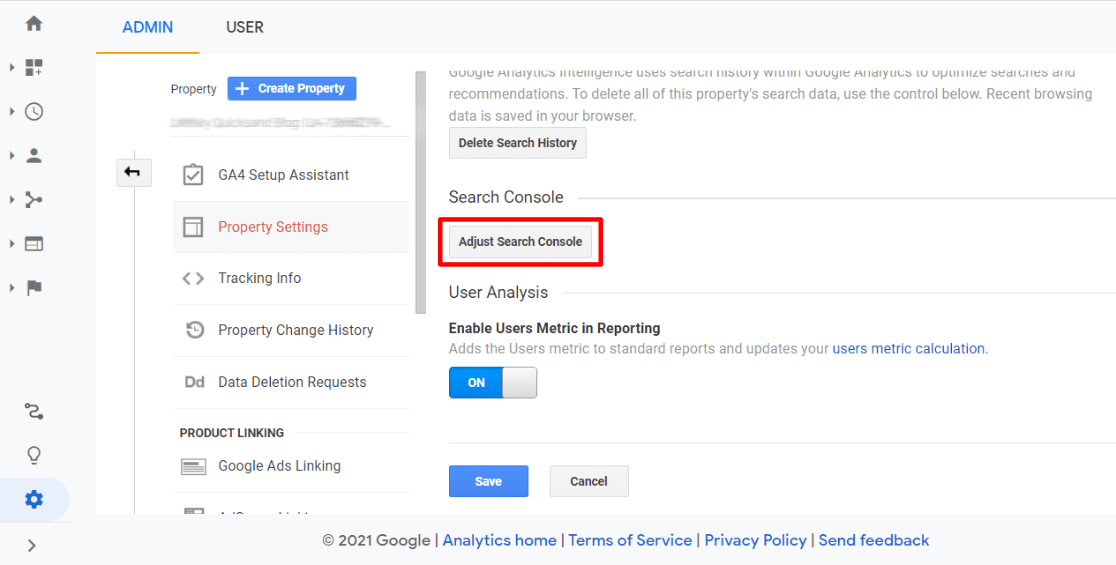 Then click Add.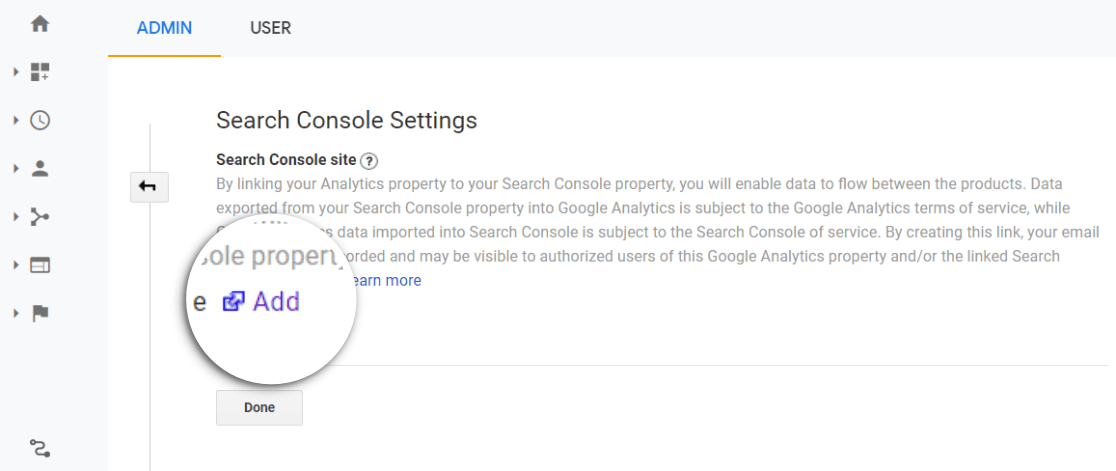 Select the correct property and click Continue. And then click Associate.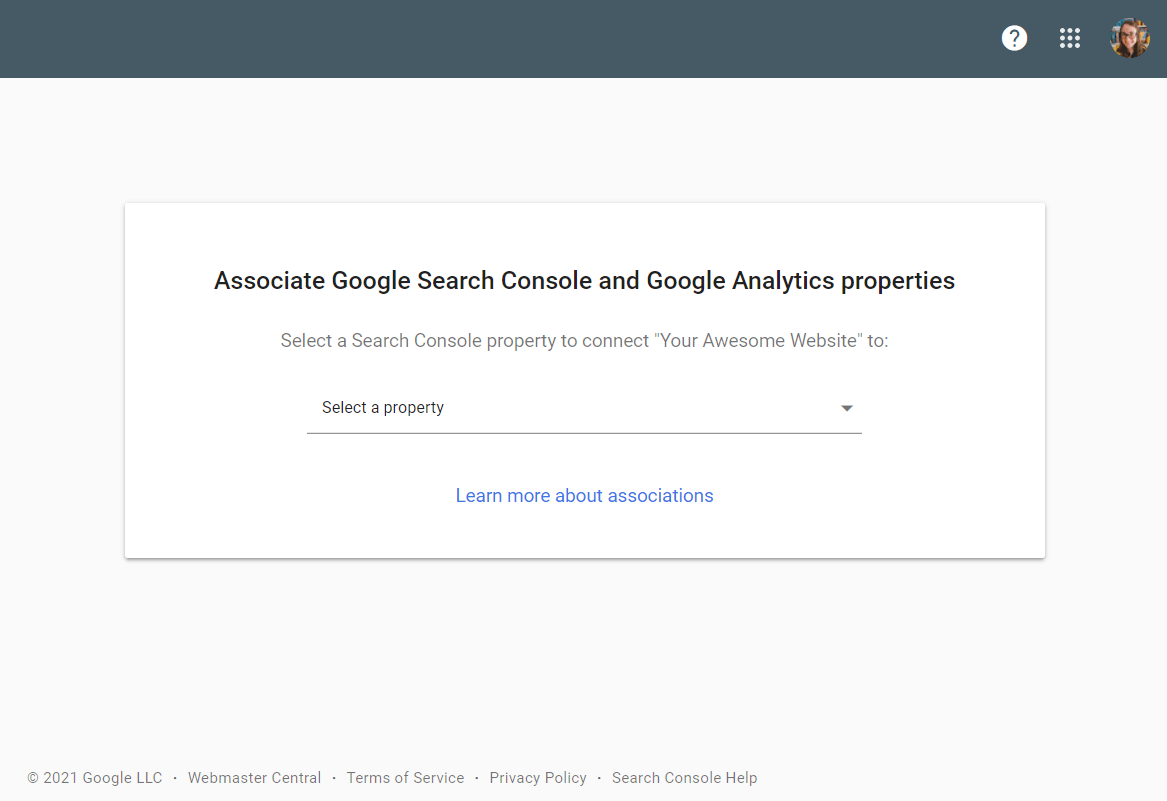 After the setup, you can now determine what your organic visitors are looking for on your site by navigating to Acquisition » Search Console » Queries.

Now, you can use this data to see exactly which terms you're ranking for and bringing in traffic for, and which ones you need to work on. Take notice of any with a high number of impressions but lower clicks. What can you do to make those more enticing in search results?
Pro tip: WordPress users, get your Queries report right inside your WordPress dashboard with MonsterInsights!
Note: Google Analytics 4 users, there is no Search Console link yet, but it should be rolling out soon. For now, you can access these reports at https://search.google.com/search-console.
2. Understand Keyword Intent Using the Queries Report
Understanding the intention of your organic visitors is the heart of search engine optimization. Before you dive into finding keywords for your website or do any other SEO hack to optimize your site, it's worth taking a moment to determine whether you're driving the right traffic to your site, and if your content really delivers what your organic visitors want.
How can you understand if you're driving the right traffic?
By looking at keyword intent.
There are four types of keyword intent. They are:
Navigational, where users search for a particular website.
Informational, where users search for the answer to a question.
Investigational, where users search for information that may eventually lead to transaction.
Transactional, where users are ready to buy.
For example, if you're a publisher who makes a living by making affiliate sales, you might want to rank your website for investigational keywords. If you're selling a product, you might want to rank your landing pages for transactional keywords.
The bottom line is, if you want to attract the right traffic and generate sales and revenue, you need to understand keyword intent.
Before you write a piece of content around a certain keyword, run some searches on it first. What kind of content is already ranking? What questions does it answer? What can you write that's even better, that covers more, but isn't too off-the-beaten-path?
Grab some examples from your Queries report. Look up one of your landing pages that's doing really well. What queries is it ranking for? Think about how you've mastered search intent there. How can you do that for other content pieces?
For more on search intent, see OptinMonster's guide on how to choose the right keywords.
3. Track Focus Keyphrase Data in Google Analytics
Are you using the All in One SEO plugin for SEO? Then, you can track the focus keyphrase you set on your blog posts and pages with MonsterInsights.
The All in One SEO plugin gives you the option to choose a focus keyphrase on every page of your site, and then gives you suggestions to use it appropriately on that page. Focusing on the right keywords ensures that your site attracts the right visitors that are likely to be converted into leads and customers.
By tracking the performance of your focus keyphrases in Google Analytics, you can identify whether they are attracting the right traffic. It can also give you insights into how to choose the right keyword, and how to curate the content for that keyword.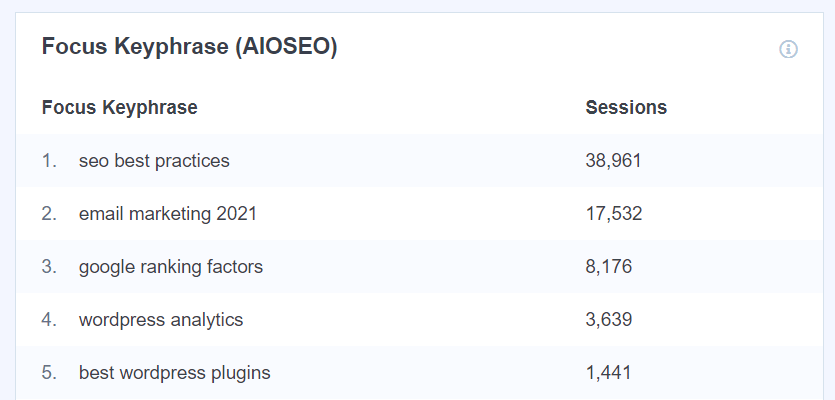 To be able to track the performance of focus keywords, you'll need to enable custom dimensions on your site.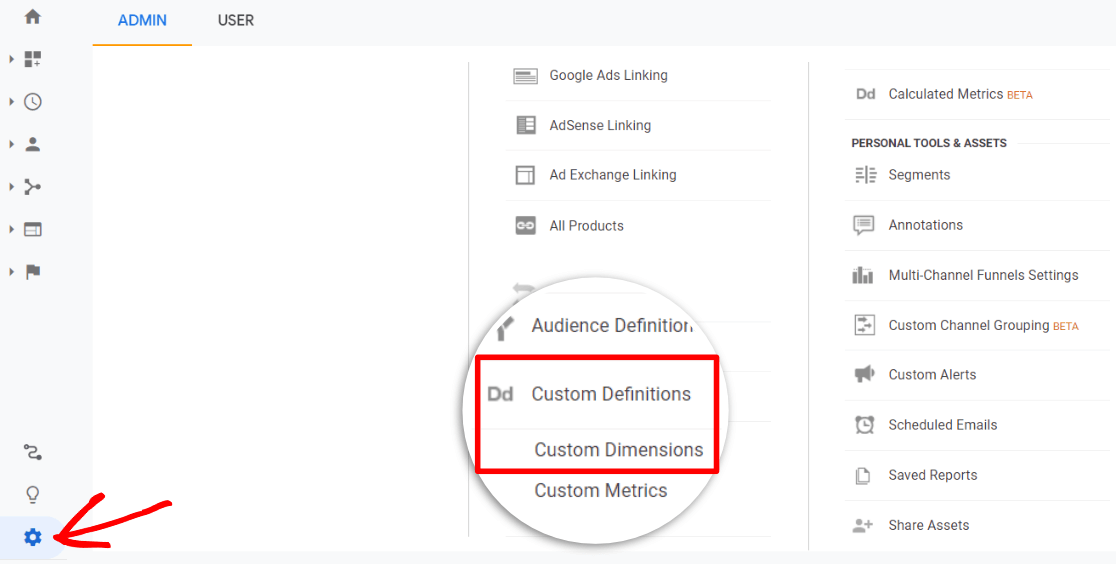 In Google Analytics, custom dimensions are just like default dimensions such as gender, region, all pages, traffic sources, etc. except you create them yourself. By enabling custom dimensions, you can collect and analyze data that matters to your website, like focus keyphrase tracking, which Analytics doesn't track out of the box.
For more details and a step-by-step tutorial on setting this up, check out The Beginners Guide to Custom Dimensions.
4. Monitor Referral Traffic for Link Opportunities
If you've started getting some referral traffic to your site, you might want to monitor those links for further link building opportunities.
For example, if you found that someone has linked to a particular blog post of yours, you can reach out to the author and ask them whether they can provide a link to another one of your pages as well. Or, you could send them some other content they might be interested in featuring, or offer to write a guest post for their site.
To find the referral traffic report, you can go to Acquisition » All Traffic » Referrals.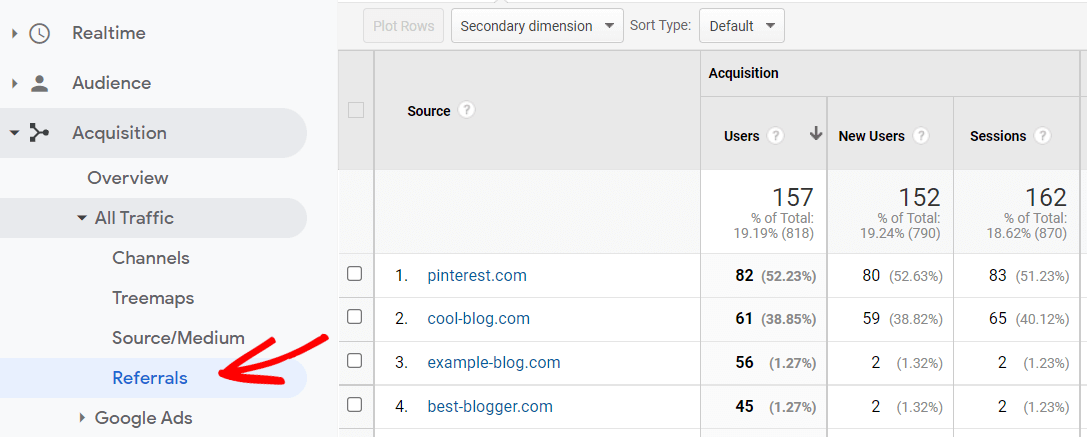 Click on any of the domains in the Source column to dig further into the specific page that sent traffic to your site.
MonsterInsights users can see a top referrals report right in their WordPress dashboard!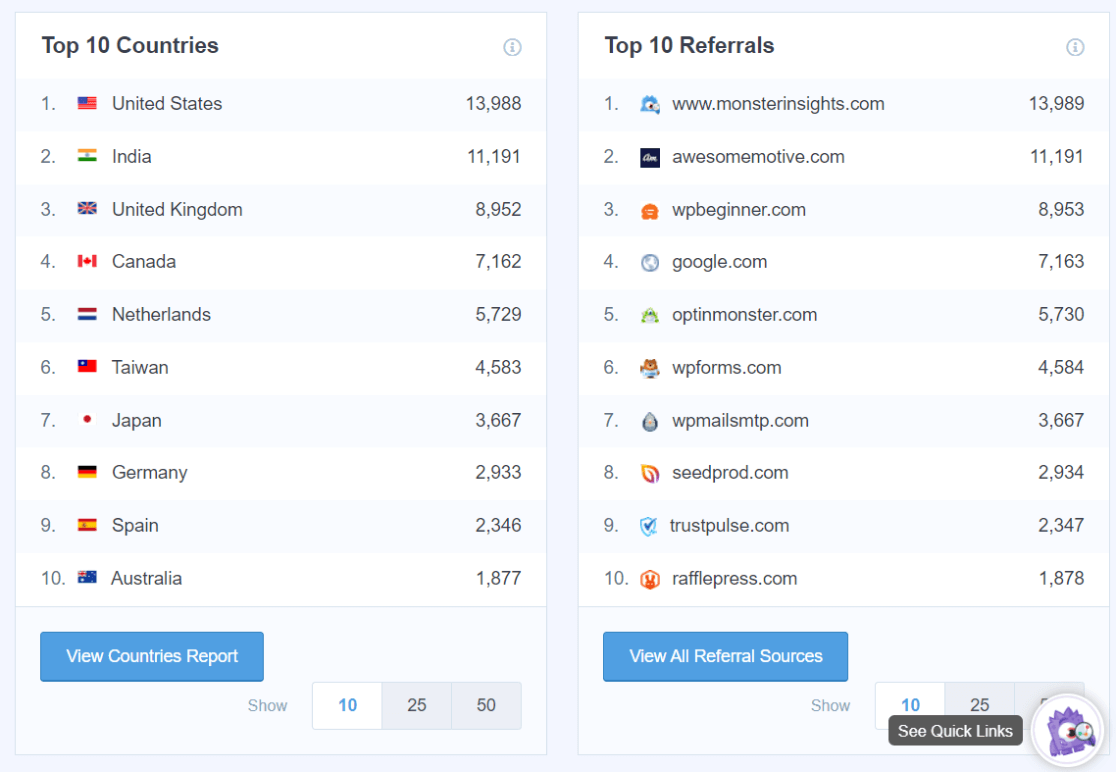 5. Analyze Landing Page Reports to Increase Engagement
Your organic landing pages are the pages where your organic visitors first landed on your site. You can analyze how well those pages are working by looking at their click-through rate (CTR), bounce rate, pages per session, and more in the Search Console report.
Find your organic landing pages report by going to Acquisition » Search Console » Landing Pages.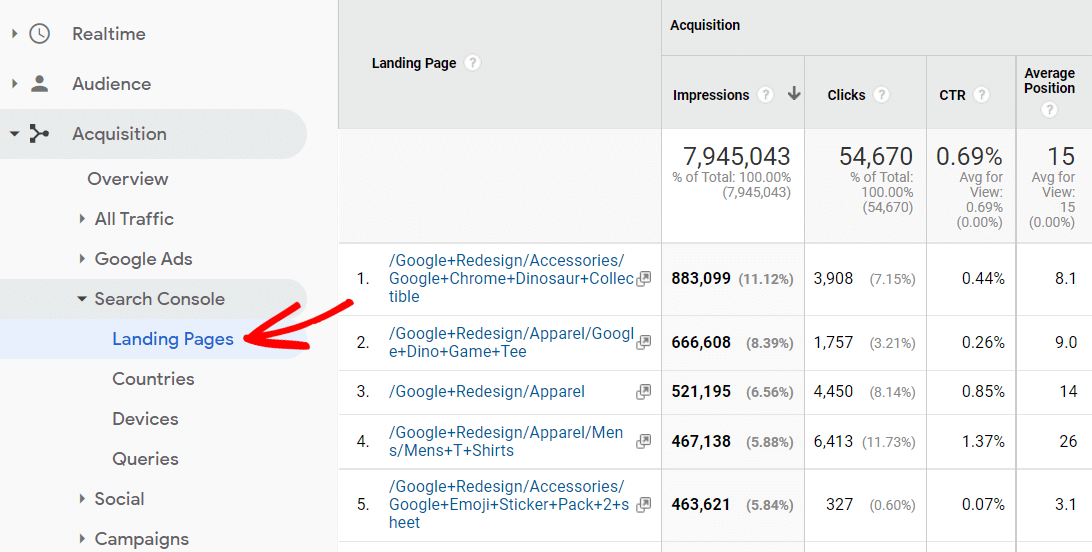 Analyzing your organic landing pages report will you a clear picture of how your visitors are engaging with your site and how they're navigating through. Since engagement signals are organic ranking factors, keeping an eye on the engagement metrics can help you boost your search rankings.
For instance, if Google sends traffic to your page that has a high bounce rate and low average time on page, that signals that the organic visitors didn't get what they wanted from your site. To keep the search rankings intact for your page, you should try to improve those metrics.
6. Reduce Loading Time by Analyzing the Site Speed Report
The speed of your website is an important factor that can make or break your online business.
Google has continued to emphasize the importance of page speed in their algorithm. The speed of your site can also affect how your visitors perceive your brand, and it can cause visitors to leave before even giving your site a chance to load.
Besides SEO, here are a few reasons why a slow website can sabotage your online business:
The conversion rate can be reduced by 7% if a site is delayed for a second
40% of visitors abandon a website that takes more than 3 seconds to load
79% of web shoppers would never return to a website to if they found any trouble with the website's performance
To get the site speed report, navigate to Behavior » Site Speed » Overview. This report gives you average times and shows which browsers are the fastest and slowest.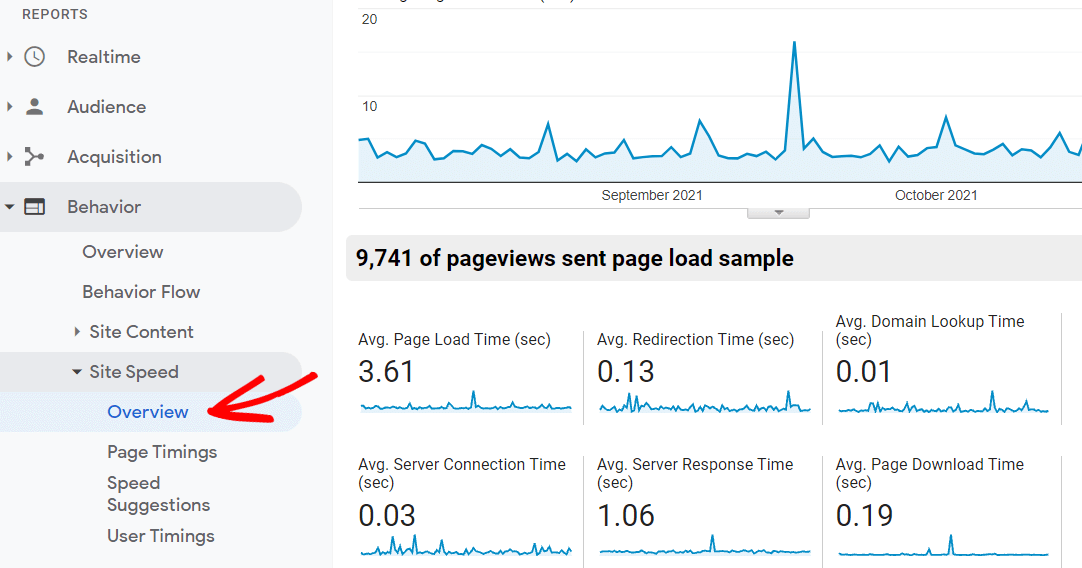 Also, click on the Page Timings report. It tells you which pages take more time to load.
MonsterInsights users, you can access a site speed report in your WordPress dashboard: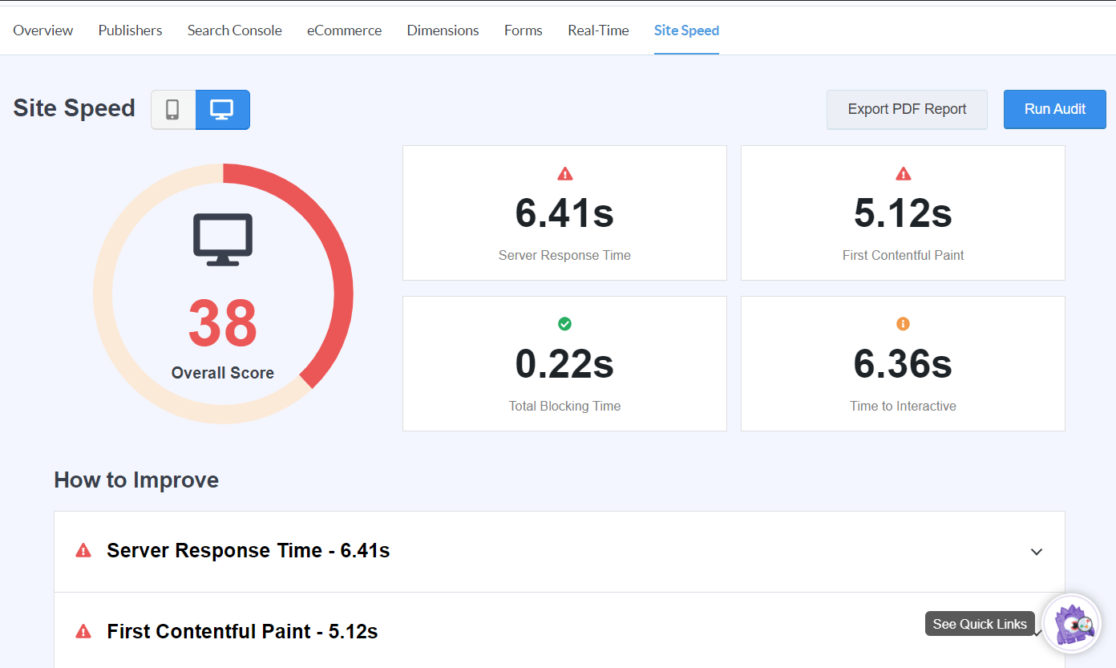 7. Use Campaigns to Track Your Traffic
Campaigns are an awesome way to level up your traffic tracking in Google Analytics. They give you more information about your traffic, so that you can decide what's working and bring in more of the right kind of visitors.
For instance, let's say you're sending out your new content in email newsletters. By using campaigns, you can find out what type of content your email subscribers are the most interested in. If your email subscribers are clicking on a certain type of content the most, that's a pretty good sign that you should work on really optimizing it and building links to it to help it rank in search.
A campaign works by adding extra parameters (like keywords) to your links that then get tracked in Google Analytics.
So, let's say you're sending out a newsletter to your subscribers via Constant Contact. You can use a tool like the MonsterInsights URL Builder to create your custom URL that you'll share in the newsletter: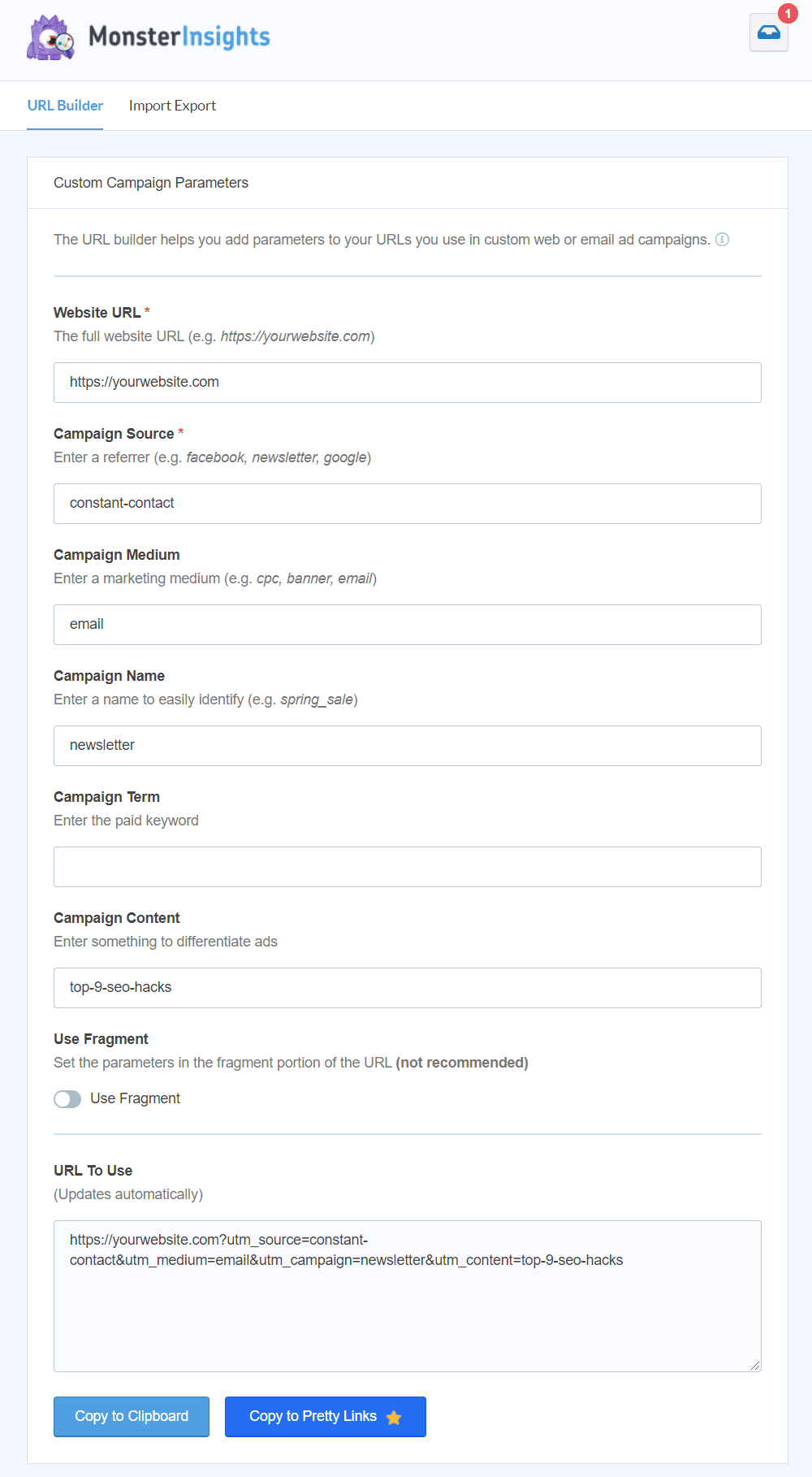 Then, after you get some clicks on that custom URL in your newsletter, you can find the data in Google Analytics under Acquisition » Campaigns » All Campaigns.
8. Set Up a Custom Alert
Google is constantly refining their search algorithms, so your search traffic is bound to fluctuate from time to time. If your site is affected by an algorithm update and your search traffic drops significantly, you can find out sooner rather than later by setting up a custom alert.
With Google Analytics, you can set up custom alerts that let you know if there's a significant change in your Analytics reports. That way, you don't take a few days (or more) to find out that your traffic has been affected by something, and you can fix it before a lot of traffic is lost.
To set up a custom alert, click Admin in the left taskbar.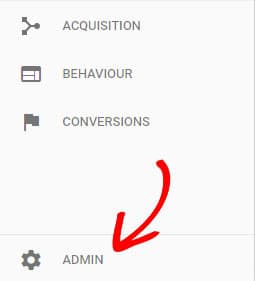 Click Custom Alerts in the View column.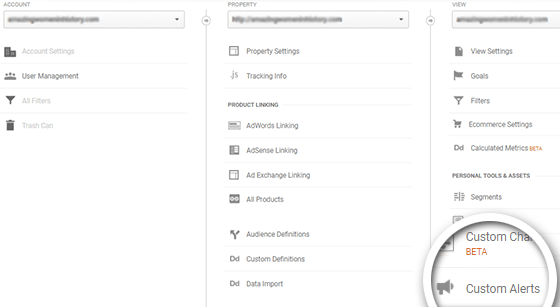 Then, click NEW ALERT.

Then configure the settings to alert you if organic search sessions decrease by more than 20% over the previous week (by using the filters in the screenshot below), and click Save Alert.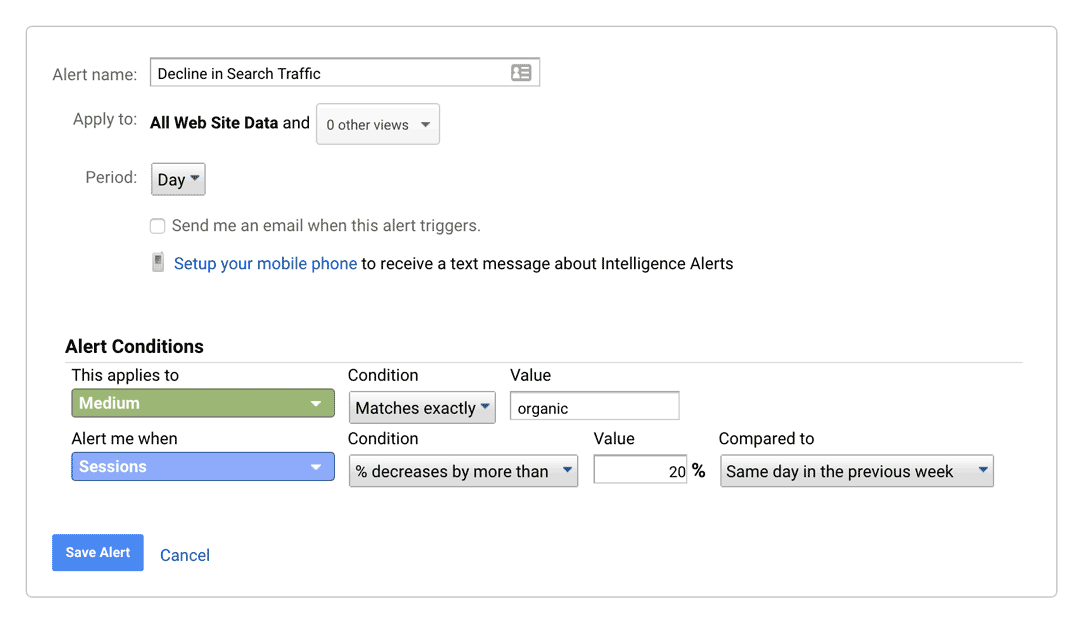 9. Set Up a Custom SEO Dashboard
You can create a custom SEO dashboard that gives you a quick overview of your SEO stats at a glance. If you tend to spend a lot of time analyzing different SEO reports, using a custom dashboard can help you save time.
You can either create a new custom SEO dashboard with your most-used reports or import an existing one and make necessary tweaks for your unique needs.
To make a new one, head to Customization » Dashboards and click Create.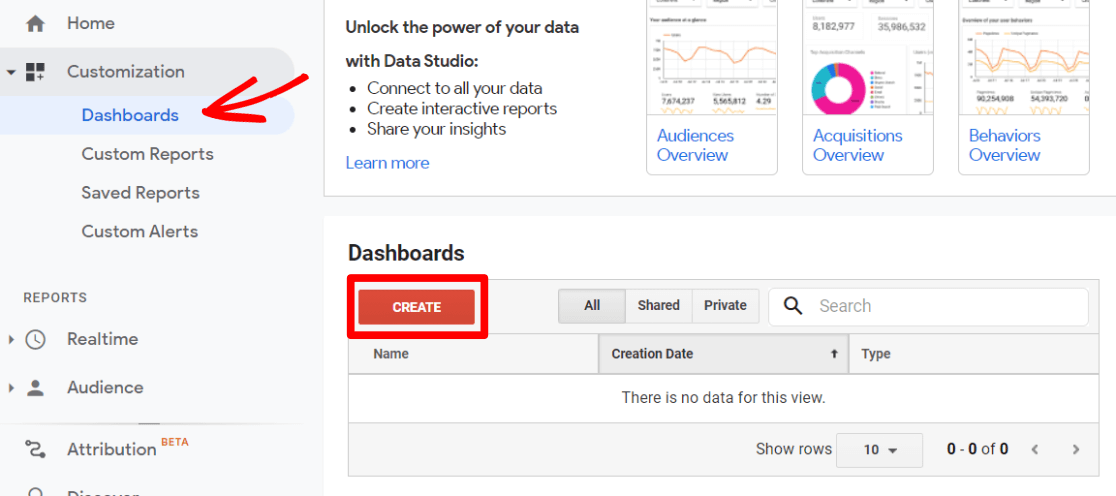 If you're after a pre-configured SEO dashboard, you can look through the Solutions Gallery to pick one.
That's it!
We hope this guide helped you learn 9 Google Analytics SEO hacks to boost your organic traffic.
If you liked this article, you might want to check out What Can You Measure with Google Analytics? Top 11 Metrics.
And don't forget to follow us on Twitter, Facebook and YouTube for more helpful Google Analytics tips.