Do you offer downloadable content with Easy Digital Downloads on your website? And do you want to know your stats about which pages visitors are looking at, how they're getting to the purchase page, and a lot more helpful data that can help you optimize your site for more conversions? By figuring out how to setup Google Analytics on Easy Digital Downloads, you can get all the data you need to make the right decisions that'll grow your business.
In this article, we'll show you a very easy way to set up Google Analytics on Easy Digital Downloads.
What is Google Analytics eCommerce Tracking for EDD?
In Google Analytics, eCommerce tracking unveils all the information you need to optimize your Easy Digital Downloads store to boost sales and revenue.
It gives you in-depth insights into your customers' shopping behavior, including revenue, purchases, coupon use, and more.
With that, are you ready to configure Easy Digital Downloads in Google Analytics?
How to Set Up eCommerce Tracking for Easy Digital Downloads
When it comes to setting up Google Analytics on Easy Digital Downloads, it can be tricky, especially for beginners. That's because it involves modifying your Google Analytics tracking code, which requires coding experience.
And if you're not a developer, then this could lead to a lot of errors, which could mess up your Easy Digital Downloads tracking.
That's why we recommend using MonsterInsights, the best Google Analytics plugin for WordPress. Using MonsterInsights, you can easily set up eCommerce tracking and get all that valuable data without having to edit any code.
To get started, just follow these steps:
Step 1: Install MonsterInsights
The first step is to install the Pro version of MonsterInsights on your WordPress website.
The process is simple. Just download the plugin from your Account area and upload it on your site. After activating it, authenticate your license key and the plugin is ready to use.
And the best thing about MonsterInsights is that you can set up Google Analytics on your WordPress website without changing any code. Simply follow the setup wizard and you'll be able to track your site's performance in no time.
For a full tutorial on downloading and connecting MonsterInsights, check out How to Add Google Analytics to WordPress the Right Way.
Step 2: Install MonsterInsights eCommerce Addon
Once MonsterInsights is set up and you've configured Google Analytics on your site, the second step is to activate the eCommerce addon.
You'll need the MonsterInsights Pro or higher plan to access the addon.
You can find the addon by going to your WordPress dashboard and then go to Insights » Addons. Now navigate to eCommerce and click Install. You'll then have to activate the plugin.

That's it! You've activated eCommerce tracking and you'll now be able to see eCommerce metrics right in your WordPress dashboard.
View Easy Digital Downloads Analytics Reports
After you've set up Easy Digital Downloads in Google Analytics, how can you view your eCommerce reports?
With MonsterInsights, you get to view all the data from your eCommerce store inside your WordPress dashboard.
You can view the report by going to Insights » Reports » eCommerce. Right of the bat, you'll get an overview of your store's performance. For instance, you can see your conversion rate, number of transactions, the revenue you made, and the average order value for the selected date range.

And if you scroll down, you can see which digital file is generating the most sales on your website. For each product, you can get details about the quantity sold, their total contribution to sales, and total revenue.
You can use this data to identify your best products and list similar items on your site to make more money.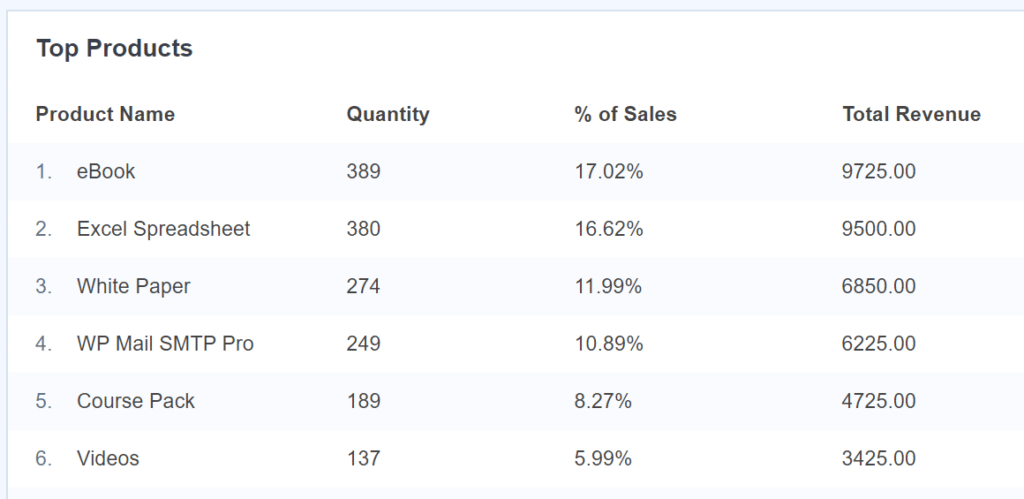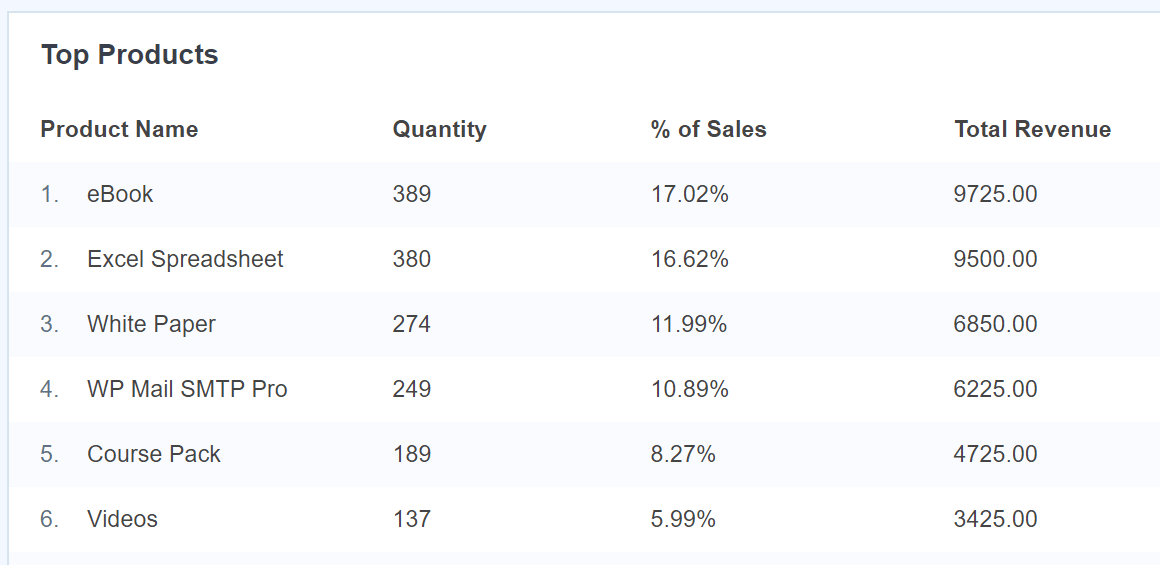 The next report you'll see will be of your Top Conversion Sources. This report tells you where your customers are coming from.
In this report, you'll find out your top traffic sources (referrals) that send the most converting visitors. This data is helpful in creating targeted marketing messages, and also forming partnerships with your top sources.

Other reports you can view for Easy Digital Downloads analytics include Total Add to Carts, Total Removed from Cart, and Abandoned Checkouts.
That's it!
You've successfully added eCommerce tracking to your Easy Digital Downloads store. And you can easily view its performance in your WordPress dashboard.
We hope you liked our article on how to set up Google Analytics on Easy Digital Downloads. You can also take a look at our Guide to Customer Journey Tracking in Easy Digital Downloads.
Not using MonsterInsights yet? What are you waiting for?
And don't forget to follow us on Twitter, Facebook and YouTube for more helpful reviews, tutorials, and Google Analytics tips.