Want to know how to reduce bounce rate on your site?
High bounce rates can hurt your site's conversion rates. If visitors leave before becoming subscribers or customers, your business won't grow.
This article will show you 7 proven ways to lower bounce rates and increase conversions.
What is Bounce Rate?
Bounce rate is the percentage of visitors who land on your site but leave before looking at another page or performing an event (like clicking "play" on a video or submitting a form).
Visitors may leave your site for a lot of reasons. Difficulty finding what they need or feeling that your site isn't user-friendly are common things that contribute to a high bounce rate.
Having some bounces is normal, but achieving a lower bounce rate by knowing what would contribute to a low bounce rate and learning simple methods for how to improve your bounce rate can help raise conversions and grow your business.
Is Bounce Rate in Google Analytics?
Yes! Although there was a brief time when the bounce rate was removed during the transition to GA4, it has since been added back in, and your bounce rate metric is a number that you absolutely want to keep an eye on.
Tracking your bounce rate in Google Analytics can help you gauge your progress and find more ways to reduce bounce rate.
Plus, although your bounce rate number is not a direct SEO ranking factor, Google considers how engaged visitors are with your site for SEO. And a high bounce rate signals that visitors didn't find what they needed, which can hurt a successful SEO campaign.
In addition to increasing conversions, knowing how to track bounce rate in Google Analytics and how to decrease bounce rate helps you measure SEO performance.
7 Quick and Easy Methods to Reduce Bounce Rate
Ready to put a plan to reduce your bounce rate into action? Try these 7 things.
1. Boost Site Speed
Your website's speed and performance play large roles in if visitors stick around. The longer it takes for your site to load, the faster visitors will become annoyed and leave your site.
In fact, site visitors expect your website to load within 2 seconds. Anything slower than that leads to site abandonment and an increase in your bounce rate.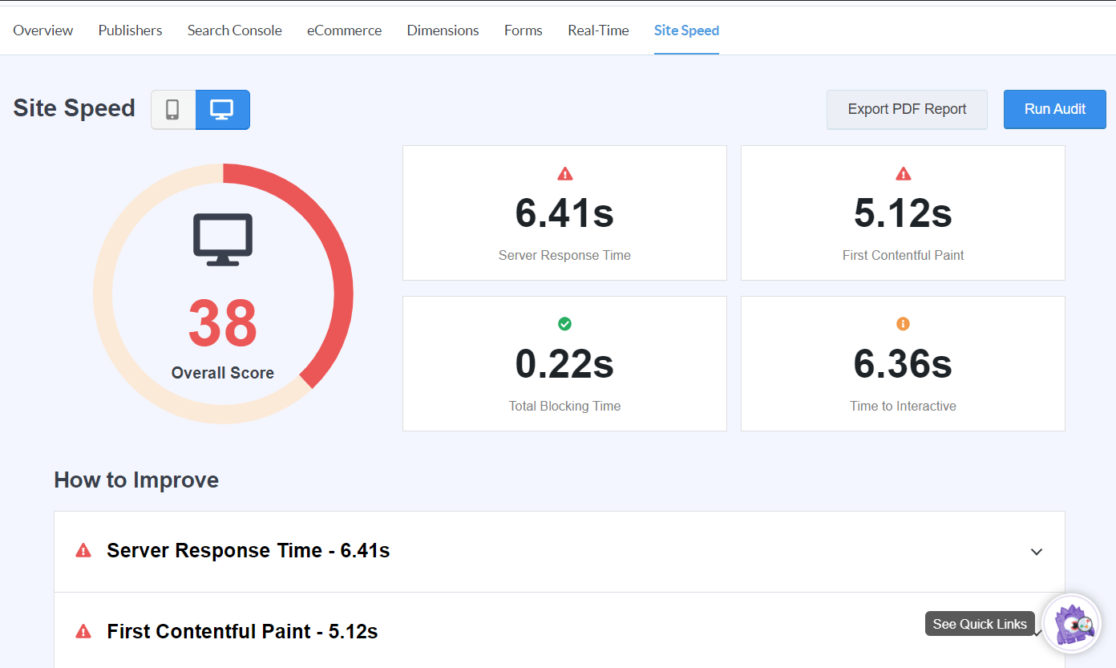 With Google's Core Web Vitals applied to search results, your site needs to be fast. Otherwise, it may be hard to compete with your competitors in organic search.
Some of the best ways to optimize your site for faster page loading include:
Using a CDN (content delivery network)
Optimizing images
Investing in a quality web host
Monitoring plugin use
Using WordPress? Check out the MonsterInsights Site Speed report.
2. Match Search Intent
The easiest way to explain search intent is with an example.
Let's say you've decided to write an article on how to write a great book review. Your keyword research shows the long-tail keyword "how to write a book review" has tons of searches. So, you use that phrase to inspire your writing.
It's a great article and ends up ranking on the first page of results but has a pretty big bounce rate.
What gives?
Before writing your article, you needed to search for your focus keyword or phrase. It turns out that when a user searched "how to write a book review," they wanted a guide, not tips.
The article you wrote is excellent, but it's not in list format.
If you had searched first, you would have seen a numbered guide in the top spot: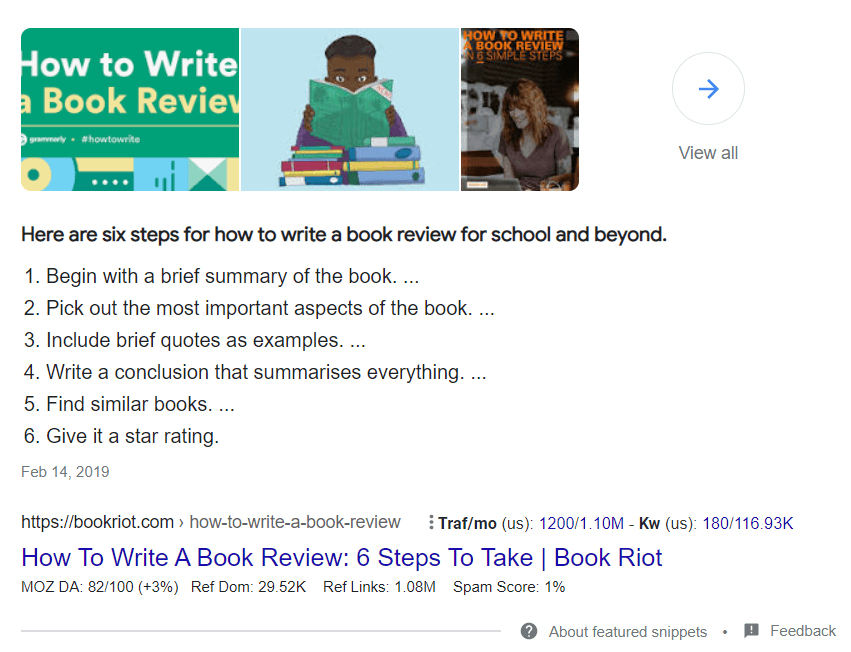 Other page-one results are similar.
Meanwhile, your article offers tips instead of an easy-to-follow guide.
Always run a search and think about the users' search intent before writing.
3. Have a Clear, Focused Call to Action
A call to action (CTA) tells visitors to do something like "buy now," "contact us," or "start a free trial."
Converting visitors involves balancing asking for something and not asking for too much. You want your call to action to be:
Impossible to miss
Enticing
Easy and fast
Honest and clear
Here's a great example from Harvest:
It's clear, it's compelling, it includes the word "free" and says "no credit card required." Those are some pretty magical CTA words.
4. Ask for Feedback
Using a user feedback plugin or feedback software on your website is a great way to help reduce your bounce rate. Not only could filling out your feedback survey count as a conversion in Google Analytics, but you could also get valuable feedback from people who didn't find what they were looking for on your site.
Visitor feedback can be gold in helping you know how to reduce bounce rate.
For instance, with the WordPress plugin UserFeedback, you can have a popup tab that's either open right away or visible to click and open. Ask whatever question(s) you want and connect the survey to Google Analytics. That way, submissions of the form count as conversions.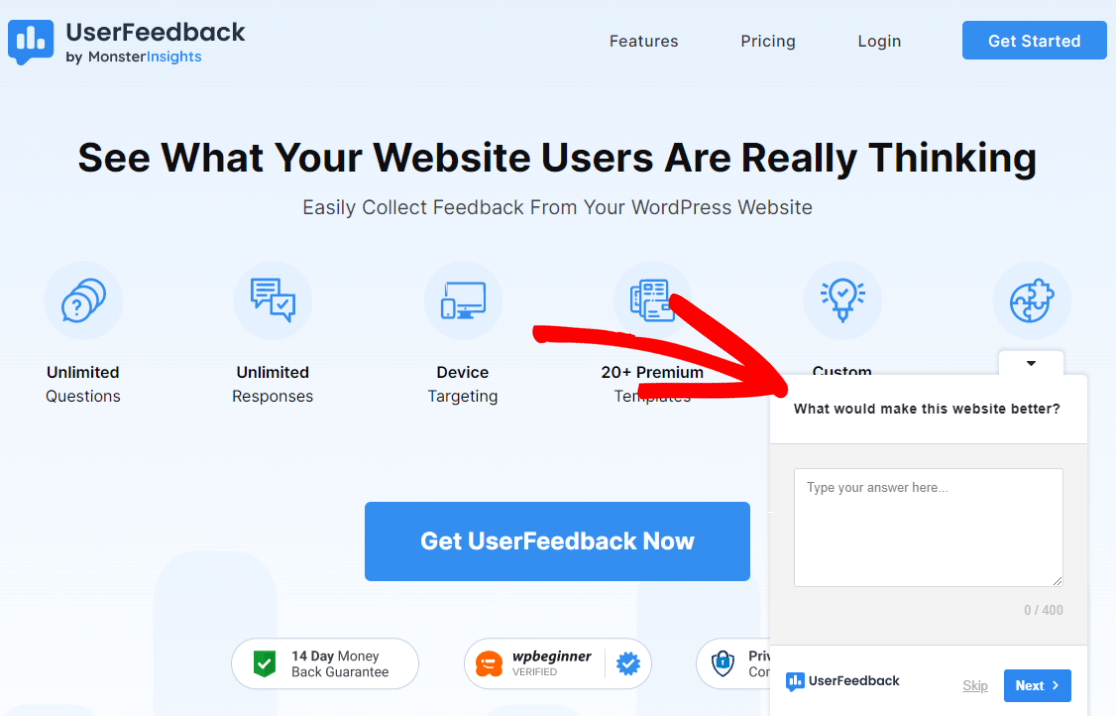 Simply adding a popup survey to your website can really help to reduce your bounce rate, and it provides you with candid customer feedback to improve your business.
Plus, while you're reducing bounce rate and getting feedback, you can gain even more metrics at the same time by using different survey types, like an NPS® survey to find your customer loyalty score.
Get started with UserFeedback today!
5. A/B Test Everything
A/B testing, also called "split testing," lets you publish two or more versions of a page or post to see which works better.
Routine A/B testing can help identify little (or big) website tweaks to reduce your bounce rate. You may have high bounce rates because of something minor like the color of your CTA button. But, it could be a big issue like how your landing page guides visitors through your sales funnel.
For example, an A/B test of call-to-action button colors showed HubSpot 21% more people clicked red instead of green.
If you need some inspiration, check out these easy A/B testing ideas.
6. Target Those Leaving Your Site
Sometimes people leave your website no matter what you do. But, there's one last-ditch effort you can put in to keep them from bouncing.
OptinMonster's Exit-Intent® technology lets you target people who are about to bounce. When they begin to move their mouse off the page's screen, they see a message trying to get them to subscribe.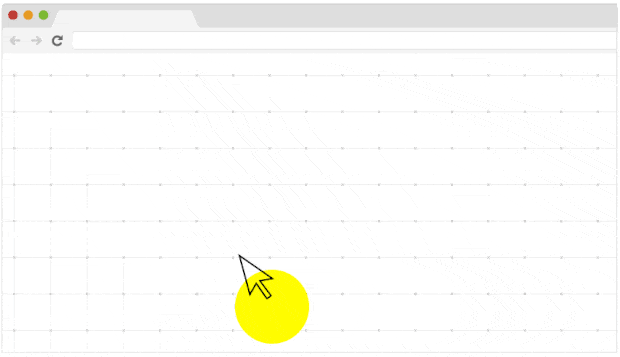 Give your site visitor an incentive to come back. For instance, you could offer a discount or free shipping. Or, you could provide access to exclusive content or a guide about your company's value. Check out these other lead magnet ideas you can use with your exit-intent popups.
Be sure to add a subscription form to get their email addresses for your next email campaign.
7. Use Internal Links Wisely
Internal links are another way you can get visitors to click further into your website. That being said, you don't want to overwhelm your content with them.
If your site has more information about a topic on another page or post, link to it. That way, you create a natural flow to go further into your website.
Just follow these couple of internal linking best practices:
Don't overdo it. Using more than 1 link every 3 sentences makes content harder to read and overwhelms viewers.
Be relevant. If users follow a link and the content isn't what they expected, they'll likely leave. Before linking, ask yourself, "Is this what the user would expect from the text?"
To make the internal linking process easier, you can also use a plugin like All in One SEO (AIOSEO).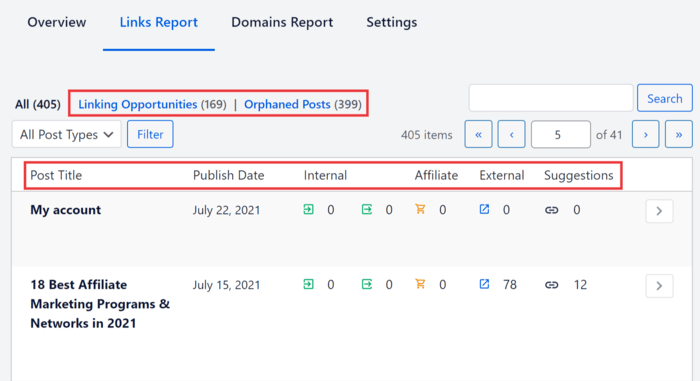 AIOSEO's Link Assistant addon will automatically generate an internal link report for your site, complete with linking and anchor text suggestions. With the click of a button, you can instantly add the link to your page.
There you have it! 7 reliable ways to reduce bounce rates and increase conversions.
Bonus Ways to Lower Bounce Rate with MonsterInsights
If your website is on WordPress, the easiest way to keep tabs on your analytics is with MonsterInsights.
MonsterInsights is the best Google Analytics plugin for WordPress. It lets you connect your site to Google Analytics. Then, you can see essential data in your WordPress dashboard, including your bounce rate.
MonsterInsights also tracks events, eCommerce, forms, custom dimensions, outbound links, and more. You don't even need to leave WordPress.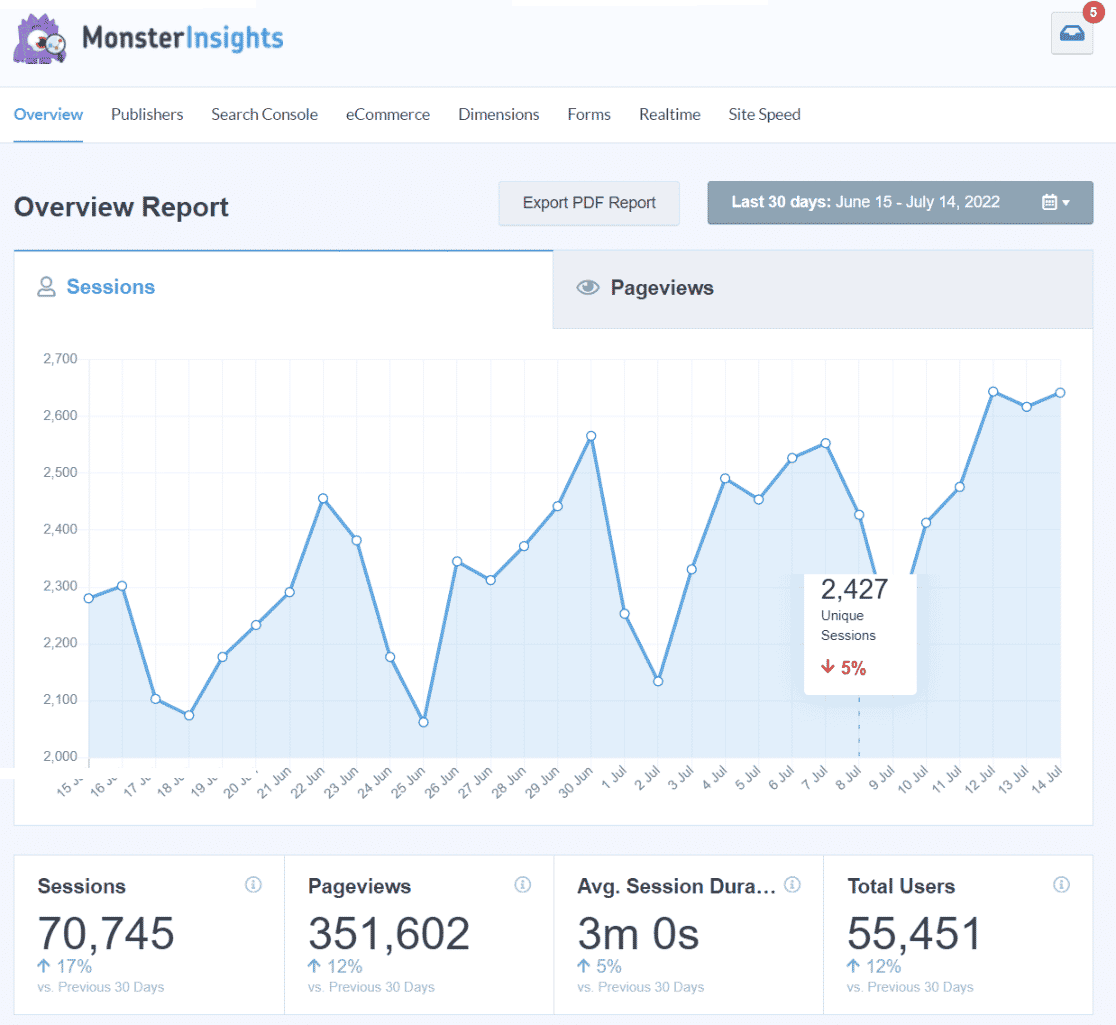 As a MonsterInsights user, here are a few more ways you can manage your bounce rate:
Enhanced Link Attribution: If you have 2 CTA buttons to the same link on one page, you can see which works better.
Page Insights: View individual post and page stats like pageviews, bounce rate, and time on page so you can easily focus your effort on improving the content that isn't working to reduce your bounce rate.
Search Console Report: The MonsterInsights Search Console report shows you your click-through-rate (CTR) for your top keywords. Do some of those keywords have a high CTR, but the landing pages for them have a high bounce rate according to Google Analytics? The content on those pages may need adjusting.
Say "Hello" to a Reduced Bounce Rate
We hope this article helped you understand how to reduce bounce rate so you can grow your business faster.
Ready to grow some more? Check out 32 Marketing Hacks Guaranteed to Grow Your Traffic.
Not using MonsterInsights yet? What are you waiting for?
Don't forget to follow us on Twitter, Facebook, and YouTube for more helpful reviews, tutorials, and Google Analytics tips.