Want to set up Formidable Forms conversion tracking to see which forms are performing the best on your WordPress site?
Google Analytics is a super powerful tool that you can use to track your form conversions. However, setting up form conversion tracking isn't a super straightforward process for beginners.
Fortunately, there's a plugin you can use to set up Formidable Forms conversion tracking in Google Analytics in just a couple clicks: MonsterInsights.
Formidable Forms + Conversion Tracking
Formidable Forms is the most advanced WordPress form builder plugin available on the market.
The plugin lets you create advanced forms like quizzes, surveys, payment forms, registration forms, directories, job board listings, and more quickly and easily. It's also one of the best form builder plugins for WordPress.
When you pair Formidable Forms with MonsterInsights, you get powerful form building AND tracking.
MonsterInsights is the best Google Analytics plugin for WordPress. It simplifies the entire process of using Google Analytics on your WordPress site. It comes with a set of simple-yet-powerful addons, like the Forms addon, to allow you to track advanced metrics easily.
There are many benefits of using MonsterInsights' Forms addon versus setting up forms tracking manually in Google Analytics:
Easy and quick setup: You can set up forms tracking on your site easily, in just a few minutes. You'd need to spend a lot of time and energy or hire a developer to set up forms tracking otherwise.
Set up and view reports within your WordPress dashboard: You can set up forms tracking and view your forms reports within your WordPress dashboard. That way, you can keep working on your site while viewing your Analytics reports – you don't need to open GA4 to see your reports.
Most comprehensive reports: MonsterInsights provides you with the most comprehensive reports for all your website metrics. Your forms conversion reports in MonsterInsights are way more simple and easy to understand than in the Google Analytics platform itself.
Works with your favorite form builder: Alongside Formidable Forms, MonsterInsights supports all the major WordPress form builder plugins including WPForms and Ninja Forms.
Clearly, using the MonsterInsights Forms addon is the best option for tracking Formidable Forms conversions. Let's dive into our tutorial!
Tutorial: Formidable Forms Conversion Tracking
To start, purchase MonsterInsights at the Pro license level. Then, download the ZIP files from your account area under the Downloads tab.


Next, upload the plugin to your WordPress website. You can do that by going to Plugins » Add New » Upload Plugins in your WordPress admin and clicking the Install Now button.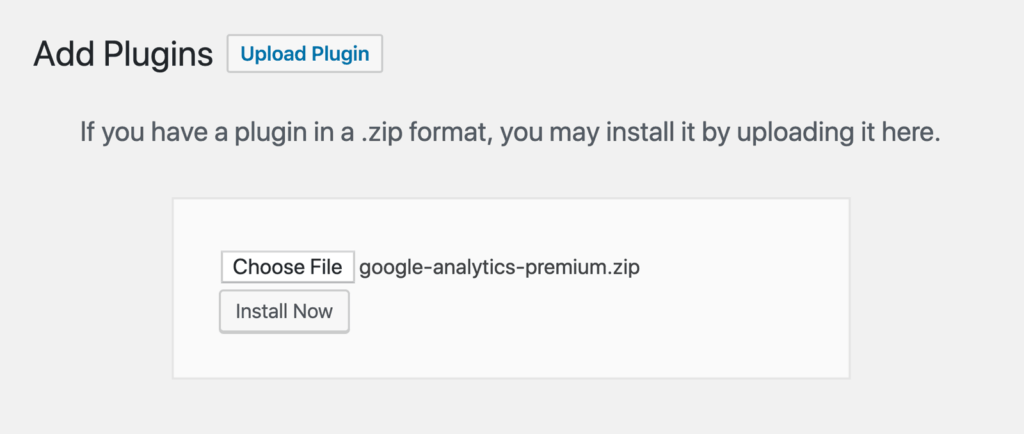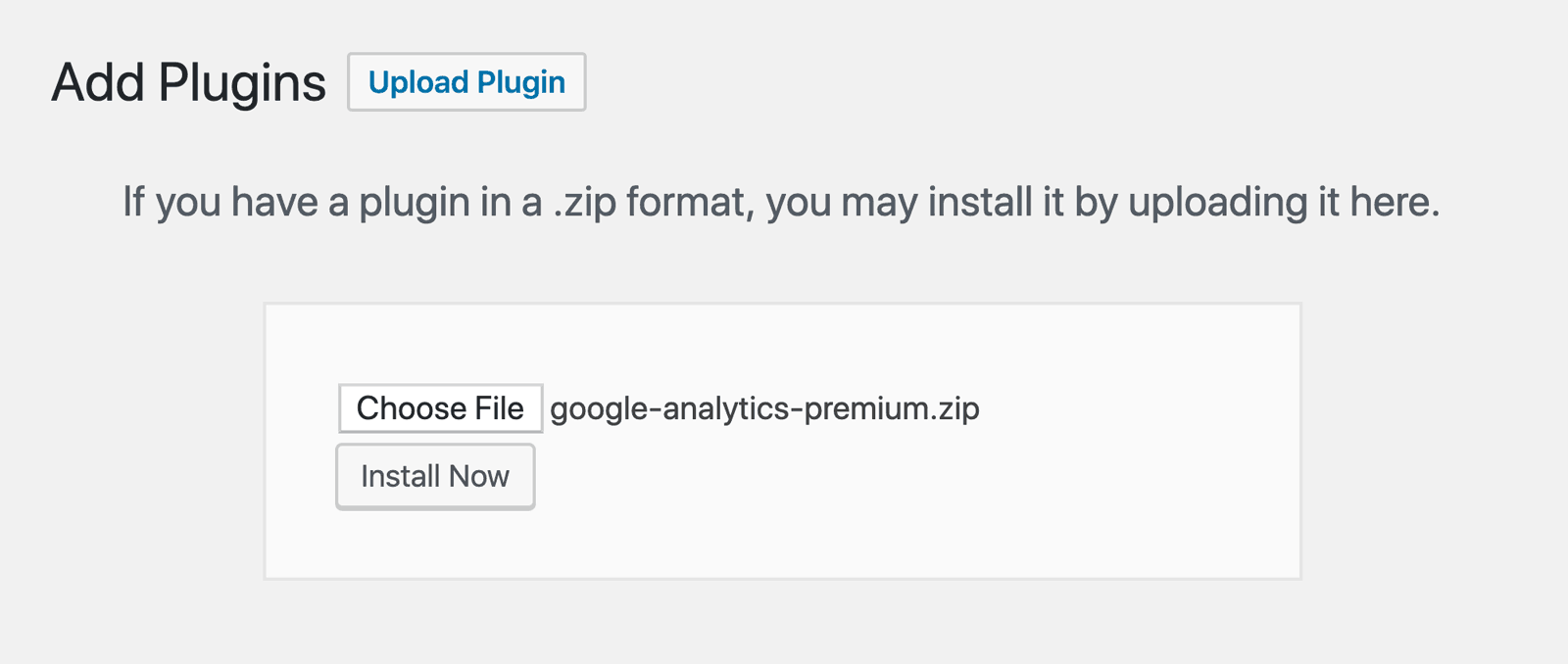 After that, click the Activate Plugin button.

Now, you'll need to connect Google Analytics to your WordPress website. Using MonsterInsights, it's really easy! Just follow the steps in the setup wizard and the plugin will add Google Analytics to your site without the need to edit code.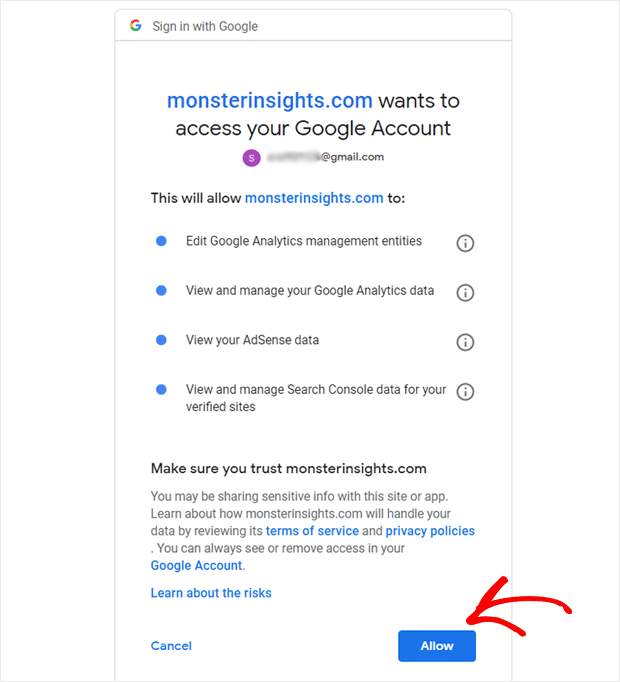 For help getting started and a walkthrough of the onboarding wizard, check out our step-by-step guide on how to properly set up Google Analytics and MonsterInsights.
Step 2: Connect Google Analytics with Your Site
Once MonsterInsights is installed and active on your website, the next thing to do is connect Google Analytics with your WordPress site.
Using its setup wizard, adding Google Analytics to a WordPress site very easy. Just follow the steps, and you'll be ready to track Formidable Forms conversions in no time.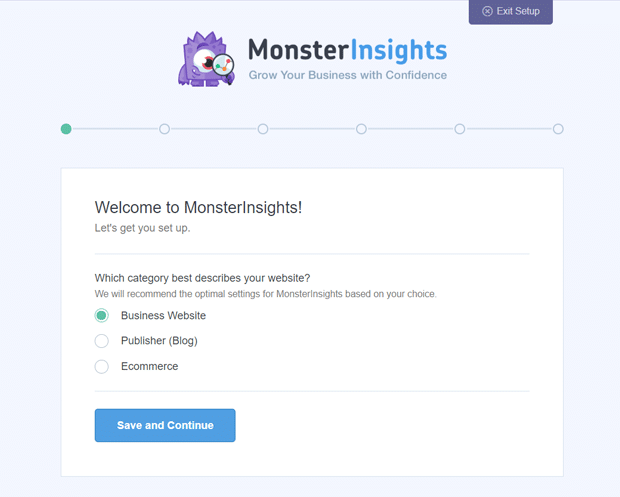 For a complete setup walkthrough, follow our step by step guide on how to properly add Google Analytics to WordPress.
Step 3: Install MonsterInsights Forms Addon
After you've connected Google Analytics and MonsterInsights, you'll now have to install the MonsterInsights Forms addon.
Simply go to Insights » Addons and find Forms Addon. Then, click the Install button.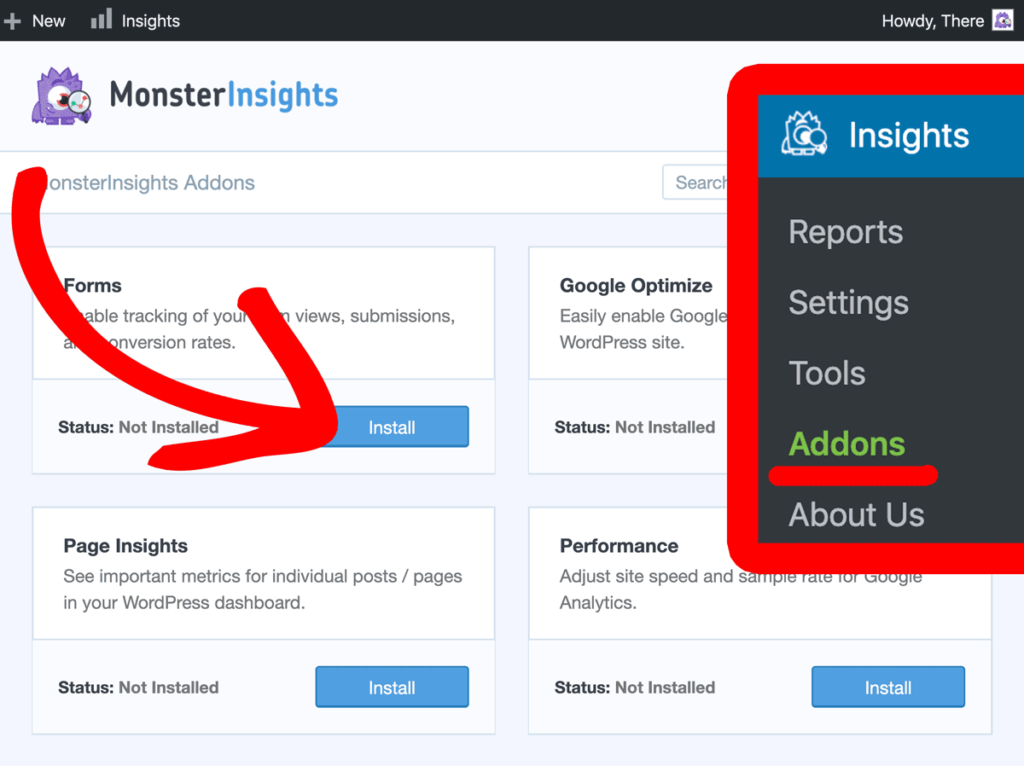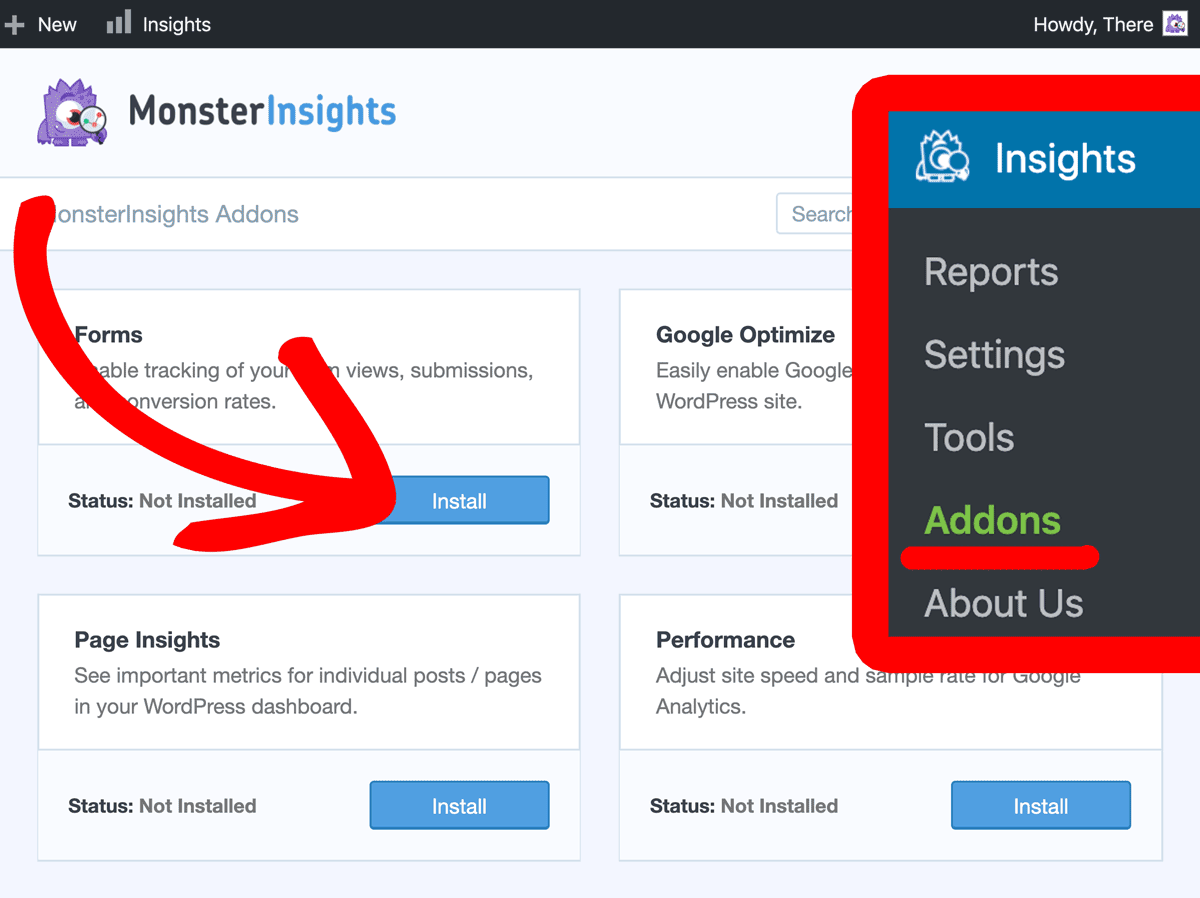 After the addon is installed, it will automatically activate and you'll see the status change to Active.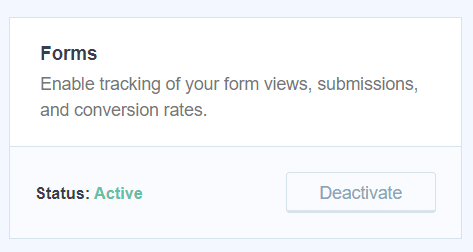 That's it! You don't need any further configuration. MonsterInsights automatically starts tracking your Formidable Forms form conversions.
Note: Google Analytics normally takes 24 to 48 hours to track an event like form submission, so it may take some time to prepare your first form report. But, once configured properly, it prepares real-time reports every time it's refreshed.
How to Find Formidable Forms Conversions
After you've installed and activated the MonsterInsights Forms addon, you can now see your Formidable Forms conversion reports in your reports inside your WordPress dashboard.
To view the reports, all you need to do is to navigate to Insights » Reports. To view form reports, go to the Forms link and click it. Then, you'll see your Formidable Forms conversion report: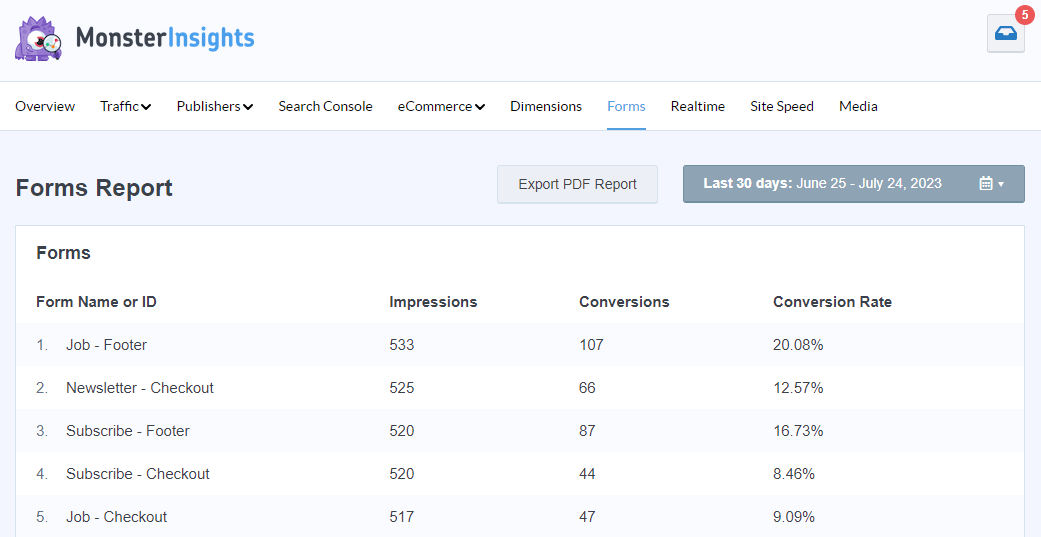 There, you can view the number of impressions, conversions, and conversion rates for each of your forms.
If you want to view further details regarding your form conversions, check out How to Track Form Submissions in Google Analytics & WordPress.
We hope this article helped you learn how to track your Formidable Forms conversions with Google Analytics. If you found MonsterInsights useful, download it today!
You may also want to see our detailed guide on how to track link clicks in Google Analytics.
Not using MonsterInsights yet? What are you waiting for?
And don't forget to follow us on Twitter, Facebook and YouTube for more helpful Google Analytics tips.