Want to track your Formidable Forms conversions to see which forms are performing the best on your site?
With Google Analytics, you can track your forms conversions, but it's got quite a high learning curve for beginners. Not to mention that you'll have to perform manual set up to track Formidable Forms.
Fortunately, there're smart tools like MonsterInsights to help you set up forms tracking and other advanced events trackings easily in Google Analytics.
In this article, we'll show you how to track your Formidable Forms conversions with Google Analytics the easy way.
Video Tutorial

If you're looking for the written step by step tutorial for setting up Formidable Forms conversion tracking, then take a look at the section below.
Setting Up Formidable Forms Tracking in Google Analytics
Formidable Forms is the most advanced WordPress form builder plugin available on the market.
The plugin lets you create advanced forms like quizzes, surveys, payment forms, registration forms, directories, job board listings, etc. easily. It's also one of the best form builder plugins for WordPress.
You can set up Formidable Forms tracking with Google Analytics in 2 ways:
Setting Up Event Goals in Google Analytics – The Manual Way
Using MonsterInsights – The Automatic (Easy) Way
If you choose the first method, you'll need to set up event goals in Google Analytics and define your form conversions as event goals.
This method is a far less user-friendly approach. If you aren't a developer, it'll take a lot of your time and effort to learn how to create goals and implement them correctly. Or it will take a lot of your money to hire a developer.
Whereas the second method is speedy and effortless. It takes just a few steps to set up forms tracking in Google Analytics using MonsterInsights.
All you need to do to set up forms tracking is to install the MonsterInsights Forms addon in your WordPress dashboard. Then, MonsterInsights handles the rest automatically.
Benefits of Using MonsterInsights to Track Forms
MonsterInsights is the best Google Analytics plugin for WordPress. It simplifies the entire process of using Google Analytics on your WordPress site. It comes with a set of simple-yet-powerful addons, like the Forms addon, to allow you to track advanced metrics easily.
There're many benefits of using MonsterInsights' Forms addon versus setting up forms tracking manually in Google Analytics' interface. Below are just a few key benefits:
Easy and quick setup: You can set up forms tracking on your site easily, in just a few minutes. You'd need to spend a lot of time and energy or hire a developer to set up forms tracking otherwise.
Set up and view reports within your WordPress dashboard: You can set up forms tracking and view your forms reports within your WordPress dashboard. Hence, you can keep working on your site while viewing your Analytics reports – you don't need to navigate away from your site.
Most comprehensive reports: MonsterInsights provides you with the most comprehensive reports for all your website metrics. Your forms conversion reports in MonsterInsights are way more simple and easy to understand than in the Google Analytics platform itself.
Works with your favorite form builder: Alongside Formidable Forms, MonsterInsights supports all the major WordPress form builder plugins including WPForms and Ninja Forms.
Clearly, using MonsterInsights Forms addon is the best option for tracking Formidable Forms conversions. Do note that you'll need MonsterInsights Pro to enjoy this feature.
Track Formidable Forms Conversions Using MonsterInsights
First, install the MonsterInsights plugin on your WordPress site and set up Google Analytics using the plugin.
After that, navigate to Insights » Addons from your WordPress dashboard and navigate to Forms Addon. Then, click the Install button.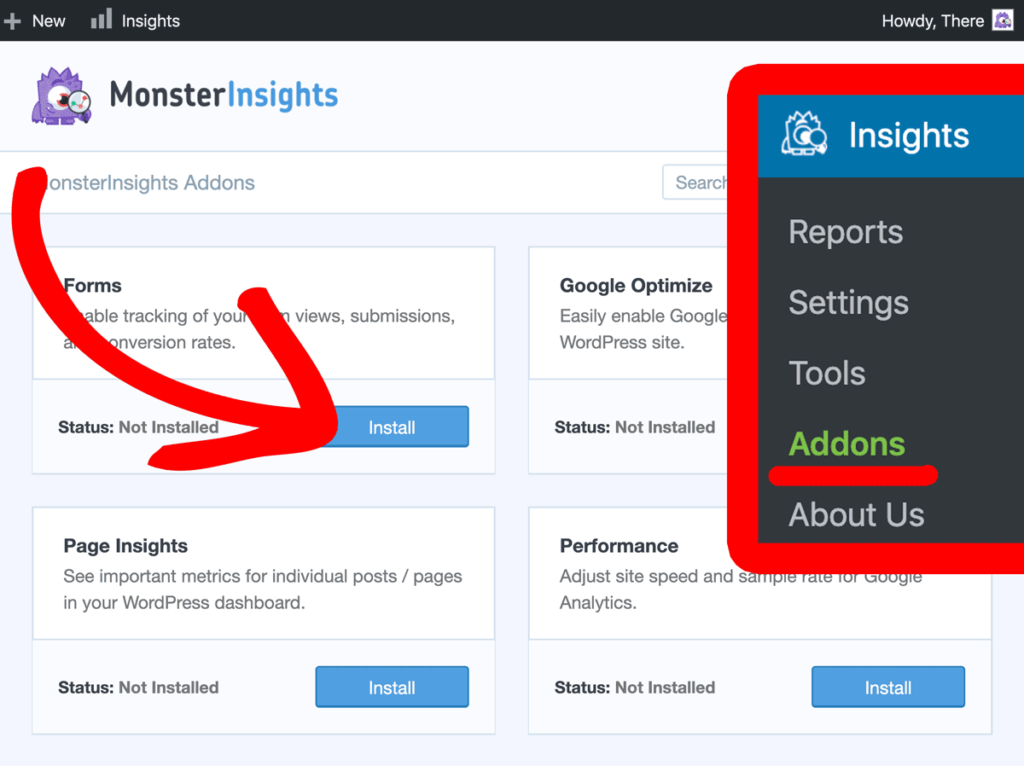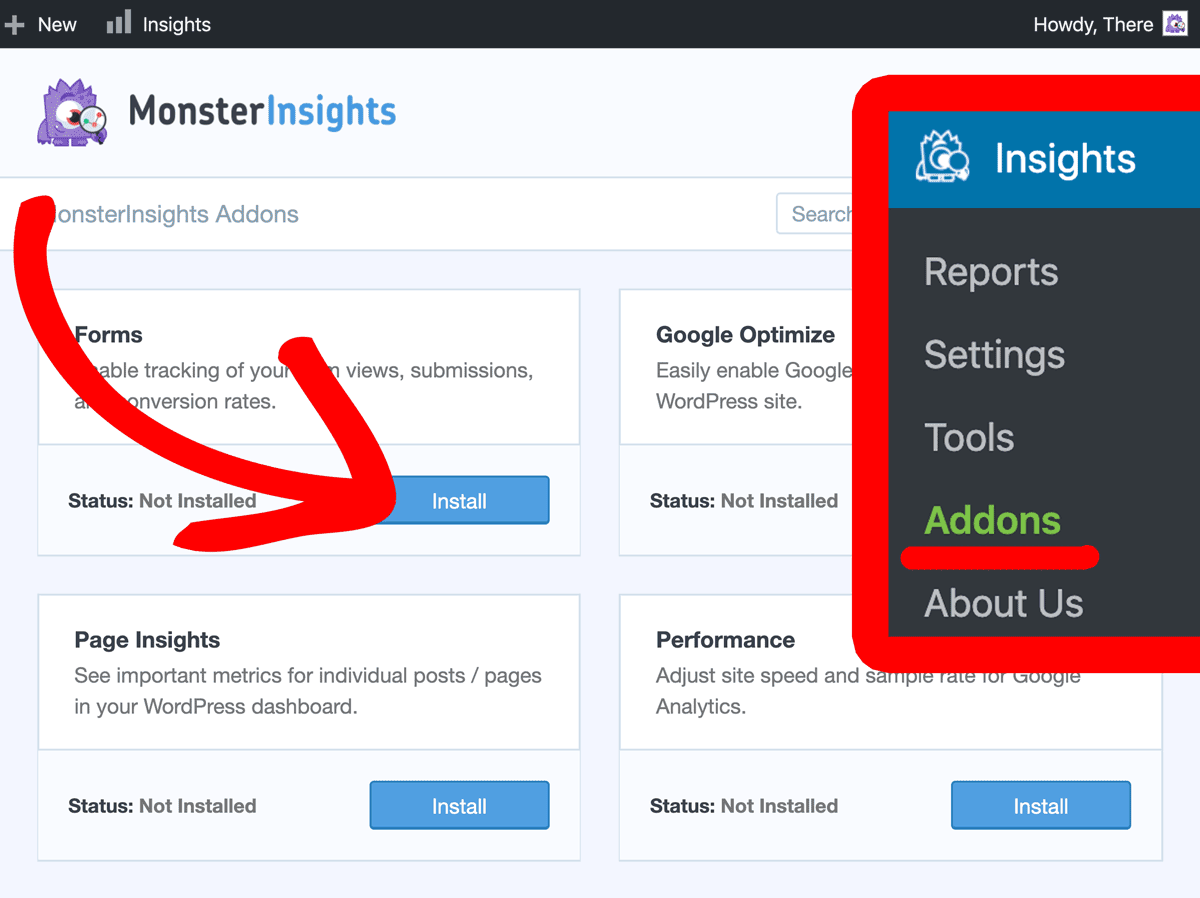 You'll see the button change to the Activate option. Simply click the button to activate the addon and the status should change to Active.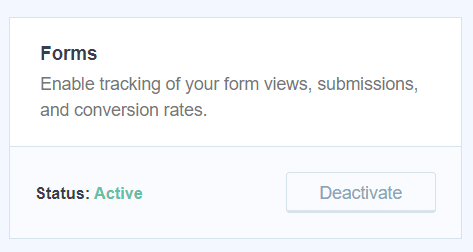 That's it! You have completed the setup process in literally 2 clicks!
You don't need any further configuration.
Now, the plugin will automatically start tracking your Formidable Forms conversions. Normally, Google Analytics takes 24 to 48 hours to track events like form conversions, so you can check your reports after the given time.
Now, let's go ahead and learn how to view your form conversion reports.
How to View Formidable Forms Conversion Reports
With MonsterInsights, you can view all your important website data right in your WordPress dashboard without having to open another website.
Yes, that's right! You can view your forms conversion reports inside your dashboard as well.
To view your forms reports, go to Insights » Reports from your WordPress dashboard. There, click on Forms from the top menu.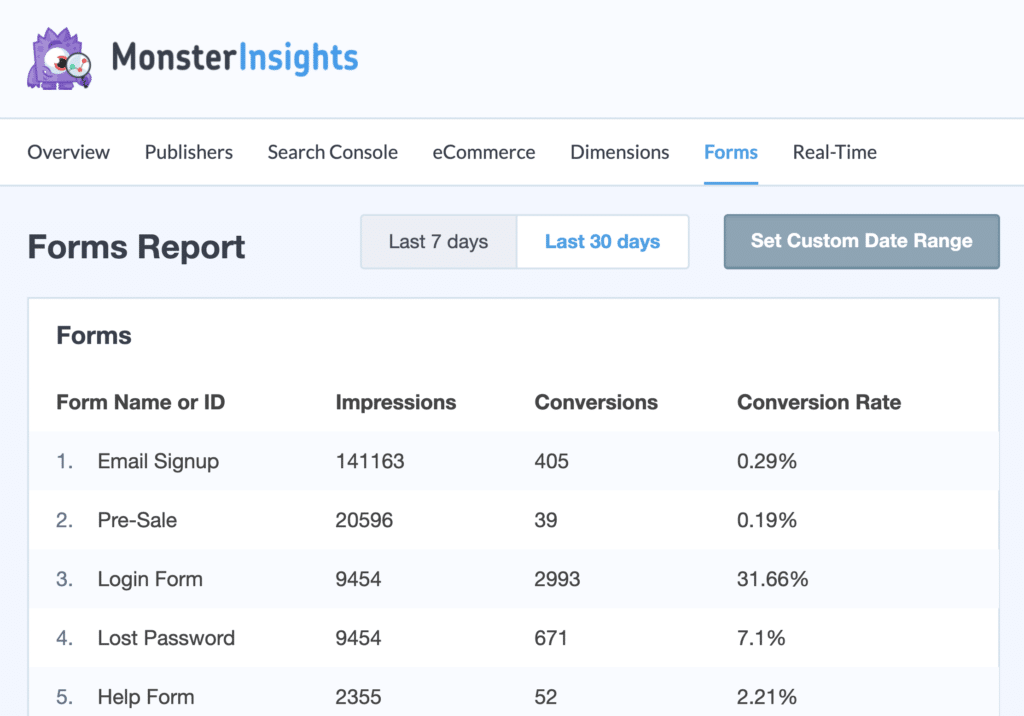 The first column from the left is the list of forms on your website. The second column is the number of impressions, and the third is the number of successful form submissions. The last column shows the conversion rate for your forms.
You can now see which Formidable Form is converting and which is not. Using the data, you can make changes and optimize your forms.
It's very simple and easy to understand!
Now, if you want to view more details regarding your form conversions, you can click the View Full Forms Report button at the bottom of the report.
Doing so will redirect you to Google Analytics » Behavior » Events » Top Events in your Google Analytics account. If you aren't already logged in, you'll need to log into your Google Analytics account to view this report.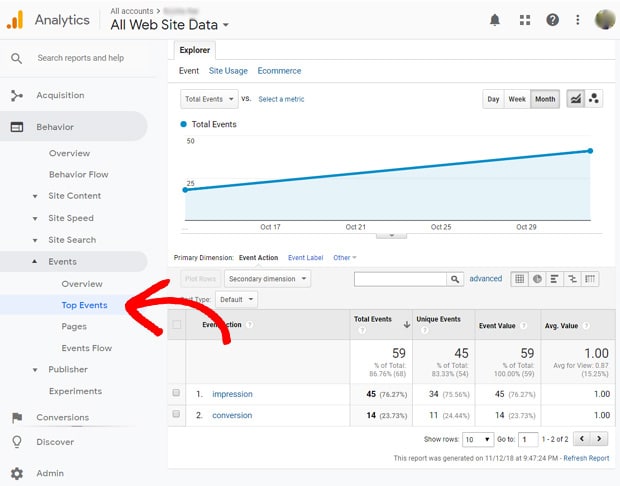 As you can see above in the screenshot, it shows the total impressions and conversions triggered by all your forms.
If you want to view the events for each form individually, click on Event Label link in your Forms report Primary Dimension.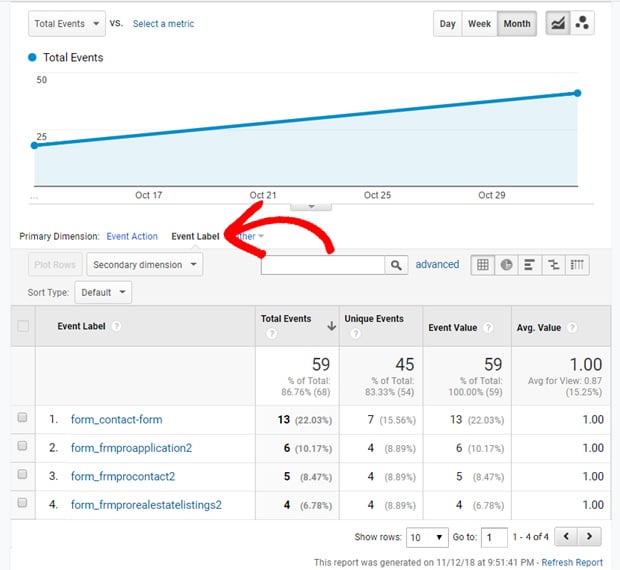 Now you'll see the total events for each of your Formidable Forms forms individually. Total events include both impressions and conversions for your forms.
If you want to see impressions and conversions separately for each form, click your form names one-by-one.
After doing that, here's how the Impression and Conversion data are provided separately: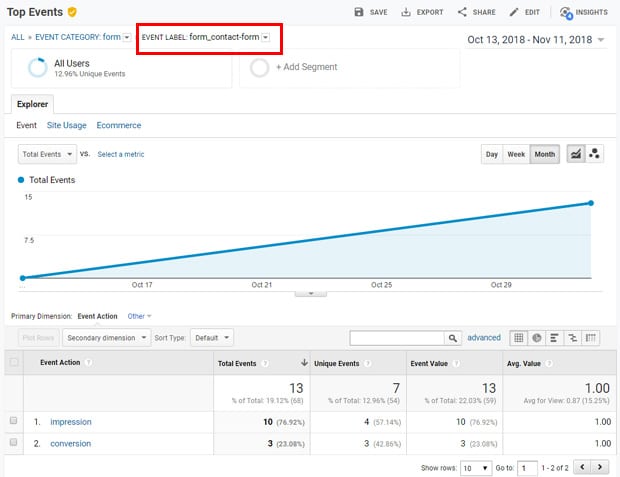 That's all.
We hope this article helped you learn how to track your Formidable Forms conversions with Google Analytics. If you found MonsterInsights useful, download it today!
You may also want to see our detailed guide on how to track link clicks in Google Analytics.
Also, don't forget to follow us on Twitter and Facebook for more Google Analytics tutorials.