Are you looking for an easy way to set up Gravity Forms event tracking so you can track form conversions? With Google Analytics and MonsterInsights, you can get insights about how your Gravity Forms are performing.
When it comes to setting up Gravity Forms tracking, though, many beginners (or even intermediate Google Analytics users) find it difficult. That's because form tracking can get complex and time-consuming to figure out.
That said, what if you could track your Gravity Forms conversions on your own with just a few clicks?
In this article, we'll show you how to set up Gravity Forms event tracking without touching a single line of code.
Let's dive right in…
Video Tutorial
Does Google Analytics Track Gravity Forms Submissions?
No, Google Analytics won't track Gravity Forms submissions as conversions by default. If you want to set up event tracking and count a conversion for your form submissions, you'll need to set that up manually in Google Analytics.
In Universal Analytics, that means creating a goal that fires when your form is submitted. In Google Analytics 4, that means marking your form submission event as a conversion.
You can also use Google Tag Manager to track form conversions, but you'll need to learn the entire process, which can be time-consuming. And if you make any mistake in the setup process, you won't be able to accurately track your form conversions.
Depending on your Analytics experience level and how you have your forms set up, this can get pretty confusing. Luckily, there's a much easier way.
How to Set Up Gravity Forms Event Tracking in Google Analytics
Follow these two steps to configure Gravity Forms tracking in Google Analytics in no time:
Step 1: Install MonsterInsights
The first step for tracking Gravity Forms conversions is to install MonsterInsights on your WordPress website.
MonsterInsights is the best WordPress Google Analytics plugin. It's a beginner-friendly, yet powerful, tool for tracking your WordPress website analytics.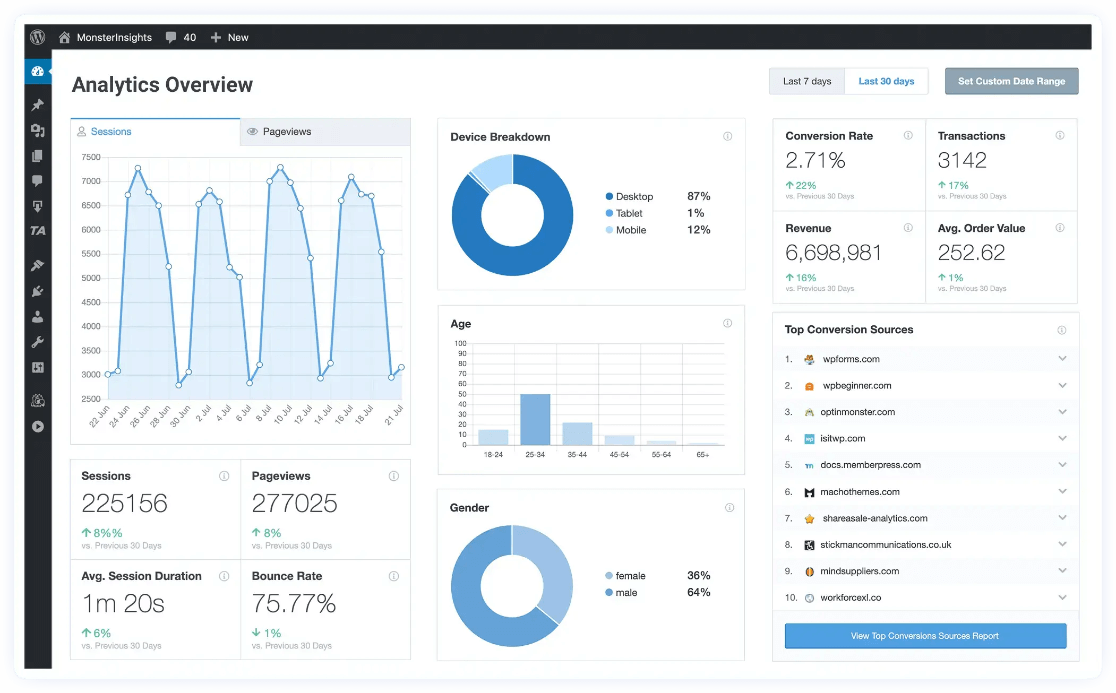 Plus, with the click of a button, you can set up sophisticated tracking features such as event tracking, eCommerce tracking, form tracking, custom dimension tracking, outbound link tracking, and more.
MonsterInsights actually empowers you to use Google Analytics like a pro without needing to worry about coding.
To start, grab MonsterInsights at the Pro level or above, then download the ZIP files from your account area under the Downloads tab.


Next, upload the plugin to your WordPress website. You can do that by going to Plugins » Add New » Upload Plugins and clicking the Install Now button.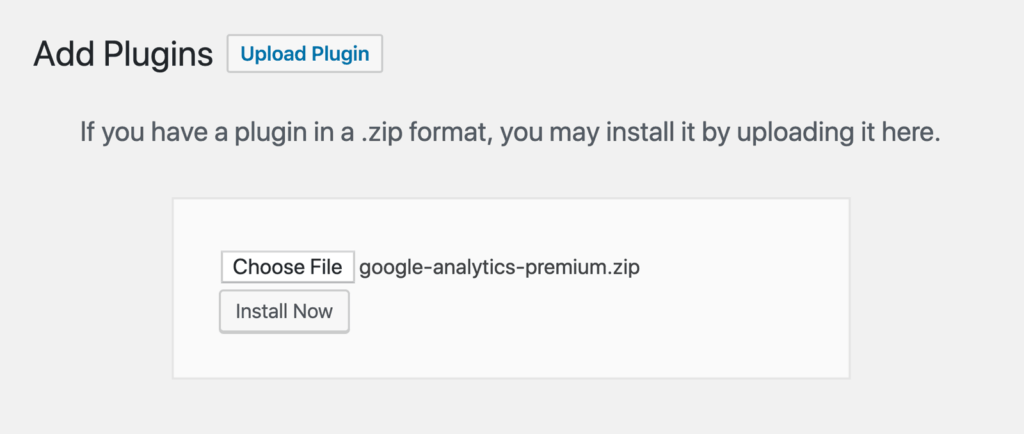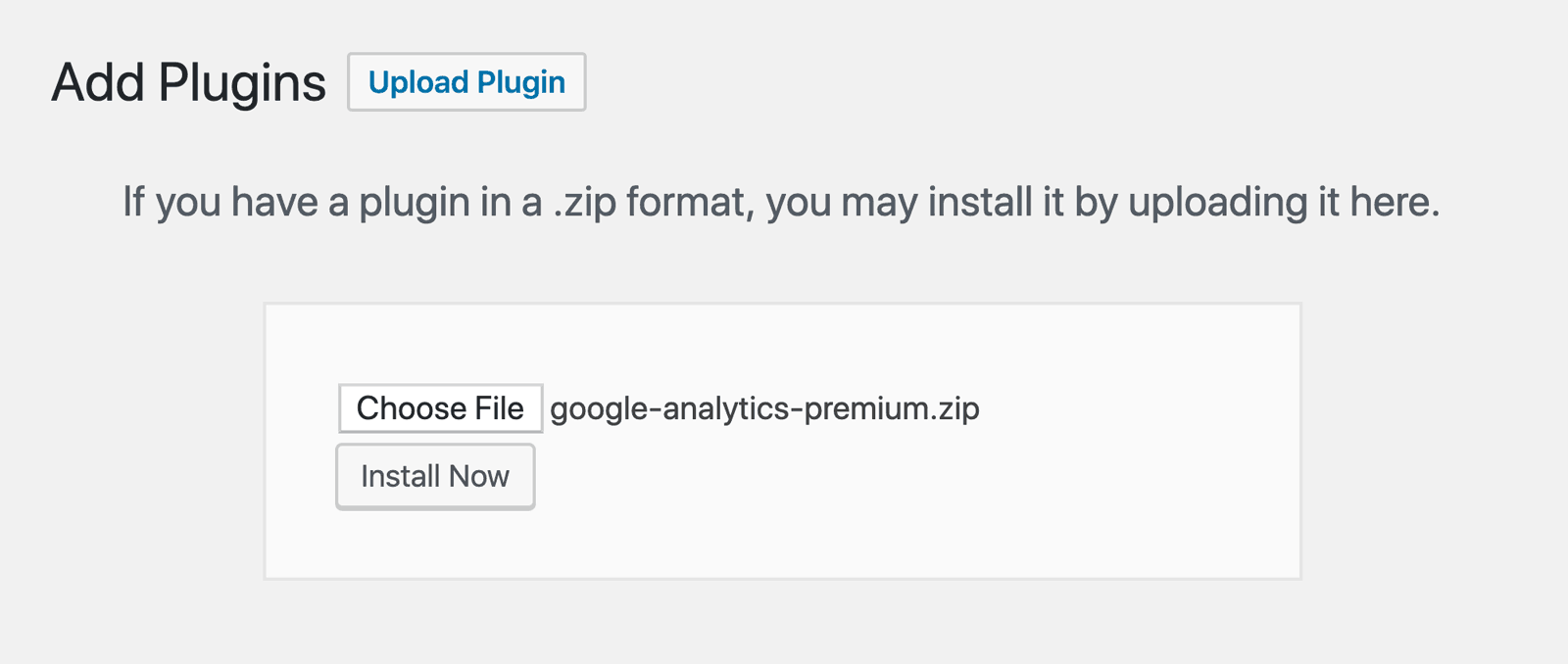 After that, click the Activate Plugin button.

Now, you'll need to connect Google Analytics to your WordPress website. Using MonsterInsights, it's a walk in the park. Just follow the steps in its setup wizard and the plugin will add Google Analytics to your site without the need to edit code.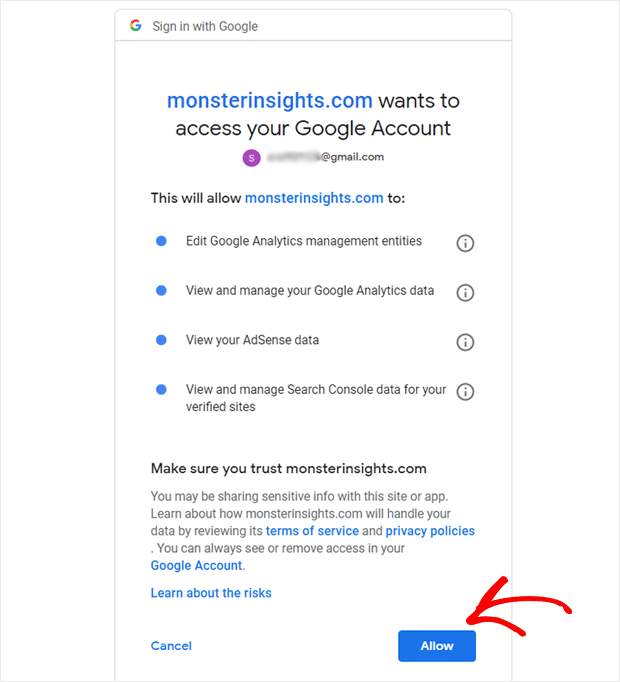 For help getting started, you can read our step-by-step guide on how to properly set up Google Analytics and MonsterInsights.
Step 2: Install and Activate the MonsterInsights Forms Addon
After setting up MonsterInsights, the next thing you'll need to do is set up its Forms addon.
Using MonsterInsights Forms, you can simplify both the forms tracking setup process and viewing form metrics reports. The setup process takes just a few clicks, and form reports appear directly inside your WordPress dashboard.
The MonsterInsights Forms addon works seamlessly not only with Gravity Forms but with all the other major form plugins like WPForms and Ninja Forms.
To set it up, visit Insights » Addons and find Forms. Then, click the Install button.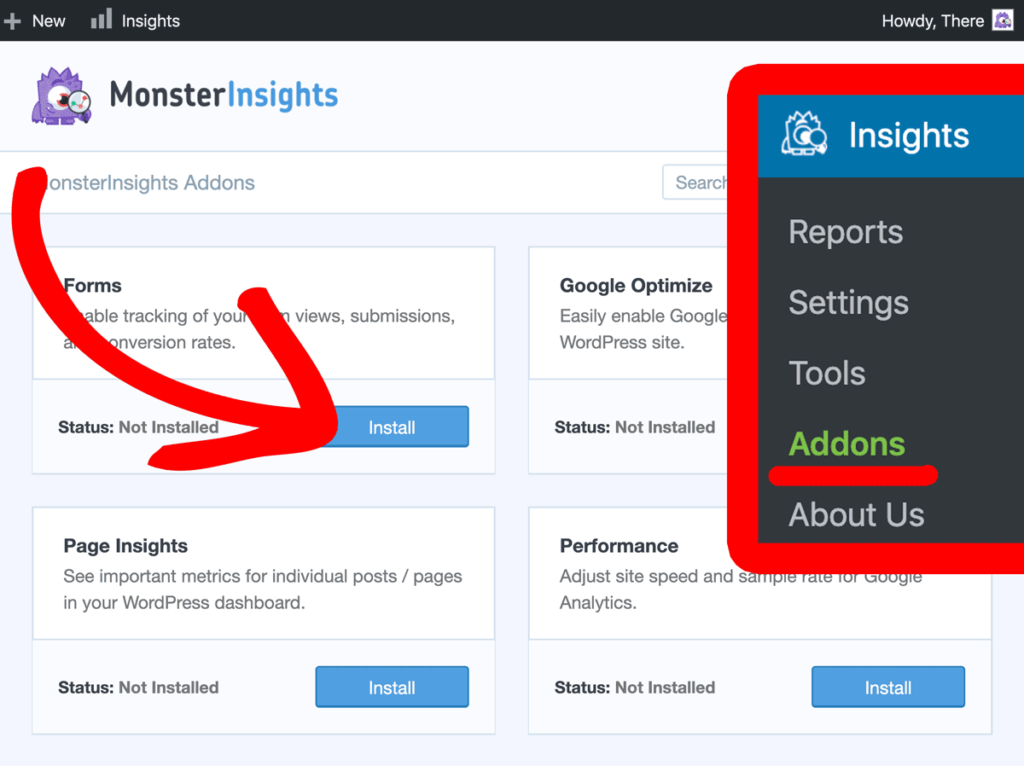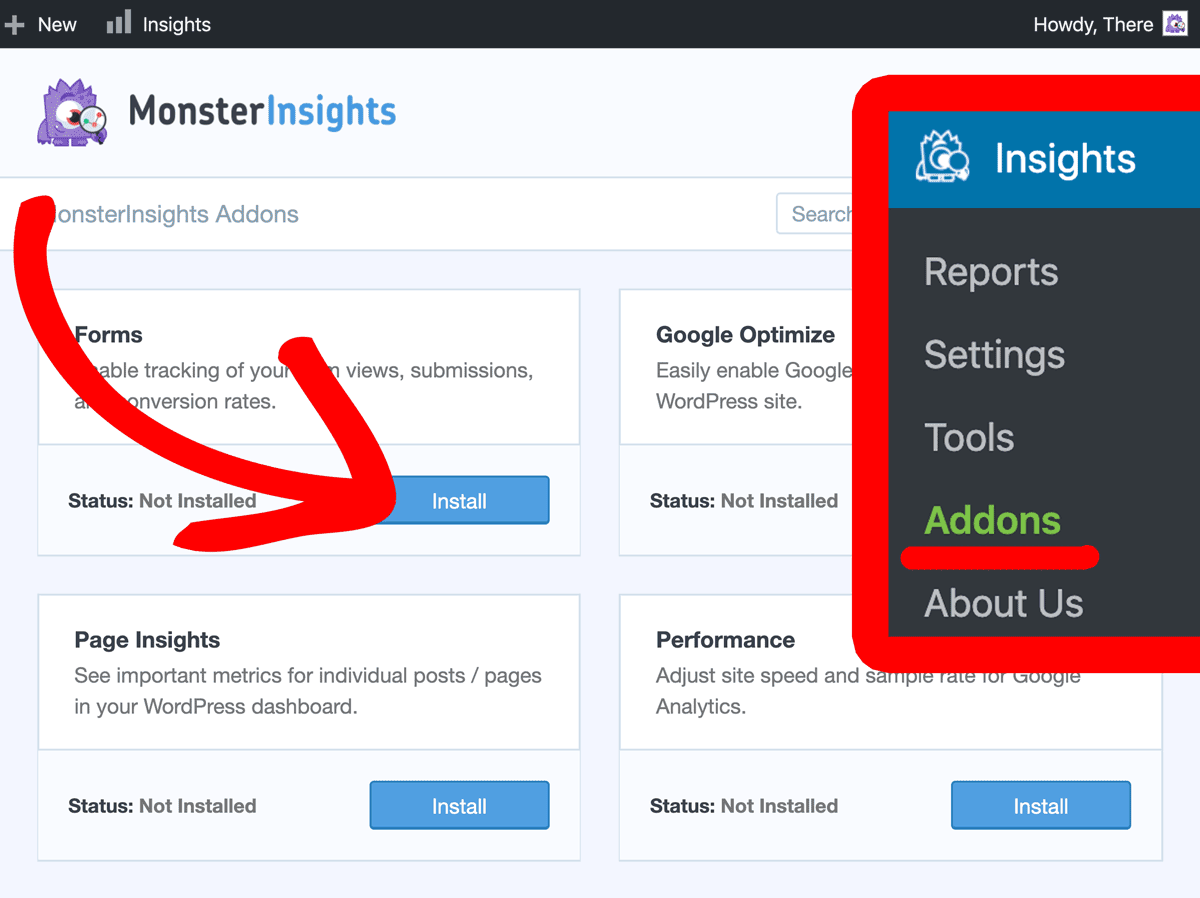 Now, check to make sure that the Status changes to Active.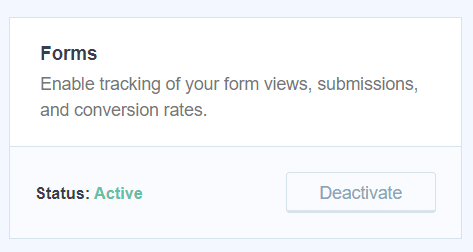 That's it! You've completed the setup process.
You don't need any further configuration. From here on out, MonsterInsights will automatically start tracking your Gravity Forms conversions.
However, you'll need to wait for a while to view your reports because Google Analytics takes 24 to 48 hours normally to track events like form actions.
Let's take a look at how to view the form conversion reports.
How to View Your Gravity Forms Event Tracking Report
MonsterInsights Forms addon doesn't only simplify the forms tracking setup process but also viewing forms metrics.
This lets you view your forms' real-time metrics directly inside your WordPress dashboard without needing to navigate away from your WordPress admin area.
In order to view your forms conversion reports, you'll need to go to Insights » Reports » Forms.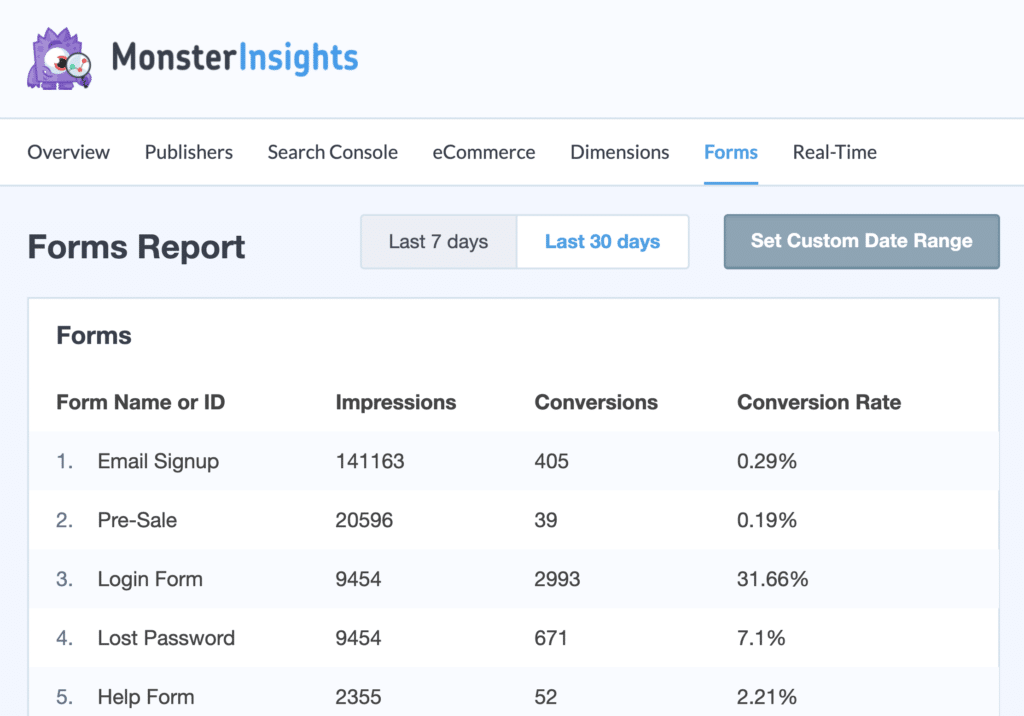 The report shows different Gravity Forms on your website. And for each form, you can see its impressions, conversions, and conversion rate.
Using this data, you can track form conversions and see which is performing and which isn't.
For more detail, go through our guide on how to track your form conversion source in Google Analytics.
We hope this article was helpful for learning how to track your Gravity Forms Conversions with Google Analytics. If you found this post useful, then do go through our guide on how to track user engagement in WordPress using Google Analytics.
And don't forget to follow us on Twitter, Facebook and YouTube for more helpful Google Analytics tips.