Do you want to track your Gravity Forms conversions with Google Analytics? This seems like a developer-only job at first, but it can be really easy, for anyone, when using the right tools.
In this article, we'll show you the simplest method to track your Gravity Forms conversions, so you can track your form conversions easily, by yourself, without touching a single line of code.
How to Set Up Gravity Forms Tracking in Google Analytics
By default, Google Analytics doesn't track your online form conversions. Nor does Gravity Forms allow you to track your form conversions. Thus, you yourself need to set up Gravity Forms tracking using Google Analytics.
There are 2 main ways to set up forms tracking on WordPress sites using Google Analytics:
By Setting Up Google Analytics Goals – The Manual Way
By Using MonsterInsights – The Automatic (EASY) Way
The first method, i.e. by setting up Google Analytics goals manually, is a far less user-friendly approach. This involves creating a goal and defining it for your forms which requires some expertise in using Google Analytics.
If you're an absolute beginner, then you'll need to learn the entire process, which can be time consuming. Or you'll need to hire an expert to do the job for you, which can be expensive. Either way, the process will be highly inconvenient.
However, if you insist on using this method, you can read our complete guide on creating a goal in Google Analytics to track conversions.
The second method, using MonsterInsights, is a beginner-friendly and vastly more convenient solution. You can configure forms tracking in just a few steps and the plugin will start tracking your forms automatically.
Why Use MonsterInsights to Track Your Gravity Forms Conversions
MonsterInsights is the best WordPress Google Analytics plugin. It's a beginner-friendly, yet powerful, tool for tracking your WordPress website analytics.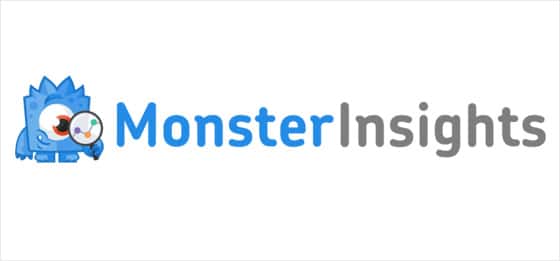 MonsterInsights comes with a number of handy addons for advanced tracking options in Google Analytics. The plugin actually empowers you to use Google Analytics like a pro without needing to worry about coding.
For tracking forms conversions, it has a Forms addon that automates forms tracking and provides you with easy-to-understand reports. Using MonsterInsights Forms, you can simplify both the forms tracking setup process and viewing form metrics reports. The setup process takes just a few clicks, and form reports appear directly inside your WordPress dashboard.
MonsterInsights Forms addon works seamlessly not only with Gravity Forms, but with all the other major form plugins like WPForms and Ninja Forms.
How to Track Gravity Forms Conversions Using MonsterInsights
To start, you'll need to install MonsterInsights Pro and connect your WordPress site with Google Analytics account.
Then, you'll need to visit Insights » Addons and find Forms Addon. Then, click the Install button.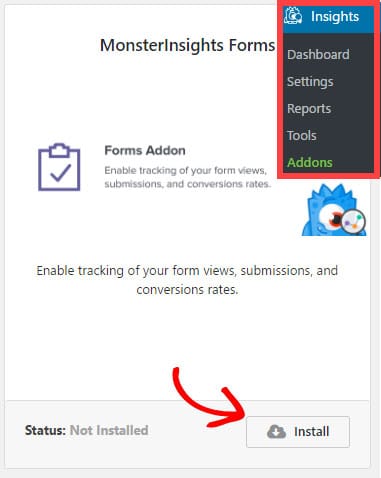 Now, you can see the button changed into Activate option. Simply click the button to activate the addon.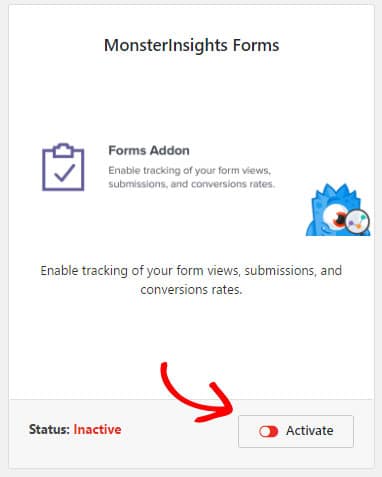 Now, you will see the addon's status as active.
That's it! You've completed the setup process in literally 2 clicks!
You don't need any further configuration.
From here on out, MonsterInsights Forms will automatically start tracking your Gravity Forms conversions.
However, you'll need to wait for a while to view your reports because Google Analytics takes 24 to 48 hours normally to track events like form actions.
Now, let's see how to view the form conversion reports.
How to View Gravity Forms Conversion Reports
MonsterInsights Forms addon doesn't only simplify the forms tracking setup process, but also viewing forms metrics. This lets you view your forms' real-time metrics directly inside your WordPress dashboard without needing to navigate away from your WordPress admin area.
In order to view your forms conversion reports, you'll need to go to Insights » Reports » Forms. There, you can see the Overview Report of your entire site.
To view your form reports, click the Forms link.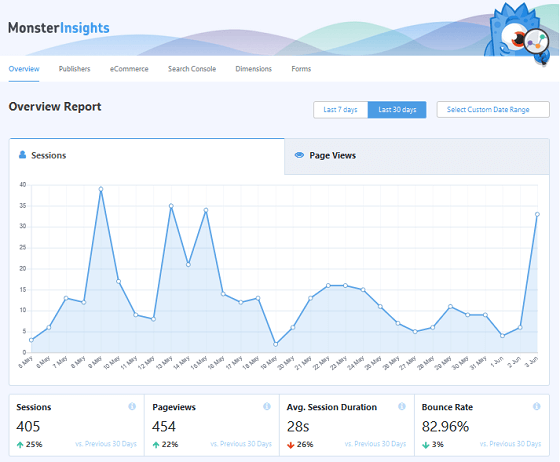 Then, you'll see your Gravity Forms reports as shown in the screenshot below.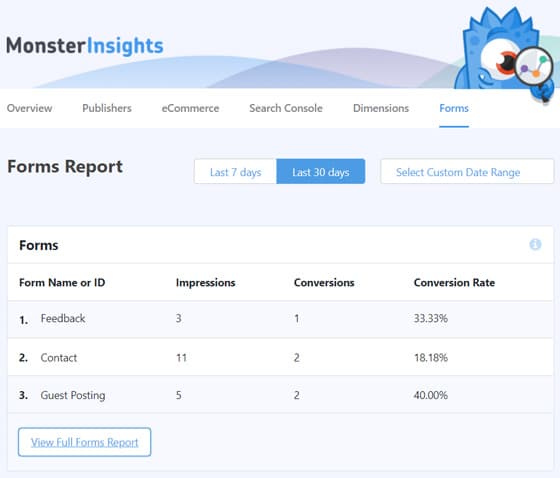 There, your Gravity Forms forms' names will be in the first column on the left. The second column is the number of impressions, and the third is the number of successful form submissions. The last column is the rate of conversion.
It's just that simple – no need to stress!
Now, if you want to view more details regarding your form conversions, you can click View Full Forms Report button at the bottom of the report.
This will redirect you to Google Analytics » Behavior » Events » Top Events.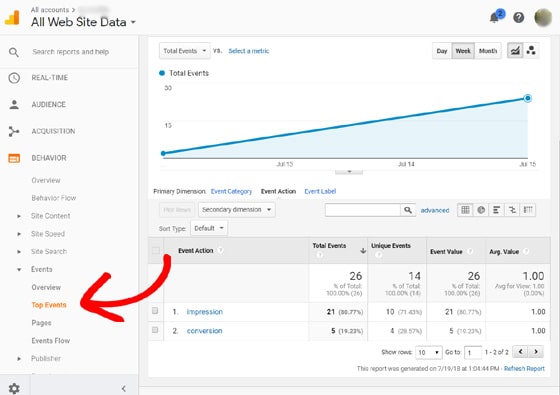 Now, you can view the total impressions and conversions triggered by your forms on this page.
Then, if you want to view the impressions for each of your forms individually, click on Event Label link in your Forms report Primary Dimension.
As you can see in the above screenshot, you can view the total events for each of your Gravity Forms forms individually. Google Analytics treats both the impressions and conversions as Events.
Now, if you want to see impressions and conversions separately for each of your forms, you can view by simply clicking on the form names one by one.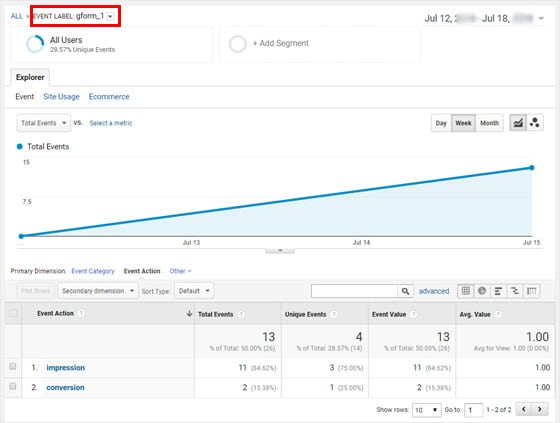 Here, the total events for the first form are divided into Impression and Conversion.
That's all.
We hope this article was helpful for learning how to track your Gravity Forms Conversions with Google Analytics. If you found MonsterInsights useful, download the plugin today!
You may also love our full review and comparison of the best WordPress contact form plugins.
Also, don't forget to follow us on Twitter and Facebook for more Google Analytics tutorials.