Do you ever wish Google Analytics could tell you more about your website traffic, like how many clicks specific links in your marketing campaign are getting? Or how many people are converting from a specific social media ad? With UTM parameters, it can!
UTM parameters can tell you all kinds of things about your traffic from pretty much any source. Just use a special campaign link with some extra code bits at the end and boom, extra data!
In this article, we'll go through the basics of UTM parameters and how you can use UTM code to improve your marketing analytics and make better decisions.
UTM Video Walkthrough
What Are UTM Parameters?
UTM (Urchin Tracking Module) parameters, also called UTM tags or UTM code, are small bits of code you can add at the end of your normal URL to track the traffic that clicks that specific link.
With UTM code, you get to see how effective your promotional activities (called "campaigns") are and how visitors interact with your website. You can use them to track clicks on any type of digital marketing campaign.
A normal URL would look like this:
https://example.com/
But if you add UTM tags to your email newsletter, for example, your URL might look like this:
https://example.com/?utm_source=newsletter&utm_medium=email&utm_campaign=onboarding
Now that you know what UTM parameters are, let's find out how they work.
How Do UTM Parameters Work?
URLs containing UTM code work like any other clickable link. But when a user clicks on the link, Google Analytics uses the UTM tags you've chosen to differentiate each URL from the rest.
Google uses the UTM parameters to track all the usual data about your link clicks, like the number of visitors, traffic sources, conversions, and more.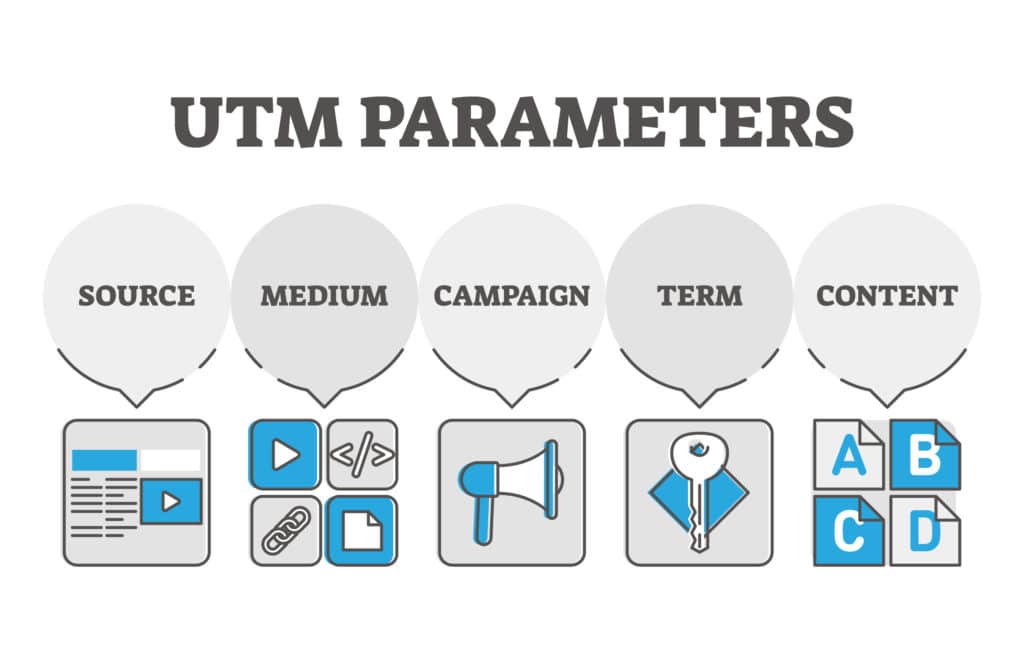 There are 5 tags in UTM code, with the last two being optional:
Source (utm_source): Source shows you the source your visitors are coming from, like Google, Facebook, Twitter, or your email marketing provider
Medium (utm_medium): Used to identify the campaign medium of your traffic, like email, social media, or ad
Campaign (utm_campaign): This is where you'll add a campaign name that makes sense to your initiative, like newsletter, spring-sale, or product-launch
Term (utm_term): If you're running a pay-per-click (PPC) ad, then this tag helps you identify which paid keyword you can attribute to the traffic
Content (utm_content): Use this tag to explain which element was clicked, like footer-cta or header-banner
Note: Be careful, UTM tags are case-sensitive. Decide on a naming convention before naming your campaigns so that your campaign parameters are concise and make sense across all of your campaigns! Decide on things like uppercase vs lowercase, and when you'll use dashes vs underscores.
Using UTM Parameters: 4 Examples
Now, let's take a look at a few examples of how to use UTM parameters in different campaigns.
1. Measure Social Media ROI
UTM parameters help you track your social media efforts. By adding UTM code to your social media links, you'll be able to see which posts and campaigns were most effective in generating traffic and conversions.
Based on the data, you can optimize later campaigns and effectively measure the return on investment (ROI) of your social media activities.
For example, let's say you're running a big summer sale, and you plan to post on Facebook, Twitter, and Instagram about it. You'd use UTM parameters on each post, with different campaign sources to show which network the traffic came from. If you use the same "summer_sale" Campaign term, you could see all your posts under the same campaign in Google Analytics and compare which social network did the best in terms of driving sales.
If you'd like, you could even use the Content tag to describe which post it is (like "sunday_morning" or "sweaters"), if you're making multiple posts on each channel.
Let's take a look at an example. In the three posts below on the Easy Digital Downloads Facebook page, you can see that they're having a sale for Black Friday/Cyber Monday. In the example links, you can see that all three posts are tagged as a part of the bfcm (Black Friday Cyber Monday) campaign, but the content tags give each post a unique UTM link.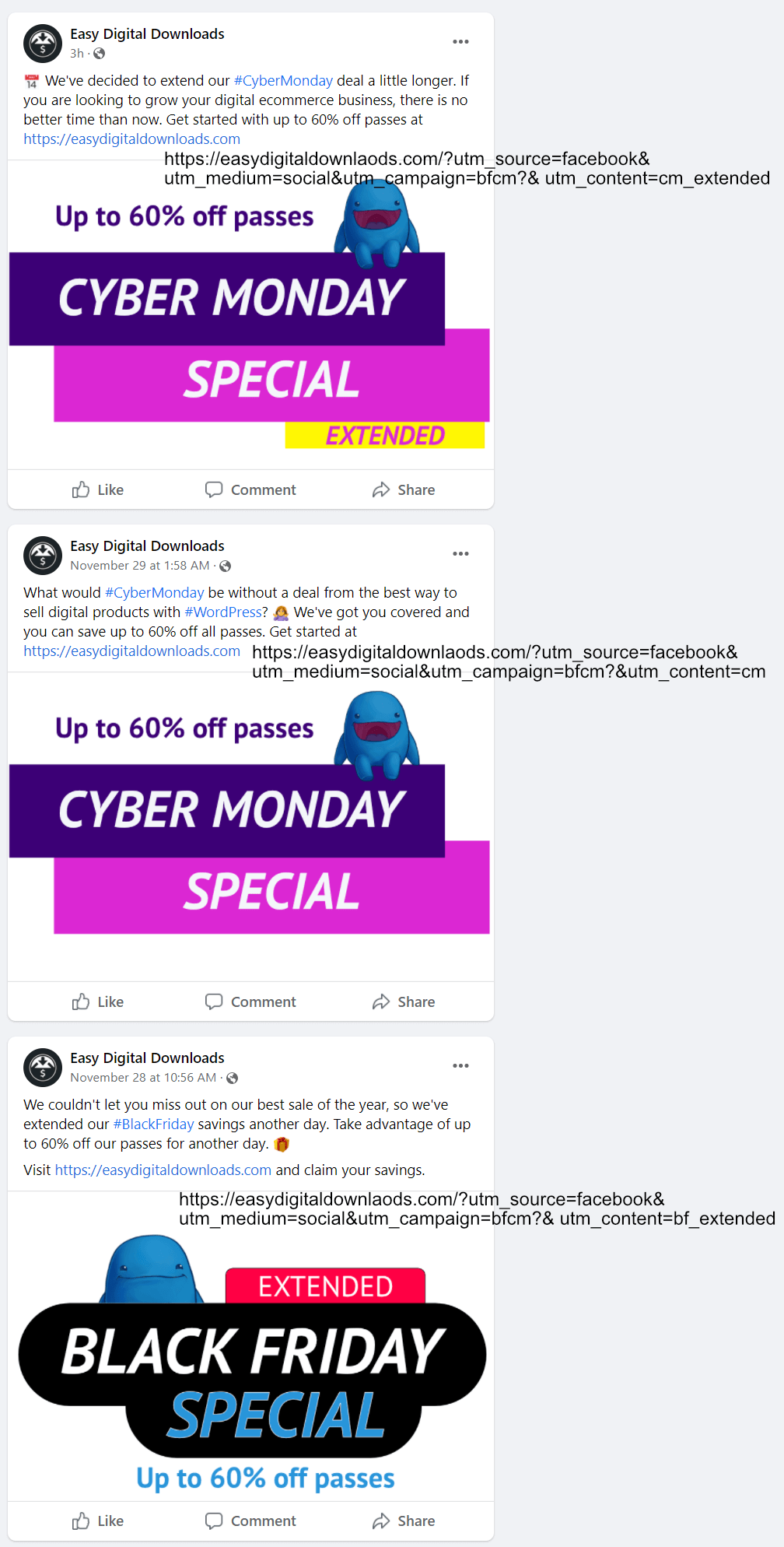 2. Track Email Performance
Do you want to see which email brought in the most visitors and conversions? Then adding UTM parameters to your links will come in handy.
You can add UTM tags to your URL in any email and get insights about its performance. Use your email client (like "constant-contact" or "mailchimp") as the Source, "email" for the Medium, whichever Campaign makes sense for your message (like "newsletter" or "summer_sale"), and use the Content tag if you want to describe which button or link the click was on in your email (like "red_button" or "header_logo").
Many email marketing services also provide A/B testing to help you see what's working best.
3. Find the Right Ad Placement
If you run paid campaigns, it's important to know which ad campaigns and ad placements are working the best. UTM parameters can help you find out which websites and ad locations are bringing in the most traffic and leading to the most conversions.
For example, let's say you run two different types of banner ads for the same product. One ad is placed in the sidebar and the other ad is shown in the page content.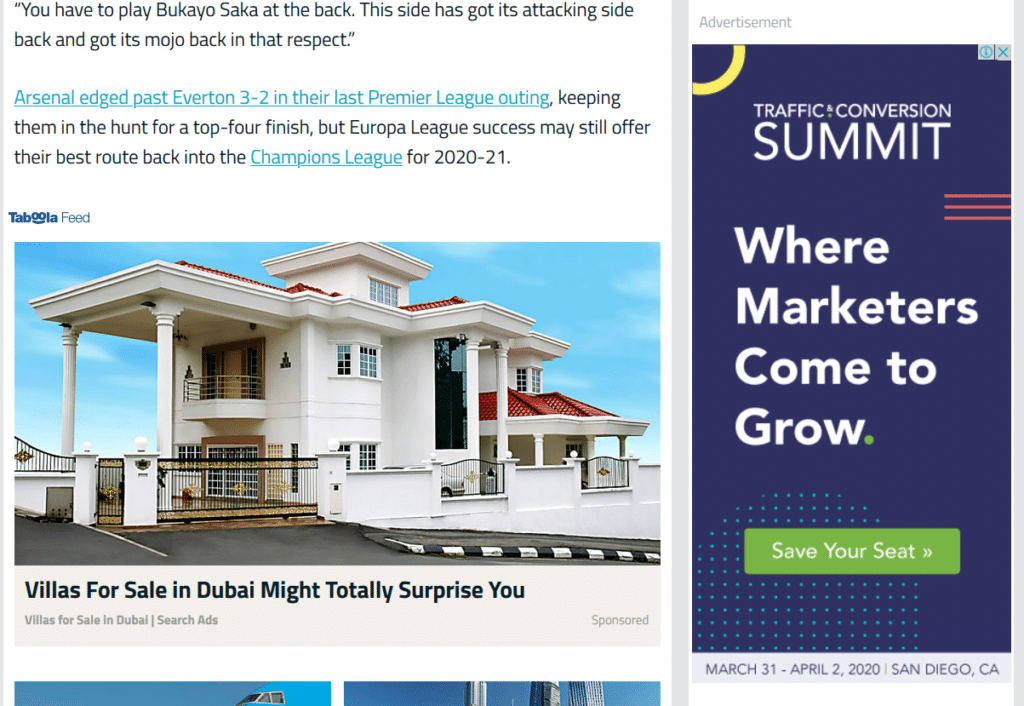 Using UTM tracking will show you how many clicks and conversions each separate ad is getting, even though they're landing on the same product page. With this information, you can With this information, you can optimize your CPC (cost per click) and hone your ad spend to only the best-converting placements.
4. Track the Effectiveness of Calls to Action
Another useful way of using UTM parameters is to find out which call to action (CTA) on your site generates the most conversions.
A lot of great websites have multiple CTA buttons or links that lead to a conversion page, like a free quote form or pricing page. By using UTM parameters on those CTAs, you can find out which one is getting more clicks and more conversions, then use that data to make improvements to your site.
How to Create UTM Codes in Google Analytics
There are two ways you can go about creating UTM codes for Google Analytics. You can either:
Type them manually
Use a URL builder tool
The problem with the manual approach is that UTM codes can become very lengthy and there's a chance you'll make a mistake. As a result, there may be campaign tracking errors and your data won't be organized correctly.
So, a simpler way of creating UTM tags is by using a URL builder tool, like MonsterInsights if you're a WordPress user. It's the best Google Analytics plugin for WordPress, and it lets you create UTM codes in an instant and without any mistakes, among a bunch of other awesome WordPress and Google Analytics tracking features. Plus, MonsterInsights will even provide you with the results of your UTM campaigns right inside your WordPress dashboard!
To use the campaign URL builder, just enter the required fields and then copy the custom URL it creates for you.
Let's say you're going to run a campaign for Black Friday. Here's what you can enter in the UTM builder: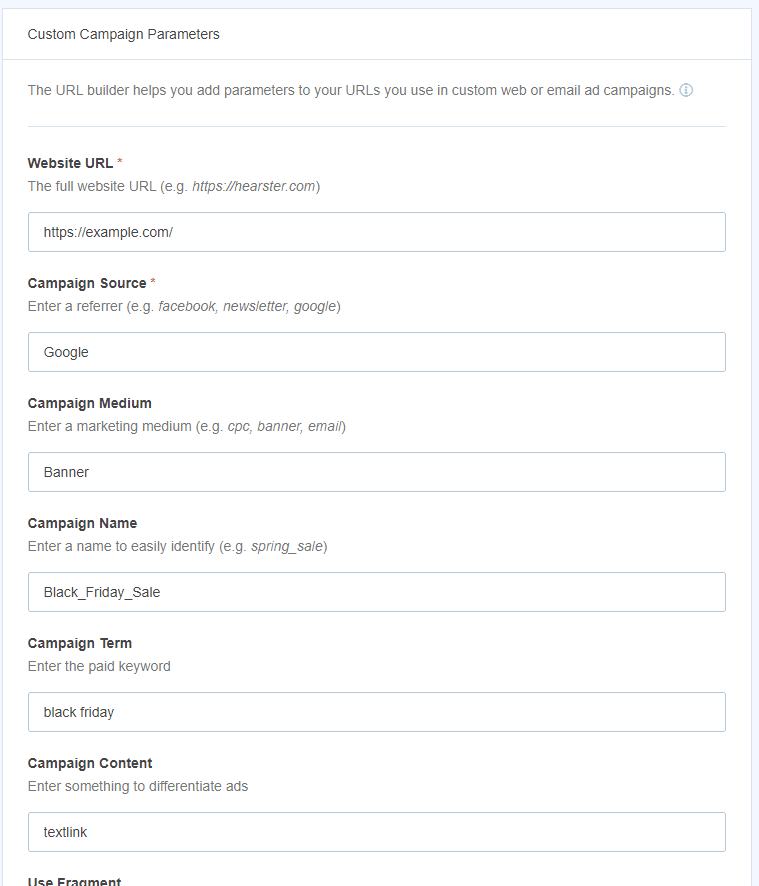 The UTM campaign builder will then generate a URL automatically for you. Just copy the link and use it for your promotion.

How to See UTM Parameters in Google Analytics 4
You can view your Campaign reports and see your UTM Parameters in Google Analytics by going to Acquisition » Traffic Acquisition. 
Then, scroll down to the table and click the drop-down menu.

Change your dimension to Session campaign.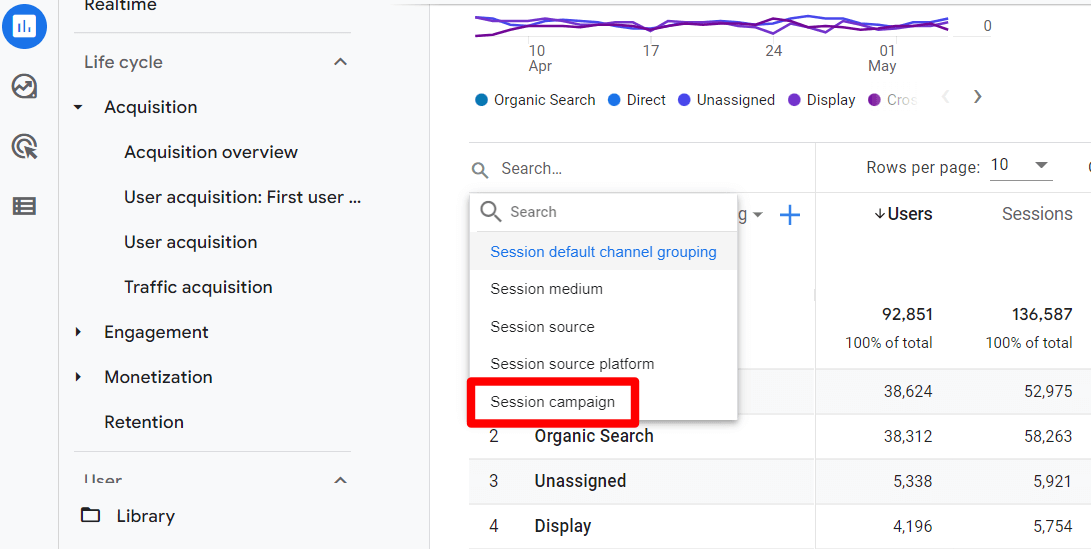 Now, you'll be able to see all your campaigns listed.
If you'd like to see the Source and Medium for each campaign, you can add it to your report by clicking the blue + sign next to the dropdown. Under Traffic source, select Session source/medium.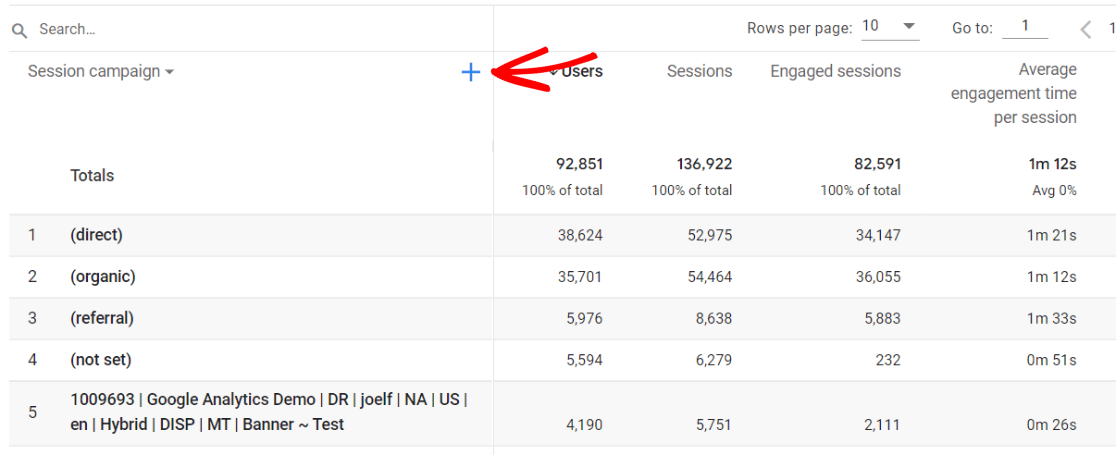 Now, you'll see all your Session campaigns along with the source and medium. With the information collected through UTM codes in Google Analytics, you get a clear picture of your traffic sources, campaign performance, and user behavior.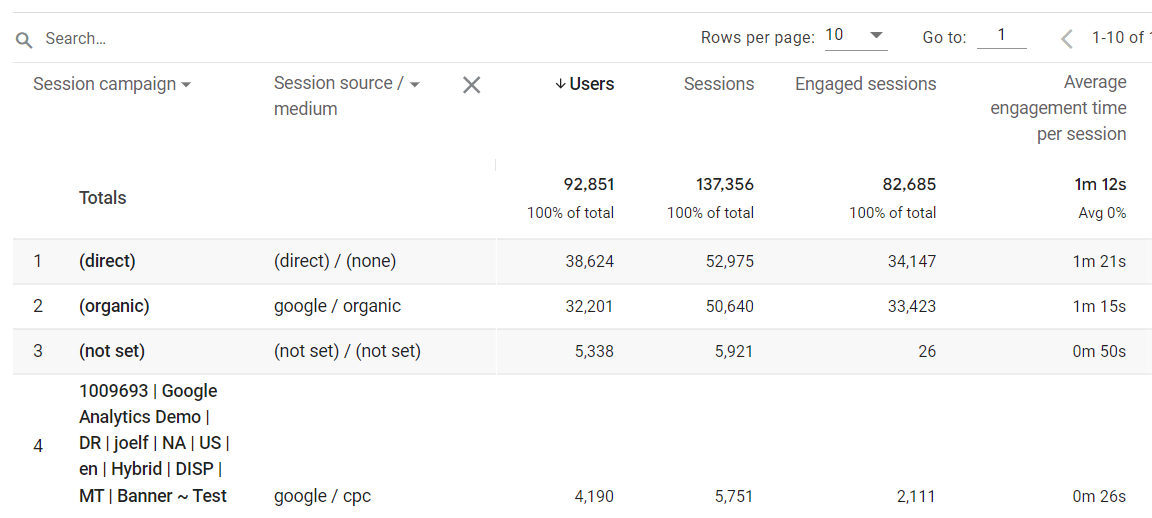 Using these metrics, you can optimize your marketing efforts to maximize return.
How to See UTM Parameters in WordPress
In your WordPress dashboard with MonsterInsights installed at the Plus level or above, head to Reports » Traffic » Campaigns. There, you'll be able to see which campaigns generated traffic for your site, and which performed the best: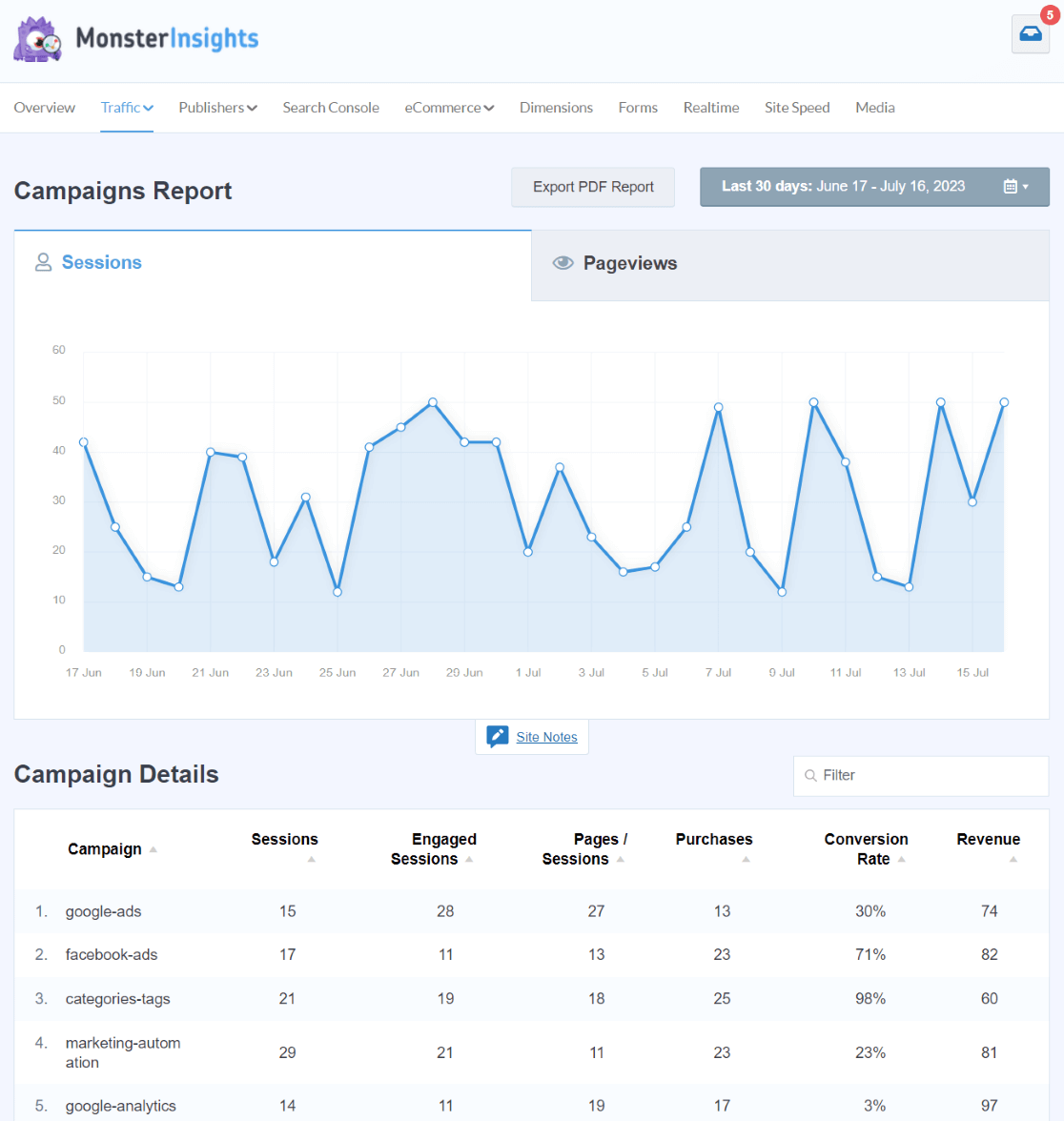 That's it!
We hope you like our beginner's guide to UTM parameters. You can also check out our guide on how to track links and button clicks in WordPress.
And don't forget to follow us on Twitter, Facebook, and YouTube for more helpful Google Analytics tips.