Are you wondering how to track the performance of your blog authors?
Google Analytics doesn't allow author tracking by default. You'd have to edit the tracking code and manually set up author tracking.
But what if there's an easier way?
To search by author in Google Analytics, you'll need to add Author as a custom dimension. And MonsterInsights is the perfect tool to help you out.
In this article, we'll show you how to set up author tracking in Google Analytics. Let's begin…
Why Should You Enable Author Tracking?
Author tracking in Google Analytics gives you valuable insights into the performance of your blog authors. You can…
discover the most popular author of your blog
sort page views for articles by author
see which author's posts keep visitors on your site by analyzing the bounce rate
get instant WordPress author stats for optimization
Ready to find out your own blog author stats? Let's get started.
Video Tutorial
Just follow the steps in this video or you can also go through our written tutorial below.
How to Set Up Author Tracking in Google Analytics
To set up author tracking in Google Analytics, follow these steps:
Step 1: Install MonsterInsights
In order to enable author tracking, you need to set up custom dimensions both in your WordPress site and in your Google Analytics account.
And MonsterInsights makes it super simple to add Google Analytics to your site and create custom dimensions without editing code.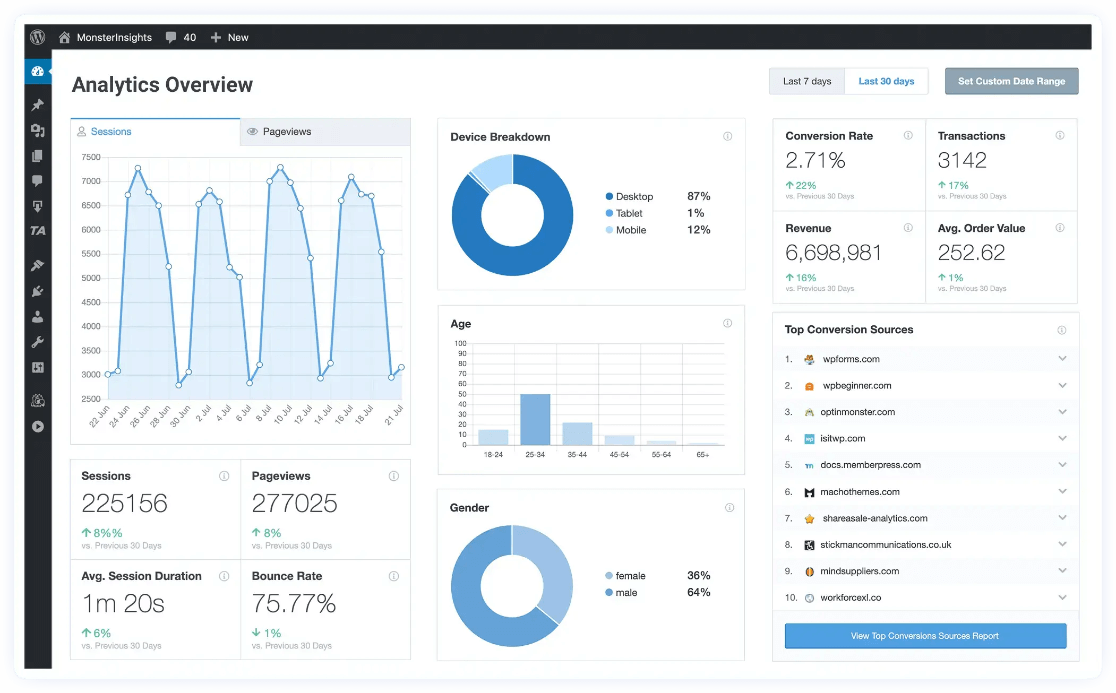 To add Author as the custom dimension in WordPress, you'll need the Dimensions addon. And to access the addon, you must have the Pro license.
Once you've signed up for a MonsterInsights account, make sure to connect the plugin with Google Analytics.
Using the setup wizard, you can add the tracking code to your WordPress site in an instant. No coding required or the need to hire a developer.
Step 2: Install MonsterInsights Dimensions Addon
Next, you'll have to install the Dimensions addon.
To do that, go to Insights » Addons and navigate to Dimensions. Now click the Install button. The addon will automatically activate on your website.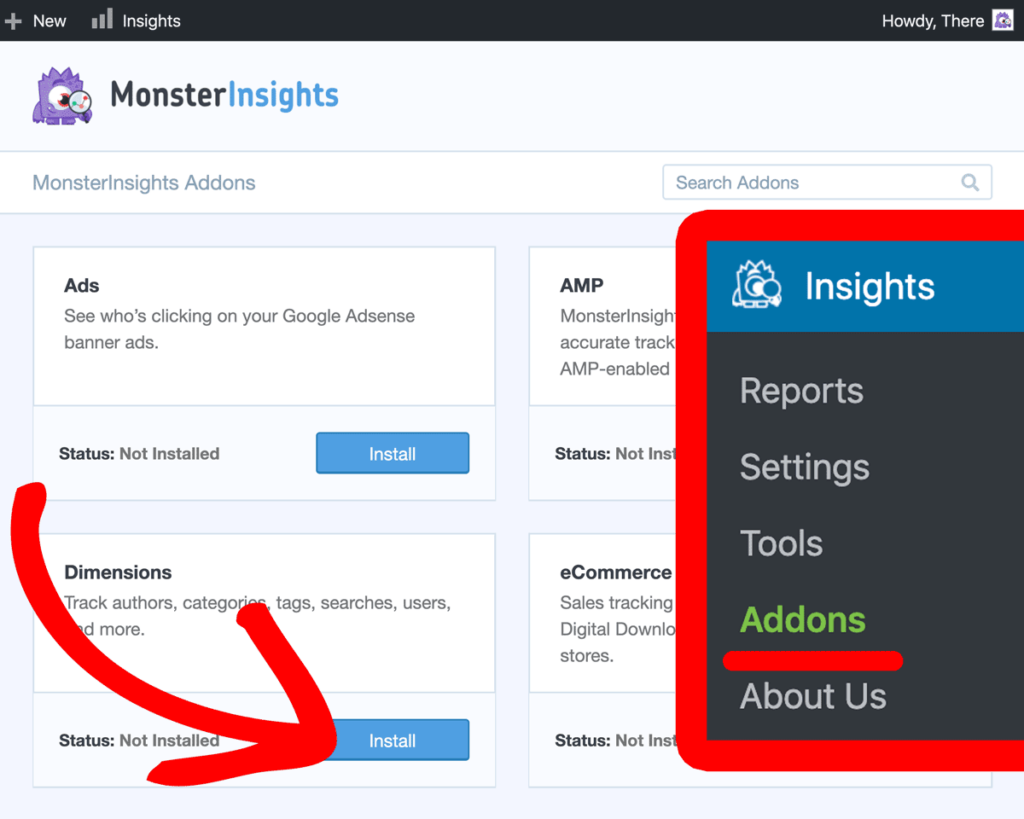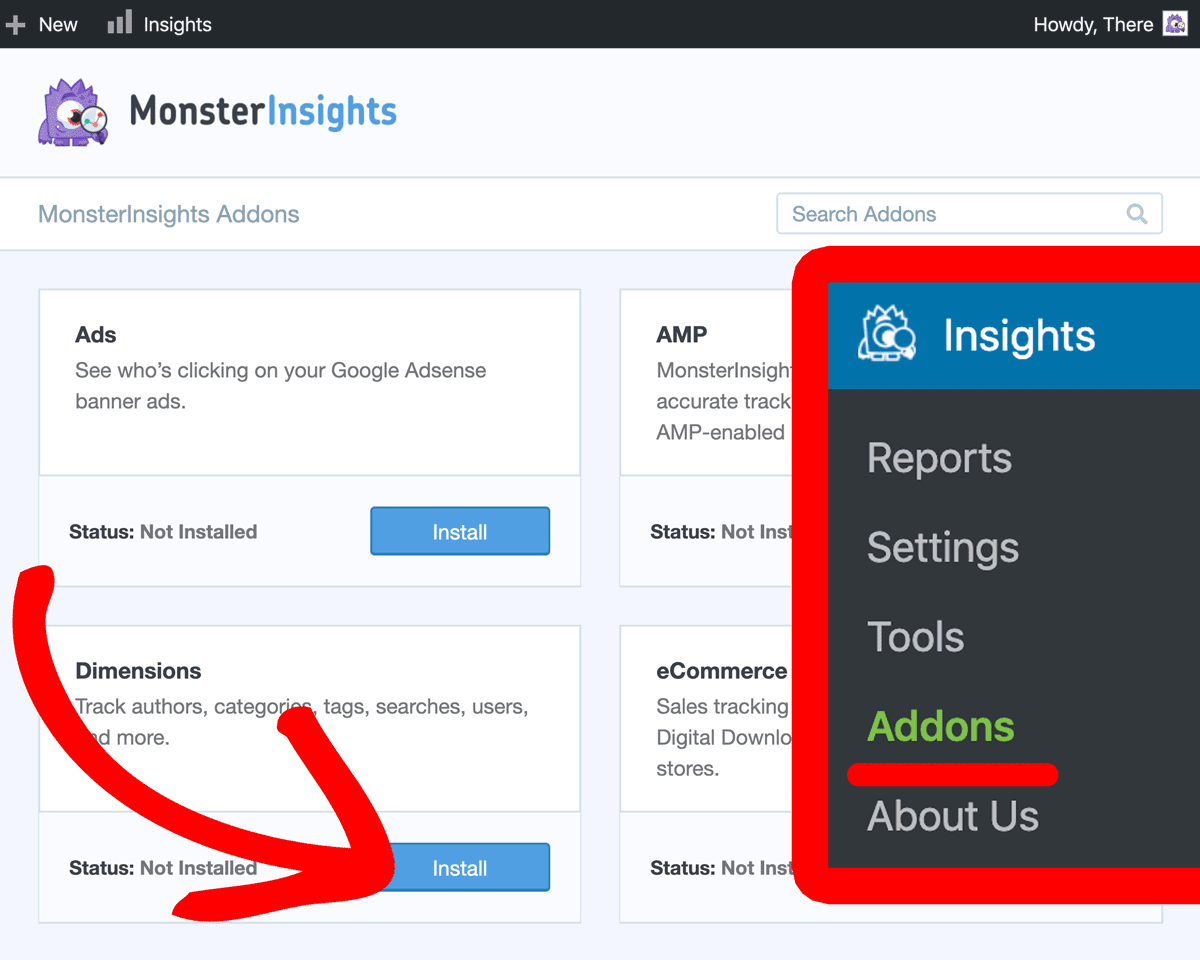 Step 3: Add Custom Dimensions in MonsterInsights
Now, you can navigate to Insights » Settings in your WordPress dashboard. Then, click on the Conversions tab on the upper tab row, and then navigate to Custom Dimensions by scrolling down.
Now click on Add new custom dimension and select Author as the dimension type.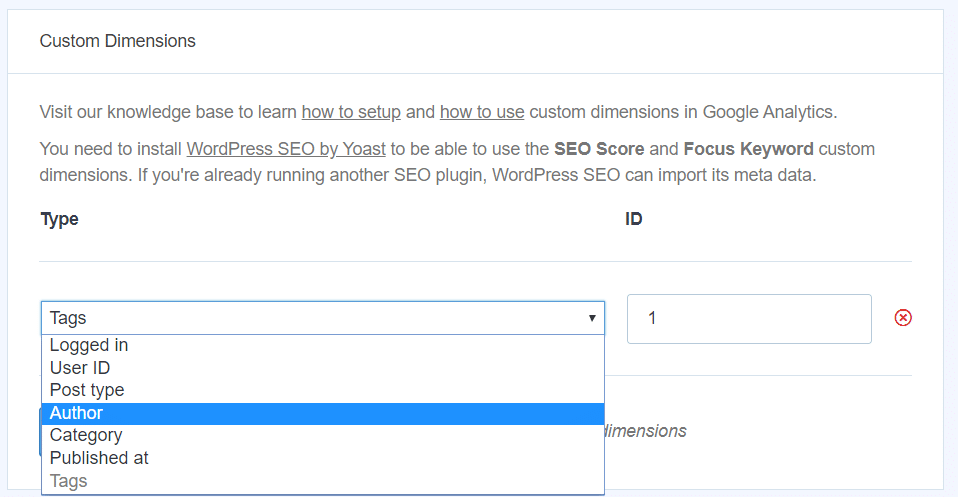 MonsterInsights will then automatically save your changes.
Step 4: Set Up Custom Dimensions in Google Analytics
Now that we've set up the Custom Dimensions correctly on your website, we'll have to set them up in Google Analytics as well.
Log into your Google Analytics account, and select the website for which you'd like to set up custom dimensions.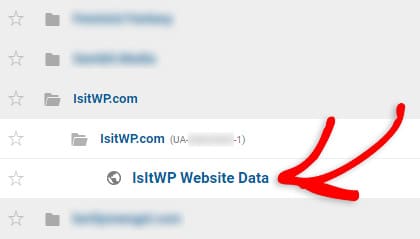 Click on the Admin tab in the left panel. Now click Custom Definitions and then Custom Dimensions.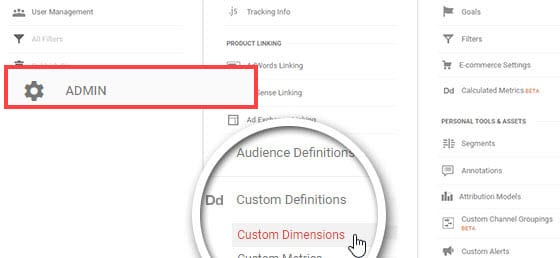 You'll see a table where you can click + New Custom Dimension.

Now in the Name field, enter Author and click Create. You don't have to change any other settings. Then, click Done.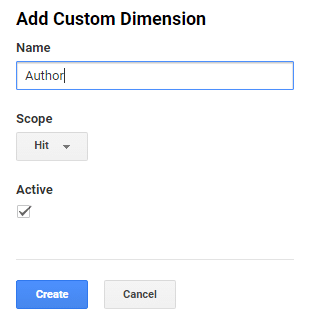 Step 5: Match Custom Dimensions IDs
The final step is to check that the index number in Google Analytics corresponds with the Custom Dimension ID in the MonsterInsights settings.
First, check the index number for Author in Google Analytics.

Next, go back to your Custom Dimensions settings in MonsterInsights. Make sure the Custom Dimension ID corresponds to the index number in Google Analytics. If not, type in the correct number and click Save Changes.

How to Track Author Using MonsterInsights
After saving the changes, you can now track author performance using the MonsterInsights custom dimension report. Unlike in Google Analytics, you don't have to create a manual report to search by an author with MonsterInsights
MonsterInsights automatically tracks different authors on your site and displays a report right inside your WordPress dashboard. To view the report, go to Reports and then select Dimensions.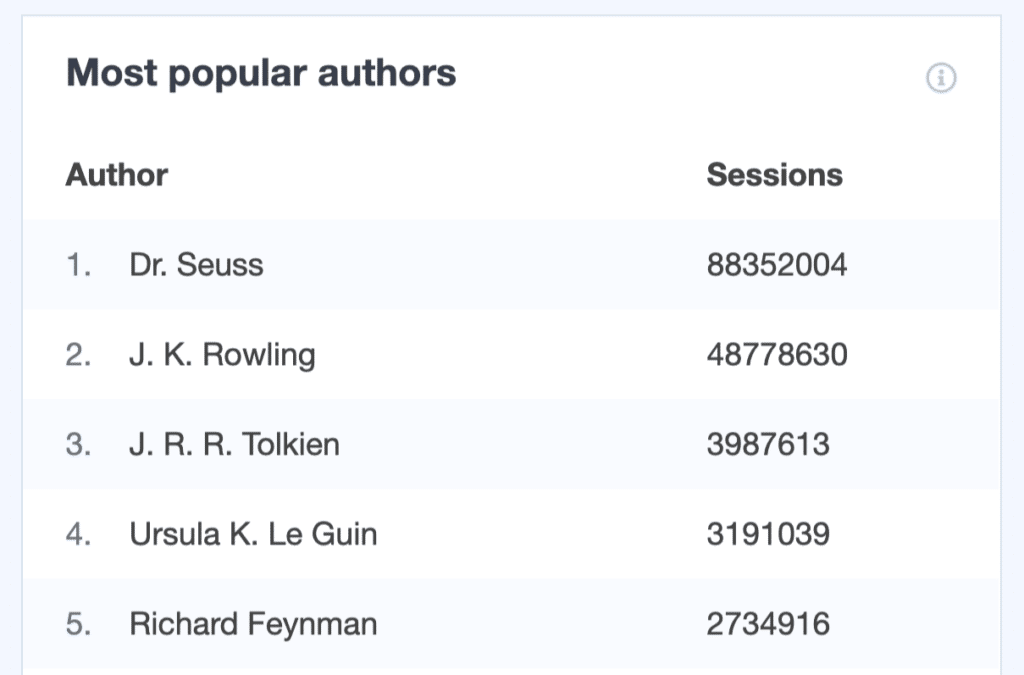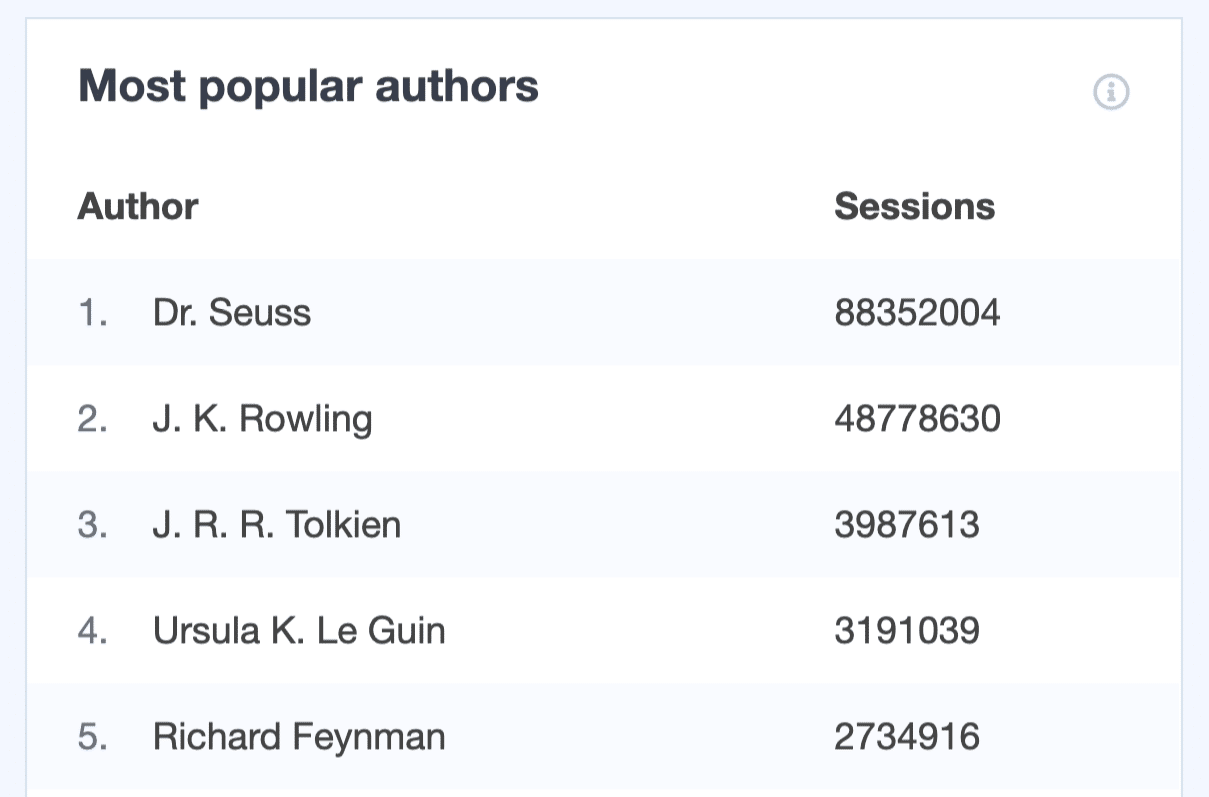 Now you can see your most popular authors that generate the most traffic on your site. Using the data, you know which author to promote for which content on your website.
With that, let's take a look at how you can track authors in Google Analytics.
How to Search by Author in Google Analytics
To access the author tracking data and search by author, you'll have to create a custom report by navigating to Customization » Custom Reports in the left taskbar.
In the Report Content section, specify your preferred metric groups. In Dimension Drilldowns, add Author as your dimension. Then, click Save.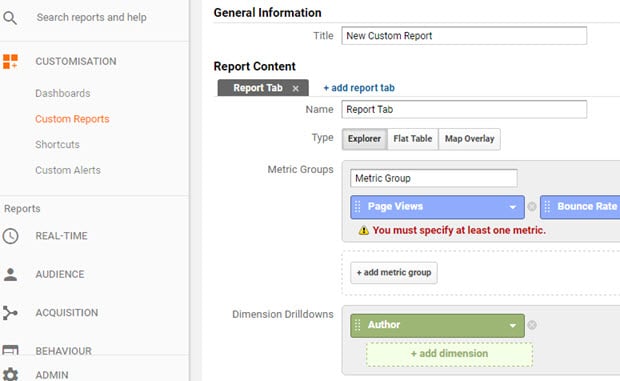 This will show you a custom traffic report with Author as the primary dimension.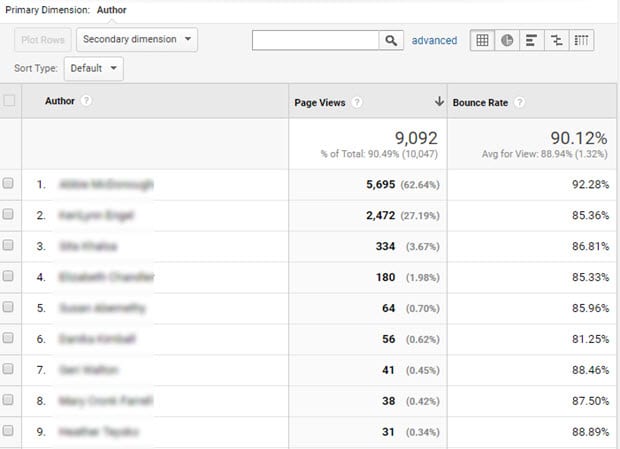 How to Customize Your Traffic Report With Author Tracking
You can customize your traffic report by choosing Author as your secondary dimension.
In Google Analytics, navigate to Behavior » Site Content » All Pages. Click on any primary dimension, say Page Title. Then, choose Author as the secondary dimension. This will add the author column to the report you are looking at.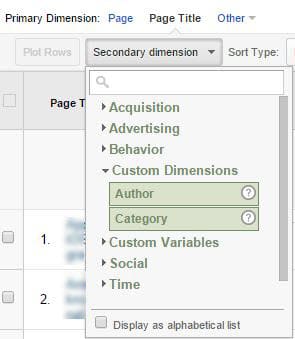 See the custom traffic report below.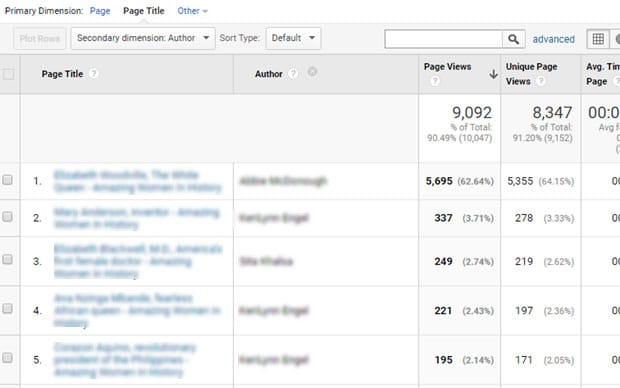 You can then sort the order and change the view of your traffic report. You can also export the data into a spreadsheet from Google Analytics.
That's it!
We hope this guide helped you to set up author tracking in Google Analytics.
If you enjoyed this article, you may also want to read our guide on creating a goal for tracking conversions in Google Analytics and how to track user engagement in WordPress.
For more tutorials on Google Analytics, don't forget to signup for our newsletter and follow us on Twitter and Facebook.