If you want your website to be optimized for SEO, using a focus keyword for your posts and pages is really important.
Using a focus keyword will ensure that your content is as optimized as possible and ready to bring in some great traffic. But what is a focus keyword, how do you use it, and how do you track it?
In this article, we'll go over:
Let's get started.
What Is a Focus Keyword?
A focus keyword is the word or phrase you want your content to rank highly for when people search in Google. When you write content focused on this phrase, your webpages show up higher in Google's search results, and you get more clicks and visits.
If you use WordPress to manage a website, you can add a focus keyword to your posts and pages to help you organize and manage your content. We'll look at a tool that does this later in this article.

Now, let's say you're writing an article about email marketing best practices. During your keyword research, you find this list of potential focus keyphrases:
email marketing best practices – search volume 1,000
email best practices –  volume 720
email marketing best practices 2021 – volume 140
email marketing newsletter best practices – volume 70
Based on your research, you decide that "email marketing best practices" will be your focus keyword, because it has the potential to bring in the most traffic. That search term is used by more people than all the other keyword variations combined.
You might consider using the remaining keyphrases in your article as secondary keywords, however. Although you should generally use your focus keyword the most, using related words also helps your content rank higher in search engines.
The Importance of Focus Keywords for SEO
Search Engine Optimization (SEO) is incredibly important to your website because it's one of the best ways to acquire traffic. If you rank in Google search for your focus keywords, you'll get organic traffic to your website when searchers click your links.
If you want to rank a post or page for a certain keyphrase, you want your on-page SEO to be dialed in and very focused on that one topic. You'll have the best chance of ranking if your content is unique, informative, and focused.
On-page SEO is a set of SEO strategies and tactics that you use to optimize your website pages and posts to get them ranking in search engines and bringing in more relevant traffic. In a nutshell, it's a guide to where and how often to use your focus keyphrase.
If you follow all on-page SEO best practices with your focus keyword or phrase, you'll have the best chance of ranking. Keep reading to find out how to easily check your on-page SEO for all your WordPress content.
For a full on-page SEO tutorial, check out On-page SEO in WordPress: Your Complete Guide.
Focus Keyword Example and Tutorial
The email marketing best practices example above is a good one, but let's go over each step of finding and using a focus keyword.
Let's say you're a SaaS company offering payroll software to small-to-mid-size businesses. As part of your content marketing, you decide to write an article about why time management at work is important.
How to Use a Focus Keyword in WordPress
Step 1: Keyword Research
First, you should do a little keyword research. We use Semrush, but there are a whole bunch of options out there for keyword research tools. Use whichever one you like, free or paid.
Here are our results from searching "time management at work:"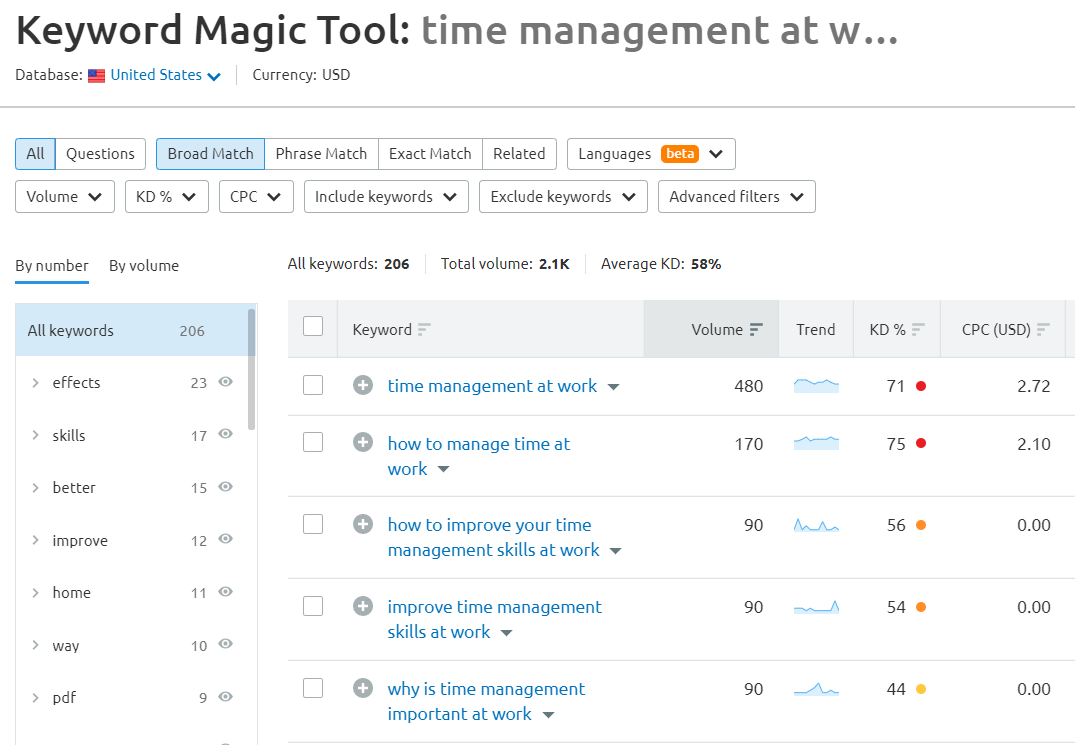 So, the best keyword options for the article are:
time management at work – volume 480
how to manage time at work – volume 170
how to improve your time management skills at work – volume 90
why is time management important at work – volume 90
Since "time management at work" is the most searched keyphrase, we're going to use that one.
For a full guide on keyword research, check out How to Do Keyword Research for SEO: Quick-Start Guide.
Step 2: Install All in One SEO
To make sure your WordPress page or post is as optimized as possible, the plugin we recommend is All in One SEO (AIOSEO).
Not only does it scan your content and provide optimization feedback, but it comes with some truly amazing features for optimizing your entire website.
All in One SEO is the best WordPress SEO plugin and toolkit. It makes creating an SEO-friendly site much simpler and more straightforward for each site owner. Install AIOSEO to help improve your search rankings!
This plugin helps with:
On-page SEO
Rich snippets schema
And more
For the rest of this tutorial, we'll be using AIOSEO.
Step 3: Input Your Focus Keyphrase
Assuming you have your post or page content written, now you can enter your focus keyphrase. A keyphrase is simply a group of keywords that is similar to a query someone might type when searching Google.
If you have additional keyphrases that are related, add them in the next section, as well.
For instance, if our focus keyphrase is "time management at work," we could use "how to manage time at work" as an additional keyphrase.
Open your WordPress page editor and scroll down below the article text to the AIOSEO area. Go ahead and type in your Focus Keyphrase, and input any extra keyphrases in the Additional Keyphrases field.
Step 4: Make Suggested SEO Updates
Now, AIOSEO will make suggestions based on your focus keywords for how to improve your content and your optimization. You'll find these suggestions in the Focus Keyphrase box: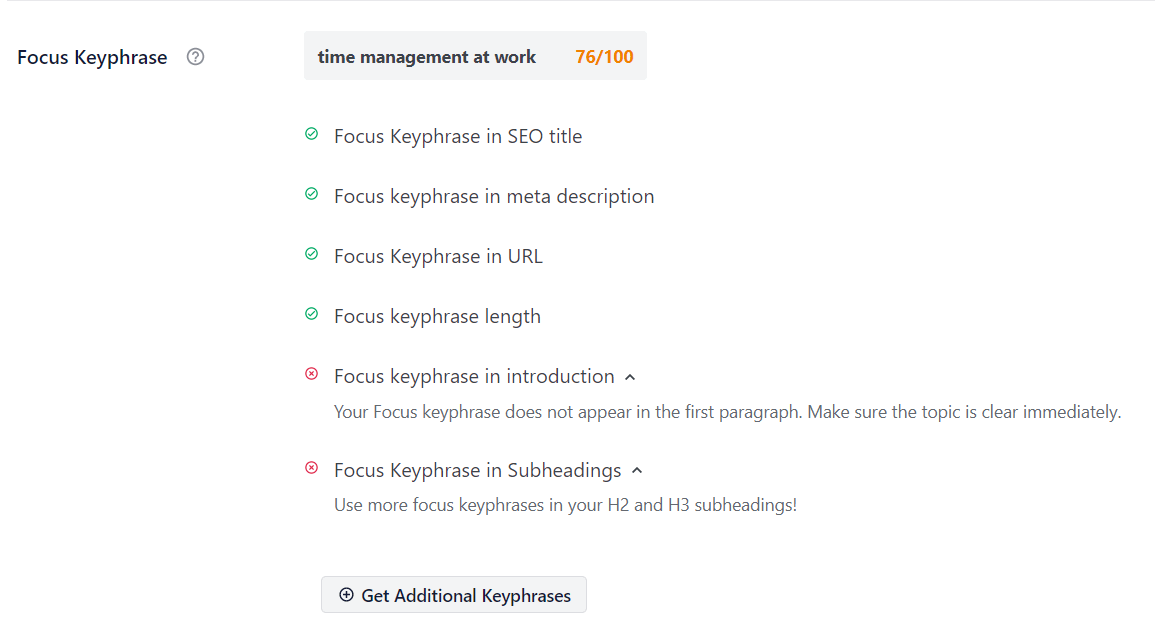 Then scroll a little further to find more suggestions in the Page Analysis box: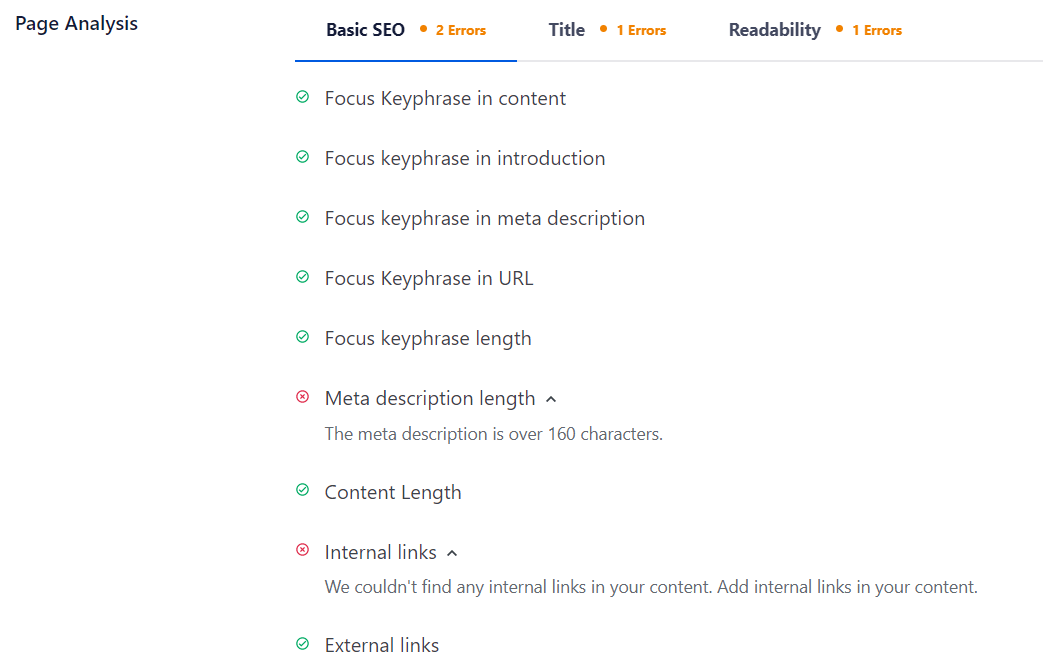 This on-page analysis has three tabs: Basic SEO, Title, and Readability. Make sure and check each one and try to address all the potential errors.
As you fix and improve your content based on AIOSEO's recommendations, you'll see your TruSEO Score grow. This gives you a quick way to measure your success!
That's it! That's how you use focus keywords to analyze and optimize your content.
How to Track Focus Keyphrases in Google Analytics
Now that you know how to find and use focus keywords and keyphrases in your content, you can go a step further by tracking keyword performance in Google Analytics.
To get AIOSEO focus keyphrase data into Google Analytics, you can use the MonsterInsights plugin.
MonsterInsights is the best Google Analytics plugin for WordPress. It allows you to easily connect your WordPress site with Google Analytics, so you can view all the data that matters most right in your WordPress dashboard.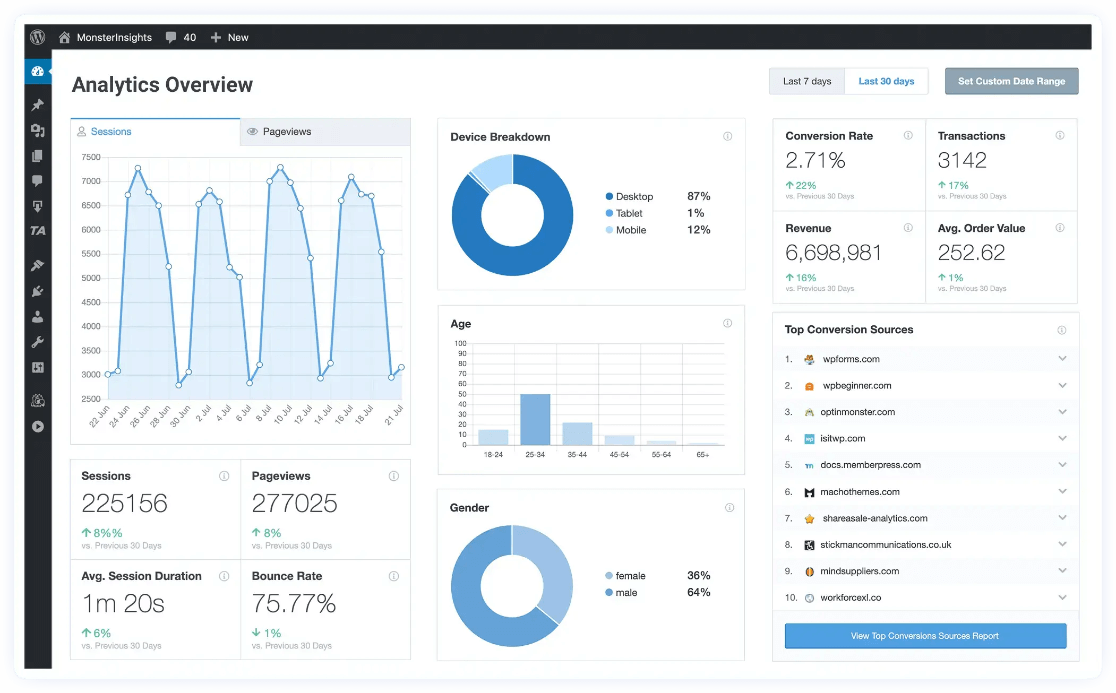 Plus, with the click of a button, you can set up sophisticated tracking features such as event tracking, eCommerce tracking, form tracking, custom dimension tracking, outbound link tracking, and more.
Speaking of custom dimensions, one of the dimensions you can track with Google Analytics and MonsterInsights is the All in One SEO Focus Keyphrase. MonsterInsights has an optional Dimensions addon that shows you traffic stats for your AIOSEO focus keywords.
In the Dimensions report, you'll be able to see:
Which focus keyphrases are bringing in the most traffic to your site
Which focus keyphrases aren't performing as well, so you can work on other ranking measures (like adding backlinks and sharing)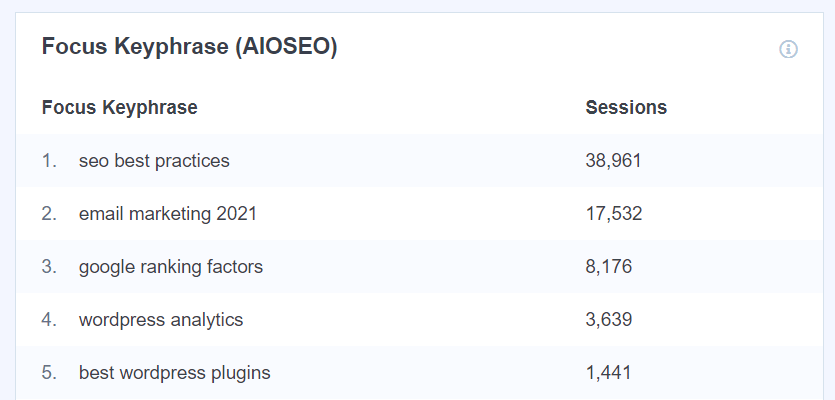 To set up Focus Keyphrase tracking, grab MonsterInsights at the Pro level. Then, follow our Guide to Custom Dimensions.
You should also know that MonsterInsights can pull your AIOSEO TruSEO Score into Google Analytics and WordPress. Check out On-page SEO in WordPress: Your Complete Guide to learn more about tracking your TruSEO Score.
That's it!
We hope you loved our guide to using focus keywords to improve your site's overall SEO.
If you're trying to boost your site's organic search results, you might also want to learn how to configure Google Search Console with WordPress.
And don't forget to follow us on Twitter, Facebook and YouTube for more helpful Google Analytics tips.