Looking to learn about organic search in Google Analytics? Welcome to our ultimate guide to Google Analytics organic search!
Organic search is such an important traffic channel for your website. When you can attract visitors through the organic search channel, you can bring in traffic that's ready to convert to leads or customers.
To really use that organic search traffic to your advantage, though, you've got to be able to find and understand the data.
So, in this guide, we'll go over everything you need to know about organic traffic in Google Analytics, including:
Where to find the organic traffic report, and how to read it
What Google Search Console is, and how to use it
More organic traffic tips and ideas
Let's dive in.
What is Organic Search in Google Analytics?
Organic search is visitors that find and visit your site via the unpaid listings on search engine results pages (SERPs). This can be from any search engine, like Google, Bing, or DuckDuckGo. You get organic traffic primarily by creating informative, helpful, well-written content that ranks in search engines.
Any clicks from the organic search results in the SERPs will be categorized as organic traffic. Traffic from paid ads, social media, and visitors that click on a link to your site from another website (like a directory site) is all traffic that would not be classified as organic.
Ranking your website in search engines to drive organic traffic is done using content and SEO.
Where is the Google Analytics Organic Search Report?
If you're using WordPress and MonsterInsights, you'll be able to see your organic traffic numbers right inside your WordPress dashboard. In the Traffic Overview report, you'll find an Organic Search channel: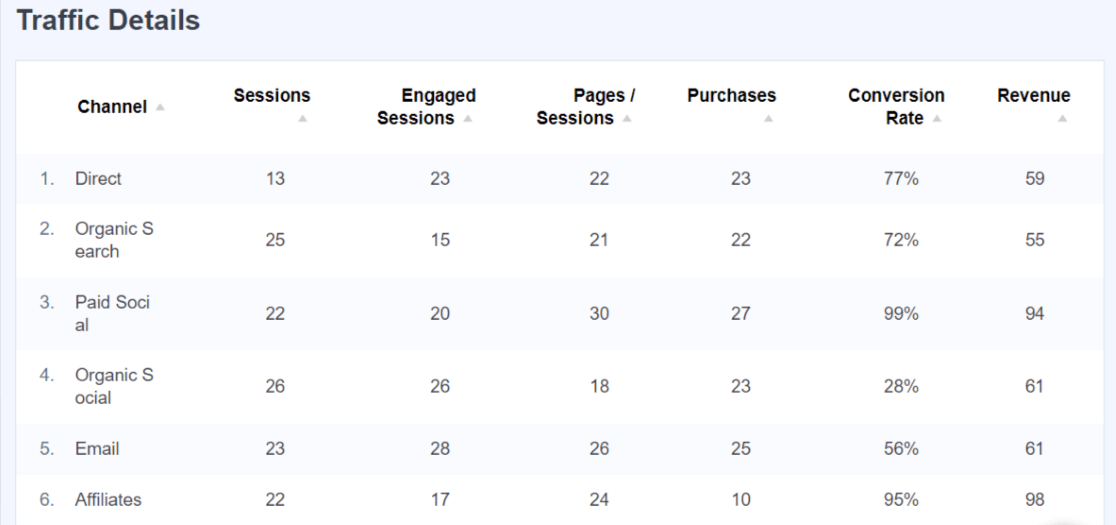 In the Source/Medium report, you'll find a breakdown of all your sources, including Google, Bing, and DuckDuckGo for organic search.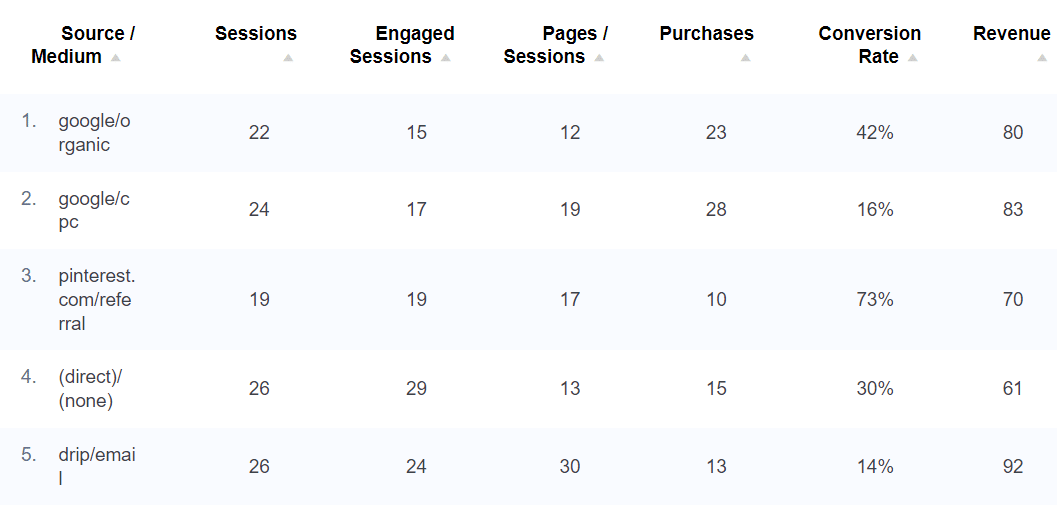 In Google Analytics 4, you can find your organic search report under Acquisition » Traffic Acquisition: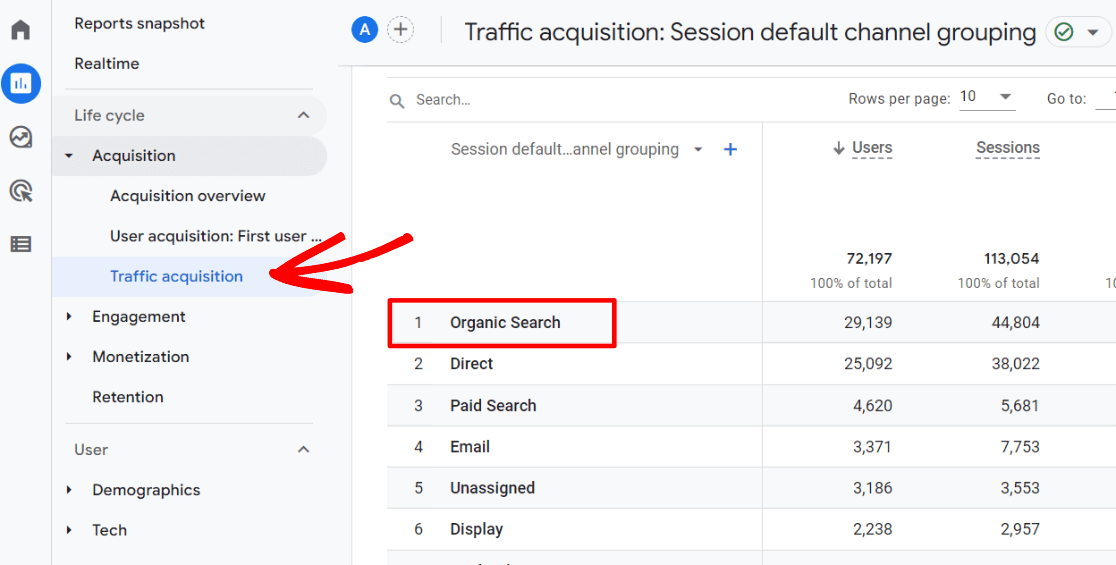 As you scroll over in your Traffic Acquisition report, you'll find these metrics for your Organic users:
Number of users
Number of sessions
Number of engaged sessions (sessions that lasted longer than 10 seconds, or had a conversion event, or had 2 or more screen or page views)
Average engagement time per session (how long users spent engaged with your site on average)
Engaged sessions per user
Events per session
Engagement rate (the percentage of engaged sessions)
Event count
Conversions
Total revenue
The Traffic Acquisition report is a great basic report to learn about your traffic from all the channels, beyond just Organic.
But, what is your organic traffic actually doing on your site? Let's take a look at a few ways to take a deeper look at your organic search traffic in Google Analytics.
The Traffic Acquisition Report
First, head back to your Traffic Acquisition report and scroll over to the Event count and Conversions columns. Notice how they each have a dropdown underneath:

You can use these dropdowns to see how many specific events or conversions your organic search traffic completed. For instance, you can use the Conversions dropdown to choose to see how many users from organic search submitted your forms (if you're tracking form submissions).
Organic Search Pages Report
Now you know how many organic search visitors you had, but what pages did they look at? This is a really important part of figuring out what those organic visitors did on your site!
To see what pages your organic search traffic visited in Google Analytics, head to Engagement » Pages and Screens: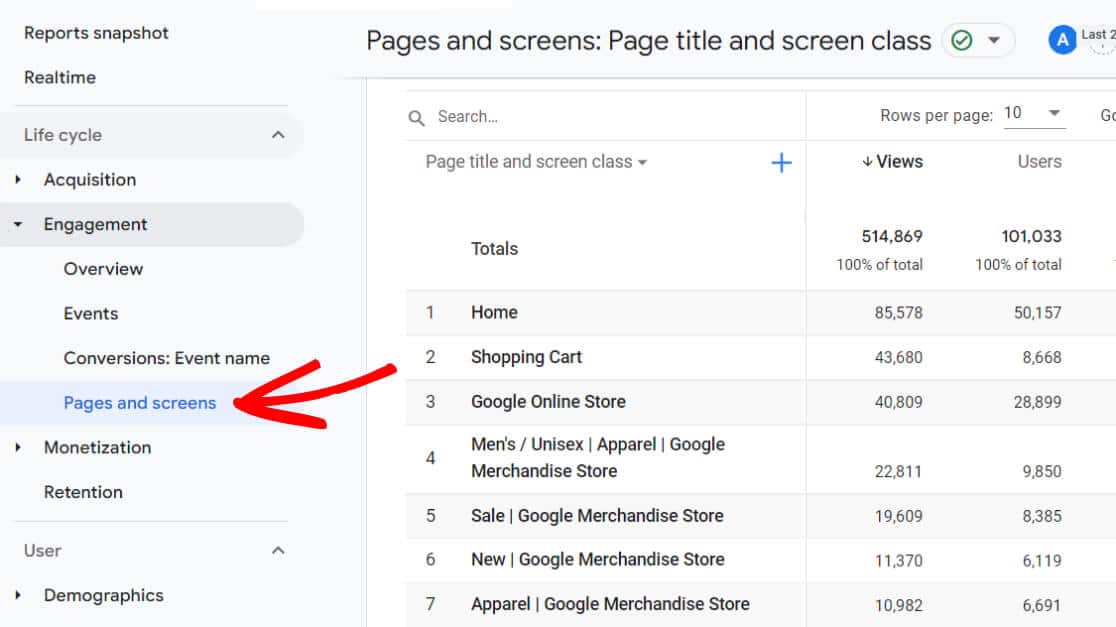 Now, you're looking at your overall pageviews for all the traffic to your site, not just organic. To modify the report so it's just showing the pages visited by your organic search traffic, click the blue plus sign:
Navigate to Traffic source and choose Session medium: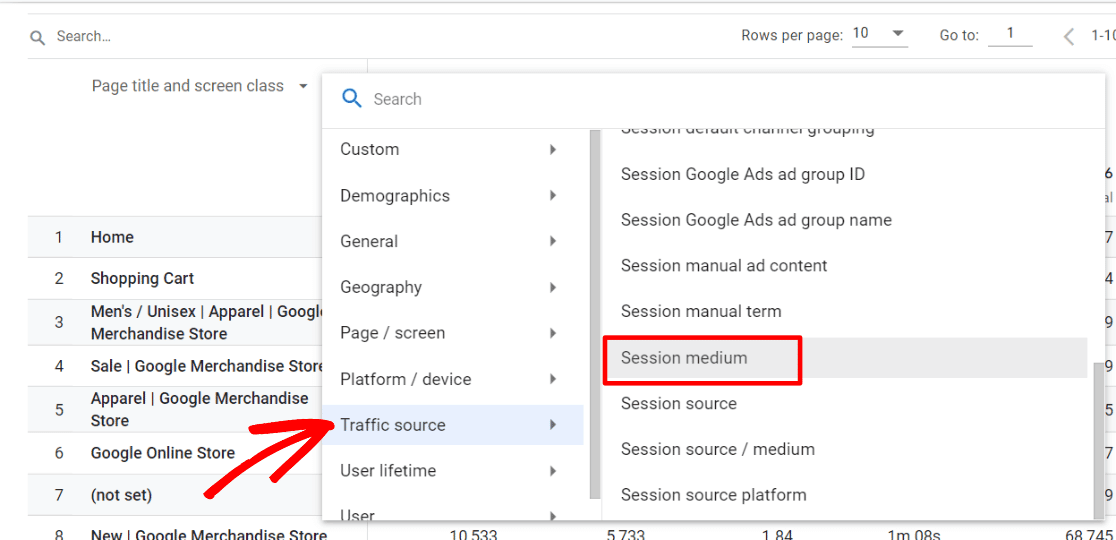 Then, type "organic" into the search bar and hit Enter: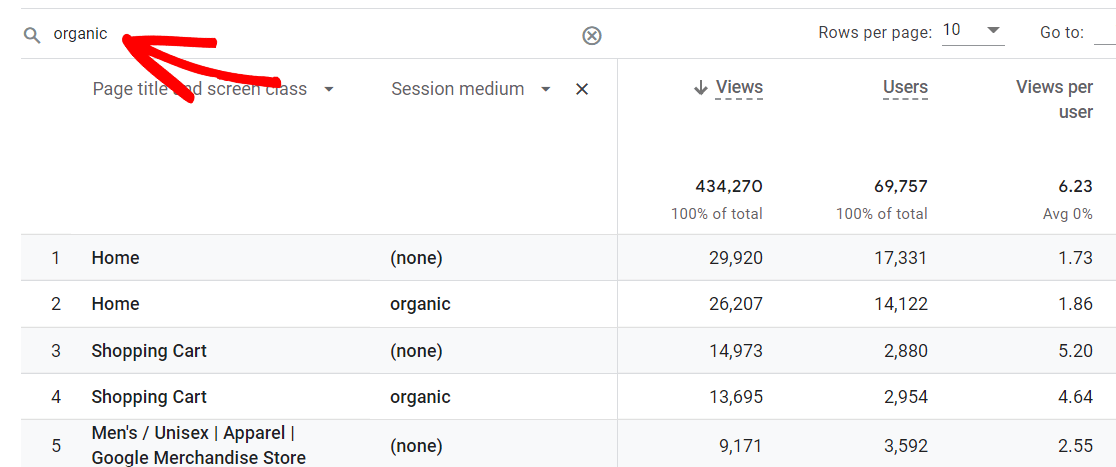 You'll now have data only about the pages your organic traffic visited: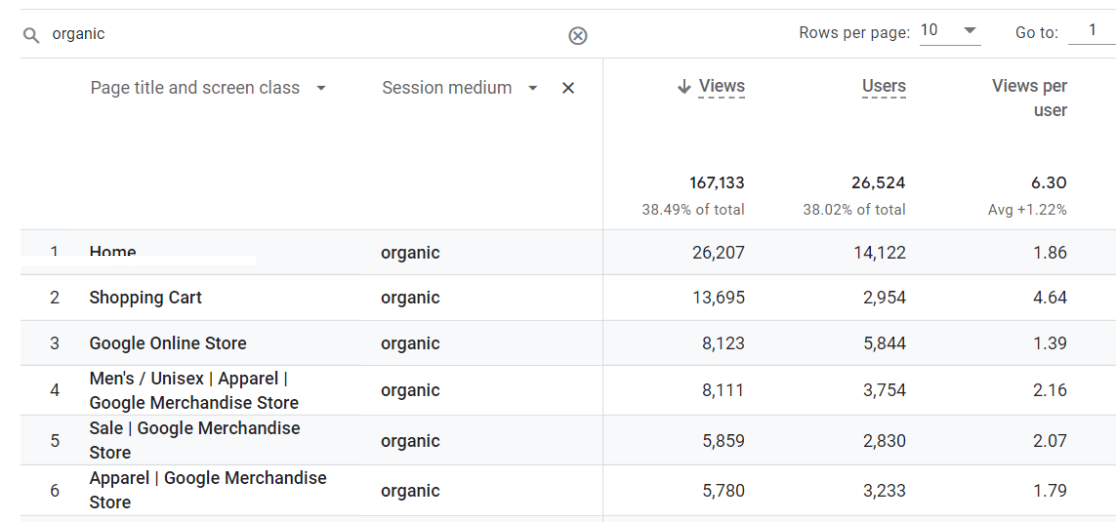 Want to go a step further and create a report that shows just your organic landing pages? Go back to your report and scroll over to the Event count column. Click the dropdown in that column and choose session_start: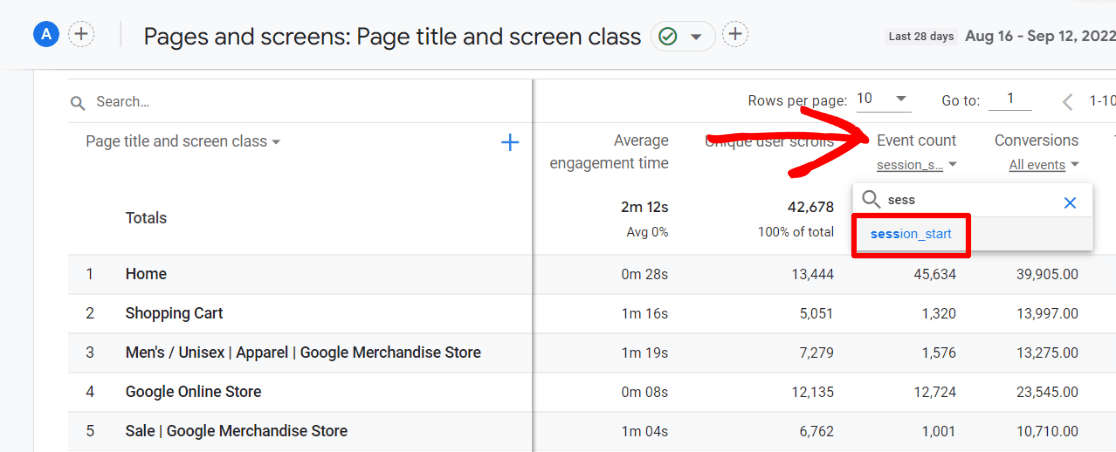 Then, click the Event count column to sort by session_start (landing page) events. Now you've got an organic landing pages report!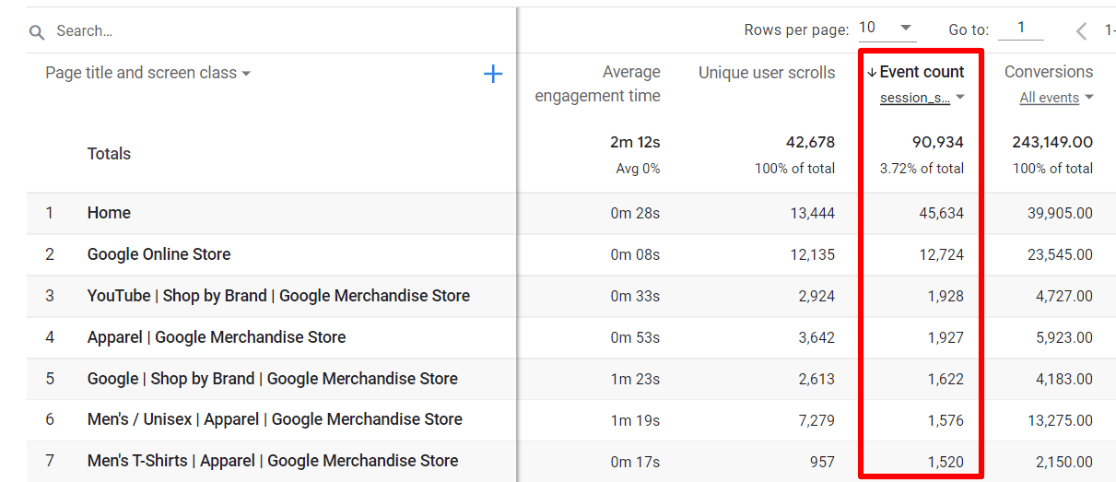 For more on landing page reports in Google Analytics, make sure to check out Google Analytics 4 Landing Pages: Reporting Guide and How to Track Landing Page Conversions with Google Analytics 4.
Another Way to See Organic Search Traffic: Google Search Console
Google Search Console is an awesome tool that you can use to get more information about your organic search traffic.
It's pretty easy to sign up for and set up, and shows you the organic keywords you're being found for in organic search, and the pages that are ranking.
Plus, beyond providing insight into your search traffic, Google Search Console can also alert you of problems with your site that could be detrimental to your search rankings.
To get set up with Search Console and connect it with Google Analytics (and connect it to WordPress if you've got a WordPress site), check out How to Add Google Search Console to WordPress and Analytics.
Once you're set up, you'll be able to access your organic search report by navigating to Performance » Search results: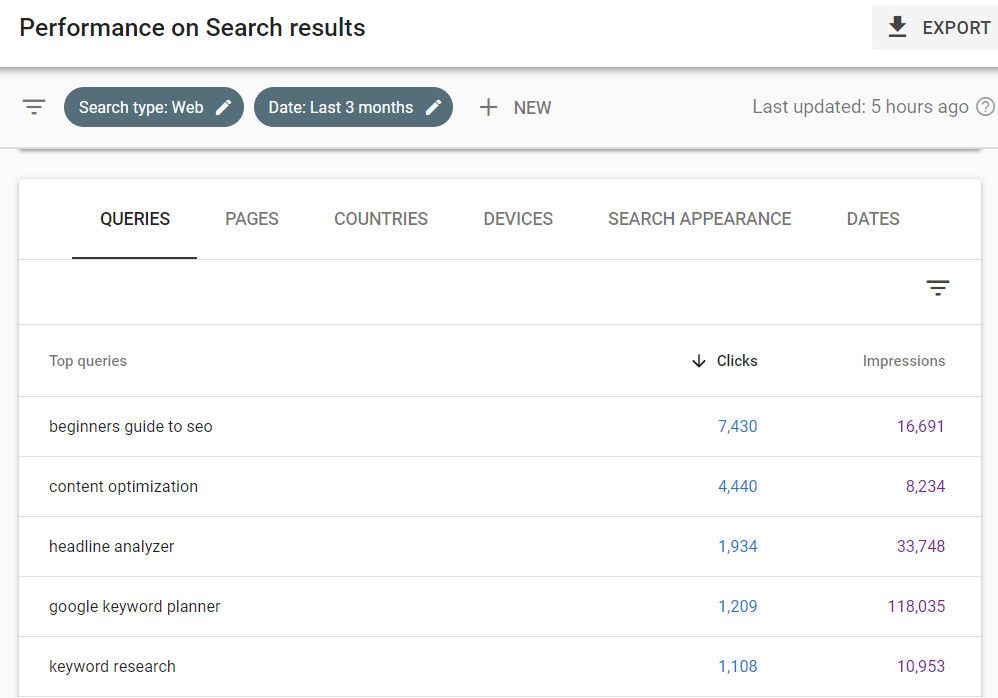 If you followed the tutorial to connect Search Console and Google Analytics, you can find the organic keywords you're ranking for by going to Search Console » Queries: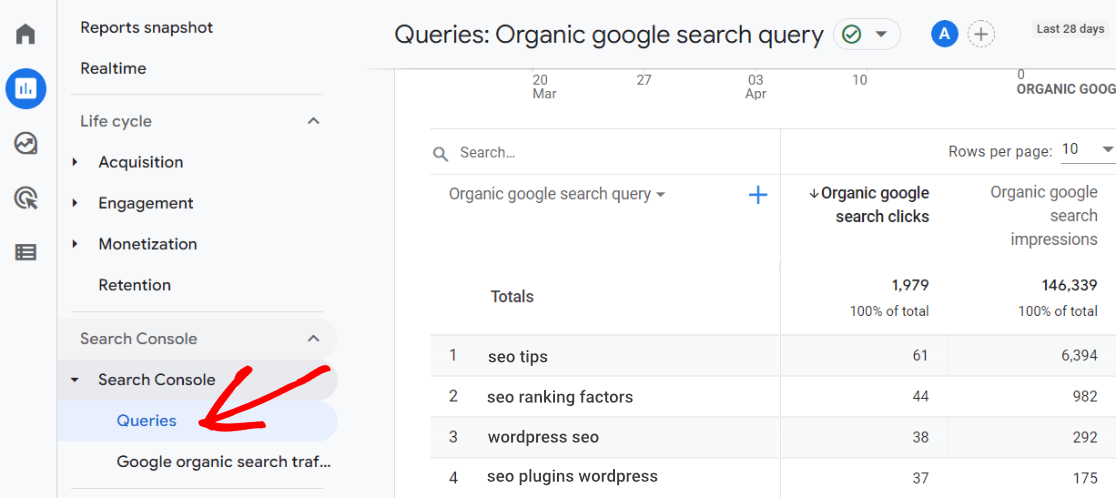 For more helpful tips on using Google Search Console, make sure to check out How to Use Google Search Console for SEO: Top 11 Hacks.
More Organic Search Tips
Now that you know how to find your organic search traffic in Google Analytics, there are a few things you can start doing to increase your organic search traffic.
First, installing Google Analytics correctly and using its features to your advantage is a huge and necessary step. If you're using WordPress, you'll want to check out MonsterInsights. It's the best Google Analytics plugin for WordPress, and can help you get Analytics installed correctly AND set up advanced tracking, like eCommerce and form conversions.
Second, SEO is incredibly important. To get more organic search traffic, content and SEO are key. If your site is built with WordPress, check out 10 WordPress SEO Optimization Tips to Grow Your Business and On-page SEO in WordPress: Your Complete Guide.
Once you've got the basics of SEO down, it's time to take things up a notch with Schema. Here are our picks for the best WordPress schema plugins.
That's it!
We hope you enjoyed our Google Analytics organic search guide. To find out more about how to set up your Google Analytics, check out MonsterInsights vs. Google Analytics – What's the Real Difference?.
Not using MonsterInsights yet? What are you waiting for?
And don't forget to follow us on Twitter, Facebook and YouTube for more helpful reviews, tutorials, and Google Analytics tips.