Are you thinking of using MonsterInsights but are not sure if it's safe to use? It's the best Google Analytics plugin for WordPress.
MonsterInsights makes it super simple to use Google Analytics and brings your reports inside your WordPress dashboard.
It's more than just a plugin to add Google Analytics to your website. You can set up advanced tracking and view reports about file downloads, eCommerce performance, form conversion, and more.
But for MonsterInsights to work seamlessly, you'll have to grant permissions like view and manage your Google Analytics data and Search Console data.
Because of these permissions, you may wonder: is MonsterInsights safe?
In this article, we'll look at different reasons that make MonsterInsights one of the most secure and trusted WordPress plugins. So, let's begin…
1. MonsterInsights Takes Your Privacy Seriously
One of the main principles of MonsterInsights is that it takes your privacy seriously. There are many companies that ask for unnecessary personal information such as your income level or gender.
That's not the case with MonsterInsights.
It clearly states in its privacy policy that MonsterInsights will never ask for personal information unless it's really needed. It also doesn't store any personal data of its users on its servers.
And if you're in the European Union, then MonsterInsights complies with GDPR. In fact, it's one of the top WordPress GDPR plugins and helps you make your site GDPR compliant in a few clicks through its EU Compliance addon.
Using the addon, you can automatically anonymize IP addresses on all Google Analytics hits, disable UserID tracking, disable author tracking, and more.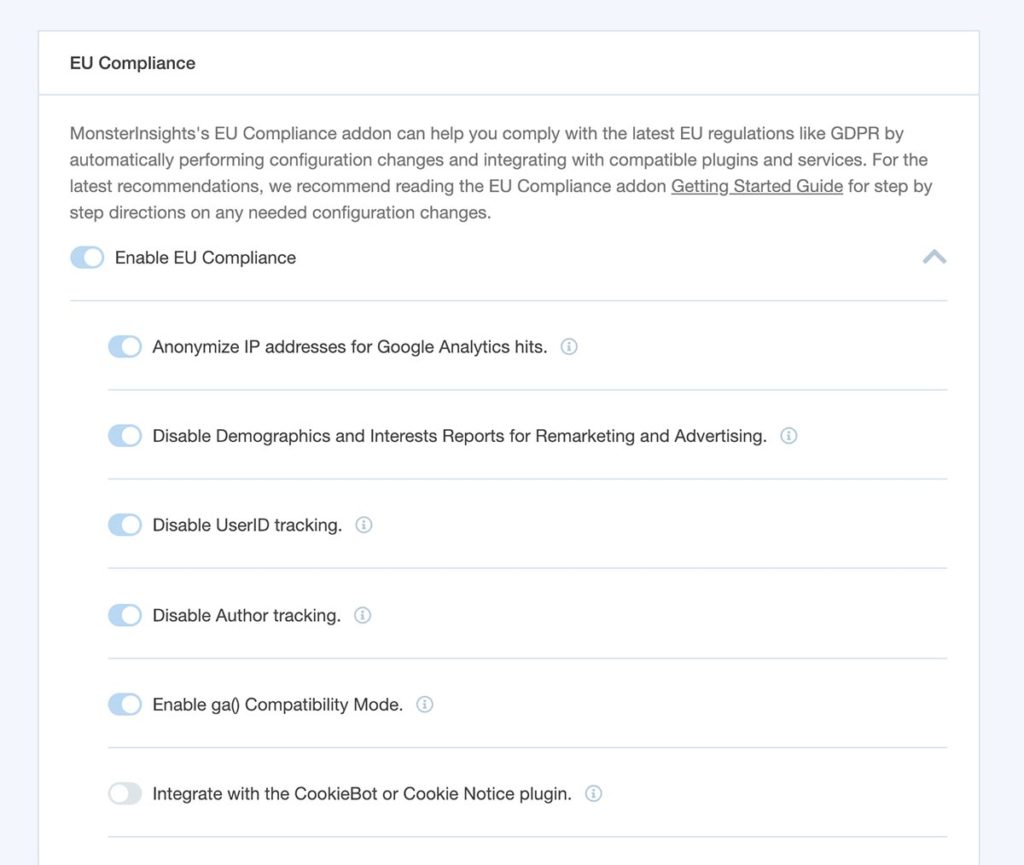 For more information, check out our detailed guide on GDPR and MonsterInsights.
2. MonsterInsights Will Never Sell Your Data
If you're worried that your personal information will fall into the wrong hands while using MonsterInsights, then you can rest assured, it will never rent or sell your data to third parties.
MonsterInsights protects its user's information and will not share it with unknown organizations or advertisers.
And if you're a registered user, you might be wondering, how will MonsterInsights use your email address?
If so, then you don't have to worry about your email address being sold to any third-party.
MonsterInsights only uses your email address to occasionally send you emails about its latest features, ask for feedback, help resolve an issue, answer your queries, and keep you updated.
With that, are you ready to see what makes MonsterInsights a trusted WordPress plugin?
3. A Trusted Plugin with Over 2 Million Active Installs
MonsterInsights is one of the most popular WordPress plugins and is trusted by millions of users all around the world.
It has 2,000,000+ active installs and some of the top companies like Microsoft, Bloomberg, PlayStation, and FedEx use MonsterInsights, which makes it the best Google Analytics plugin for WordPress.

And MonsterInsights is developed by the same team that runs other plugins that people like and trust, such as OptinMonster, WPForms, RafflePress, SeedProd, and TrustPulse.
It's also the same team that runs WPBeginner, which is the largest free WordPress resource and training site for beginners.
So, we know a thing or two about creating awesome plugins that are user-friendly and will help you grow your business with confidence.
4. Fast, Lightweight and Easy to Use WordPress Plugins
Besides that, MonsterInsights is one of the fastest and lightweight WordPress plugins in the industry.
If you test it on sites like PluginTest, you'll see that it has a negligible impact on your site's page speed.
But what makes MonsterInsights so fast?
Well, it's designed to use minimal resources and make sure that your users experience no delays when loading your WordPress website.
Part of this is made possible because MonsterInsights doesn't run any additional scripts (a list of commands to run a program or a process) other than the Google Analytics script to bring your data and show it in its reports.
As a result, you'll have no impact whatsoever on load time for an average WordPress website while using the plugin.
And since MosnterInsights is used by some of the largest brands in the world that are speed conscious, they wouldn't be using the plugin if it wasn't fast and lightweight.
But speed isn't the only factor that sets MonsterInsights apart from other plugins. It's a user-friendly WordPress plugin that makes using Google Analytics simple and brings all your important reports inside your dashboard.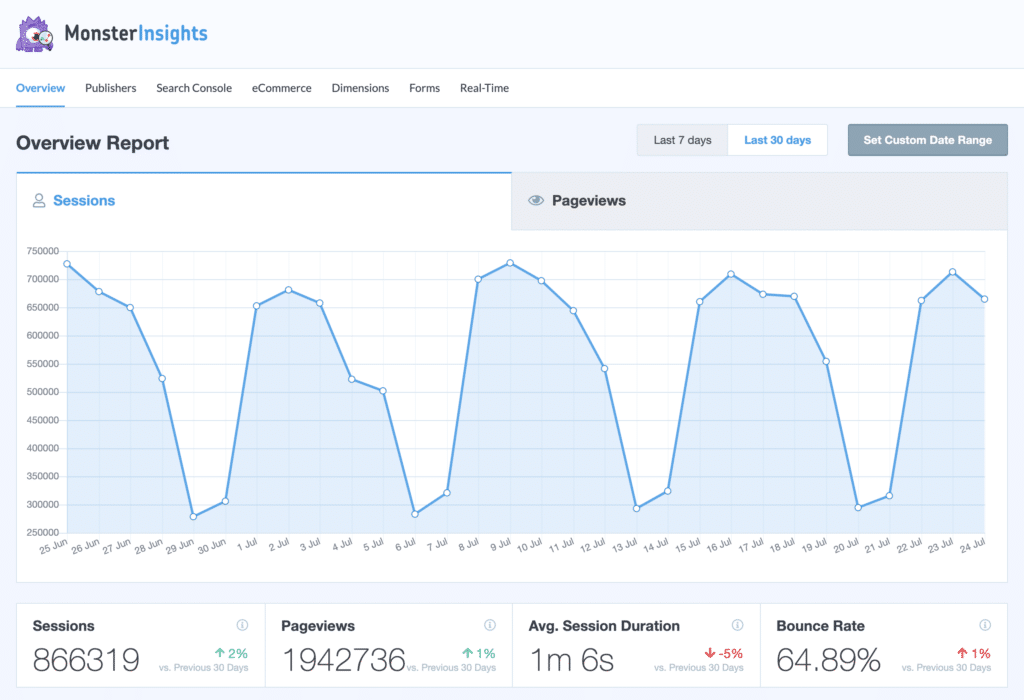 Using MonsterInsights, you can easily add Google Analytics to your WordPress website and set up advanced tracking with just a few clicks.
So, you don't have to be a coder to configure analytics or an expert to find data that matters to your business. MonsterInsights does that for you.
With the help of its reports, you can understand how your visitors use your website, which content they like, where they click, which products they buy, and lots more. You can then make data-backed decisions and easily double your traffic and conversions.
Check out our ultimate guide to MonsterInsights dashboard reports.
5. Receive Automatic Security Updates and Bug Fixes
Now, are you worried about plugins that aren't up to date and can leave your website's security at risk?
MonsterInsights ensures that its plugin always remains updated at all times. When you first install the plugin, the settings are set to receive updates automatically by default.
As a result, you get all the latest features, bug fixes, security updates, and more without having to manually update the plugin.
This way your site also remains protected and there are no vulnerabilities that others can exploit.
6. MonsterInsights Listens to User Needs and Delivers
Over time, MonsterInsights has listened to every request you, the users, want to see in the plugin and its addons. And based on your feedback, we came up with Project Delight.
The end goal of this project was simple, to make sure that the experience of using MonsterInsights is a delight for our users.
For instance, you now get enhanced file download tracking. MonsterInsights added more file extensions that it automatically tracks on your website.

And to improve the accuracy of your data, MonsterInsights doesn't track you if you're logged in to your website as an Administrator. It even offers a new frontend widget to let you know.

That's not the end of it. Here are more key improvements that are part of Project Delight releases:
New welcome screen for new users
New dashboard widget settings
Enhanced Yoast SEO compatibility
Improved eCommerce addon
AJAX form support
Excluding editors from tracking to improve data accuracy
Along with these, the MonsterInsights development team has continued to make more refinements to the plugin. So, you can expect more new features and improvements very soon.
That's it!
You can now use MonsterInsights without any worry or fear. Wait, haven't signed up yet? Click here to get started today!
We hope you liked our article on is MonsterInsights safe. You can also go through our ultimate guide to MonsterInsights dashboard reports and how to add Google Analytics to WordPress.
And don't forget to subscriber to our newsletter and follow us on Twitter and Facebook for more helpful MonsterInsights and Google Analytics guides.