Are you looking for a quick and simple way to run a giveaway on your WordPress website? There are different plugins to create a giveaway, but most of them are tricky for beginners as they require coding.
This is where a powerful yet beginner-friendly WordPress giveaway plugin, like RafflePress, comes in handy. They are designed to create gorgeous giveaways within minutes.
In this article, we'll show you how to do a giveaway on your WordPress website step-by-step.
Benefits of Doing a Giveaway on Your Website
Giveaways are an excellent way of attracting visitors, promoting your brand, and generating engagement on your website.
Let's breakdown each of these benefits to help you understand why you should be doing giveaways and contests:
1. High Engagement Means Increase in Web Traffic
Giveaway competitions are great at driving user engagement and increasing website traffic. You can reward points for sharing the competition on social media, refer a friend, and encouraging users to return to your website for more points.
2. Increase Your Social Media Followers
Through giveaways, you can increase your social media followers and award points to visitors for following you on Facebook, Twitter, YouTube, Instagram, and other platforms. They can also earn extra points for referring a friend and bringing in followers.
3. Grow Your Email List Faster
You can grow your email list quickly through giveaways by using it as contest entry methods. Visitors can receive additional points if they sign-up for a newsletter or submit their email addresses to receive extra entries.
4. Boost Sales by Generating Leads
Giveaways can help you promote your brand and get people to know about your business. As more visitors learn about the products and services you have to offer, the higher the opportunity to generate leads and skyrocket your sales.
The Top 3 WordPress Giveaway Plugins
As you can see, there are many benefits to running a giveaway. And with the right WordPress giveaway plugin, you can create viral contests in no time.
Here are our top plugins for WordPress for creating contests and giveaways:
RafflePress: It's the best WordPress giveaway plugin you can use and offers exciting features like easy to use interface, and an amazing drag and drop builder (we'll discuss RafflePress in more detail below).
Woorise: If you want a plugin that helps you select a random winner with a single click, then this is the tool for you.
Agorapluse: This is mainly a social media management tool and if you want to create a contest on Facebook, then this is the best plugin you can get your hands on.
With that, you know which WordPress giveaway plugins to use. Now let's find out what makes RafflePress the best from the rest.
Why Should You Use RafflePress to Do a Giveaway?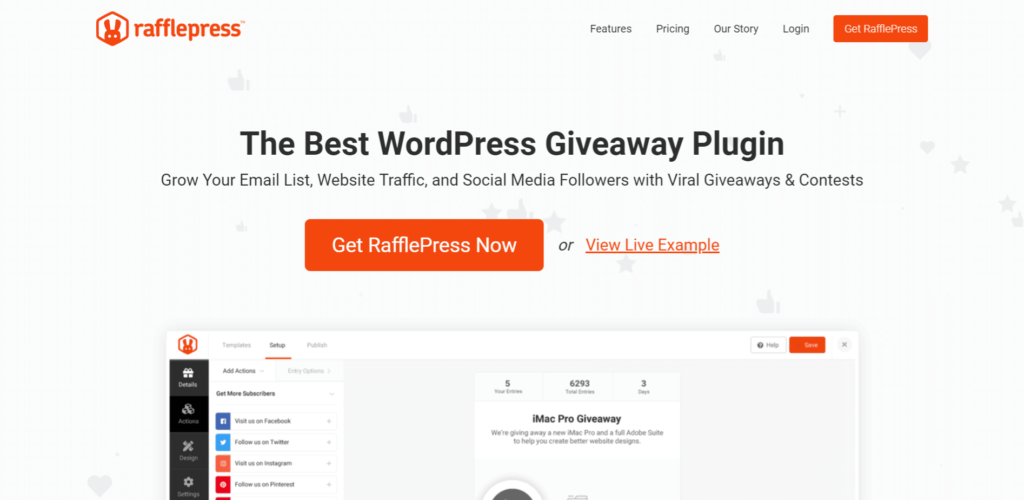 When you search for WordPress giveaway plugin, you will find many options. However, most of them are buggy, slow, and bloated. They are also not user-friendly and have a high learning curve getting used too.
RafflePress removes all these problems and helps you create a giveaway without any coding or technical knowledge. It's the simplest way you learn how to do a giveaway. Besides that, the plugin itself is lightweight and will not hamper your website's performance.
It offers a wide range of customization options, and with its drag and drop builder, anyone can create simple giveaways within minutes. RafflePress has built-in templates to get started and success tracking features to optimize your conversions.
And with social media, CRM, and email marketing service integrations, you can significantly boost your website's engagement.
Best of all, RafflePress has a 100% free version so anyone can run a successful giveaway no matter what your budget is.
Ready to create your own giveaway now? Let's get started…
How To Do a Giveaway with a WordPress Giveaway Plugin
With RafflePress, running a giveaway contest is quick and easy. You can create your giveaway in 8 simple steps.
Step 1: Install RafflePress WordPress Plugin
To add RafflePress, head over your WordPress dashboard and go to Plugins and select Add New.
Search for RafflePress WordPress giveaway plugin and click Install Now.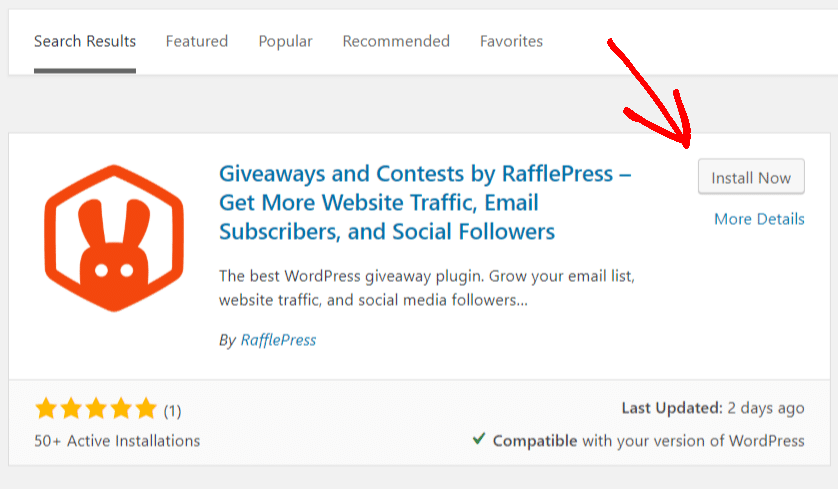 For this tutorial, we'll be using the free WordPress contest plugin. But you may want to check out the RafflePress Pro version, as it offers key features like email integrations, viral refer-a-friend entries, required entry actions, and more.
Once the setup is complete, you are ready to create your first giveaway.
Step 2: Create a Giveaway
Now access RafflePress from your WordPress site dashboard and click on Add New to add a giveaway contest.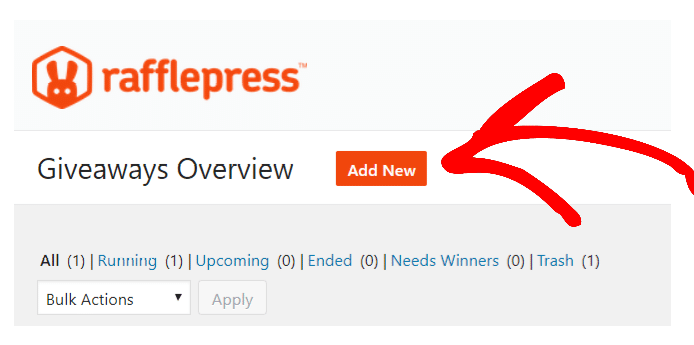 Step 3: Select a Template and Name Your Giveaway
In the next step for how to do a giveaway, you will have to give a name to your giveaway and select a template.
RafflePress offers a wide range of templates. You can go with a classic giveaway and customize it according to your requirements.
Also, you can select a tailor-made template for your contest, focusing on a specific goal. You can choose a template to grow your email list, refer-a-friend, pre-launch campaign, or increase followers on social platforms.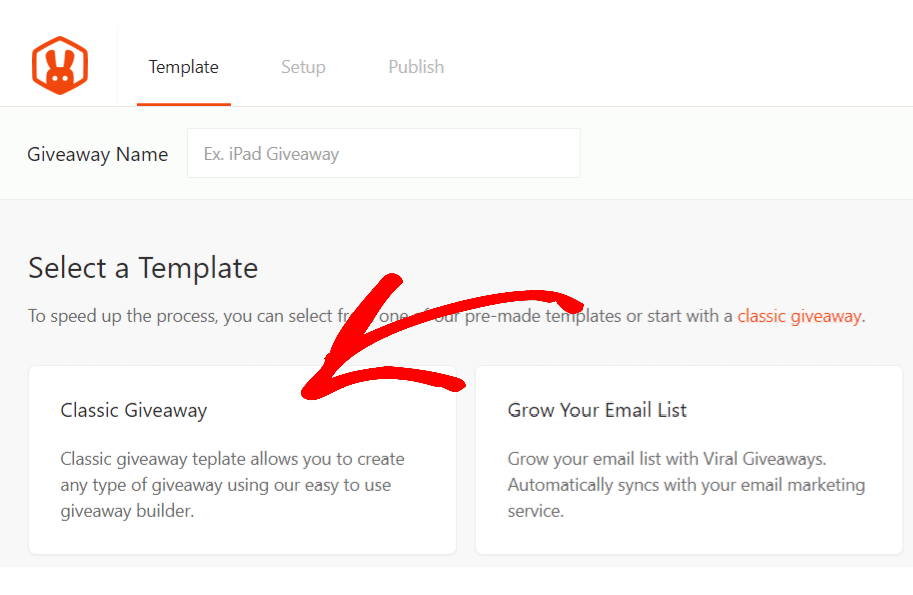 Step 4: Add Giveaway Details
Once you've selected a template, now enter the giveaway details. For our demonstration, we'll be using the Classic Giveaway template of RafflePress.
Add a title of your giveaway, like Win a FREE PS4, upload an image, and enter a short description. Remember to entice your visitors to get as many entries as you can.
You can also add multiple prizes by clicking on the + Add Another Prize option. Now, set the start and end dates along with the time. If you want, you can even select a timezone of your choice while setting the timings.
Step 5: Add Actions and Entry Options
RafflePress offers lots of actions to add to your giveaway competition. It's one of its incredible features. You add as many actions as you want to your contest using different customize options based on your goal.
For instance, if you want more email subscribers, you can add the action of Join an Email Newsletter. And if you want more traffic, you can add Visit a Page action.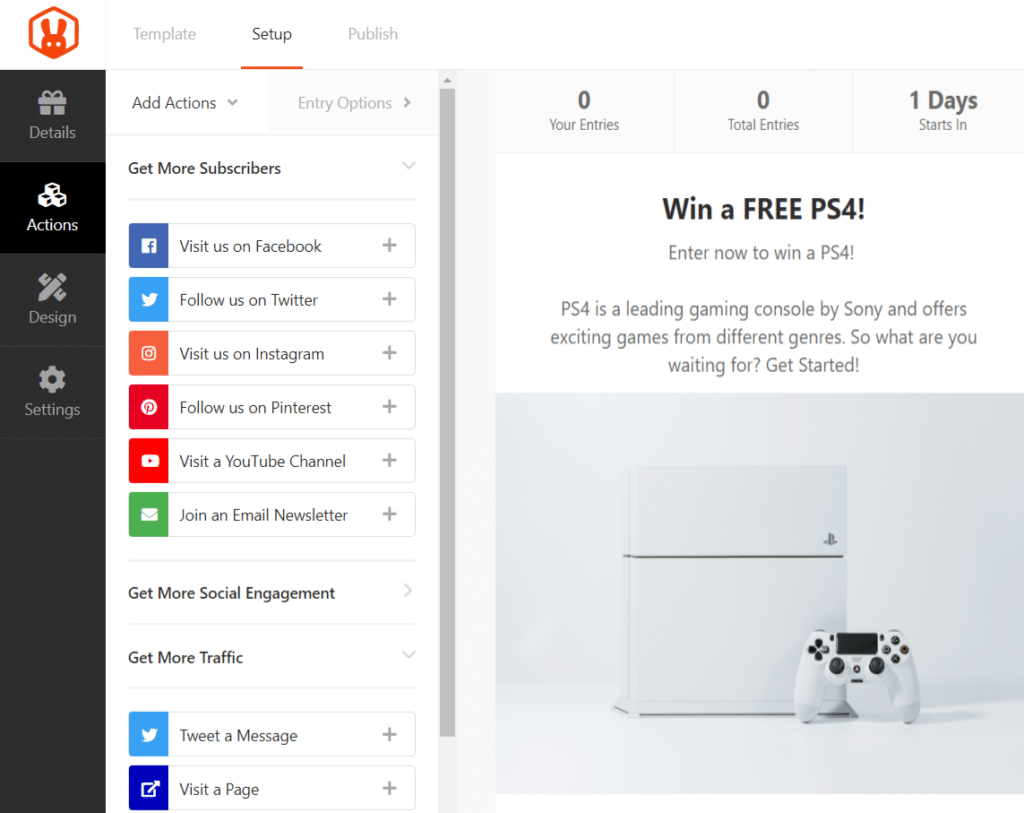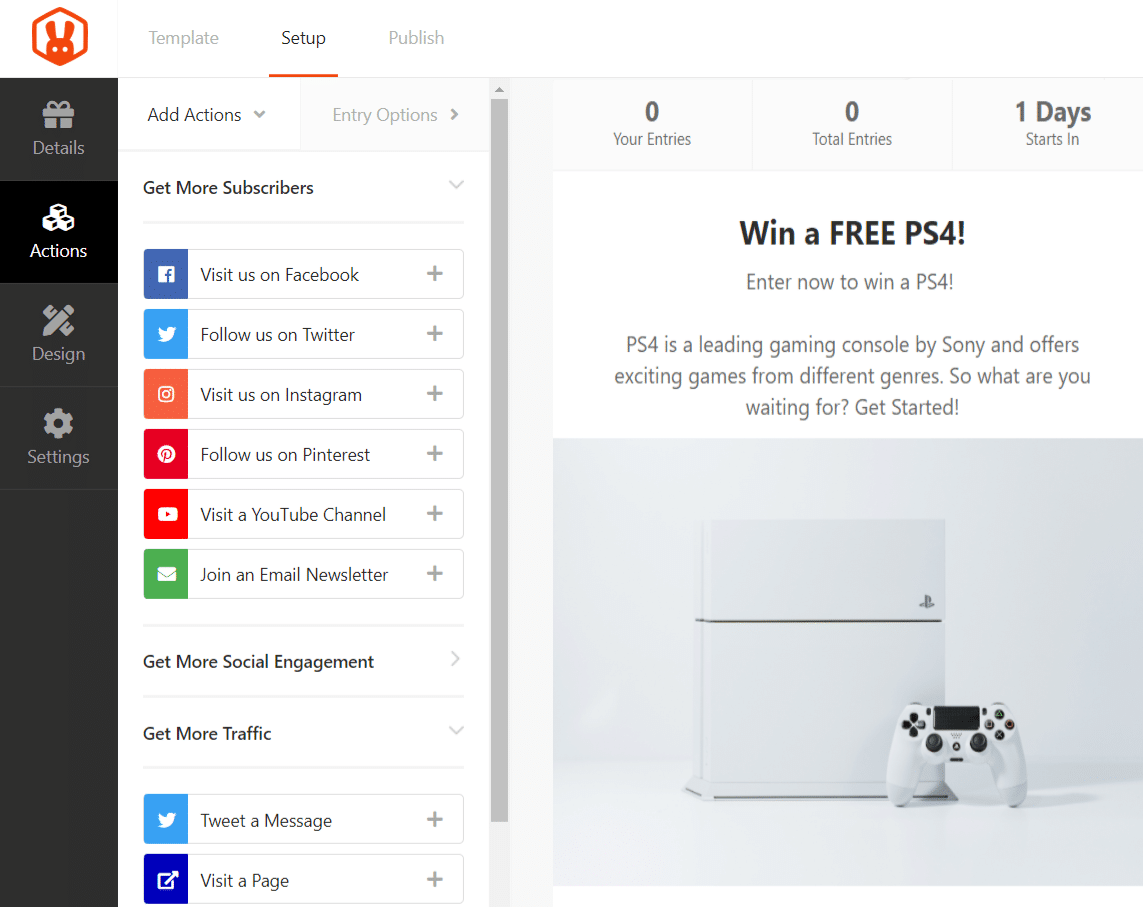 For each action, you can change the entry options.
You can choose the value of the points a visitor will earn, make an action mandatory, allow daily entries, and enter a URL of your website or any social media page, and lots more.
Step 6: Customize Your Giveaway Design
After setting the desired actions and entry options for your giveaway, RafflePress lets you change the design and customize it the way you want.
You change the layout of the giveaway, select various fonts, add color to buttons, modify the background by choosing a background color, or uploading an image. The giveaway plugin also allows you to enter custom CSS.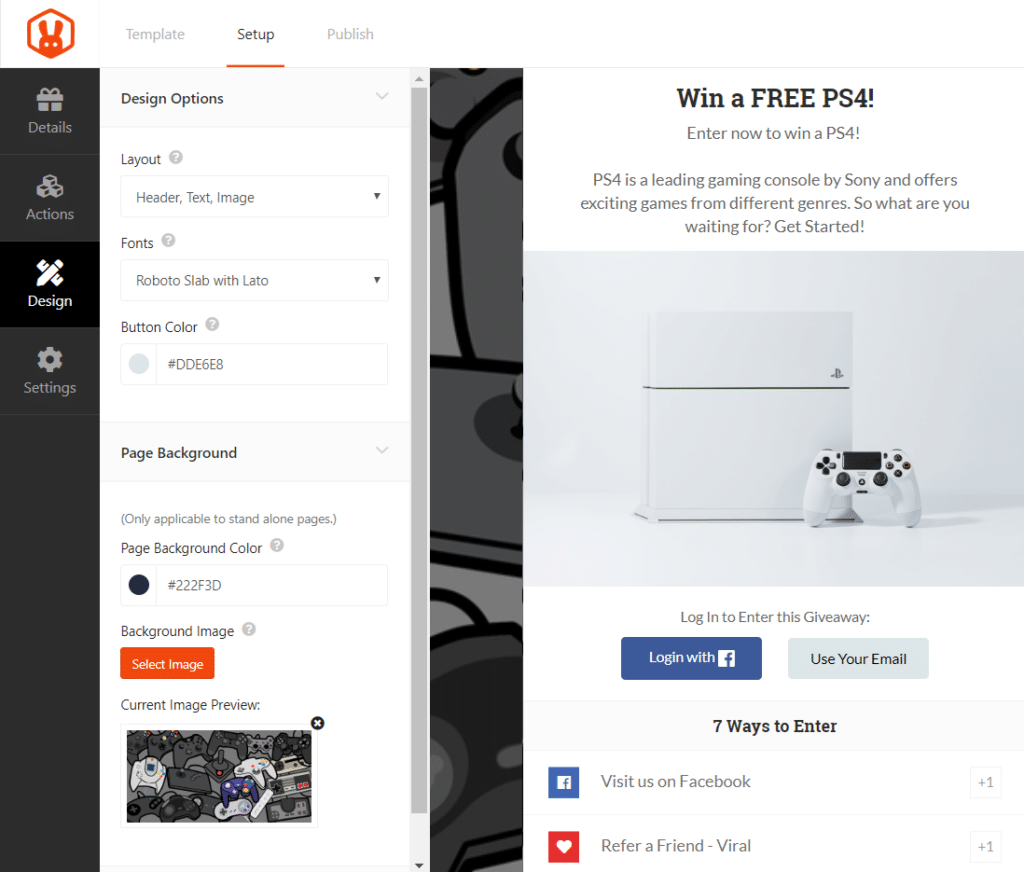 Once you've made all the changes, make sure to hit Save, located at the right top corner.
Step 7: Publish the Giveaway on Your WordPress Site
The last step is to publish your stunning giveaway on your website. To do this, RafflePress offers 3 options:
RafflePress WordPress Block – use the new WordPress block editor and embed the giveaway in your post or page
WordPress Shortcode – use the Classic WordPress editor and embed the giveaway using a shortcode
Giveaway Landing Page – create a standalone landing page for your giveaway
Let's take a look at each of the options.
RafflePress WordPress Block
To publish your giveaway using WordPress Block, you can edit an existing page or post or add a new one.
Once you're io the editing screen, click the Add block icon (small + symbol) on the top left corner, search RafflePress and select the giveaway plugin.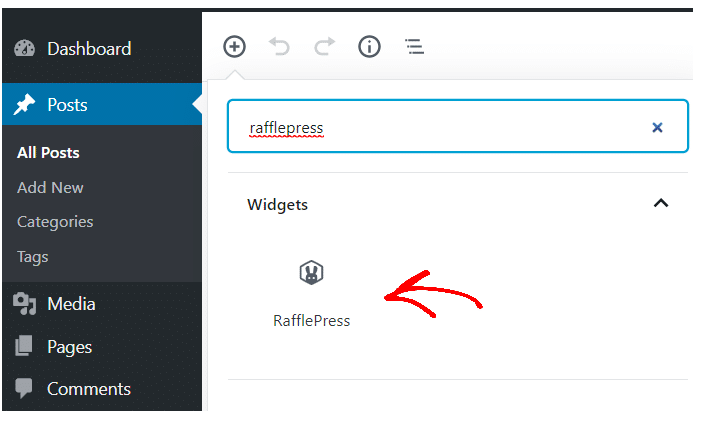 Next, select your new created giveaway contest from the dropdown menu. And that's it, your giveaway should appear in your post and you're ready to publish it.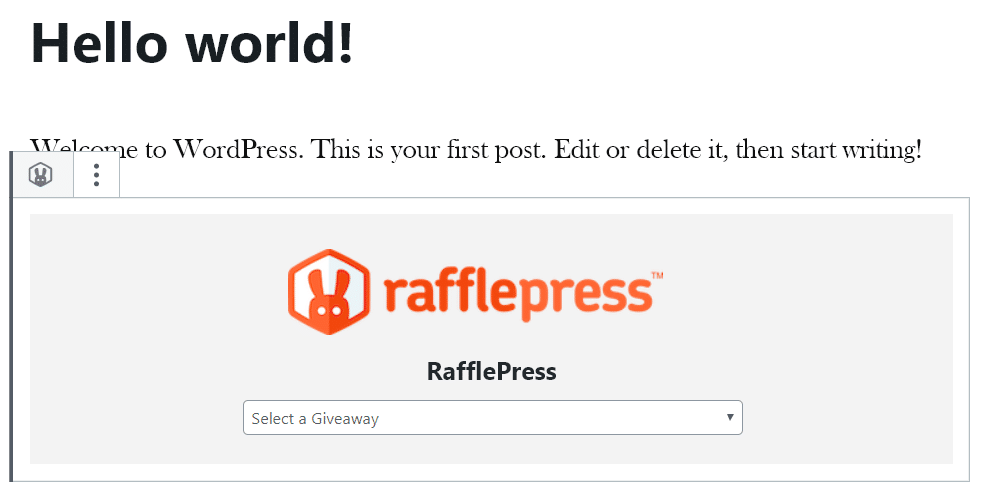 WordPress Shortcode
The second option provided by RafflePress for publishing your simple giveaway is through a shortcode.
All you have to do is copy and paste the shortcode anywhere you want the giveaway to appear on your website. You can enter the shortcode on any page, post, or sidebar.
To find the shortcode, go to the Publish tab from RafflePress and select the option of WordPress Shortcode.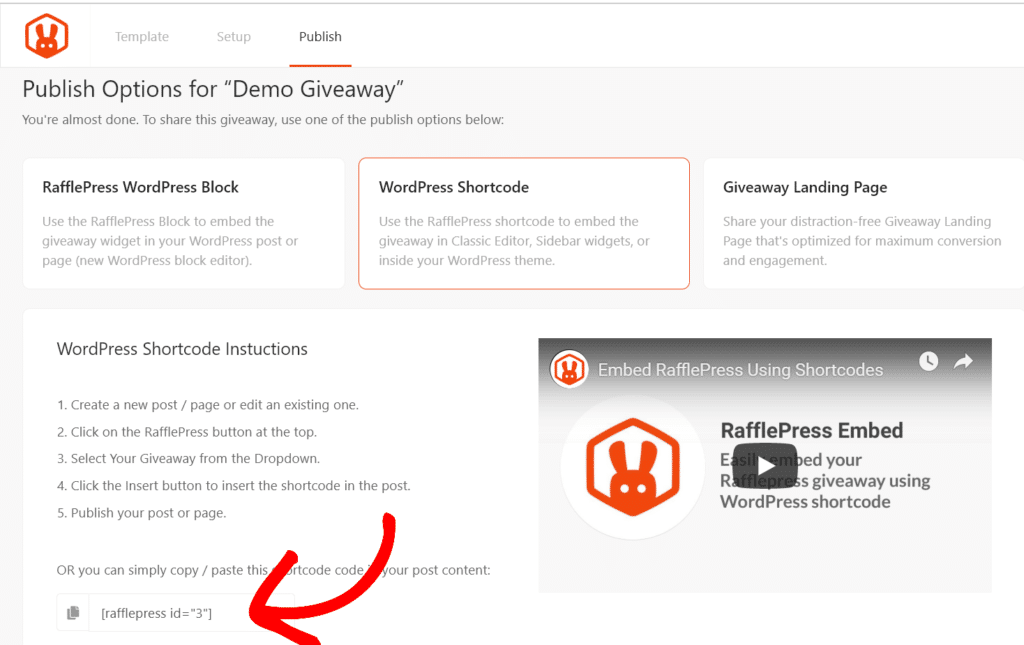 Giveaway Landing Page
The third option of publishing your giveaway is by creating a landing page. RafflePress gives you the option to automatically create a standalone landing page for your giveaway.
Simple go to the Publish tab from the WordPress giveaway plugin and select Giveaway Landing Page. Then click on the link highlighted on Click here to set up a Page Permalink for your Standalone Landing Page.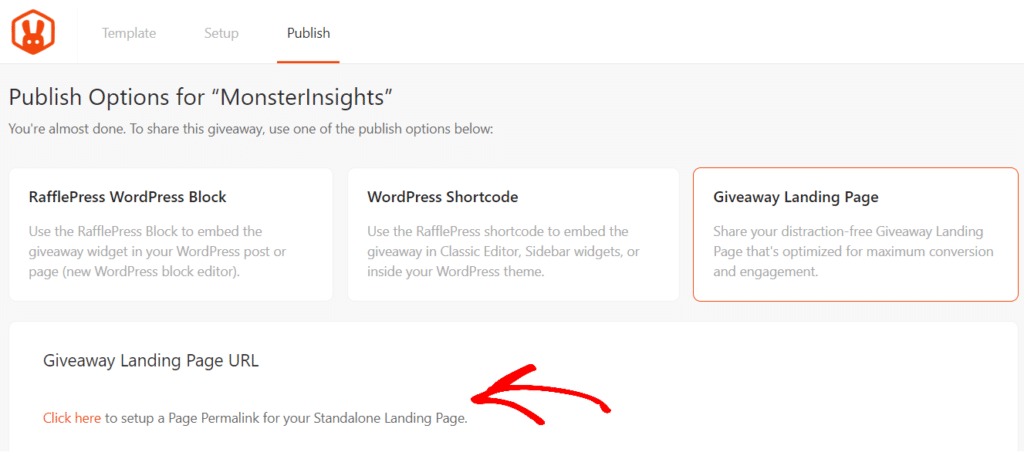 Next, you can use the customize options to add details about your giveaway landing page.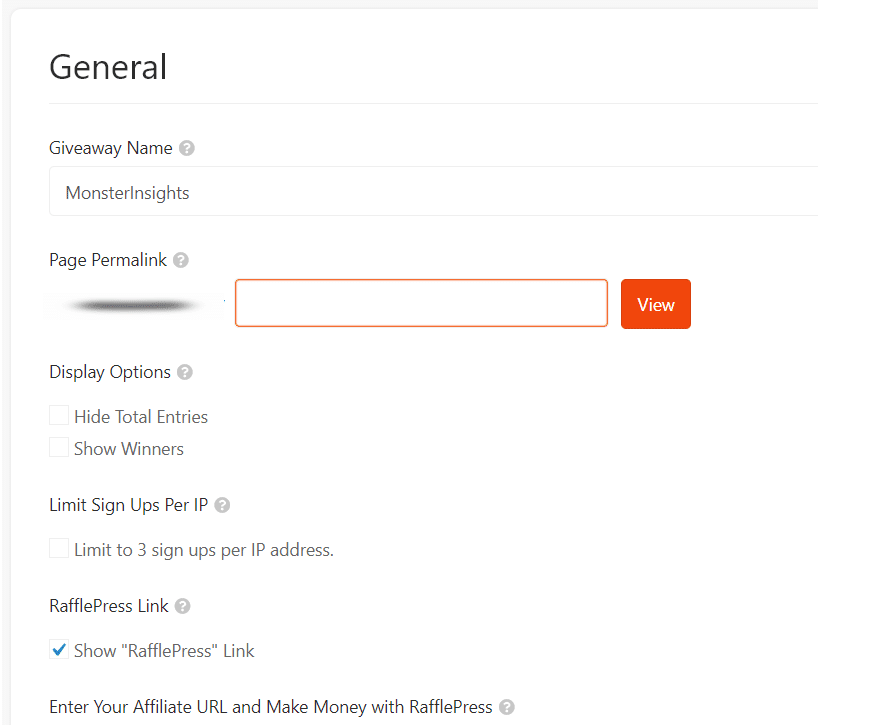 To see a live preview of your giveaway contest, click View, and you can see how your giveaway will look to your visitors.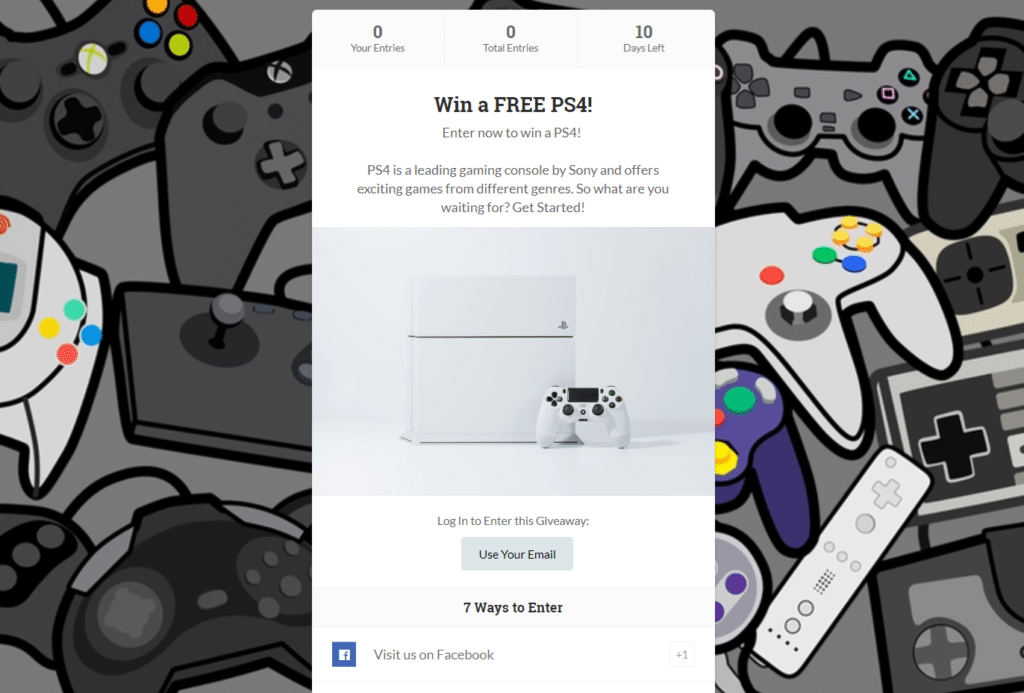 Step 8: Announce Giveaway Winners
The last step in running a giveaway contest is to announce the winners. Once your giveaway has ended, RafflePress will automatically stop taking entries.
To select giveaway winners, go to RafflePress then Giveaways page and select Need Winners.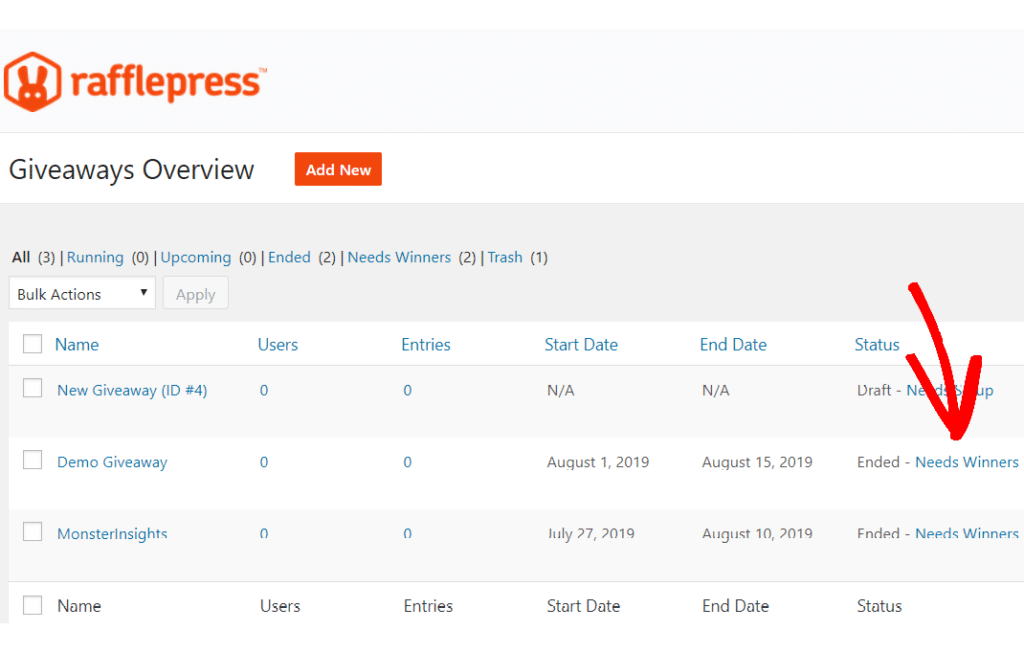 Next, you'll see the list of users that entered your competition. To pick a winner, click on Pick Winner and select how many winners do you want to pick. You can also choose from the participants that verified their emails.
RafflePress will then randomly select a winner for your giveaway and you then email the lucky participant about the result of your contest.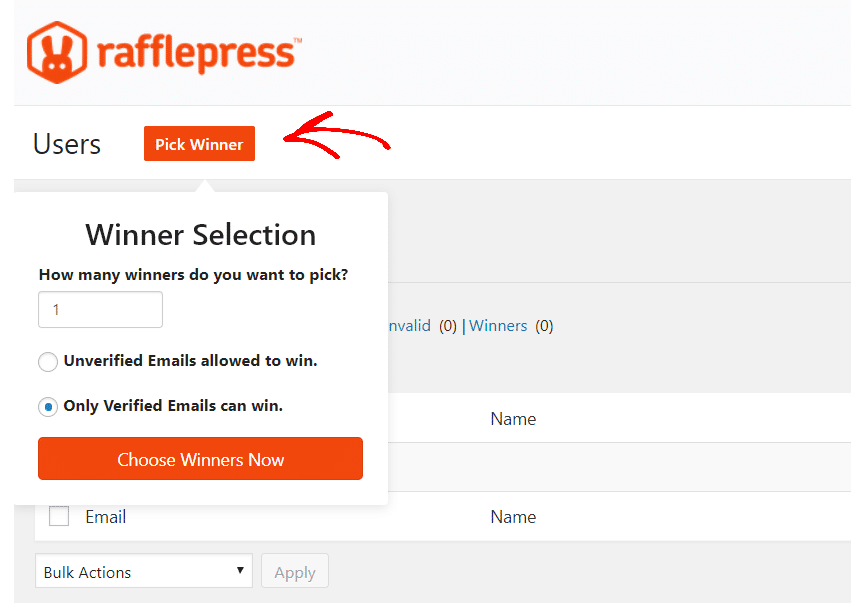 As you can see, creating a giveaway is as simple as ABC with RafflePress. With just a few clicks, you'll be able to run any contests on your website.
That's it!
We hope you liked our article on how to do a giveaway on your WordPress website.
With the RafflePress plugin, you can create giveaways instantly without any coding. Just install the WordPress raffle plugin and enjoy high user engagement on your website, gather leads, boost your email list, and expand your social following.
If you liked our article, you might want to read about how to measure social media ROI. And don't forget to follow us on Facebook and Twitter for useful tips about tracking links and Google Analytics tutorials.