Are you wondering how to check website traffic on your WordPress website? Do you want to set up WordPress visitor tracking to help grow your business?
When you know the number of people visiting your site, reading your content, and/or buying your products, you can start setting up strategies to GROW those numbers.
That's why we're going to show you the easiest way to set up WordPress visitor tracking in this article.
Set Up WordPress Visitor Tracking Today!
An Introduction to WordPress Visitor Tracking
When you start a business, you invest money, time, and expertise. You also set certain numbers in your mind as your business goals. Numbers are here, there, and everywhere.
Numbers actually serve as motivators to business owners. Tracking the number of website visitors is very important if you want to understand your traffic and grow it!
With WordPress visitor tracking, you can check how many people are coming to your site, who they are, and what they do on your site. With that data, you can gain insights into your users and start planning how you should best optimize your site to get more of them.
WordPress Visitor Tracking Video Tutorial
Go through our video tutorial to see how you can check the number of visitors to your site or read our step-by-step tutorial.
How to Track Website Traffic on Your WordPress Site
Website Analytics tools are most commonly used for checking the number of site visitors you receive. You can get data and metrics for your site's total audience numbers, their topics of interest, and behaviors on your site using a website analytics tool.
Not only that, but there are also multiple benefits of using website analytics. Using an analytics tool, you can get valuable insights to help grow your business.
While there are different website analytics tools on the market, MonsterInsights is the most user-friendly tool for beginners.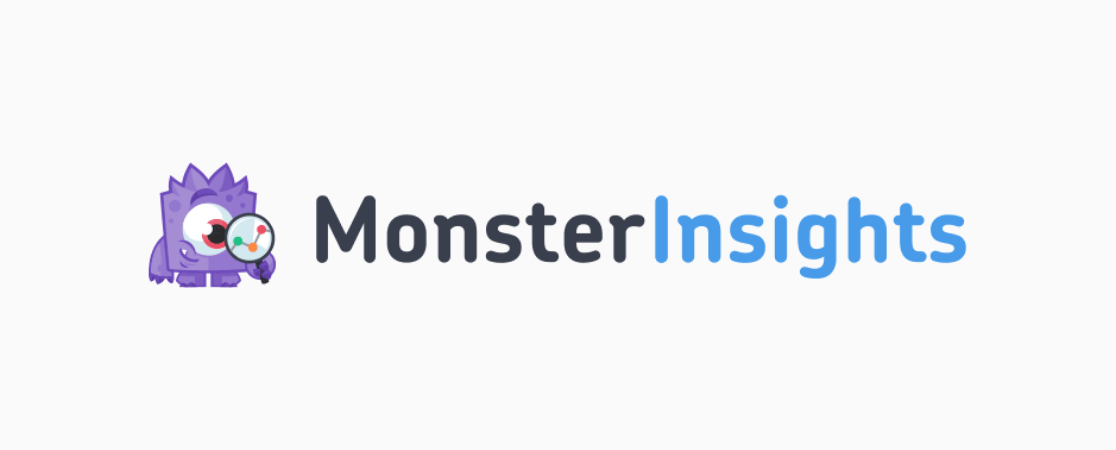 MonsterInsights helps you set up Google Analytics on your WordPress site easily, and lets you view your website's analytics in easy-to-understand reports right in your WordPress dashboard. You can use the plugin for WordPress visitor tracking with ease.
Grab a license to get tons of added features like form tracking, eCommerce tracking, video play tracking, and more, or get started with our free version for basic Google Analytics plus outbound link tracking, file download tracking, a built-in headline analyzer, and more.
Now, let's go ahead and see how to check website traffic in WordPress.
WordPress Visitor Tracking Tutorial
Follow these steps to get visitor tracking set up quickly and easily!
Step 1: Install MonsterInsights
Normally, you'd have to insert your Google Analytics tracking code into your WordPress website's code.
But with MonsterInsights, you don't need to worry about using any code.
Instead, you can get started by downloading MonsterInsights and installing it on your WordPress site. To do that, you'll need to log into your MonsterInsights account and download the plugin zip file.
Once you have the zip file, navigate to the site where you want to install MonsterInsights and go to the WordPress admin dashboard.
Then navigate to Plugins » Add New and click the Add New button at the top.

On the next screen, you can click the Choose File button to select the zip file you just downloaded. Then click the Install Now button to upload the file and install the plugin on your site.

Once the plugin has been uploaded and installed, you can click the Activate Plugin button to activate it on your site.

After the plugin is activated, the plugin setup wizard will open to guide you through the setup process step by step.
At first, you'll see the 'Welcome to MonsterInsights!' message and options to choose the category of your website. There are 3 options: Business website, Publisher (Blog), and eCommerce.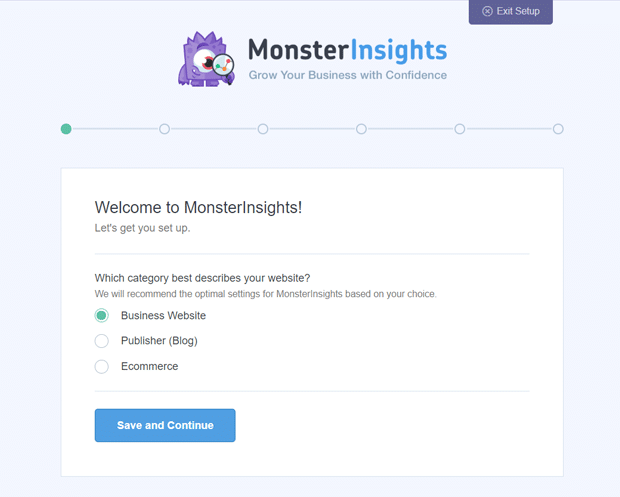 Select a category that best describes your website, and then click 'Save and Continue' button.
If you want to skip the setup wizard, for now, you can click 'Exit Setup' button at the top.
In the next screen, you'll need to connect the MonsterInsights plugin to your website by providing your license key.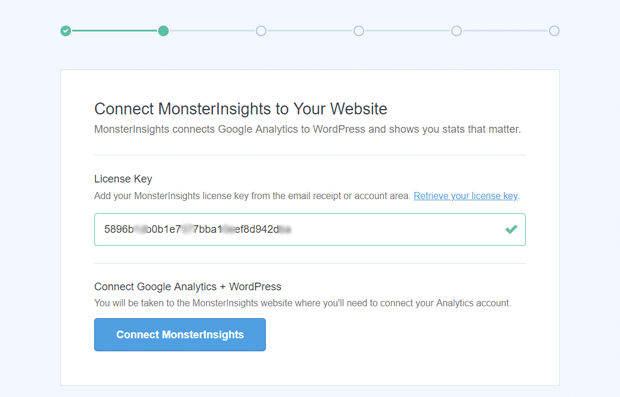 You can find your MonsterInsights license key in your email receipt or account area on the plugin website.
Step 2: Connect MonsterInsights to Google Analytics
Head back to your WordPress window and click on the Connect MonsterInsights button.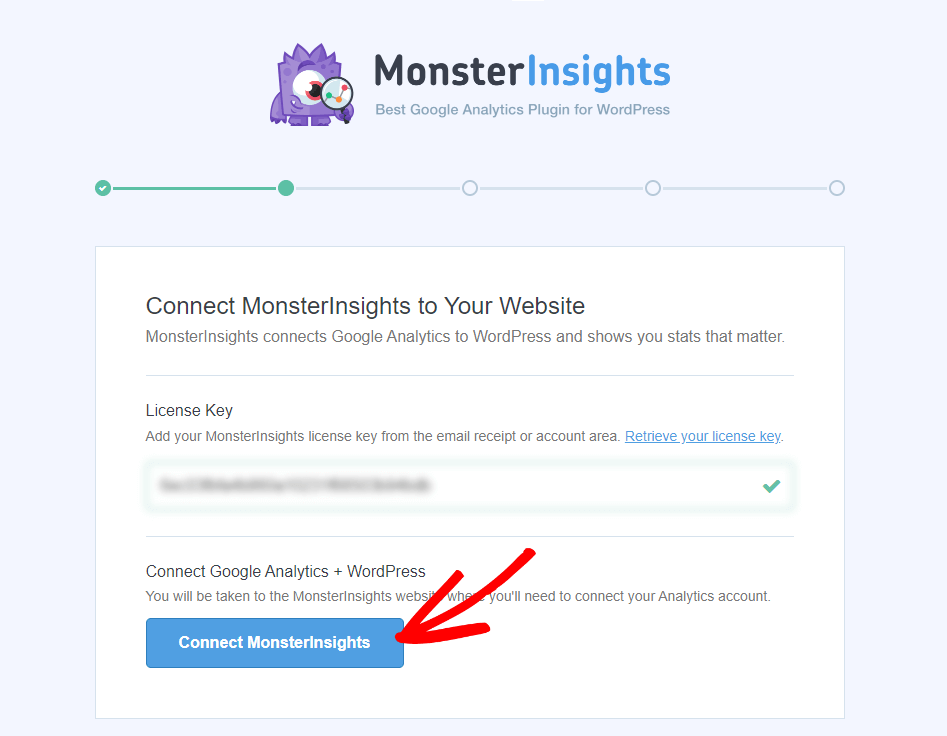 After that, you'll see an option to connect your Google Analytics account with your MonsterInsights account. Select your account to continue authentication.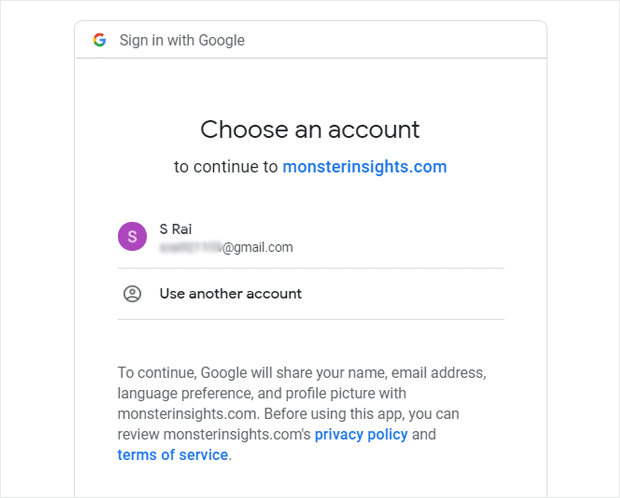 Next, you'll need to allow MonsterInsights the proper permissions.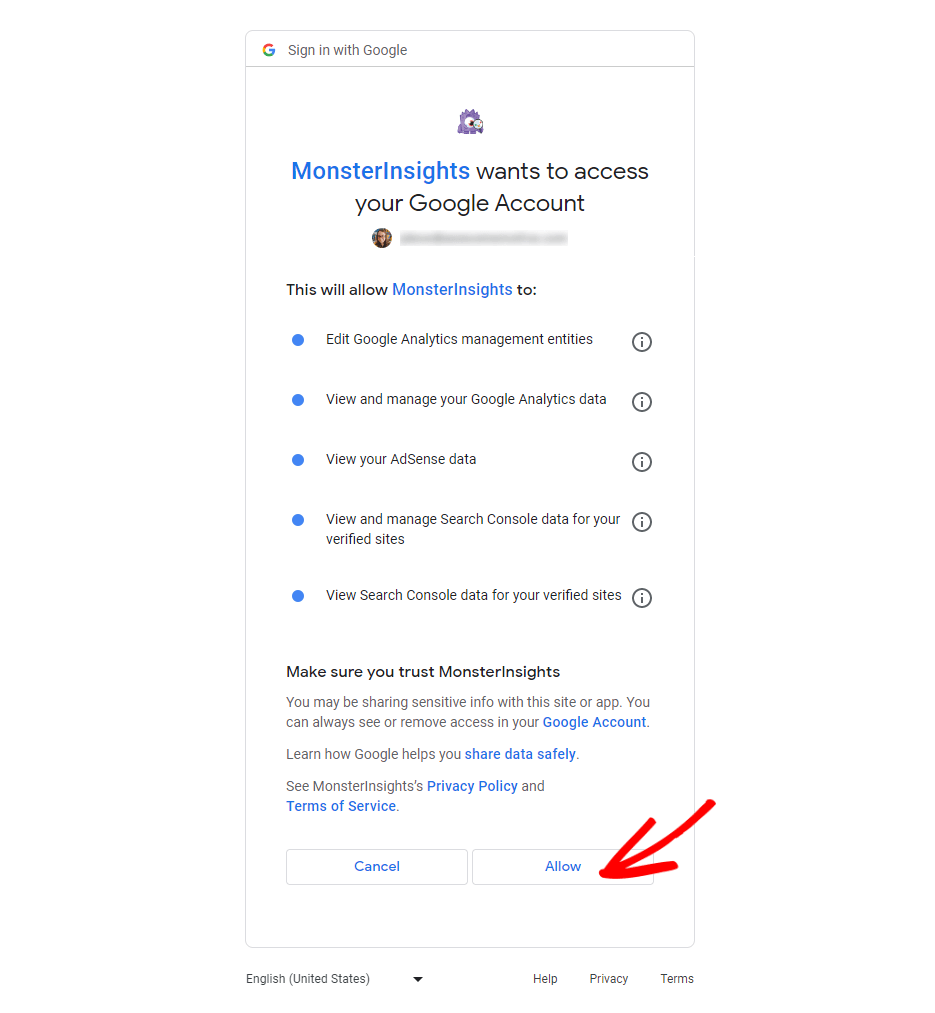 After that, you'll need to pick a profile to complete the connection. If you've multiple websites connected to your Google Analytics account, then you'll need to choose the right website property here.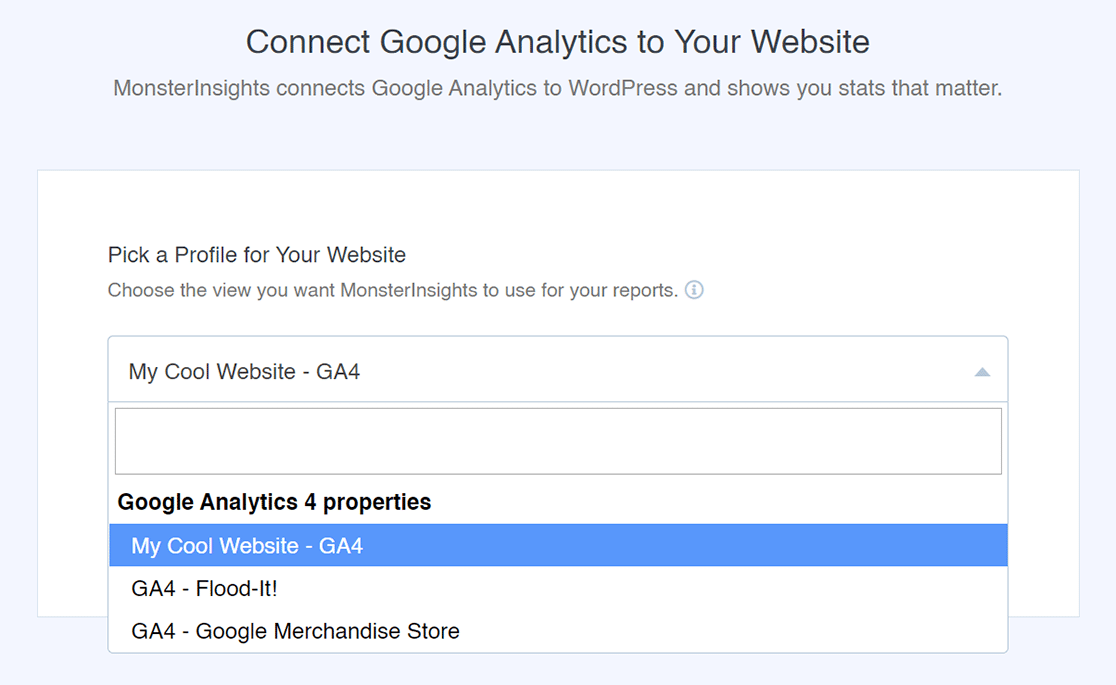 Choose your property, and then click the 'Complete Connection' button.
After that, it'll finalize the authentication process in a few seconds, and then take you back to your MonsterInsights setup page.
Now you can see recommended settings for the Google Analytics plugin.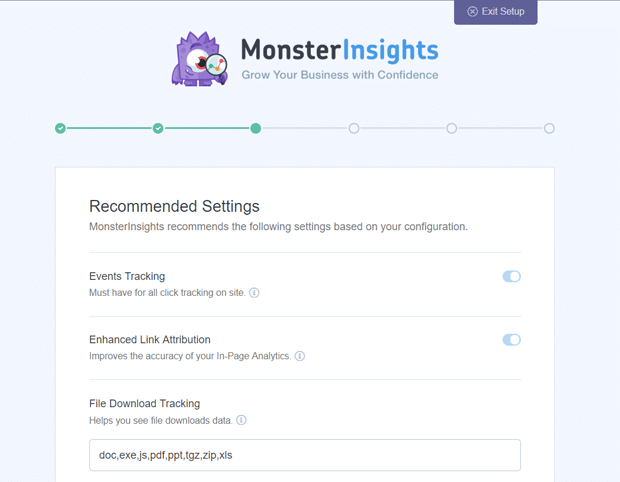 This page includes some of the most important settings as the following:
Events tracking – Enabled by default.
Enhanced Link Attribution – Enabled by default.
File Download Tracking – Most used file types (doc,exe,js,pdf,ppt,tgz,zip,xls) added by default.
As you scroll down, you'll see more settings.
Affiliate Link Tracking – It has 2 affiliate link paths added by default, and lets you add more affiliate link paths.
Access to MonsterInsights's Reports – You can choose who can see the MonsterInsights's reports.
Automatic Plugin Updates – You can enable or disable the option to install updates automatically.
Show MonsterInsights Badge – Choose whether or not you want to show a MonsterInsights badge in your website's footer. You'll be able to access a few options for how this looks later.
Review and configure these recommended settings, and then click the 'Save and Continue' button at the end.
On the next screen, you'll see options for even more tracking options, addons, and helpful plugins.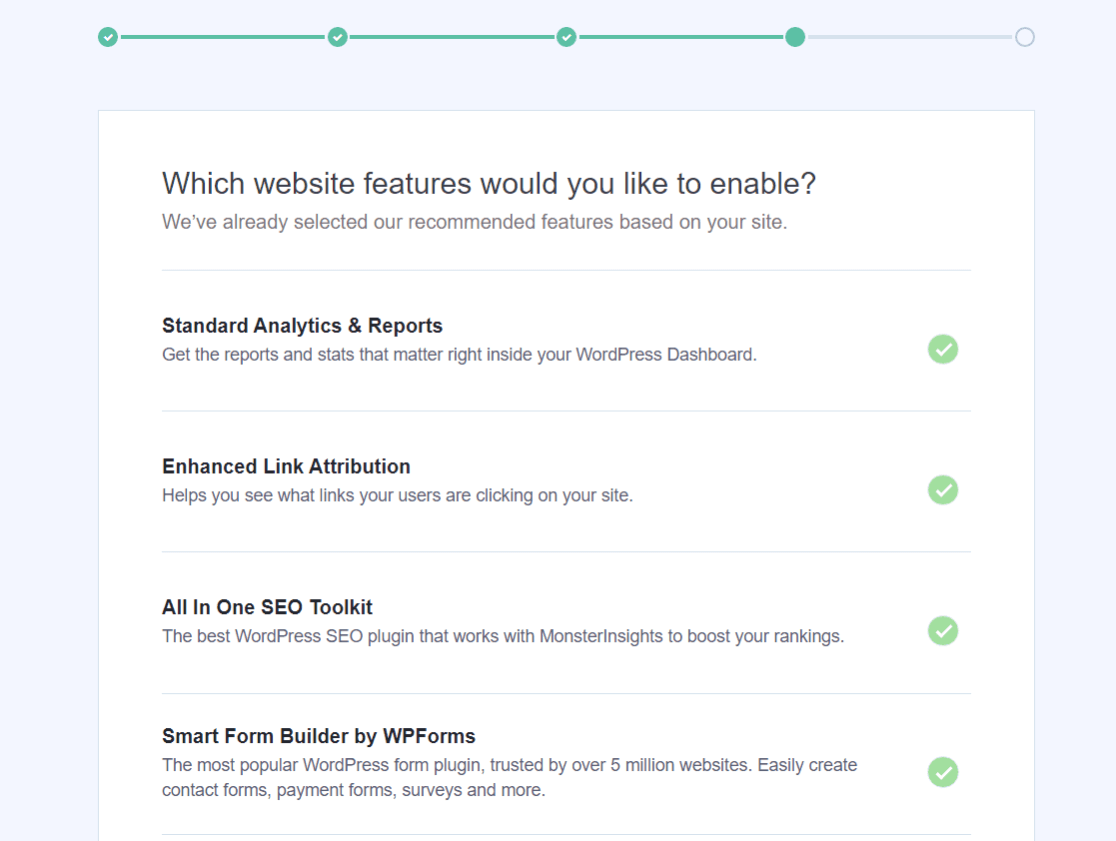 The first four items are:
Standard Analytics & Reports – The standard MonsterInsights reports you'll get in your WordPress dashboard.
Enhanced Link Attribution – Can help you see where users are clicking on your site.
All in One SEO Toolkit – The best WordPress SEO plugin that integrates with MonsterInsights
Smart Form Builder by WPForms – The most popular WordPress form builder plugin
When you scroll down, you'll find even more options:
Privacy Compliance Addon – Helps Google Analytics become compliant for GDPR, CCPA, and more
Advanced Reports – Get access to advanced reports inside MonsterInsights, such as search keywords, a real-time report, publishers and eCommerce reports, and more
eCommerce Tracking – Instantly enable eCommerce tracking
20+ Advanced Tracking – Even more advanced tracking, such as author tracking, form conversion tracking, scroll tracking, and more
Advanced Growth Tools – Get access to our campaign URL builder, popular posts addon, and A/B testing integration.
Media Tracking – Enable embedded video tracking. See how many times videos are watched, how far they were watched on average, and more.
After that, you'll see a new screen with this message 'Awesome! Tracking and Analytics are All Setup!'. It means the setup process is complete, and you've successfully installed Google Analytics in your WordPress site.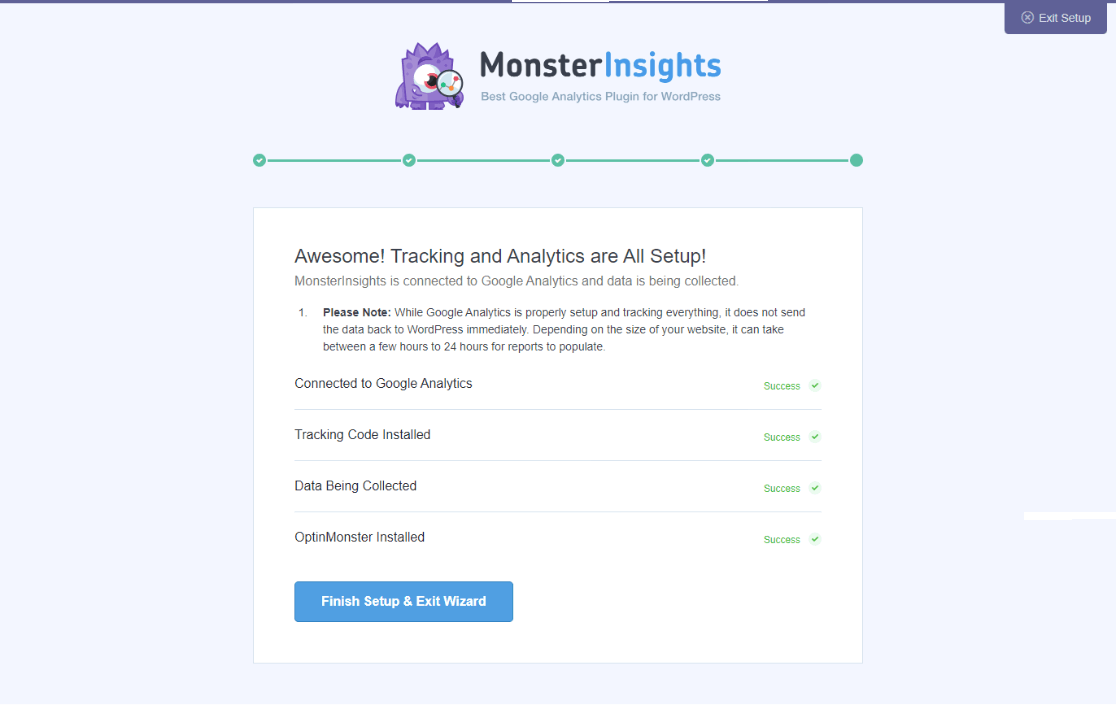 This screen also notifies you about when you can start seeing your website reports. Depending on the size of your website, it can take between a few hours to 24 hours. Don't forget to click on the Finish Setup & Exit Wizard button.
See How Many Visitors Are On Your WordPress Site
Once the setup is complete, Google Analytics starts gathering information on your website visitors.
Google takes a few hours to gather your site information and data, so you may not find any data immediately after the setup process.
After a few hours, you'll be able to see data in your MonsterInsights reports. Here, we'll show the 7 main Google Analytics reports within your MonsterInsights WordPress dashboard you can view to check the number of visitors on your site.
1. Overview Report
With MonsterInsights, you can easily set up WordPress visitor tracking and check the number of website visitors in your dashboard. You don't need to open your Google Analytics account every time you want to see your Analytics reports.
The plugin adds a Google analytics dashboard widget that lets you view your website visitor reports right in your dashboard, with no clicks required.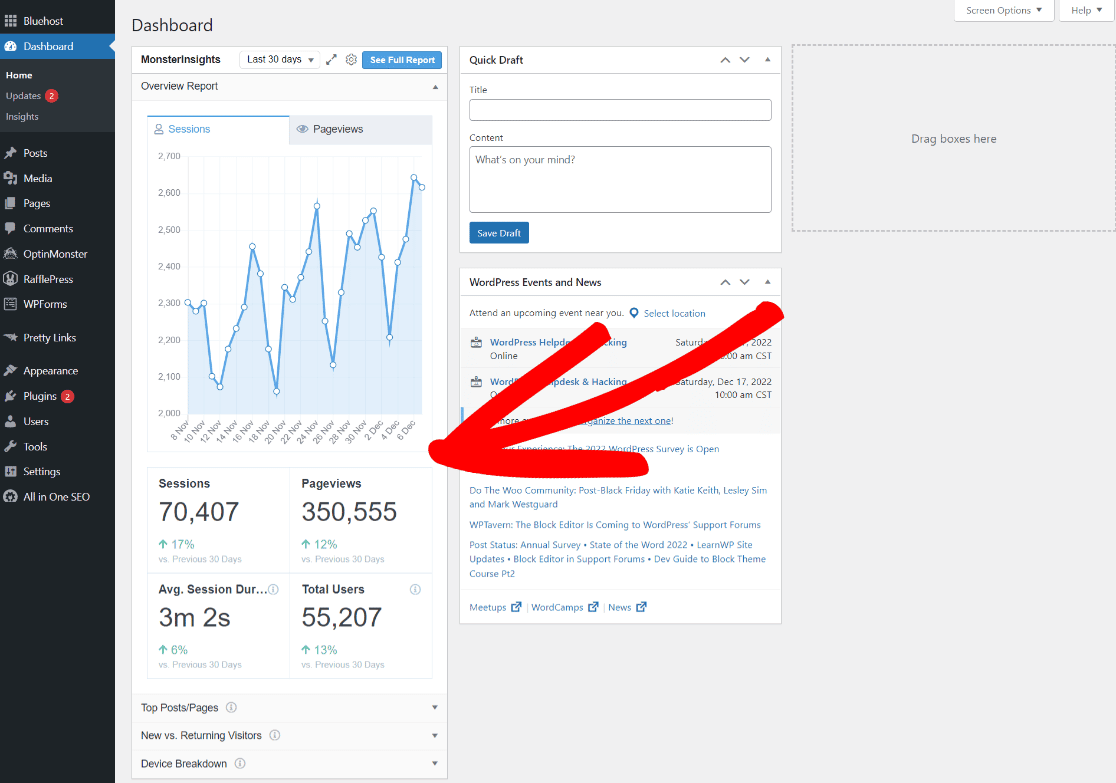 The MonsterInsights dashboard widget allows you to have a quick glance at your website reports.
To view your full reports, visit Insights » Reports from your admin panel. This will open the Overview Report.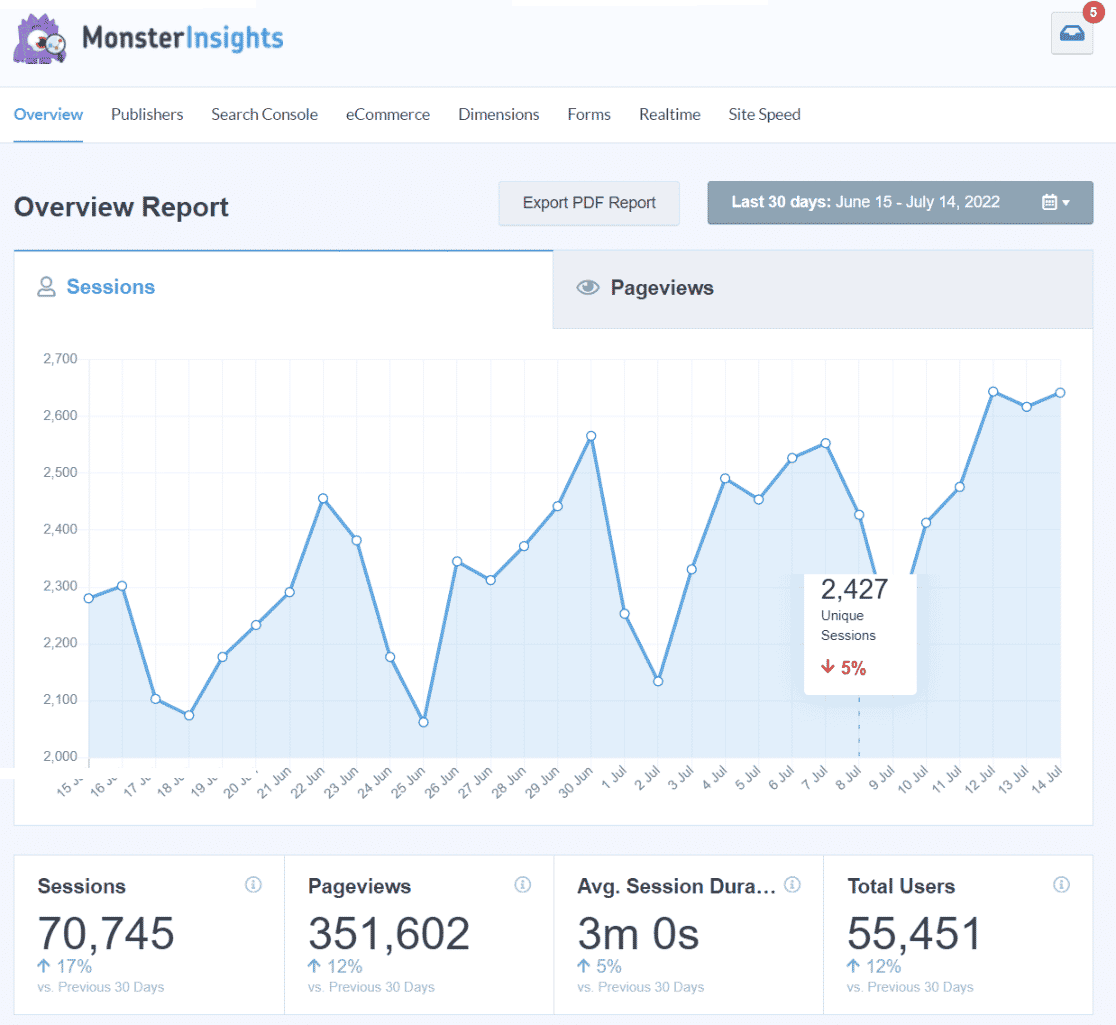 The Overview Report includes some of the key metrics that are useful for getting to know your website visitors.
The first section (screenshot above) shows a visual graph for the total number of sessions and pageviews your site has gotten in a defined range of time.
You can set the time range to 7 days, 30 days, or any days you desire.
Just below the graph, you'll see quick data showing the total number of sessions, sessions, average session duration, and total users.
Then, you'll see New vs. Returning Visitors and Device Breakdown data in percentages in pie-charts below that.
As you keep scrolling down the Overview Report page, you'll see the Top 10 Countries where your visitors are located.

You can see where you get the most visits from and the actual number of visitors.
If you want to see a detailed report, you can always click the View Full Report button at the bottom of each report. There is a View All Countries Report link for the countries report.
On clicking this link, it'll redirect you to your Google Analytics account page. There, you'll see a more detailed report.
The last section of the Overview Report is Top Posts / Pages.
You can view the most popular posts and pages on your site and the total number of visits they received from there.
2. See How Many Visitors are on Your Site Right Now (Realtime)
Want to know how many visitors are on your site right now?
With MonsterInsights, you can see your realtime website visitors and their activity, right in your dashboard. Go to Insights » Reports from your admin panel and click on the Realtime option at the top.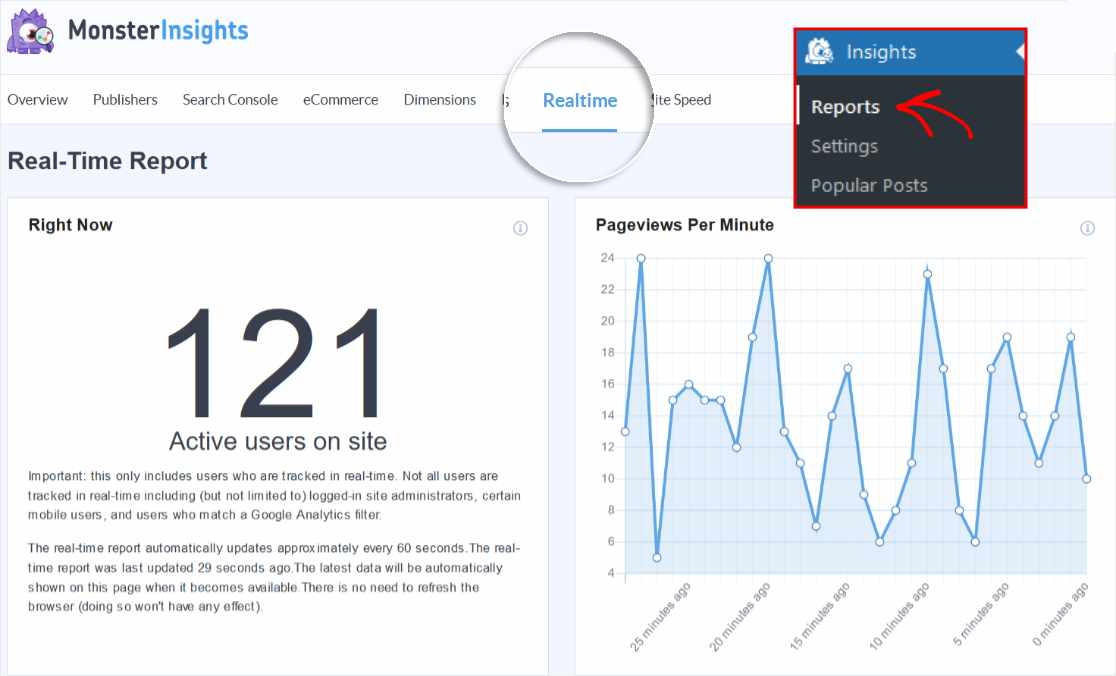 Now you can see the number of active users on your site at any given moment, their geographic locations, the pages they're viewing, and more.
The Google Analytics realtime reports are useful to view and analyze the reports of your marketing campaigns, announcements, and more.
For more details, see our complete guide on Google Analytics realtime reports.
3. Publishers Report
Next to the Overview Report tab, you'll see the Publishers tab. You can view some of the other key metrics for checking your site visitors' number from there.
You can view the following data from the Publishers report:
Top landing pages
Top outbound links
Top affiliate links
Top download links
Demographics and Interest categories
Average scroll depth
All of these reports are super beneficial for understand your audience and what they're most interested in on your site! Here's what the Landing Pages report looks like:

Plus, you can see the outbound links your audience is clicking on. This is so helpful for learning what you've linked to that your audience is interested in. Could you form a partnership with the site you're linking to, become an affiliate, or create that content or resource on your own website?
4. eCommerce Report
You can see the number of visitors, pageviews, transactions, etc. for your shop pages from the eCommerce tab.
MonsterInsights comes with a powerful eCommerce addon that simplifies and automates advanced eCommerce tracking in WordPress.
In the eCommerce report, you'll see data such as your shop's conversion rate, the number of transactions, how much revenue you've generated, and the average order value.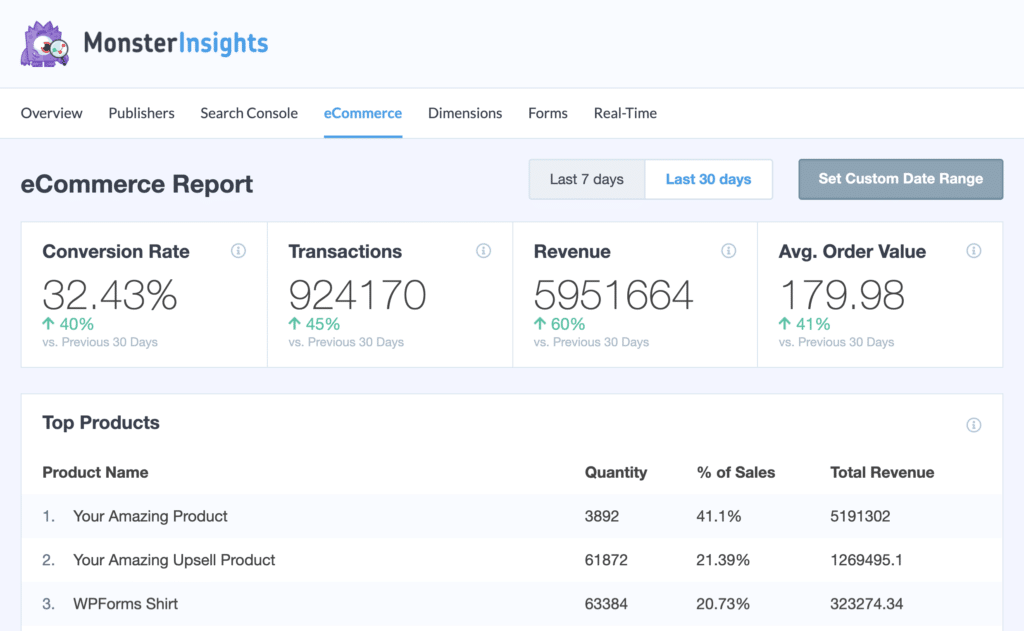 You can also see a list of your eCommerce shop's top products. That way you'll know which products to continue promoting.
Another way to understand your eCommerce traffic is by looking at the conversion sources. These are websites that send highly converting traffic to your site.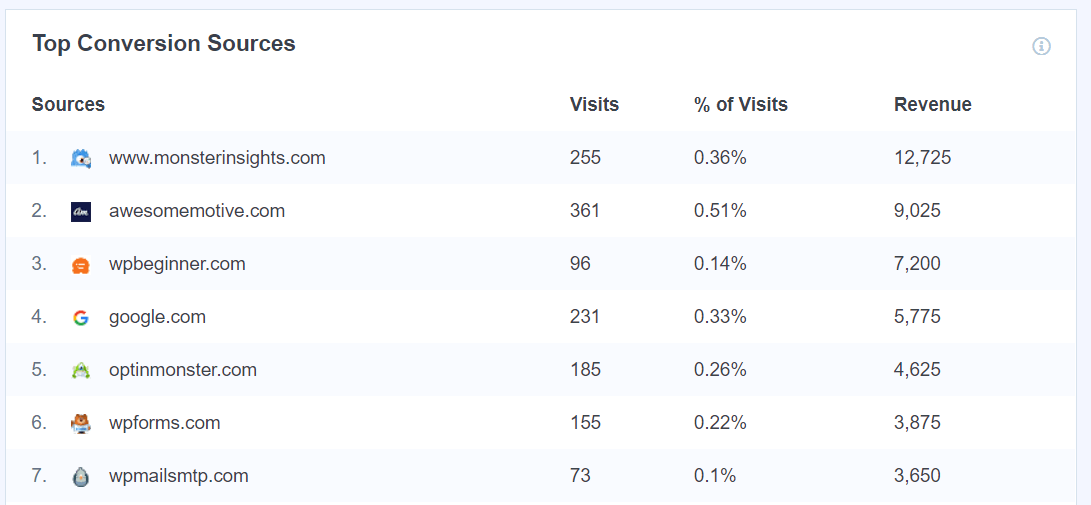 5. Search Console Report
The Search Console report shows you the top 50 Google search terms your site's ranking for.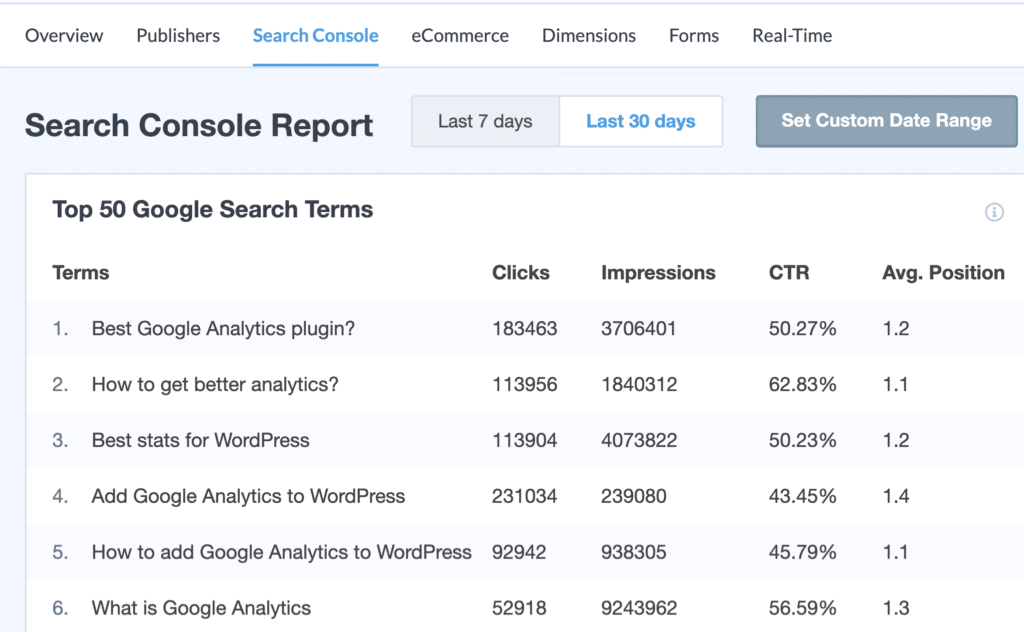 From this report, you can view which keywords are driving you the most visitors. This helps you with keyword research and SEO.
If you're new to Search Console, here's our step-by-step tutorial on how to configure and use Google Search Console.
6. Custom Dimensions Report
The Custom Dimensions report lets you track the following custom data:
Most popular authors
Most popular post types
Most popular categories
Most popular tags
Best SEO score
And more!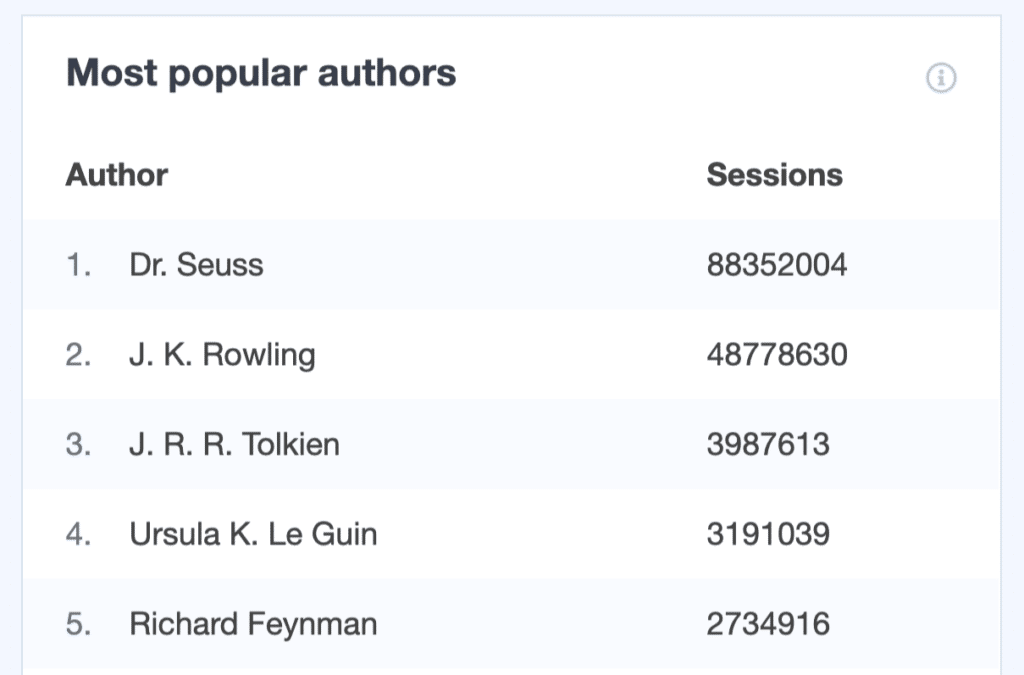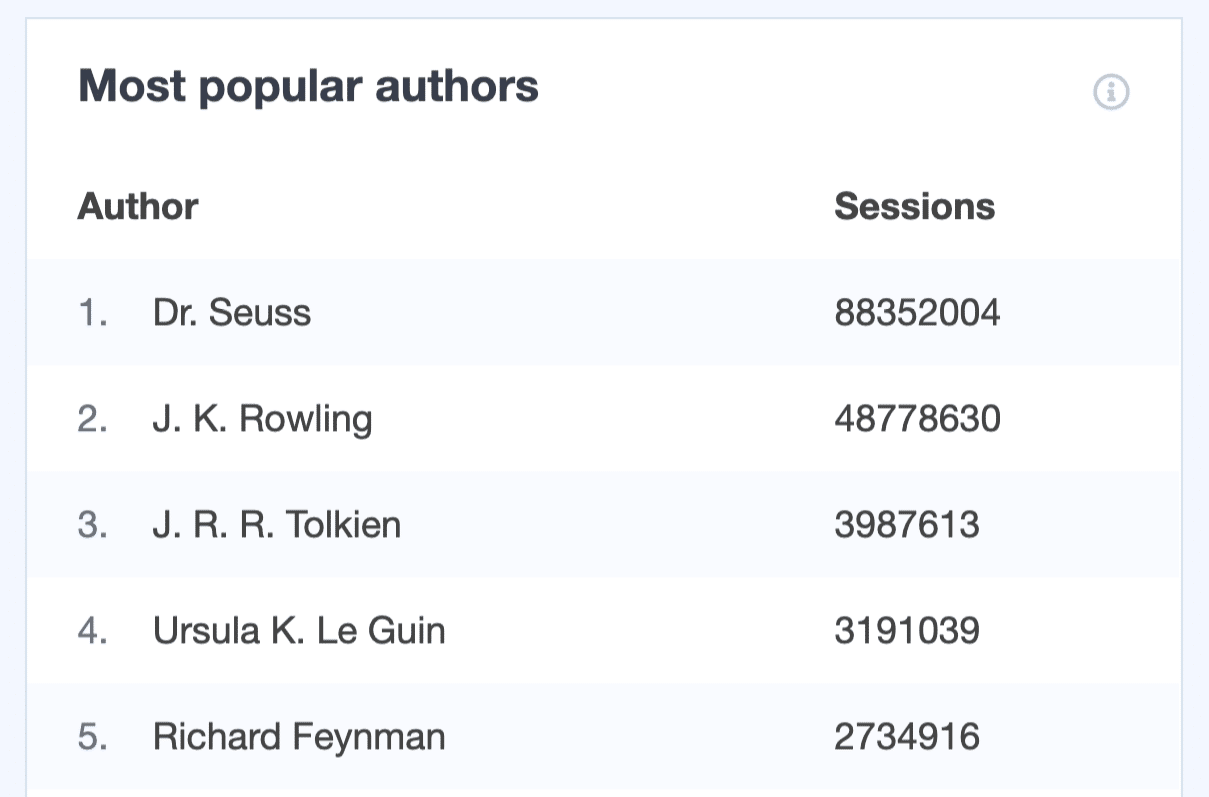 Using these metrics, you can get a clue as to what users find most interesting on your site. Then, you can analyze and plan informed business strategies.
If you want to learn more about this, you can check out our helpful guide on using custom dimensions.
7. Forms Report
Contact forms are the main points of user interaction on your site. By tracking forms, you can see how many site visitors view and submit your forms.
In order to track forms, you need to install the MonsterInsights Forms addon. It's available only in the Pro version of the plugin.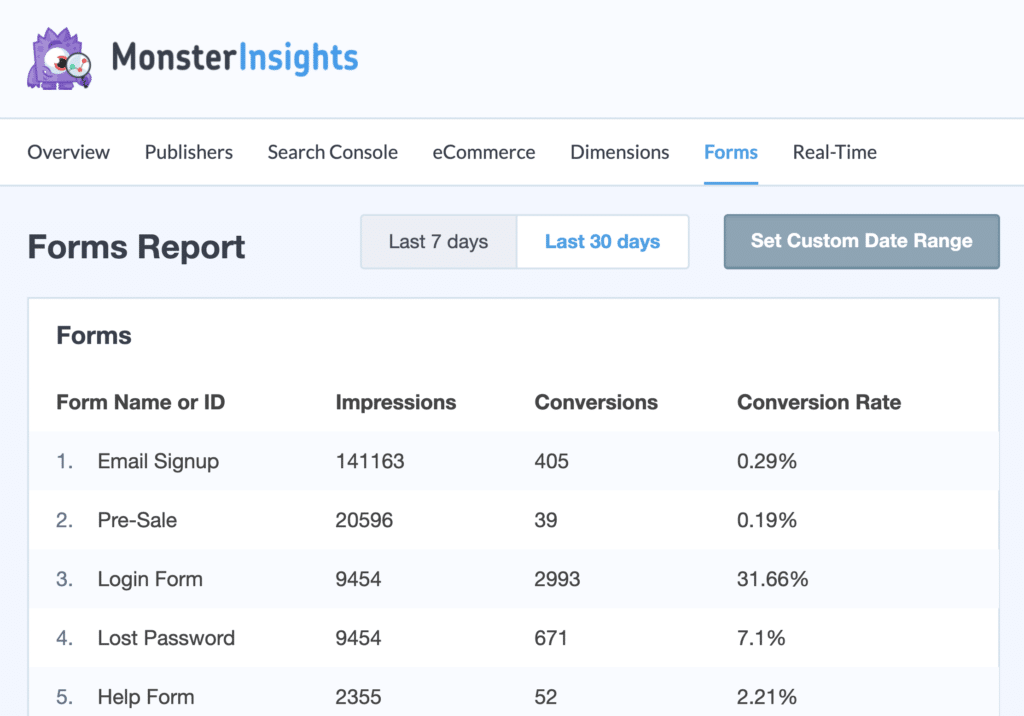 MonsterInsights supports all the major contact form plugins and provides you with a comprehensive report for your form conversions.
8. Media Report
Last but not least, our Media tab shows you which videos on your site are being watched, along with how much of each video is getting watched. With these insights, you can improve your videos and drive more business.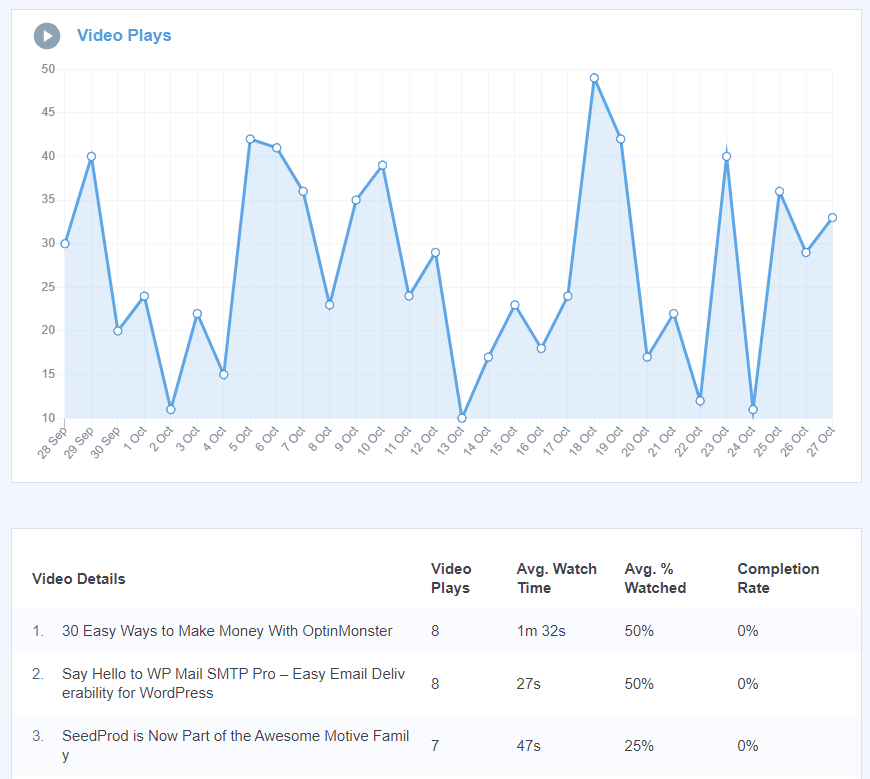 Set Up WordPress Visitor Tracking Today!
We hope this guide helped you to learn how to turn on WordPress visitor tracking.
If you liked this article, you might want to check out our guide on How to Track SEO Rankings with Google Analytics (10 Ways).
And don't forget to follow us on Twitter, Facebook and YouTube for more helpful Google Analytics tips and tutorials.