Do you want to reduce the shopping cart abandonment rate on your site?
Shopping cart abandonment is the single largest obstacle for eCommerce retailers to overcome. We've all added something to an online cart and left without buying it, right?
In this article, we'll give you 12 smart tactics to reduce shopping cart abandonment.
Shopping Cart Abandonment: A Common Problem
The average online shopping cart abandonment rate across online stores in all industries is about 69.8%.
That means shoppers only complete their purchase 30% of the time!
If you're not taking measures to reduce your shopping cart abandonment rate, you're leaving a lot of money on the table.
By following just a few of the tips below, you can reduce your abandonment rate and see a boost in your bottom line.
However, before we go over the tips, you'll need to have eCommerce tracking set up.
How to Enable eCommerce Tracking in WordPress
MonsterInsights is the best Google Analytics plugin for WordPress. It provides detailed reports right on your dashboard, and makes setting up eCommerce tracking a breeze. No coding required!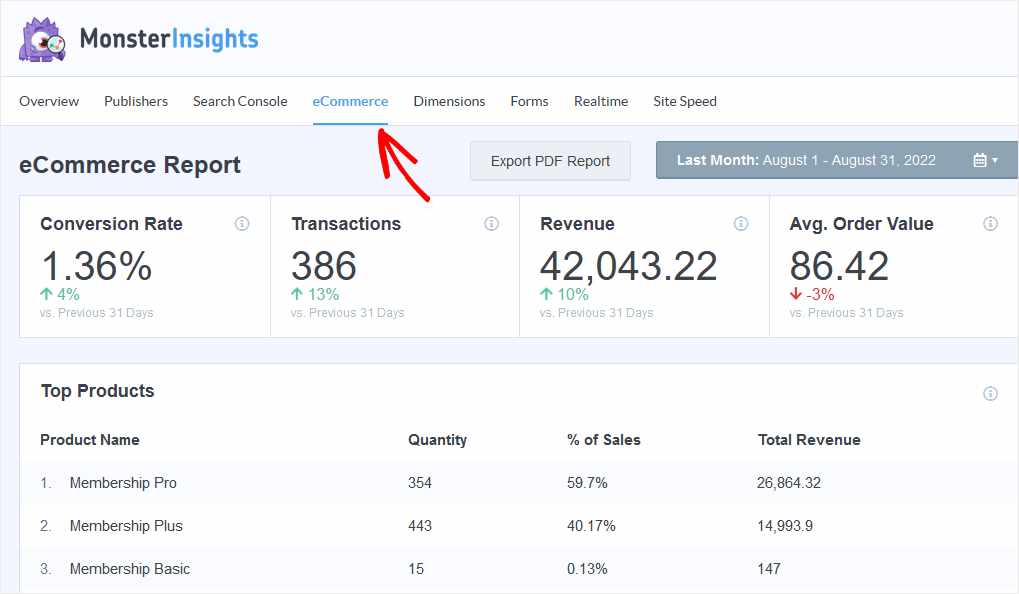 To use the eCommerce tracking feature, you'll need to purchase MonsterInsights at the Pro level.
For a step-by-step tutorial on setting up eCommerce, read How to Set Up Google Analytics Ecommerce Tracking in WordPress (The Easy Way).
12 Ways to Reduce Shopping Cart Abandonment
Now, let's look at some tactics we can use to reduce shopping cart abandonment rates.
1. Track Shopping Cart Abandonment
Before you implement any tactic to reduce the cart abandonment rate, you first need to determine your current cart abandonment rate with a custom funnel report.
Setting up a custom report in GA4 will help you keep tabs on your abandonment rate at all times. It takes just a couple minutes to create, and you only have to create it once!
We won't go over every step here — for a full tutorial, check out How to Track Shopping Cart Abandonment with Google Analytics.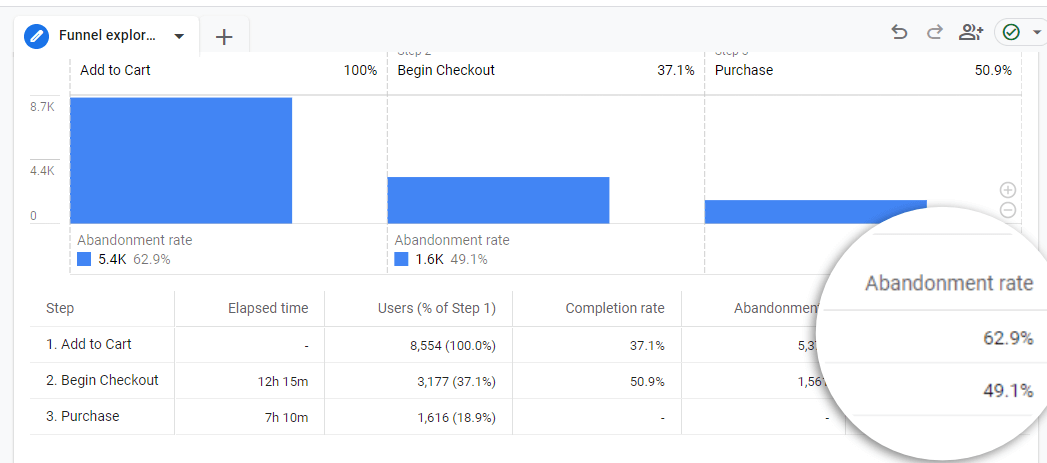 2. Speed Up Your Site
Have you ever walked into a store to shop (or just pulled into the parking lot), saw how busy it was, and turned around and left without doing your shopping?
People do the equivalent of this online all the time. A whopping 70% of online shoppers admit that page speed impacts their willingness to buy from an online retailer.
To test your website speed, open your MonsterInsights dashboard and navigate to Insights » Reports » Site Speed.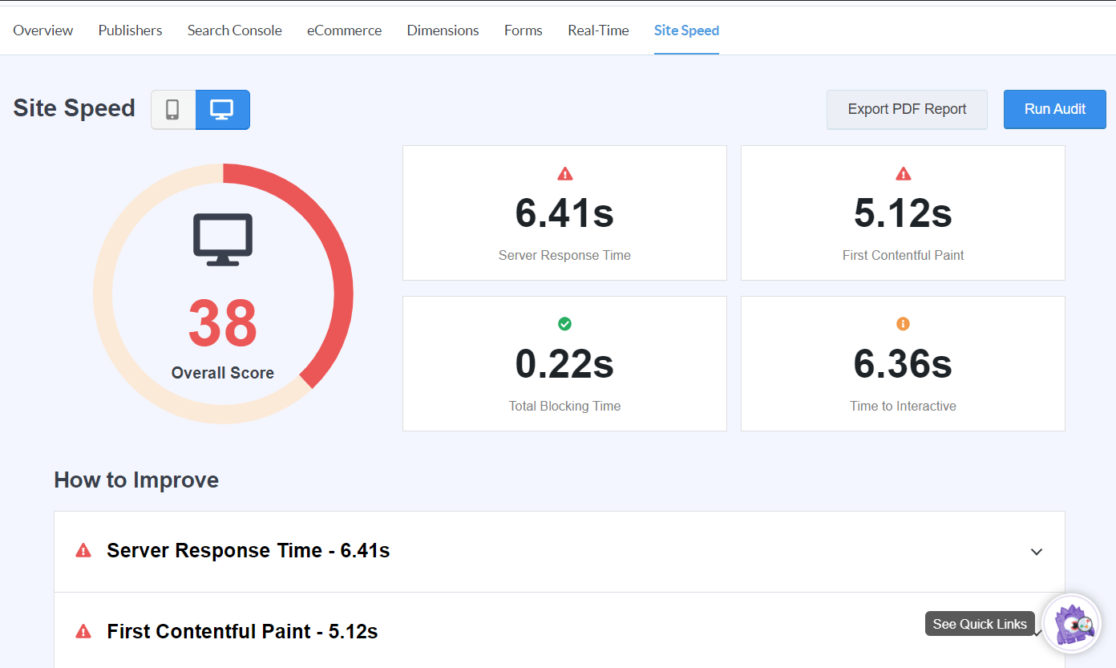 Here, you'll see your overall score, loading time by seconds, and a "How to Improve" section for your developer to use. You can use the toggle in the upper left to look at your mobile speed or your desktop speed.
Have your developer look at the "How to Improve" section to see where you can shave off some precious seconds of loading time.
3. Make Navigation from Shop to Cart Convenient
The easier you make it for customers to navigate between the shop and the cart, the more likely they are to stick with it and actually check out.
Below are a few ways that will help you make navigation easy.
Identify the drop offs from the path exploration report and fix them.
Create a seamless shopping experience for your customers. Don't make them click the back button after adding a product to the cart.
Keep the cart visible on every page so your customers can easily return to your cart to complete the checkout at their convenience.
4. Determine if Abandoners Are Returning
Sometimes, people will leave your site and abandon their cart, but return at a later date to finish checkout.
To see if that's the case, open your MonsterInsights dashboard and head to the Insights » User Journey tab to see your User Journey report:

Don't have the User Journey report? Here's how to set up the User Journey report on MonsterInsights.
To see individual reports, click on the Transaction ID. There, you can see if the user abandoned their cart, then returned some time later to complete their purchase.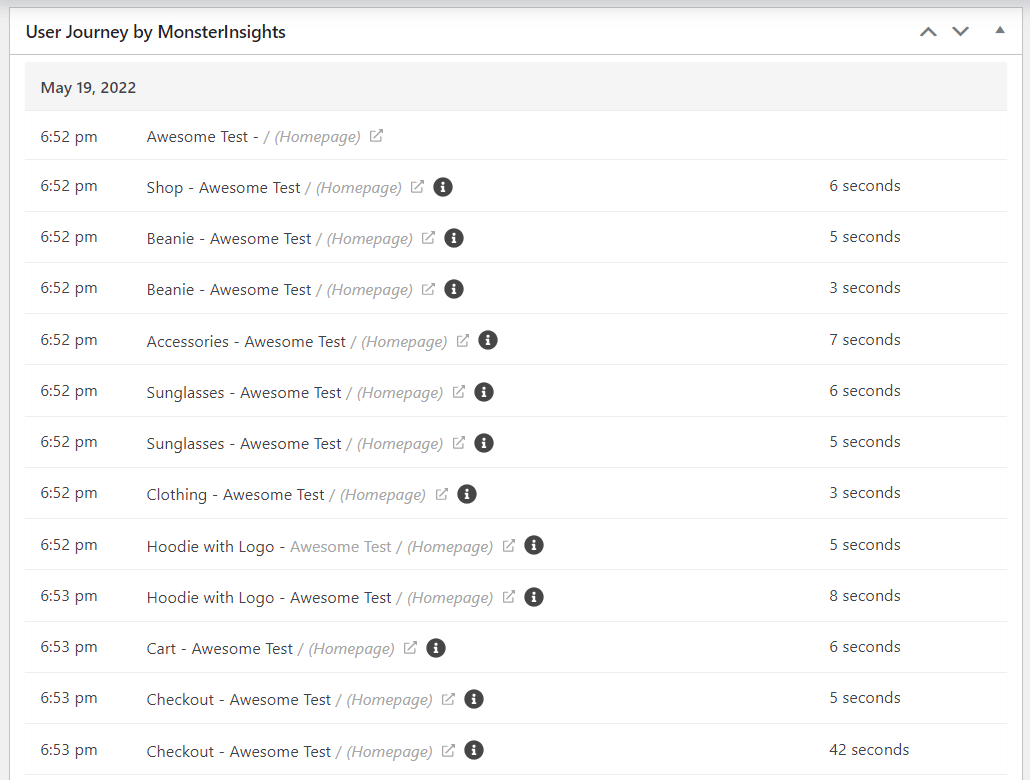 What are you doing that's helping these people come back to make that purchase? Think about it and make updates that keep bringing people back and making their time to purchase shorter.
5. Add Reassuring Copy
No matter how well you optimize the conversion funnel of your store, your customers will have anxieties that keep them from completing the order.
These anxieties may not have anything to do with the product you're selling. But, in order to encourage them to submit sensitive information like payment details, you need to reassure them of certain things on your checkout page to reduce the anxiety. Otherwise, chances are your customers will leave your cart without completing the order.
Adding reassuring copy to your checkout page is one of the best ways to reduce the anxiety your customers may have.
For instance, to reassure customers, Groupon offers a Frequently Asked Questions section alongside a customer promise at the bottom of the checkout page.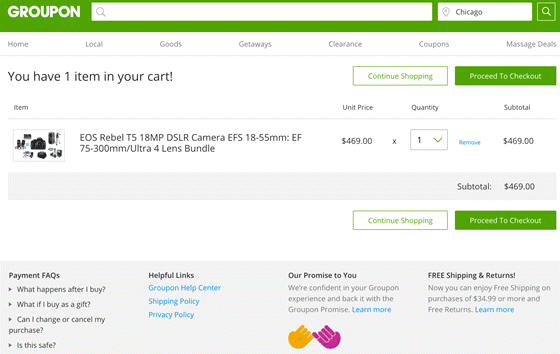 6. Offer Free Shipping
Free shipping is everywhere, so your customers will likely expect it on your site as well.
According to the Baymard Institute, 49 percent of online shoppers who abandon their carts do so because of shipping and handling costs. Without a doubt, free shipping can reduce cart abandonment.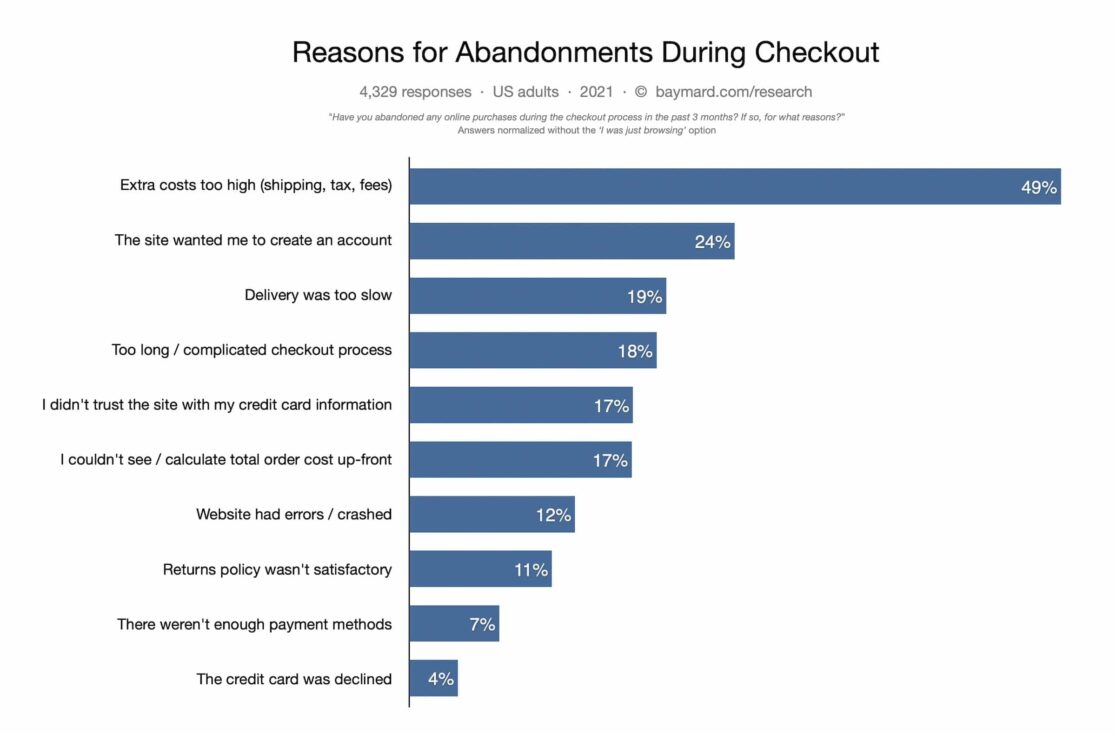 But what if offering free shipping is not profitable for your business?
In that case, the solution is to set a free shipping threshold.
For instance, you can set your free shipping threshold just above your average order value of your store. Not only will it help you to reduce shopping cart abandonment, but it also could boost the average order value of your customers.
To find your Average Order Value, open your MonsterInsights eCommerce report dashboard:

7. Display Popular Products
Help your users feel like they're buying in on something great by displaying your most popular products.
Displaying your most popular products can increase your average order value, help new visitors navigate your store, and show social proof.
To easily create a popular products widget, open your MonsterInsights dashboard and head to Insights » Popular Posts, then click the Popular Products tab in the top navigation.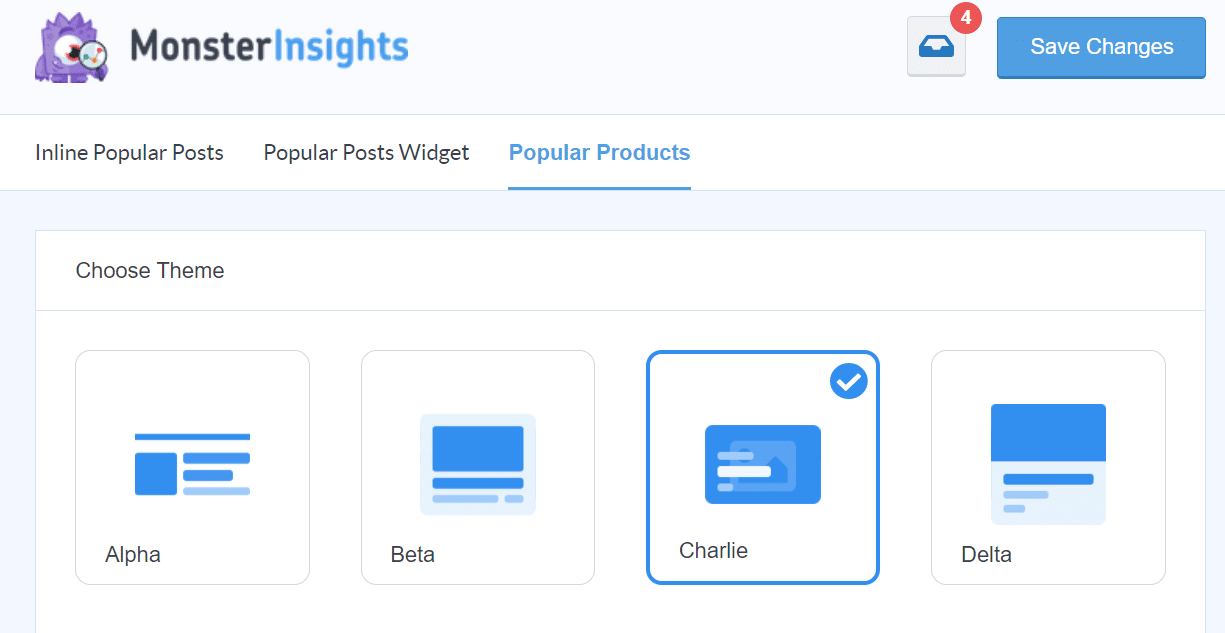 Now, you can choose all your options, like design, any categories that you don't want to appear, layout options, and how and where you'd like the widget to appear. Choose "Automatic Placement" to let MonsterInsights add your new widget to your pages without any further work on your end.
That's it! You've got popular products showing.
For more help with this, read How to Display Best Selling Products in WooCommerce.
8. Build Trust With Security Badges & Social Proof
17% of consumers abandoned their carts because they didn't trust the site with their credit card information. That means when your customers shop from your store, they want to know if their credit card information is safe with you.
One of the best ways to foster trust on your store is by adding a security badge on your checkout page. Adding a security badge will instill confidence in your customers, and also reduce the cart abandonment rate.
According to research by Baymard Institute, the SSL seal from Norton is the most trusted.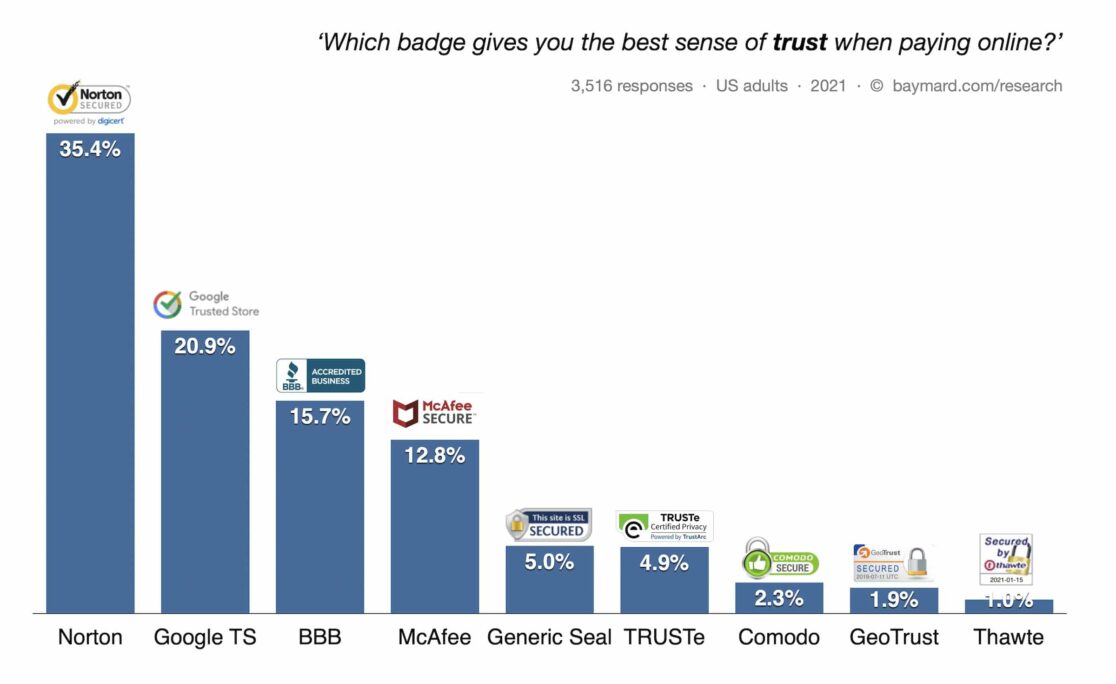 In addition to badges, you can add social proof that others are making purchases on your site. TrustPulse can add a popup in the corner of your site anytime someone makes a purchase.
9. Offer Guest Checkout
Enticing your customers to create an account on your site is a great strategy for customer retention. It also helps you gather more data about your visitors, so you can curate a personalized user experience for each individual based on the data you have.
That being said, forcing your customers to create an account prior to checkout may discourage them from completing the order. To tackle this, you can tear down the sign-in barrier by enabling a guest checkout. This way, you can encourage your customers to complete the order even if they're in a hurry. You can always ask them to sign up for an account at the end, after they've already made their purchase.
Note: If you want to gather onsite behavior of your logged in customers, you'll need to enable logged in user tracking in Google Analytics by setting up custom dimensions.
For more details, read the beginners guide to custom dimensions in Google Analytics.
10. Use Remarketing to Target Abandoners
Remarketing is a cost-effective advertising method that helps you display customized ads to your potential customers who have recently visited your website.
You can use remarketing ads to target cart abandoners on social networks and other websites by displaying a customized ad reminding them to complete the order. To better target your customers on different marketing channels, you may also need to collect demographics and interests report on your site. Learn how to collect demographics and interests report in Google Analytics.
11. Exit Intent Popup
We've seen that remarketing helps you to target abandoned customers on different marketing channels. Even though remarketing is cost effective, you still need to have an advertising budget and create an ad campaign at scale to target them.
But, what if you can target abandoning customers on your site and prompt them with a customized campaign at the precise moment they try to leave your site? With an exit intent popup, you can do just that.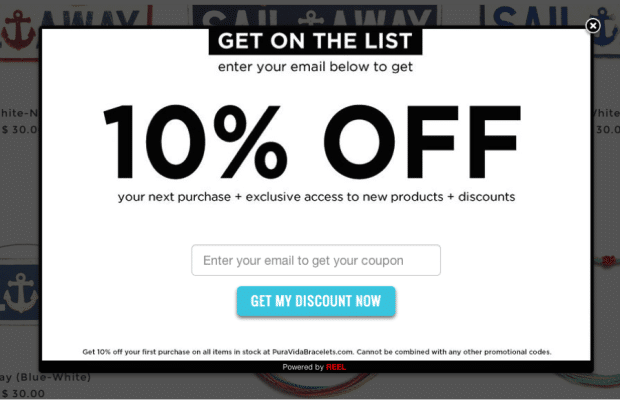 Creating an exit intent popup using OptinMonster, the best opt-in form builder and WordPress popup plugin, can save your marketing budget by targeting abandoning customers before they leave your site. Best of all, it is a lot easier than running a remarketing campaign.
12. Send Emails Reminding About Shopping Cart Abandonment
A remarketing email is a personalized message targeting abandoned customers that convinces them to complete the order. When implemented intelligently, an email remarketing campaign can reduce the abandonment rate and increase conversions by as much as 25%.
Take a look at an example of remarketing email below.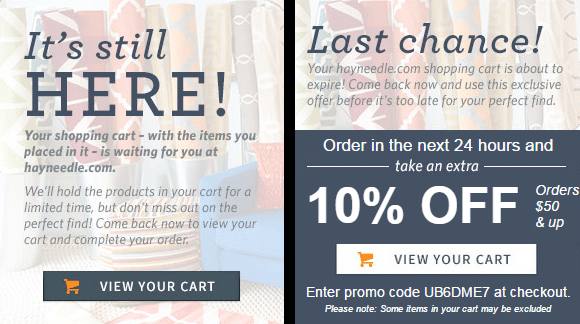 You can see that the abandoned cart email subject headlines are focused on reminding customers about their incomplete order. The CTA is made prominent to drive visits to the cart page.
Google Analytics allows you to easily scale your remarketing emails, so you can track ROI and email conversions. Learn more about tracking email marketing campaigns in Google Analytics.
Is your online store using WooCommerce? You might want to read How to Set Up WooCommerce Conversion Tracking in Google Analytics.
Not using MonsterInsights yet? What are you waiting for?
And don't forget to follow us on Twitter, Facebook and YouTube for more helpful marketing guides and Google Analytics tips and tutorials.