Want more social media followers, email subscribers, and visitors on your website? Running a viral giveaway or contest with great giveaway tools is a quick and easy way to attract attention and new contacts.
But picking out the right giveaway tool can be tricky, especially when there are hundreds of WordPress giveaway plugins available.
In this article, we will show you free online contest platforms for running the best contests and giveaways. Using these tools, you can create beautiful giveaways to boost your business's growth.
Why Should You Run a Viral Giveaway or Contest?
Giveaways offer many benefits for your website. If you're wondering why you should be running a giveaway or contest, then consider these benefits:
Increase Social Media Followers: By offering entries and points to your giveaway in exchange for a follow or likes, you can boost your social media following.
Boost Your Website Traffic: You can attract more visitors to your website by promoting your giveaway on different platforms.
Quickly Grow Your Email Subscribers: Asking users to sign up for your email list for giveaway entries is a great way to increase your email subscribers.
Generate Leads to Increase Sales: You can use giveaways to increase brand awareness and generate leads, then convert them into paying customers to increase sales.
Now that you know how useful giveaways are for your website, are you ready to check out the free online contest platform? Let's begin.
Our Favorite Giveaway Tools & Contest Platforms
RafflePress is the number 1 FREE online contest tool and the best WordPress giveaway plugin. There are tons of features offered by RafflePress, even in the free version. You can use it to create beautiful giveaways and boost your website's performance.
Here are some of the key features of RafflePress free version:
Offers amazing free giveaway templates
Drag and drop builder to create giveaway contests
SEO optimized giveaway widget
Offers mobile responsive giveaway widget
Automate the start and end time of your contest
Easily integrates with social media platforms
Fraud protection feature to remove fraud entries
RafflePress offers more exciting features in its Pro version. So, if you're looking for the following features, we recommend upgrading to the Pro plan:
Email and CRM integration
Custom designs and backgrounds for giveaways
Create a giveaway landing page
Refer a friend feature to make your giveaway viral
Global based templates
Social login option where users can log in with their Facebook or Twitter accounts
Get started with RafflePress today!
Woorise is another popular free software that lets you create free online contests. It offers exciting features in its free plans, such as 1-click random winner, pre-made layouts, export data through CSV files, detailed analytics, fraud detection, and more.
However, if you want advanced options, then you'll need one of its paid plans. Here are some other features offered by Woorise:
Mobile responsive giveaway templates
Drag and drop builder makes it easy to use
Track data through its analytics reports
Multi-language support
Create polls, quizzes, and surveys
Country restrictions to run giveaways in specific regions
Email integration
Priority support through email and live chat
Includes social buttons and viral share
Get started with Woorise today!
Agorapulse is a social media management tool and offers a complete CRM, Facebook apps, and a detailed analytics suit. However, we included Agorapulse because of its Facebook contest feature, which is completely free.
Agorapulse calls it Facebook Timeline Contest. Using this feature, you can:
Create a variety of contest types (quizzes, photo contest, etc.)
Filter your contestants by likes, comments, or shares
Randomly select a winner
Automate processes like see the person with most likes in a photo contest
The tool is limited, but if you're only running Facebook giveaways it might be useful.
Get started with the Agorapulse Facebook Timeline Contest tool today!
Wishpond is a complete marketing tool that lets you manage email marketing, landing pages, online forms, marketing automation, and more. Among these products are its social media contest and promotion service.
Using Wishpond, you can create giveaways to generate social engagement and boost your followers. Here are some features you might want to check out:
Create 10 different types of contests (sweepstakes, coupons, video contest, etc.)
Integration with tools like Zapier, AWeber, and Shopify
A simple interface and very easy to use
Wishpond is pricier than other tools on our list, so it's not the best option for small businesses. They do not have a free options.
Get started with Wishpond today!
Shortstack is a complete marketing tool through which you can create amazing giveaways. If you're wondering how to start a contest then Shortstack's free online contest platform has got you covered.
Some of the features offered by Shortstack include:
Unlimited giveaway campaigns and emails
100 entry allowance
Run giveaways, sweepstakes, photo contest, essay contest, and more
Automatically selects a winner for you
Create landing pages for your contest
Built-in themes with 50+ templates
Email and live chat support
Easy to use style panel to create contests
Customize your design with different fonts, colors, size, and more
Stops repeated entries and protect against fraud
Shortstack has tons of features, but does not offer a free version. Just a free trial.
Get started with Shortstack today!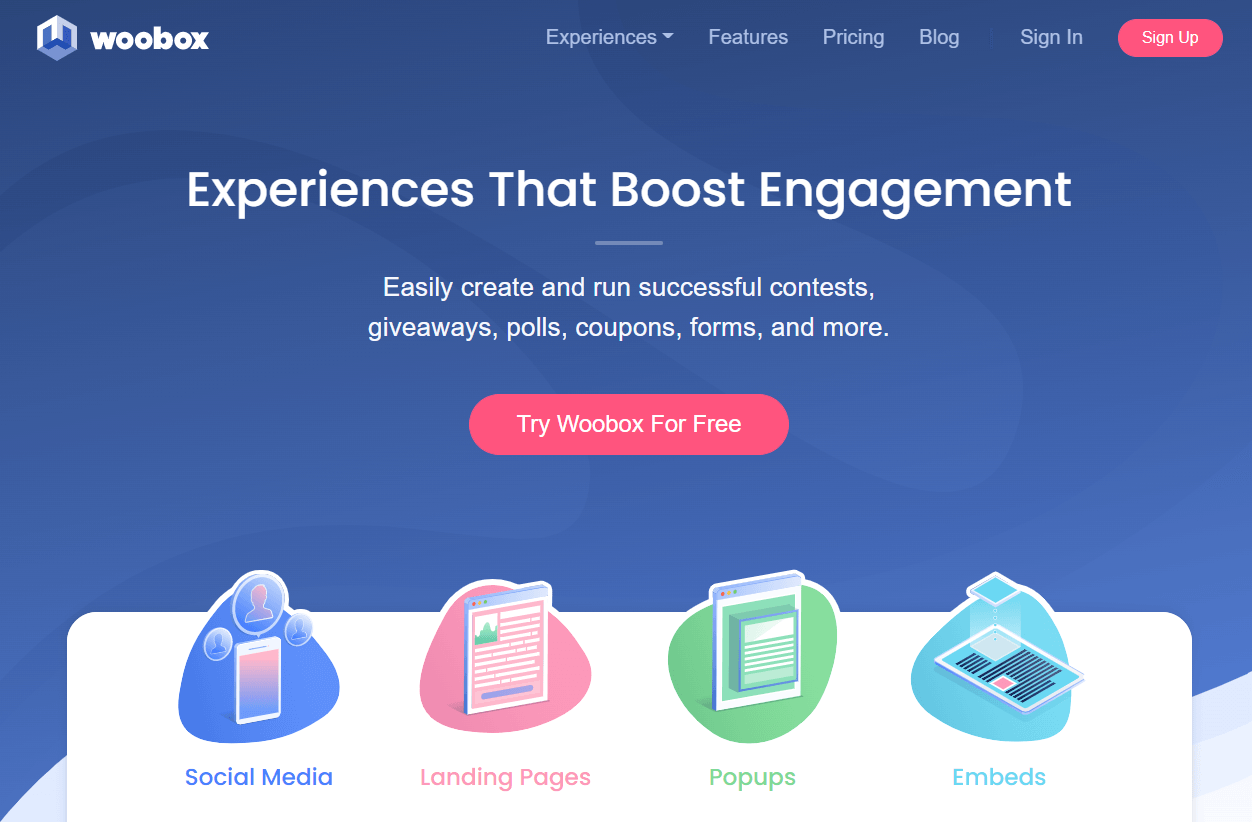 Woobox is one of the easiest giveaway tools to create a giveaway and has a100% free version. It's excellent for running a contest for different social platforms like Facebook, YouTube, and Instagram. And through its drag and drop builder (paid feature), you can create contests and sweepstakes in an instant.
Woobox also offers other features, although many of them are only available with the paid versions:
Integration with 500+ tools like Mailchimp
Easily collect likes, comments, and hashtags on social media
Use embed codes to place a contest anywhere on the website
Customize different templates
Create unlimited campaigns
Select a winner with its Winner Picker Tool
Mobile responsive
Create a dedicated landing page for your giveaway
Get started with Woobox today!
KingSumo is another online contest platform option you can use that has a free version. It's by the same team behind AppSumo. The tool was initially built for internal company use, but after finding success, they decided to release it for everyone.
The free version offers basic features like integrations and unlimited giveaways. But you may want to upgrade to a paid plan for more features like:
Custom branding
Integration with Zapier
Facebook pixel tracking
Customer support
Get started with KingSumo today!
Gleam offers a wide range of tools, and one of them is a software that lets you create giveaway contests. One of the reasons for its popularity is its user-friendly design. You can manage and run giveaways using Gleam without any problem.
Here are some of its key features included in the free version:
Customize your design with a drag and drop builder
Display the winner on the widget
Mobile responsive giveaway widgets
Verifies social accounts automatically
Automatically monitors and detects fraud
Install your giveaway on your website, Facebook, select a custom landing page
Easypromos has perhaps the most comprehensive range of contest types. They've split them into six apps: giveaways, contests, games, quizzes, instant prizes, and multi-stage. So, you can create complex giveaways across multiple social media platforms or run different contests.
Easypromos also offers features such as:
Mobile responsive designs and widgets
Analyze contest data with detailed reports
Control and minimize frauds
Support 30+ languages for multilingual promotions
Create giveaways with influencers, brands, and sponsors
Easypromos does not have a free version.
Get started with Easypromos today!
Pagemodo is the last free online contest platform on our list you can use to run viral contests. It helps to run attractive giveaways on Facebook to increase your following. Some of its features include:
Quick and easy to use without any coding
Manage, track, and create giveaways with a simple interface
Select winners randomly
Share contest across multiple channels
Use tracking data to see contests performance
Giveaways that comply with Facebook rules
Pagemodo does not have a free version.
Get started with Pagemodo today!
Our Recommendation: Which is the Best Contest Platform?
Our top pick for the best free giveaway tool is RafflePress. It has a 100% FREE version and offers features that other free software don't on our list.
RafflePress is very easy to use, and with its free templates, you can create and run a giveaway in an instant. You can also check out RafflePress's Pro plan for more advanced features.
And that's it.
We hope you liked our article on free online contest platforms and giveaway tools. If you want, you can also check out these 45+ best WordPress plugins to boost your website's growth.
And don't forget to follow us on Twitter, Facebook and YouTube for more helpful Google Analytics tips.