Want to leverage the full potential of Facebook ad targeting? Facebook comes with tons of different ad targeting options that allow you to reach the right people in the entire user base. In this article, we'll show you some cool Facebook ad targeting tips to reach the right people and boost your conversions.
For easier interpretation, the entire targeting tips are compiled into 3 categories.
Leverage Google Analytics for Ad Targeting
Leverage the Potential of Facebook Audience Insights
Targeting Tips for Customer Retention
Leverage Google Analytics for Ad Targeting
Google Analytics provides an abundance of data of your customers that you can leverage to create a highly targeted Facebook ad campaign. It gives you an extensive data that shows how your site performs throughout Facebook.
If you're looking to serve your ads to the broad Facebook audience, and are NOT specifically targeting your Facebook fans, it is highly recommended for you to make use of your Google Analytics reports.
Before you can target the right audience, you need to properly set up Google Analytics on your site. MonsterInsights makes Google Analytics set up easy for WordPress sites. It also allows you to easily track various user interactions such as eCommerce tracking, form conversion tracking, downloads tracking, etc.
See the full list of MonsterInsights features.
1. Enable Demographics Reporting
To be able to understand who your high-value customers are, you'll need to enable demographics reporting on your site. Once you know your high-value customer groups, you can serve your ads to that specific group to boost your return on investment.
Using the demographics report, you can identify the age group and gender of your high-value customers.
And MonsterInsights makes it easy to view your demographics data inside your WordPress dashboard. Simply go to Insights » Reports » Publishers and view the data.

You can also go to Google Analytics and view the demographics of your audience. Navigate to Audience » Demographics » Age.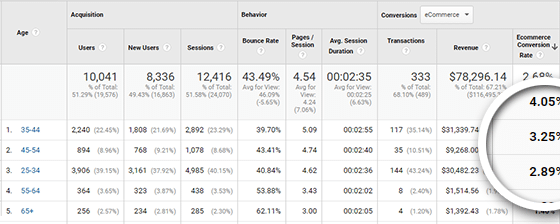 In the above example, the high-value customers are in the age group of 25-34, 35-44, and 45-54.
You can take a step further and combine the gender data with your Age report by adding Gender as your secondary dimension.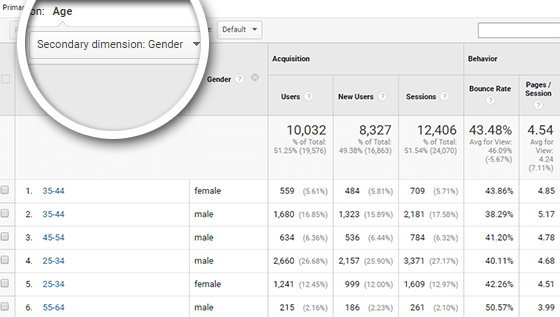 When ad targeting options are selected based on the data you've gathered on your site, they're more likely to bring in positive results.
Discover how to enable demographics reporting in Google Analytics.
2. Use Google Analytics Interests
Besides the demographics report, you can also narrow down your target audience based on Affinity Categories, In-Market Segments, and Other Categories using Google Analytics.
This is a great opportunity for advertisers who want to target users based on their interests. And in WordPress, you can find the interests of your visitors using MonsterInsights.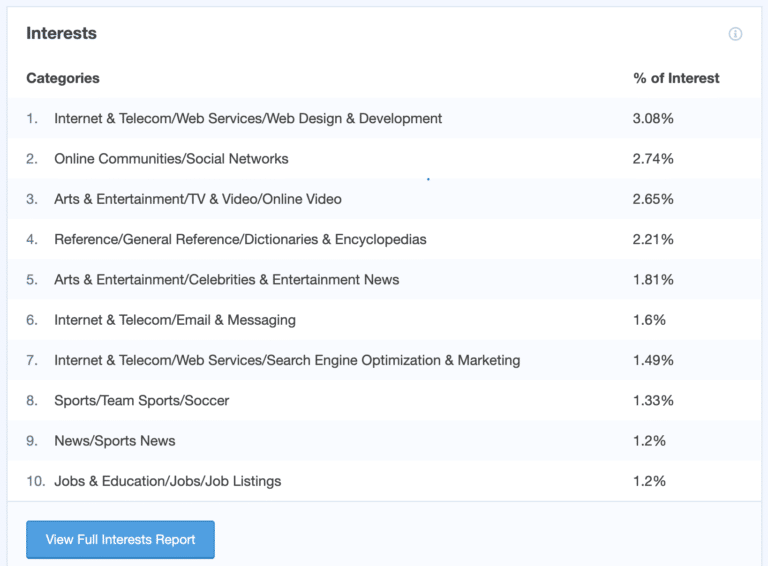 You can find an overview of interests report in Google Analytics as well. Just go to Audience » Interests » Overview.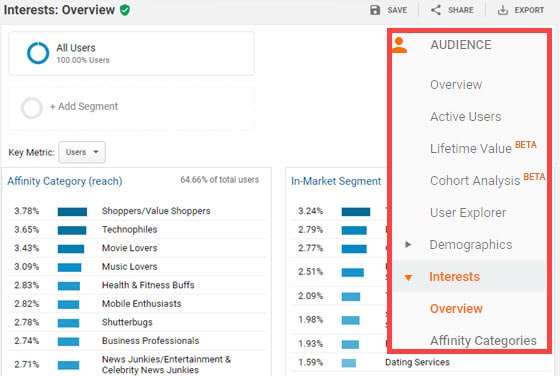 3. Use Geographic Targeting
Looking to promote your business locally? Want to find out where your high-value customers are located at?
Then, you'll need to keep an eye on the geolocation report. You can easily look up your top countries in WordPress in the MonsterInsights Overview report.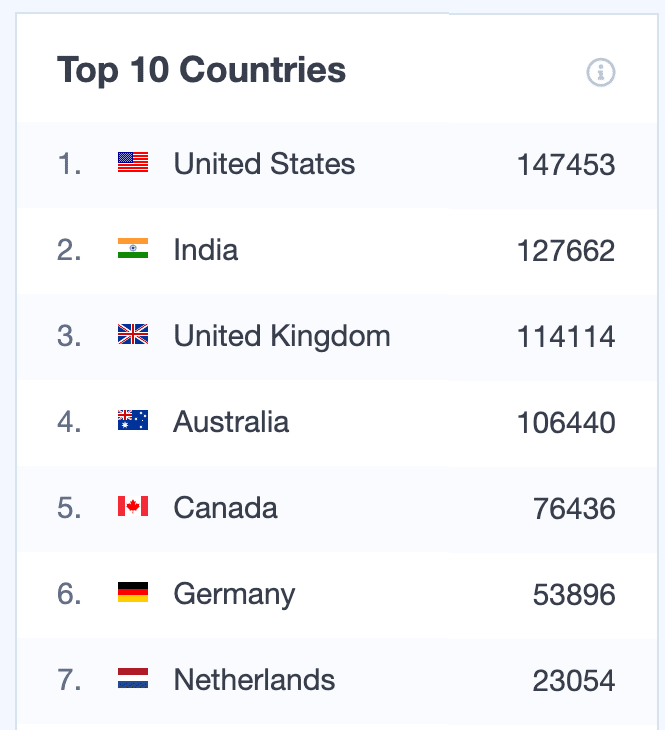 In Google Analytics, geolocation report can be found by going to Audience » Geo » Location.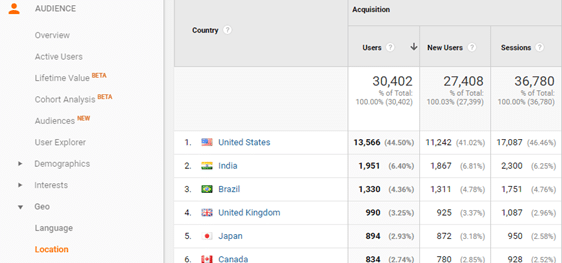 You can then serve your ads to the customers who are located at a specific location you want to target. Find out more in our guide on how to use geomarketing to enhance your conversions.
Leverage the Potential of Facebook Audience Insights
Facebook Audience Insights is a great tool that allows you to target three groups of people on Facebook.
Facebook fans: People who liked your page.
Custom audiences: Your existing customer base or email subscribers. You can specifically target them on Facebook.
Other Facebook users: Get the demographics and interests data of your ideal customers using Google Analytics and serve your ads only to those users.
By carefully analyzing your Audience Insights, you can create ads that resonate best with your audience and find more people similar to your current audiences.
4. Dig Deeper into Demographics Data
Unlike Analytics, Facebook Audience Insights gives you a more detailed overview of your users, like education level, relationship statuses, ethnic affinity, politics, life events and more.
For example, if you sell baby care products, you can easily serve your ads to your ideal audience by only targeting new parents or parents with toddlers on Facebook.
In our example, to narrow down your targeting option, you'll need to click on More Demographics and click Parents.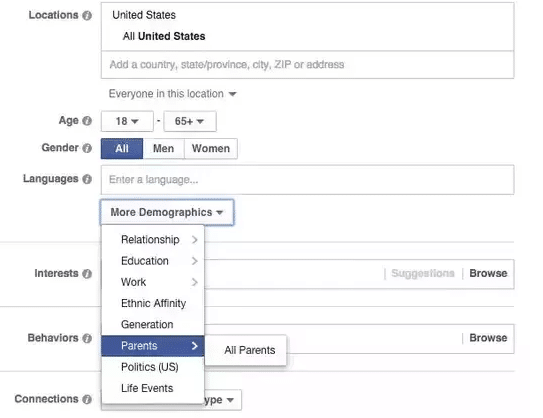 Then, select new parents and parents with toddlers.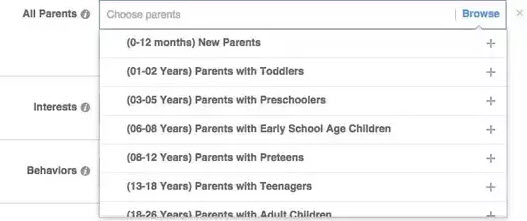 That means, in order to reach the right audience, you only need to dig deeper into demographics data.
5. Retain Customers Using Custom Audiences
With Facebook Custom Audiences, you can target your email subscribers and existing user base on Facebook. All you need to do is to upload your email list or other personal details of your customers, and then, serve your ads only to those users.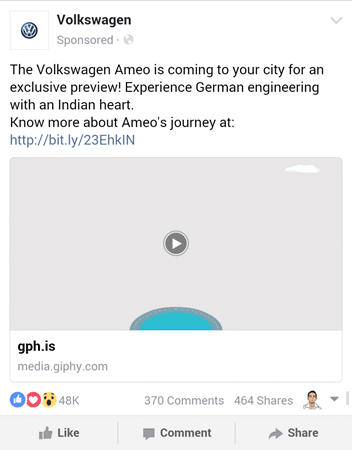 With Custom Audiences, you can
Increase repeat purchases
Re-engage your existing customers who haven't returned to your site for a while.
Promote seasonal offers to a specific segment of your user base who have previously interacted with your seasonal offers.
Let your existing customers know about a recent product launch by showing off your new product.
6. Serve Ads to Your Fans
If you've grown an enthusiastic fan base on Facebook, you can serve ads specifically to your Facebook fans.
Jon Loomer saw his ROI jump 35 times when targeting his Facebook fans over his non-fans.
The benefit of targeting only your fans is that they're some of the most qualified users as they've already expressed an interest in your offer.
Keep in mind that serving your ads to your fans is only recommended if you've grown a loyal fan base. Or else, you'll waste your advertising budget.
7. Set Exclusions
Now you know that Facebook allows you to specify who you want to target on Facebook. Similarly, Facebook also allows you to exclude a certain segment from serving the ad.
For instance, you can exclude people who have already liked your page or people who have made a recent purchase on your site.
This way you can save your advertising budget by not showing your ads to people you don't want to target.
Targeting Tips for Customer Retention
Generally speaking, social media fits in top of the sales funnel, typically in the awareness stage. According to a Buffer survey, brand awareness is the top reason marketers use social media.
But with the right strategy, it can also be used to retain your existing customer base. Let's take a few useful ad targeting tips for customer retention.
8. Add a Remarketing Pixel
On average, it takes 3 to 4 visits to your website for your visitors to actually think of purchasing from you. Remarketing your potential customers on Facebook is the best way to persuade them to revisit and make a purchase on your site.
Remarketing allows you to target your potential customers on Facebook who have shown an interest in your offer by visiting your website. To target your recent website visitors on Facebook, you'll need to add a remarketing pixel on your site.
It simply attaches a cookie to your visitors' browser that enables you to retarget them when they are on Facebook through a custom ad.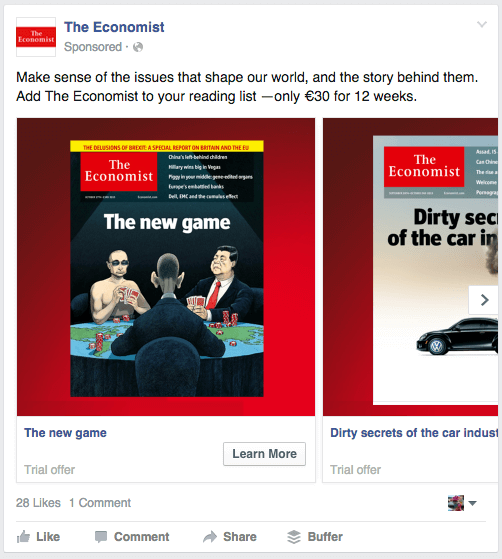 To boost clicks and drive conversions, a common strategy is to offer a special discount to entice purchases. You can also remind them of their recent activity and encourage completing an action with a custom ad.
9. Boost Posts that Have Perceived Well Already
Using the boost post feature is the easiest way to drive traffic to your website from Facebook. When this advertising feature is coupled with remarketing, you can even boost your Facebook organic reach just like the WPBeginner did.
The key is to find your highest performing blog posts on Facebook and spend your advertising budget only to boost those blog posts. Chances are these posts will continue to perform well with the right targeting options, leading to increasing the engagement rate of your ad.
To find what works best with your Facebook audience, you can look at the Source/Medium report and filter out all other traffic sources except Facebook.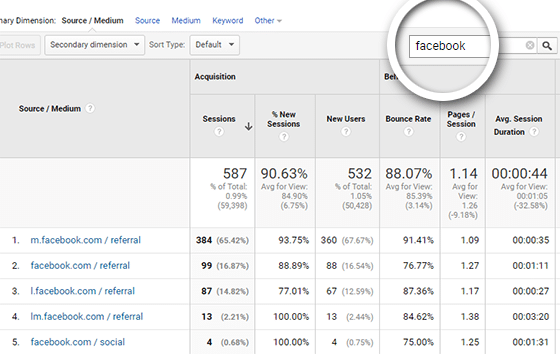 Then, find the blog posts that have been perceived well on Facebook by adding Page as the secondary dimension.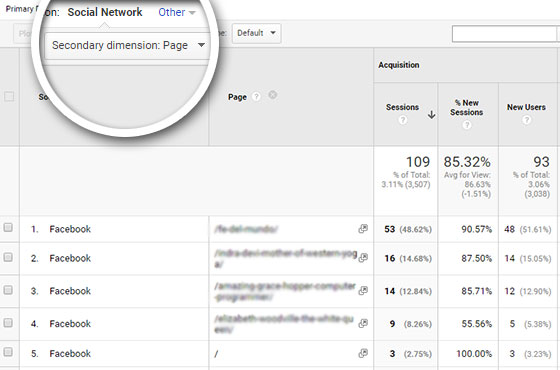 10. Consider Engagement Data
When it comes to remarketing, not all website visitors are created equal. For best results, it is advised to target only those users who have spent enough time on your site.
This way you can save your advertising budget by not serving your ads to the people who just happened to be on your site. This way you can understand the segment that spends the most time on your site. If you're boosting posts, targeting this segment can produce the best ROI for your ads.
That's it!
We hope these Facebook ad targeting tips will help you to boost conversions.
To understand whether your social media campaigns are worth the investment, you'll need to measure social media ROI with Google Analytics.
And don't forget to follow us on Twitter and Facebook for more Google Analytics tutorials.