Does your website offer the best experience possible for your visitors? If you're not getting enough conversions as you expect from your website, chances are your site is not as user-friendly as you think.
You can visualize the users' path through your website by analyzing the Users Flow report in Google Analytics.
In this article, we'll show you how to conduct a Google Analytics behavior flow analysis, so you can deliver a smooth and seamless website experience to your users.
What is User Flow and Why Is It Important?
The Users Flow report in Google Analytics visualizes your users' path through your site. It helps you understand the behavior of your users, how they interact with your website, and create a conversion funnel for your website.
In other words, it shows you the exact steps users took to accomplish a task on your site:
where your website visitors are coming from
how they navigate through your site
where they exit your website
For example, if you have a product landing page on your site, you can analyze the exact steps users go through to land on that page and complete the checkout process. Additionally, you can also track drop off in each step – where you're losing the most visitors.
What Can You Accomplish With a User Flow Analysis?
Below are a few things you can accomplish using a user flow analysis in Google Analytics.
You can see the steps your visitors take or the page they navigate through on your site based on a selected dimension such as country, landing page, campaign, browser, etc.
You can track the through traffic and drop-offs in each path in terms of the relative volume of traffic.
This will help you to segment your audience, and identify potential problem pages on your site.
Conducting a Google Analytics Behavior Flow Analysis
The first thing to do is to sign in to your Google Analytics account and select the website for which you'd like to conduct a user flow analysis.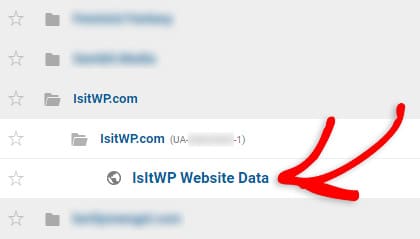 To view the Users Flow report, go to Audience » Users Flow.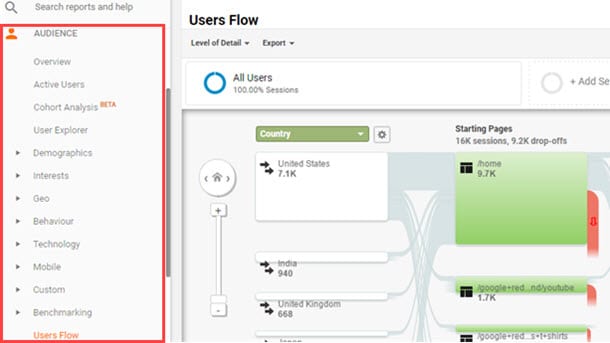 In this report, you'll see…
Green boxes: They represent pages and are labeled as URLs.
Curved gray lines: They represent visitors flowing from page to page. The thicker the line, the more users follow that path.
Red lines (drop off): They represent the percentage of visitors that exit the site after visiting that page.
Dimensions: The default dimension is country. You can change the dimension as per your requirement.
How to Select a Dimension in a User Flow Analysis
You can select a dimension like Landing Page, Country, Campaign, etc. and see the users flow based on your selection. You can choose a dimension from the dropdown menu, which you can see just above the first path in the Users Flow diagram.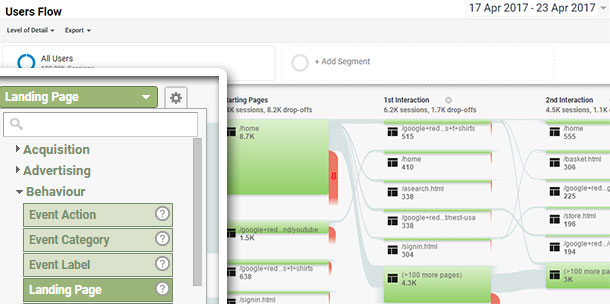 How to View Through Traffic and Drop off in a User Flow Diagram
To view, through traffic and drop-off, you just need to move your cursor and hover over a path. See the screenshot below.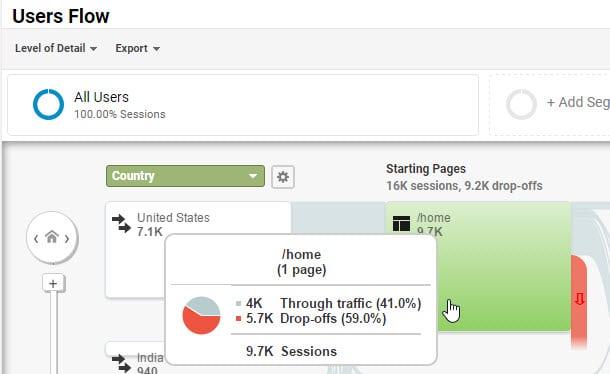 Use MonsterInsights for Behavior Flow Analysis
If you're using WordPress, then there is an easier way of looking at how people find your website, which keywords they use, who referred them, and more.
And that way is through MonsterInsights. It's the best Google Analytics plugin for WordPress and provides you insights about user behavior inside your dashboard.
Using the plugin, you can set up Google Analytics the right way (without touching a single line of code). You can even configure advanced tracking with few clicks with the help of MonsterInsights.
Let's look at different reports you can use to understand how people use your website.
Overview Report
The Overview Report in MonsterInsights gives a complete overview of your website's performance.
To analyze behavior flow, you can start with the New vs. Returning Visitors report. It tells you how many new people visited your site and how many people came back to your site.
The next report to consider is the Device Breakdown report. It shows which devices your users use the most to view your website. This provides insights about making sure your site works smoothly on all platforms.

And if you want to know which country your visitors are from, then just scroll down and view the Top 10 Countries. Likewise, you can view the Top 10 Referrals report to find out which sources your visitors use to find your website.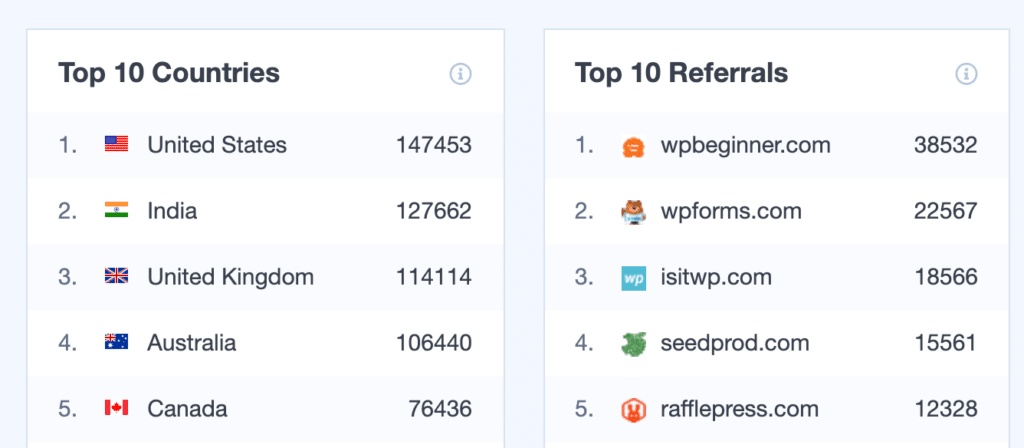 Publishers Report
MonsterInsights Publishers reports provide more insights about how people behave on your website. For starters, you can view the Top Landing Pages report to uncover pages that perform the best on your site.
Since these pages get a lot of traffic, have a good average duration, and bounce rate, you can create more topics to attract visitors.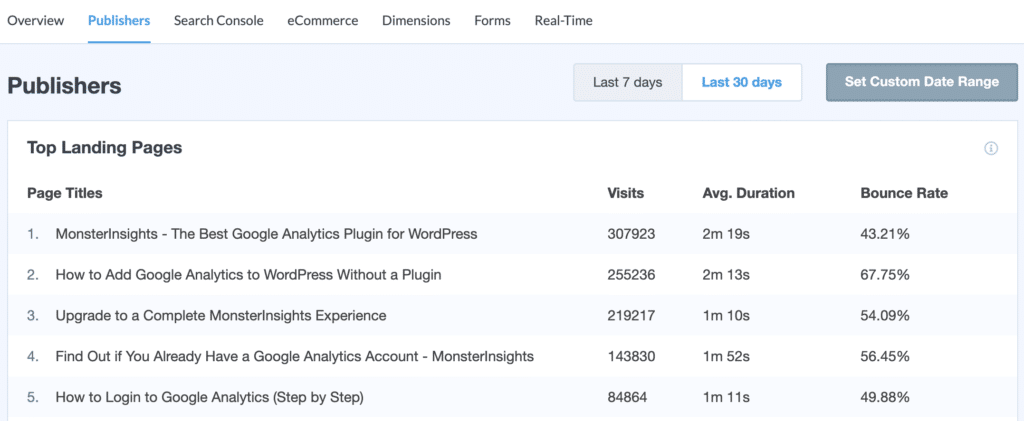 Another report that's important for understanding user flow is the exit pages report. It shows you the top pages from where your visitors leave your site.
This report is excellent to reduce the drop off rate of your website. For instance, if one of the top exit pages is a blog instead of a checkout page, then you can optimize it to get people to visit other posts instead of leaving the site.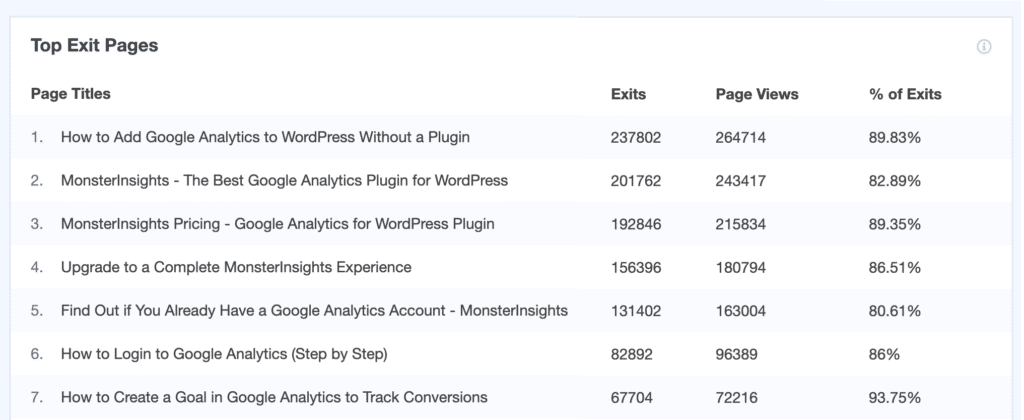 Now scroll down and view the Top Outbound Links report.
It shows you which external links your visitors click on to leave your site. If it's a blog on another website, then you can plug the content gap and create a post on the same topic on your website.
And if you have affiliate partnerships on your site then view the Top Affiliate Links report.
This report shows you which affiliate performs the best and generates the most clicks. Using the information, you can understand user behavior and promote that affiliate more on your site.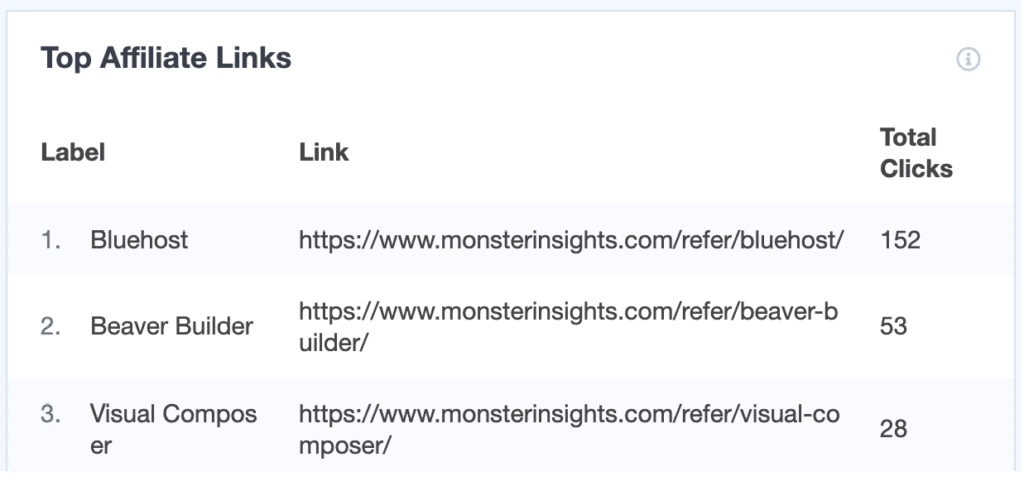 There are more reports in the Publishers report that you can use to further drill down user flow. For instance, you can use Top Download Links to track downloadable content on your website.
You can even view the interests of your users and average scroll depth to see how far they scroll your webpages.
Search Console Report
If you want to know what keywords users search to find your website, then you can use the MonsterInsights Search Console report.
It shows you Top 50 Google Search Terms your site is ranking on. In addition, you can view clicks, impressions, CTR (click-through rate), and the average position for each search query.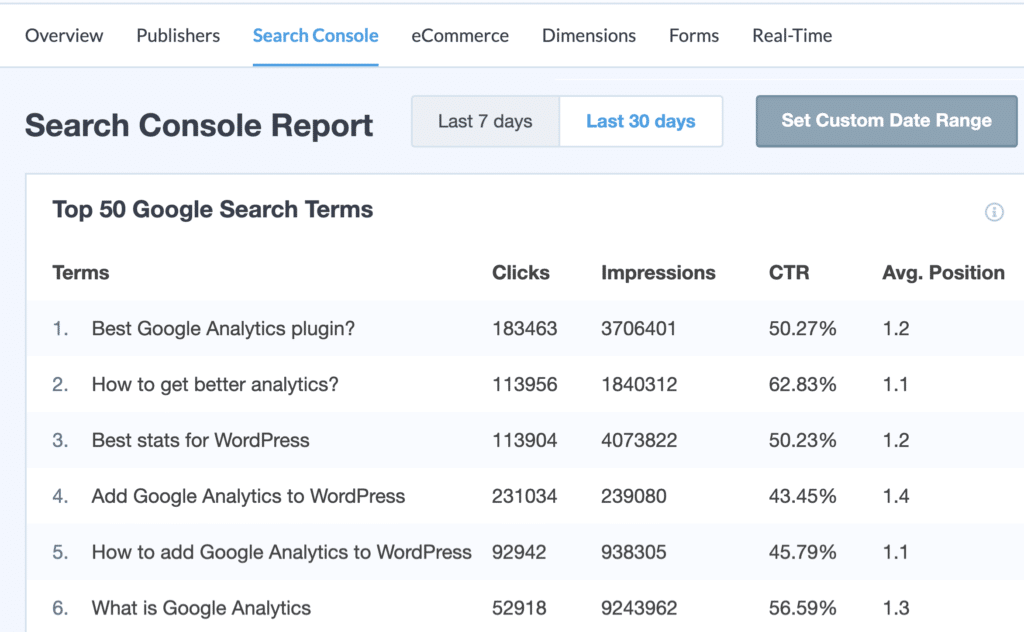 That's it!
You can go through our detailed guide on MonsterInsights dashboard reports to see all other reports you can use to understand user flow.
We hope you like our guide on how to conduct a Google Analytics behavior flow analysis. If you want, check out our article on MonsterInsights vs. Google Analytics.
If you liked this article, then please follow us on Twitter and Facebook for more free tutorials.