Do you want to learn how to do a giveaway on TikTok?
Taking the social media world by storm, TikTok skyrocketed in popularity after its launch a few years ago. The platform now has more than 2 billion active users! Social media is a powerful tool, and business owners have quickly realized the benefits of using TikTok to grow their brand.
In this guide, we're going to walk you through setting up a TikTok giveaway on your WordPress site. We'll show you how to do a giveaway on TikTok easily, so that you'll be able to grow your following and increase sales with a giveaway in only a few steps.
Can You Do Giveaways on TikTok?
Yes, you can do giveaways on TikTok, and there are a lot of reasons why you should! Learning how to run a giveaway on TikTok is an easy way to grow your social media following, increase engagement, and get more sales.
Nowadays, most people use social media, and TikTok giveaways have the potential to go viral. For these reasons, it's an awesome tool to grow your brand awareness and drive traffic.
We're going to show you how to do a giveaway on TikTok to grow or create a following, engage with your TikTok followers, and drive sales!
How to Do a Giveaway on TikTok & WordPress
Knowing that you can make giveaways on TikTok is a great first step, but it's important to know how to set up a giveaway on your WordPress website that will benefit you as well as the winner. You want to create a giveaway that increases traffic on your website, inspires your audience to take action, and ultimately expands your brand awareness.
In order to achieve this, you need to be able to choose and track which actions your users take to enter the giveaway. You also want to be able to integrate this with your WordPress website's marketing. The good news is that with the right tools, this is actually really simple to set up.
We're going to show you how to do a giveaway on TikTok with measurable success, and these are the steps we'll look at:
Install RafflePress
Pick Your TikTok Template
Choose a prize
Set a Start and End Date
Customize Your Giveaway Rules for Entry
Polish the Design for Your TikTok Raffle
Manage Settings for Your TikTok Giveaway
Publish Your TikTok Sweepstakes
That might seem like a lot of steps, but it's actually really simple. Let's get started on finding out how to do a giveaway on TikTok.
Step 1: Install RafflePress

For the absolute best WordPress giveaway plugin, look no further than RafflePress.
RafflePress is the perfect tool to set up all types of raffles and give away prizes. It helps you make a giveaway, manage entries, and track the results.
Plus, it's especially useful for setting up a TikTok giveaway because it provides a TikTok template that's quick and easy to follow.
Check out the pricing page and pick the plan that works the best for you. The Plus license will let you use the TikTok template, but we recommend the Growth plan to gain access to entry reports and get results faster.
After you've purchased RafflePress, use their easy guide to install the giveaway plugin, and you're ready to make a TikTok giveaway.
With the Growth license, you'll be able to use all of the free templates and a ton of features that make any type of giveaway easy to create.
You'll also be able to track and maximize your success and guarantee your giveaways are real and purposeful. These reasons make it an awesome choice for anyone wondering if they can do giveaways on TikTok and other social media platforms with WordPress.
Head to the RafflePress pricing page.
Step 2: Pick Your TikTok Template
After you've installed and activated the RafflePress plugin, navigate to RafflePress from your WordPress admin and click the Add New button. You'll then be taken to a page to select a template.
At the top of the page, enter in a name for your giveaway.

Now you're ready to choose a template. Like we mentioned before, one of the best things about RafflePress is their variety of free templates that make it super easy to set up a giveaway.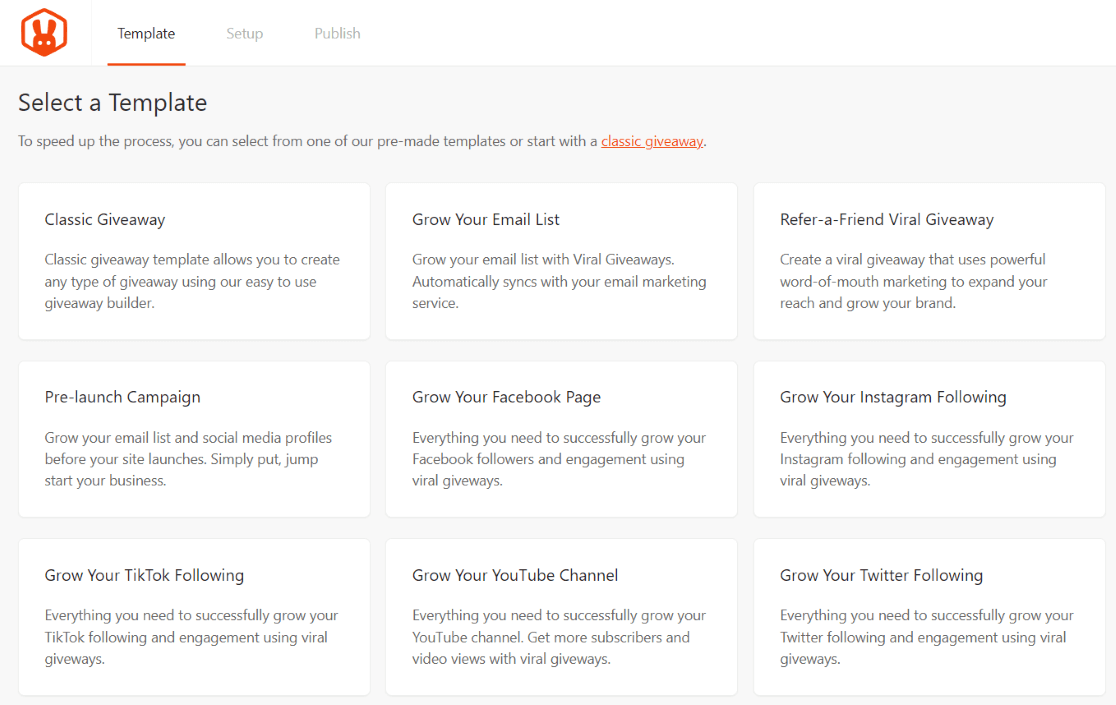 For this tutorial, we'll be using the template titled Grow Your TikTok Following. When you hover over the template you'd like to use, you'll see a button that says Use this Template. Click it.
You'll be taken to an editable template for your TikTok giveaway, and we'll show you how to make a giveaway on TikTok that's custom for your brand.
Step 3: Choose a Giveaway Prize and Image
Now that you're in the editable template, you'll need to select what prize you'll give away for your TikTok raffle. There are a lot of options for prizes, but choosing what prize to offer in your TikTok giveaway should be given some thought.
The key things to think about are choosing a prize that grabs the attention of your audience and making sure that the chance of winning is worth the effort that it takes to enter the giveaway.
There's an endless number of options of what you can offer, and it doesn't have to be monetary. So give it plenty of thought, and get creative.
Here are some viral giveaway ideas to get you started:
Social media exposure
Early access to new products
Trending products
Experiences
Cash
Gift cards
Once you've decided on the prize for your TikTok giveaway, click the name of the prize (it will say My Awesome Prize until you edit it). Now you'll have the chance to write a custom prize name, fill out the description, and add an image for your TikTok giveaway.
When you've finished filling out the details and added an image that will grab your audience's attention, click Done Editing at the bottom of the template.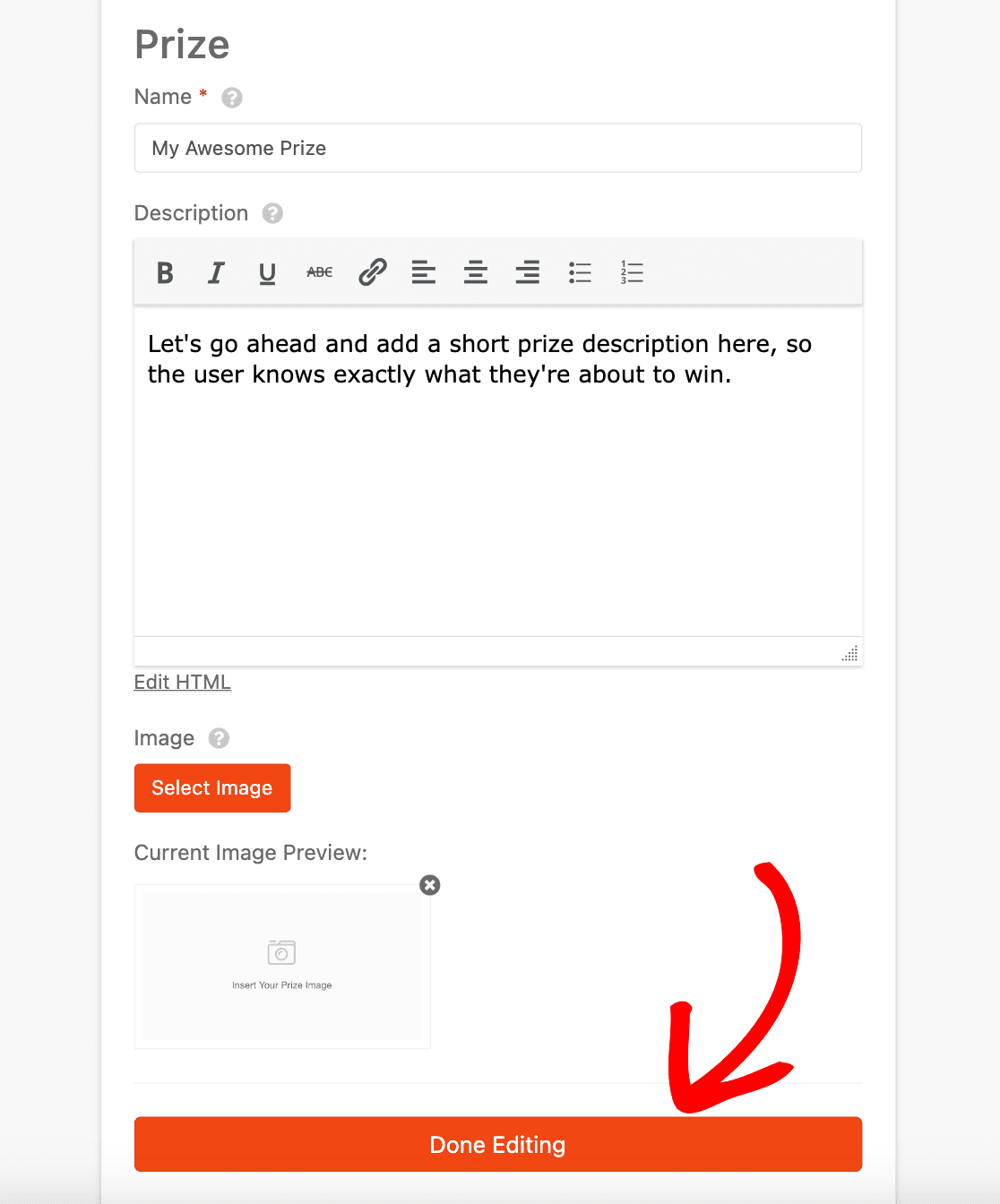 Your giveaway template likely looks pretty good already. Now, we'll customize some other parts of it to make it the perfect TikTok giveaway for your business.
Step 4: Set a Start and End Date
This is a really important step. A social media giveaway that doesn't have a limited time set usually won't be as successful. Creating a sense of urgency makes your audience much more likely to participate.
It also helps avoid the problem of people thinking they have plenty of time to do it, so they put it off, and then they are more likely to forget to ever do it.
RafflePress gives some guidance for how long a giveaway should last. Check it out if you're not quite sure about the time period you want to set.
To set the time frame for your TikTok competition, look at the details on the left side of the page and enter the time and date you'd like for Giveaway Starts on and Giveaway Ends on (make sure to use the Timezone option as well, if needed).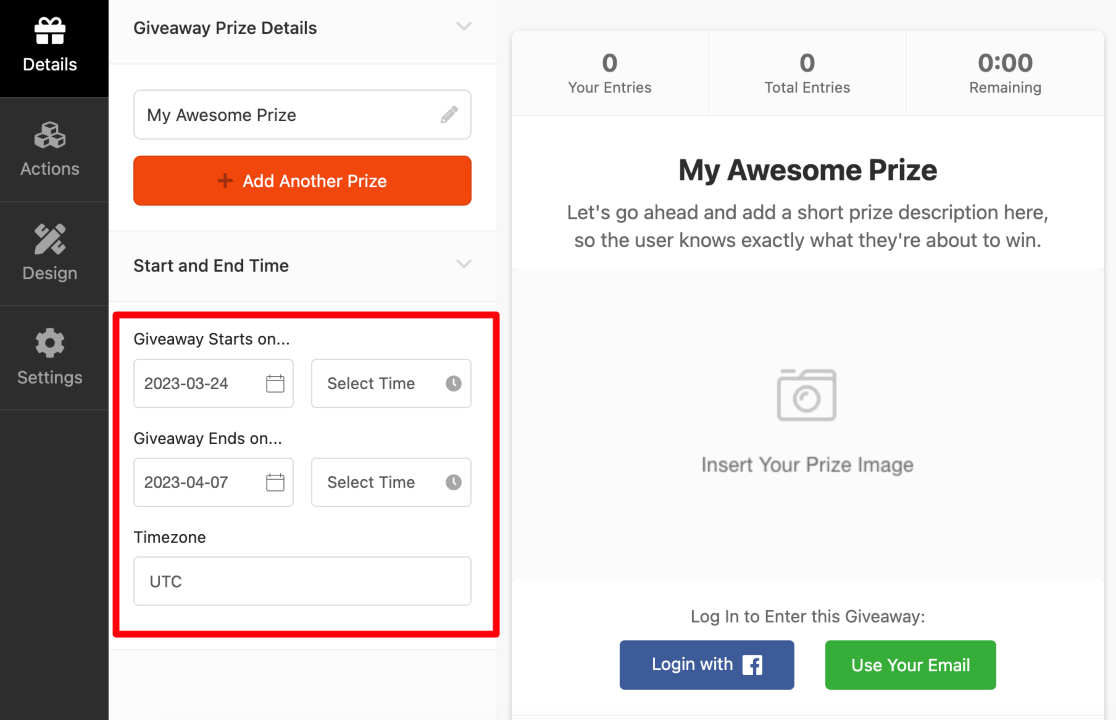 As soon as your start and end times are entered, you'll see the countdown timer at the top of the template populate with the correct amount of time remaining.
Step 5: Customize Your Giveaway Entry Rules
Now that you've set the details for your giveaway prize and the time period for your TikTok sweepstakes, it's time to customize the entry requirements.
One of the biggest challenges when running a giveaway on TikTok is figuring out how to measure your results, but that was before you found RafflePress.
RafflePress takes all of the guesswork out and easily tracks actions on all types of social media platforms. For a TikTok giveaway, this means that RafflePress tracks when someone follows you or views a post or video.
In this template, RafflePress automatically gives two options for contestants to enter the TikTok raffle:
View TikTok Post / Video
Follow us on TikTok
You'll see these options at the bottom of the giveaway template, and you can easily edit them by clicking on them. Also, if you hover over it, you can drag them to change the order that they appear or delete one of them by clicking on the trash can that appears on the right side.
When you click one of the entry methods, the details will show in the left sidebar under an Entry Options tab, and you can edit them.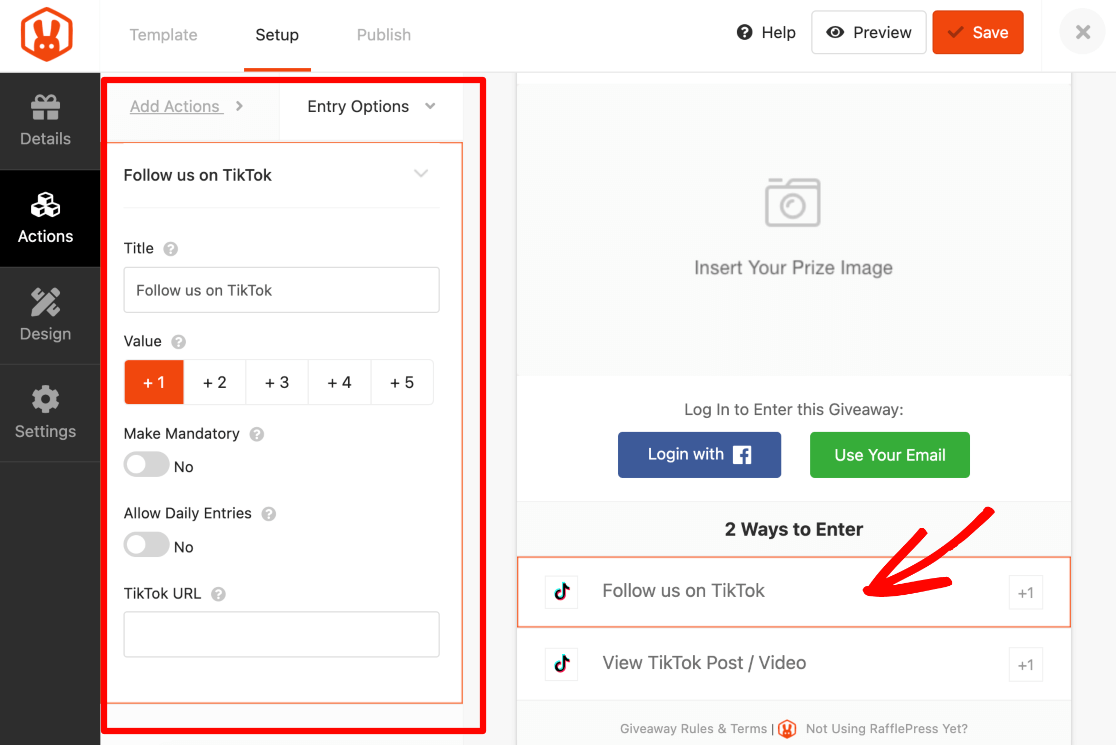 You can also add more actions for entry by clicking the Add Actions tab.
Here's the detailed guide for setting up actions.
On the left, you can edit the name of the entry action, choose how many entries in the giveaway each action will earn, decide whether it's mandatory, and customize the amount of daily entries allowed. You'll also provide the TikTok URL to follow or post/video to embed.
Filling out this section and providing the TikTok URL or post/video allows RafflePress to track giveaway entries so that you can do giveaways on TikTok with measurable success.
Step 6: Polish Your Viral Giveaway Design
It's time to put the final touches on your TikTok giveaway.
RafflePress makes this super easy. Just click the Design tab in the left toolbar and you'll be able to easily change the layout of your giveaway, font, and call to action button colors.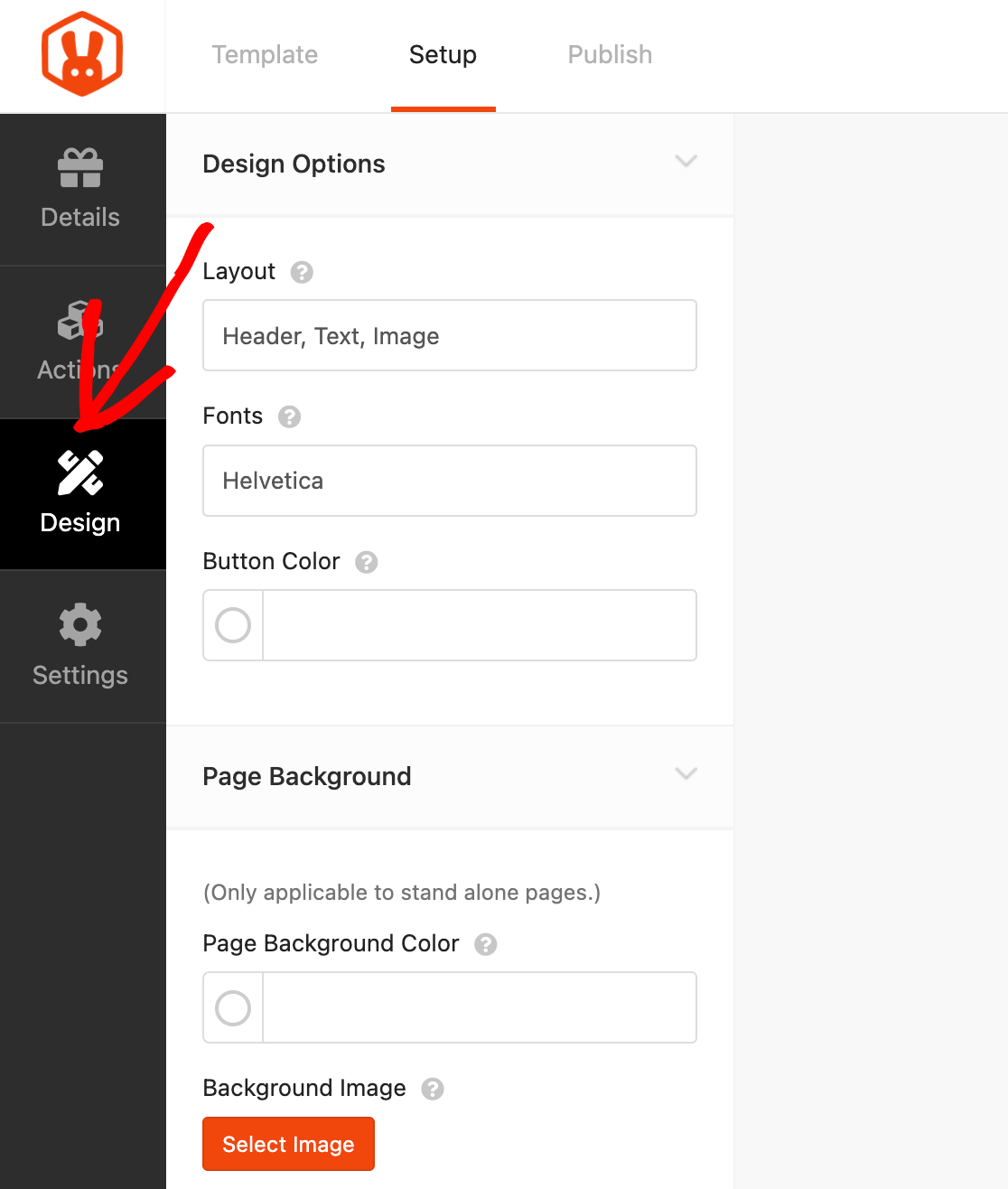 You can also choose a background color or upload a background image for your TikTok giveaway.
It's great to be able to add your brand's colors and fonts, but RafflePress is already designed to be a perfect template for TikTok giveaways, so you don't need to worry too much about this step.
Step 7: Manage Settings for Your TikTok Giveaway
You're almost finished setting up your giveaway for TikTok, but there's one final step. You'll need to manage the settings for your TikTok contest.
Click the Settings tab on the left toolbar, and you'll see a list of options that you can edit:
General
Giveaway Rules
Email Verification
Success Redirect
Social Logins
And more…
You probably won't need to edit all of these settings, but one that you should definitely fill out is the rules for your giveaway. Luckily, RafflePress also makes this extremely easy with its contest rules generator template.
Click Giveaway Rules in the settings, and then click the Generate Rules button in the top right.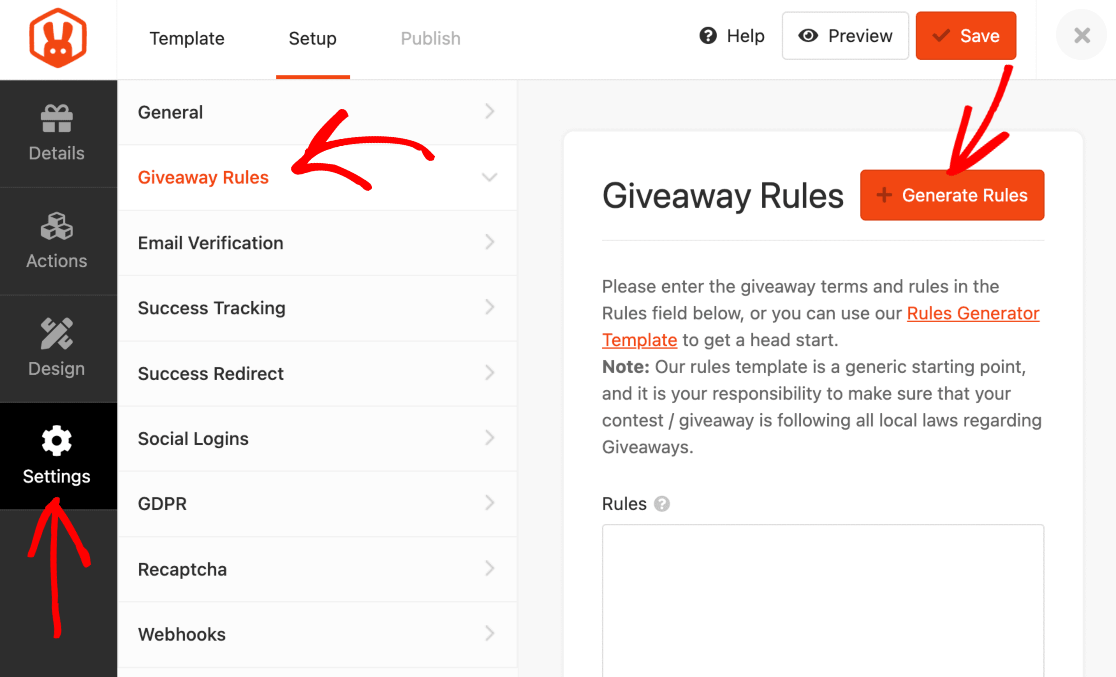 A popup will appear for you to fill out the details of your business. When you're finished, click Generate Rules at the bottom.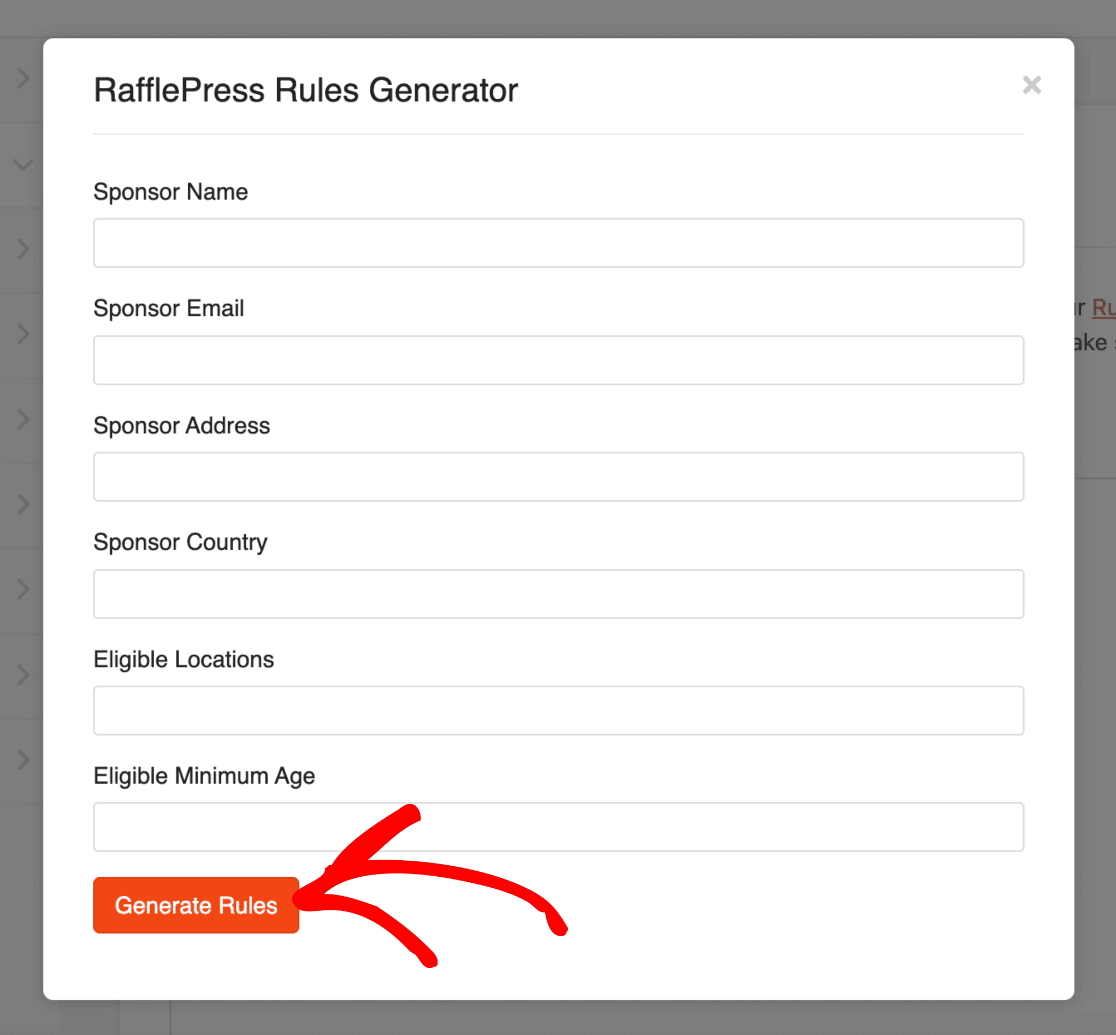 Next, an editable template will be created that informs your customers about the rules of the giveaway and highlights the eligibility requirements.
Note: TikTok allows giveaways, but make sure to check out TikTok's rules to ensure that you know what the guidelines are for a contest on TikTok and that you're following them.
Step 8: Publish your TikTok Giveaway
Now you know how to make a giveaway on TikTok, and it's time to publish your TikTok challenge.
The last thing is to click the Publish tab at the top of the page.
You'll see 3 options for how to publish your giveaway:
RafflePress WordPress Block
WordPress Shortcode
Giveaway Landing Page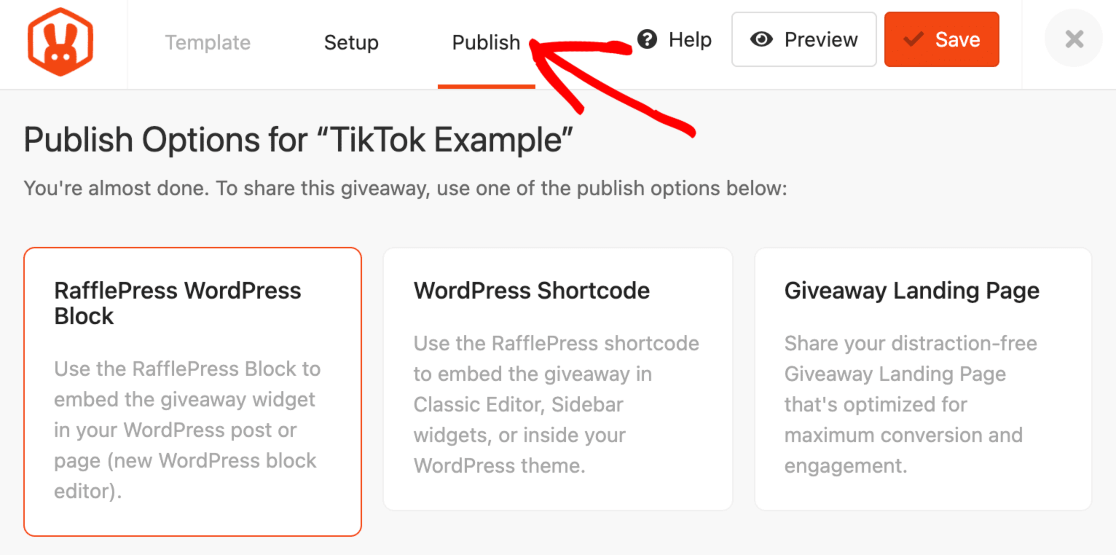 If you choose RafflePress WordPress Block, you can easily add your giveaway to an existing page. Just open up any page and add a new block. Start typing RafflePress and choose RafflePress when it appears.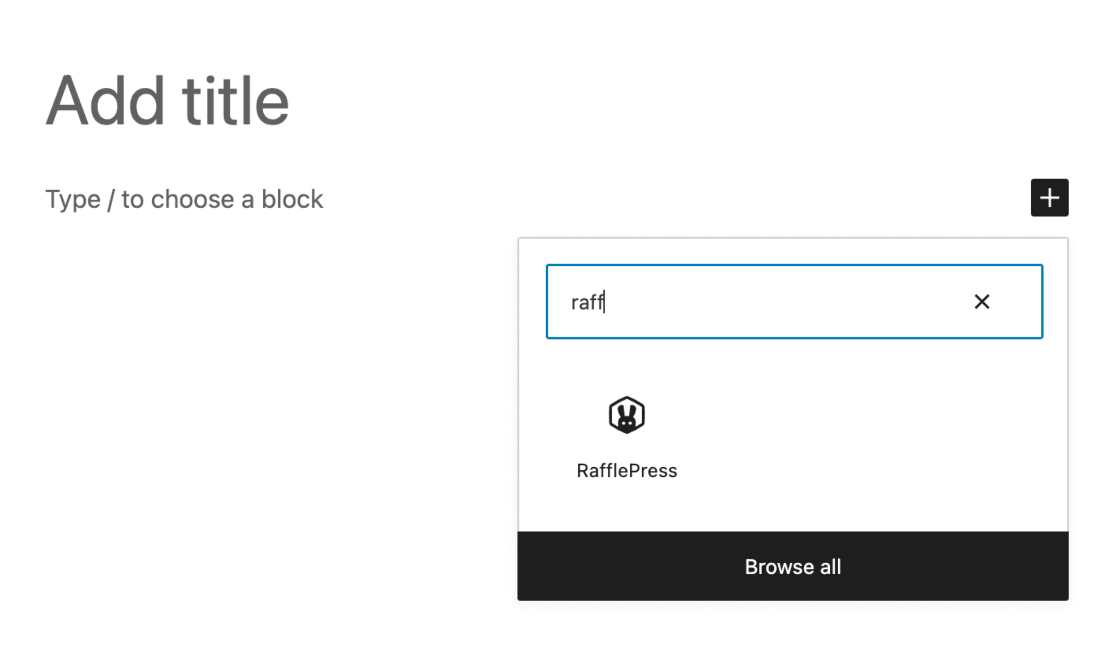 Then in the block settings, you can use the drop down menu to choose the TikTok giveaway that you created.
If you use WordPress Shortcode to publish, you'll just choose the shortcode block in any post or page and paste the code from RafflePress into the block.
If you'd like to create a landing page for your viral giveaway, choose Giveaway Landing Page and follow the prompts from RafflePress.
Track Your Website's Visitors to Supercharge Your Giveaway
Now that you know how to do a giveaway on TikTok, you can easily create beautiful giveaways in only a few steps.
Running a successful giveaway means engaging your audience and inspiring them to take action, and RafflePress gives you all the tools to do this.
If you want to supercharge your social media giveaways for success and gain huge insight into your audience and website's performance, you need MonsterInsights.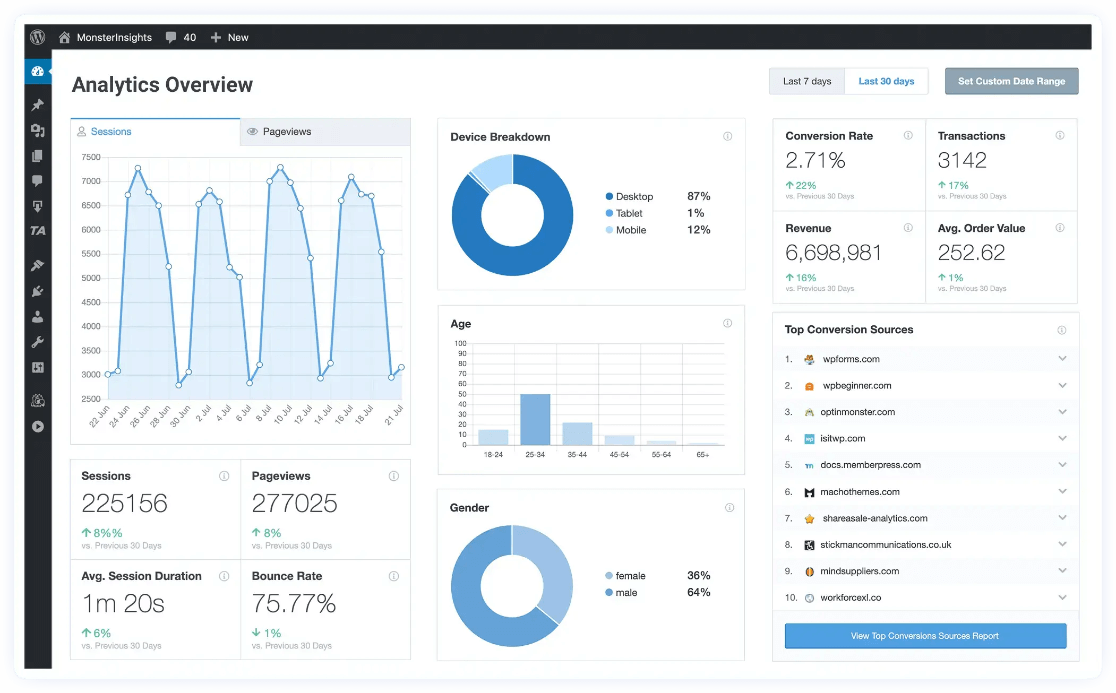 With MonsterInsights, the #1 Google Analytics plugin for WordPress, it's easy to track your website's traffic and visitors, optimize for conversions, and grow your business faster.
Use the plugin to track the visitors you get from TikTok and see if they complete any conversions on your site.
Install MonsterInsights today!
How to Do a Giveaway on TikTok with Real Success
With RafflePress, you can do giveaways on TikTok in no time at all, and ensure that your giveaways have real benefits that you can measure. Check out this TikTok giveaway example!
Brainstorm to pick the perfect prize, promote your giveaway, and let RafflePress handle the rest, while you watch your TikTok followers grow and your sales increase.
You've learned how to do a giveaway on TikTok. What other things should you do to grow your business? Check out our article on How to Set up Google Analytics Social Media Tracking.
Not using MonsterInsights yet? What are you waiting for?
And don't forget to follow us on Twitter, Facebook, and YouTube to see all our reviews, tutorials, and Google Analytics tips.