Our readers often ask us how important is mobile marketing? Should it be a part of their marketing strategy?
And our answer is, YES!
If you want your marketing strategy to be successful, then mobile marketing should definitely be a part of your plans.
Even Google now focuses on your website's mobile version instead of the desktop version for rankings.
With its mobile-first index, you'll have to think about how your website's experience is on mobile, which includes your marketing efforts.
This huge shift from desktop to mobile has come over the years. Users now spend more time on their smartphones than computers, which shows the importance of mobile marketing.
In this article, we'll be sharing 70+ fascinating mobile marketing statistics to skyrocket your marketing strategy.
Let's dive right in…
Mobile Usage Statistics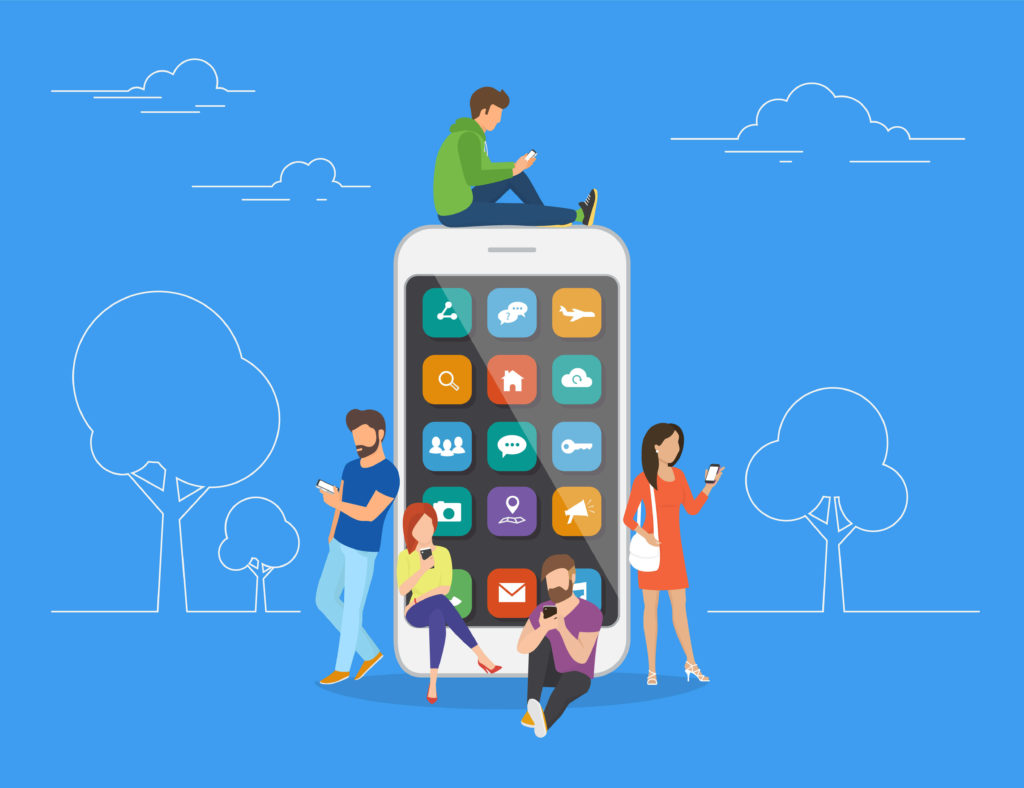 We'll start with mobile usage stats to show how mobiles have overtaken desktop devices.
According to Statista, there are 4.33 billion internet users around the world, and over 3.7 billion are mobile users as of July 2019.
And it's predicted that the total number of mobile internet users is expected to reach 5 billion by the end of 2019.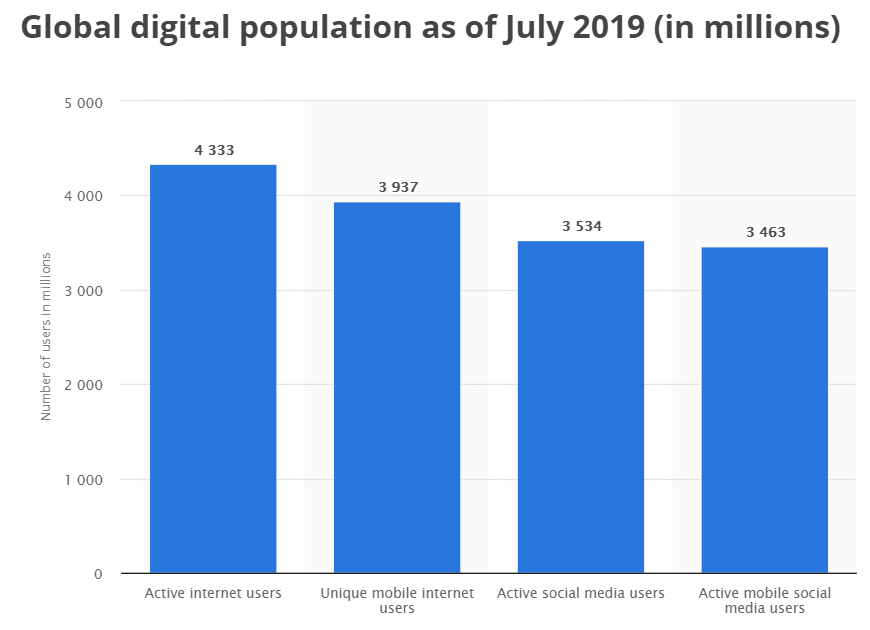 The numbers don't stop there. If you're wondering how many websites are viewed on mobile devices? In 2018, 52.2% of internet traffic was from mobile devices.
Which leads us to another question, how many people own a smartphone in 2019?
Almost 5.13 billion people around the world own a mobile device, which is 66.53% of the world's total population. Amazing, isn't it!

And did you know that China is the leading country to have the most smartphone users?
It has 782.85 million mobile users, followed by India (374.89 million users) and the United States (251.69 million users).
At this point, you may ask how many Android users are there in the world? According to Google, there are 2.5 billion active Android devices.
Android is the most popular mobile operating system in the world with a 76.23% market share, followed by iOS with 22.17% market share.
So, it's no surprise that Chrome is the most popular mobile browser in the world and has 60.68% market share compared to Safari, which has a 20.25% market share.
But in the US, Safari is the leading mobile browser with 52.2% market share.
Statistics on User Behavior with Mobile Devices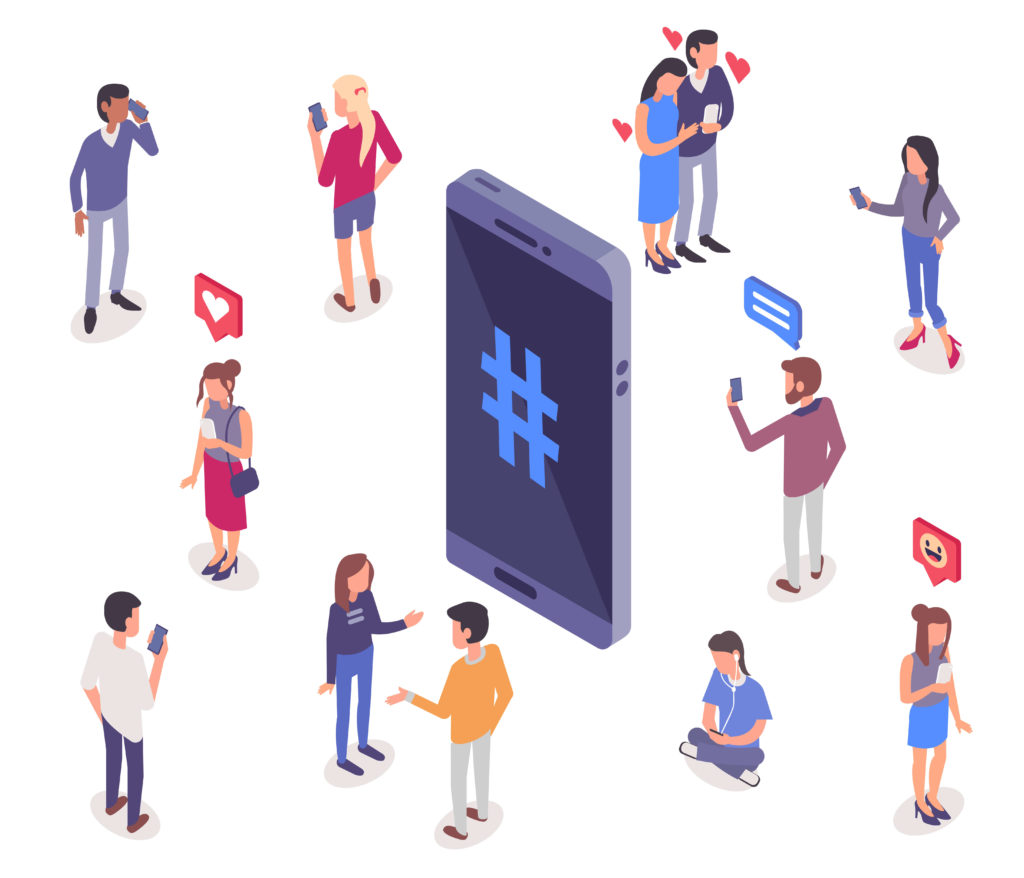 As you can see, it's clear how mobile usage has grown over the years. And with that, the behavior of users has also changed.
Let's see some interesting facts about user behavior with mobile devices.
To start, the Pew Research Center found that maximum smartphone usage is between the age groups of 18 – 29 and 30 – 49 in the US.
And another research showed that users in the United States spent an average time of 3 minutes and 25 seconds in-app compared to 51 seconds on the web.
Forbes also agrees that users spend around 3.3 hours per day on their phone.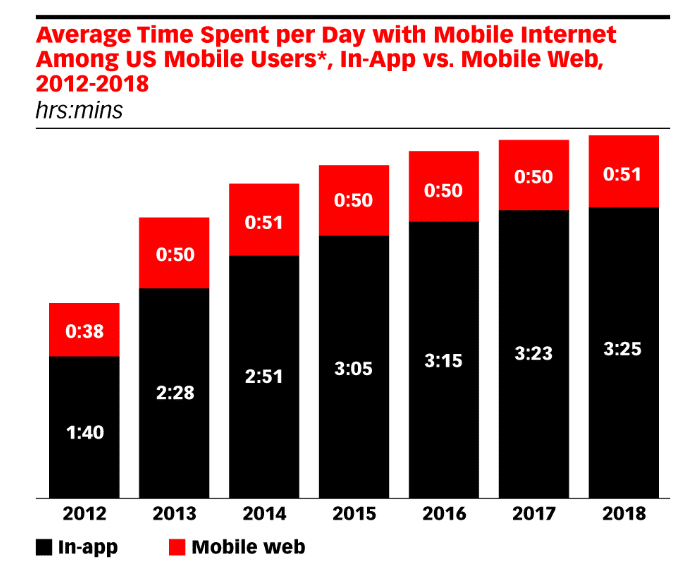 With users spending so much time on their smartphones, what do they actually do with their mobile devices?
Insights For Professionals found that:
92% of people use mobile phones to take pictures
79% use it to visit social media
64% of users use it for lifestyle activities
88% use it to play games
94% use it for map routes
Meanwhile, a total of 105 billion apps were downloaded in 2018, with 29.6 billion from App Store and 75.7 billion from Google Play Store.
And 33% of the app downloads were mobile games, where users spent 120 billion hours annually playing mobile games.
As for mobile data traffic, Statista says that it's expected to grow from 28.56 exabytes per month to 77.49 exabytes per month in 2022. Which isn't a surprise as most users use the internet on the go on their mobile devices.
Now, are you ready to see mobile marketing statistics about social media? Let's start.
Mobile Social Media Marketing Statistics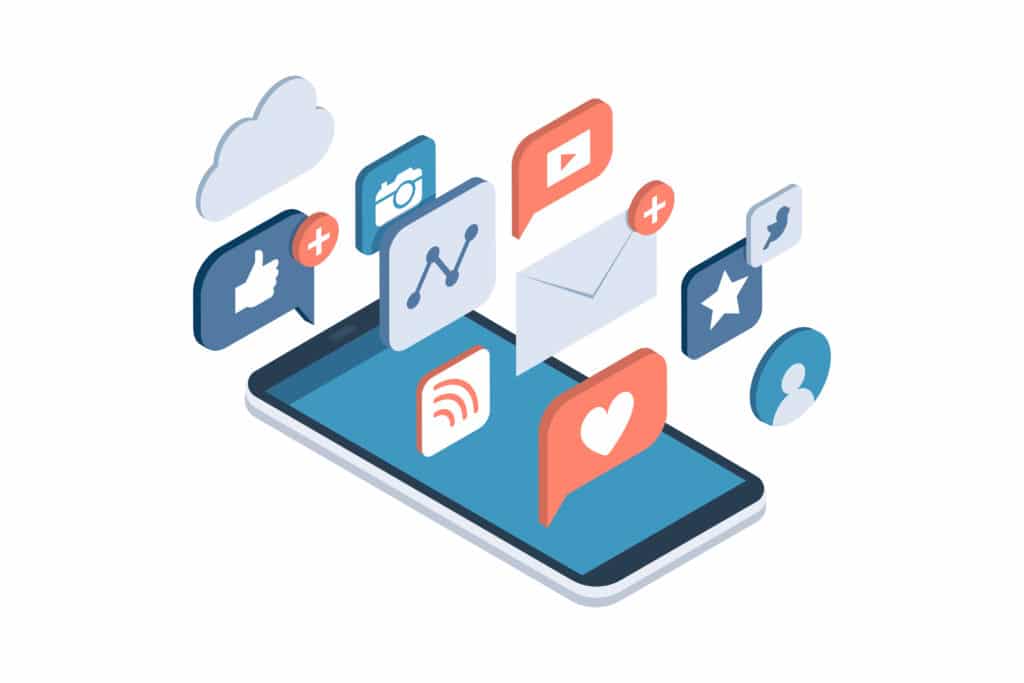 Mobile marketing won't be complete without social media. It's an important part of your marketing strategy. Let's check out these mind-blowing mobile social media marketing statistics.
To put things into perspective, 91% of all social media users use their mobile devices to access social channels.
And they spend 80% of total time on social media through their mobiles.
As a marketer, the growing use of mobile means you can take advantage of social networks by personalizing your campaigns according to the user's device.
That said, 96% users around the worldwide access Facebook through their mobile devices. Which shows that your Facebook campaigns should be mobile optimized.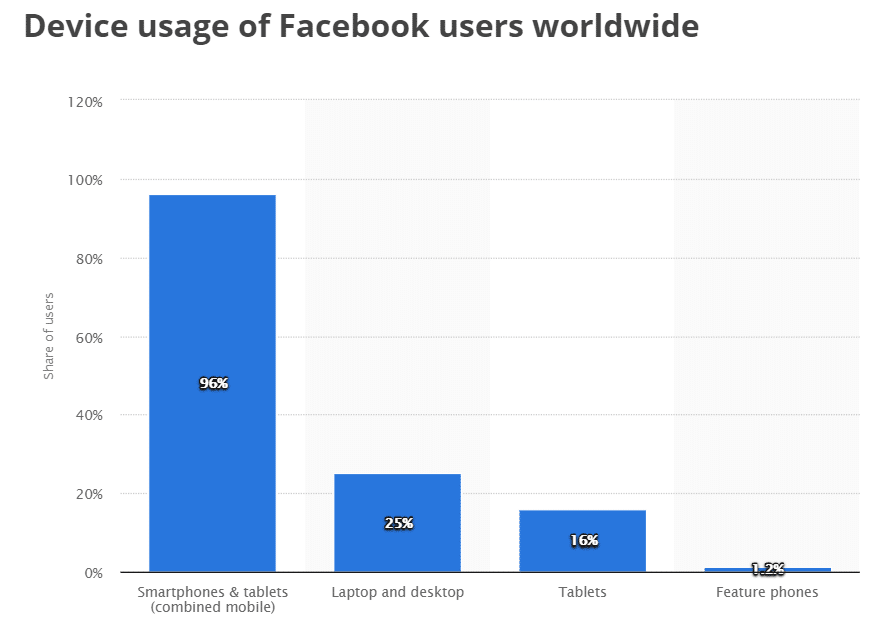 Facebook also has the most active users, with 2.38 billion users as of July 2019. Close behind Facebook is YouTube with 2 billion users, WhatsApp with 1.6 billion users, and Instagram with 1 billion users.
Thanks to social media, you can get a quick response to your posts, get instant feedback, and resolve user queries on their mobile devices.
In fact, 63% of customers expect businesses to offer customer support through social media channels.
And, 90% of social media users have already used social networks to communicate with different brands.
Mobile Advertising Statistics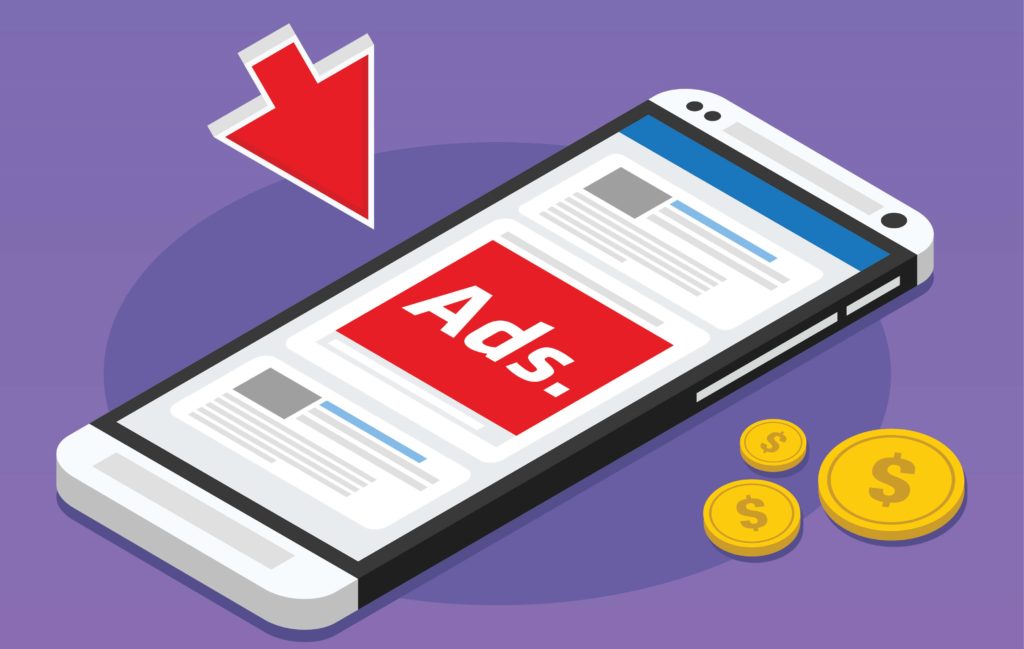 Another important aspect of your marketing strategy is using paid advertisements. Here are some fascinating mobile advertising statistics that show how companies are earning more from mobile than desktop.
For instance, Instagram's mobile ad revenue is around $595 million per year. And according to TechCrunch, Instagram makes up 28.2% of Facebook's mobile ad revenue.
Even Facebook's total Q1 2019 advertising revenue consisted of 93% of mobile advertising revenue. Which shows marketers and advertisers put 51% of their budget into mobile ad spending.
It's no surprise that social media companies like Facebook earn through mobile ads. In the US alone, it's expected that digital ad spending on mobile will reach $77.89 billion by 2019.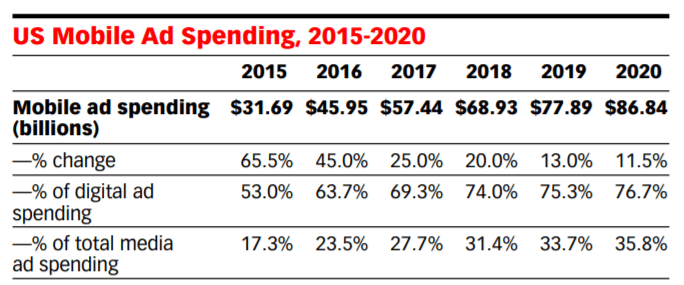 While spending on mobile ads is increasing quickly, HubSpot suggests that 70% of people dislike mobile ads.
That said, Google drives 95% of all paid search ad clicks through mobile in the US. It also reports that 6 in 10 online purchases are through mobile.
So, mobile advertising is an important part of your marketing strategy, as 60% of consumer click on mobile ads at least every week.
Mobile Search Statistics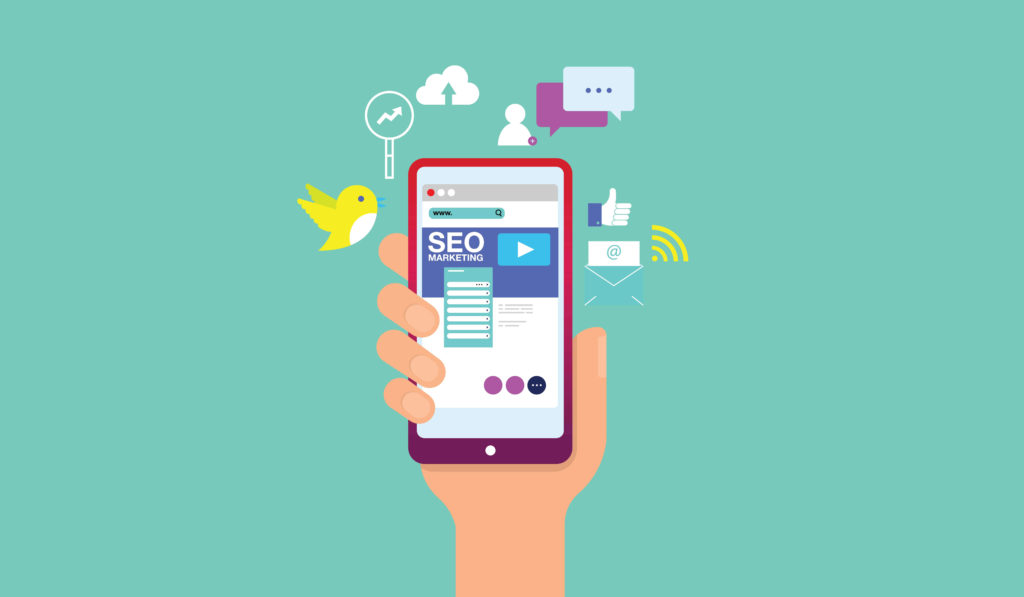 If you want to rank higher on search engines and improve your SEO, you'll have to pay special attention to mobile.
Google is now mobile-first and will rank websites higher based on mobile performance. Since mobile is at the center of everything, you might be interested in knowing how many Google searches are from mobile devices?
To give you an idea, 95% of the total organic search visits in the United States were from mobile. This shows how important is mobile for your boosting your organic performance.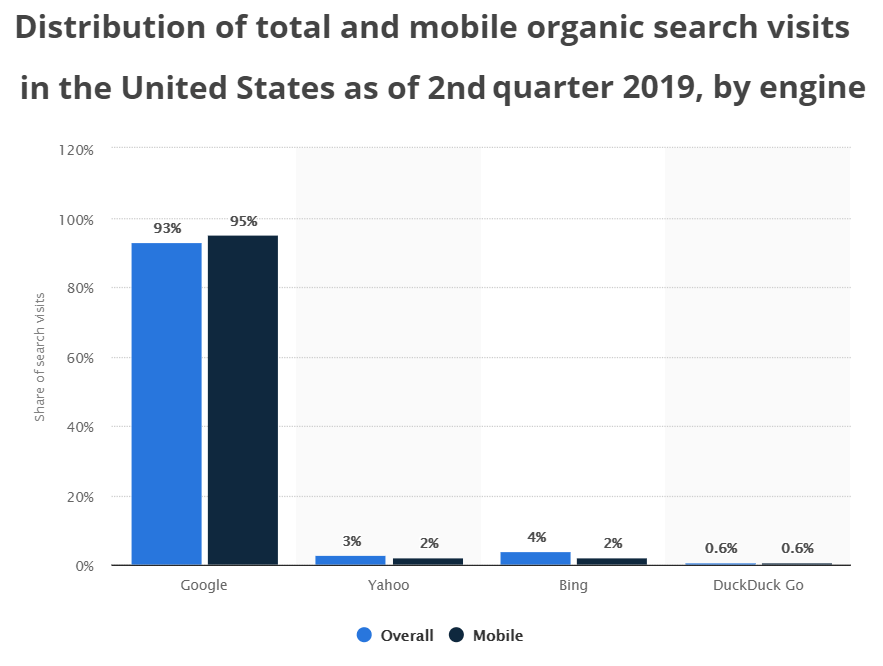 In terms of search engine market share, Google controls 93% of the market. The closest any other search engine comes is Baidu with roughly 3.56%.
And if you want to see how mobile search visits have increased over the years, then consider the below graphics. Nearly 63% of all the searches on Google were from mobile devices in the United States in Q2 2019.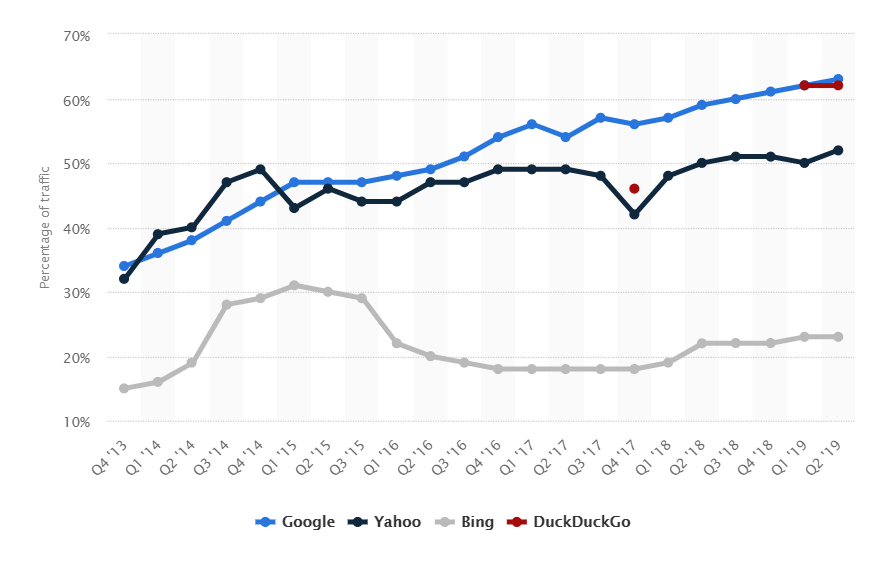 According to Moz, mobile searches are just as long as desktop search queries. Which means that users prefer searching for things on their smartphones instead of a desktop.
Another interesting mobile search statistic from Google shows that average time to fully load a mobile landing page is 15.3 seconds, which has dropped by 7 seconds from last year.
And if you're wondering about mobile searches conversion rates, then 18% of local mobile searches result in a sale within one day.
As you can see, your search engine rankings highly depend on mobile.
Mobile Video Marketing Statistics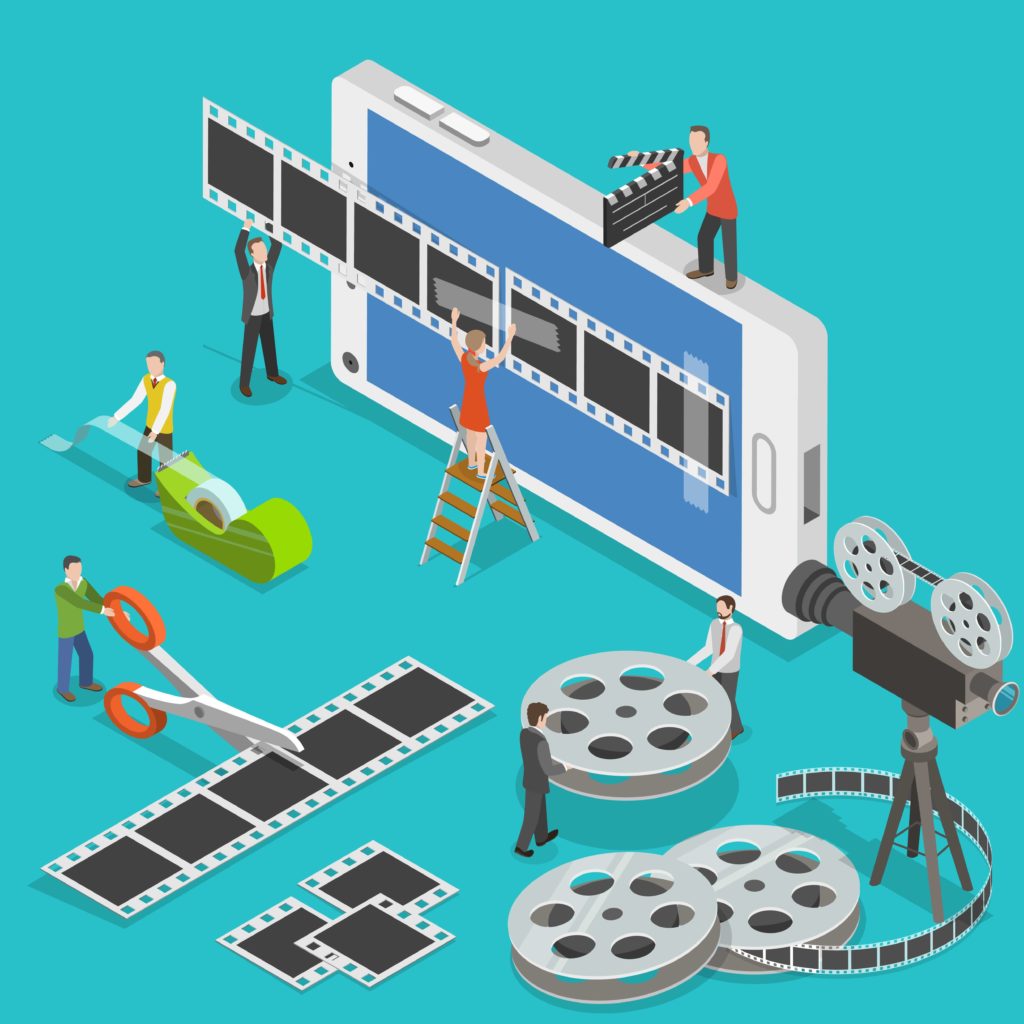 We hope that by now, you know the power of mobile marketing. To add further, let's take a look at some amazing mobile video marketing statistics.
Videos are getting more and more attention, especially on mobiles. For instance, more than 70% of videos on YouTube are viewed through mobile devices.
Even Facebook provides an insight that by 2020 over 75% of the world's mobile traffic will be video. It also reported that people are 1.5 times more likely to view a video on their smartphone than desktop.

And users spend an average of 40 minutes each day watching YouTube videos on their mobile devices. Twitter also said that almost 90% of videos are viewed on mobile.
According to IAB, there was an increase of 31% in mobile and video spending from 2018 and the average spending will be $18 million in 2019.
Looking at these mobile video marketing statistics, you can now skyrocket your business's growth and use different media to attract visitors.
B2B Mobile Marketing Statistics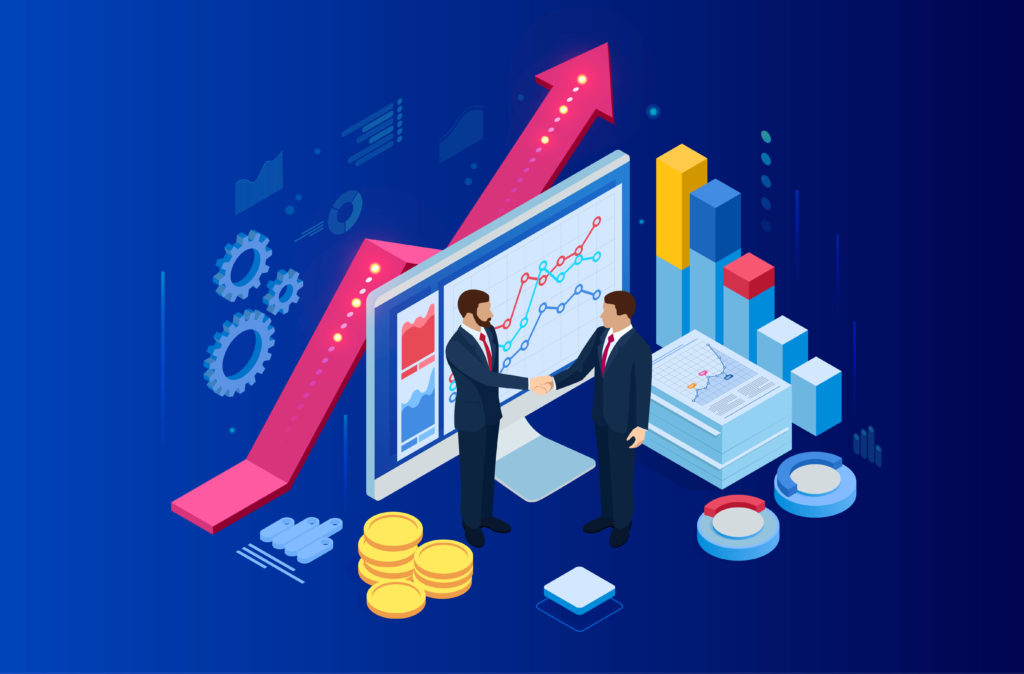 There is a popular myth among digital marketing experts that mobile marketing isn't important for B2B businesses. But that's not true!
If you look at B2B mobile marketing statistics, you'll see this myth busted wide open.
For instance, a study by Boston Consulting Group showed that 80% of B2B buyers use mobiles at work.
The study further revealed that the use of mobile in B2B resulted in more queries, traffic, leads, transactions, and resulted in a greater revenue contribution of 42% on average.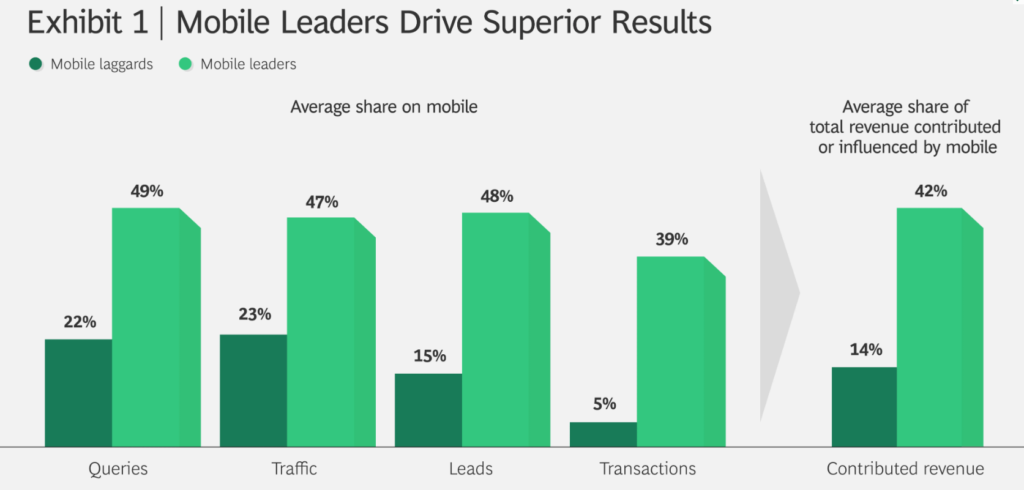 Boston Consulting Group's report also shows that the use of mobile B2B accelerated the time to purchase by 20%. And 90% of buyers are likely to buy from the same vendor if they had a great mobile experience.
Even Google stated that leading B2B organizations drive more than 40% revenue from mobile.
And did you know, more than 50% of B2B search queries are made on a smartphone? This number is expected to increase to 70% by 2020.
So, as you can see, mobile marketing is just as important for B2B business.
Mobile Email Statistics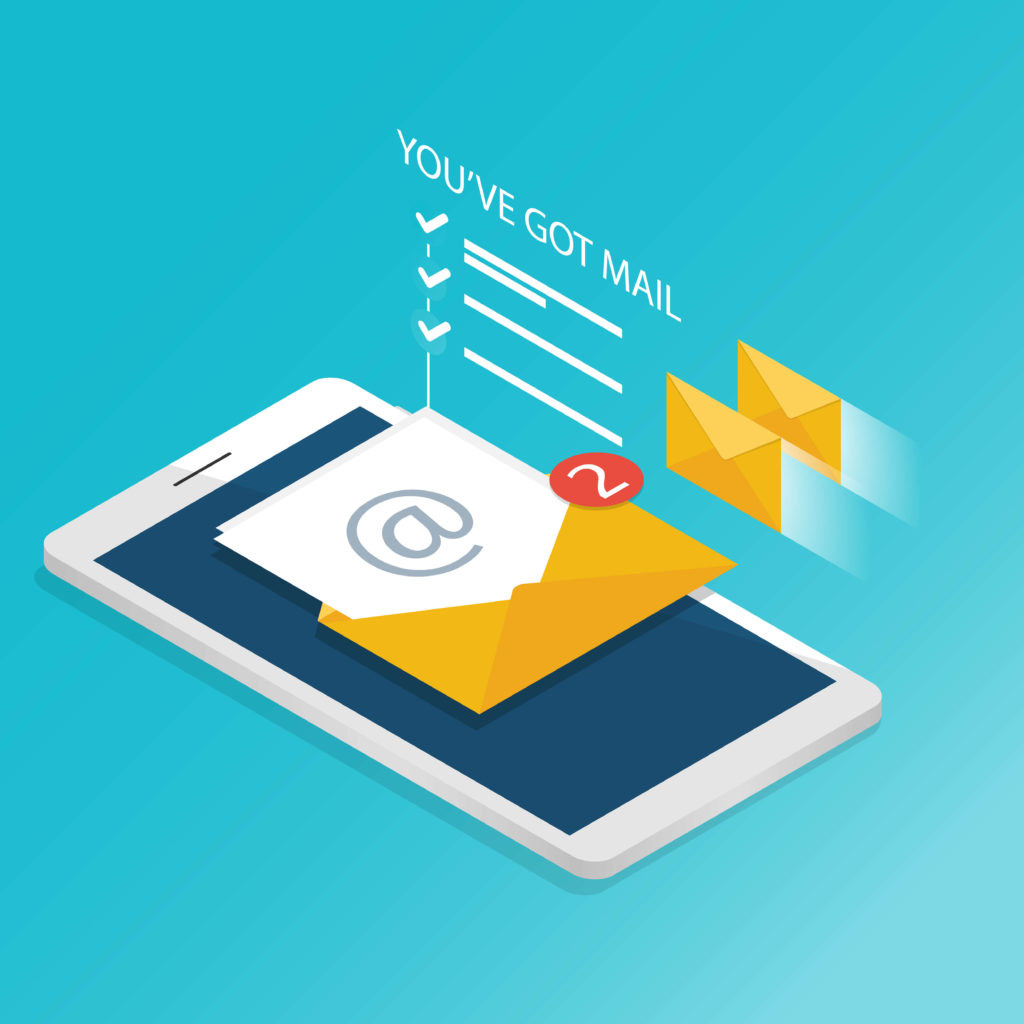 Do you want to know what percentage of emails are opened on a mobile device?
Around 61.9% of email opens are done on mobile devices, followed by 9.8% on desktop, and 28.3% in webmail as of July 2019.
Mobile email opens have gone up a lot in the last few years, as this number was just 29% in 2012.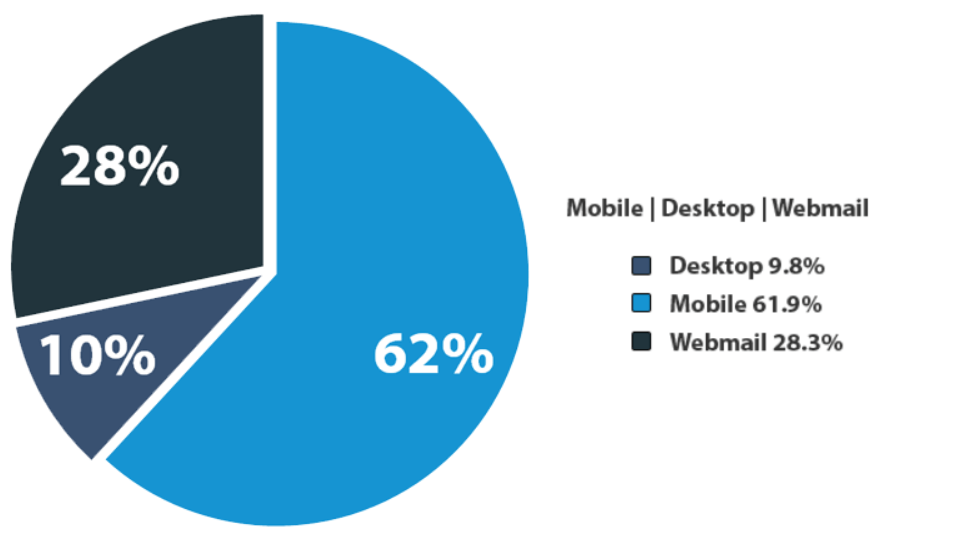 The stats show that users are more likely to open their emails on their smartphones, instead of desktops.
Businesses realize this importance, as 39% of companies would use a mobile-responsive email template.
Another mobile email statistic that you might find fascinating is that as of April 2019, 27.6% of all email opens were on Apple iPhone and 27.8% on Gmail.
It's the first time that Gmail has led mobile email clients.
That said, mobile users are likely to check their emails 3x more than a non-mobile user and 35% of all business professionals use their mobile devices to check emails.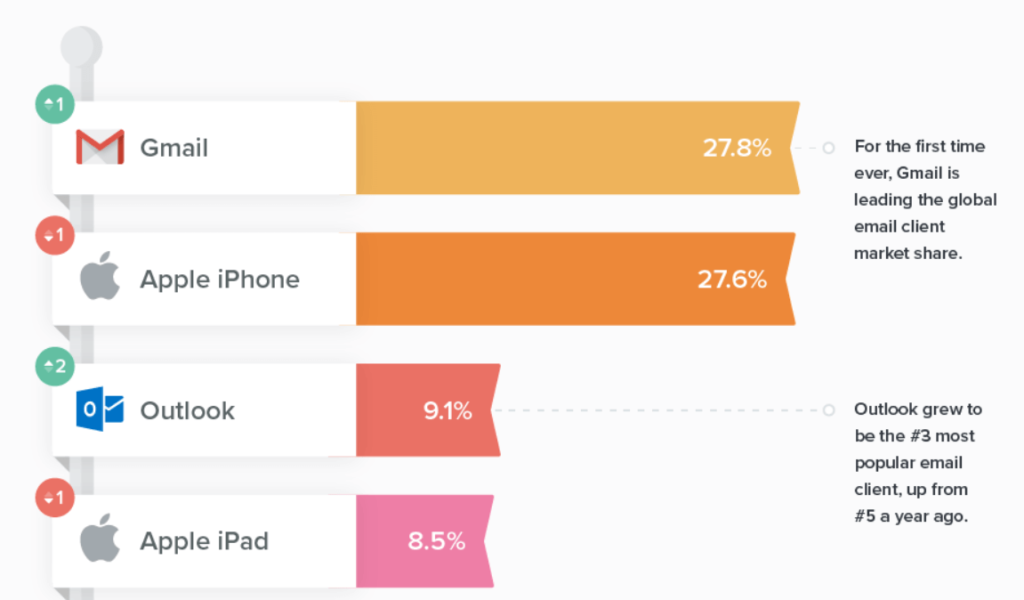 So, if you're planning on sending emails as part of your marketing strategy, it's important to think mobile-first. Your emails should look and feel amazing on a mobile device.
And that's it!
You now know mind-blowing mobile marketing statistics to skyrocket your marketing strategy.
If you liked this article, then you might also want to check out our detailed guide on why your business needs Google Analytics.
You can also drop a comment below to share your interesting statistics about mobile marketing. And don't forget to follow us on Twitter and Facebook for more helpful Google Analytics tips.