Want to create an attractive coming soon page for your website? There are some amazing WordPress coming soon plugins that let you build beautiful pre-launch pages in an instant.
With a coming soon page, you can build hype, attract visitors, collects emails, and more, even before your website goes live.
In this article, we'll show you how to create a coming soon page in WordPress using a user-friendly plugin like SeedProd.
Why Do You Need a Coming Soon Page?
There are many benefits of using a coming soon page for your WordPress website. You can get a head start while your website is under construction.
Here's why you should create a coming soon page:
Generate Leads – You can capture leads before launching your website by collecting emails of visitors through a coming soon page. You can enter a launch date and ask a visitor to sign up for your email list to be the first to know when your website launches.
Create Buzz – Coming soon pages are an excellent way of creating hype about your upcoming website. And when it's time to launch, you can use all the hype to your advantage and drive traffic.
Boost Social Followers – In your pre-launch page, you can add your social media profiles and ask visitors to follow and like your page, as it helps to build a social following.
Test Your Idea – If you're looking for feedback on your upcoming product, then coming soon pages can help you test your idea. Add product details and ask visitors to register for a first-look. If you get more registrations, then it means users are interested in your idea.
Build Brand Awareness – Just like creating buzz, you're also creating a brand. And coming soon pages help promote brand awareness among users.
With that, you may ask, what is the best coming soon plugin to use? Let's find out…
Which WordPress Coming Soon Plugin Should You Use?
When it comes to selecting a tool for creating coming soon pages, you'll find many WordPress plugins. But we recommend using SeedProd, as it's the best WordPress coming soon plugin.
SeedProd is a top landing page builder and offers lots of exciting features. It has a powerful drag and drop builder, which allows you to design amazing pre-launch pages using its wide range of customization options.
But if you're looking for more advanced customization options, then you might want to upgrade to their Pro version.
Here're some fascinating features that make SeedProd's premium version one of the best WordPress page builder:
Easy integration with email marketing tools like Drip and Mailchimp
Create coming soon landing pages within minutes
Pre-built themes, color schemes, and block templates
Control who can view your website
Live preview your pages before publishing
Use layout navigation to easily rearrange rows, columns, or blocks
Protect your landing pages from spam and bots with ReCaptcha
All pages are mobile-responsive
Ready to create a coming soon page in WordPress? Let's start…
How to Build a Coming Soon Page?
Creating a coming soon page is easy with SeedProd. All you need to do is follow our simple steps.
Step 1: Install and Activate SeedProd WordPress Plugin
The first thing you'll need to do is visit the SeedProd website. signup for an account, and then download the plugin.
You can find the download file in your Account area under the Downloads tab. Simply click the Download Landing Page Pro button and save the setup files.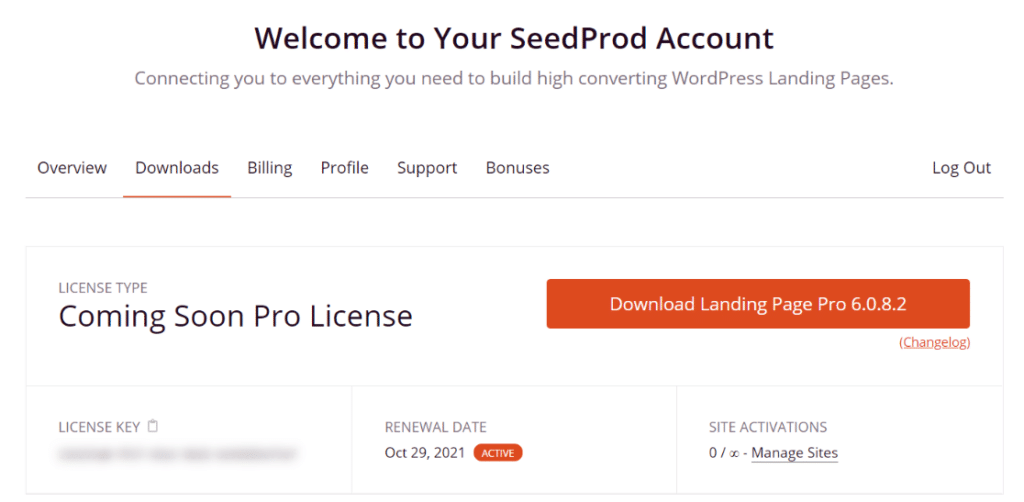 Next, login to your WordPress website and then head over to Plugins. Then click Add New » Upload Plugin.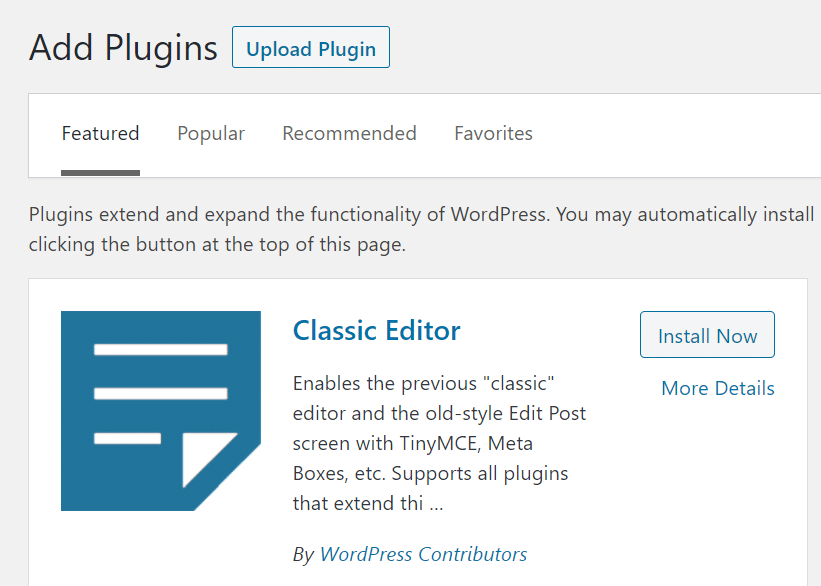 Now click on the Choose File button and select the SeedProd download file from your system. Then hit the Install Now button.

On the next screen, click Activate Pllugin.
After the plugin is active, you'll be taken to SeedProd welcome screen in your WordPress dashboard. Here, you'll need to enter your license key and verify it.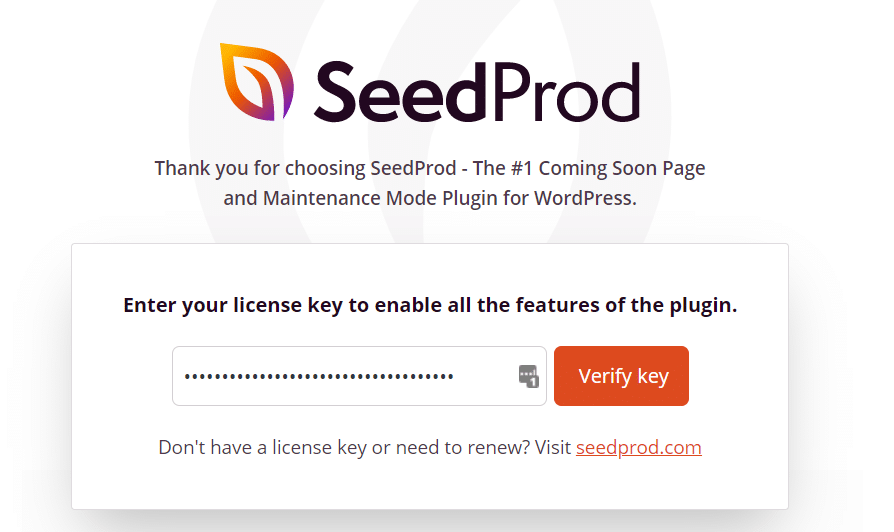 Once SeedProd verifies your license key, you're ready to create your coming soon landing page.
Step 2: Create a Coming Soon Page in WordPress
Next, click the button for Create Your First Landing Page.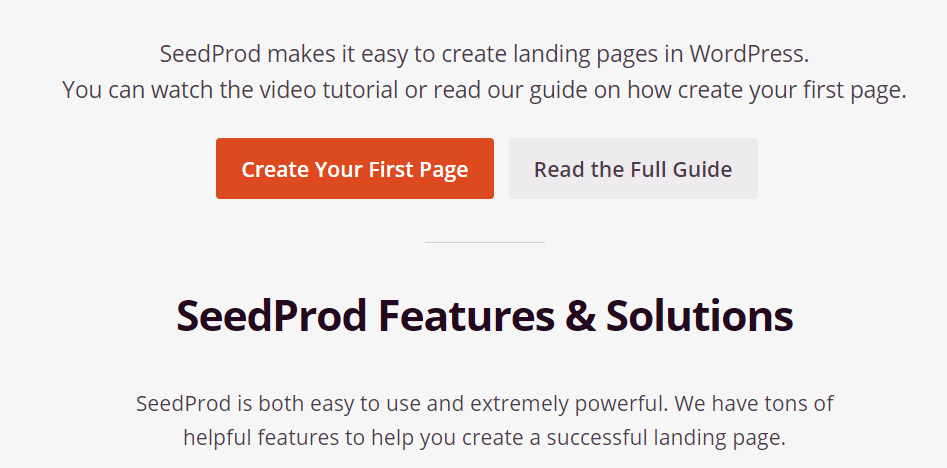 To create a coming soon page, click the Set up a Coming Soon Page button.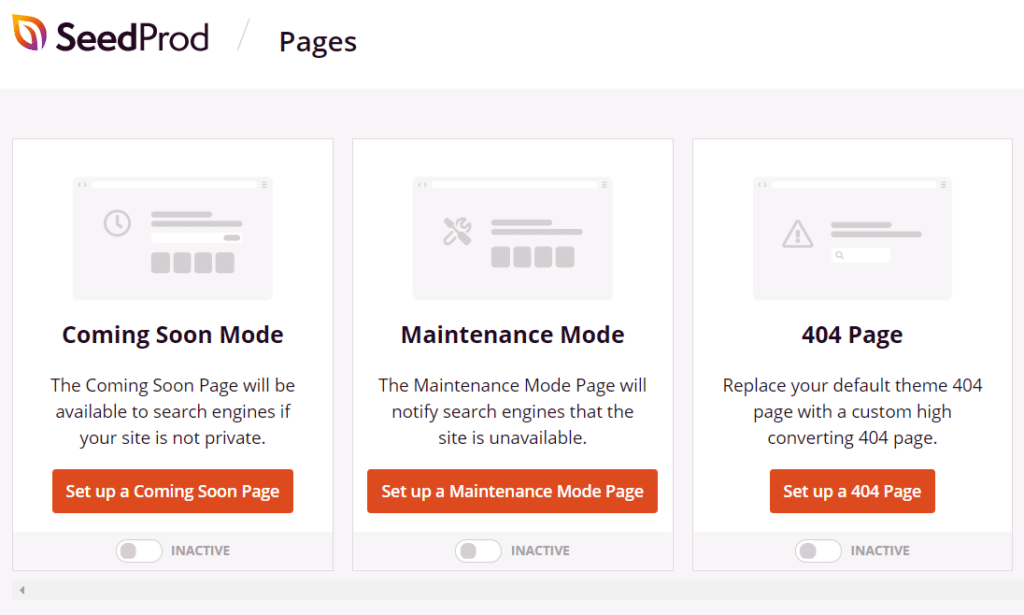 SeedProd will now offer you different templates to choose from. Just click on a template you like to get started.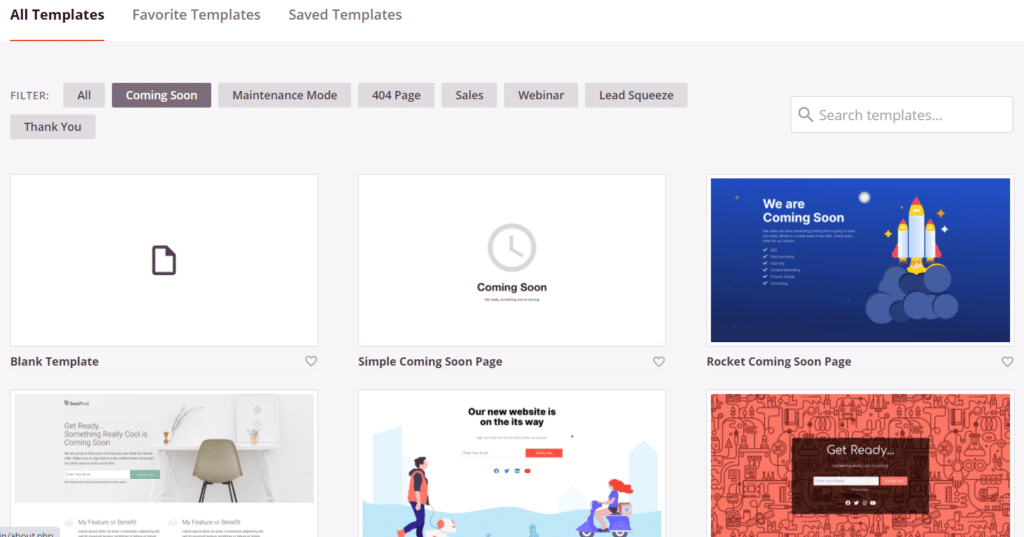 Step 3: Customize Your Coming Soon Page
After you've picked out a template for your coming soon page, you can customize using SeedProd's drag and drop builder in Design.
Under the Blocks tab, you can simply drag any item you want to add to your landing page.
With the Standard options, you can add a headline, text, list, button, image, video, divider, spacer, and column.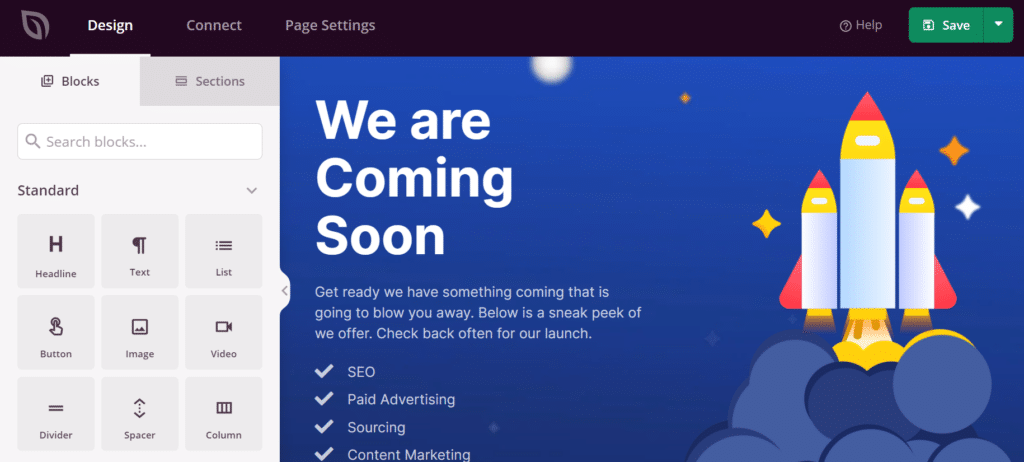 If you're looking for more ways to customize your page then check out the Advanced options.
You can create and embed a giveaway contest, add a contact form, optin form, countdown timer to create urgency, and much more.
That's not all! You can customize each block the way you want. For instance, if you click on your optin form, you can edit the fields, change their size, customize the button, and even specify a success action when a user hits the button.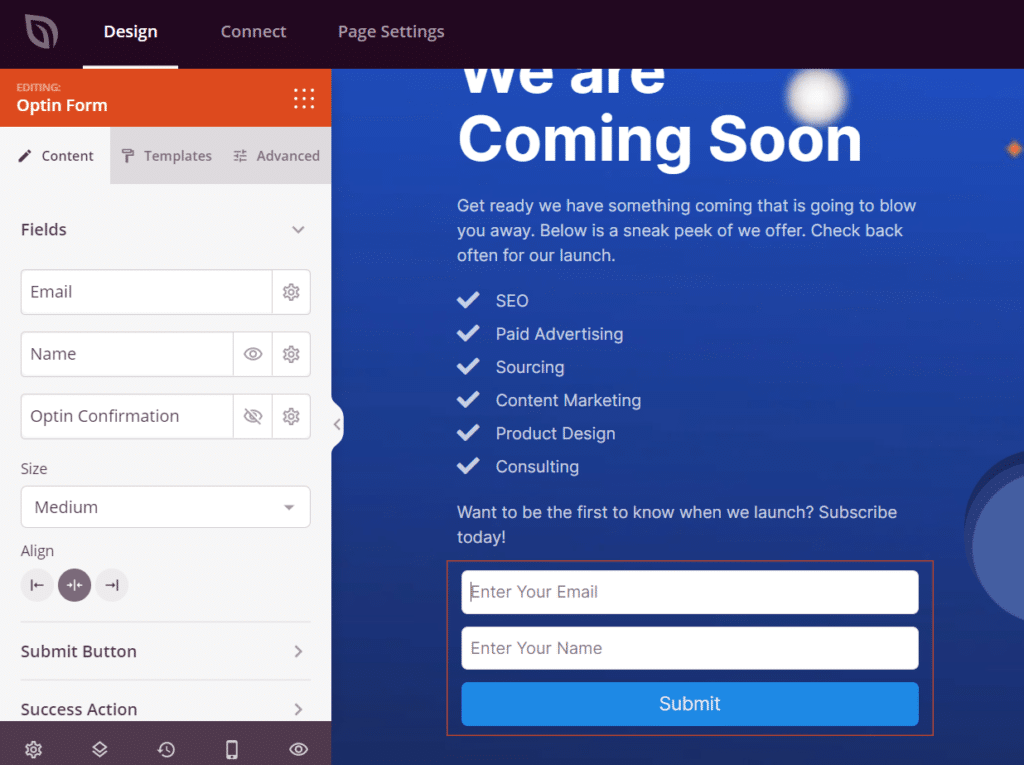 After you're done adding different blocks to your coming soon landing page, you can head over to the Sections tab and find more options to edit your page.
SeedProd lets you add more sections to your page. You can choose from different headers, footers, call to actions, features, and more to create a beautiful page.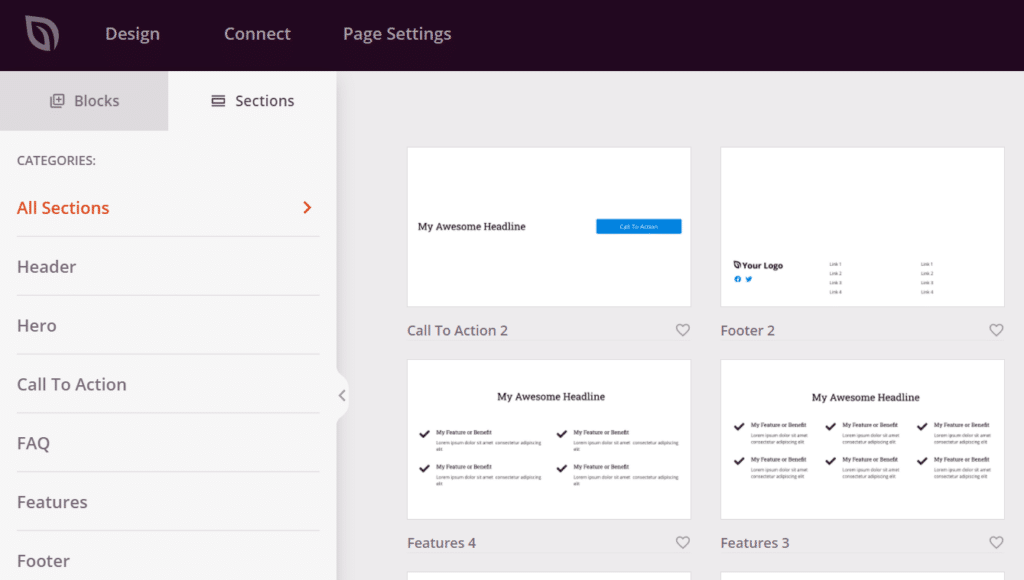 And at any time you want to see how your page will look like in real, just click the live preview option in the bottom right corner.
Step 4: Connect Your Coming Soon Page
In the next step, you can connect the coming soon page with different marketing automation tools.
Some of the notable platforms include Constant Contact, Drip, MailChimp, Campaign Monitor, and more.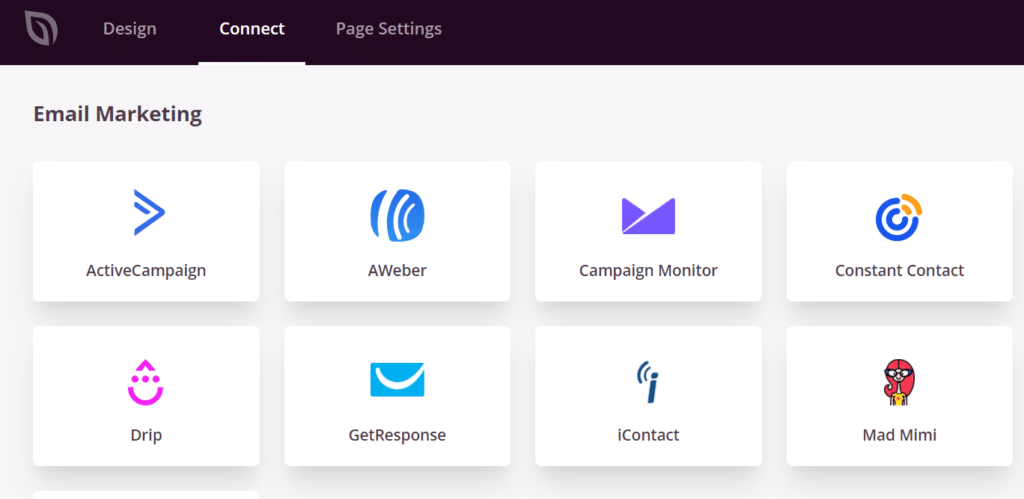 Besides that, you can also integrate SeedProd with Zapier, Google Analytics, and Recaptcha.
Step 5: Change the Page Settings
Next, you can change your page settings in SeedProd. Just click the Page Settings option at the top and then go to the General tab.
Here you can give a name to your coming soon page, change the status of your page from Draft to Publish, enable the option for Powered by SeedProd, and edit other options like redirect mode.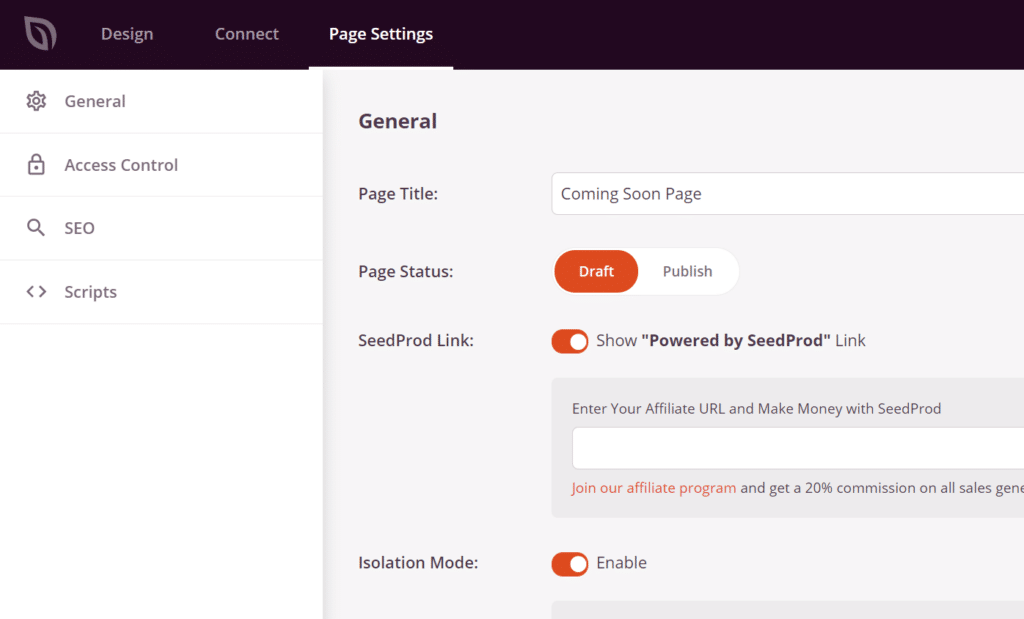 After that, go to Access Control settings. From here you can manage who can see the coming soon page and who can view your website that's under construction.
You can enable the Exclude Default mode, which automatically excludes URLs that contain login, admin, dashboard, etc. Or you can choose from other options like filtering users based on IP address, cookies, and user roles.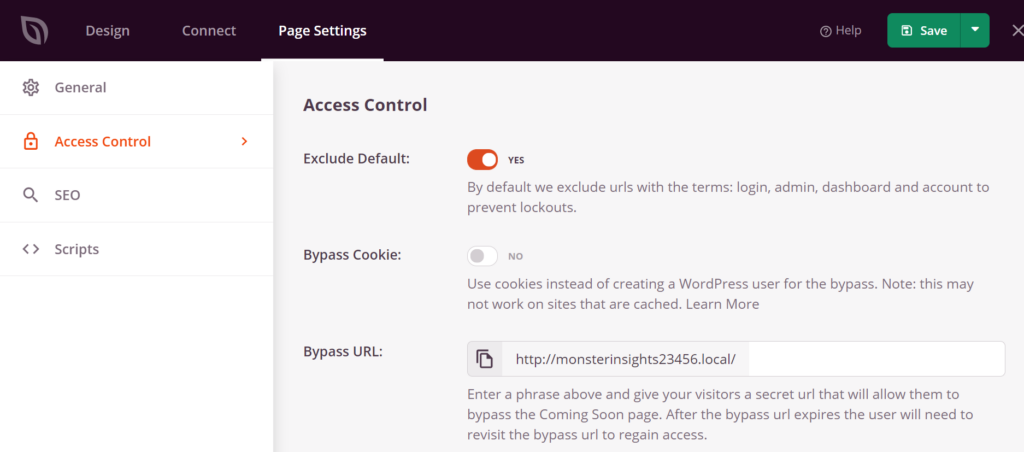 Next, view the SEO settings to add an SEO title tag, description, favicon, social media thumbnail, and the option to enable no index on your coming soon page.
No index means search engine bots will not crawl your page and they won't show it in search engine page results (SERPs).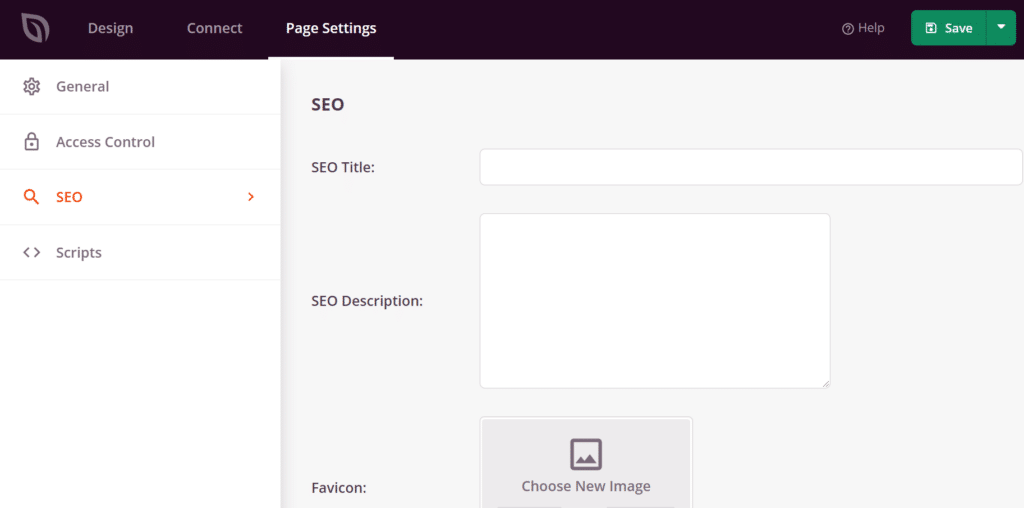 And the last setting you can change is Scripts. This allows you to add different scripts in the header, footer, or body of your coming soon page.
For instance, if you want to set up Google Analytics tracking for your page, then you can enter the tracking code under the Header Scripts section.

Once you're satisfied with your settings, click Save.
You can now publish your coming soon page by enabling the option under General settings.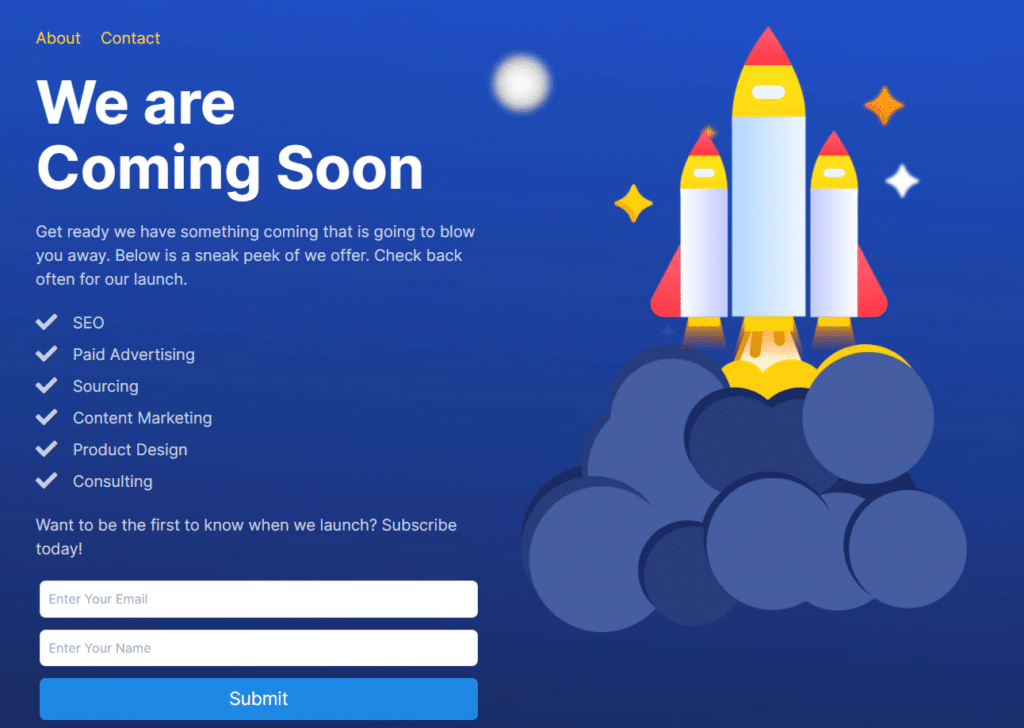 And that's it.
With SeedProd, you can build attractive coming soon pages in an instant. It will boost your social followers, collect leads, grow your email list, create brand awareness, and get a head start before your website launches.
We hope you liked our article on how to create a coming soon page in WordPress. You might also want to check out our guide on the best WordPress landing page plugins and tracking links and button clicks in WordPress.
Don't forget to follow us on Twitter and Facebook for more WordPress and Google Analytics tutorials.