Many people often ask us, how should they use Google Search Console?
Google Search Console is a free tool that provides amazing insights for growing your business and getting even more traffic.
In this article, we'll show you how to use Google Search Console. By the end of the guide, you'll be able to navigate your way through the tool and learn awesome ways to skyrocket your site's performance.
Let's start with a brief introduction…
What is Google Search Console?
Google Search Console (GSC), previously known as Google Webmaster Tool, is a free tool that lets you see how Google views your website and places it in the search results.
Using Google Search Console, you can optimize your site to improve your search engine rankings and boost your organic performance.
That said, don't confuse GSC with Google Analytics.
What is the difference between Google Analytics and Google Search Console?
Google Analytics is a reporting tool that helps you understand how visitors interact and behave on your website. On the other hand, Google Search Console is a tool for tracking your site's performance on search engines.
Since both the tools are by Google, many people think they're the same. However, both are used for different purposes.
With Google Analytics, you can view how many visitors are coming to your website, which source they are using, which country they're coming from, and lot's more.
And with Search Console, you can not only view where your site stands on Google, but you can also use it for:
Indexing content
Fixing different errors and bugs
See which other websites link to your site
Find out search queries users use to find your business
Submit a sitemap
Identify top pages and devices used by your visitors
Make sure your structured data is working
As you can see, there's a lot you can do with the Search Console to boost your organic traffic. To start using the tool, you can follow our guide on how to configure your WordPress website with Google Search Console to get started.
Now let's dive deep into how you can use the tool to get more visitors.
How to Use Google Search Console
Here are awesome ways you can use Google Search Console to generate more traffic to your site.
1. Improve Click-Through Rate (CTR) of Keywords
One of the key features of Google Search Console is that it shows you the click-through rate (CTR) of different keywords your site is ranking on. Using the data, you can see which keywords need improvement.
To start, look for keywords that rank on the first page, get a lot of impressions, but have low click count and CTR. These are keywords that can get more traffic in an instant if you can get people to click on your link.
A quick way of viewing your Search Console reports right in your WordPress dashboard is by using MonsterInsights. It's the best Google Analytics plugin for WordPress.
With the report, you can see your top search terms along with their clicks, impressions, CTR, and average position.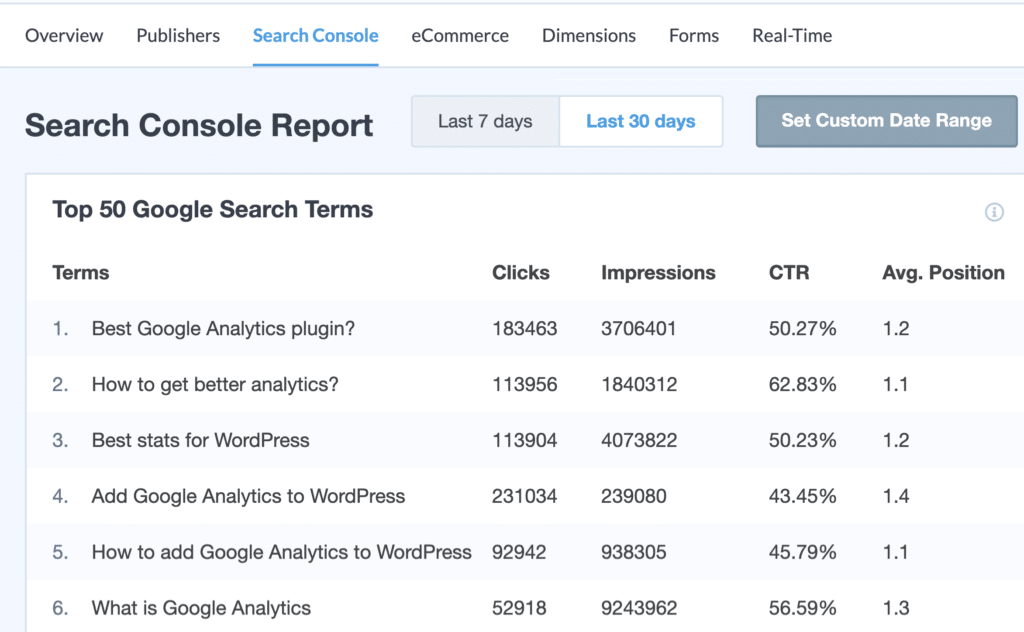 Once you've found your keywords with low CTR, you can then work on boosting the clicks they get. Some of the strategies you can use include:
Add power words to your titles
Make sure your titles are within the character limits
Keep your meta descriptions descriptive and engaging
Use easy to read URLs
Try to capture the featured snippet on the search term (if available)
You can check out our detail guide on more interesting ways of improving your CTR in 5 minutes or less.
2. Optimize Your Keywords and Boost Their Rankings
Using the Search Console report, you can find keywords that are not performing well in terms of position but can be easily brought up with minor tweaks.
These keywords are like low hanging fruits, which you can use to double your traffic. To find these keywords, select the filter option in your Performance report in the Search Console and set the average position to 7 or higher.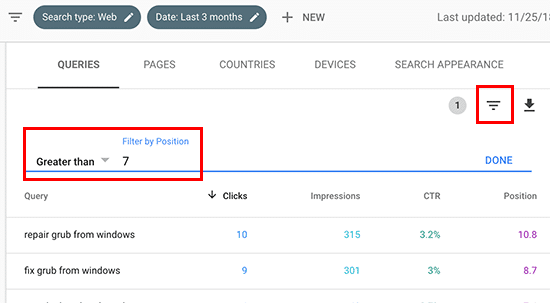 The report will give you a list of keywords. Look for search terms that are on page 2 or 3 of Google (maximum position 30) but get a lot of impressions. You can also download a CSV file and open it in a spreadsheet to pick keywords.
Since these keywords are very close to making it to the first page and are getting impressions, you can optimize them for boosting your traffic.
For instance, check your on-page SEO to see if everything is fine like keyword density, readability, the use of keyword in your title and description, and more. This is where the Yoast SEO plugin for WordPress can come in handy.
You can even analyze your content and find gaps by spying on your competitor's webpages. Perform a manual search on Google for your chosen keywords and go through the top 10 results. Then identify content gaps in your article and add information that's valuable.
3. Find New Content Ideas
With the help of your Google Search Console Performance report, you can find new content ideas and the type of content that you should be creating.
By looking at the pages that are ranking on Google, you can see which content performs well on search engines. You can then create similar content to grow your traffic.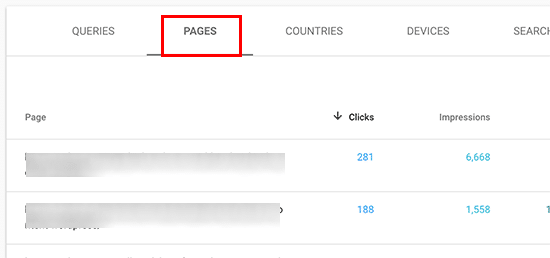 The report also helps in repurposing your content. Using your top-performing pages, you can convert them into different content types for different platforms and double your traffic.
4. Identify New Keyword Opportunities
Along with new content ideas, you can also uncover new keywords for your website. For instance, by looking at the Search Console report, you can see which keyword types bring in traffic.
If informational keywords generate a lot of traffic, then you can find more informational keywords to increase your traffic.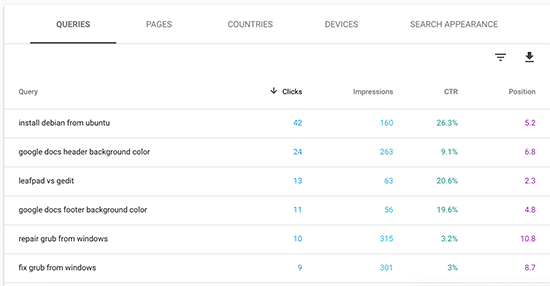 For example, the report shows that the keyword, install Debian from Ubuntu, is one of the top-performing search terms. You can then look for similar search terms that relate to the keyword with most impressions and clicks. Then optimize your existing pages with those related keywords or create new content to get more traffic.
5. Complete Your Sales Funnel
While you're finding new keywords for your site using the Search Console report, you should also look for search terms to complete your sales funnel.
Since informational keywords are great for answering any questions your visitors might have about your products or services, it's a good idea to find keywords that help them transition to making a transaction.
So, look for investigational keywords like product reviews and feedback. These keywords eventually lead to making a purchase. On the other hand, also find transactional search queries because they are your money keywords and will help you generate sales along with traffic.
6. Use 80/20 Rule to Focus on Countries that Produce Results
Ever heard of a marketing term 80/20 rule? It's when you focus your efforts on the 20% of your visitors to drive 80% of the results.
By using Google Search Console, you can uncover which countries send in the most traffic. Then using the 80/20 rule, you can tailor your content, optimize your search terms, and create campaigns for regions that bring in traffic.
You can access the report easily from your Google Analytics account. Then navigate to Acquisition » Search » Console Countries.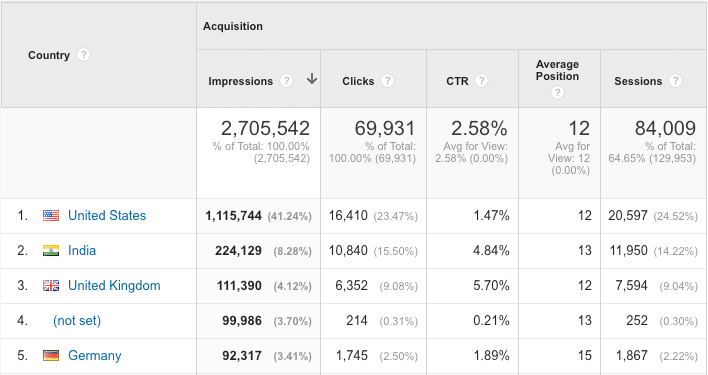 The report shows you the locations with the most impressions, clicks, CTR, average position, sessions, and other metrics.
7. Optimize Your Mobile Keywords
Google Search Console lets you filter keywords based on devices. Using the report, you can find keywords that people use to find your website on mobile.
You may think, why is this important?
By optimizing your site for mobile and targeting relevant keywords, you're helping your users and finding more relevant keywords to take your traffic to the next level. Another benefit of focusing on mobile is that you'll get a huge advantage in terms of SEO.
That's because search engines like Google are now mobile-first, which means they'll crawl and index your site's mobile version first instead of looking at your desktop version.
8. Double Your Traffic by Improving Internal Links
Using the Links report in Search Console can reveal a lot of valuable information. For starters, you can optimize a page you're trying to rank by looking at its internal links.
In Google Search Console, go to Links, and under Internal Links, select More. It will then show you the pages with most internal links. You can then click on the filter option, select the Target page, and enter the URL of the page you want to improve.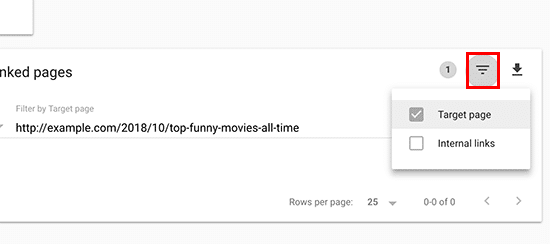 You can then see the number of internal links the target page has. If it's too low, you can then work on increasing its internal links from other relevant pages on your site.
9. Find New Backlink Opportunities
Another way you can use Google Search Console is by finding more backlink opportunities and helping your content rank.
Backlinks play an important role in SEO and send a positive signal to Google when it's ranking your website. To increase the number of backlinks, view the External Links report.
It will show you a list of domains that backlinked to your site. These are domains that might give you another backlink, as they've done so previously.
So, to get hold of new backlinks, go through the top external websites, look at the content that you think is relevant for your page, and then reach out. You can send a direct email, contact the author/editor, or use their contact form.
You can also check out other interesting ways of sending effective outreach emails.
10. Find Products to Show as Product Rich Results
If you have an eCommerce store or have any products listed on your website, Google can show them as product rich results in search results. These are product recommendations that users can view as an infobox or a featured snippet.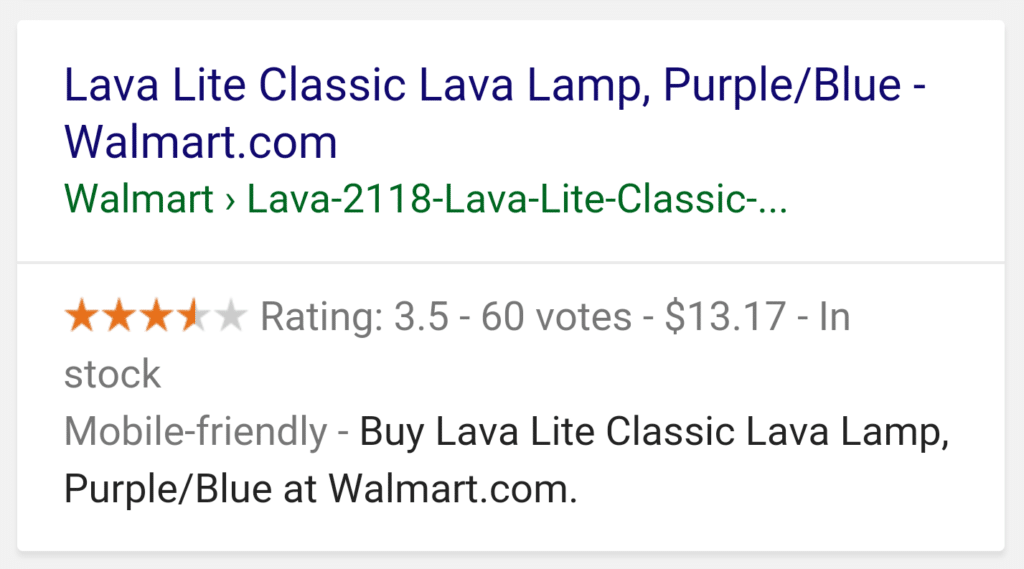 And if your products do get picked up as rich results, you can view their performance in Google Search Console. Under the Search Appearance tab, you can see a new type called Product results.
The report shows the number of clicks and impressions your products got from the rich result.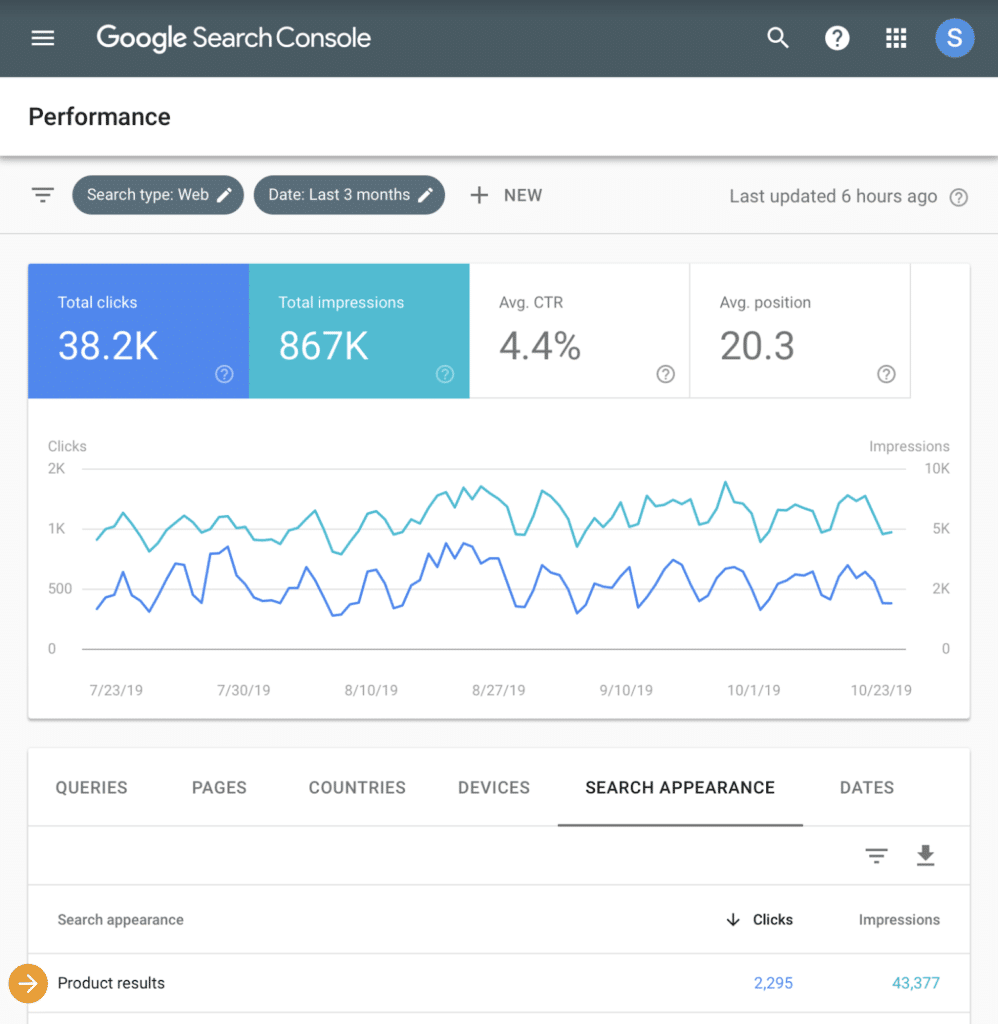 You can use the report to find other products that you can optimize and help search engines to pick them up as product rich results. This will help you boost your organic traffic.
11. Monitor and Compare Your Changes
Once you're done making all the changes, and optimizing your site for boosting organic traffic, keep track of all the changes and monitor the results.
You can do that by revisiting Google Search Console after a few days. Now, some users may ask how many days should they wait to see improvements?
There is no exact timeline, but it's better to wait at least 10 to 14 days. It gives enough time for Google to crawl your pages and index them.
To see if your changes made an impact, you can compare the date ranges in Google Search Console. It will show if your keywords CTR grew and whether your organic traffic doubled.
Do note that Google Search Console will show past data of 90 days. So, it's better to keep track of things and make any changes if you see a drop in performance.
And that's it!
Congratulations, you now know how to use Google Search Console.
Using these simple tips, you can grow your organic traffic 2X in no time. If you want, you can also check out our guide on how to properly set up Google Analytics in WordPress.
Don't forget to follow us on Twitter and Facebook for more helpful Google Analytics guides.