Wondering how to use Google Search Console to rock your site's SEO? Google Search Console is an awesome tool to use for SEO. It can give you some incredibly useful insights into your traffic and organic rankings!
In this article, we'll show you our top Google Search Console SEO hacks. By the end of the guide, you'll be able to navigate your way through the tool and learn valuable ways to skyrocket your site's performance.
What is Google Search Console?
Google Search Console (GSC), previously known as Google Webmaster Tools, is a free set of tools that helps you monitor, maintain, and troubleshoot your site's presence in Google's search results.
Using Google Search Console, you can optimize your site to improve your search engine rankings and boost your organic performance.
That said, don't confuse GSC with Google Analytics.
What's the difference between Google Analytics and Google Search Console?
Google Analytics is a reporting tool that helps you understand how visitors interact and behave on your website. On the other hand, Google Search Console is a tool for tracking your site's performance on search engines.
Since both tools are Google tools, many people think they're the same. However, they're used for different purposes.
With Google Analytics, you can see how many visitors are coming to your website, which source they came from (organic, referral, direct, etc.), which country they're coming from, and more.
On the other hand, you can use Search Console for:
Making sure your pages are indexed in Google search
Fixing usability issues
Seeing which other websites link to your site (backlinks)
Seeing the search queries (keywords) visitors used to find your website
Submitting a sitemap
Identifying your top organic pages
Making sure your structured data (Rich Snippets) is working
Checking your Core Web Vitals scores
As you can see, there's a lot you can do with Search Console to boost your organic traffic and maintain your website's health. To get Search Console set up and connected to your site, follow our guide on how to configure your WordPress website with Google Search Console to get started.
Now, let's dive deep into how you can use Search Console's tools to rock your SEO and get more organic traffic.
11 Google Search Console SEO Hacks
Here are the top ways you can use Google Search Console to improve your site's SEO and attract more visitors and conversions.
1. Improve the Click-through Rate of Your Landing Pages
One of the key features of Google Search Console is that it shows you the click-through rate (CTR) of different keywords and landing pages that your site is getting seen for in search results. Using the data, you can see which pages and keywords need SEO improvement.
To find your click-through rates, open Google Search Console and click on the Search results tab on the left, then click on Average CTR and Average position to add them to the report.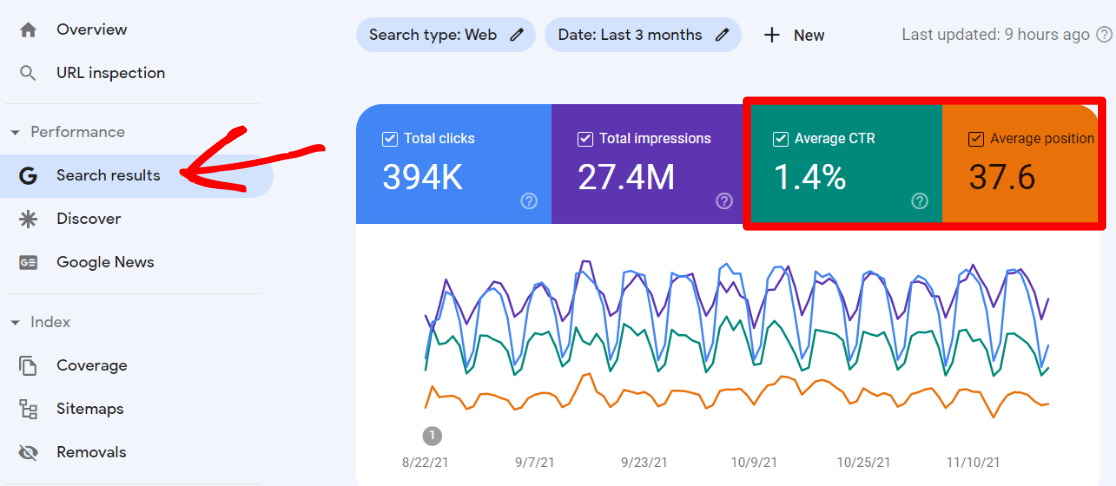 Now, scroll down to the table, click the Pages tab, then see the click-through rate of specific pages on your site:

To see which queries are ranking your site for each page, click on a page in the table, then click back to the Queries tab. Now, you can see what people are searching that's bringing up that specific page in search results.
Pretty neat, right?

To start, look for keywords that rank your site on the first page of search results (positions 1-10) and get a lot of impressions, but have low click-through rate. What can you do with the content that's ranking to get more clicks?
Here are a few examples of the strategies you could try to increase those clicks:
Add power words to your titles
Make sure your titles are within the character limits
Keep your meta descriptions descriptive and engaging
Use easy to read URLs
Try to capture the featured snippet on the search term (if available)
A quicker way of viewing your Search Console queries right in your WordPress dashboard is by using MonsterInsights. It's the best Google Analytics plugin for WordPress.
With the report, you can see your top search terms along with their clicks, impressions, CTR, and average position.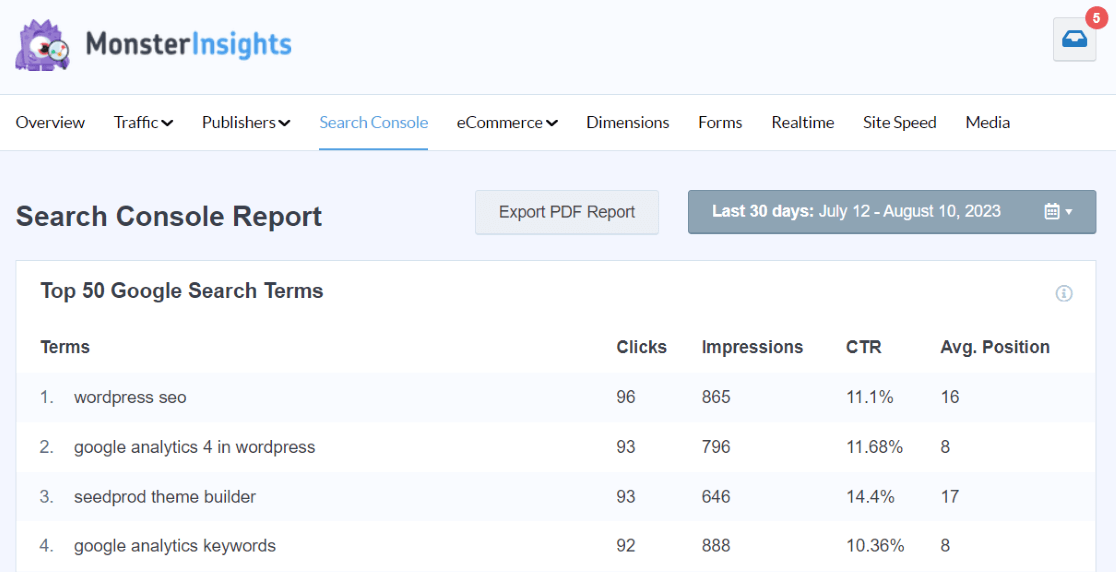 For more help improving your click-through rate, check out our detailed guide on more interesting ways of improving your CTR in 5 minutes or less.
2. Optimize Your Nearly There Keywords
Using the Search Console report, you can find keywords that are nearly ranking well, but need a little work to go up a couple more positions. These are your "low-hanging fruit" keywords with a lot of opportunity for bringing in more traffic.
To find these keywords, click on your Search results tab again, and turn on Average CTR and Average position.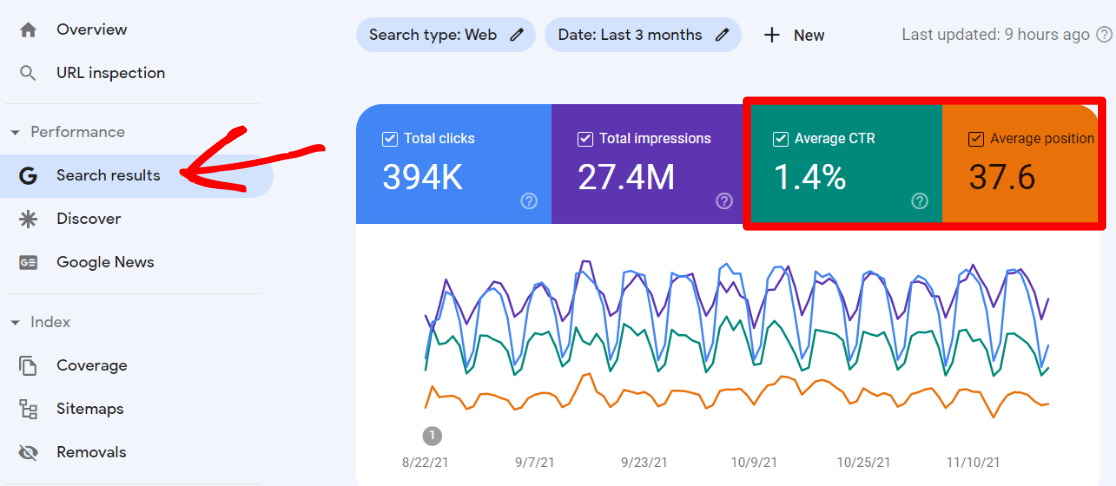 Then, scroll down to the table and click the filter icon, then choose Position from the dropdown. Then in the dropdown above the table, choose "Greater than" and type 7.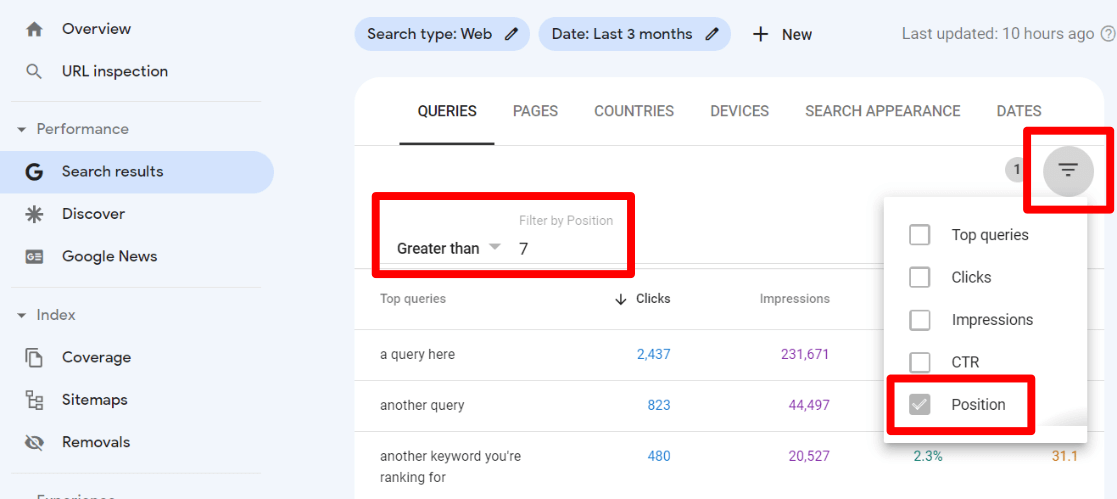 The report will give you a list of keywords that are ranking in position 7 or above. Look for search terms that get a lot of impressions, but are too low to get many clicks. You can also download a CSV file and open it in a spreadsheet to play around with your data.
Since these keywords are close to making it to the first page and are getting impressions, you can work on optimizing for them to bump them up in search results.
For instance, head to the page that's ranking for a query and check your on-page SEO to see if everything is dialed in, like keyword density, readability, the use of your keyword in your title and description, and more. We highly recommend the All in One SEO plugin for all your WordPress SEO needs!
You can even analyze your content and find gaps by spying on your competitor's pages. Perform a manual search on Google for your chosen keywords and go through the top 10 results. Then identify content gaps in your article and add information that's valuable.
3. Find New Content Ideas
With the help of your Google Search Console Search results report, you can find new content ideas and get an idea of the type of content that you should be creating.
By looking at the pages that are ranking on Google, you can see which content performs well on search. This is usually a good indication of what kind of content your audience is really interested in. What kinds of topics can you branch off with?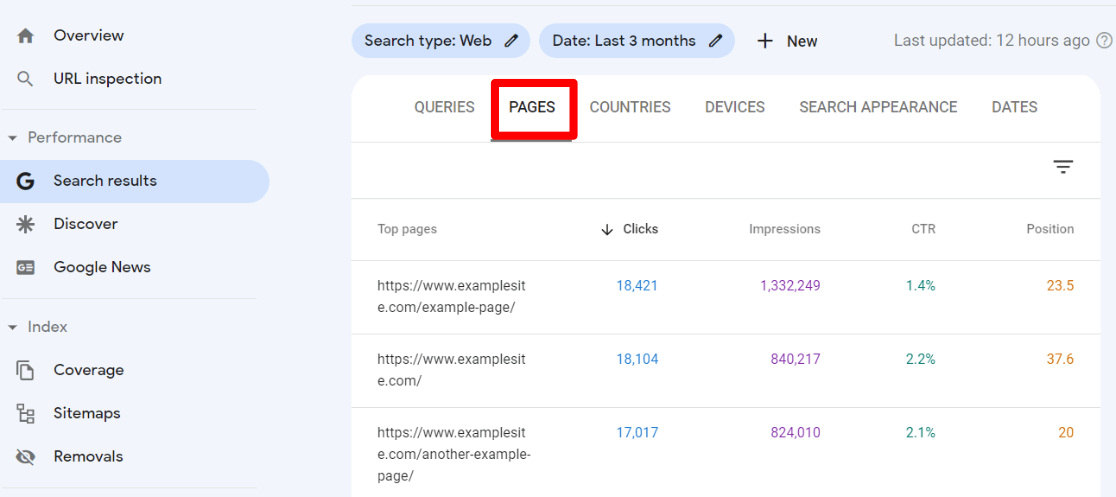 The report also helps in repurposing your content. Take a look at your top-performing pages and think about converting them into different types of content (video, infographic, podcast, slideshow, etc.) for different platforms.
If you're using WordPress and MonsterInsights, you can see your top landing pages right inside your dashboard: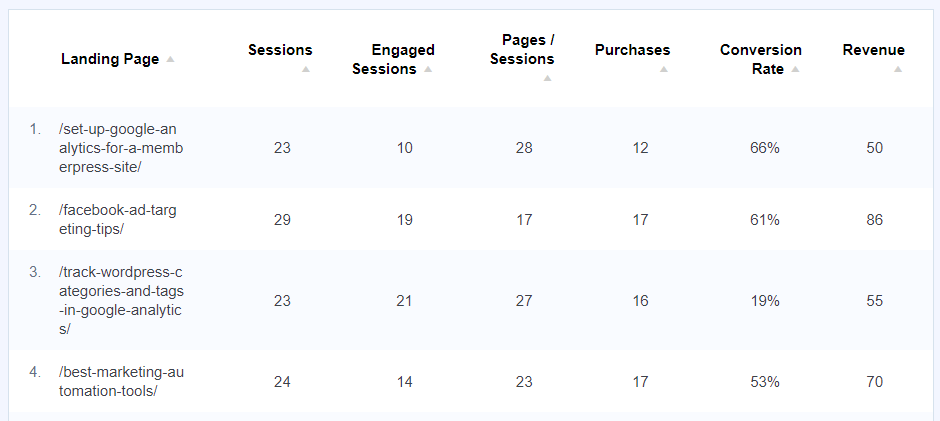 4. Identify New Keyword Opportunities
Along with new content ideas, you can also uncover new keywords for your website.
Take a look at the Queries report to see which keyword types bring in traffic. If informational keywords generate a lot of traffic, think about more informational keywords to increase your traffic.

For example, the report above shows that the query "how to paint your front door" is one of the top-performing search terms. Now, you could use a keyword research tool (like Semrush or Ubersuggest) to find related phrases that you're not ranking for and add them to your article, or create another article to target a phrase that's related but different enough for a new piece of content.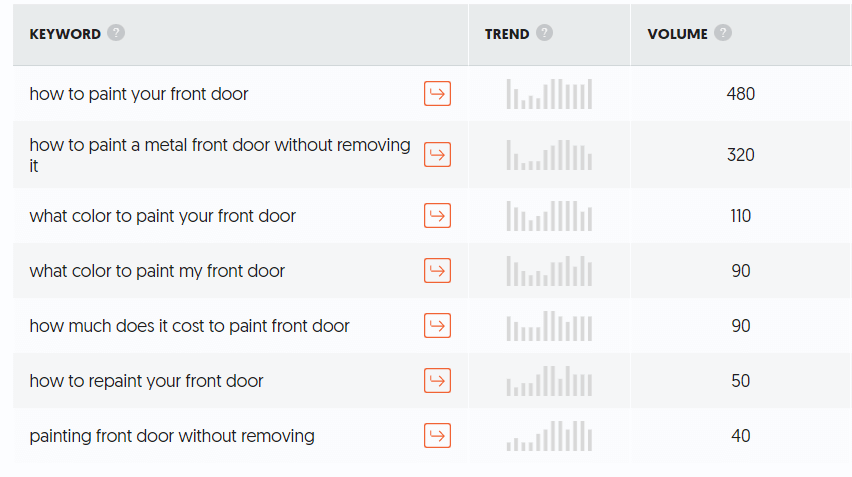 5. Complete Your Sales Funnel
While you're finding new keywords for your site using the Search Console report, you should also look for some that complete your sales funnel.
There are four types of keywords:
Navigational, where users search for a particular website.
Informational, where users search for the answer to a question.
Investigational, where users search for information that may eventually lead to a transaction.
Transactional, where users are ready to buy.
Informational keywords are great for answering any questions your visitors might have about your niche, but it's a good idea to also find and focus on improving rankings for keywords that help them transition to making a transaction or other conversion.
So, look for investigational and transactional keywords like product reviews and feedback in your Search Console report. These keywords eventually lead to making a purchase and are important to pick out and focus on in addition to your informational ones.
For instance, let's say you're a paint company. Our example from before, "how to paint your front door," is an example of an informational keyword. An investigational keyword might be "what type of paint to use for a front door" and transactional would be "paint store near me."
6. Work on Core Web Vitals
Nobody wants to visit a slow website anymore, and Google knows that. So, they implemented Core Web Vitals in 2020.
Core Web Vitals is a set of three scores that focus on how fast your website is. If you score poorly, it's possible that Google will list your competitors with faster websites ahead of you in search.
Thankfully, Google Search Console provides a Core Web Vitals report, complete with suggestions for how to improve each score. Use this to make improvements to your website.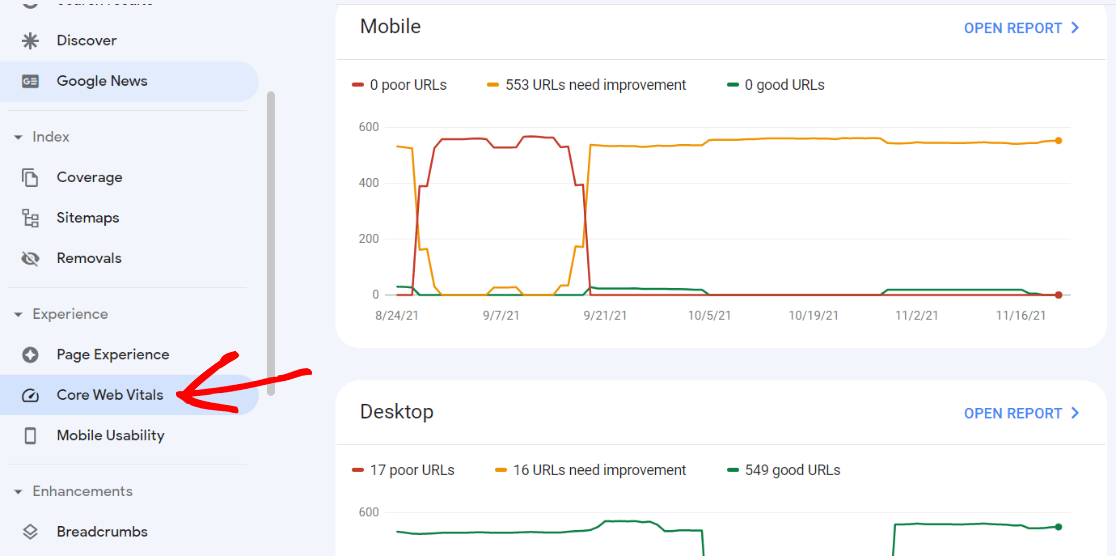 7. Optimize Your Mobile Keywords
Google Search Console lets you filter keywords based on devices. Using the report, you can find keywords that people use to find your website on mobile.
To do this, head back to your Search performance tab and click + New up above the graph to add a new filter. Click on Device.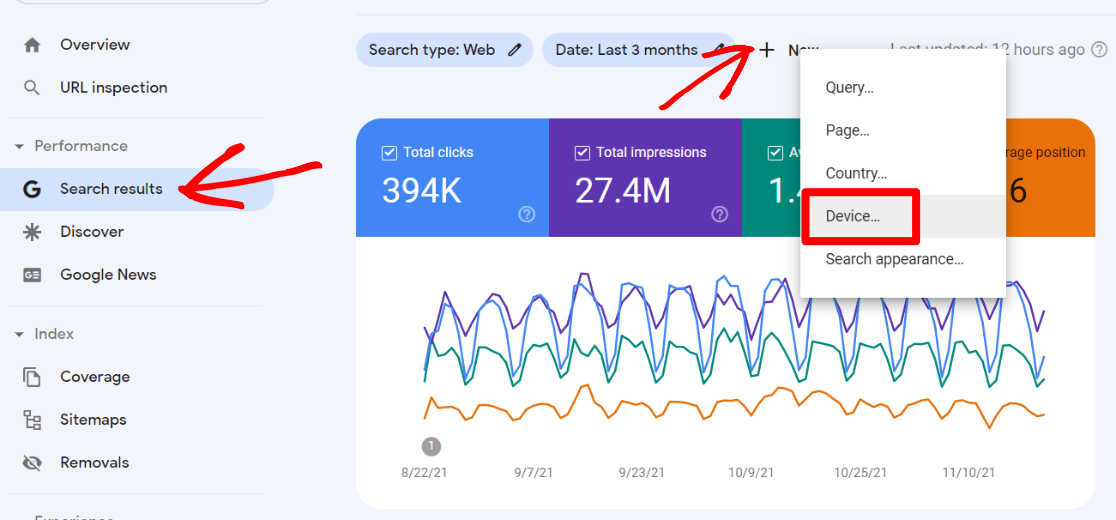 Now, you can choose to view just data from one specific device, or compare two of them: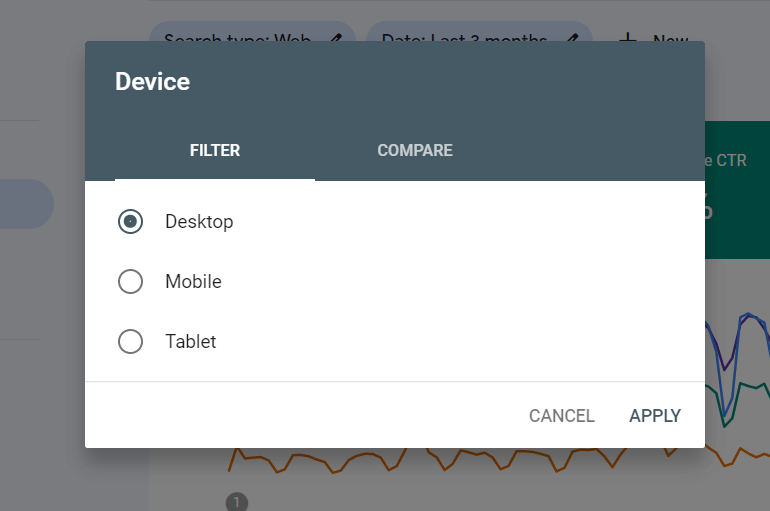 Play around with viewing data from one device and comparing them.
Why is this data important?
By optimizing your site for both mobile and desktop visitors and targeting relevant keywords for each device, you're helping your users and finding more relevant keywords to take your traffic to the next level.
Another benefit of focusing on mobile is that you'll get a huge advantage in terms of SEO. That's because search engines like Google are now mobile-first, which means they'll crawl and index your site's mobile version first, before looking at your desktop version.
8. Increase Your Rankings by Improving Internal Links
Using the Links report in Search Console can reveal a lot of valuable information. For starters, you can optimize a page you're trying to get to rank by looking at its internal links.
In Google Search Console, go to Links (near the bottom of the navigation), and at the bottom of the Internal Links box on the right, select More.
It will then show you the pages with the most internal links on your site. Click on the filter icon, select Target page, and enter the URL of the page you want to improve.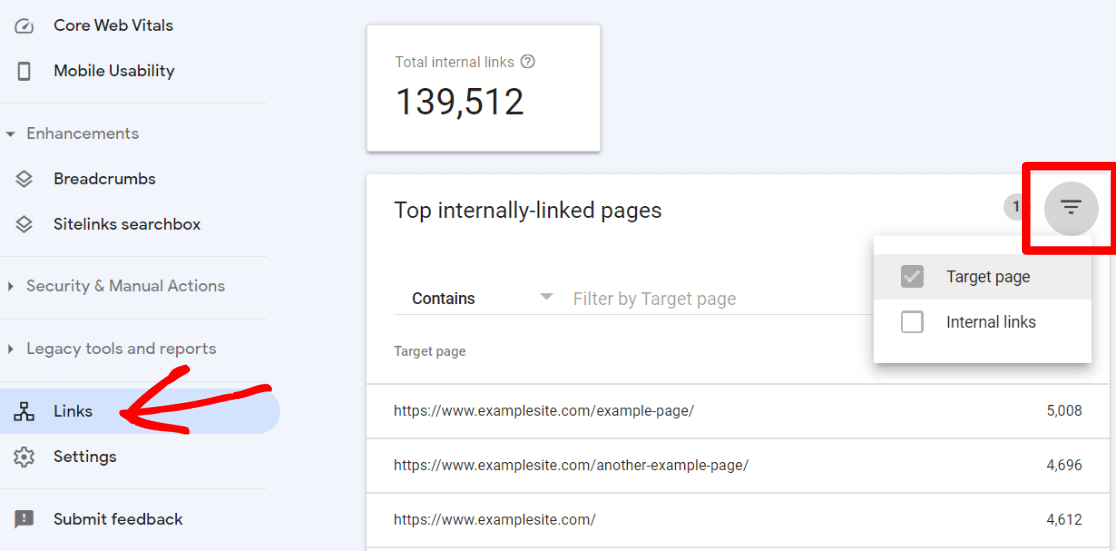 You can then see the number of internal links the target page has. Compare it with other pages on your site. Are blog posts with more internal links ranking higher, in general, than posts that you haven't built internal links to?
You can also generate an internal link report for your site with All in One SEO's Link Assistant addon. It includes insights like orphan pages, new internal linking opportunities, and more.
9. Find New Backlink Opportunities
Another way you can use Google Search Console is by finding more backlink opportunities.
Backlinks play an important role in SEO and send a positive signal to Google when it's ranking your website. To increase the number of backlinks, view the External Links report.
To find this report, head back to Links in the navigation and click the More link at the bottom of the Top linking sites box.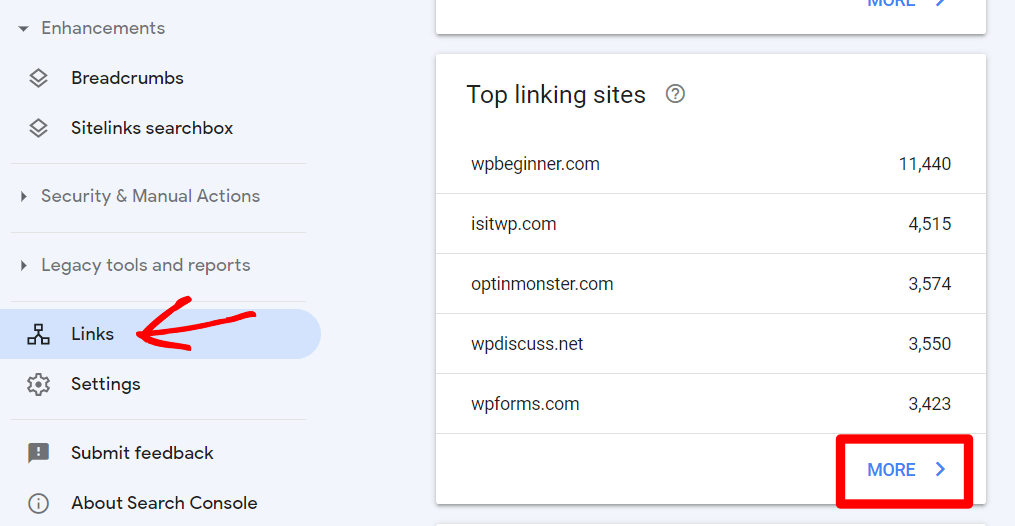 It will show you a list of domains that link to your site. These are domains that might give you another backlink, since they've done so previously. To see the specific links you have from a domain, click on it to get the list.

So, to ask for new backlinks, go through the top external linking websites in your report, look at the content that you think is relevant for your page, and then reach out. You can send a direct email, contact the author/editor, or use their contact form.
You can also check out other interesting ways of sending effective outreach emails.
10. Create Rich Results
Rich results are results with extra information in Google search. Products are one example: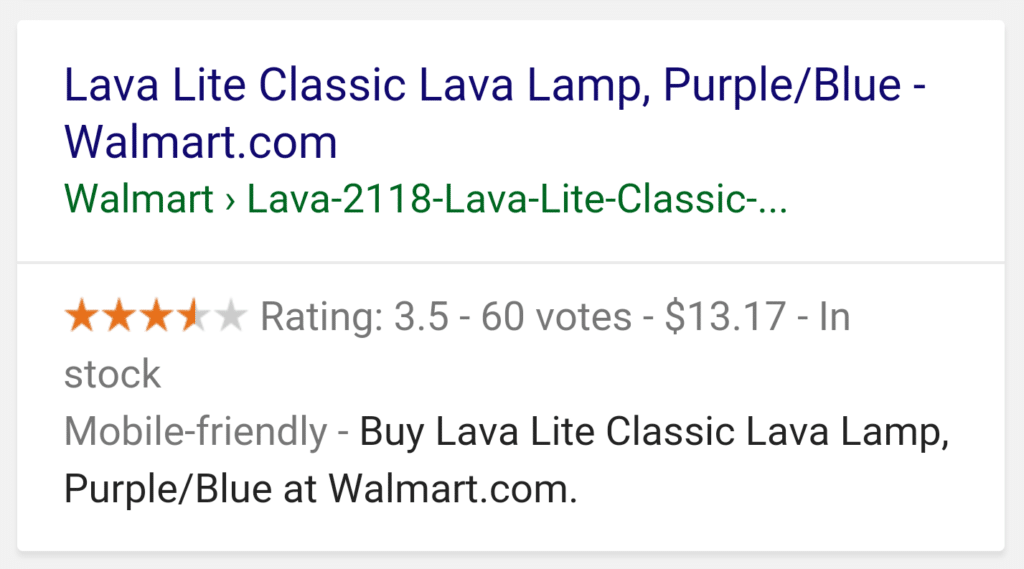 You can put extra code on your pages to tell Google that you have a product, and that it has a rating, price, description, etc.
You can also do this with reviews, FAQ, how-to tutorials, and more. For more on how to set up rich snippets in WordPress, check out How to Add Rich Snippets to WordPress (The Easy Way).
If you do have some pages where you can use rich snippets, Google will see those and report on them in Search Console. Not only will you see the pages where you currently have a rich snippet set up, but Google will pick up on any errors and alert you if something is wrong.
In the Overview tab, scroll down to the bottom to see Enhancements.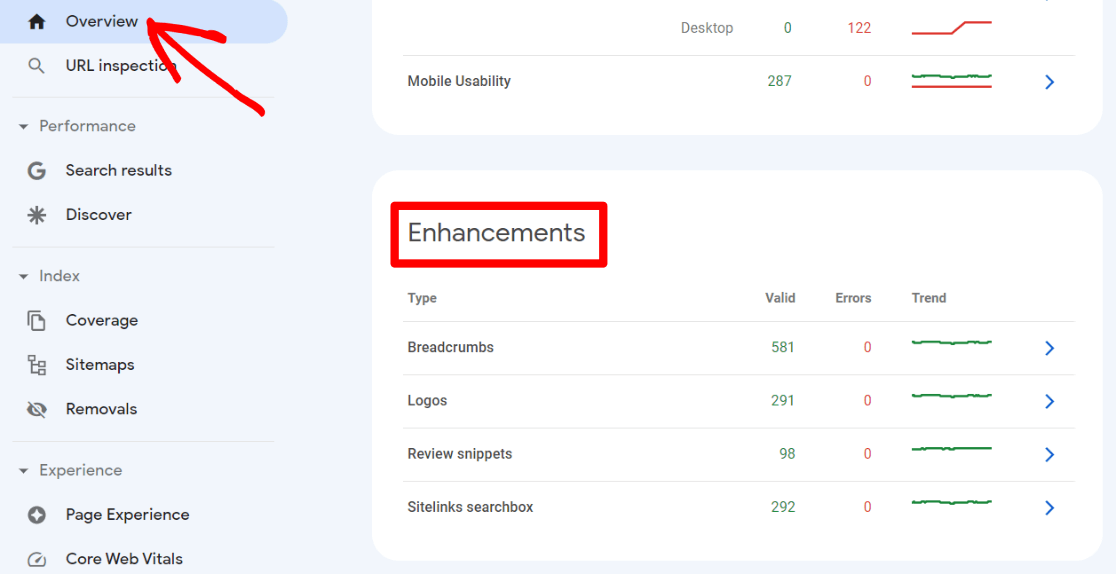 Now, you can click into any of your enhancement types to see more data on them, such as any pages that are throwing an error and the full list of pages that have the enhancements.
You can use the report to find other pages or products that you can optimize and help search engines to pick them up as rich results. This will help you boost your organic traffic.
11. Monitor and Compare Your Changes
When you use the techniques above to find an article to improve and you go ahead and make improvements, make sure you keep track of what you did.
When making improvements, it's best to keep a spreadsheet of exactly the changes you made plus the date you made them on, so you can keep an eye on any effect they're having on your organic traffic.
There is no exact timeline, but it's better to wait at least 10 to 14 days before looking to see if your changes made any impact on your rankings. It gives enough time for Google to crawl your pages and index the changes you've made.
To see if your changes worked, you can compare the date ranges in Google Search Console from before you made the change and after. It will show if your keyword CTR grew and whether your organic traffic increased.
And if you're using WordPress, make sure to install MonsterInsights to keep track of your traffic right inside your WordPress dashboard. You can even take notes right on your traffic graph to remind yourself when you made changes: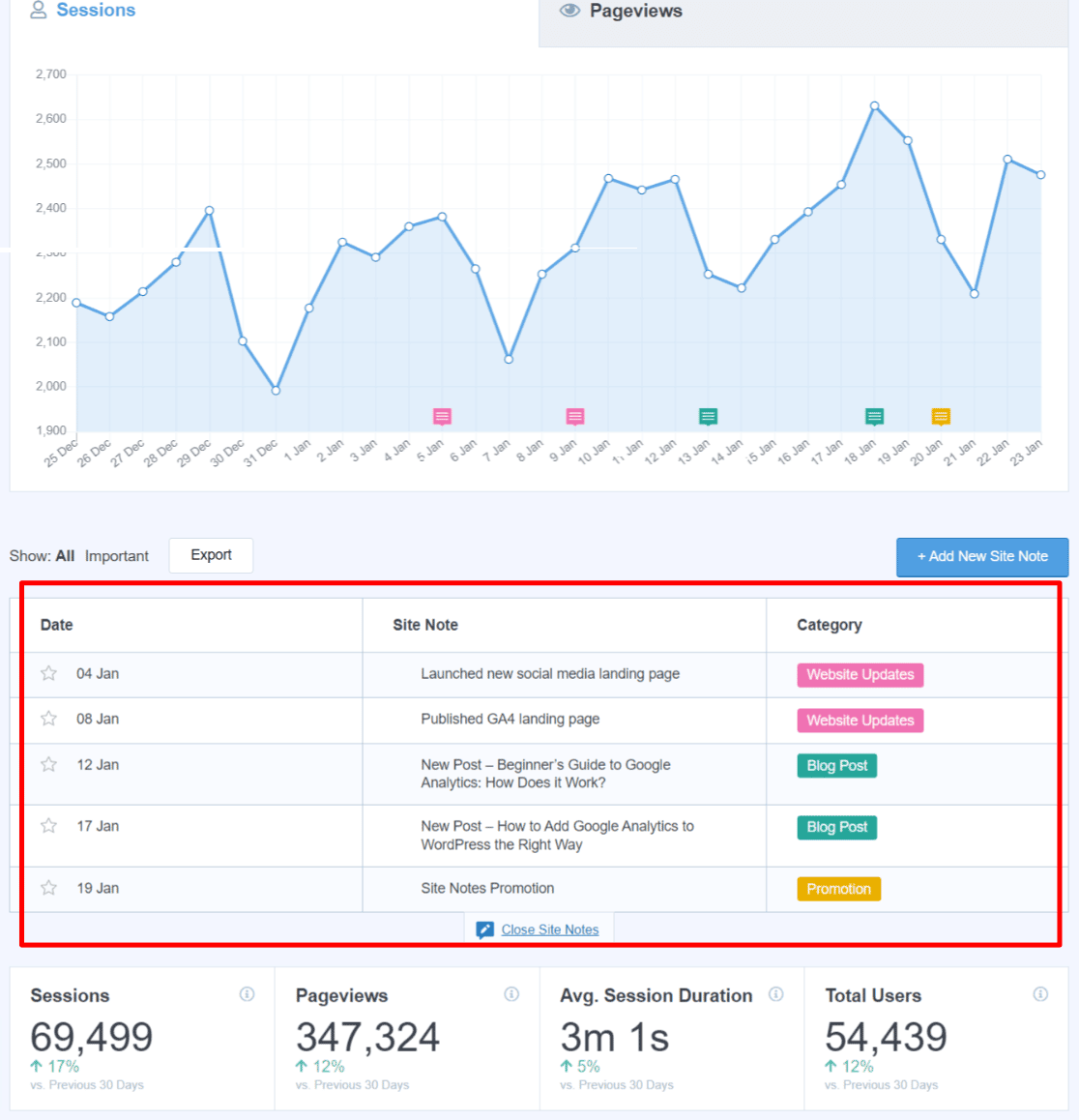 And that's it!
Congratulations, you now know how to use Google Search Console to make positive impacts on your SEO.
Using these simple tips, you can grow your organic traffic in no time. For more about organic traffic, check out Organic Search in Google Analytics: Quick-Start Guide.
Not using MonsterInsights yet? What are you waiting for?
And don't forget to follow us on Twitter, Facebook and YouTube for more helpful Google Analytics tips.