So, you heard you need a WordPress cache plugin for your website, because it'll make it faster. Can a caching plugin really speed up your site?
Yes, it really can!
In this article, we'll go over site speed a caching in simple terms. We'll cover:
Why Speed Up Your Site?
Having a fast website is a must. Why?
First of all, users will bounce away from a website that's slow to load. Instead of waiting for the page to load, they'll just click the back arrow and find a site that's faster. In fact, according to Portent, website conversion rates drop by an average of 4.42% with each additional second of load time (between seconds 0-5).
If you're a retailer, here's an important stat to know: According to Unbounce, nearly 70% of consumers admit that page speed impacts their willingness to buy from an online retailer.
In addition, Google's 2021 Page Experience Update will give fast pages a ranking boost in search results.
If you want your site to rank well and perform well, speed is essential.
How to Test Site Speed
Alright, so we've confirmed that website speed is incredibly important, but how do you test it?
There are a bunch of speed test tools out there. The easiest way to find your site speed, though, is to use MonsterInsights.
MonsterInsights is the best Google Analytics WordPress plugin. It helps set up analytics without editing code at all! You can also use the plugin to add advanced tracking features like eCommerce tracking, file downloads, form conversion tracking, and more in just a few clicks.
To start, download and install the MonsterInsights plugin at the Plus license level or above. Next, connect Google Analytics to WordPress using the setup wizard. For more details, refer to our tutorial on how to add Google Analytics to your WordPress site.
Once you have it set up, navigate to Insights » Reports » Site Speed.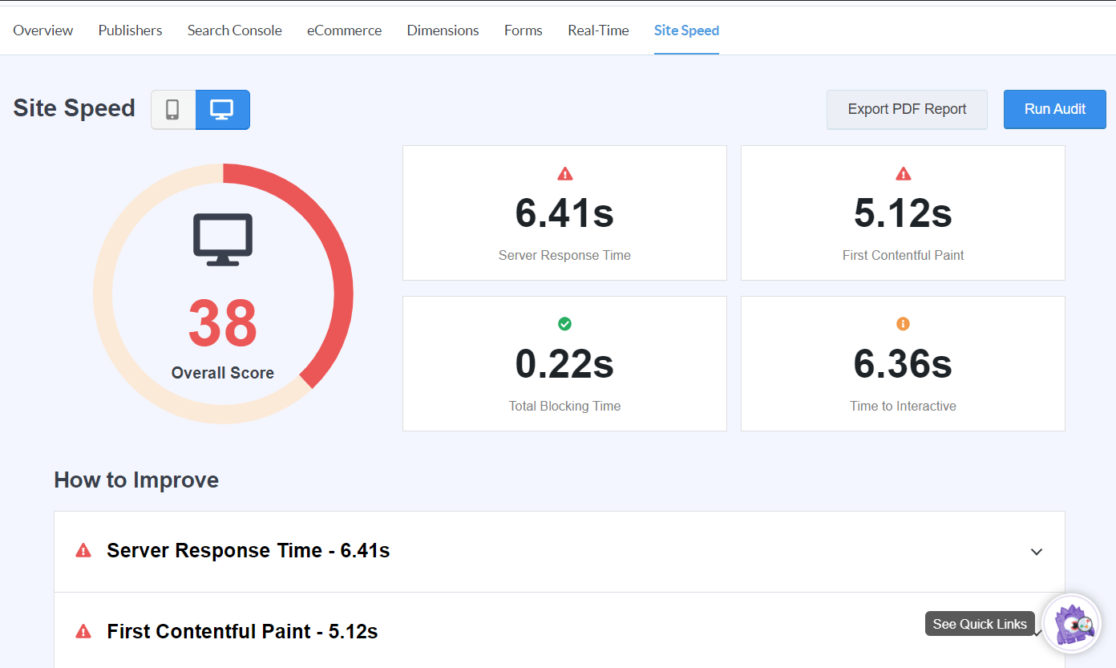 Here, you'll see your overall score, loading time by seconds, and a "How to Improve" section for your developer to use. You can use the toggle in the upper left to look at your mobile speed or your desktop speed.
Alternately, you can use PageSpeed Insights by Google.
Using this tool is simple: Just paste your URL into the tool and click Analyze.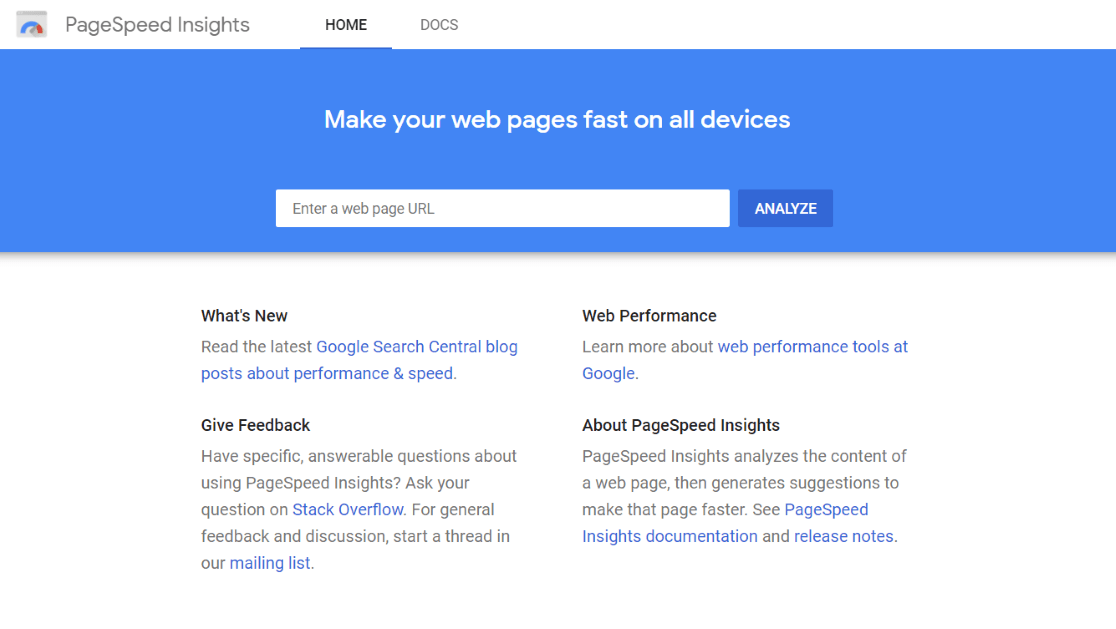 The tool will then give you an overall number between 1 and 100 to rate your page's speed, and will break down what it is about your speed that needs improvement (you can send this information to your developer).
Also, make sure to toggle to Desktop in the upper left corner to see your speed there too. The tool will show your Mobile speed first by default.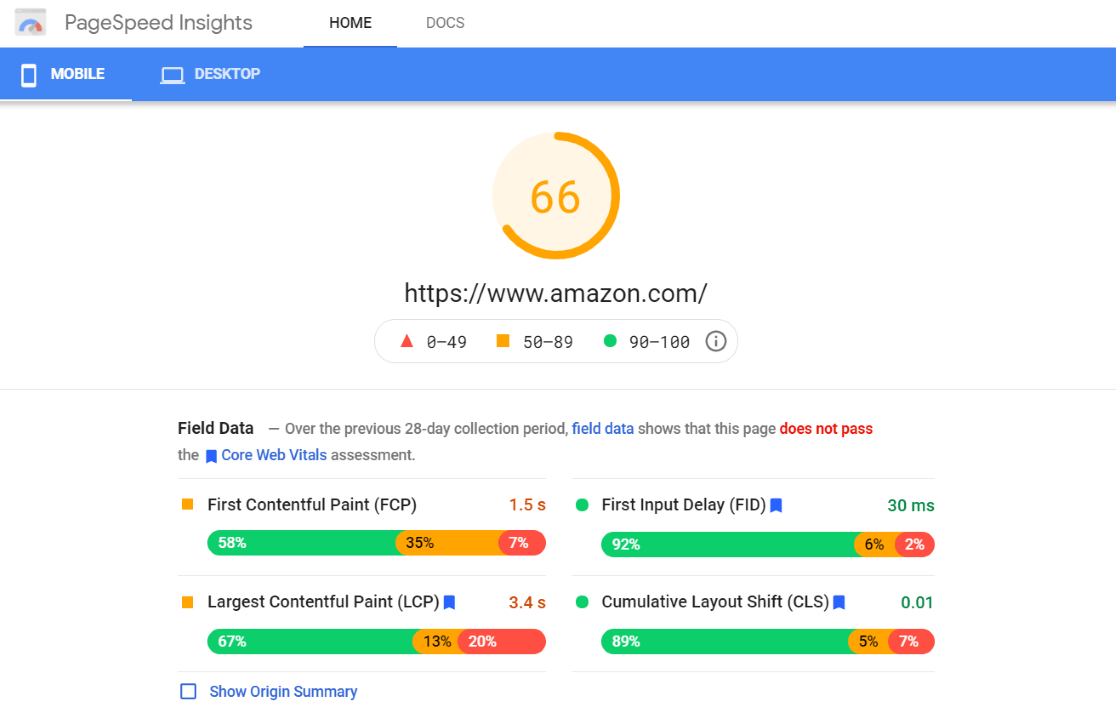 What Does a WordPress Cache Plugin Do?
You've heard that a cache plugin can speed up your site, but how does it work? We'll break it down into simple terms for you.
When your website loads, there are a whole bunch of different parts that load. Your images, the code that tells your website how to look, the code that tells your website how to function, and your on-page content are a few of the bits and pieces that have to load.
Depending on how big all those pieces are, it can take some time for them all to finish loading, adding to the overall time your site takes.
A cache plugin optimizes some of the loading processes in a few different ways, but mostly, it makes a copy of your page the first time it loads, then uses that copy to show users that visit after. This way, the whole site doesn't have to load every single time. It puts a copy of the page into your "cache," which is just a fancy way of saying storage space.
Some WordPress cache plugins go beyond simple caching to give you some extra settings that'll speed up your site even more.
Let's dive into our list of the top WordPress cache plugins!
Best WordPress Cache Plugins
There are many cache plugins out there. Some are free, while some have a small cost. Some are independent, while others are offered by WordPress hosting providers.
Here are the top cache plugins to consider, depending on your needs.
WP Rocket is WordPress caching plugin with impressive features, yet it's very easy to use. In fact, it might be the most beginner-friendly cache plugin you can find.
What makes it so easy to use? WP Rocket has preset settings that'll be applied to your site as soon as you activate the plugin. You don't have to understand much about caching to just get started right away.
Understand some best practices? Go ahead, adjust your settings! This plugin works for both beginner and more experienced website owners. There are also some optional settings you can activate to make your site even faster.
Get started with WP Rocket now!
WP Super Cache is made by Automattic, the company behind WordPress.com, WooCommerce, Gravatar, and more.
This free plugin is also easy to use in their "simple mode". It covers all the necessities of caching and will speed up your website by serving users cached versions of your pages.
If you need help setting this one up, read How to Install and Setup WP Super Cache for Beginners.
Get started with WP Super Cache now!
W3 Total Cache is a very popular plugin with over 1 million installations and 3,500+ 5-star reviews. They claim you'll see at least 10x improvement in overall site performance when the plugin is fully configured.
Full configuration, however, is a little bit advanced. If you're a beginner, we recommend sticking with one of the others on this list.
If you're a little more confident than a beginner, you'll find a whole list of settings to work with to speed up your site.
For a guide to installing this plugin, read How to Install and Setup W3 Total Cache for Beginners.
Get started with W3 Total Cache now!
SiteGround is a hosting provider with a WordPress cache plugin called SG Optimizer.
SG Optimizer is a plugin specifically for WordPress sites hosted with SiteGround. It's a cache plugin, but it goes beyond that to help you compress your images, combine files, minify your HTML, CSS, and JS, and more.
This plugin is usable both by beginners and more advanced users.
If you're hosting with SiteGround or shopping for a host for your WordPress site, we recommend SG Optimizer!
Get started with SiteGround now!
Sucuri is a top WordPress firewall and security plugin that also has a built-in caching feature. Easily cache your content or enable gzip compression in a couple clicks.
The big benefit of having DNS firewall and caching capabilities in the same plugin is that this means the plugin can serve cached content to your users even before their request hits your website. This can really improve your website's performance.
WP Engine is another WordPress host. If you choose to host your WordPress site with WP Engine, you'll have built-in caching.
Need to clear your cache? You'll be able to do that right from your WordPress dashboard.
According to WP Engine:
Our servers employ extensive caching by default. This is part of what makes WP Engine the fastest WordPress website host.
For more on what's involved with clearing your cache, read How to Clear Your Cache in WordPress.
Get started with WP Engine now!
Bluehost is another WordPress hosting option. Caching is super easy with Bluehost. Just open your site, head to the Performance tab, and choose "Normal Caching."
That's all you have to do to make sure your website uses caching with Bluehost!
If you need more control over your caching, you can disable it through Bluehost (or whichever host you've chosen) and install one of the other plugins on this list to use instead.
Get started with Bluehost now!
That's it There should be a great option for you here, whatever your budget and whatever your site's needs.
For more tips on how to speed up your WordPress site, read 17 Easy Hacks to Speed Up Your WordPress Site Performance. For more great plugins, check out 45 Best WordPress Plugins.
For more site speed tips, guides and other helpful Analytics tips, follow MonsterInsights on Facebook, Twitter, and YouTube.