Are you looking for the best CDN for WordPress to make your website load faster? CDN, short for Content Delivery Network, boosts your website's performance by loading content in a matter of seconds on your visitor's device.
In the article, we will show the best CDN for WordPress and help you select the right solution to speed up your website.
But before we list our 6 best CDNs, let's look at how it works and why it's important.
How Does a CDN Work?
In simple words, CDN is a network of servers located in different parts of the world (also called point of presence or PoP). Its goal is to minimize the distance between your visitor and your website's origin server.
So how does it make your website load faster?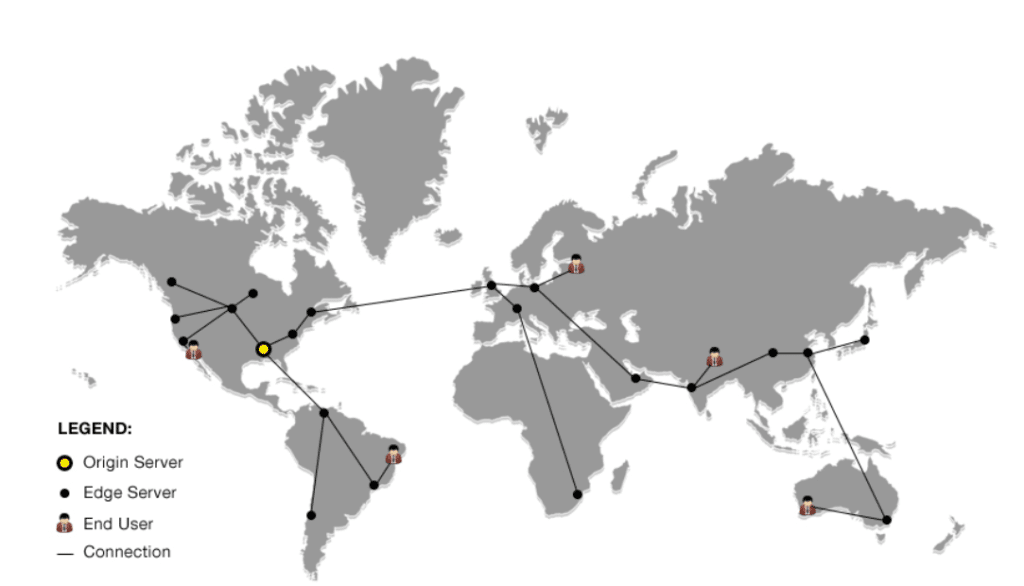 A CDN caches static content of your website (like images and stylesheets) and stores them on its edge servers at multiple locations (PoPs). When the end-user requests those pages, a CDN redirects that request to its edge server which is nearest to the user's location.
For instance, a visitor in Australia visits your US-hosted website. A CDN will bring up your website pages through its local Australian edge server. This way, your website loads quickly, and the end user's request doesn't have to travel halfway across the world to your website's origin server.
That's how a CDN works, but why is it important for your website?
Why Do You Need a CDN for WordPress?
There are many benefits of using a CDN. We've already shown you that it speeds up your website's load time. But here are more benefits of using a CDN:
Great User Experience: Studies show that a single-second delay in website load speed can decrease page views by 11% and conversions by 7%. That's where CDN comes in by making your website quick and providing an excellent user experience.
Boost in Rankings: Do you know who else loves fast websites apart from visitors? Search engines. A fast website will rank higher in the search engine, and with a CDN, you can improve your SEO rankings.
Improved Website Performance: A CDN not only speeds up your website, but it also makes it crash resistant by distributing the load to multiple servers.
Increases Website Security: Through a CDN, you can add an extra layer of security by adding an SSL certificate (like https://example.com instead of http://example.com) and minimize the chances of DDoS (distributed denial-of-service)
Now that you know the amazing benefits of using a CDN, are you ready to look at the best CDN for WordPress? Let's start…
StackPath is a powerful CDN that offers amazing features. And with MaxCDN under its family of products, it's one of the best WordPress CDN you can get today.
It's super easy to use and offers a beautiful control panel. StackPath also has a large network of servers, allowing faster website load time for users around the world.
And in terms of security, you don't have to worry as StackPath offers DDoS protection with all its pricing plans. You can also get other security features like:
Web application firewall to enhance your security
Free private SSL certificates
Worldwide network monitoring
Origin shield to protect your origin server from request overload
DDoS protection for network and application
Pricing: To find the prices of StackPath CDN, you'll have to reach out to their sales team.
Sucuri is another top WordPress CDN and offers unbeaten security features to keep your website safe.
It offers a web application firewall that protects your website from hackers and malware. The firewall prevents brute force attacks, in which hackers use automated tools to hack the website or crack passwords.
Sucuri also blocks different levels of DDoS attacks and stops anyone trying to prevent your visitors from reaching your website.
Its powerful firewall combines with a global anycast network that has multiple locations in the US, Asia, Australia, Brazil, and Europe.
Other key features of Sucuri include:
High-performance servers
Smart caching option
HTTP/2 support
Real-time website malware and SEO spam scanner
SSL certificate monitoring
24/7 support
Pricing: Sucuri offers a basic package at $199.99 per year per website, which roughly makes it $16.7 per month. Each plan comes with a 30-day money-back guarantee.
KeyCDN is among the best CDN for WordPress. It' loaded with features that deliver fast content to visitors and make your website secure from hackers and DDoS attacks.
KeyCDN is easy to integrate with WordPress through its WordPress CDN Enabler plugin. It offers 34 edge servers in 25 countries, spread across 6 continents.
Other exciting features offered by KeyCDN are:
DDoS protection
Two-factor authentication
Let's Encrypt TLS
HTTP/2
24/7 customer support
Pricing: The prices are based on bandwidth and location. They start from $0.04 per month for the first 10TB in North America and Europe.

Cloudflare is the best free CDN for WordPress and is highly popular among small business owners. Their free plan offers basic DDoS protection, shared SSL, and its global CDN network of 180 data centers.
But if you want more advanced features, then we suggest you get hold of their paid plans.
Cloudflare CDN offers fast static and dynamic content delivery. You can use its API to automate workflows and have more control over how your website's content is cached and purged.
It allows you to specify page rules for individual URLs and improve website performance. Here are other features of Cloudflare you might want to check out:
User-friendly interface
Web application firewall (WAF)
Programable API
Built-in DDoS protection
Customizable cache expiration periods
Prevents traffic congestion through intelligent routing
Fast cache purge
Supports different video files like MPEG-DASH
Pricing: The paid plans of Cloudflare start from $20 per month and go up to $200 per month with the business plan. And there is also a free plan which you can use to get started.

Amazon CloudFront is among the best CDN options for your WordPress website. It's integrated with Amazon Web Services (AWS) and helps fast content delivery to visitors. It caches videos, images, APIs, data, and website stylesheets so your website loads in a matter of seconds.
Deep integration with AWS makes Amazon CloudFront more attractive. You can benefit from services like Amazon S3, Elastic Load Balancing, and Amazon Route 53. All these features in the CDN are programmable through their APIs or AWS Management Console.
More features of Amazon CloudFront include:
DDoS protecting through AWS Shield
17 PoPs in 30 countries
SSL/TLS encryption along with HTTPS
Network optimization for smooth performance
Highly customizable
Pricing: It offers a pay-as-you-go pricing and starts from $0.085 for the first 10TB in the US and Canada region.
Our Recommendation: What is the Best WordPress CDN
After comparing these different CDNs, we recommend StackPath. It's fast, reliable, and easy-to-use.
StackPath offers quick content delivery, improved website performance, and boosts your SEO rankings.
To enhance your website security, you can also use Sucuri alongside StackPath. It will keep your website safe from threats like DDoS attacks, hacks, malware, and spam.
That's it.
We hope you liked our article on which is the best CDN for WordPress. You might also want to check out our beginner's guide on Google Analytics for WordPress and the best WordPress security plugins.
And don't forget to follow us on Facebook and Twitter for more tutorials about Google Analytics.