Are you looking for the best free SEO Chrome extensions that you can use to monitor your site's SEO, perform keyword research, check in on your competitors' rankings, and more?
There's an overwhelming number of SEO extensions out there! Many have a different focus, like keyword rankings or competitor research, but many have similar features. It's so hard to choose an SEO extension or SEO toolbar when you have such a long list to choose from!
In this article, we'll rank and provide information about the best SEO Chrome extensions.
The best part? You can get started with all of them for free!
SEO Chrome Extension Features to Look For
So, what features would you like most in your SEO extension? SEO contains quite a long list of tactics and data needs. Think about what you want your extension to focus on — that'll make it easier to choose the one that works best for you.
For instance, you might want an extension or toolbar that focuses on:
Keyword research/ideas
Keyword rank tracking
Link building research
On-page SEO
Competitor research
SERP analysis
You can always install a couple of SEO extensions if you need to focus on multiple areas of SEO, but try to keep from overloading your browser, as that can cause slowness.
Let's get started with our list of the best SEO extensions!
Our Favorite Chrome SEO Extensions
The All in One SEO Analyzer is a powerful Chrome SEO extension that provides an extensive overview of any page's SEO performance, just by clicking a button.
When you're on any page on the web and you click on the SEO Analyzer extension, it immediately inspects a long list of the page's on-page SEO elements. You'll very quickly see a lot of information about the page, such as its title tag and meta description (including SEO scores for both), word count, heading tags, image alt text, schema, and more.
SEO Analyzer is a great all-in-one solution for SEO professionals and website owners who want to improve their website's ranking in search engine results pages (SERPs).
Here are a couple of ways you could use it to improve your SEO:
Want to outrank a competitor's article? Use SEO Analyzer to see which keywords they use in their title, meta description, and heading tags without having to scroll through the article yourself. Take note of how many words the page is, plus how many internal and external links it has to plan your content length and linking efforts.
Have a page that needs to be ranked better? Use the SEO Analyzer to instantly get an overall picture of its SEO health, including title and meta description lengths, robots.txt issues, images without alt text, and more.
The All in One SEO Analyzer's top features include:
Comprehensive on-page SEO analysis
Title tag
Meta description
Heading tags
Image alt text
Robots.txt
Link counts for internal and external links (including an export option)
A list of all the Schema on the page
Open Graph information
And more!
Pricing: All in One SEO Analyzer by AIOSEO is free.
Get started with All in One SEO Analyzer by AIOSEO now!
Ahrefs SEO Toolbar is an SEO extension for Chrome that quickly shows many on-page SEO metrics for whichever page you'd like to see. Like the AIOSEO SEO Analyzer, it'll give you an excellent overview of a page's on-page SEO elements.
With the Ahrefs SEO Toolbar, you can look at different metrics for both your own site and your competitors. Quickly see the page title and meta description (and their length), headings, schema, links on the page, and more.
Use the toolbar to analyze a competitor's page to try to outrank them, or use it on your own site to ensure your pages are all optimized well.
Ahrefs SEO Toolbar's features include:
Title and meta description
Structured data (Schema)
Open Graph tags
A list of images you can filter by alt tag missing or title missing
A list of the links on a page and whether they're dofollow
You'll also get some features within Google SERPs. Run a search to see a short list of keyword ideas and a tab of the "People also ask" questions on the page: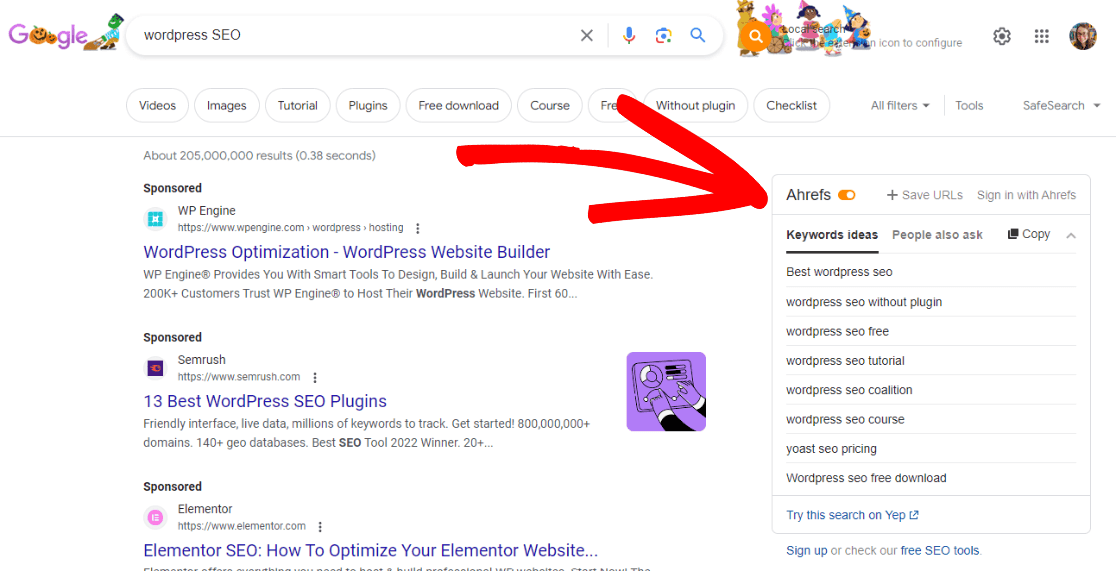 Pricing: Ahrefs SEO Toolbar is free, but it does include features you can turn on that are paid features. Paid plans start at $99 per month.
Get started with Ahrefs SEO Toolbar now!
Ubersuggest is a Chrome SEO extension by Neil Patel that includes some features for both on-page analysis and search result analysis.
Opening the Ubersuggest extension on a web page will first show you a bunch of metrics for the domain (not the exact page you're on). This can be helpful if you're trying to analyze a competitor as a whole, not just a specific page on their site.
To get some page-specific data, head to the SEO Analyzer tab. You'll need an Ubersuggest account to get some free uses of this, but once you do that, you'll see data like:
On-page SEO score
Estimated organic monthly traffic
Estimated number of keywords
Number of backlinks
Health check
Site speed
To access the SERP features, run a search on Google. The Ubersuggest free plan will analyze up to 40 searches for free per day. You'll see a sidebar with a list of related keywords for some keyword ideas, and your search results will contain domain information like domain authority, estimated visits, social shares, and backlinks.
If you want to see the keyword suggestions, questions, comparisons, and other data, you'll need to upgrade to a paid Ubersuggest plan.
While this extension provides a lot of data, keep in mind that a lot of it is domain-specific instead of about the specific page you're on.
Pricing: Ubersuggest is free, but the tool has limits and prompts to upgrade starting at $29 per month.
Get started with Ubersuggest now!
The Keyword Surfer Chrome extension is a tool that adds helpful data to the search engine results pages (SERPs). It's the first on our list that deals only with the SERPs and doesn't include features for on-page analysis.
While it doesn't have on-page features, its SERP features are useful. When you run a search in Google, it'll add a keyword volume to your search term, put a box in the sidebar with keyword ideas (including their volumes), and add word count and exact match keyword counts to each search result. It'll also include the estimated monthly traffic for the overall domain.
Keyword Surfer's Chrome extension features include:
Estimated monthly search volume for your search term
Cost per click of your search term
Keyword ideas based on your search term
Save and export a list of keyword ideas
Estimated monthly traffic for each domain in the results
Number of words on each page in the results
How many times the exact search term is used on the result page
Pricing: The Keyword Surfer Chrome extension is free.
Get started with Keyword Surfer now!
MozBar is an SEO Chrome extension that adds a bar of information to the top of your screen when visiting web pages or in the SERPs below each result.
MozBar will quickly show you a page's Domain Authority and Page Authority, basic on-page meta information, heading tags, and more.
In our opinion, the cool feature that sets MozBar apart is its ability to highlight links on the page in different colors so you can quickly see which ones are external vs internal and followed vs. nofollow.
It'll also show you a page optimization score, but only if you pay for MozBar Premium.
MozBar features include:
Access to on-page elements, including meta tags and heading tags
Page authority and domain authority (on a page and in search results)
Link highlighter
Schema checker
Link metrics (number of links)
Pricing: MozBar's basic features are free, although you must sign up for a Moz account. You'll need to pay for MozBar Premium for more features.
SEOQuake is a free Chrome extension that adds an SEO toolbar to your browser. While you'll get some data if you use it on its own, you can connect it with a free Semrush account to get more metrics.
The primary metrics it adds to your screen while browsing the web are Google index, backlinks, Semrush rank, Pinterest pins, and Bing index.
We didn't find these metrics super helpful, but you can click different buttons on the toolbar to open a separate page with tons of metrics and information. The page includes internal and external links, keyword density (including where the keywords are found on the page), a full-page SEO audit, compliance information (including robots.txt and sitemap), and the ability to compare URLs/domains.
SEOQuake features include:
General metrics in a toolbar and in search results
Estimated page visits
A complete list of internal links
A complete list of external links
Keyword density lists
Compliance information
Page SEO audit/diagnosis
Pricing: SEOQuake is free and recommends connecting to a Semrush account.
Get started with SEOQuake now!
SimilarWeb is a neat SEO Chrome extension that's especially useful for competitor research. It adds unique information to your browser, including metrics like visits over time, bounce rate, pages per visit, monthly visits, session duration, and even traffic sources.
While all of that is awesome, be aware that you get 15 uses of the extension per week with the free version, which shows data per domain only, not per page. This extension does not add any information on SERP pages.
Also, to expand the charts and see more information beyond what's in the pop-out, you'll need to sign up for a free SimilarWeb account.
SimilarWeb's features include:
See a domain's visits over the past month
See bounce rate, pages per visit, and more traffic metrics
See traffic sources for desktop traffic
Access a domain's device distribution (mobile vs. desktop traffic)
Access data on a domain's branded vs. non-branded search traffic
Pricing: SimilarWeb is free for 15 uses per week and limited use of their dashboard for more metrics. Paid packages start at $125 per month.
Get started with SimilarWeb today!
Serpstat Website SEO Checker is another free Chrome extension you can use for SEO research. Its On-page SEO tab is free to access, but the rest would require an upgrade.
Within the free on-page SEO tab, you get information on meta tags and headers, links (downloadable in a CSV), image information, and more. We particularly like the speed report so you can check a competitor's (or your own) site speed right from the extension.
Serpstat features include:
General information, including CMS, whether Google Analytics is installed, robots.txt information, and more
Headings list and meta information
Internal and external links
Images, including their size
Site speed test
Word and character count
Pricing: Serpstat is free, but if you want more data, you'll need to pay for a plan starting at $50 per month.
Get started with Serpstat now!
SEO Search Simulator by Nightwatch is an excellent tool for anyone needing to keep track of rankings. This extension lets you quickly see non-personalized search results from any country. Plus, you can enter a URL to see where it's ranking in the SERPs.
When you need to know where your website is ranking, we found the SEO Search Simulator to be an excellent, quick way to find out.
SEO Search Simulator features include:
Simulate search from any country in the dropdown
Save searches in a list for easy monitoring
Highlight the position of specific URLs
Pricing: Basic functionality is free. If you want to monitor keyword rankings with the full Nightwatch service, it starts at $32 per month.
Get started with SEO Search Simulator now!
Meta SEO Inspector is a tool that does exactly what the name says: It inspects meta information and spits it out for you in an easy-to-see way. Use it to easily see if your meta information is set up correctly across all the pages of your website or check out what competitors are doing.
Meta SEO Inspector features include:
Title and description
Social meta information
Structured data
Link anchors
Images
Site verification tags
Pricing: Meta SEO Inspector is free.
Get started with Meta SEO Inspector now!
SEO Serp 2 is the last SEO Chrome extension on our list. You can install it to get an excellent overview of the meta titles and URLs on your search result pages.
In this extension, you can quickly and easily see the average link of all the titles on the 1st page of results, the max link, how many of them are truncated by Google, and more.
SEO Serp 2 features include:
Number of results on the first page of Google results
Title lengths, including minimum and maximum
Average title length for both non-truncated and truncated titles
Which titles are truncated and end in ellipses
CSV download
Pricing: SEO Serp 2 is free.
Get started with SEO Serp 2 now!
That's our list!
The Best SEO Chrome Extension
Which SEO Chrome extension is the best? Our top pick is the All in One SEO Analyzer by AIOSEO. It has many features, is laid out in an easy-to-navigate extension, and is free!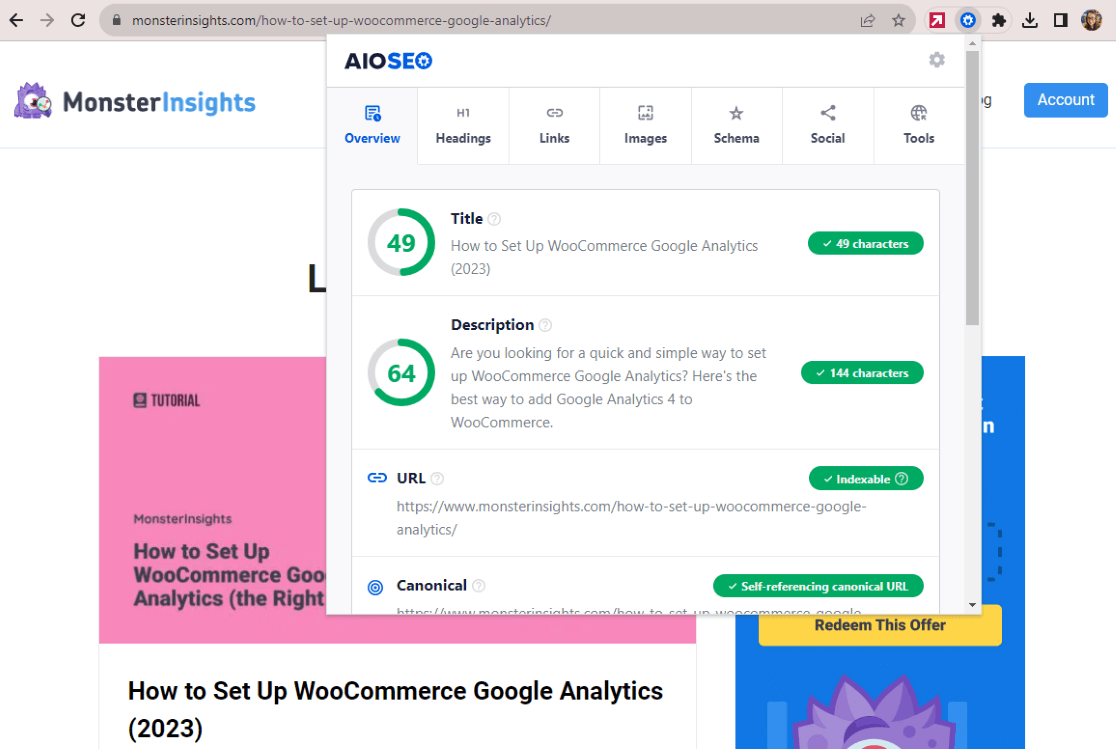 If your website is on WordPress, remember to check out MonsterInsights for all your Google Analytics needs.
And don't forget to follow us on Twitter, Facebook, and YouTube for more helpful reviews, tutorials, and Google Analytics tips.