Want to learn how to use Google Analytics with your AdWords account? Linking the two accounts allows you to share information between the two for better tracking of your ad campaigns. In this article, we'll show you how to use Google Analytics with AdWords.
Link Google Analytics to AdWords
Google AdWords is an advertising tool that splits your text and display ads into two networks: the Search Network and the Display Network.
Text ads show up next to search results when your chosen keywords match the search terms people enter. Display ads appear in websites that are part of the Display Network and include text, images, animations, and video.
Both types of advertisements are clickable and bring people to your website.
Using AdWords is something all website owners looking to make money should do.
But using AdWords is only half the equation.
If you really want to grow your business and make the most of your AdWords campaigns, you need to track your campaigns in terms of cost and conversions. You also need to know what happens on your website when someone clicks on your ad.
Only then will you know whether you AdWords campaigns are working.
Luckily, linking your Google Analytics account to your AdWords account is easy and helps you see how effective your advertising efforts are.
To link your Google Analytics account to AdWords, first make sure that both accounts use the same email address so they can link right. Also, make sure you're an admin on both accounts so you can make changes.
Next, log into your Google Analytics account and click on the Admin tab in the lower left-hand panel.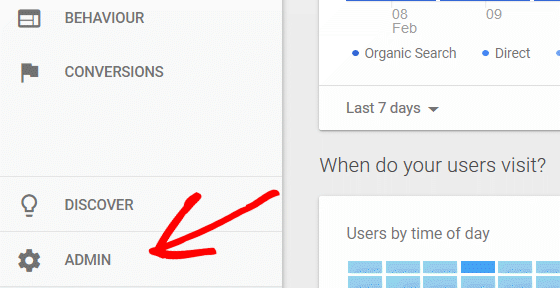 You will see columns labeled Account, Property, and View. Under the Account tab, select the Google Analytics account you want to link to AdWords.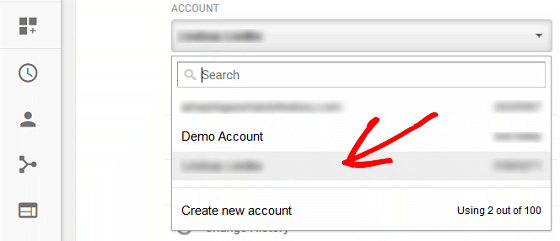 Under the Property tab, select the property you want to link to AdWords. You can also create a new property if you want to.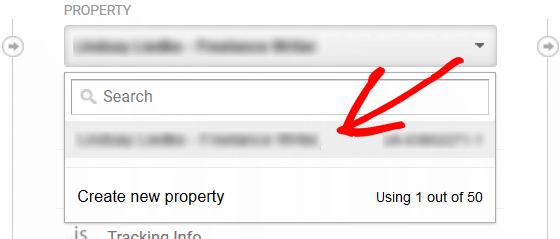 Now, scroll down to the part labeled AdWords Linking and click on it.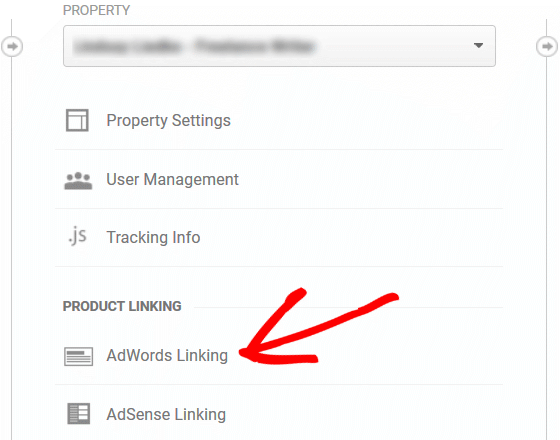 Here you'll see all of the AdWords accounts you have set up. Choose the one you want to link to your Google Analytics account and click Continue.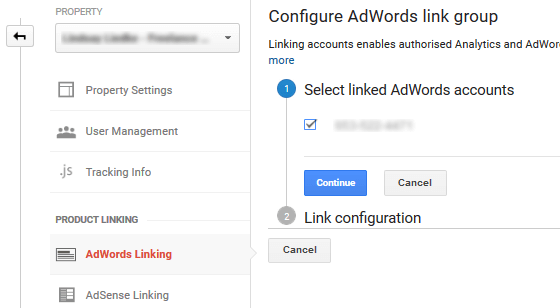 Give your link group a title and toggle On the view section.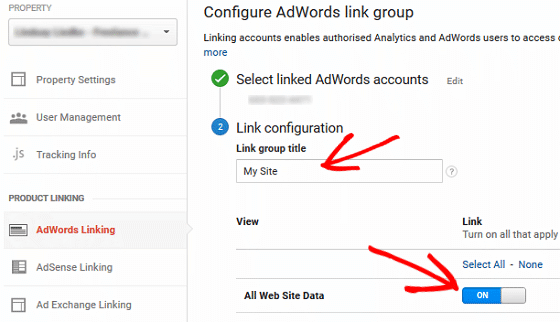 Click Link accounts and you're all set. Your Google Analytics account is now linked to AdWords.
It is worth noting that when you click on Link accounts, auto-tagging is automatically enabled. But, for those that don't know what auto-tagging is, keep reading.
How to Set Up Campaign Tracking
In order to see your AdWords campaign data in Google Analytics, you have to set up campaign tracking. In other words, you need to tell your AdWords ads to send data to your Google Analytics account so you can see it.
To do this, you must add special tags to your AdWords URLs.
Now, you can manually add campaign tracking tags to your AdWords URLs, but there is an easier way.
First, log into your Google AdWords account. Click on the Settings tab in the left-hand panel.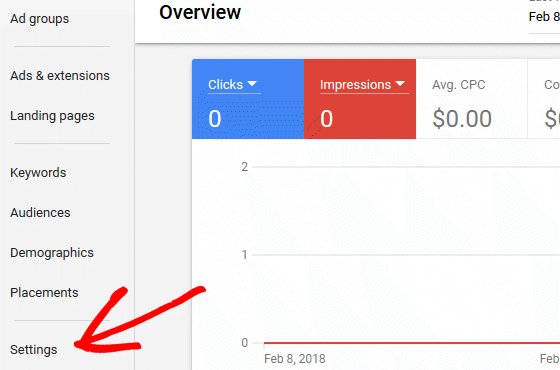 Under the Account Settings tab, select the Auto-tagging option and click the checkbox to enable automatic tracking of all AdWords URLs.

Save your changes.
This is helpful to know just in case you need to re-enable auto-tagging in your AdWords account.
Luckily for us though, when we linked our Google Analytics account, it enabled auto-tagging for us.
Using Google Analytics with AdWords
Now that your two accounts are linked and sending information back and forth, it's time to learn how to use Google Analytics to evaluate your campaign performance.
Acquisition Report
In your Google Analytics account, you'll see multiple reports. The one to focus on is the Acquisition Report.
Navigate to Acquisition » AdWords » Campaigns to see how your AdWords campaigns are performing.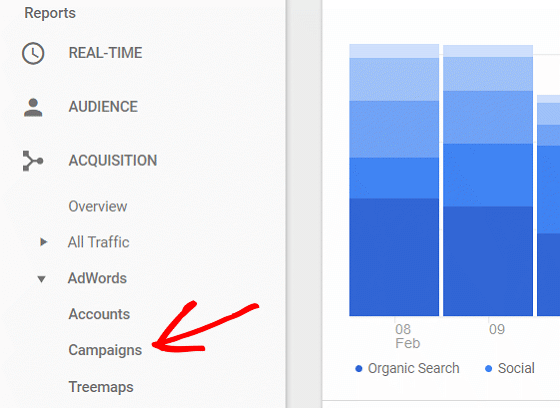 Each keyword you assigned your AdWords ads will appear in the left-hand column. Moving to the right, you will see the following data:
Acquisition
The Acquisition section gives you data related to your AdWords account. Check out how many clicks each ad campaign has, the total cost of each ad, and the cost per click for each assigned keyword.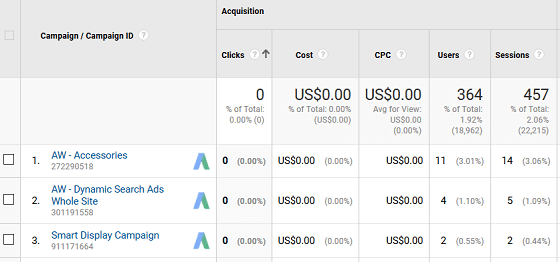 You can also view how many users have initiated a session for each ad, as well as the number of sessions your website saw after someone clicked on your ad.
Behavior
The Behavior section shows you the bounce rate for each ad campaign and the number of pages/session that users viewed before leaving your website.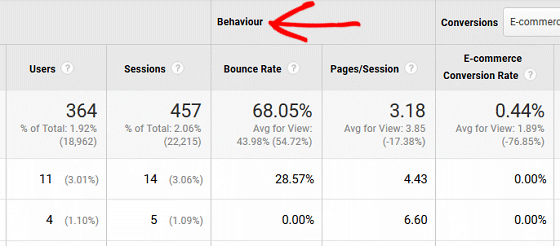 This data gives you an idea of how well your keywords and overall campaigns are working. For example, a high bounce rate may indicate your keywords do not relate to the search terms people are entering in Google. So, when they click your ad and enter your site, they realize that you do not have what they are looking for and leave.
In addition, the number of pages your site visitors view while on your site will tell you if visitors are engaged with your content or not. The more pages viewed, the more engaged your visitors are.
Take this information and make changes to your AdWords campaigns to reduce your bounce rate and boost user engagement.
Conversions
The Conversions section shows you how your ad campaigns are converting once someone clicks on an ad and enters your site.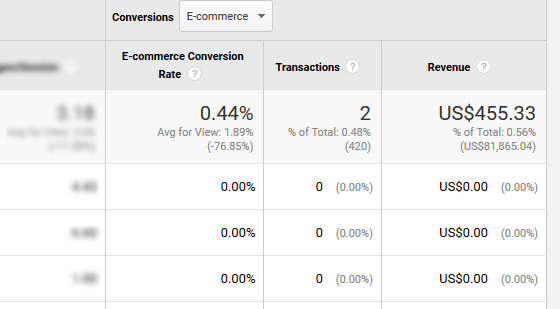 Here you'll see how many eCommerce transactions resulted from someone who clicked on your AdWords ad, the amount of transactions that were finalized on your site, and the revenue generated by site visitors who got to your website by clicking on one of your ads.
You'll notice there is a dropdown menu in the Conversions section that lets you refine your results based on goals you have set up.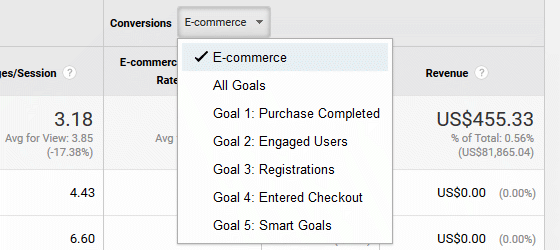 Check out our helpful tutorial on creating goals in Google Analytics so you can track specific interactions on your website once someone clicks on your ad.
In this report you can also see where your ad appears in search results. Your ads can appear at the top of Google search results or on the right hand side.
To see where you ad appears in Google, set the Primary Dimension to AdWords Ad Group.
Then, click on the dropdown menu labeled Secondary Dimension and search for the term Ad Slot.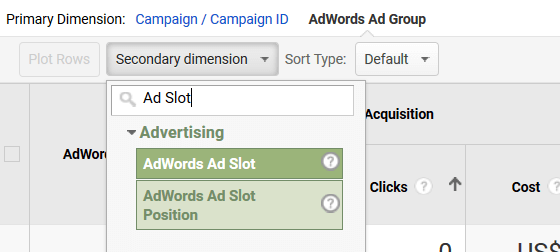 Now you can see the position your ads were in when they appeared in search results.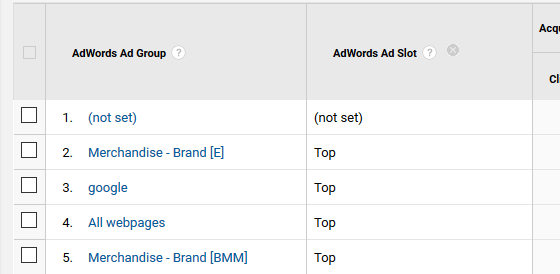 You can also find out which type of device your visitor was using when they clicked on your ad. Just set the Secondary Dimension to Device Category and see if they were on a desktop, mobile device, or tablet.
Use MonsterInsights to Help
We have only scratched the surface when it comes to using Google Analytics with AdWords. There are endless amounts of data you can view to help optimize your ad campaigns. But the sheer volume can be overwhelming.
That's why we created MonsterInsights. Not only is it a powerful analytics tool that helps collect important data from Google Analytics and present it to you in your WordPress dashboard, it is simple to use as well.
To make the most of your AdWords campaigns, and the data being passed to Google Analytics, we recommend using MonsterInsights to help:
And that's it!
You now know how to use Google Analytics with AdWords so you can maximize your advertisement efforts and convert more site visitors into customers. For ways to optimize your AdWords click-through rates you might want to check out these Adwords optimization strategies.
And don't forget to follow us on Twitter and Facebook for more helpful Google Analytics tips.