WordPress users, do you want to learn how to easily link Google Ads to Google Analytics?
Linking Google Analytics and Google Ads allows you to share information between the two accounts for better tracking of your ad campaigns.
In this article, we'll show you how to link Google Ads to Google Analytics 4 step by step through your WordPress admin.
Link Google Ads to Google Analytics: Video Walkthrough
Why Link Google Ads to Google Analytics?
Google Ads, formerly known as Google AdWords, is an advertising platform by Google that allows you to show paid ads to Google users.
But using Google Ads is only half the equation.
If you really want to grow your business and make the most of your ads, you need to track your campaigns in terms of cost and conversions. You also need to know what visitors are doing on your website when they click on your ad. Are they converting? Are they sticking around and viewing a few pages?
Only then will you know whether your Google Ads campaigns are really working.
That's why linking your Google Analytics account to your Google Ads account can help you see how effective your advertising efforts are. You get to see the full customer journey from how people interact with your ads to whether they complete the goal of your campaign.
Now, let's take a look at how to connect Google Ads with Analytics.
How to Link Google Ads with Google Analytics
Just follow these steps and you'll be able to link both the services in no time.
To link Google Ads and Google Analytics in GA4, start by choosing the correct property: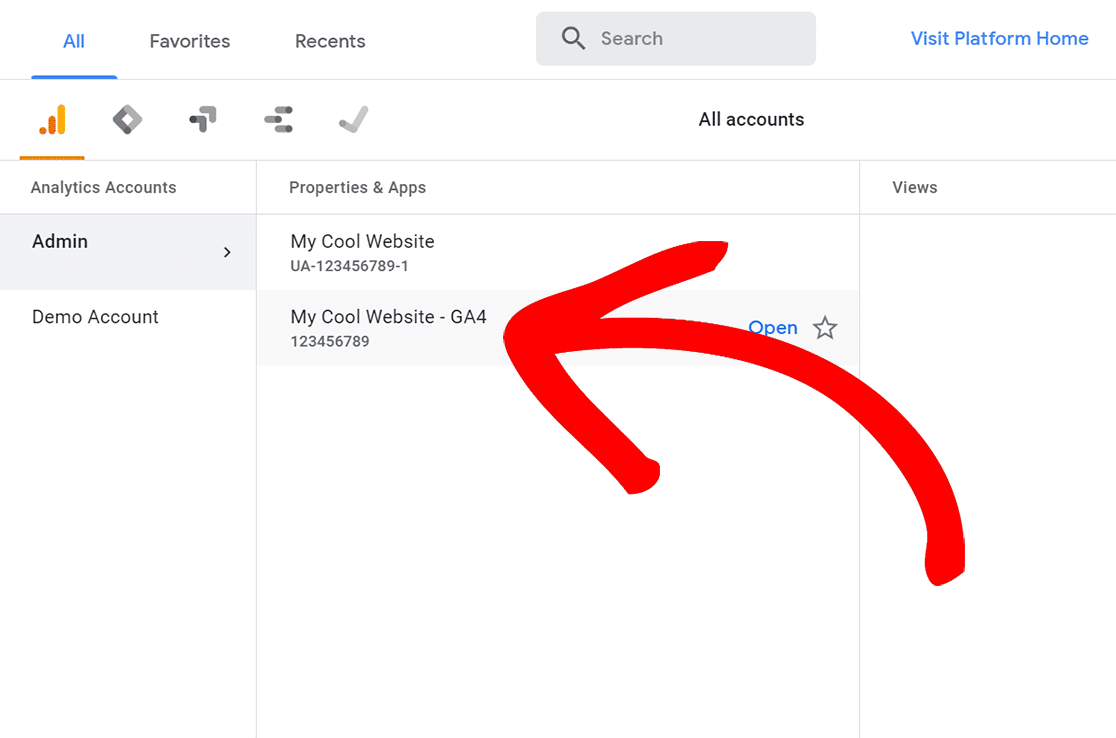 Then head to Admin: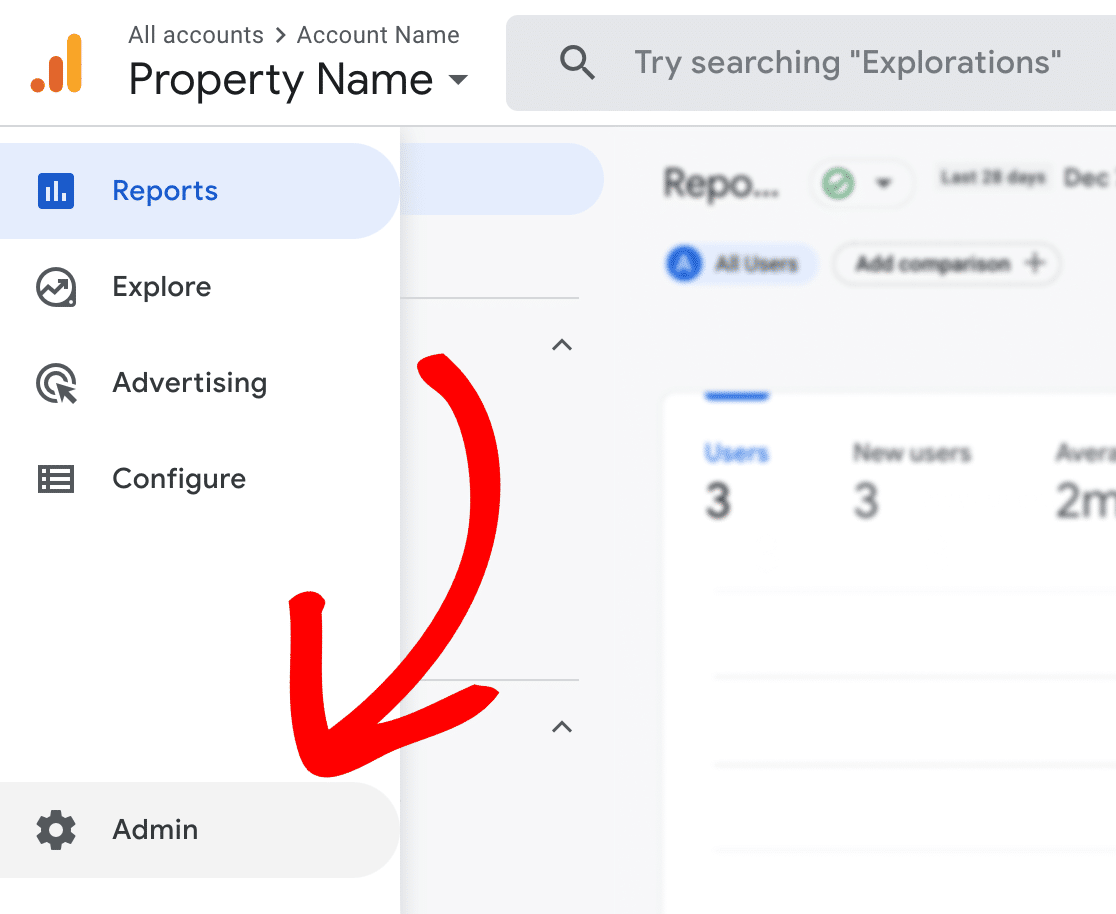 In the middle column, select Google Ads Links: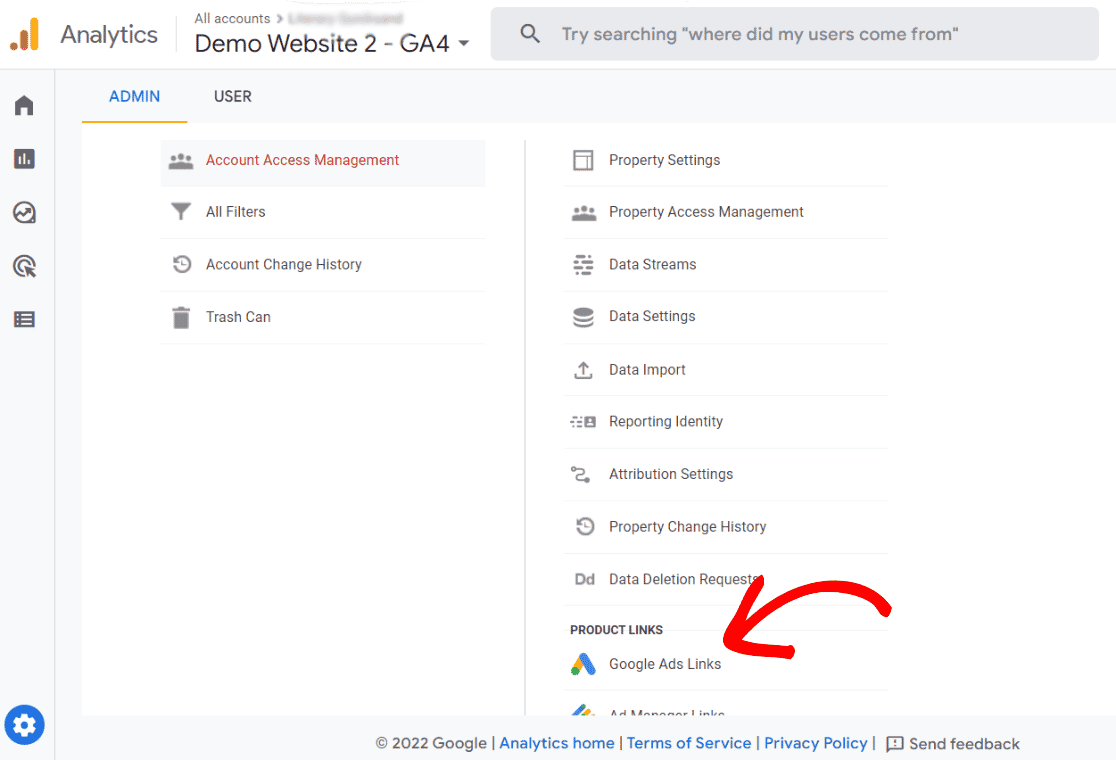 Next, click the blue Link button: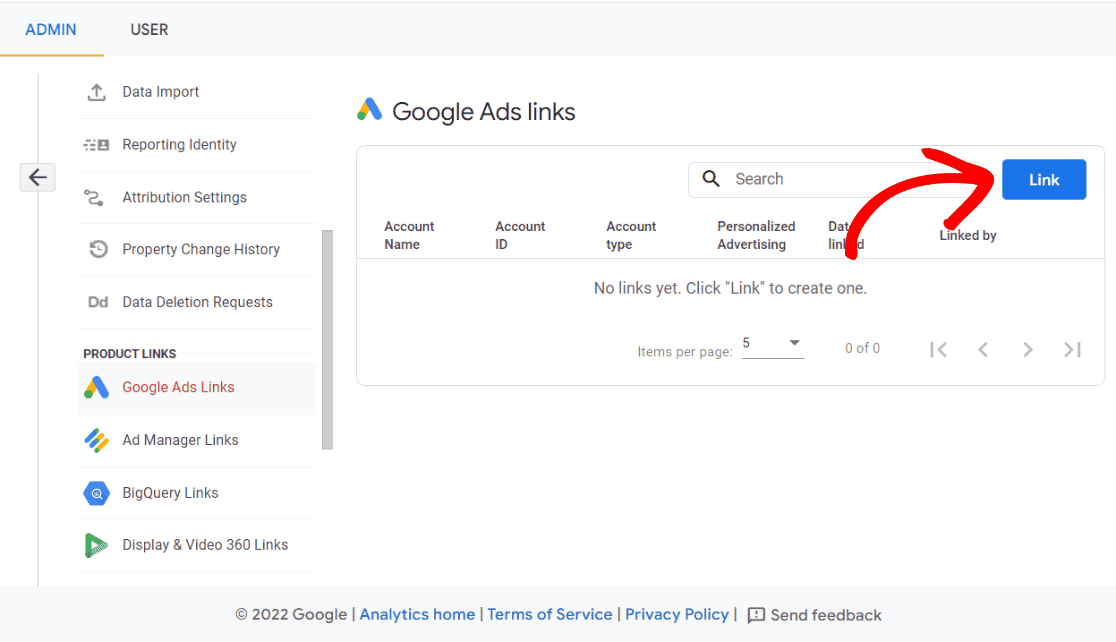 Now, click the Choose Google Ads accounts text: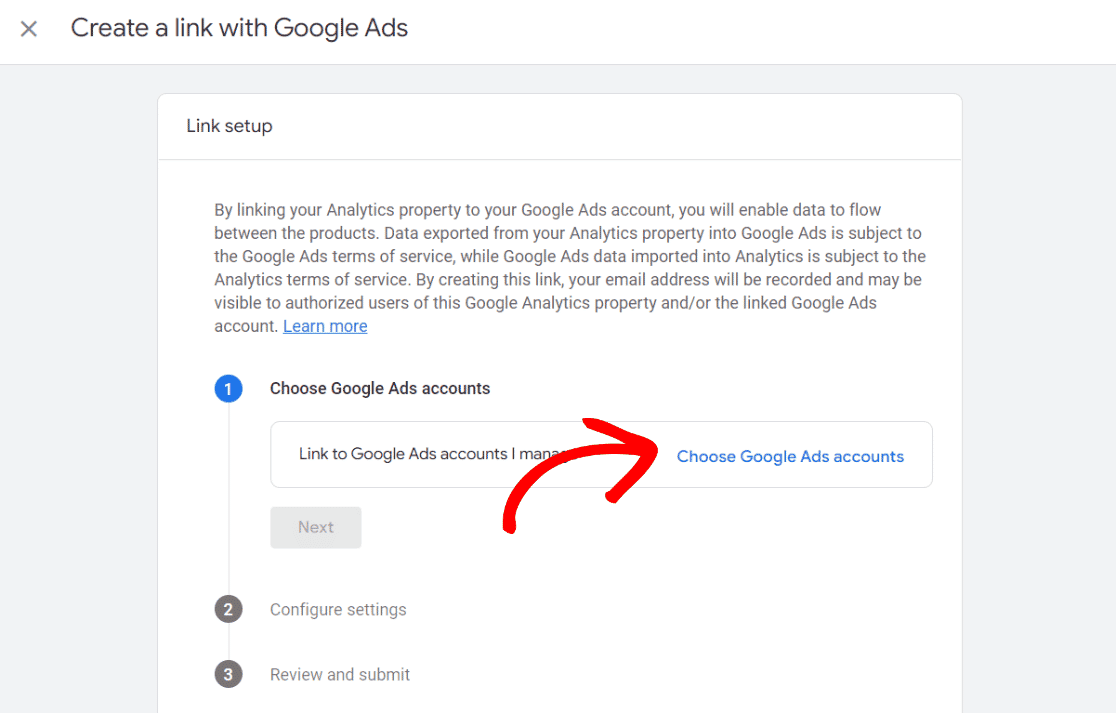 On the next screen, choose which account(s) to link with and click Confirm:

Now, verify you've got the right account and click Next: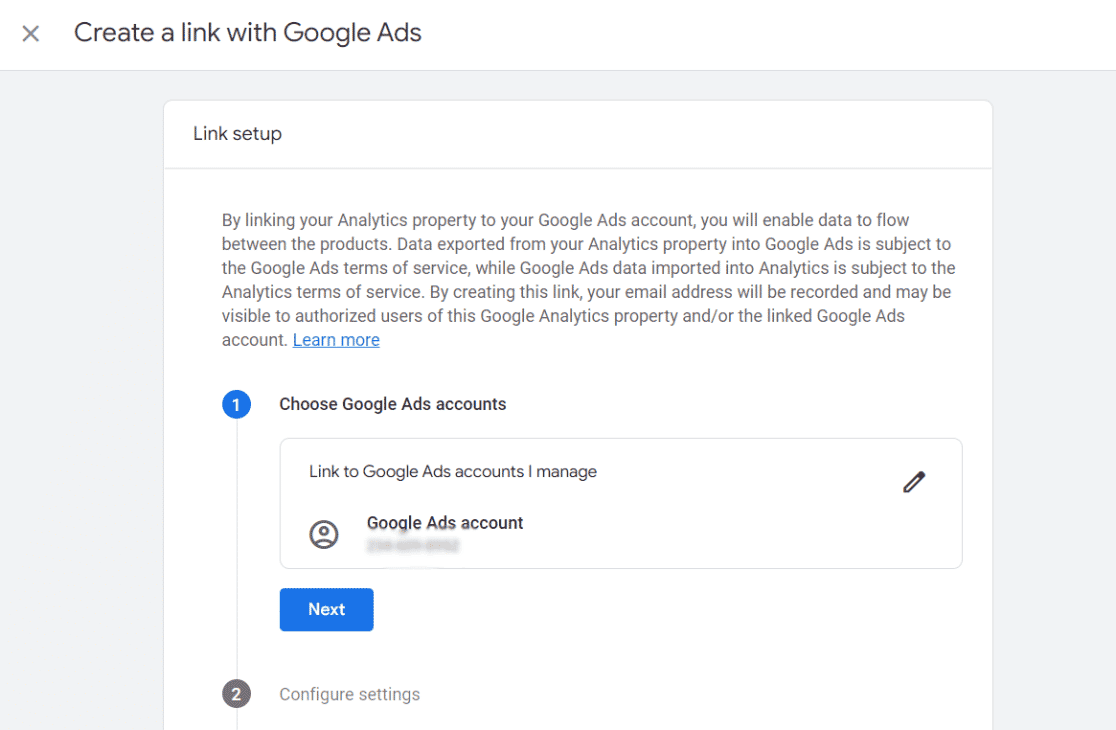 Next, you'll be asked if you want to leave personalized advertising on. This can be changed any time after setup.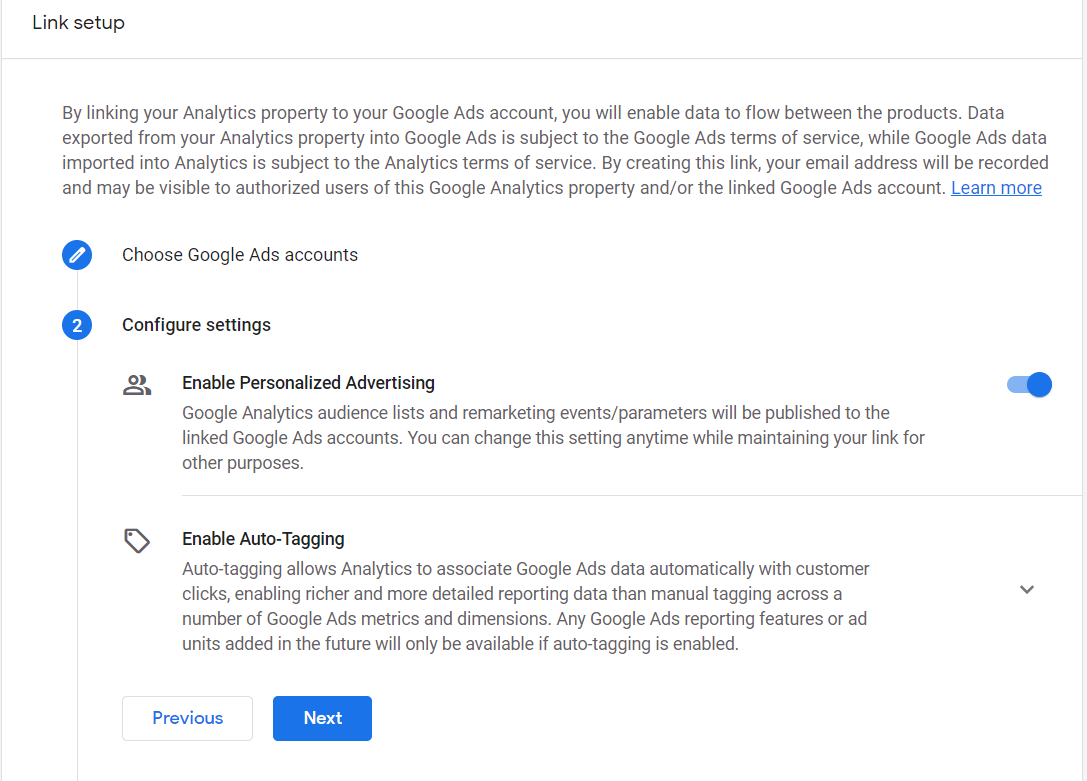 Click Next, then Submit.
Congrats! Your accounts are now linked.
Set up Google Ads Conversion Tracking in WordPress
WordPress eCommerce users, want an easy way to track your Google Ads conversions? If you have a WooCommerce, Easy Digital Downloads, or MemberPress store, you can easily and quickly set up Google Ads conversion tracking without messing with any code.
Step 1: Install MonsterInsights WordPress Plugin
The first thing you'll need to do is install and activate MonsterInsights on your website. It's the best Google Analytics plugin for WordPress.
Using the plugin, you can add Google Analytics to your website without editing code. Plus, it helps to set up advanced tracking features like eCommerce tracking, affiliate link click tracking, outbound link click tracking, form conversion tracking, and much more.
Head to the Pricing page and choose the Pro license, then download and install MonsterInsights.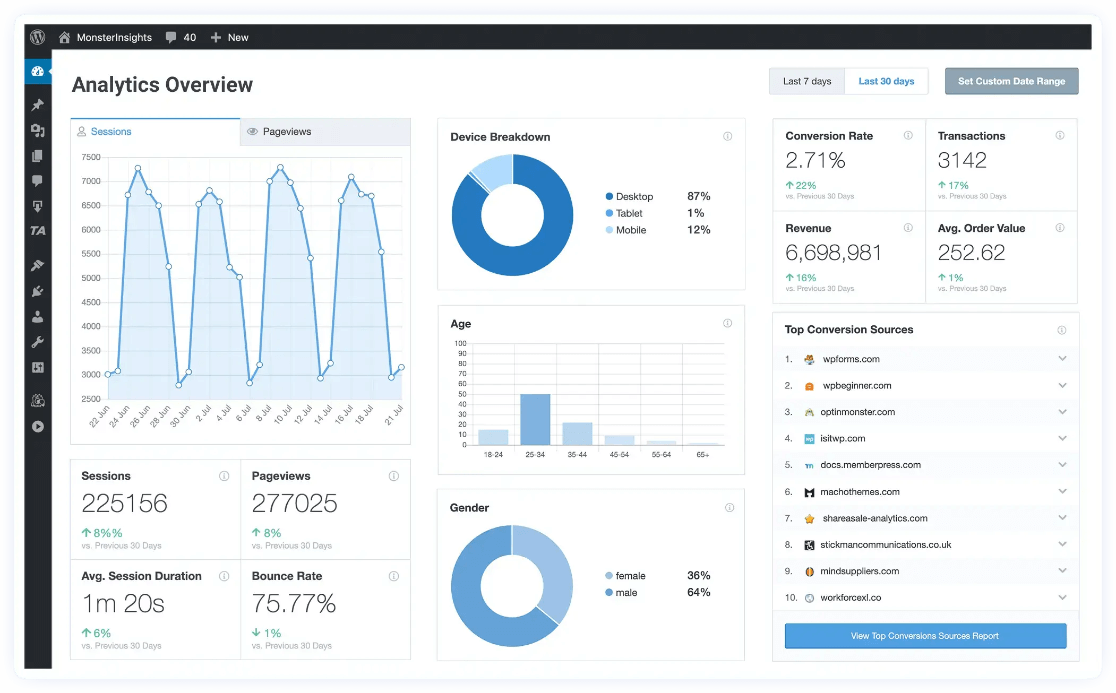 After the plugin is active, you'll connect Google Analytics to your site. Using the MonsterInsights step-by-step wizard, there's no need to hire a developer or touch a single line of code to set up Google Analytics on WordPress.
For the full MonsterInsights setup instructions, follow our guide on how to set up Google Analytics on your WordPress site.
Step 2: Install PPC Ads Tracking Addon and Connect Google Ads
The next step is to install the MonsterInsights PPC Ads Tracking addon. You'll need to have a MonsterInsights Pro or higher plan to use the addon.
To install the addon, go to Insights » Addons » PPC Tracking and click Install.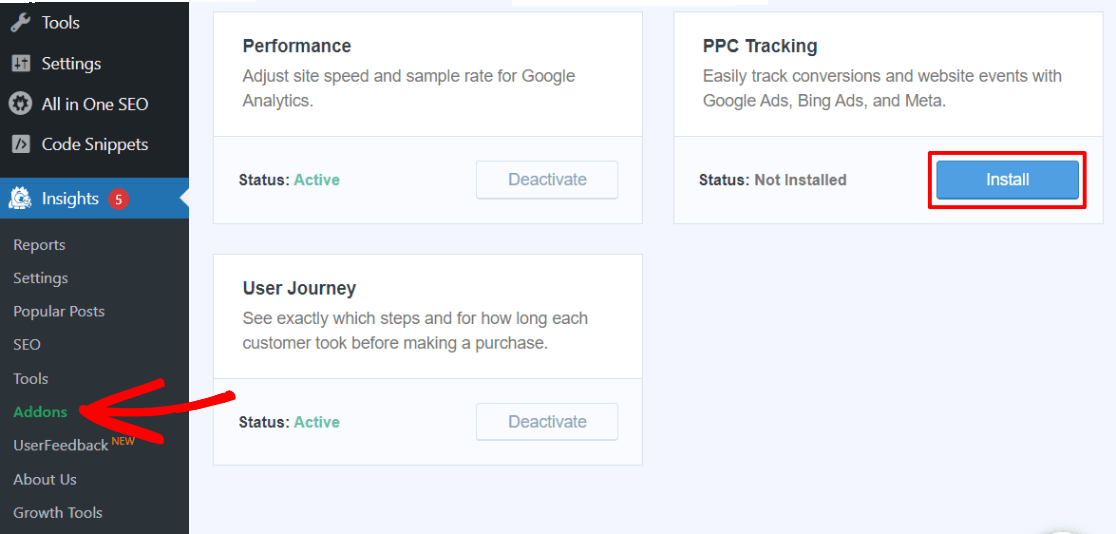 Once the plugin is active, you can now enter the Google Ads Conversion ID and Conversion label and MonsterInsights will automatically track your Ads conversions. No need to insert any code on your website manually.
Just navigate to Insights » Settings » Publishers and go to Ads Tracking. Enter your Google Ads ID under the Conversion ID field.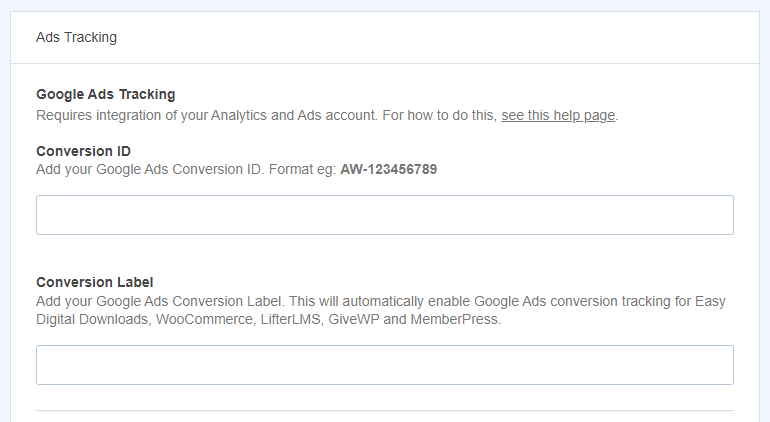 For a full tutorial on Google Ads conversion tracking, read How to Use Google Analytics for Google Ads Conversion Tracking.
Want even more analytics to help you grow your business? That's why we created MonsterInsights. Not only is it a powerful analytics tool that helps collect important data from Google Analytics and presents it to you in your WordPress dashboard, but it is also simple to use.
To make the most of your campaigns, and the data being passed to Google Analytics, we recommend using MonsterInsights to help:
To see all the MonsterInsights features, head to our Features page.
And that's it!
You now know how to use Google Analytics with Google Ads, so you can maximize your advertisement efforts and convert more site visitors into customers.
We hope you liked our article on how to use Google Analytics with Google Ads. You can also check out our post on How to Track Link Clicks in Google Analytics 4 and WordPress.
Not using MonsterInsights yet? What are you waiting for?
And don't forget to follow us on Twitter, Facebook and YouTube for more helpful reviews, tutorials, and Google Analytics tips.