When you're writing content, using the best SEO content checker tools can really give you an advantage over your competitors. You have the best chance of ranking if you have the best, most optimized content.
There are some fantastic content analysis tools out there that have all sorts of great features for analyzing your content. Let's go over our top picks!
Top 8 SEO Content Analysis Tools
Our top 8 tools have all sorts of different features. Take a look and find the tool(s) that will work the best for you and your SEO strategy.
All in One SEO is the best WordPress SEO plugin and toolkit. It's the most comprehensive SEO toolkit for WordPress that'll help you improve your search rankings without learning any complicated SEO strategies and tactics.
Plus, AIOSEO's Focus Keyphrase and TruSEO Score features make the plugin an excellent SEO content checker tool. Just type in your Focus Keyphrase to see how well your content is optimized and get suggestions for where else to use your word or phrase: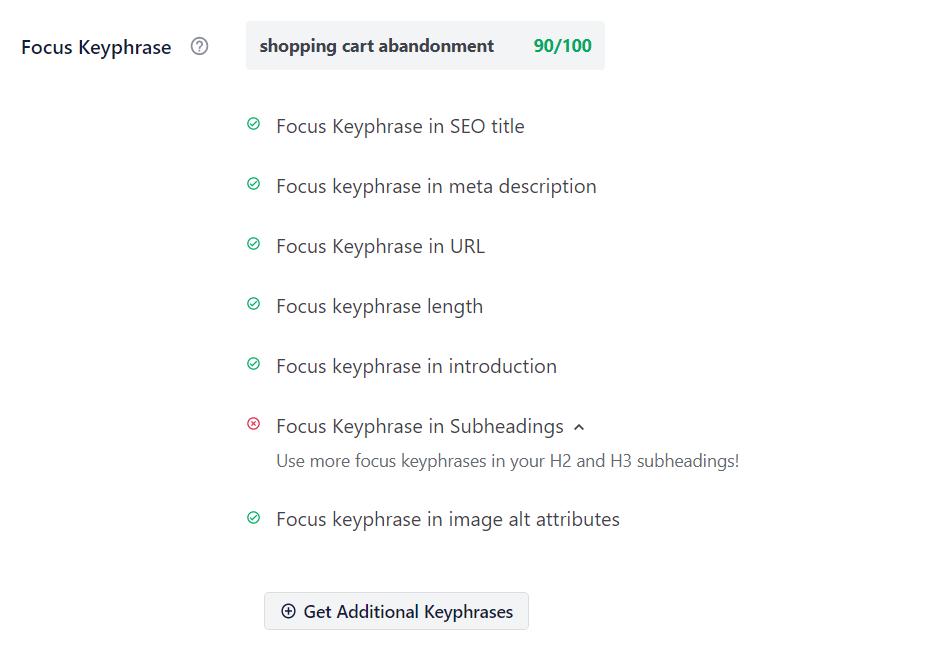 You'll also get suggestions for your entire page: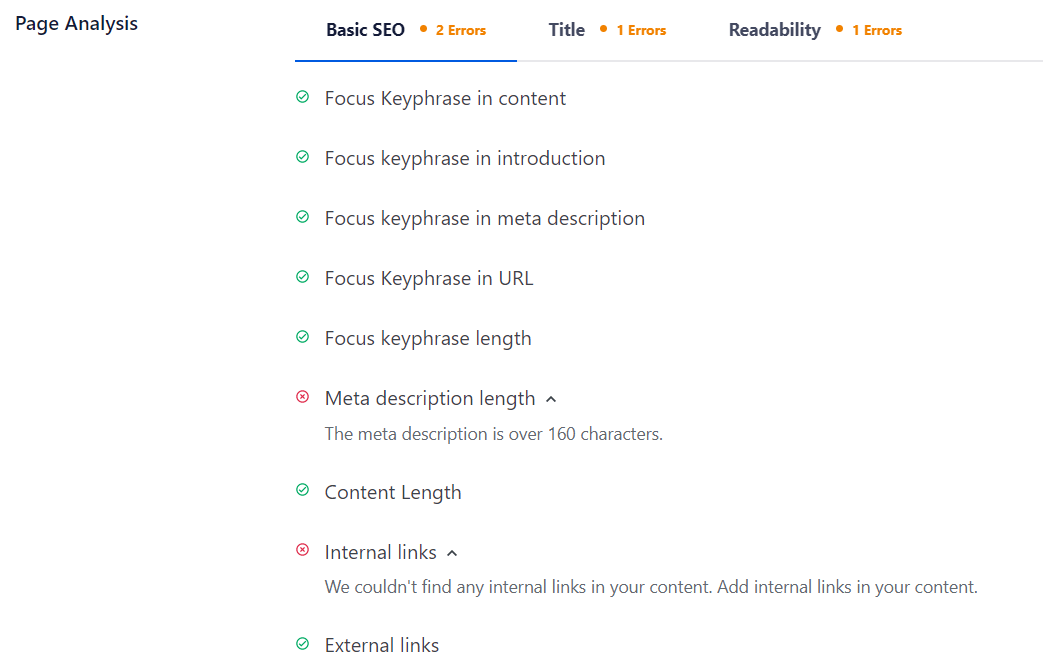 Also, you'll get your TruSEO score right in your sidebar to see how well your content is optimized overall: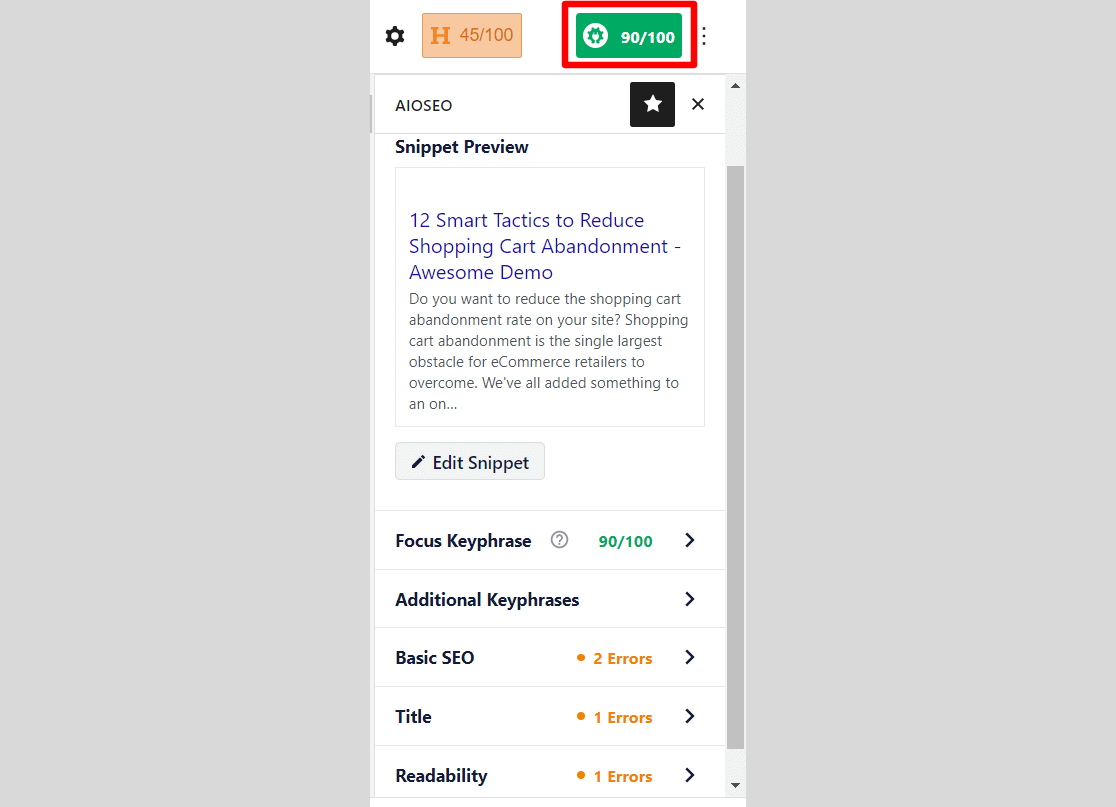 All of these features make All in One SEO one of the best content analysis tools. If you're on WordPress, we highly suggest this one!
Get started with All in One SEO now.
Semrush is a whole set of tools for analyzing content, researching keywords and topics, researching competitors, and a lot more. For this article, we'll take a look at their SEO Writing Assistant.
The Semrush SEO Writing Assistant is a super helpful tool for checking your SEO for a piece of content. Just paste your content into the editor (or write it there) and then enter your focus keyword to get readability, SEO, tone of voice and originality suggestions.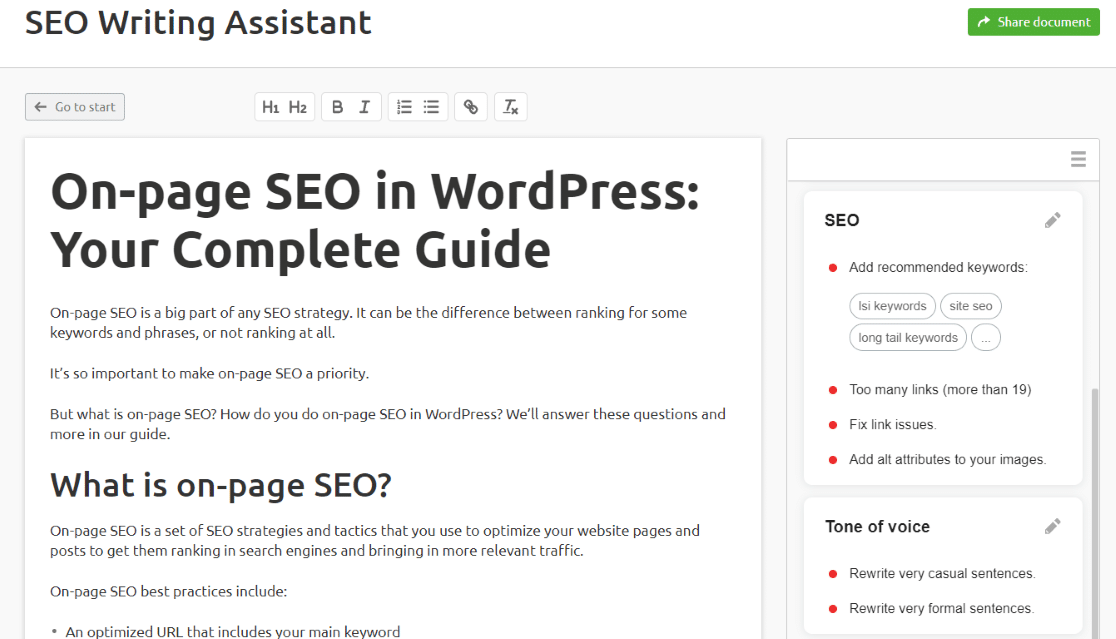 You can also use this tool as an add-on in Google Docs or a WordPress plugin, without needing a Semrush account.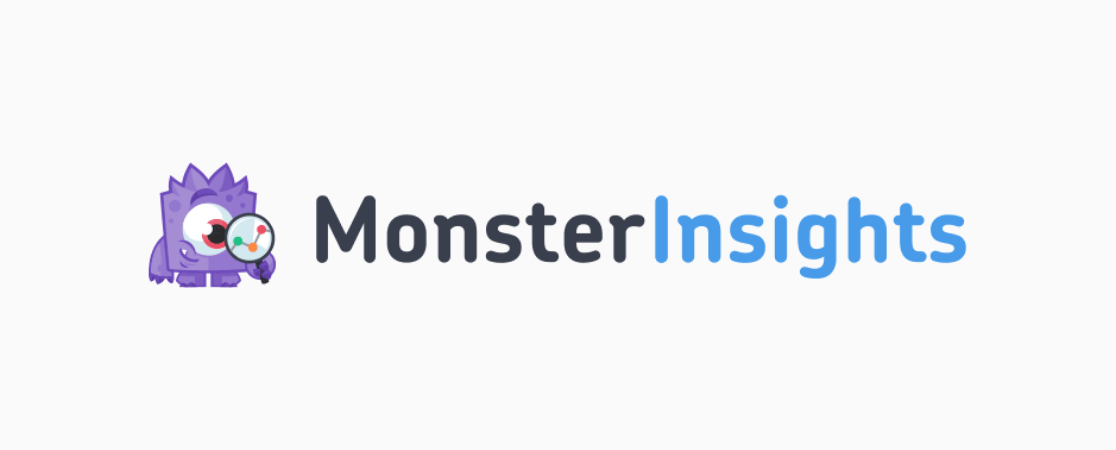 Want to know if you've written a good headline? The MonsterInsights Headline Analyzer is available as both a free tool and a built-in feature inside WordPress available with a Plus license.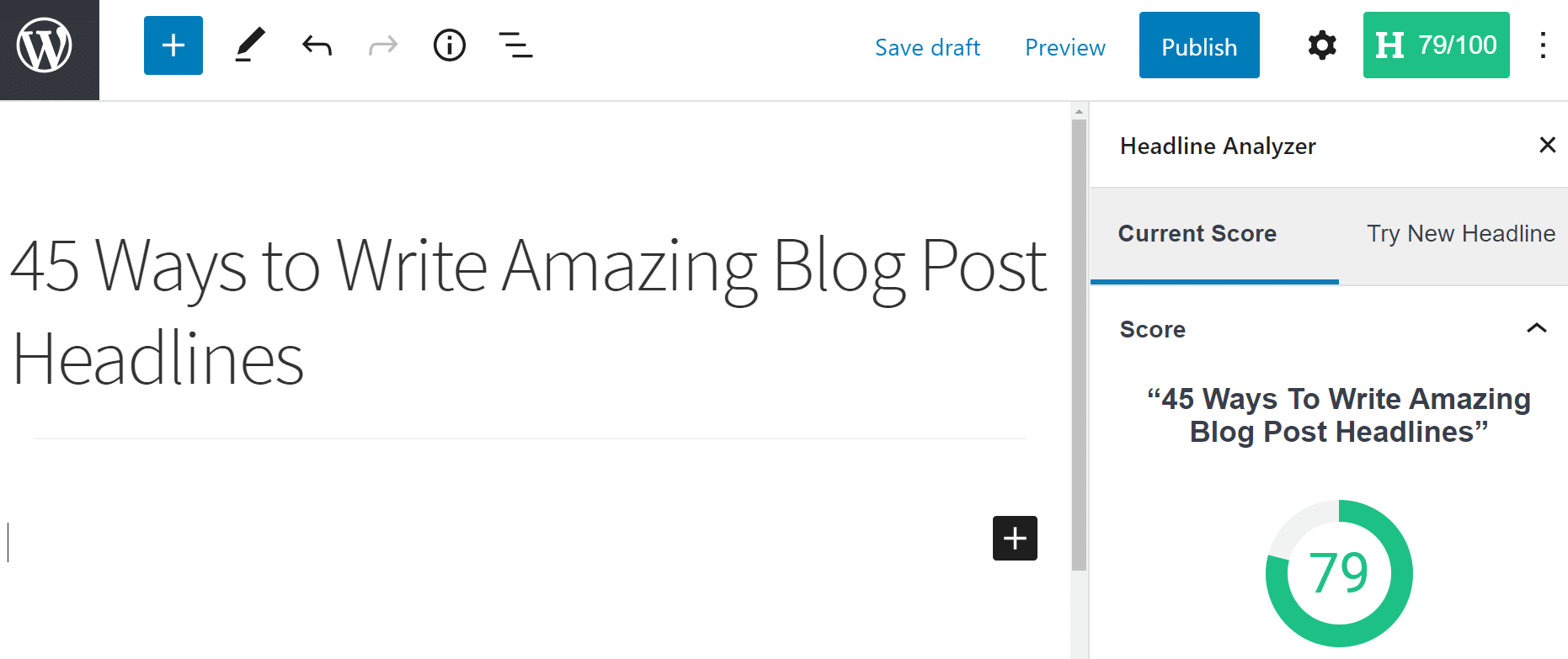 If you have the Plus plan, you'll be able to analyze your headline right inside WordPress, without leaving while you're writing.
With either version, you'll get an overall score for your headline, and you can scroll down for improvement ideas including word balance, character and word count, sentiment, and more.
Get started with the MonsterInsights Headline Analyzer now.
Google Search Console is Google's free tool for website owners. It provides a whole bunch of information on how your site is appearing in search results, whether you have any technical issues, and more.
On the SEO and content side of things, this toolset has some pretty nice features for checking on your optimization. For instance, you can see which keywords (queries) you're getting impressions and clicks on via Google Search.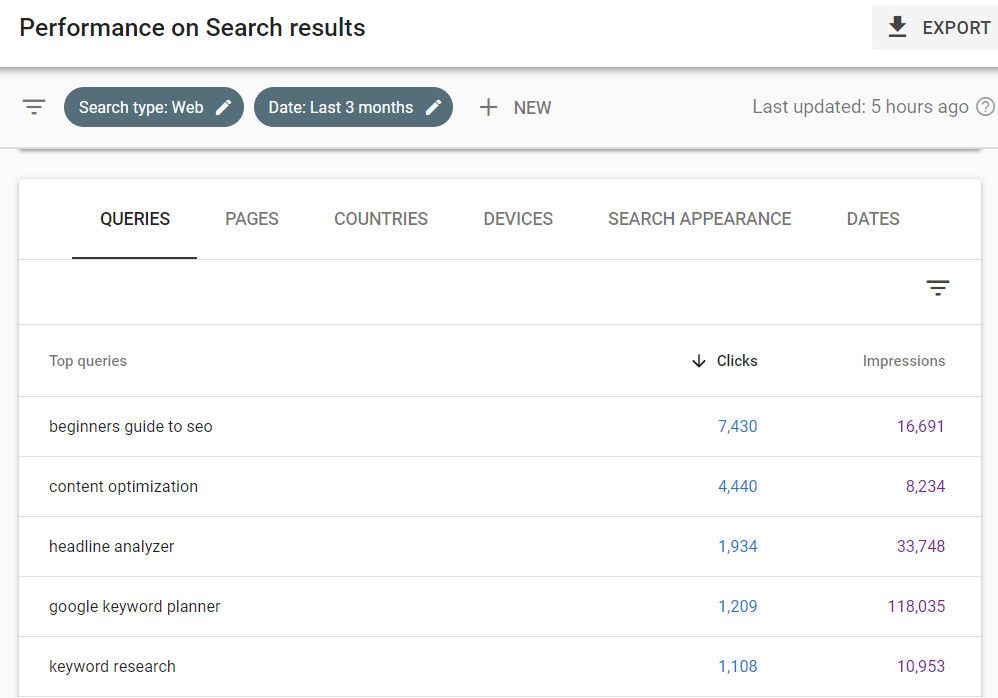 You can also use the URL inspection tool to check out if a piece of content is indexed in Google search, re-index it if you update it, and check and make sure any enhancements, like breadcrumbs, mobile usability, and snippets are set up and working correctly.
Get started with Google Search Console now.
The Ahrefs SEO Toolbar is a free extension for Chrome or Firefox that provides some SEO information for the page you're visiting in your browser. If you download the toolbar, the free tools you'll get include an on-page SEO report, a broken link checker, and search engine results positions.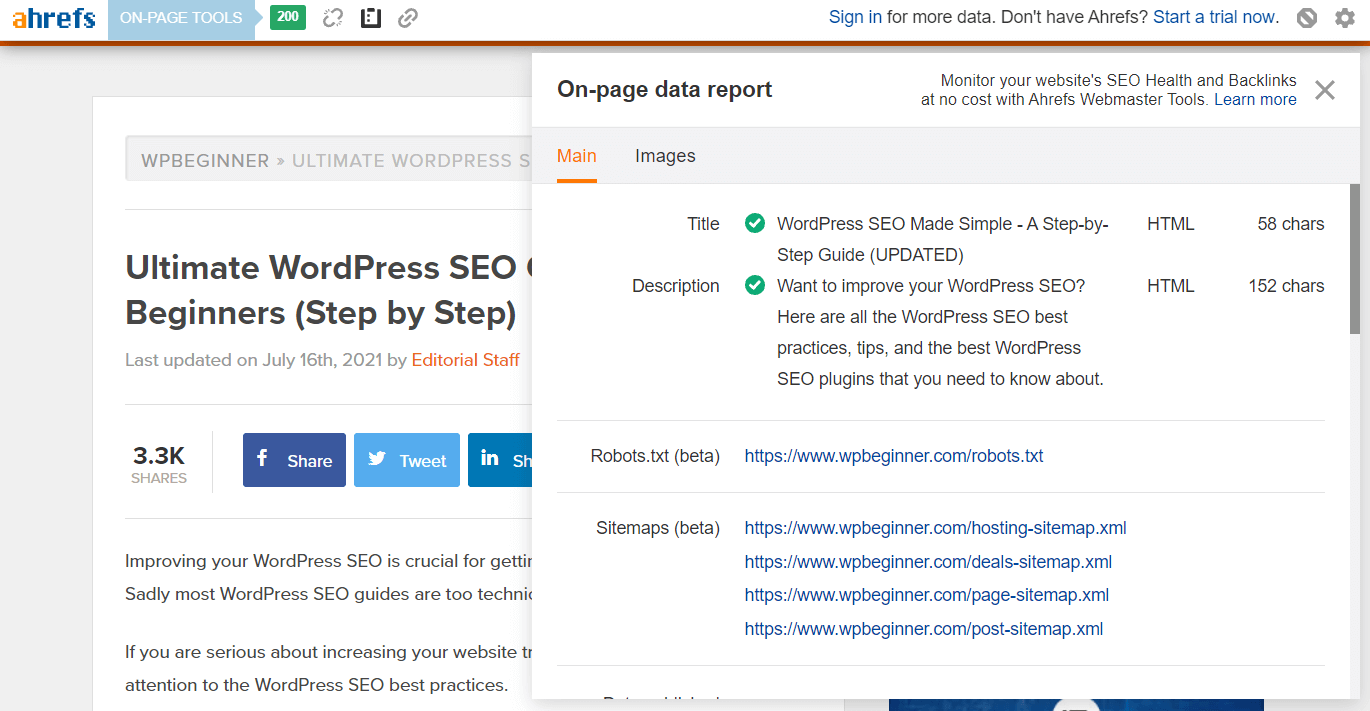 This tool is super helpful for identifying any on-page issues that could be affecting your SEO. Plus, if you have an account, you can see some data about how the page is ranking in search. For even more data, grab a paid account.
Get started with Ahrefs SEO Toolbar.
MarketMuse's Optimize tool is an editor that analyzes your content for keyword usage. Either use the editor to write your content or use the fetch feature to import your article to check it. Then, the tool will scan your content and not only discover opportunities for using keywords more often, but also suggesting phrases that you might not even have considered.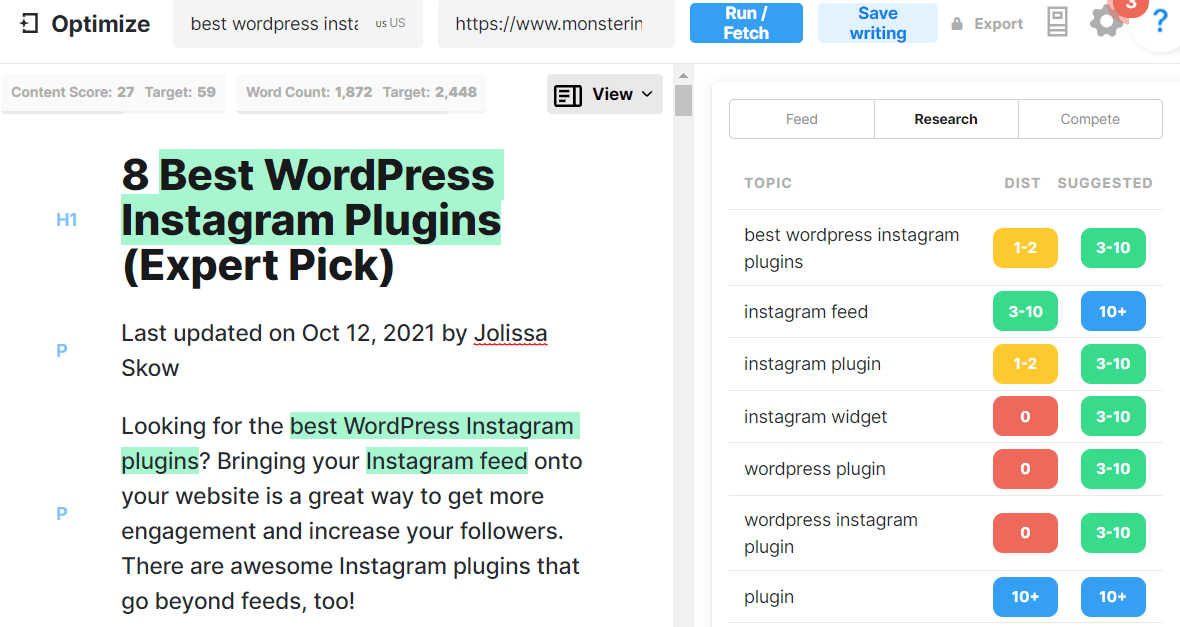 Optimize gives you suggestions for how much more (or less) you might want to use a keyword phrase for optimal SEO. You can even click on the Compete tab to easily see who your competitors are for your article. Who's already ranking and what does their content look like?
Get started with MarketMuse Optimize.
Grammarly is a tool that helps writers of any type of content make their writing error-free. Just enter your content in their editor and you'll get suggestions for how to fix any spelling and grammatical errors. If you use the Premium version, you'll also get suggestions on tone, word choice and more.

So, what exactly does this have to do with SEO? A website that checks all the SEO boxes avoids grammatical errors and is easy to read. If visitors are finding your content poorly written, they may hit the back button pretty quickly, which is a signal to Google that your content isn't as good as it should be.
Get started with Grammarly now.
The Hemingway editor app is a text editor that helps you make your writing "bold and clear." It's similar to Grammarly, except it focuses less on grammar and more on sentence structure and phrasing. It helps you create strong sentences that are going to keep your visitors interested and interacting with your content.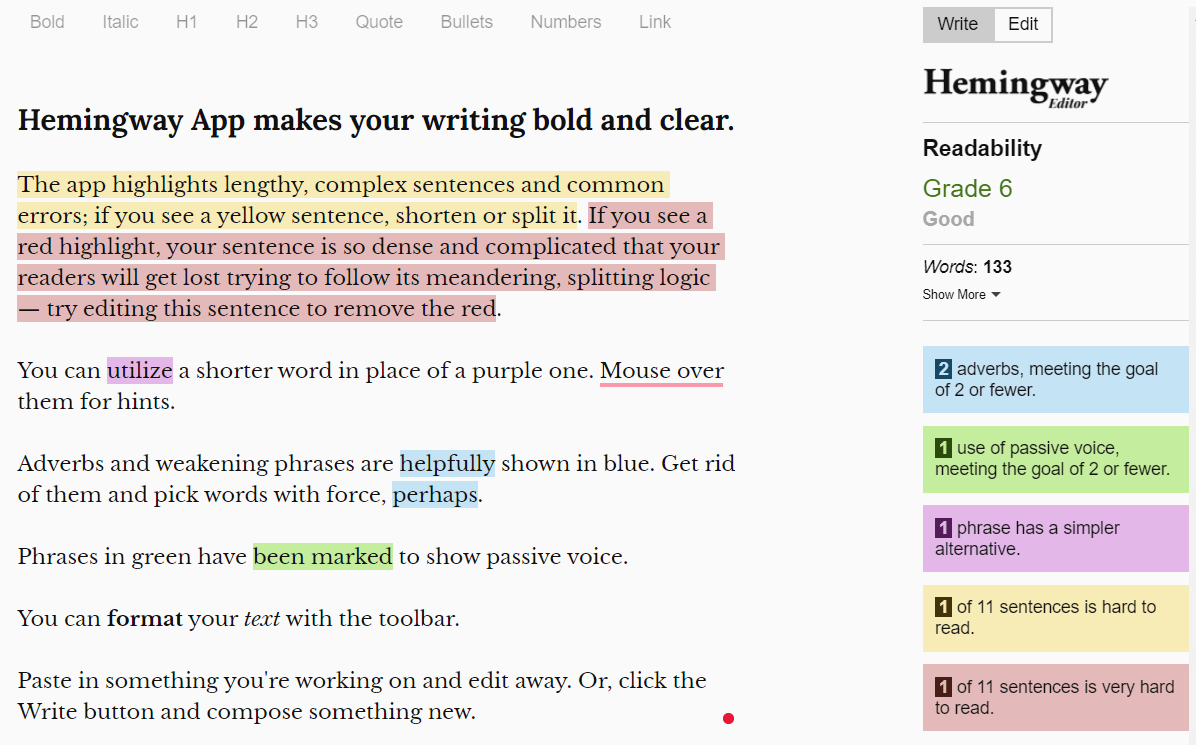 If you're already pretty great at grammar, Hemingway is a great tool to use. If you need some help with grammar, then Grammarly is a better tool for you here.
Get started with Hemingway now.
Bonus: Track Your Top Content with MonsterInsights
MonsterInsights is the best Google Analytics plugin for WordPress. It allows you to easily connect your WordPress site with Google Analytics so you can view all the data that matters most right in your WordPress dashboard.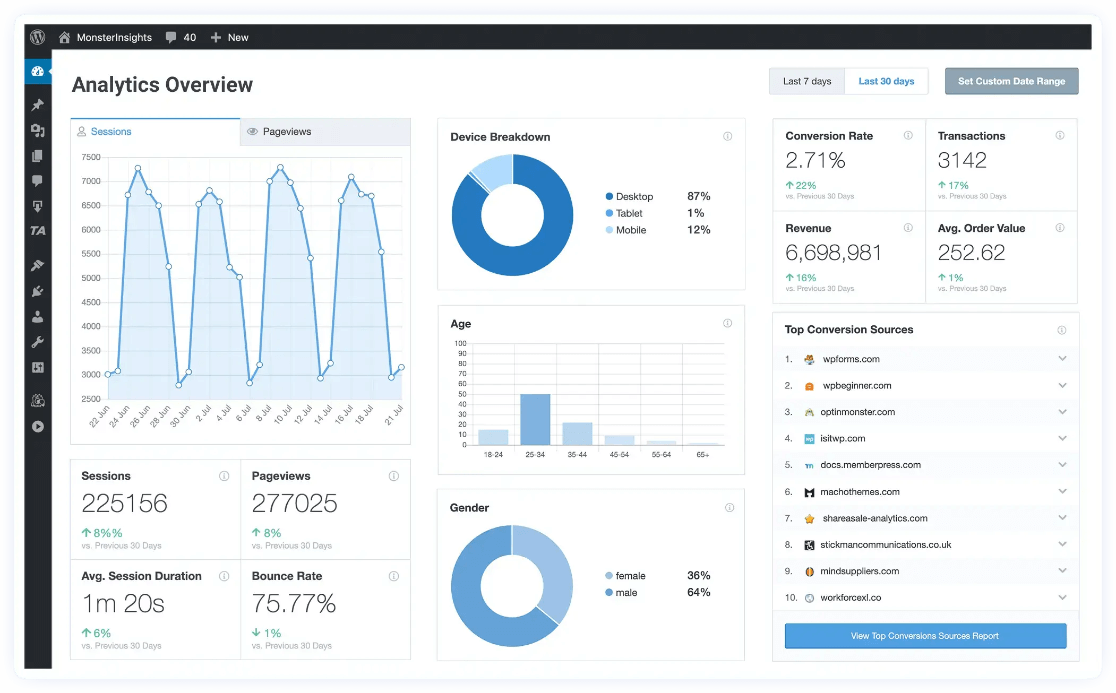 Plus, with the click of a button, you can set up sophisticated tracking features such as event tracking, eCommerce tracking, form tracking, custom dimension tracking, outbound link tracking, and more.
That's it!
We hope you discovered a tool or two that's going to help you on your quest to write super optimized content. If you're interested in content optimization, we think you might also like to read The Definitive Guide to Google Analytics for Publishers.
And don't forget to follow us on Twitter, Facebook and YouTube for more helpful SEO and Google Analytics tips.