Looking to optimize your brand pages or category pages of your eCommerce site? Having properly optimized category pages and brand pages can get you high rankings for the keywords you're targeting. In this guide, we'll show you how to optimize your WooCommerce category pages for improving your SEO.
Why Optimize Your WooCommerce Category Pages for SEO?
Category pages are mid-level pages that make it easy for your users and search engines to navigate to your website. It helps your users to narrow down their choices intuitively and find the right products without hassle.
It also prevents individual product pages from competing with each other in terms of SEO. That means category page can rank for a broad term whereas individual pages can rank for specific terms.
Before we dive into category page optimizations, you'll need to understand how search engine traffic influence on your sales and revenue. To do this, you can use Google Analytics and enable Enhanced eCommerce tracking on your site.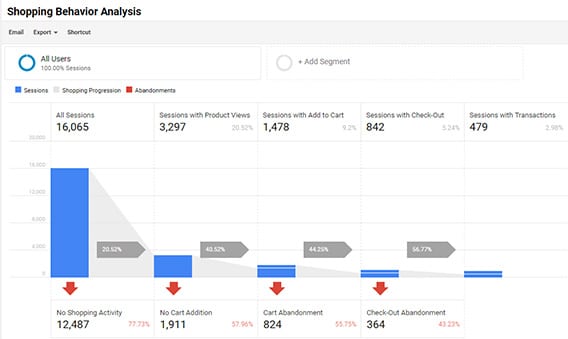 Enhanced eCommerce tracking provides you with more detailed data about the shopping behavior of your customers than traditional eCommerce tracking. Plus, you can analyze how search traffic influence in bringing sales on your site.
You can read how to enable Enhanced eCommerce tracking for WooCommerce.
Let's take a look at some best practices for WooCommerce category SEO.
1. Optimize Your Category Titles and URLs
Don't fall into the trap of creative naming for your category pages. Creative or fancy naming can make your users (and search engines) confused.
Instead, use descriptive names that are relevant and useful.
For instance, if you have a category for embellished t-shirts, a good category URL could be https://example.com/product-category/embellished-tshirts.
Be sure to perform keyword research to find the best keywords to target with your ecommerce product category page. Good category pages will rank high for the specific terms people are typing into search engines to find your products.
Note that in the above example, product-category is the default slug for WooCommerce product categories. When you're just launching a WooCommerce store, you can change the URL structure the way you want. Restructuring your existing URL wouldn't be a good idea because the cost of redirecting all those URLs outweighs the benefits of restructuring.
2. Avoid Duplicating Tags and Categories
When creating tags and categories, it's better to not duplicate the titles or URLs. For example, when you have a category for tshirt, you shouldn't create a tag with the same name. The same goes for singular or plural, like tshirt and tshirts.
Pick either singular or plural for all your categories and tags, and then, stick to it.
3. Optimize Your Category Page Text for SEO
The easiest way to make your product category pages intuitive is to add a bit of introductory content. Add a couple of paragraphs of optimized content and include internal links to sub-categories as well.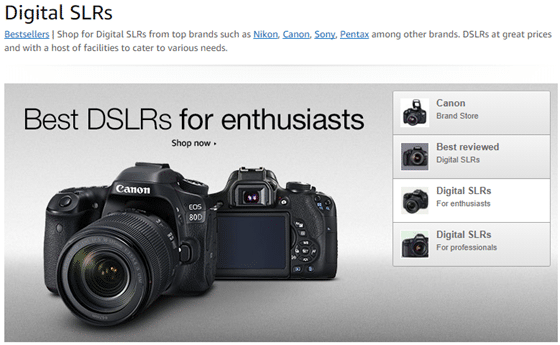 In your category page text, be sure to use the various target keywords you came up with during your research. However, make sure that the text flows naturally, and avoid keyword overuse, which Google will penalize with low rankings.
You can also add high-quality and relevant images to better engage your visitors. In the above example, a slider is used to boost user engagement below the intro copy. The text in the slider navigation is clickable that directs users to different landing pages.
To spice up the category page, you may use a responsive slider plugin like Soliloquy. Soliloquy is also structured to be good for SEO.
4. Highlight Your Most Popular Products
If you have a lot of products to display in each category, you might showcase the most popular or bestselling products on your category page.
Take a look at the example of Amazon's Digital SLR category page.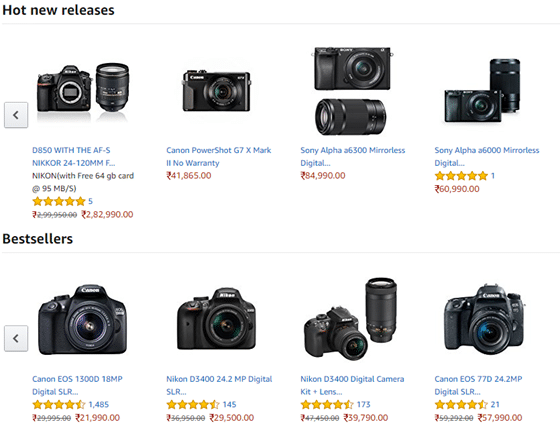 Just below the introductory copy, the category page showcases hot new releases and bestsellers. In fact, a good best practice for product category pages is to promote your popular products, since it can help to pass more link juice and drive even more sales. You can also use this trick to promote products that you want to be more popular.
That's it!
We hope this guide gives you some insights on optimizing your WooCommerce category SEO. You can also learn how to enable WooCommerce Google Analytics enhanced eCommerce.
For more ways to drive organic traffic, implement these WooCommerce SEO tips and check out our list of the best WooCommerce plugins. And don't forget to follow us on Twitter and Facebook for more Google Analytics tutorials.