Are you looking to increase visitor engagement on your website? Then you'll need to focus on an important metric called bounce rate.
It helps you see the impact of your marketing activities and whether people are engaging with your website or not.
In this article, we'll look at what is bounce rate, how to find it in Google Analytics, and how to reduce the average bounce rate of your WordPress site.
What is a Bounce Rate in Google Analytics?
A bounce rate is the percentage of visitors who leave your site after just viewing one page.
Let's say you have an eCommerce store and a visitor lands on your site's homepage. She then leaves your store without viewing any other product pages or clicking on any links.
Since the user only viewed a single page, Google Analytics will consider her as a bounced visitor.
So, how is bounce rate calculated?
Bounce rate is calculated using the following formula:
Bounce rate of a page = Total number of single-page sessions / Total number of entrances on the page.
What is a Good Average Bounce Rate?
The short answer to a good average bounce rate is – it depends! A high bounce rate may make sense depending on your goals for that page. But, in general, the lower your bounce rate, the better.
The average bounce rate changes with industry. For instance, you'll see a bounce rate of 20 – 40% in retail sites, while it goes down to 10 – 30% in the service industry.
Here's a chart that shows the average bounce rate by industry: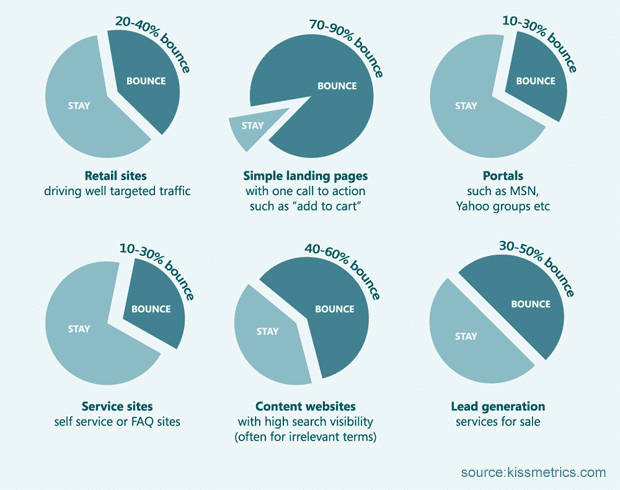 The general rule of thumb is that:
80%+ is very bad
70 – 80% is poor
50 – 70% is average
30 – 50% is excellent
20% or below is likely a tracking error
What does a high bounce rate mean?
A high bounce rate means that your website or webpage is not relevant to what users are looking for. As a result, people will open your site but then hit the back button or exit without interacting with your page.
That being said, let's check out how to find your website's bounce rate in Google Analytics.
View Your Website's Bounce Rate in Your WordPress Dashboard
The most simple way to view your website's bounce rate is by using the MonsterInsights. It lets you view your site's bounce rate, as well as other important data directly on your WordPress dashboard.
If your website was built with WordPress, using Google Analytics is super easy with MonsterInsights. It's the most user-friendly Google Analytics plugin and lets you set up and use Google Analytics in WordPress easily.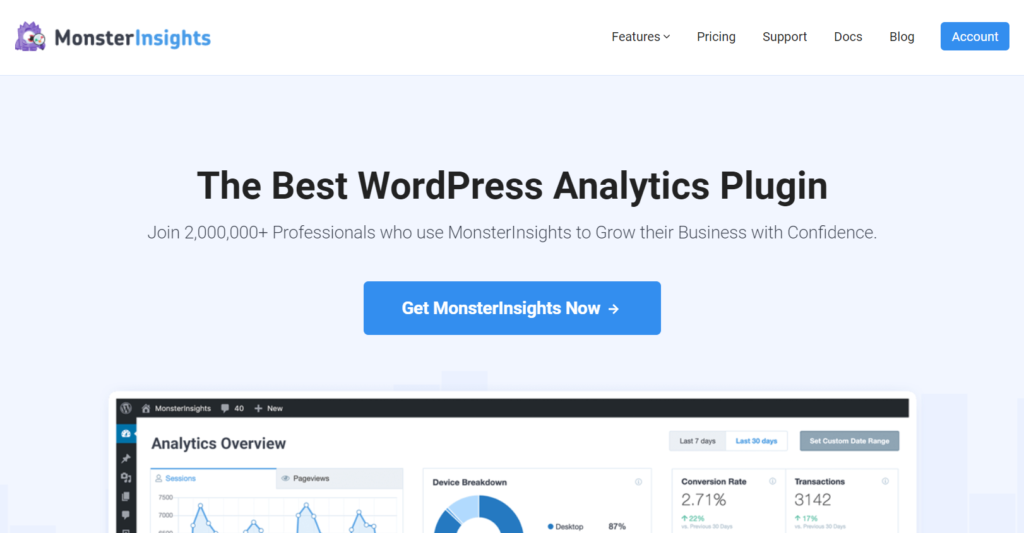 Best of all, it allows you to view all of your most important Google Analytics reports right on your WordPress dashboard.
That's right; you can find your website's bounce rate, as well as other important metrics, right in your WordPress admin panel.
With MonsterInsights, you don't need to navigate away from your site to view your Google Analytics reports. It's very incredibly convenient and easy-to-use.
First, you can view your bounce rate right in your WordPress admin page (www.yoursite.com/wp-admin) via the MonsterInsights dashboard widget. The dashboard widget shows a quick summary of your website's data which also includes your bounce rate.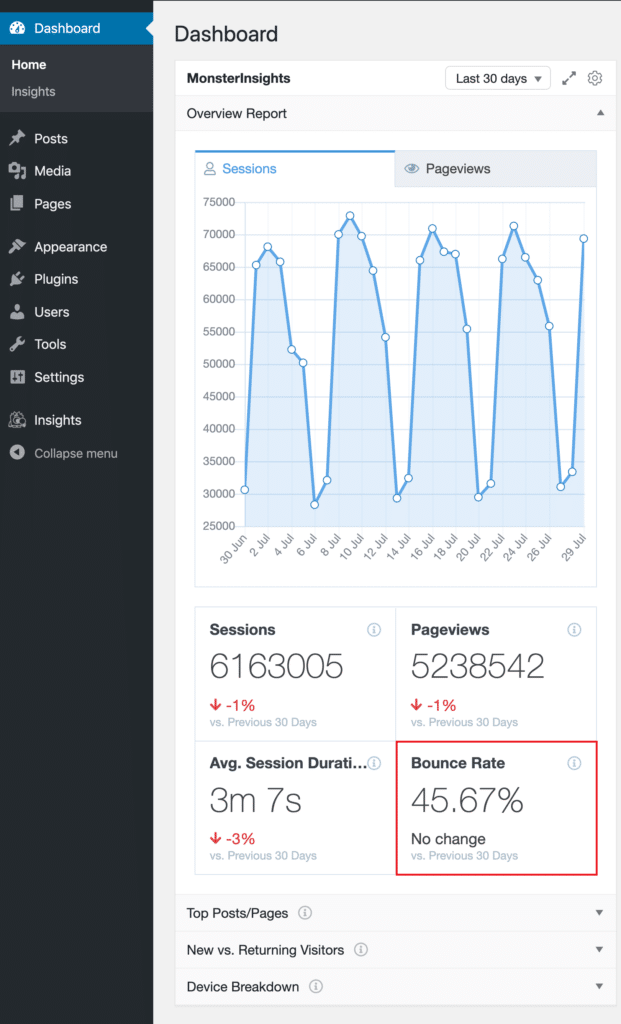 With the Google Analytics dashboard widget, you can choose to view your Analytics data for the last 7 days or 30 days simply by clicking the cursor at the top of the report.
Next, you can see this report in your MonsterInsights reports page as well. Navigate to Insights » Reports from your WordPress dashboard. Then, in the Overview report, you'll see your site's bounce rate.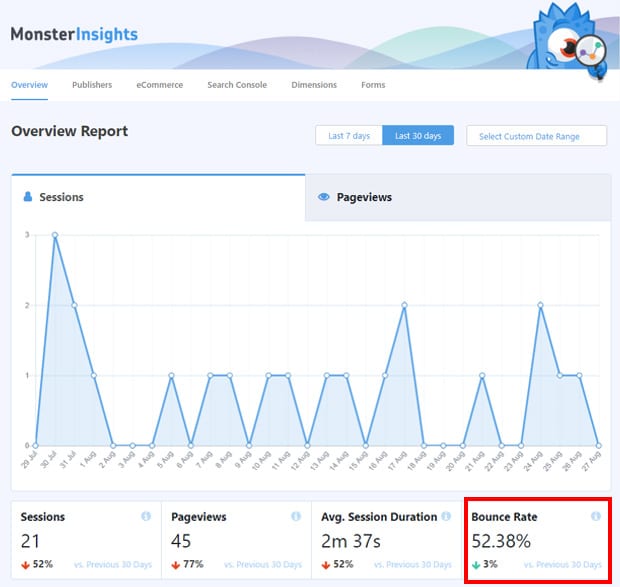 Want to view the bounce rate for your individual posts and pages? Go to Insights » Reports and click the Publishers tab. Then, you'll see the bounce rate for your top landing pages.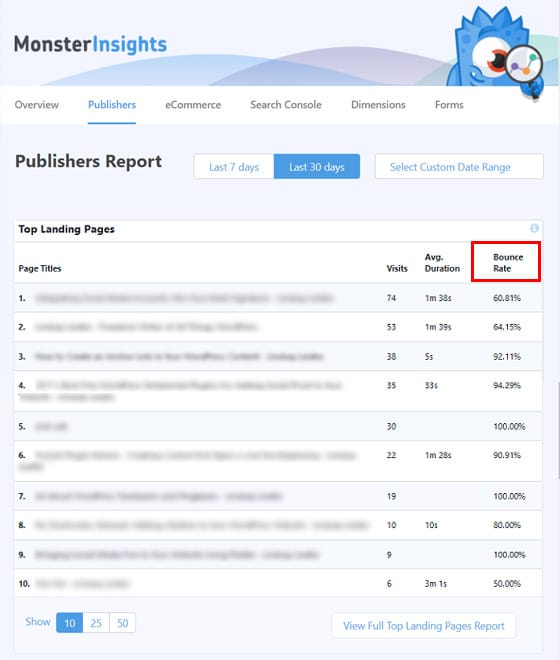 As you can see above, you can view your posts and pages' bounce rate along with users' average duration on the page. You can better analyze user engagement on your site by studying these 2 metrics together.
If you aren't using MonsterInsights, you'll have to open the Google Analytics website and log in to your profile to view your site's bounce rate. In the next section, we'll show you how to find your bounce rate on Google Analytics' platform.
How to Find Your Bounce Rate in Google Analytics
If you want to view your website's bounce rate on Google Analytics' platform, you can follow the steps below.
Sign in to your Google Analytics account and select the website for which you'd like to see the bounce rate.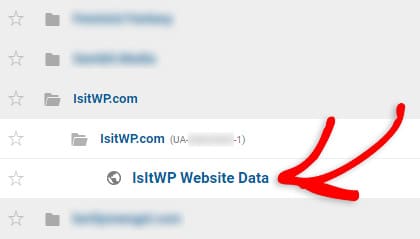 You'll see the Audience Overview page. To view the bounce rate of the entire site, click on the metric Bounce Rate, which you'll see alongside many other metrics.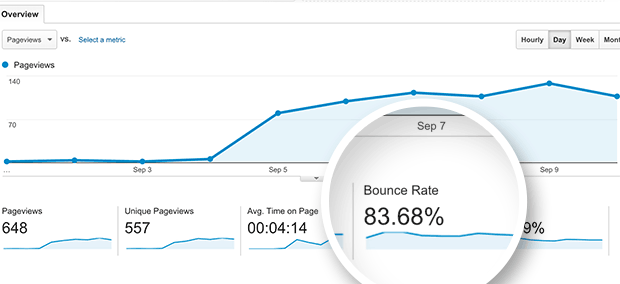 To view the bounce rate of individual pages, navigate to Behavior » All Pages. In the table, you'll see the Bounce Rate column.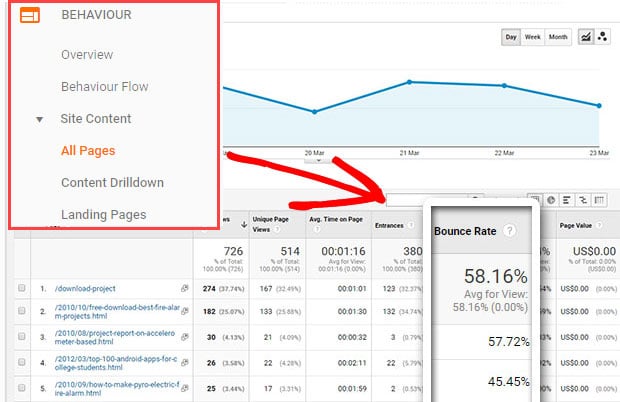 If you want to see the bounce rate for a different time period, feel free to change the date range from the top right-hand corner.

How to Reduce Average Bounce Rate?
After you've found your site's average bounce rate, you should work on improving it if it's too high. There are many ways of reducing bounce rate, here are some that you can try.
1. Improve Your Site's Loading Speed
Website loading speed is one of the biggest reasons for a high bounce rate. If your site takes a long time to load, then your users would get a poor user-experience and would decide to leave.
As the load time of a page increases, the probability of bounce rate also increases. For instance, if it takes 10 seconds or more for your website to load then there's a 123% probability of an increase in bounce rate.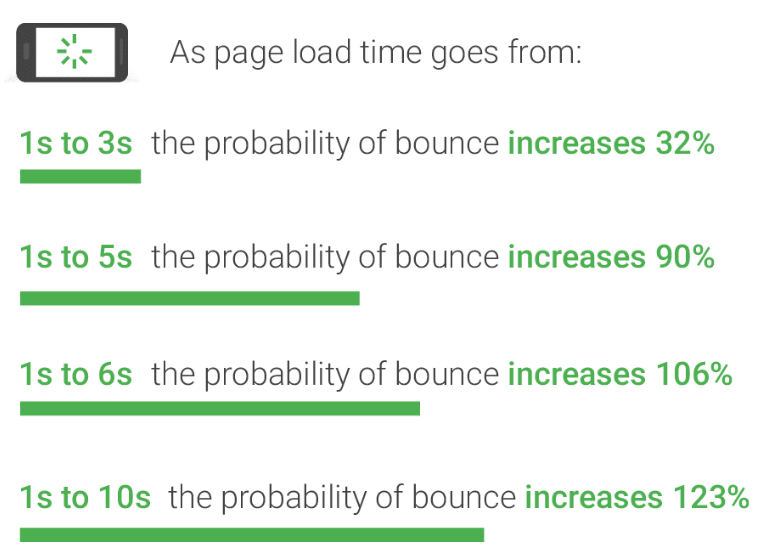 There are many ways you can speed up your site. For starters, you can compress the size of the images and embed YouTube videos instead of uploading media files on your website.
Another advanced technique is to use a CDN (content delivery network) to boost loading speed. It uses a wide network of servers to instantly load the static content of your site. As a result, it takes milliseconds to load your website.
2. Optimize Your Content as per Channel
At times, your content isn't optimized for the channel you're promoting it on and you experience an increase in bounce rate.
Different channels have different average bounce rates. Display ads have the highest bounce rate with 56.5%, followed by social, direct, and paid search.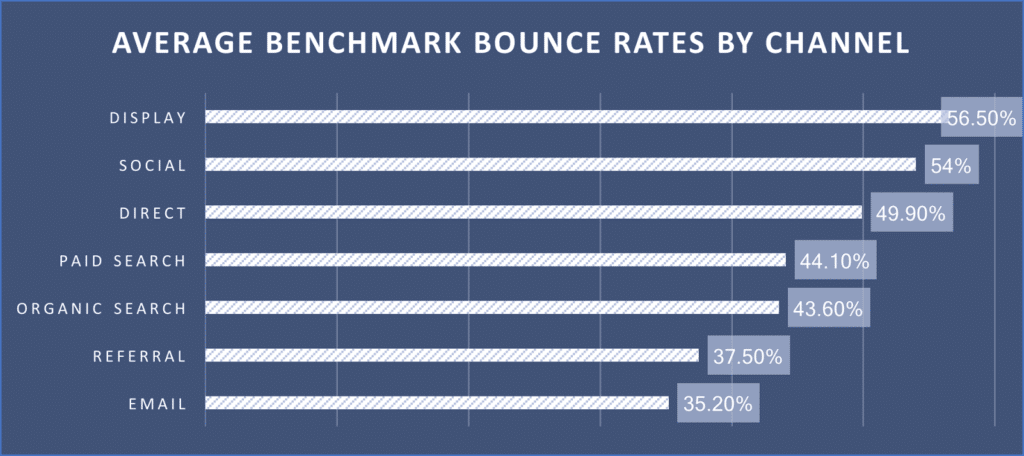 So, it's important to keep your audience in mind according to different channels. Then you can optimize your content and make sure to deliver what your visitors want and reduce your bounce rate.
3. Focus on Providing Relevant Content
In addition to the different channels you use for promotion, you should pay special attention to offering relevant content to your users.
A factor for a high bounce rate is irrelevant content. If your visitors don't find what they're looking for then the piece content isn't useful for them.
As a result, they'll leave your site and go somewhere else while increasing your average bounce rate.
And if you're researching a new keyword to rank on, matching the search intent of users is important.
For example, if it's an informational keyword like how to make chocolate chip cookies, you should provide detailed tutorials or a video that helps the reader learn about the topic. It would perform much better than creating a promotional page for your chocolate chip cookies.
4. Increase Engagement with Videos
Most of the time, your bounce rate is high because your webpage lacks engagement. When users don't have anything to click on or interact with, they will exit your site.
And since Google counts a single-page session as a bounced visitor, you can add videos to increase engagement. Videos are more engaging than using images or text.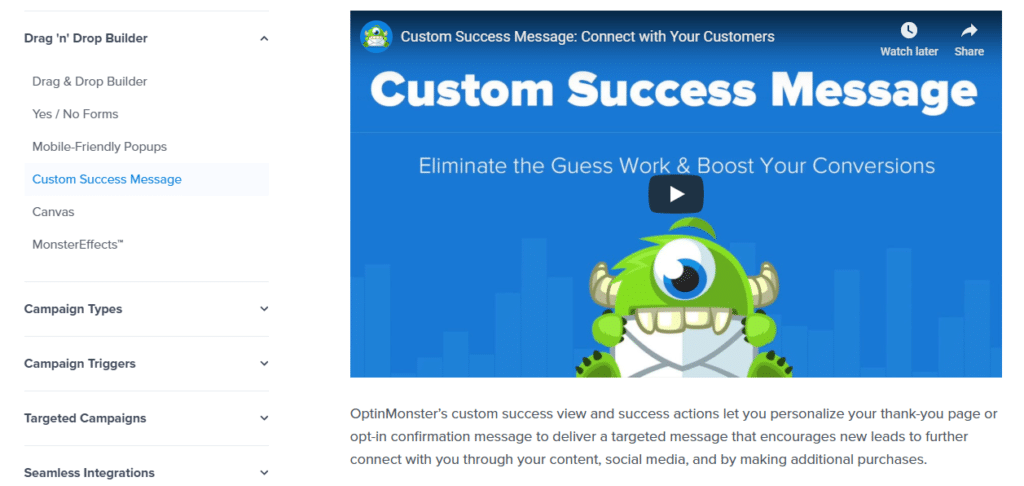 There are many ways you can use videos. You can add a popup video to boost engagement, create animations, capture screens for tutorials, use a slide-show type videos, and more.
5. Use Clear CTAs on Your Website
CTAs are great at getting visitors to interact with your site and lower bounce rate.
But often website owners make the mistake of adding too many call-to-actions (CTAs) on their website. If you use them a lot, then you're confusing and overwhelming your users.
Instead, think about what the user wants and place them where they're relevant. Keep your site clean and free from clutter. You can also use MonsterInsights scroll depth tracking to see where to place your CTAs.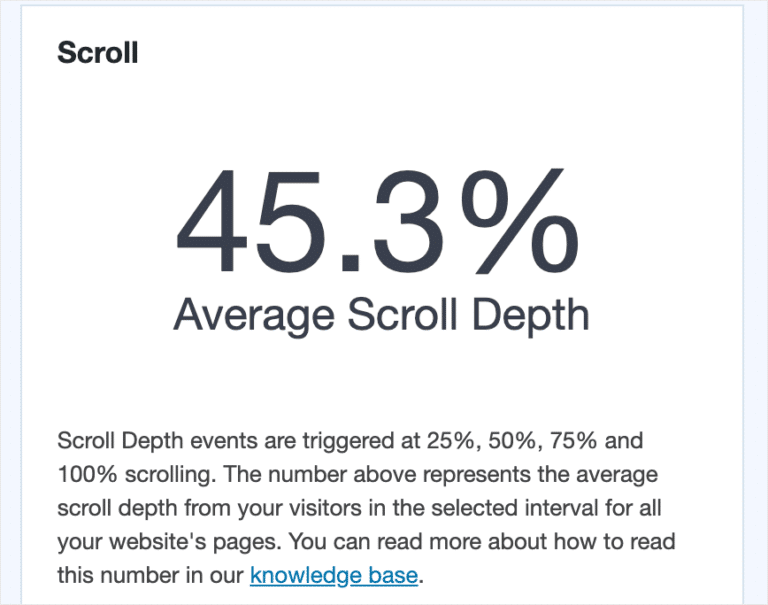 If visitors only scroll 45% of your page, add CTAs before that. It will help you lower your bounce rate, increase conversions, and help you earn more money.
6. Add Relevant Internal Links
Like CTAs, adding internal links to your webpage also helps reduce average bounce rate. When users click on any of the internal links, they trigger an action and create another session on your website.
And following the same principle as CTAs, add internal links where they are relevant.
If you place links where they don't add value, visitors would not click on it. And if you use them a lot, like in every other sentence, then it will ruin the user experience of your site.
You can go through the detailed guide on link building to learn more about internal links.
7. Enhance Mobile Experience of Your Site
Another way to reduce average bounce rate is to optimize your site for mobile. Search engines like Google are now mobile-first and they generate 95% of search visits from mobile in the US alone.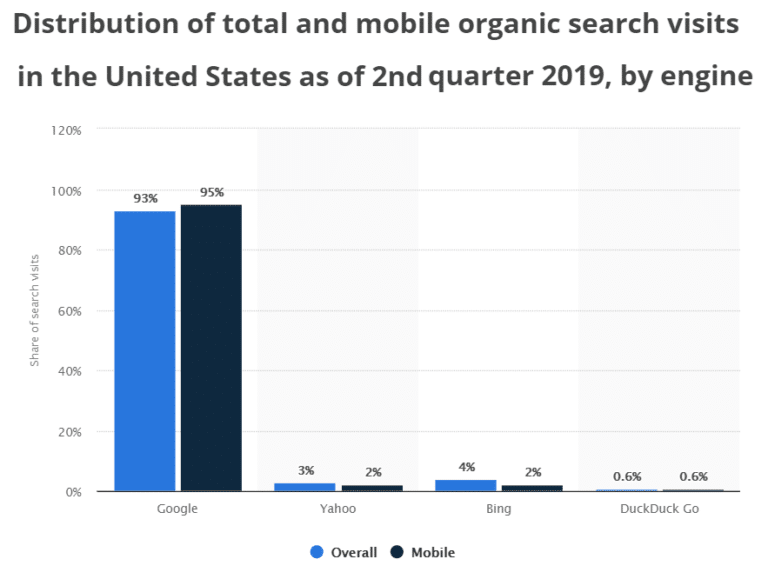 It shows that the majority of your visitors are likely to come from mobile. And if your site isn't mobile-ready, users are going to have difficulty using your site and will leave. This would lead to an increase in bounce rate.
That's why mobile experience is an important factor in reducing your bounce rate and boosting your search rankings.
You can start by getting a mobile-responsive WordPress theme so your site functions properly on any type of device.
And that's it!
We hope you liked our article on how to find your bounce rate in Google Analytics. If you want, you can also take a look at our guide MonsterInsights vs Google Analytics.
If you have any queries, drop us a comment below. Don't forget to follow us on Twitter and Facebook for more Google Analytics tutorials.