Are you having difficulty finding the most popular pages on your website? The most reliable tool to find popular posts is through Google Analytics. However, navigating through Google Analytics and understanding its reports can be complicated and time-consuming.
In WordPress, MonsterInsights plugin connects your website with Google Analytics and makes it effortless to find popular blogs, landing pages, videos, and other posts.
In this article, we'll show you how to find the best pages of a WordPress website using MonsterInsights.
Video Tutorial

If you don't want to watch the video, then read our written tutorial below.
Why Use MonsterInsights to Find Popular Posts in WordPress?
The conventional way of identifying top-performing webpages is through Google Analytics. However, that's easier said than done.
The first step is to set up Google Analytics for your website. And if you plan to do that without a plugin, then beware of issues such as loss of tracking code, setting up custom event tracking, and download tracking.
The problems don't just stop there, if you decide to switch to a new theme, you will have to configure Google Analytics tracking code once again. All this is time consuming, complicated, and would require the technical expertise of a developer.
But luckily, MonsterInsights makes it easy to integrate Google Analytics in WordPress and lets you stay ahead of the game.
MonsterInsights is the best Google Analytics plugin for WordPress. It helps you to easily track your most important website stats, including the most popular content using Google Analytics.
How to View Popular Pages in WordPress using MonsterInsights?
To get started, you will need to set up Google Analytics on your WordPress website using MonsterInsights. It is an easy process with just a few steps.
Once the setup is done, you will see changes to your WordPress dashboard as soon as you log in. You will immediately see a dashboard widget for MonsterInsights showing your website's Overview Report.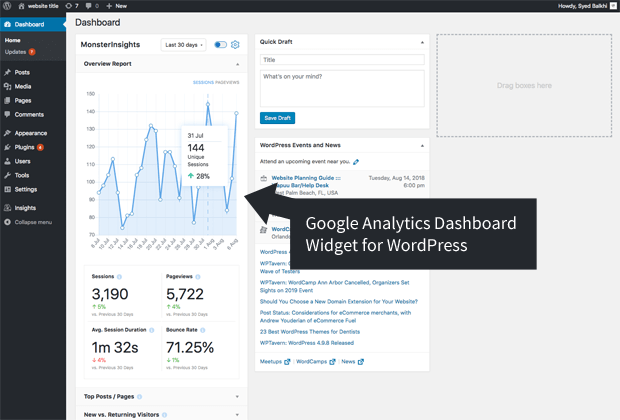 The report displays a quick summary of your website audience from the last 30 days. This report is customizable that you can choose the reports you want to see. Select 'Top Posts / Pages' from the options to view popular pages.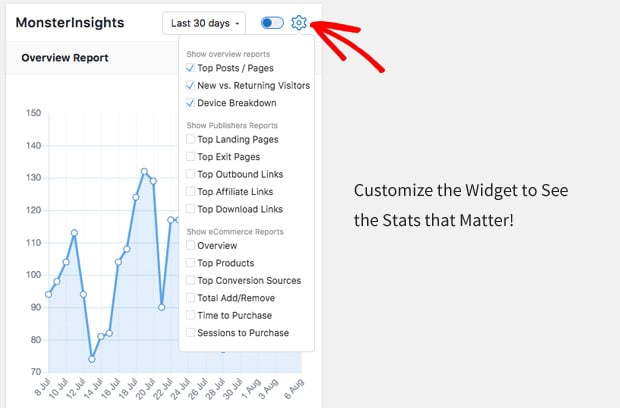 You can also access the MonsterInsights dashboard report in WordPress by going to Insights » Reports from your dashboard. Then scroll down in the Overview Report and view the 'Top Posts / Pages.'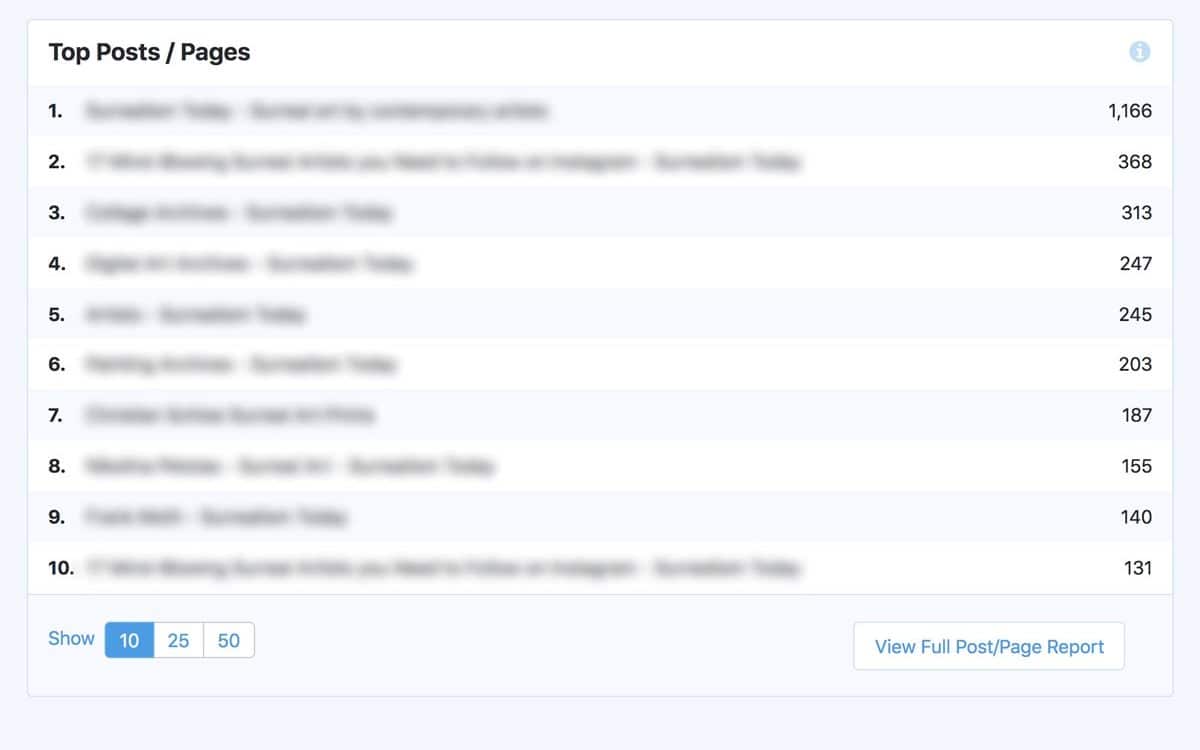 If you want more details, click on 'View Full Post/Page Report' and evaluate each posts pageviews, average time on page, bounce rate, etc.
How to Analyze Reports and Optimize Your Website?
MonsterInsights helps to find the most popular pages on your website in just a few clicks. However, that's just the start.
Once you have a full report on the top pages of a website, you can work on creating killer content that resonates with your audience.
1. Create Powerful Data-Driven Content Using MonsterInsights
MonsterInsights most popular posts / pages report helps to get brilliant blog post ideas for your blog.
You can evaluate which pages are performing well and which are not. By analyzing the content, you can identify the type of blog posts that are most popular with your visitors.
Let's say, among various types of blog posts, list posts bring in the highest traffic and are among the top performing pages on your website. You can use this information to create more listing articles and convert your visitors into potential customers.
MonsterInsights also helps to pinpoint pages and posts that are not performing well. For example, you can view your top exit pages by going to Insights » Reports » Publshers page from your dashboard.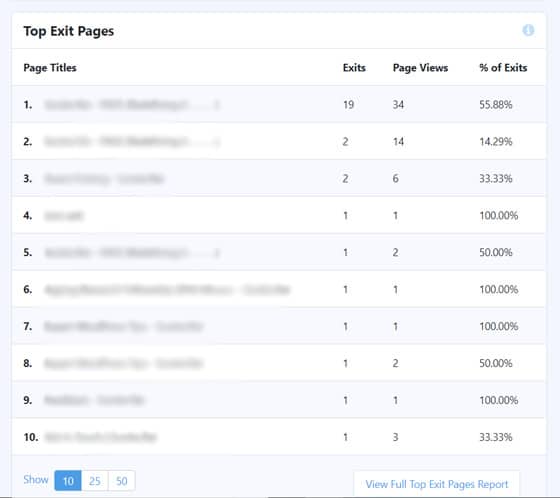 You can then optimize these pages to help rank better on the search engines, change their content type, and stop from creating content that doesn't work.
2. Optimize Your Top Pages for More Conversions
Your most visited pages have the best potential to convert users into customers. Hence optimizing those pages can help to generate more revenue for your business.
For example, you can add transactional content, call to action buttons, ads, and more to these pages. Using such elements at the precise spots on your most popular pages help to increase your website conversions.
You can use MonsterInsights automatic scroll depth tracking to identify the perfect places to add the transactional content.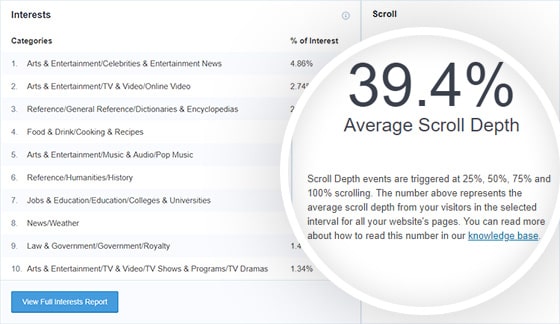 Also, you can optimize your most popular pages for user experience and engagement. Doing so helps to reduce bounce rate, and improves your sales.
Here are a few things you can do to optimize user experience and engagement:
When optimized, your most popular pages can bring you more traffic as well as more revenue.
We hope this article helped you to learn how to find the most popular pages on your WordPress website, and create content that never goes flat.
Using the data on your best posts, you will never have a problem creating a content strategy that falls behind or fails to grow your business.
You may also want to see our guide on how to check the number of visitors for your WordPress website.
And don't forget to follow us on Twitter and Facebook for more helpful Google Analytics tips.