Want to make sure you're not making SEO mistakes on your WordPress site?
We're glad you're here to learn what the biggest WordPress SEO mistakes are, so that you can avoid making them. SEO is so important for your site's success!
While WordPress is definitely SEO friendly, there are still some common mistakes that can easily be made. In this article, we'll go over what the biggest ones are so that you can steer clear of them.
8 WordPress SEO Mistakes to Avoid
Here are some SEO mistakes you won't make, now that you know about them!
1. Not Using an Awesome SEO Plugin
The very first big SEO mistake you can make with WordPress is not using one of the best SEO plugins. They make optimizing WordPress SO much easier!
The SEO plugin we recommend is All in One SEO.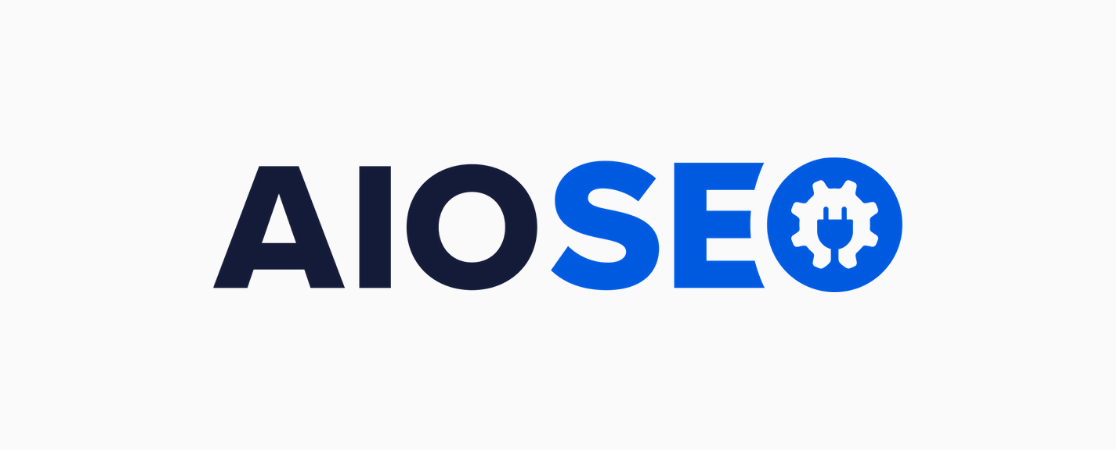 All in One SEO is the best WordPress SEO plugin and toolkit. It makes creating an SEO-friendly WordPress site much simpler and more straightforward with its smart features that help you optimize every page, post, product, and more.
With AIOSEO, it's much harder to make WordPress SEO mistakes!
This plugin helps with:
Local SEO
WooCommerce SEO
On-page SEO
XML sitemaps
Rich snippets schema
Internal link building
And more
We highly recommend installing AIOSEO today. There's a free version you can start with, but you'll probably soon decide you want more of the features available with a license.
As we go down our list of SEO mistakes, we'll be suggesting AIOSEO more in a few key spots.
2. Not Setting the Right Time Zone
Setting your site's time zone is more important than you might think! Many WordPress site owners schedule posts ahead of time, and if your time zone doesn't match the one you're actually in, that publishing schedule will be all off.
To find which time zone is set for your site, head to Settings » General. Scroll down to find the timezone, date format and time format.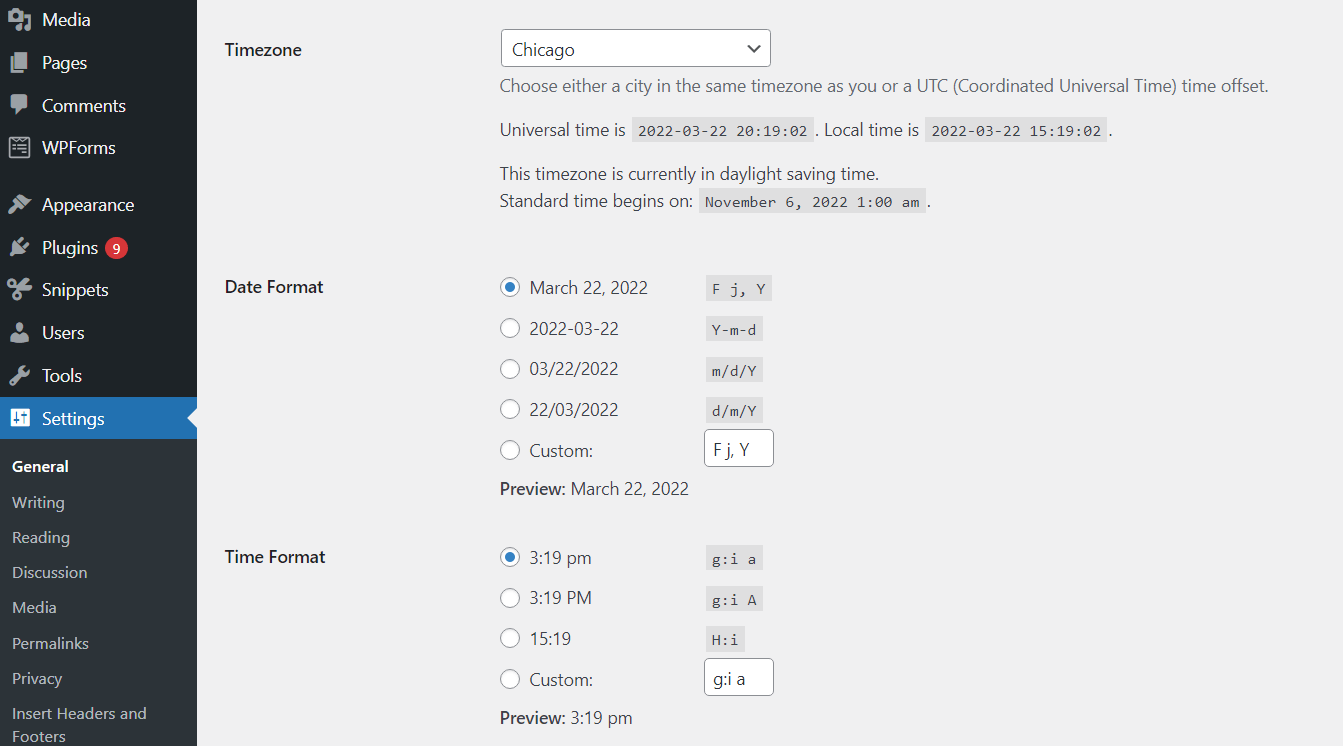 3. Not Connecting to Google Search Console
Google Search Console can give you tons of really valuable SEO data and insights. It's not a tool that you should miss using! It's absolutely essential for your WordPress SEO.
By connecting Google Search Console (which is free) to your WordPress site, you'll be able to access data like:
So, it would be a big mistake not to use this invaluable tool! And the best part is, there's another tool to use here that'll take your top 50 search terms report and give it to you right inside your WordPress dashboard: MonsterInsights.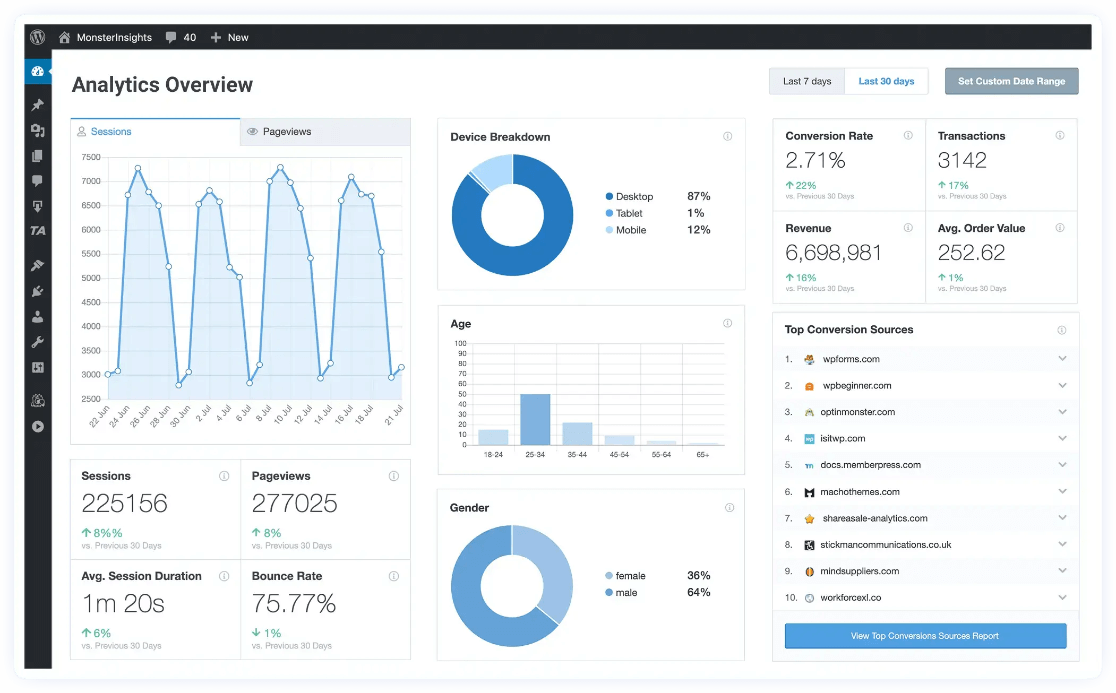 MonsterInsights is the best Google Analytics plugin for WordPress. It allows you to easily connect your WordPress site with Google Analytics (both Universal Analytics and GA4), so you can view all the data that matters most right in your WordPress dashboard.
Plus, with the click of a button, you can set up sophisticated tracking features such as event tracking, eCommerce tracking, form tracking, custom dimension tracking, outbound link tracking, and more.
Here's what the search terms report looks like: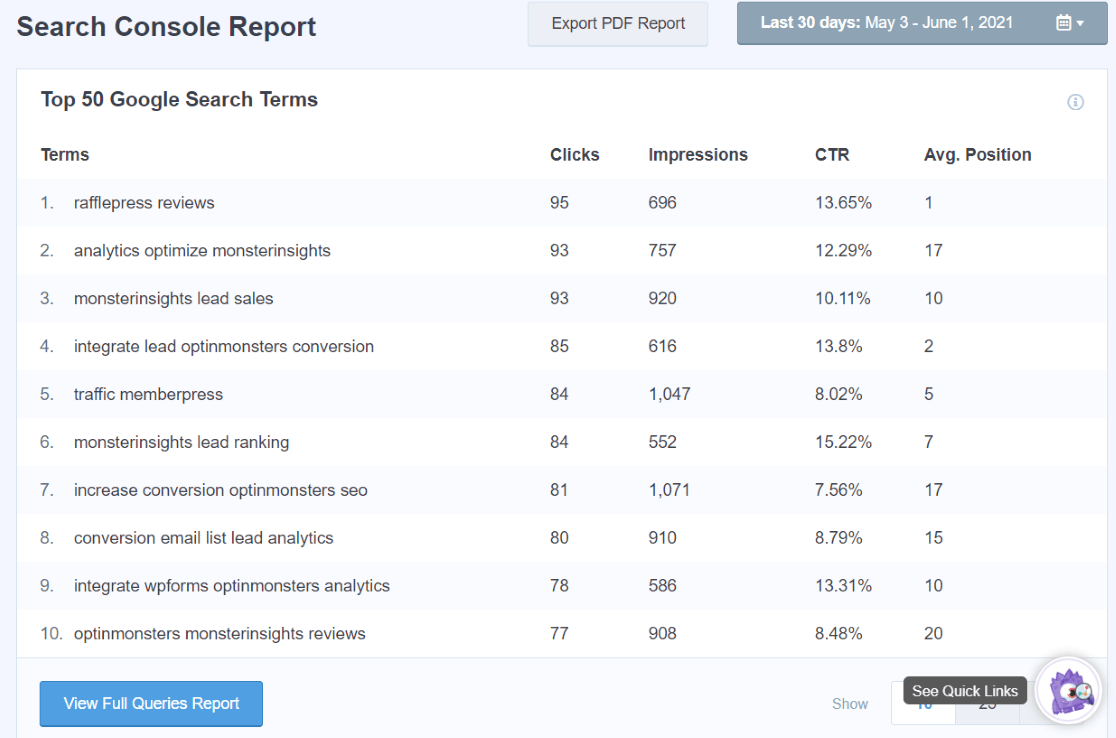 For a tutorial on getting set up with Google Search Console, check out How to Add Google Search Console to WordPress and Analytics.
4. Using Too Many Keywords
You've heard so much about how you have to use the right keywords throughout all of your content, but did you know that you can use them too many times?
For instance, when you're optimizing a blog post using SEO best practices, you use keywords in the title, URL, headings, page text, image alt text, meta title, and meta description. That's a lot of places!
So, when you're using your keyword or phrase, make sure not to overuse it. If you're saying a particular word or phrase over and over again, you might be keyword stuffing. Keyword stuffing can actually get you penalized by Google, which is a big SEO killer.
The best way to know you're using your keyphrase correctly is by using All in One SEO. Just plug in your focus keyphrase and watch as the plugin scans the article to help you use it correctly.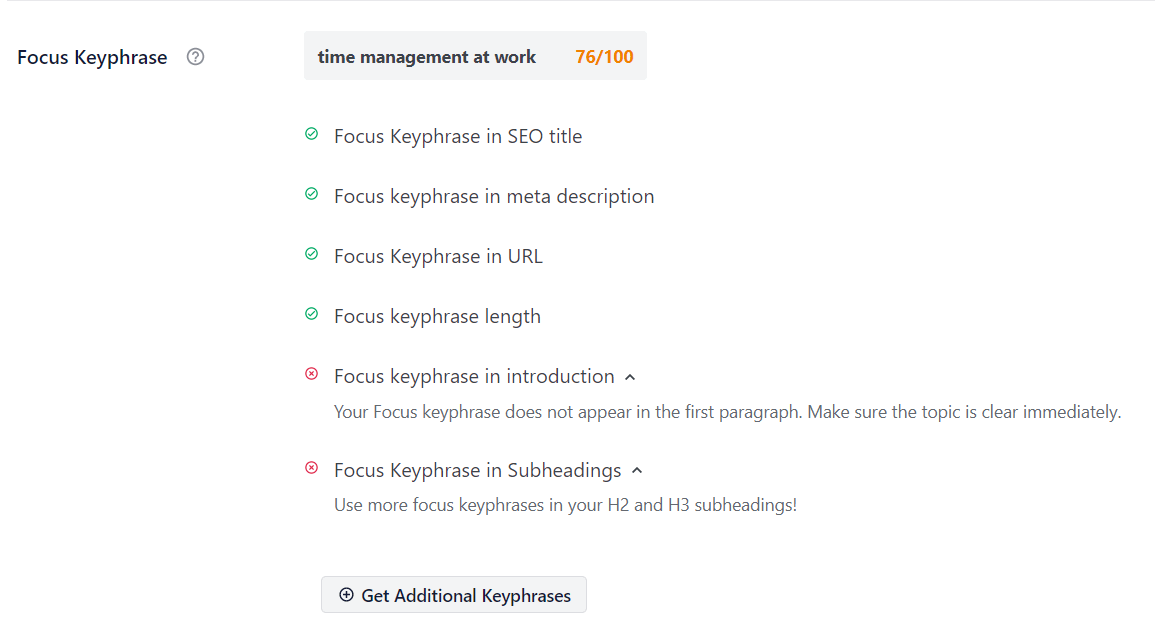 For more on focus keywords, read What is a Focus Keyword? Plus 2 Awesome Examples.
5. Forgetting a Sitemap
A sitemap is a layout of your website's links that search engine bots can crawl. It's a helpful tool that can help those bots see and index your entire website. If you don't have one, parts of your website can be missed, resulting in SEO trouble.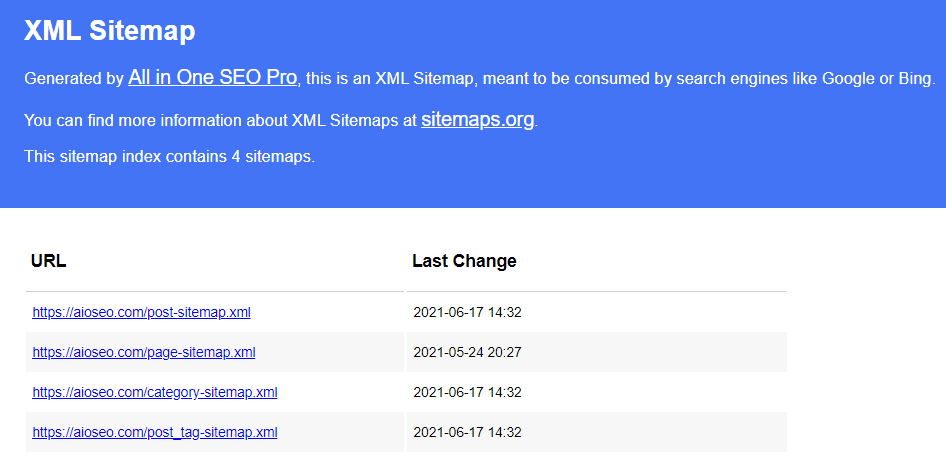 For a really simple way to create a sitemap, we recommend AIOSEO's Smart XML Sitemaps feature.
For more on XML sitemaps, read How to Create a Sitemap in WordPress (The Easy Way).
6. Not Using Nice Permalinks
Permalinks are, in a nutshell, the URLs where your posts and pages live. Since optimized URLs are an SEO signal, it's important to have your WordPress site's permalinks settings set up.
Just be careful here. If you already have a site that's live and has been crawled by Google, changing your permalink settings could cause a bunch of broken links.
But to access permalink settings, in your WordPress admin, go to Settings » Permalinks. There, you'll find options for optimized permalinks. Using the Post name option is, in most cases, the most optimized option.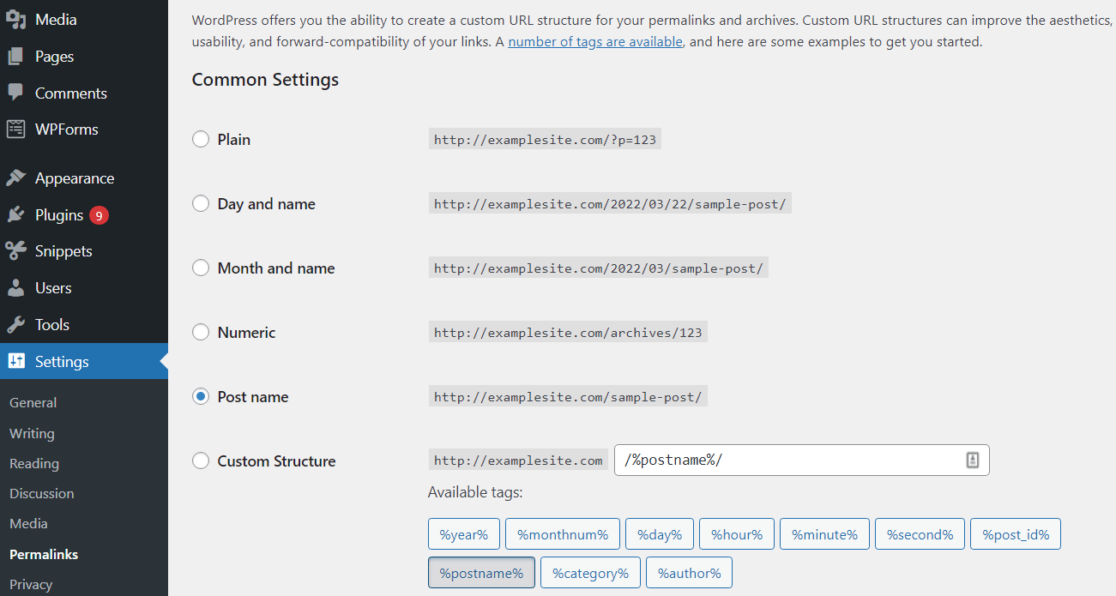 For more on using SEO friendly permalinks in WordPress, check out What is a SEO Friendly URL Structure in WordPress.
7. Not Using Internal Links
Using internal links is one of the most important steps to take in optimizing your site for SEO. Not only do they provide logical navigation for your website's visitors, but they also, like sitemaps, help search engine bots crawl and index your site.
Plus, in some cases, internal links can help your posts rank in search results! If you have a post that's doing really well in search and you link to a few other posts from it, you may pass along some of that search ranking luck.
So, when you're writing any new content on your site, be thinking about links to other pages or posts you could add to your content.
This is yet another SEO best practice that AIOSEO can help you with, thanks to their Link Assistant tool! Not only do you get access to a whole links report, but you can also use the tool to easily find places to build links, and create those links with a single click (without opening the post).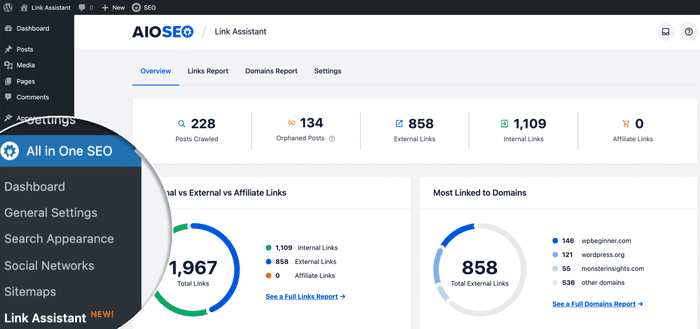 For more about Link Assistant, read How to Use Link Assistant to Optimize Your Internal Linking Strategy.
8. Your Website is Slow
A slow website can tank your SEO efforts. SEO is a set of strategies and tactics you use to get more traffic to your website, and get more of that traffic to convert. But what if your website's slowness is causing those visitors you worked so hard to get to leave right away?
Ouch. This is why it's so important to make sure your site is up to speed and not causing frustrated users.
Thankfully, if you have MonsterInsights installed, you can access an updated speed report any time you want.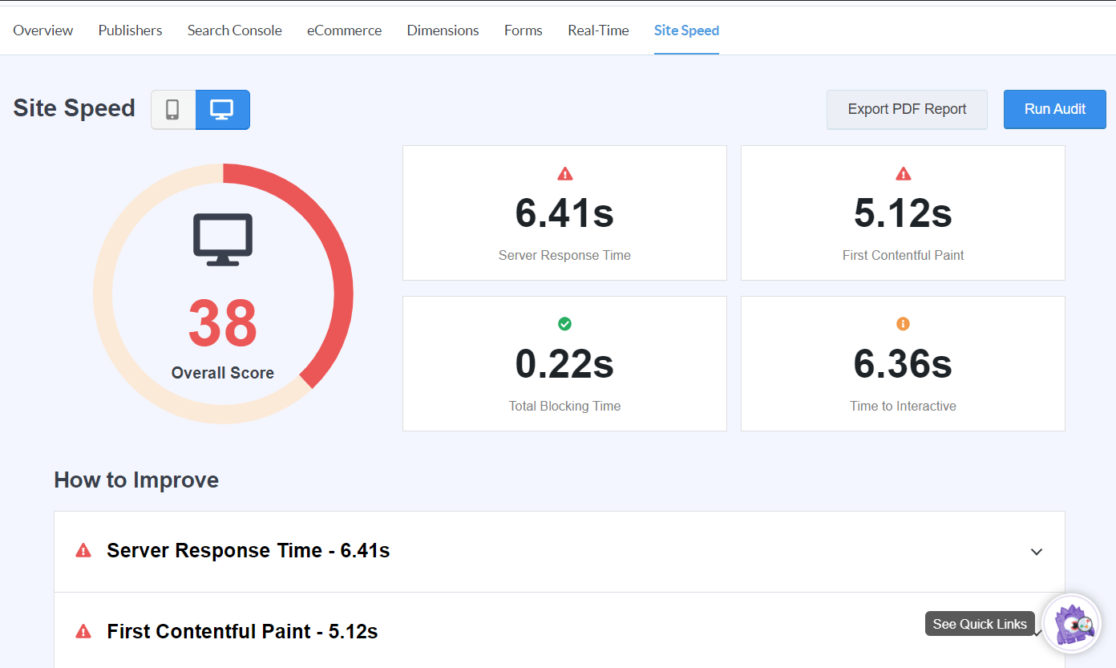 For help with speeding up your site, read 17 Easy Hacks to Speed Up Your WordPress Site Performance.
Get started with MonsterInsights now!
That's our list of the biggest WordPress SEO mistakes. We hope you learned how to avoid these mistakes and set your website up for SEO success!
For more on WordPress SEO, read:
Blog Post SEO Checklist: How to Write & Optimize Blog Posts
How to Add SEO Keywords to WordPress (The Best Way)
On-page SEO in WordPress: Your Complete Guide
How to Track SEO Rankings with Google Analytics (10 Ways)
10 WordPress SEO Optimization Tips to Grow Your Business
And don't forget to follow us on Twitter, Facebook and YouTube for more helpful reviews, tutorials, and Google Analytics tips.