Do you want to know if your search engine optimization (SEO) investment is paying off? Many tools that track SEO rankings can help you measure your efforts, but they can be expensive to use.
This is where Google Analytics comes in handy. It doesn't have all of the same features as some of the other tools, but it's free! You just need a little practice with using it to its full potential to track SEO rankings.
In this article, we'll show you how to measure your site's performance and track SEO rankings with Google Analytics, so you can decide if your strategies are working for your business or if they need to be tweaked.
10 Ways to Track SEO Rankings with Google Analytics
1. Monitor Organic Traffic
The first, simplest way to measure SEO performance with Google Analytics is to monitor your site's organic traffic. Looking at how many people visit your website from search engines shows how effective your SEO strategies are.
To view your traffic channels, log in to your Google Analytics account. Then navigate to Acquisition » All Traffic » Channels.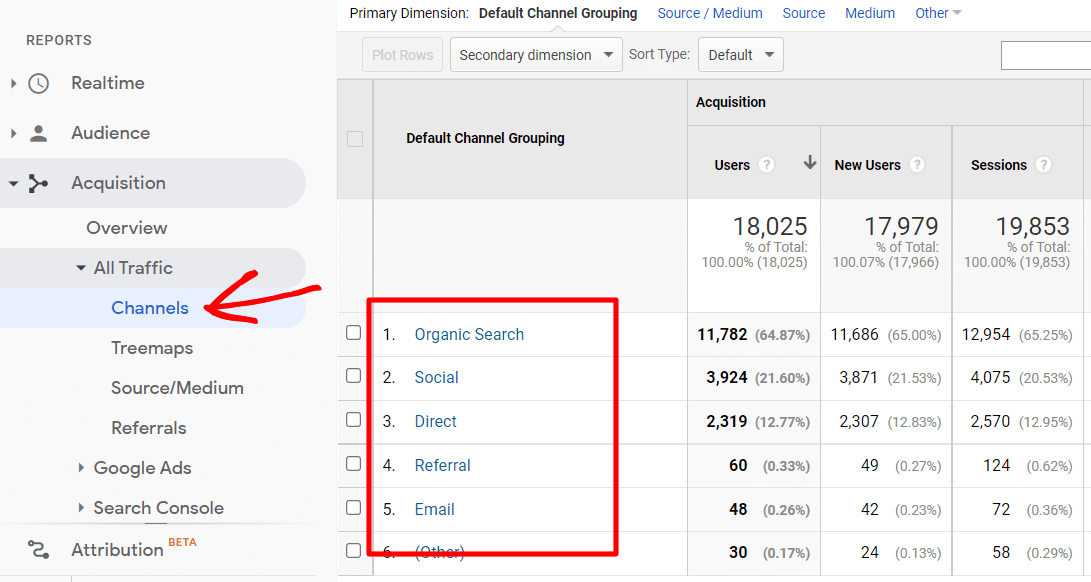 Or in Google Analytics 4, go to Acquisition » Traffic acquisition.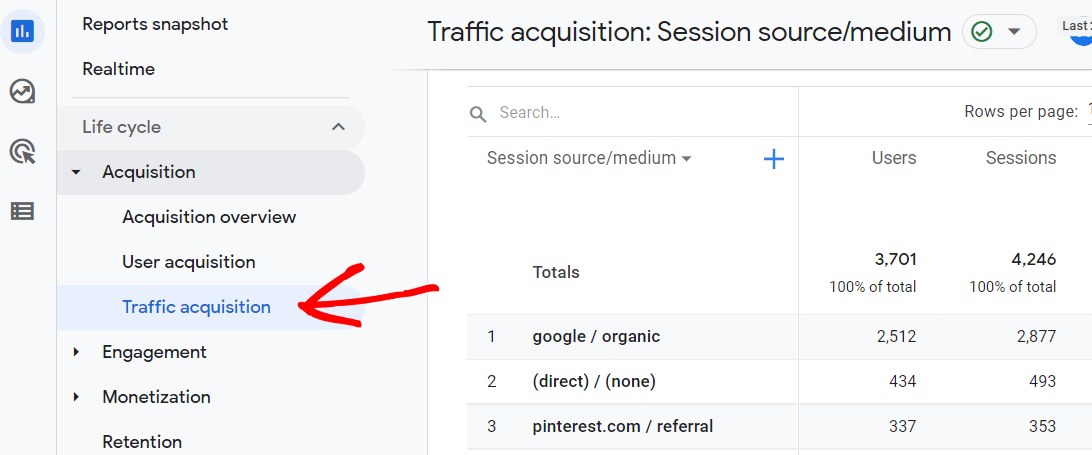 In the report, you'll see different sources that people use to visit your website. Pay close attention to Organic Search, as that's the traffic that comes from search engines. Compare traffic from the previous months to see if you've gained or lost traffic.
If you see that Organic Search traffic is declining, then it means your SEO strategies might need improvement. A decline in search traffic can also help identify other technical issues, like your website isn't indexing on Google or is too slow.
On the other hand, if your Organic Search traffic is increasing, then your SEO efforts are paying off, and your strategy is more likely on track.
2. Track Keyword Rankings in Google Analytics
When people think about SEO performance, this is probably the first thing that comes to mind. Which keywords are ranking in Google?
Many beginners think you have to pay for an SEO tool to be able to track your keyword rankings, but you can actually find ranking data in Google Analytics.
How? By connecting Google Search Console with Google Analytics.
It removes the problem of keyword not provided in Google Analytics reports, and you can see pretty precisely how your search terms are performing.
To get started, connect Search Console and Analytics if you haven't already. Then, go to Acquisition » Search Console » Queries. Here, you'll see the keywords and phrases that were used to find you in Google search results.
If you're a WordPress user, you can also track keyword rankings and clicks by using MonsterInsights. It's the best Google Analytics plugin for WordPress and allows you to set up advanced tracking in just a few clicks.
With the MonsterInsights Search Console report, you see your top 50 Google search terms right inside your WordPress dashboard. You can view how many clicks and impressions it gets for each keyword, click-through rate (CTR), and average position.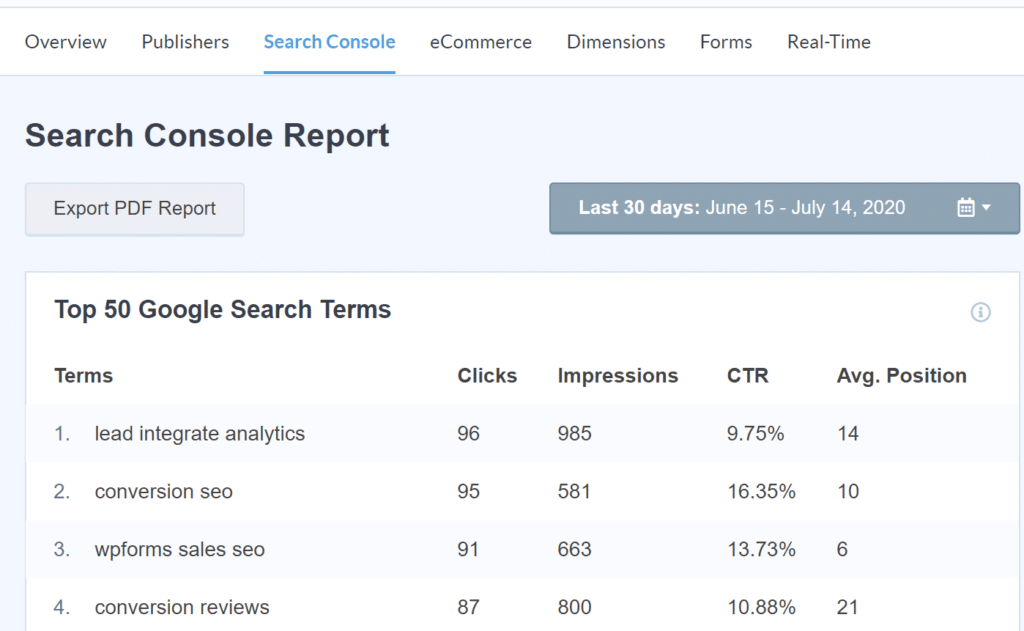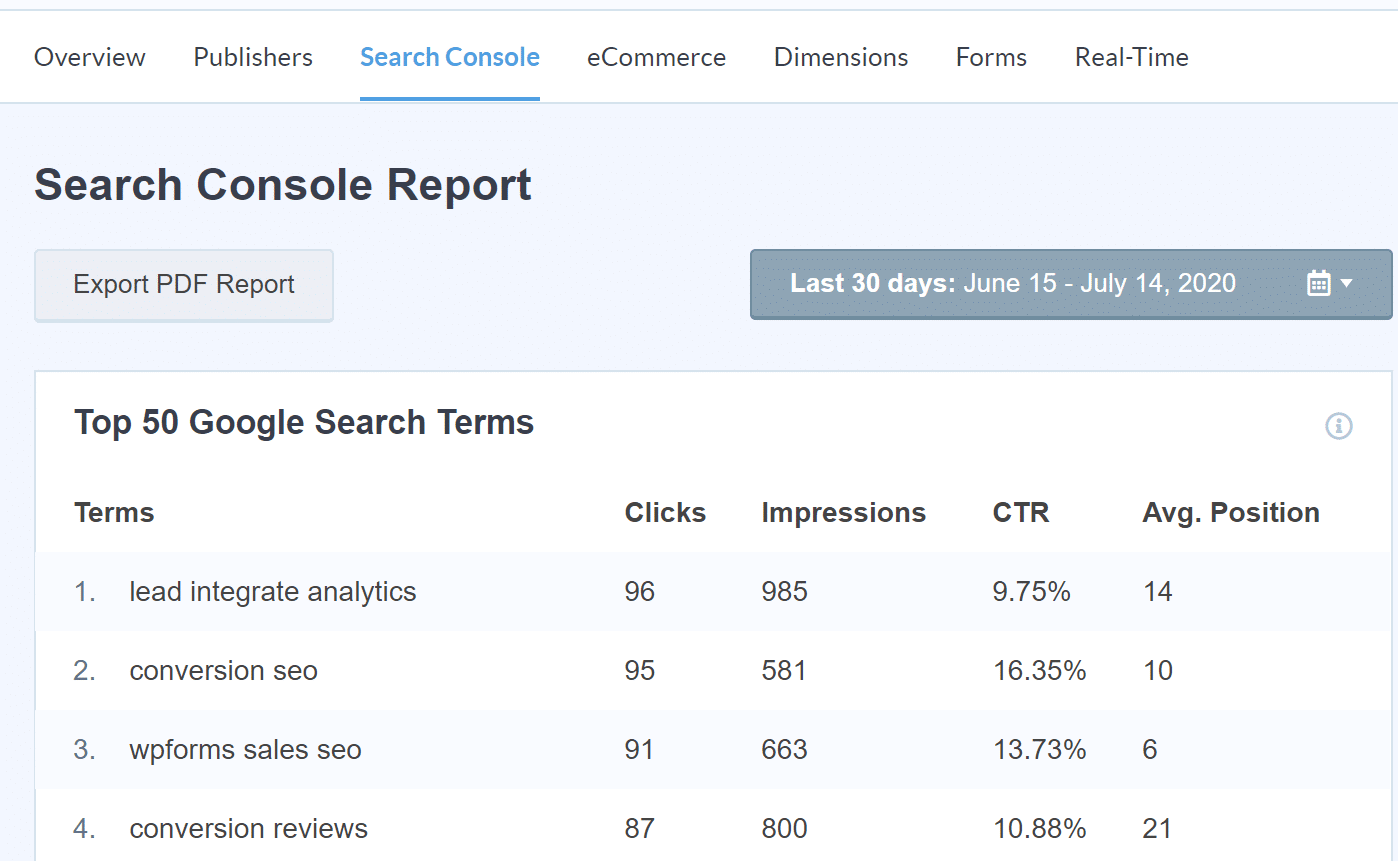 Whether you use Google Analytics or MonsterInsights, the information in this report is extremely valuable. It shows which keywords are driving organic traffic to your website. You can use this data to find similar keywords to optimize your blog posts and pages.
It also helps to identify "low-hanging fruit" opportunities. These are keywords that rank on the second page of search results (positions between 11 – 20) on Google, and with a little effort, they can reach the top 10 and start getting more traffic.
3. Monitor Traffic from Referral Sources
One of the most important Google SEO ranking factors is backlinks. If you just secured a backlink from a high traffic website or published a guest post on a great related website and want to know how many visitors came from that link, then you can check the referral traffic sources report.
In Universal Google Analytics, go to Acquisition » Channels and click on Referrals.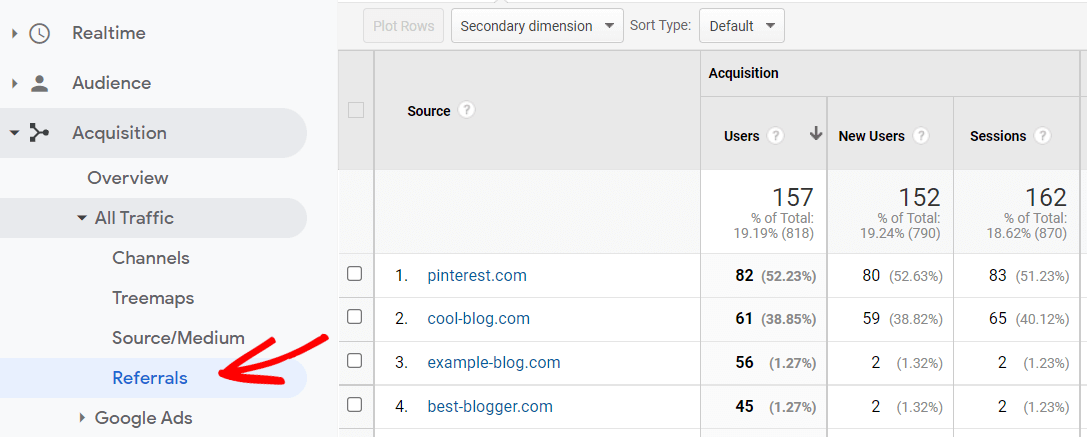 In GA4, go to Acquisition » Traffic acquisition, then type referral into the search box and hit Enter to see just your referral traffic.

Not only can you use this report to see which referrals are sending the most traffic, but you can also look for opportunities. If a website has linked to you in the past, maybe the owner would be interested in publishing a guest post from you or linking to another of your resources. This is a great tactic to use to get more backlinks.
If you don't get much referral traffic, perhaps it's time to work on building backlinks and social media profiles in an attempt to increase your SEO rankings.
The Referrals report is another one that you can see in MonsterInsights in your WordPress dashboard.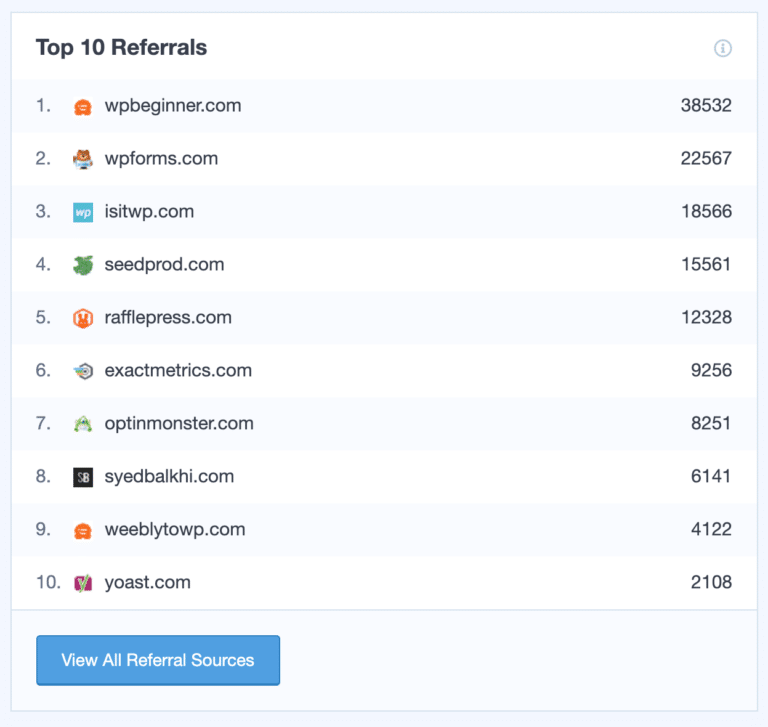 4. Measure Engagement of Your Pages
Your bounce rate is an undervalued metric of a successful SEO campaign. It's the percentage of visitors who leave your site after just viewing one page and don't interact with your website.
While Google doesn't take the bounce rate shown in your Analytics into account as an SEO ranking factor, it does take into account how engaged your website visitors are.
When a visitor doesn't engage with your content and bounces quickly, it is typically because your page isn't satisfying their query. If many users leave your web pages quickly upon landing, it may affect your page's search rankings in the long run.
You can find your Bounce Rate right in your Overview report in Google Analytics: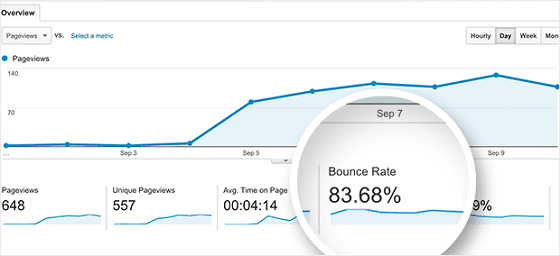 Or, you can see your bounce rate on a landing page-by-page basis at Behavior » Site Content » Landing Pages. Use this report to take note of which pages you may want to work on in order to keep or improve your SEO rankings.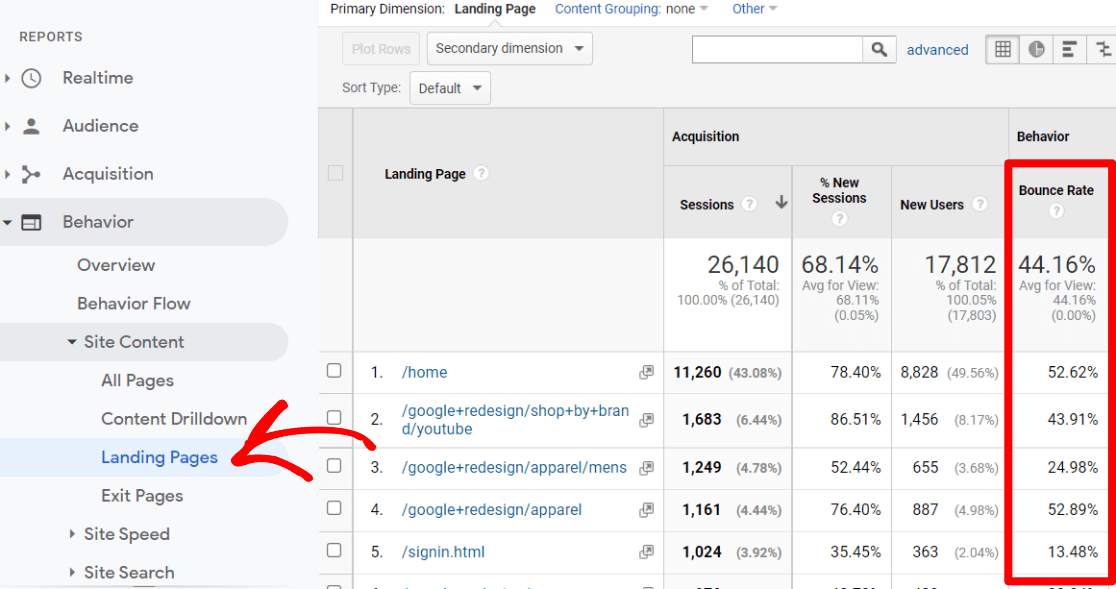 You can also view your website's bounce rate in your WordPress admin area using MonsterInsights.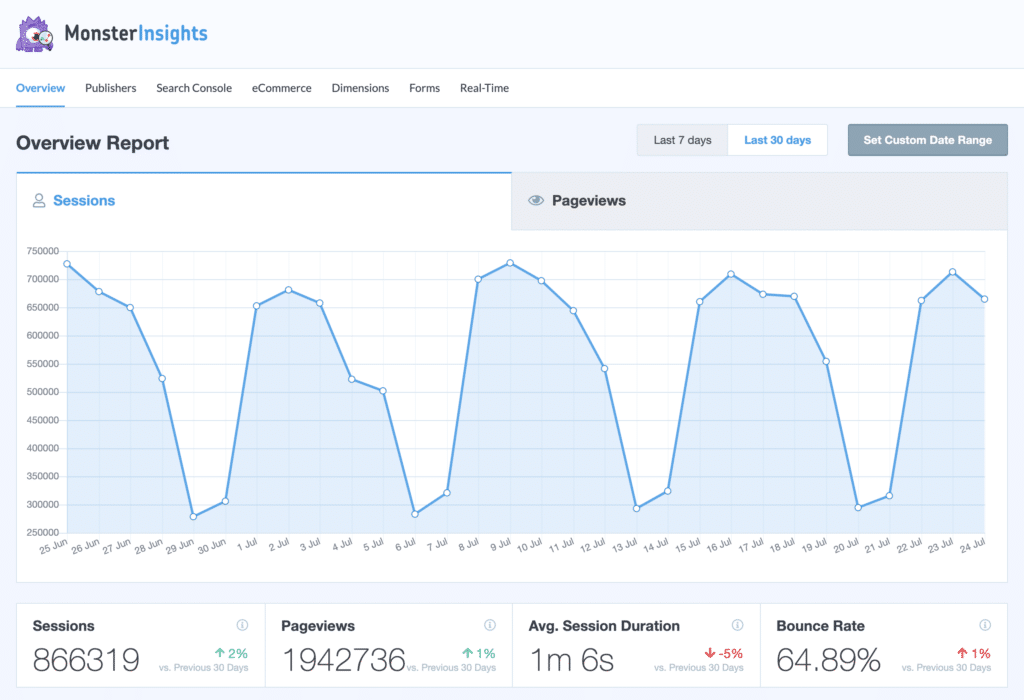 And if you want to see the bounce rate of individual pages, then view the Publishers report in MonsterInsights and see Top Landing Pages.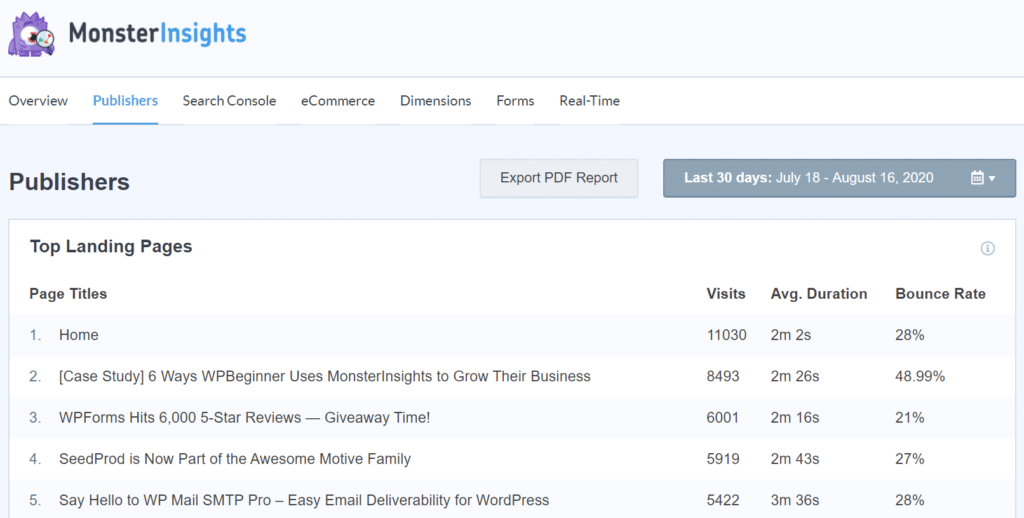 Using the information for these reports, you can find out which pages have a high bounce rate and struggle to rank higher in search engines.
You can then try different techniques to lower their bounce rate and improve your SEO performance.
Check out our guide on how to reduce bounce rate using quick and easy methods.
Note: Google Analytics 4 does not include the bounce rate metric. WordPress users can set up dual tracking with MonsterInsights.
5. Measure Mobile Friendliness
When it comes to measuring SEO performance, it's now more important than ever to check your website's mobile-friendliness.
In 2019, Google announced that it would be moving to mobile-first indexing. What that means is that it uses your website's mobile version for indexing and rankings.
You can use Google Analytics to see how well your site performs for users on different types of devices.
To find the report in Universal Google Analytics, go to Acquisition » Search Console » Devices.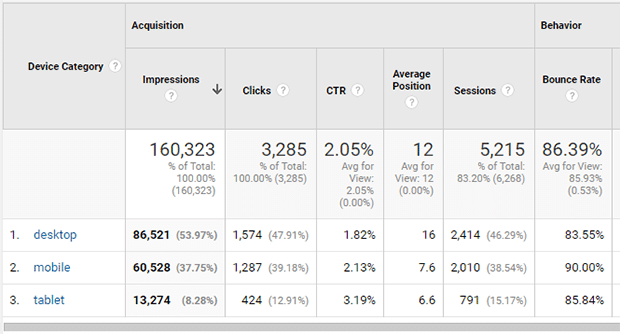 In GA4, go to User » Tech » Tech details. Scroll down to the table and click the Browser dropdown. In the dropdown, choose Device category.

For instance, in the Universal Analytics screenshot above, you can find that mobile and tablet click-through rates (CTRs) are high. This means people are more likely to click on your pages from the search results if they're on a mobile device. This shows that your mobile strategy is paying off.
You can also see that the bounce rate is high for mobile, though, so you might want to check if there is room for optimizing your content for mobile visitors.
In MonsterInsights, you can easily see which device people use to visit your website right in your WordPress dashboard.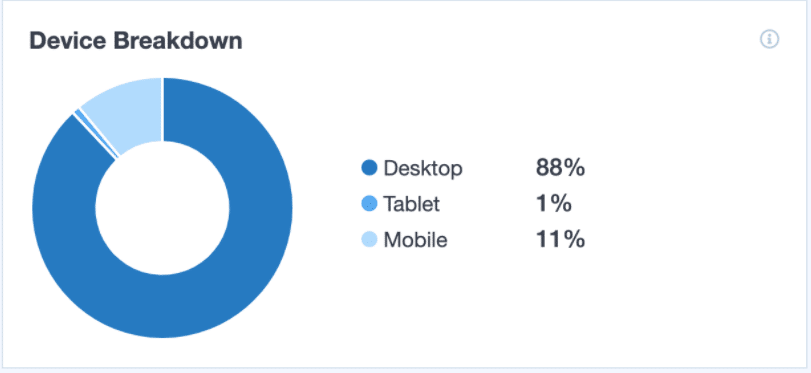 6. Keep Tabs on Site Speed
Next to mobile-friendliness, site speed is another important ranking factor you need to focus on.
Google looks at the user experience of your website to determine if you should be ranked in search results. If your site doesn't load quickly, then it could harm your SEO campaigns.
Although there's a site speed report in Google Analytics, it's not as insightful as other tools out there, so we'd suggest using one of those.
For instance, you can use Google's PageSpeed Insights tool to get a more comprehensive look at how quickly your site is loading: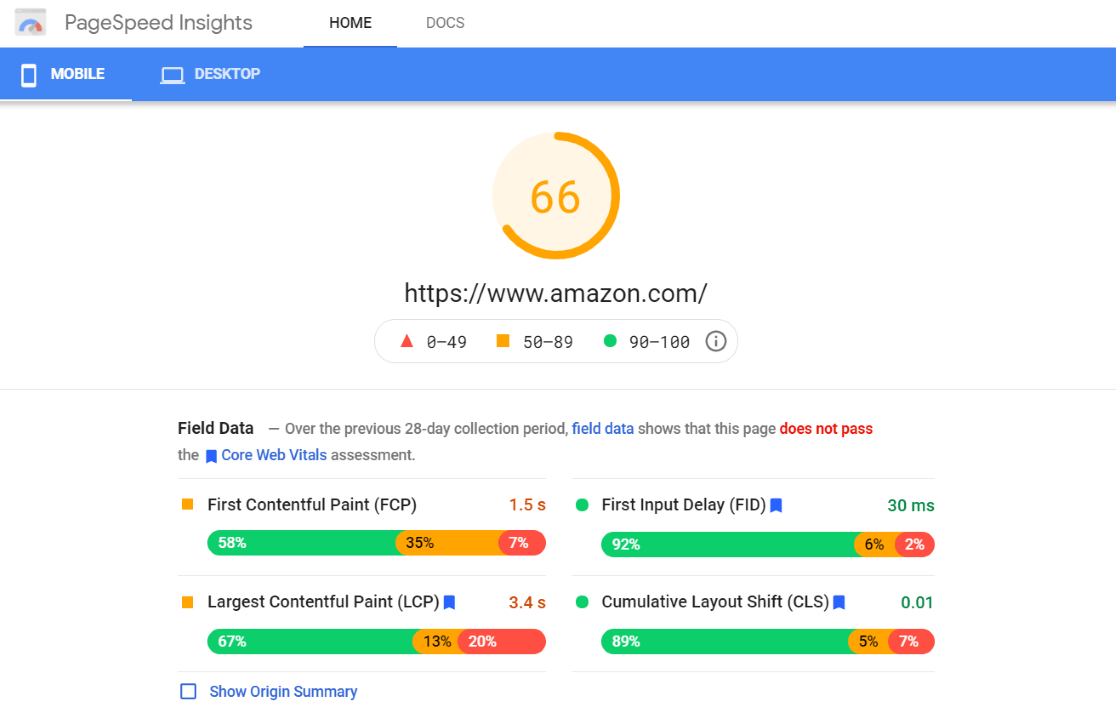 Or, with MonsterInsights, you can view an up-to-the-minute Site Speed report inside your WordPress dashboard at any time. It shows an overall score for mobile and desktop, along with important metrics to help you measure the load times.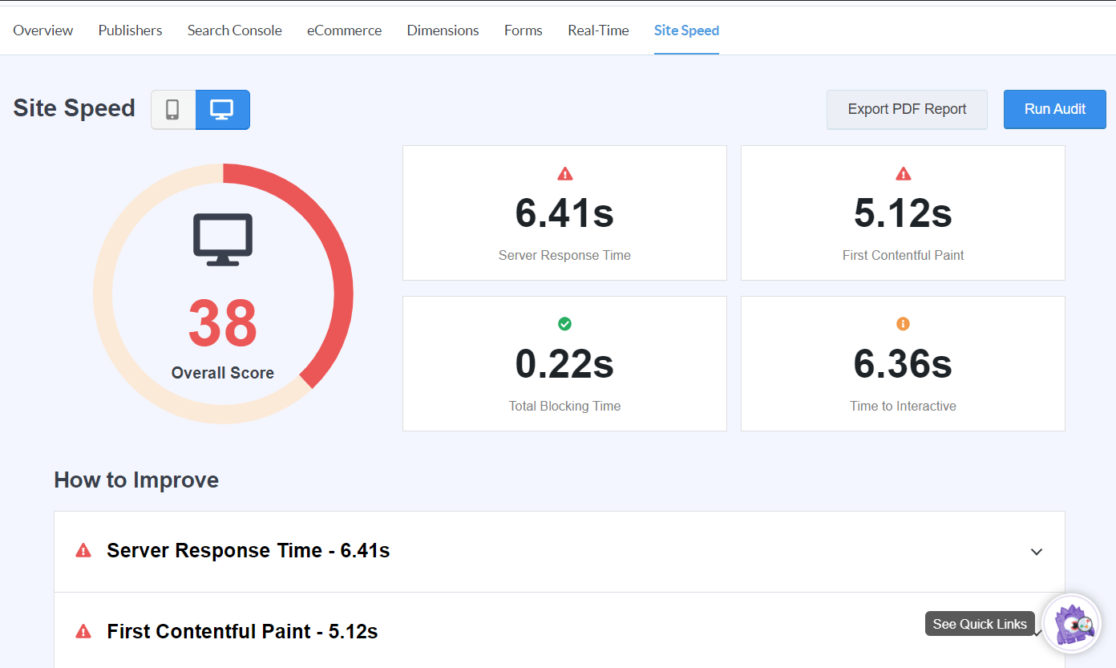 That's not all. You also get recommendations on how to speed up your website and changes you can make to ensure your visitors get the best user experience.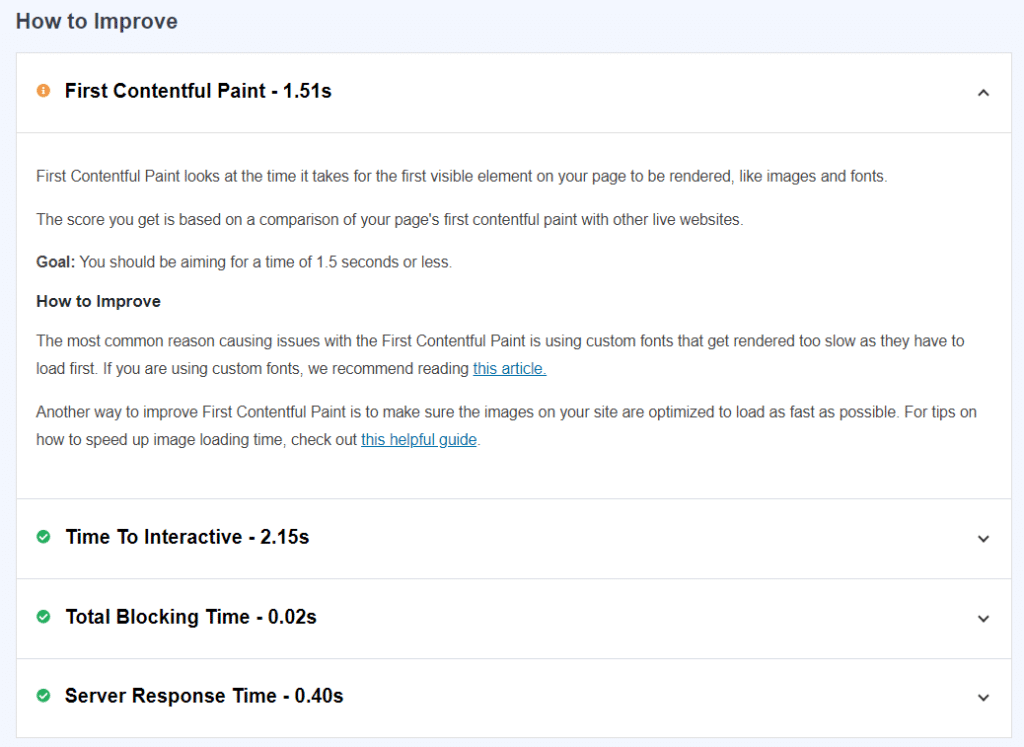 If your site is on WordPress, check out 17 Easy Hacks to Speed Up Your WordPress Site Performance.
7. Track and Fix Broken Links
Broken links are links that no longer exist on your website. Usually, you will see a 404 error shown by a browser when a link is broken. And they can negatively impact your SEO rankings and user experience.
But the good news is that you can easily track broken links in Google Analytics and quickly fix 404 errors with MonsterInsights. You can automatically track broken links! Simply set up the plugin on your website and it will take track your 404 errors in Google Analytics.
Another option is All in One SEO (AIOSEO)'s Redirection Manager. This simple plugin manages 301 redirects, 404 errors, and dead ends, keeping search engines and users happy. It can even monitor your trash bin, ensuring no 404 goes unnoticed.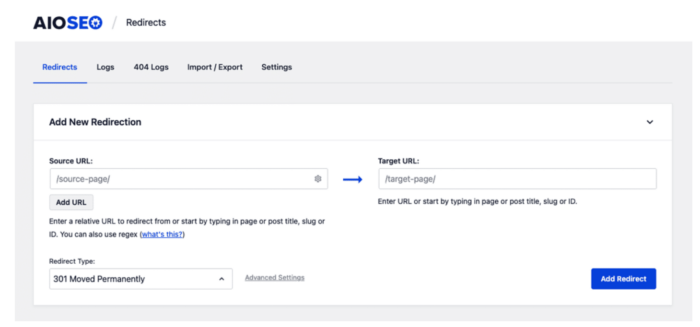 8. Track Page-Specific SEO Performance
Tracking the SEO performance of your organic landing pages at a per-page level will help you understand a few different things about your traffic and your content. Here are a few of the biggest conclusions you can draw from this report:
Which landing pages are resulting in conversions
Which landing pages visitors spend the longest time reading/interacting with
Which landing pages have the most visibility/best rankings in search results
Which landing pages are really low on the list, meaning they might need some more SEO work to rank
To find the report in Universal Analytics, head to Acquisition » All Traffic » Channels and click on the Organic channel. Then, switch over to the Landing Pages tab: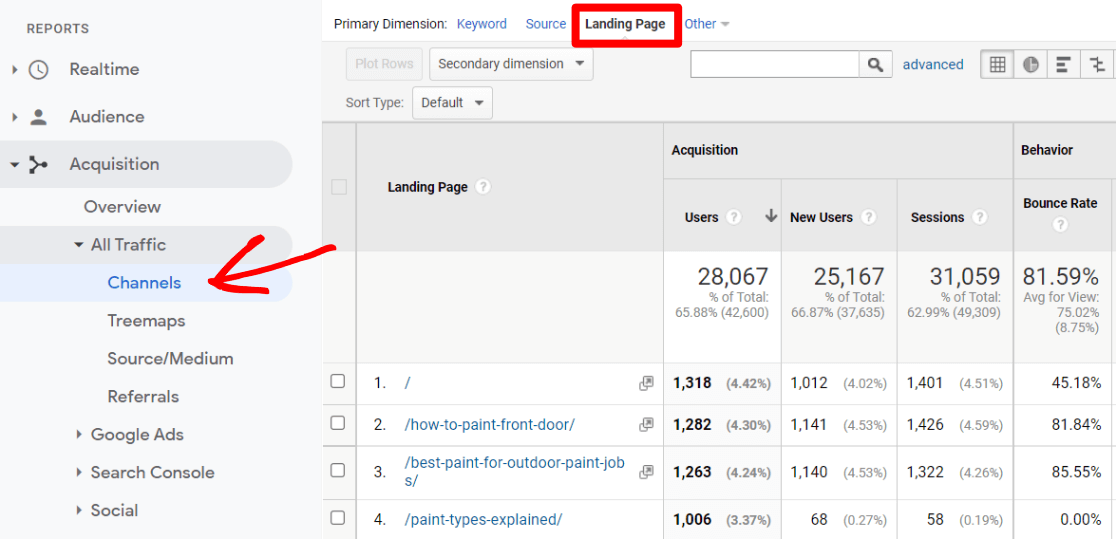 To find site traffic sources for a specific page in GA4, navigate to Engagement » Pages and Screens. In the table, you'll see both Views and Users, so you can see how many views each page got, and how many users completed those views.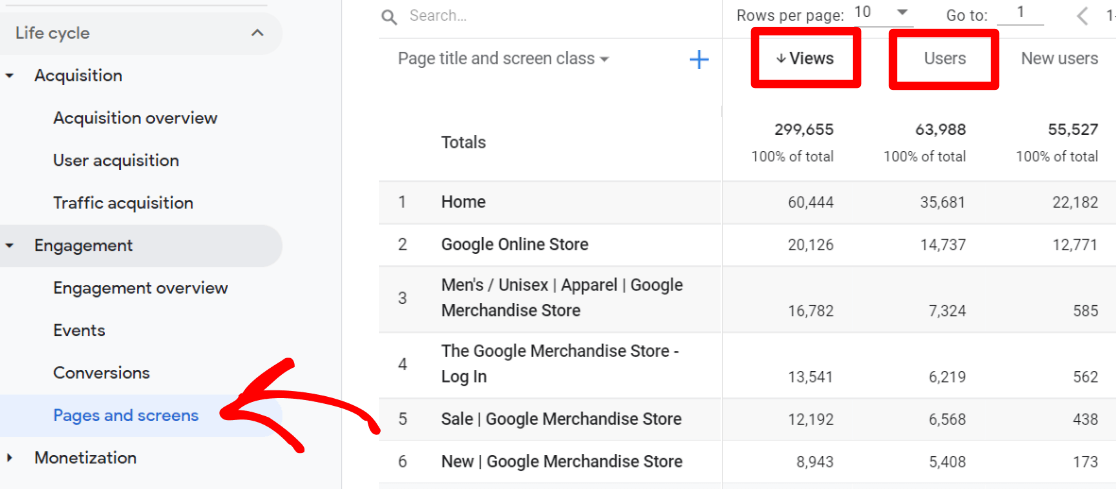 To add source/medium to the report, click the plus icon above the Totals column. In the dropdown, choose Session Acquisition then Session source / medium.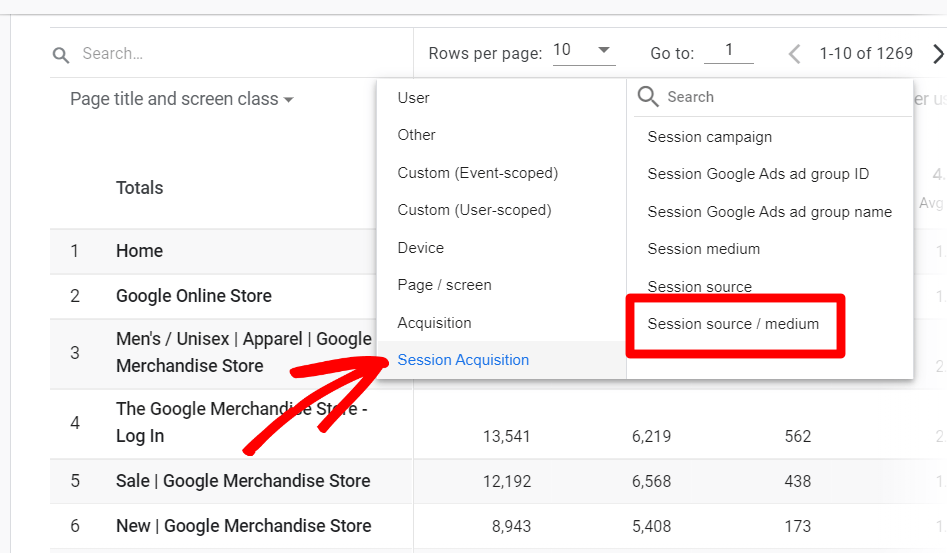 Now, you have a table of your pages by source/medium and views: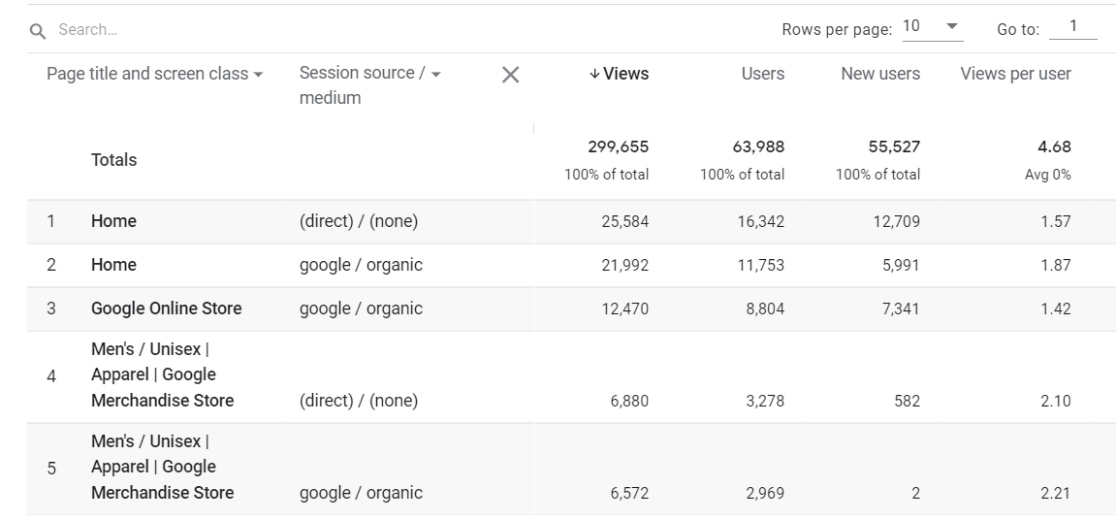 To change this table to view your landing pages by source/medium, scroll over the the Event count column. Click the down arrow next to All Events and select first_visit.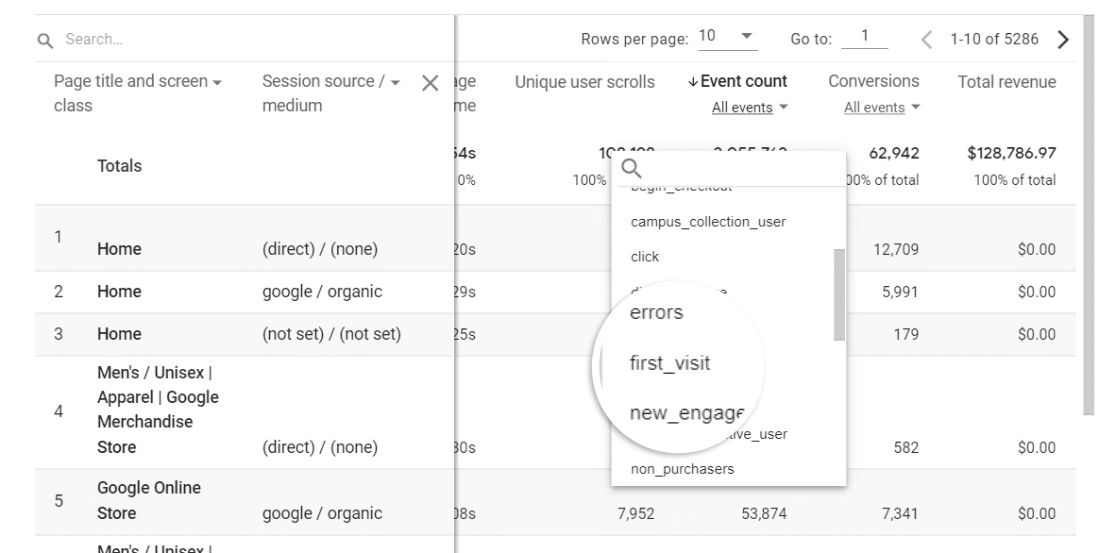 Then, click the Event count column title to sort by landing page visit events. Now you have your landing page visits report by source/medium.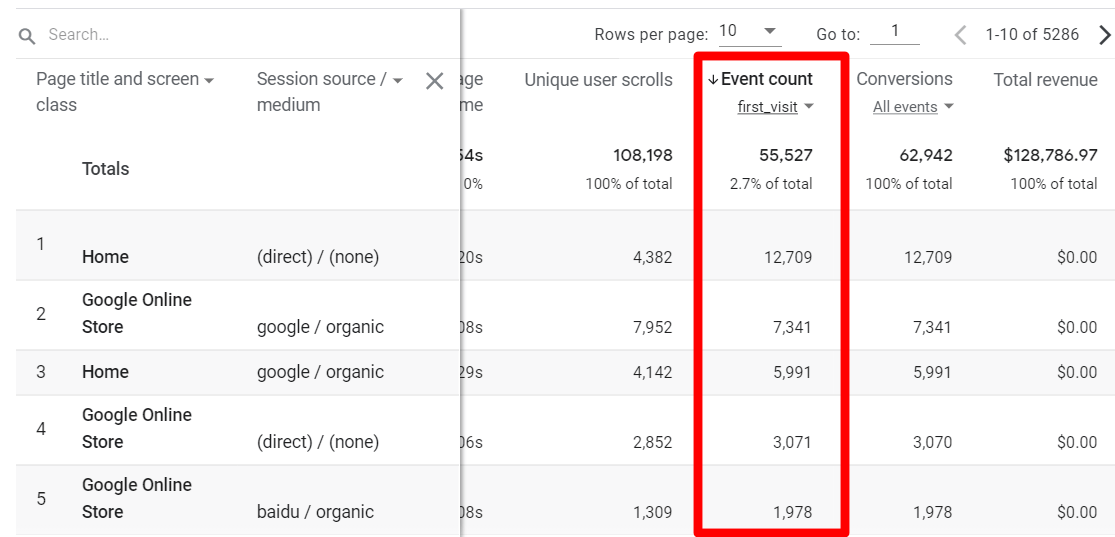 9. Track Your Focus Keyphrase
Are you using WordPress and MonsterInsights? If so, and you also have All in One SEO or Yoast installed for optimizing your content, then you can track your focus keyphrases.
A focus keyphrase is the search term you want to target on your blog post or landing page. It can be a single word or a phrase that you want to rank for on Google.
With the MonsterInsights Dimensions addon's help, you can see which focus keyphrases bring in the most traffic: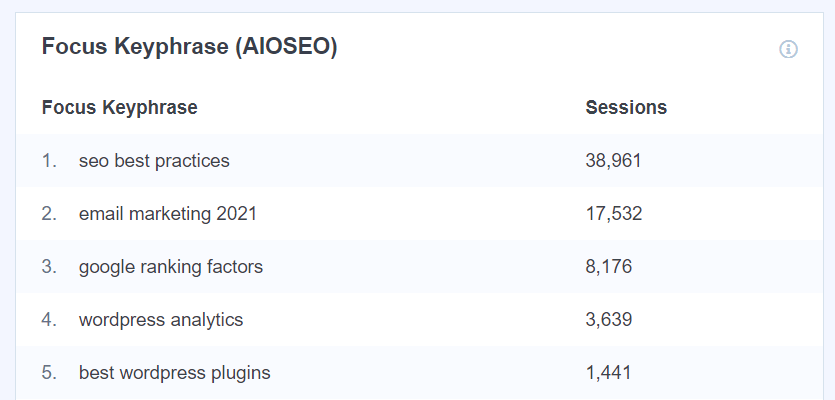 Custom dimensions allow you to track additional information that Google Analytics doesn't track by default. It helps you get more insights into how your SEO is performing.
10. Set Up Custom Alerts for Changes in Traffic
Monitoring organic traffic daily (or even a couple times a week) in Google Analytics can be difficult if you're busy with other tasks.
A simple way to make sure you're on top of things is by setting up Google Analytics alerts for when there is a significant change in your Organic traffic.
For instance, if your site gets impacted by a new algorithm update, the alert will notify you about it so that you can take work on reversing the action as early as possible.
Basically, creating an alert ensures that you don't miss any urgent changes in your analytics.
Follow the steps below to set up a custom alert in Universal Analytics that alerts you to take action if there is a significant change in your Analytics report.
Click the Admin cog in the left taskbar. Click Custom Alerts in the View column.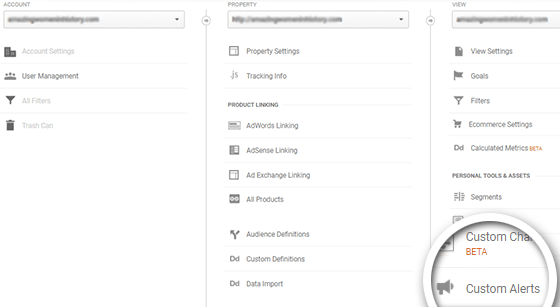 Then, click the NEW ALERT.

Then configure the settings just like the screenshot below, and click Save Alert.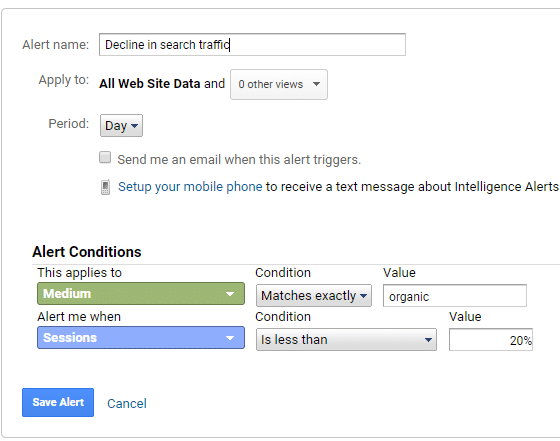 That's it!
We hope you liked our article on how to track SEO rankings with Google Analytics in WordPress. You may also want to look at our list of best SEO plugins and how to track user engagement in WordPress using Google Analytics.
Want to know more about blog post SEO? Check out Blog Post SEO Checklist: How to Write & Optimize Blog Posts.
And don't forget to follow us on Twitter, Facebook and YouTube for more helpful Google Analytics tips.