Want to add FAQ and FAQ schema in WordPress?
Adding FAQ to your pages or posts in WordPress is a great way to not only help your visitors understand your content, but it can also be awesome for your SEO.
In this guide, we'll take a look at both how to add FAQ to WordPress, and how to add FAQ schema to WordPress. Thankfully, there's one plugin that can handle both of those tasks!
First, let's talk about how FAQ and FAQ schema can help your visitors.
How FAQ and FAQ Schema Help in WordPress
Using FAQ in WordPress help your site in multiple ways:
Improve User Experience
Users on the internet are looking to find answers to their questions as quickly as possible. When they have a question and end up on your site, they'll be glad to find their answers right there in your FAQ section! They can read through your whole article to go more in-depth into the topic, or they can see their answer right there in your FAQ.
Use FAQ to:
Provide extra, helpful content at the end of an article
Go over key points again in question and answer format
Answer questions you commonly get
Keep Users Around Longer
Did you know that the length of time your users spend on your site is an SEO signal? Yep, Google uses how long users are on your site as a ranking signal! It helps the search engine determine if your content was helpful, and you had the expertise to answer the searcher's question.
So, if users are spending longer on your site because you've included helpful FAQ, that can show Google and other search engines that your content is great. This is an SEO signal that can help your site rank higher in search engine results!
Get More Space in the SERPs
If you add FAQ schema to your FAQ, did you know that Google sometimes will pull those into search results? Then, your result stands out from the rest because of its extra content!

When your result stands out from the rest, you may see your click-through rate rise.
Add FAQ and FAQ Schema in WordPress: Tutorial
Ready to add FAQ and FAQ schema to your WordPress site? There's one plugin in particular that we love for this, because it handles all your schema and has a whole list of other amazing WordPress SEO features.
Check out All in One SEO!
All in One SEO is the best SEO plugin for WordPress. When you add FAQ to WordPress using All in One SEO, you can add schema right along with it. You can even choose to add FAQ schema without displaying the FAQ on your page.
Plus, All in One SEO is packed with SEO features to help take your website traffic to the next level. You'll get features like:
So, to get started..
Step 1: Download and Install AIOSEO
The first step is to install All in One SEO on your WordPress site. To begin, select a plan at AIOSEO.com and get your license at the Basic level or above to get the FAQ block and schema markup.
After you register and have a license key, click Download AIOSEO to save the plugin file to your computer.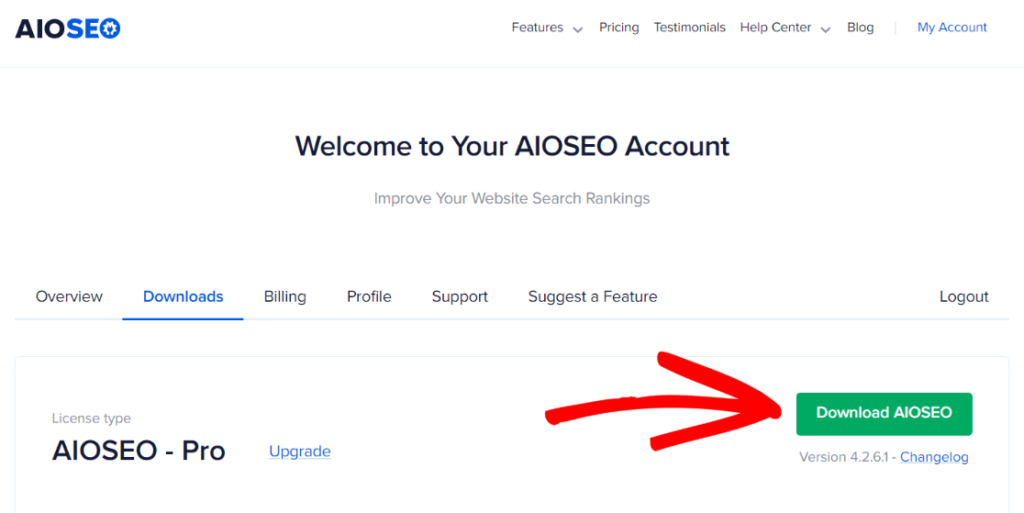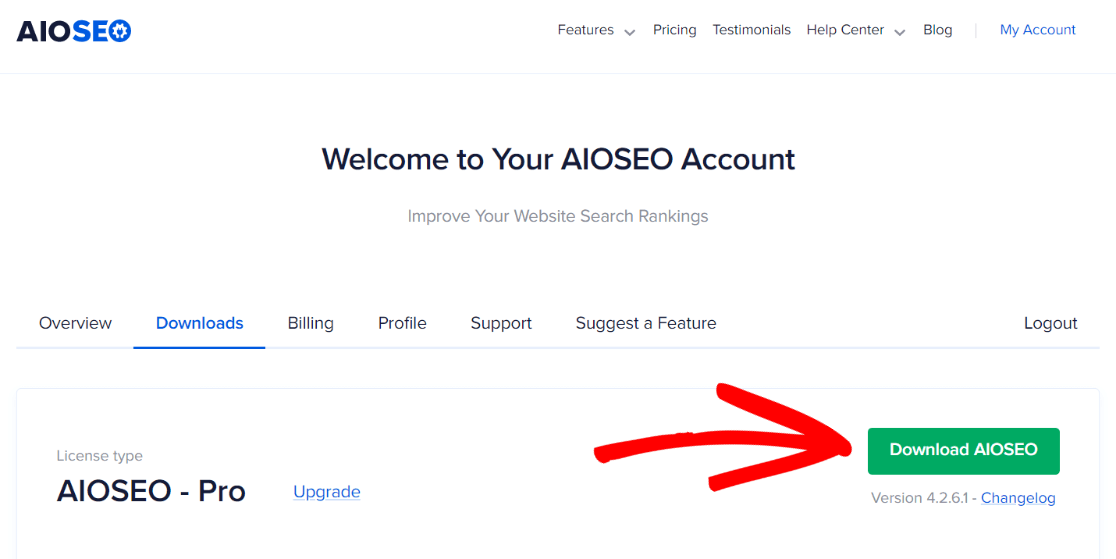 Now, you need to log in to WordPress and install that file. Open the WordPress dashboard and click the Plugins » Add New menu link. Then click the Upload Plugin button on that screen.


From there, you'll choose the file you just downloaded from AIOSEO and click Install Now.

Click Activate Plugin on the next screen, and your AIOSEO plugin is active and ready to use! The plugin will now walk you through the Setup Wizard to get started.
If you have more questions about this process, check out All in One's installation guide to AIOSEO Pro.
Step 2: Add a FAQ Block
The first thing we'll go over is how to add a FAQ block to your page or post. In the spot you'd like your FAQ to be, add the AIOSEO – FAQ block: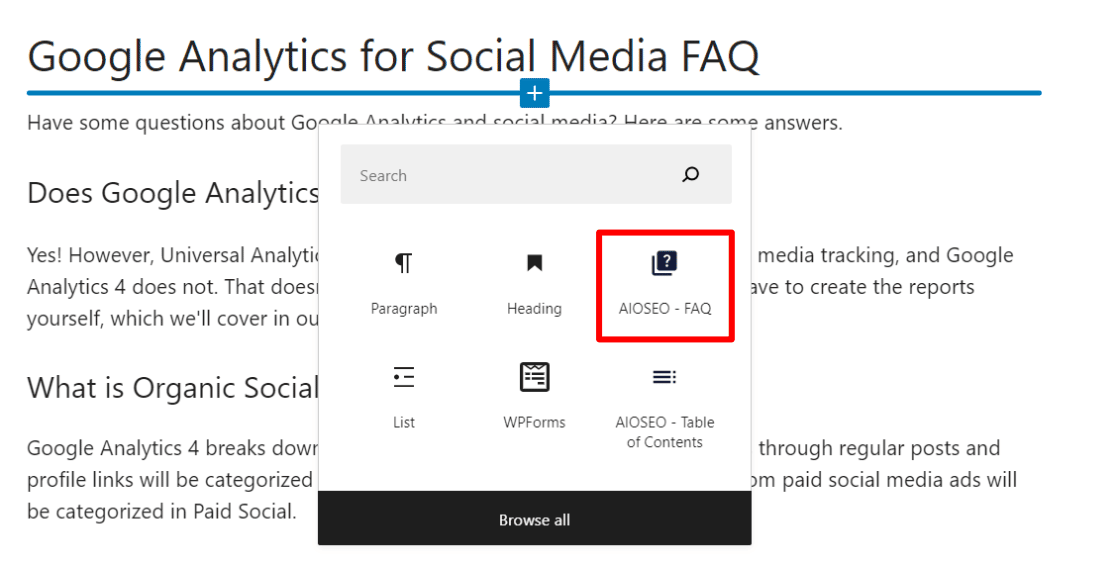 Then, add your question and answer. To add another question and answer, add the block again:

You don't have to do anything further for AIOSEO to create your FAQ schema. It's all just built right in!
Step 3: Add FAQ Schema Only
There might be times when you want to add FAQ schema to your post or page, but you don't want to use the FAQ block to put the content directly on your page. AIOSEO can help with this, too!
To add FAQ schema to your post or page, scroll down to the AIOSEO Settings box below the editor, click on the Schema tab, then click the Generate Schema button:

From the list of available schema types, choose FAQ: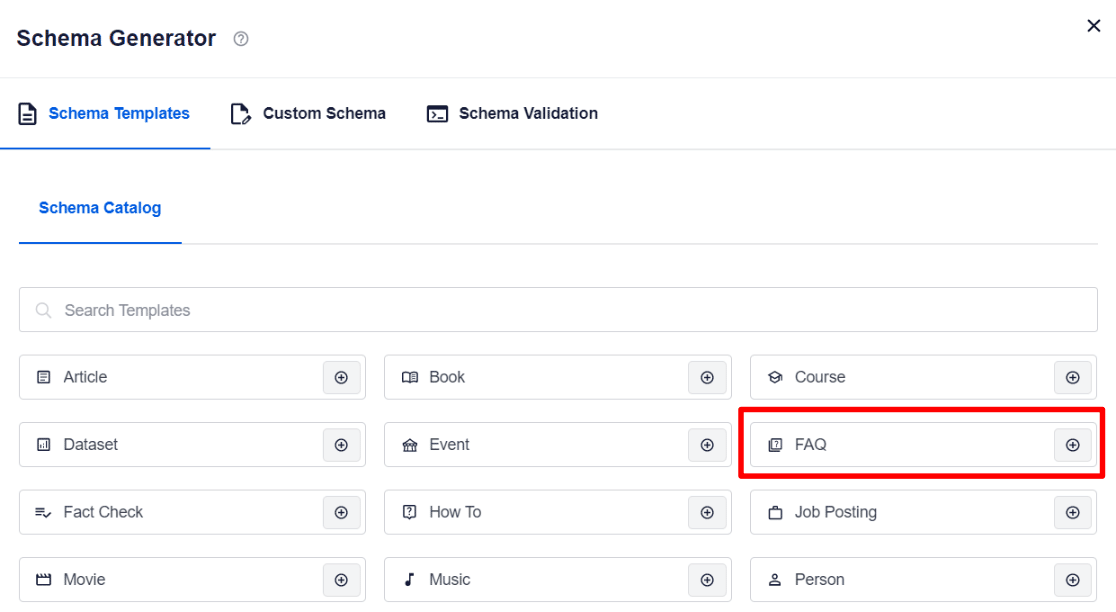 Now, scroll down to type in your question and answer. To add more than one, click the Add Another Question link. When you're done, click the blue Add Schema button: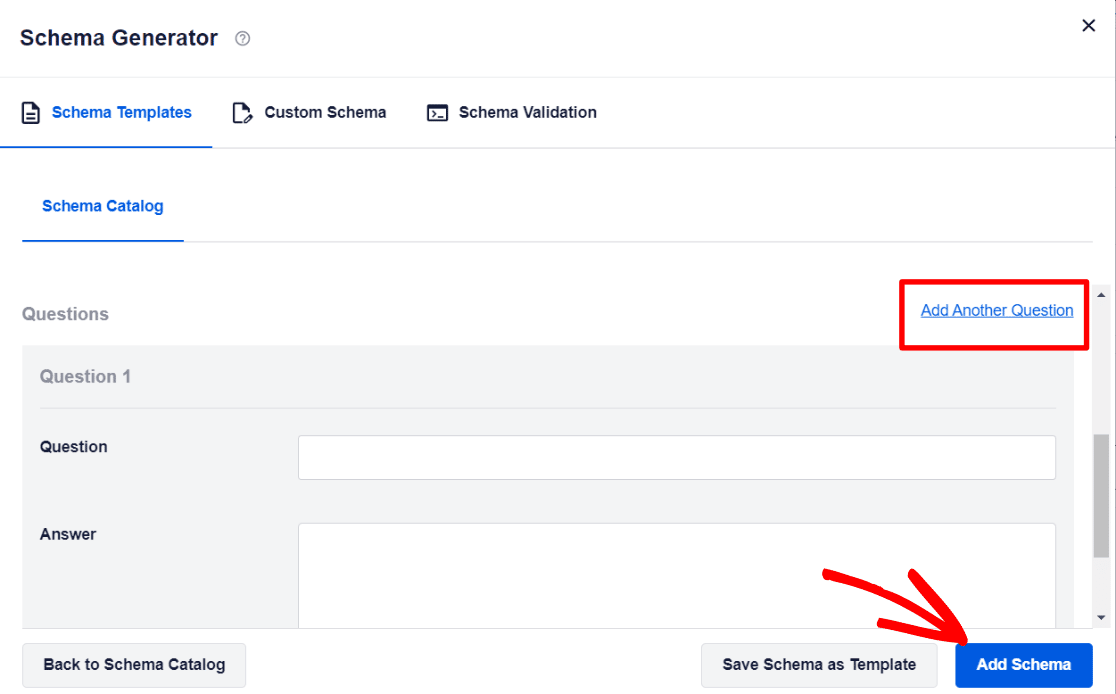 That's it! You've added FAQ schema in WordPress.
We hope you enjoyed our tutorial on how to add FAQ in WordPress. With the right tool (AIOSEO), it's really simple!
BONUS: Track SEO Success with MonsterInsights
If you're reading this article about adding FAQ schema to WordPress, we bet you're interested in doing all the right things to bring in more traffic.
But, how are you tracking and measuring your success?
MonsterInsights is the best Google Analytics plugin for WordPress, and it can help you quickly and easily set up tracking to see if your SEO work is paying off.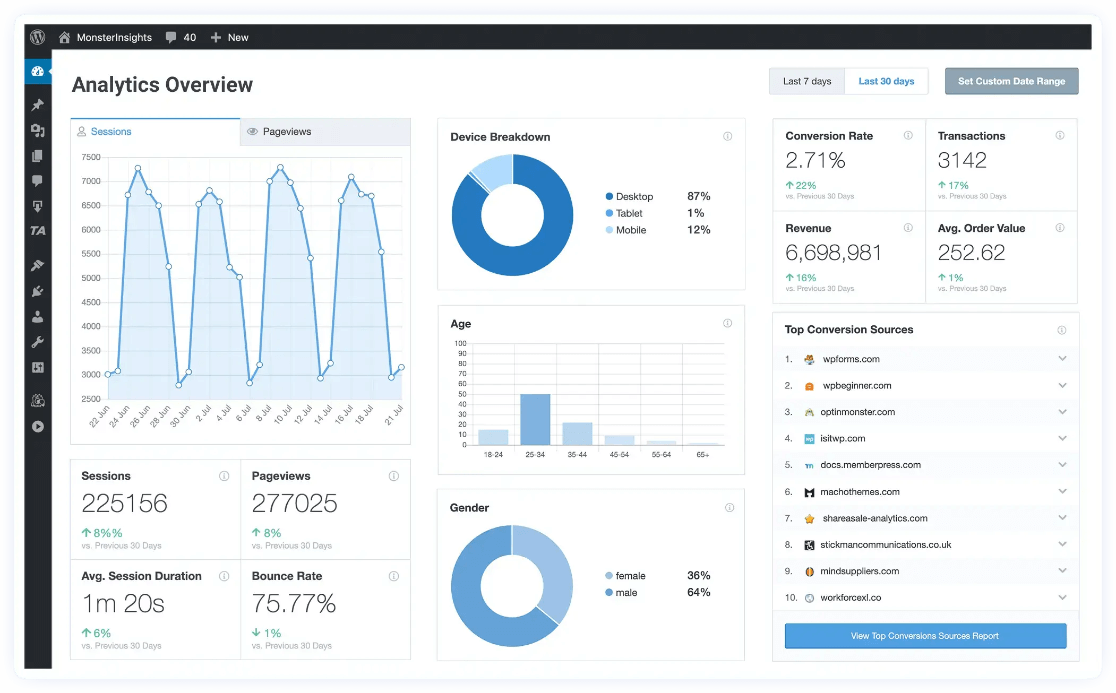 Install MonsterInsights now to get features like:
Get started with MonsterInsights now!
If you liked this article, you might also want to check out The Biggest WordPress SEO Mistakes + How to Avoid Them.
Not using MonsterInsights yet? What are you waiting for?
And don't forget to follow us on Twitter, Facebook and YouTube for more helpful Google Analytics tips.