Do you want to improve your WordPress video SEO to boost video rankings in search results, increase traffic and drive more sales and conversions?
WordPress SEO optimization is super important for small businesses, and videos are no exception. Videos account for a huge number of search results, which means knowing how to optimize video for your website is crucial to your business.
What Is Video SEO?
Just like website SEO, video SEO is using SEO best practices to optimize your media for ranking on search engine result pages (SERPs).
Ranking high on SERPs for relevant keywords means more people can find your content, and you have a better chance of getting more customers or followers.
Video SEO strategy is similar to regular search engine optimization, but one of the major differences is how WordPress video SEO works for indexing your content.
Search engines index web content, which basically means search bots "crawl" your website and look for keywords, metadata, and other signals that tell them what the content is about and how to rank it. But search bots can't see and index actual video footage, at least not yet.
Meaning, in addition to a typical SEO strategy, there are a few WordPress video SEO best practices you need to keep in mind to make sure the search engines understand how to index your video content correctly.
Optimizing Video for SEO in WordPress
In this guide, we'll share the best WordPress video SEO tools and tips to ensure your videos are ranking well and you're maximizing your videos for conversions.
Best Video Optimization Tools
One of the easiest and most important ways of ensuring your WordPress video SEO is nailing it is by using a WordPress video plugin along with SEO tools for optimization.
The only way to know if the hard work you put into creating content and optimizing your WordPress video SEO is paying off is by tracking your videos in Google Analytics.
Luckily, you don't need some complicated video SEO software to do this!
With the MonsterInsights Media Addon, it's easier than ever to see which of your videos are engaging visitors and attracting traffic with your media performance report.
You'll also be able to easily see which videos could use a little more SEO focus. Find out important details, like where your visitors stopped watching, then use that data to perfect your content and video SEO.
MonsterInsights is the #1 Google Analytics plugin for WordPress and the best video SEO plugin for tracking your WordPress website's embedded videos.
You'll get the stats that matter, right inside your WordPress dashboard.
For each video, you'll see:
Number of video plays
Average watch time
Average % watched
Completion rate
Plus, you don't have to worry about adding a video tracking code or a complicated setup at all! With one click, MonsterInsights will automatically find your embedded YouTube, Vimeo, or HTML5 videos and start tracking them.
For step-by-step instructions or our WordPress video tutorial on setting up MonsterInsights video tracking, check out: How to Track Video Plays in Google Analytics.
Get started with MonsterInsights today!
If you use YouTube to host your videos and are wondering how to add video to your WordPress website, Smash Balloon's YouTube Feed Pro is the answer!
This awesome WordPress video upload plugin makes it super easy to turn your YouTube videos into beautifully embedded displays on your WordPress site.
Create a WordPress video gallery or choose from many different layouts and customization options!
You can even have YouTube Feed Pro display your recently uploaded videos automatically and create as many feeds as you like.
If you use other social media platforms along with YouTube, Smash Balloon's Social Wall plugin is a tool you'll also want to check out!
Get started with YouTube Feed Pro now!
AIOSEO is the best WordPress SEO plugin, and it comes with a ton of game-changing features for optimizing your entire website.
If you want to guarantee you're using the best WordPress video SEO practices, then AIOSEO is a tool you'll want to take advantage of.
We'll be mentioning AIOSEO more when we get into the best practices for WordPress video optimization. For now, some of the highlights that make AIOSEO an awesome video WordPress plugin for SEO are:
Video SEO sitemaps
TrueSEO on-page analysis
Rich snippet schema markup
Link Assistant
And more!
Best Practices for WordPress Video SEO
Using videos to promote your business is an increasingly successful way of engaging audiences, which is why it is so important for you to use WordPress video SEO to maximize your content's visibility and ensure it's having the effect you're after.
Here are some of the best practices for WordPress video SEO.
Carefully Choose Your WordPress Video Hosting
This might seem like a no-brainer, but it's a really important step to think about! You may think the obvious answer is YouTube for video SEO. And it is a great platform for ranking videos, but what's really important is thinking about:
What's the goal of your video content?
If you want to establish a social presence through your videos and your videos are freely available to the public, then you're probably right to go with a platform like YouTube.
But what if you want to lock your videos behind an email subscription or payment form, known as "gated content"? In that case, using Vimeo or WP media file upload (HTML 5) may be better suited.
Another thing to think about is how your videos will rank in SERPs. If your goal is to drive traffic to your website or eCommerce store, YouTube may be a great choice for exposure, but if you only host your video on the platform, all that traffic will go to YouTube and you risk your audience never visiting your site at all.
To counter this, make sure you're always embedding the video on your WordPress site. Your video will still show up on YouTube, but that way, when it shows up in the video tab of a Google search, it will hopefully be ranked by your website and linked to your page, rather than the third-party platform.
For example, below are the video SERP for "How to add Google Analytics to WordPress." The first search result is a video that links straight to YouTube, and the second result is the MonsterInsights tutorial.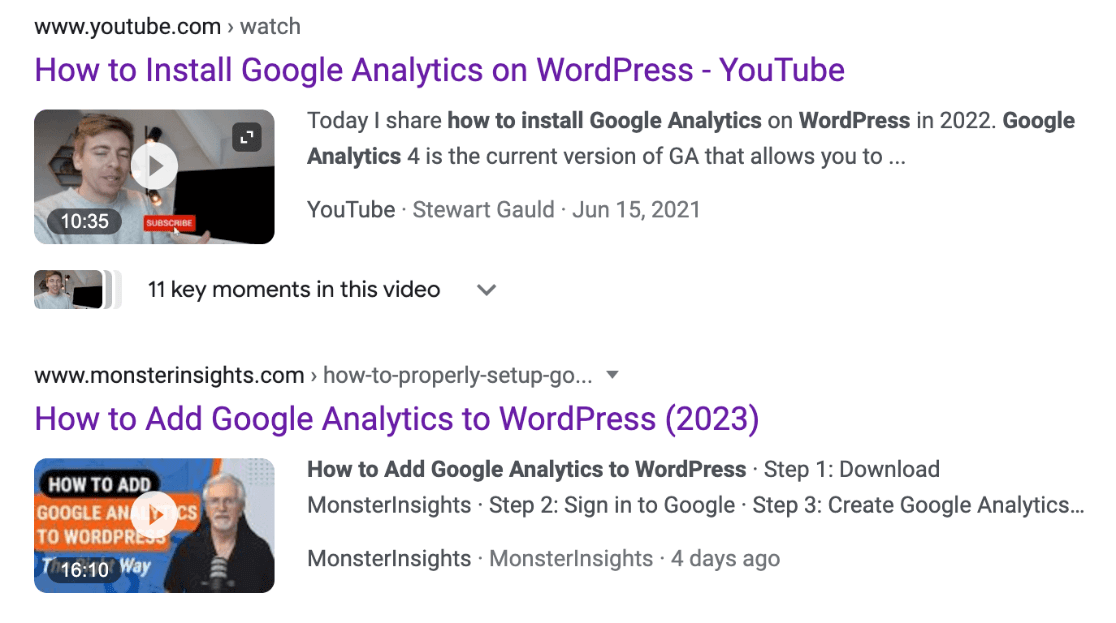 In MonsterInsights' case, the video is also hosted on YouTube, but the link sends visitors to the written blog post where the video is embedded. This small thing can make a big impact on your website traffic!
There isn't a one-size-fits-all answer for the best WordPress video player. The important thing is what fits best for your business's goals.
Whether you choose YouTube, Vimeo, or HTML5, you can rest easy knowing that MonsterInsights will still easily track your videos' performance.
Optimize Your Video Title and Metadata
You already know the importance of using SEO-friendly titles and carefully planned descriptions for blog posts. You should absolutely do the same when optimizing your videos.
Remember, search engines can't crawl your video's content, which means your title, summary, and other metadata, like the meta description, is especially important for search rankings.
A catchy WordPress video header and engaging description can go a long way toward increasing your clickthrough rate, which will boost your SEO.
This is another way that MonsterInsights can help! Use the included Headline Analyzer right inside WordPress to rate your videos' SEO titles and get suggestions on how to improve them.
Pro Tip: Tutorials, reviews, and funny video post types will typically score better with video SEO. For example, "How to Build a WordPress Theme," would usually be a better choice than, "A WordPress Theme from Scratch."
Publish a Video Transcript
Another huge way to help search engines understand what your video is about is by creating a video transcript with SEO keywords.
Adding a transcript to the page with your WordPress video embed can significantly increase your content's visibility and give you a big leg up with search engine indexing.
Your WordPress video's SEO for a transcript should follow all the same on-page SEO practices for text. Search engines will treat it just like page copy, so you'll want to use a focus keyword and optimize your content.
Check out our keyword research beginners guide!
AIOSEO comes in handy here. Just plug in your focus keyword inside the post or page and AIOSEO will give you a WordPress SEO checklist and score, so you can be sure your transcript and WordPress video SEO is on point before publishing.
Plus, MonsterInsights will also track the views and time spent on your transcript page and deliver the reports to your dashboard. You can easily see if visitors are watching the video, reading the page, or a combination of both.
Create Eye-Catching Video Thumbnails
We can all agree that WordPress SEO is a huge part of a good digital marketing strategy, but user experience should still be prioritized above all else. Video thumbnails don't directly impact WordPress video SEO, but, like a great video summary, they can boost your clickthrough rate, which will help your SEO in the long run.
Avoid the temptation to use click-bait type thumbnails. You might get more clicks, but if your users aren't getting the content they thought, it will eventually tell search engines that your content isn't valuable.
Here are some things to keep in mind for your video thumbnails:
Draw attention to faces, emotions, and results
Increase brand awareness by including your branding
Use high-quality images for your thumbnails
Add a subtitle to explain what your video is about
High-quality video thumbnails that provide information about the content of your video will grab searchers' attention. It can really help your conversions and WordPress video SEO.
Boost SEO with Links to Your WordPress Videos
Just like with your text-based content, links drive traffic, boost conversions, and help users find what they're looking for. Link building to your videos is crucial for WordPress video SEO.
When you're thinking about linking for your video SEO strategy, there are three major types of linking:
Internal linking
These are the links you'll build within your site to relevant content and videos. It's incredibly important and helps visitors easily discover the videos that are relevant to them. It might sound like a tedious process of searching and updating posts with links every time you upload a video to WordPress, but that's where AIOSEO saves the day.
The AIOSEO Link Assistant gives you automatic suggestions for linking and will easily create the link with the click of a button. Visitors will be much more likely to find the videos relevant to them when you have a killer SEO link strategy.
Outbound links
These are links to external websites, and they help your site build authority. The most important thing is to make sure the other sites or videos you link to have trusted authority and are relevant to your WordPress video.
AIOSEO also has an awesome Broken Link Checker plugin that will automatically crawl your site for broken links, exclude them from search engine crawls, and let you edit them inline, without opening individual posts.
Backlinks
These are the most important links you can build for your WordPress video SEO. Backlinks tell search engines that other people trust your content, and they're a significant factor in ranking. Check out our article on How to Get Backlinks to learn more.
The best thing is MonsterInsights will also track your backlink traffic as referrals, so you can easily see where your video traffic is coming from. Use that data to optimize your WordPress video SEO and link strategies.
WordPress Video SEO Technical Tips
We've covered the SEO best practices for videos, but some other technical tips for WordPress video SEO are important to keep in mind.
Think About Video Size
When it comes to WordPress video SEO, bigger is not better. Vloggers and TikTok may be headed towards 4k, but for bloggers, WooCommerce, and other websites, speed and functionality are incredibly important.
Having large videos that take too long to load is a big SEO mistake. Page-load speed is a ranking factor for video SEO, and you want to ensure you're optimizing it.
What is the best video size for SEO?
Try to aim for recording videos in 720p or 1080p with a 16:9 aspect ratio for optimal viewing.
If you're using HTML5, your WordPress video size limit will vary depending on your web hosting. It usually falls somewhere between 2MB and 150MB.
The key thing to remember for WordPress video SEO is to keep the file as small as possible, without hurting the viewing experience.
Thankfully, while MonsterInsights tracks your media views, it will also track your page and site speed, so you can ensure your videos aren't slowing down your page's load time!
Pick the Right WordPress Video Format
This is something you may not have thought about unless you get an error trying to upload a video somewhere, but making sure your videos are in the optimal WordPress video format is essential.
The best choice is almost always MP4. Although WordPress and other video hosting platforms will accept a variety of other formats, MP4 is the most widely accepted, which makes it the best choice for WordPress video SEO.
Pro Tip: iPhones usually don't record in MP4 by default. The default is MOV or HEVC. To record in MP4, you'll want to change your camera's settings. Alternatively, you can export in MP4 after editing the video.
Use a Sitemap to Boost WordPress Video SEO
A sitemap provides information about your pages and the content on your WordPress website, which greatly helps search engines index your site. A video sitemap is an extension of your sitemap that provides extra information about the content of your videos.
Since search crawlers can't see video content, this is an excellent way to help search engines find, understand, and index your videos. And as you already know, correct indexing is necessary to appear in search results.
AIOSEO makes it super easy to create an XML sitemap for your website and add a video sitemap with only a few clicks. Check out how to create a video sitemap for the tutorial.
That's it! You've learned all our tips and tricks for WordPress video SEO. But remember, the biggest key to optimizing video for SEO is tracking your results.
The MonsterInsights Media Addon makes this easy, and it's the best WordPress video plugin for tracking your videos. Get your website's insights right in your WordPress dashboard.
Not using MonsterInsights yet? What are you waiting for?
If you enjoyed this article, be sure to check out: Search Engine Ranking Reports: Tools & Tips for SEO.
Don't forget to follow us on Twitter, Facebook, and YouTube for more helpful Google Analytics tips.