Do you want to optimize your WooCommerce store for high conversions?
To make informed decisions for optimizing your store, you need to enable WooCommerce conversion tracking by turning on Enhanced eCommerce in Google Analytics.
In this article, we'll show you how to set up WooCommerce conversion tracking in Google Analytics.
Why Enable WooCommerce Conversion Tracking?
Enabling conversion tracking in your WooCommerce store allows you to analyze the shopping behavior of your customers.
It lets you collect and analyze purchase and transaction data of your customers, so you can make informed decisions to boost your conversions.
Once you enable WooCommerce conversion tracking, you can find all the information you'll ever need to optimize your store: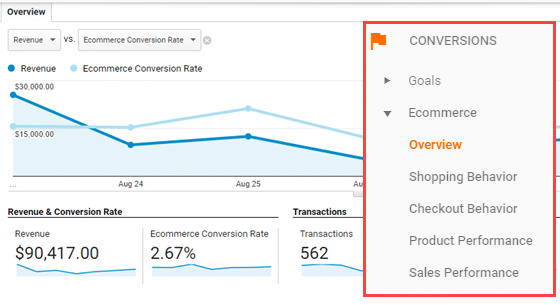 1. Key Performance Indicators (KPIs)
These are key metrics of your store that tells you where your success is coming from, and what changes you need to make on your store to generate more sales and revenue.
Focusing on the crucial KPIs of your store tells you whether your business is moving towards meeting your objectives. A few KPIs you can track with Google Analytics are:
eCommerce conversion rate
Shopping cart abandonment
Cost per acquisition
And much more…
2. Shopping Behavior
Google Analytics gives you all the data you need to know about the shopping behavior of your customers.
For example, you can find what the popular products are in your store, how customers navigate through your store, how many users initiate the shopping cart and, how many of them abandon it, etc.
3. Checkout Behavior
You can keep track of billing and shipping details, payments, reviews, and much more.
4. Product Performance
You can easily get detailed insights about individual product performance. Aside from that, you can also add category and brand properties to your Analytics profile that are relevant to your business and easily evaluate their performances as well.
5. Sales Performance
Setting up WooCommerce conversion tracking also allows you to track all the sales details, including revenue, tax, shipping, refund amount, etc.
6. Product List Performance
You can logically group your website for upselling, cross-selling, product bundling, etc. and keep track of the revenue you generate for each product list.
7. More Useful Marketing Reports
You can also measure the internal and external marketing efforts that support those products such as coupon codes, affiliate tracking, etc.
In a nutshell, WooCommerce conversion tracking gives you all the essential data you need to optimize your store for boosting your revenue.
Video Tutorial

You can also go through our written step by step tutorial.
How to Set Up WooCommerce Conversion Tracking- Step by Step
While you can find tons of different conversion tracking plugin for WooCommerce, most of them offer limited functionalities and the setup can be tedious especially if you're not an Analytics expert.
The best way to enable conversion tracking on your WooCommerce store is to use the MonsterInsights plugin on your site.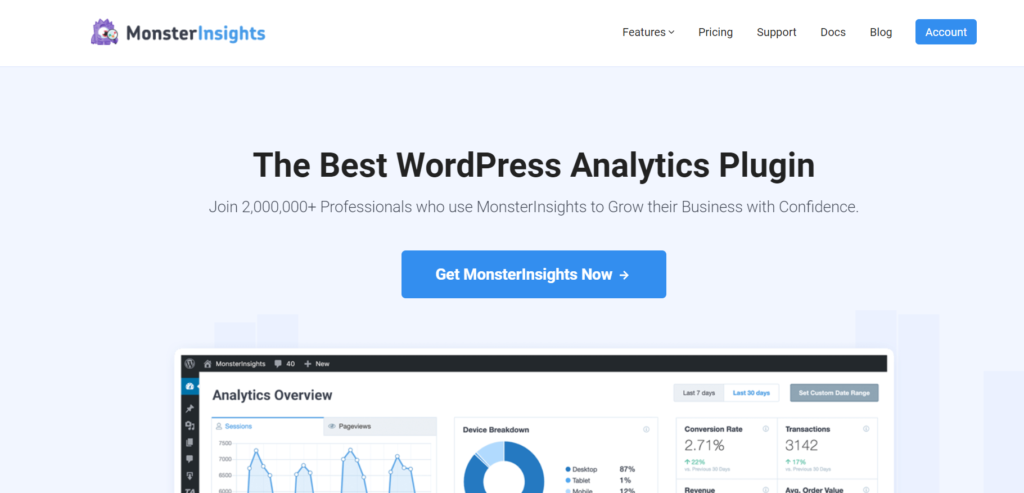 MonsterInsights is the best Google Analytics plugin for WordPress. With its eCommerce addon, you can easily turn on Enhanced eCommerce in Google Analytics in just a single click without any configuration.
But before you go through the steps, make sure that WooCommerce is installed and running on your website. You can check out our guide on how to create a WooCommerce store.
With that, here's how to set up WooCommerce conversion tracking by enabling Enhanced eCommerce.
Step 1: Install MonsterInsights and the eCommerce Addon
To get started, you'll have to install the MonsterInsights plugin and authenticate it with Google Analytics.
Then, you'll also have to install the eCommerce addon.
Step 2: Enable Enhanced eCommerce Tracking in Google Analytics
Now login to Google Analytics, and select the right website you'd like to enable Enhanced eCommerce tracking for.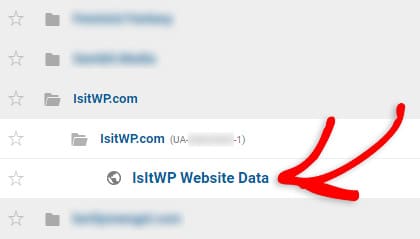 Next, click Admin in the left taskbar.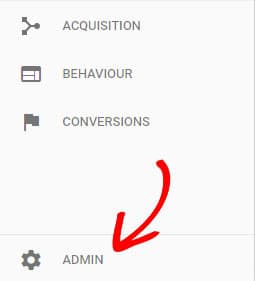 Then click Ecommerce Settings under the column on the right.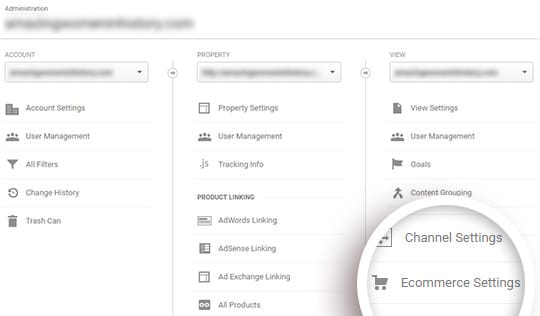 Next, change the following Ecommerce settings:
Click sliders under Status to enable it
Click the slider under Enable Related Products to turn it from off to on
Then click the Next Step button.
Click the slider under Enhanced Ecommerce Settings to turn it on
Then click the Submit button.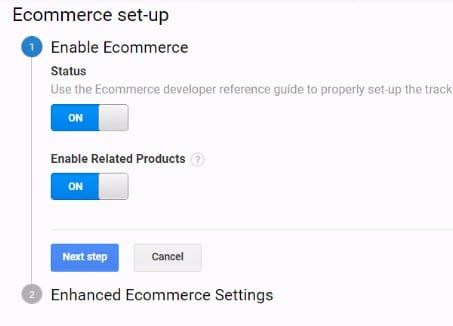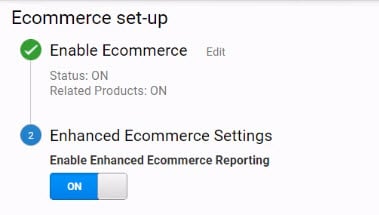 You've successfully enabled Enhanced Ecommerce for WooCommerce.
Step 3: Enable Enhanced eCommerce in MonsterInsights
Now log into your WordPress dashboard, and navigate to Insights » Settings. Click on the eCommerce tab at the top.
Then in the top taskbar, navigate to the eCommerce tab and enable the Use Enhanced eCommerce option.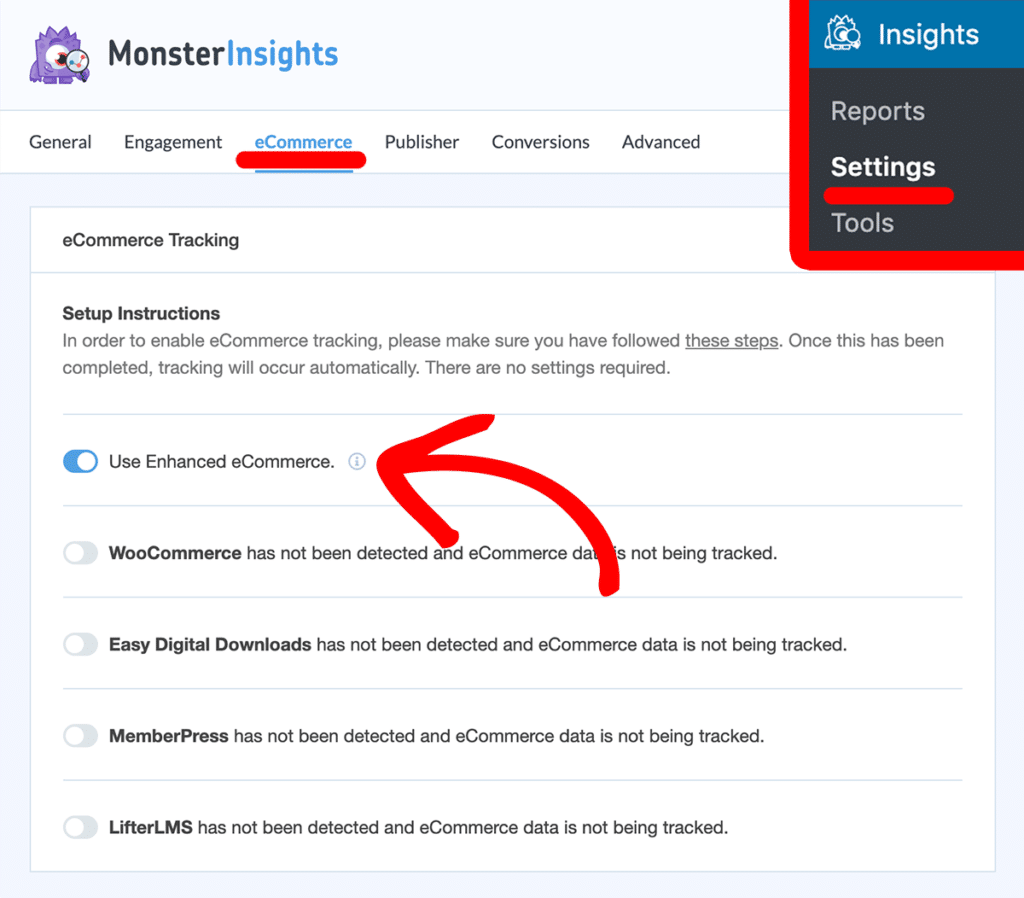 How to Find WooCommerce Conversion Tracking Data in WordPress
After you're done with Google Analytics integration, you can now view your eCommerce reports.
To get an overview of your WooCommerce conversion tracking data just go to Insights » Reports » eCommerce in WordPress.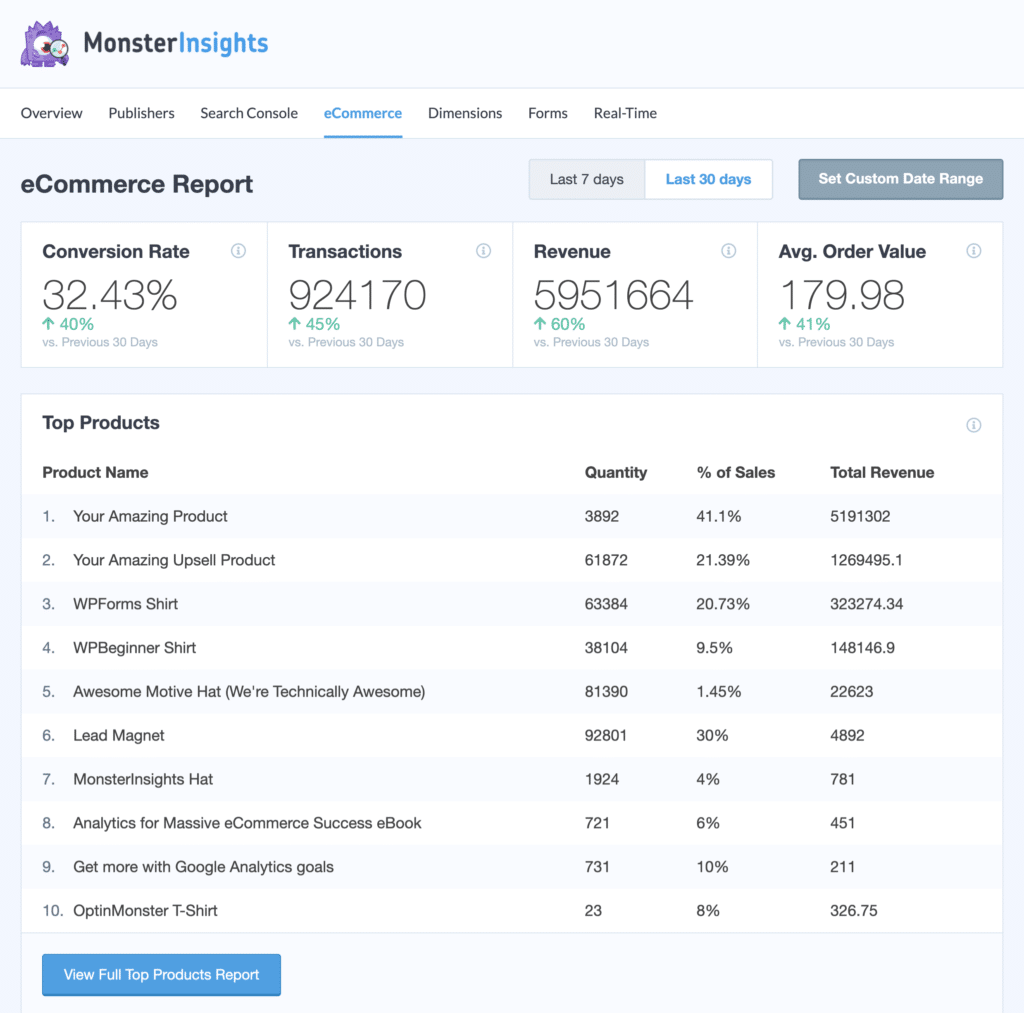 Further down the page you can see your shopper behavior.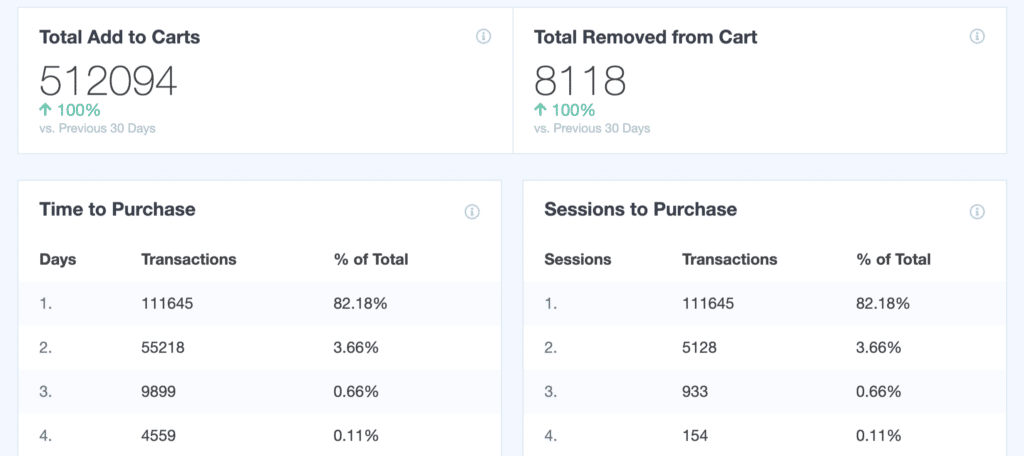 This provides a great overview of the health of your online shop all right in your WordPress dashboard.
How to Find WooCommerce Conversion Tracking Data in Google Analytics
To get an overview of your WooCommerce conversion tracking data, just go to the eCommerce tab by navigating to Conversions eCommerce Overview in your Google Analytics profile.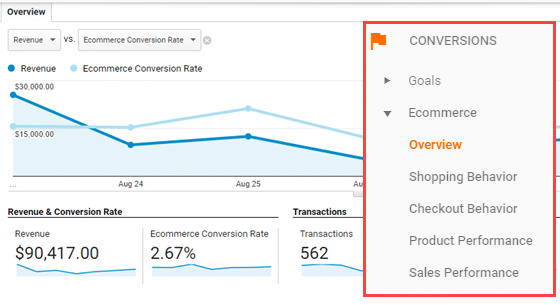 That's it!
You've successfully enabled WooCommerce conversion tracking by turning on Enhanced eCommerce in Google Analytics.
If you're looking to boost sales and make more money online from your store, you can also check out our guide on important Google Analytics metrics every business needs.
And don't forget to follow us on Twitter and Facebook for more Google Analytics tutorials.