Do you want to sell digital downloads in WordPress? If so, then you're in the right place! Choosing the perfect eCommerce platform is half the battle, and you've already won that! With WordPress, you can easily set up a full-fledged eCommerce store for selling digital products, without having to touch any code.
If you've no idea how to get started, we're here to help you. In this article, we'll guide you through the entire process of creating a WordPress eCommerce store for selling digital downloads, step-by-step.
Selling Digital Files in WordPress with Easy Digital Downloads
Before we begin our tutorial, let's get you set up with the eCommerce plugin you should use for selling digital downloads. In WordPress, WooCommerce is the most popular eCommerce plugin used for creating online stores; however, it may not be the best choice if you're selling digital products exclusively.
With WooCommerce, you can sell both physical and digital products. It includes a lot of additional features that you won't need if you're selling only digital files. For example, there's no need for shipping options for a store selling only digital products.
It can get both confusing and time-consuming to navigate through all of WooCommerce's options just to find the ones you actually need.
But you don't need to worry about that anymore because there's an equally powerful plugin for selling digital downloads specifically: Easy Digital Downloads.
Easy Digital Downloads is the most popular WordPress eCommerce plugin for selling digital products. It's a plugin that specializes in easy selling of digital downloads or non-physical products. It allows you to effortlessly create an online store for selling digital products in WordPress.
With Easy Digital Downloads, you can sell all types of digital files, including:
Software (We use this plugin to sell some of our plugins)
eBooks
PDF files
Documents
Videos
Audio and music files
Photography
Graphics and digital art
Any other type of media file
Now, let's see how to start up an eCommerce site for selling digital files using Easy Digital Downloads.
Note: If your site is already set up, skip to Step 2.
Step 1: Set Up Domain and Hosting for Your Store
To start an eCommerce store in WordPress, you'll need 2 things up front: a domain name and a web hosting account.
A domain name is your eCommerce site's name that people type into their browser to visit your store. It's your site's address on the internet. For example, monsterinsights.com is the domain name of this website.
Web hosting is your site's storage space on the internet where your website's content and files are stored. If you think of your domain name (URL) as your website's street address, web hosting would be your website's house.
Normally, a domain name costs $ 14 per year and a hosting plan costs around $7.99 per month. The combined cost of a domain and hosting can be quite costly, especially when you're just starting out.
But you don't need to worry about that anymore because Bluehost has agreed to offer our users a free domain name and over 60% discount on web hosting.
Now, you can get web hosting for just $2.75 per month. Plus, the hosting plan includes a free domain name and a free SSL certificate (to accept payments securely). So, you can start your eCommerce site for just $2.75 per month.
Now, let's go ahead and purchase your domain and hosting.
Open the Bluehost website in a new tab and click the Get Started Now button.
Then, you'll see the pricing section. You can review the available plans and select a plan you like. However, we recommend you use the basic plan for a new site. You can always upgrade later, if needed.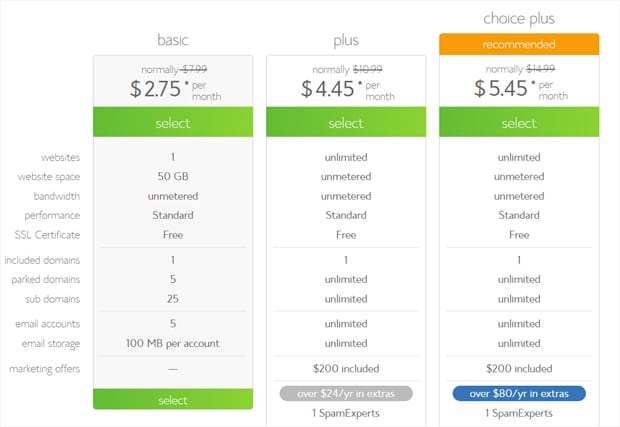 Click the Select button to proceed.
On the next screen, you'll need to enter your new domain name.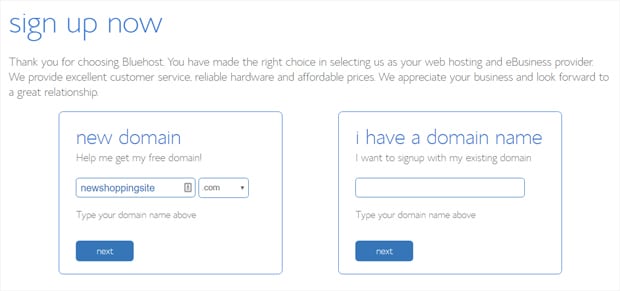 In the new domain box, you can enter the domain name you want and click next. If you already have a domain name, you can enter your existing domain name in the I have a domain name box.
Next, you'll see the create your account page. First, you'll need to enter your account information.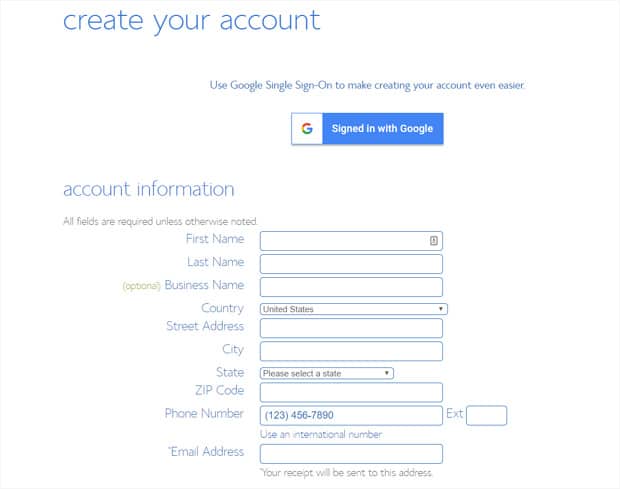 As you scroll down the page, you'll see the package information box.

Next, you'll see the package extras box where extra services like domain privacy protection, SEO tools, etc. are selected by default.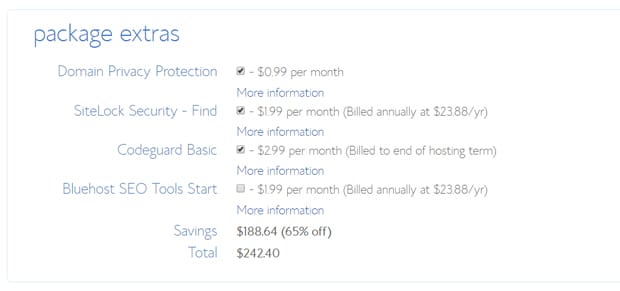 You can remove the checkmarks if you don't have the budget for them. Since you're just starting out, your site will do just fine without them. When your store starts really pulling in money and growing bigger, you can add those services if you feel you need them.
Then, there's a payment information section at the end.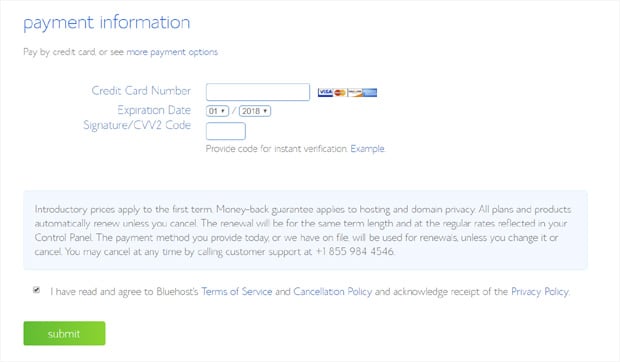 Enter your credit card details, and then check the box below to agree to Bluehost's terms of service. Click the Submit button.
Then, you'll receive an email with login details for your web hosting control panel (cPanel). Your cPanel is where you can manage your website files, support, emails, etc.
Now you can log into your cPanel. When you do, you'll be prompted to choose a WordPress theme. You can just pick any theme in this step because you can always change your theme later.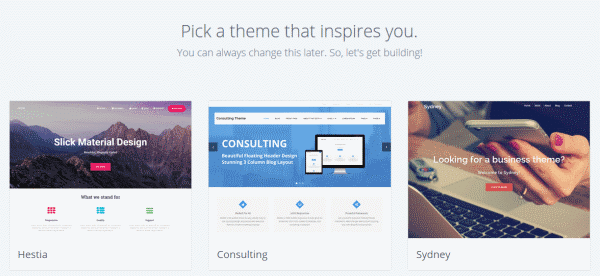 Then, you'll need to choose the name and tagline for your website.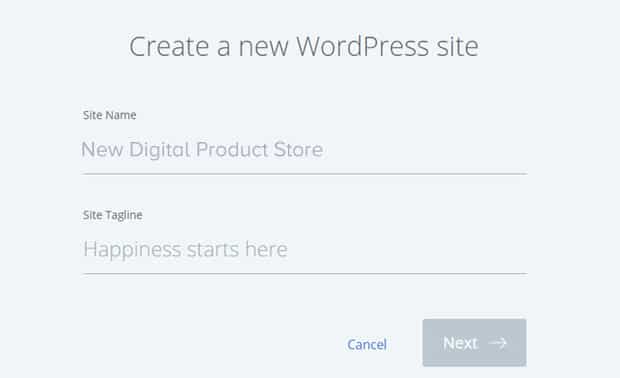 After adding the required details, click the Next button. Bluehost will now install WordPress for you and, once done, you'll see the screen like the one below: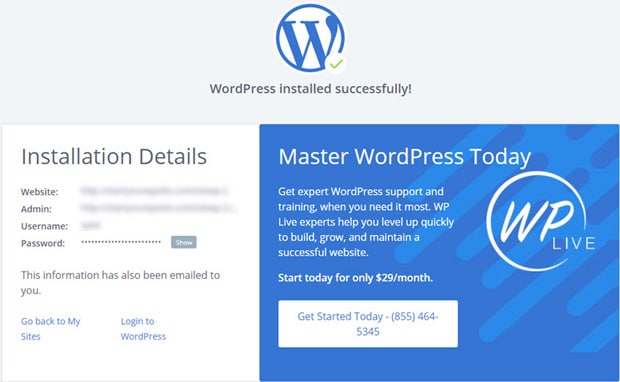 Now, you can login to your site by appending wp-admin to your site URL. For example:
https://example.com/wp-admin
You can now log into your WordPress website with the credentials sent to your email address.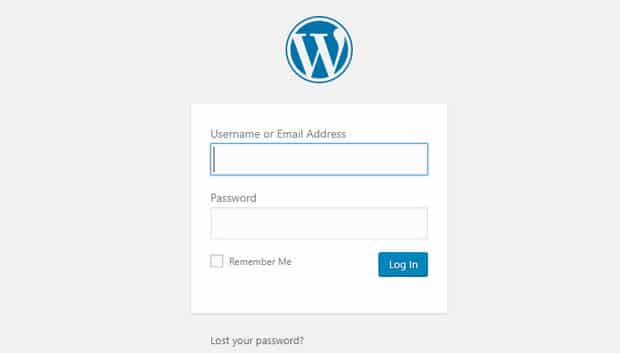 In the next step, we'll show you how to install and configure Easy Digital Downloads on your site.
Step 2: Install Easy Digital Downloads and Configure the Settings
After you log into your WordPress dashboard, you can first change your theme. We recommend you to choose a theme with Easy Digital Downloads support and a design that looks great for selling digital downloads. You can choose one from this handpicked list of best WordPress themes for selling digital items.
Next, you'll need to install the Easy Digital Downloads plugin. You'll be using this plugin because you're going to sell only digital products on your store. If you want to sell physical products only or both physical and digital products on your store, you'll need to use WooCommerce instead.
To install the plugin, navigate to Plugins » Add New from your dashboard. Then, search for easy digital downloads in the plugin search bar.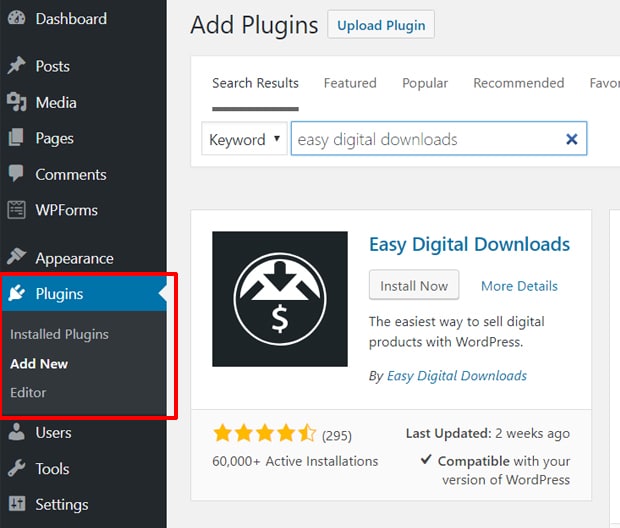 Once it appears in the results, click the Install Now button. Then, click Activate.
Then, you'll see a new menu named Downloads added to your WordPress dashboard menu.
First you'll need to configure plugin's settings to get started. So, navigate to Downloads » Settings. Then, you'll see General Settings.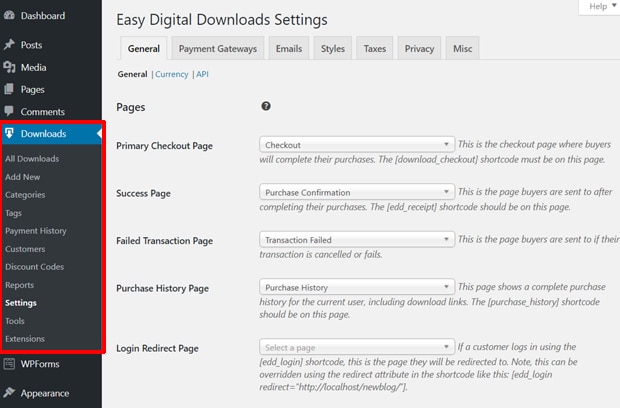 By default, Easy Digital Downloads has created and set up pages for your eCommerce store. The primary checkout page, success page, failed transaction page, and purchase history page are pre-defined. You can stick with the default options here.
As you scroll down, you'll see options to specify your store location.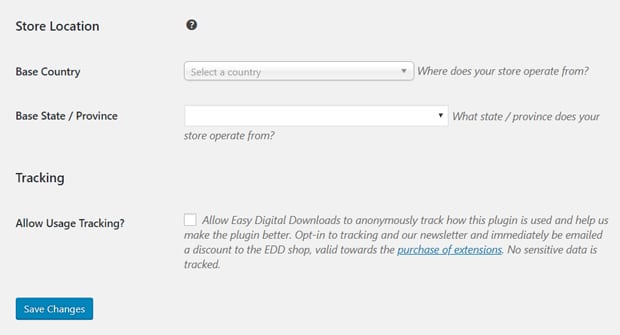 By adding your store location, you can allow the plugin to pre-calculate any taxes defined in the location. Once you're done, click Save Changes.
Next, click Currency option next to General.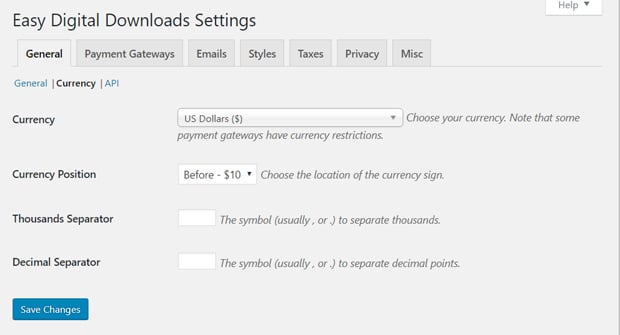 You can choose your currency, currency sign location, thousands separator, and decimal separator. Then, click the Save Changes button.
After the General settings, you can configure payment settings by clicking Payment Gateways tab.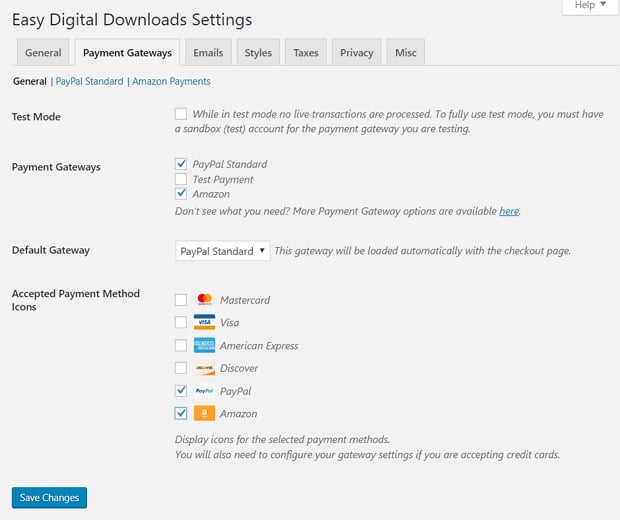 Here, you can choose payment gateways. The Easy Digital Downloads core plugin allows you to use 2 payment gateways by default: PayPal Standard and Amazon. If you need more payment gateways, you'll need to install the plugin's extensions.
You can enable one or both payment gateways, select your default gateway, choose accepted payment method icons, and click the Save Changes button.
Next, you'll need to configure your selected payment gateway settings. Click the PayPal Standard option to configure the settings.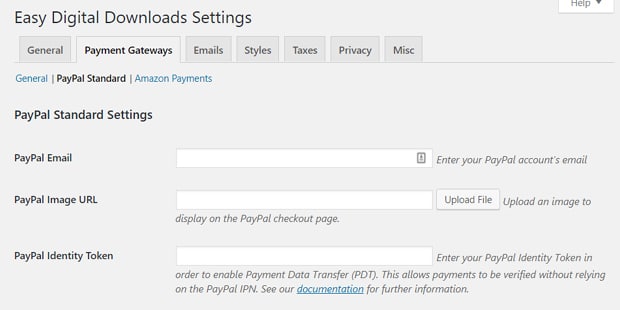 Review all the options, enter your PayPal details, and click Save Changes.
If you'd enabled Amazon, you'll need to configure options for that as well.
Next, you'll need to configure your email settings. Click the Emails tab to do that.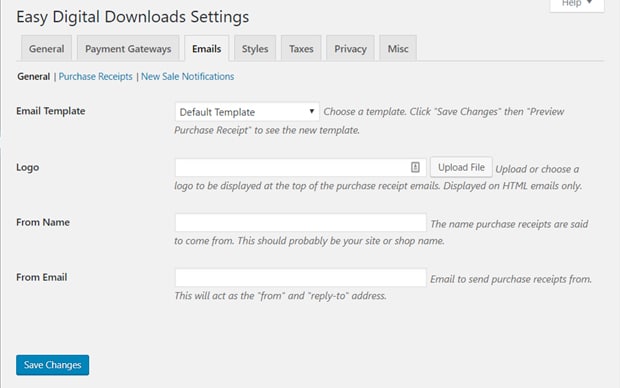 Choose your email template, upload your logo, and enter a name and email address from whom emails will be sent. After that, set up emails for purchase receipts and new sale notifications.
Next, you can review other options by clicking tabs. Once you review all the settings, you're ready to add your first digital product into your store. In the next step, we'll show you how to do that.
Step 3: Add Your Digital Products to Your Store
Now that you've configured all the necessary settings, you're ready to add your digital products to your eCommerce store. Go to Downloads » Add New.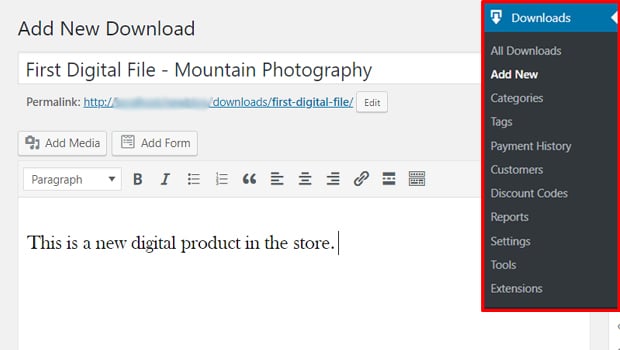 Enter your digital file title, and description first. Then, scroll down to the Download Prices section to set price for your product. Enter a price for your product. Then, go down to the Download Files section and upload the digital file you want to sell.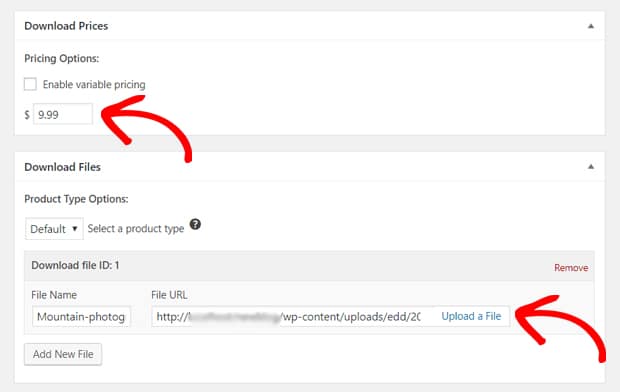 After adding both your pricing and download file, navigate to the right side panel. At the bottom, you'll see an option to add your download file image. You can create a featured image that reflects your digital product and add it there.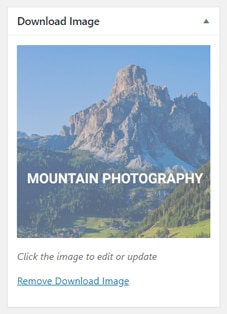 Then, scroll up to Download Settings and review the options.
You can set up a file download limit and configure button options from there. You'll also find your product's shortcode which you can use on any page or location to display this product on sale.
Moving up, you'll see categories and tags for your digital download. You can add appropriate tags and categories as required.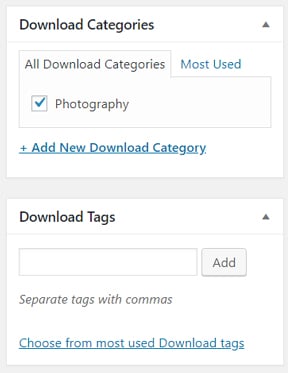 Then, go up and click Publish.
That's it! You've published your first product. Now, you can preview your product page to see what your first digital product on sale looks like. You'll see your digital product on sale looking similarly to the screenshot below (tested on Twenty Nineteen theme):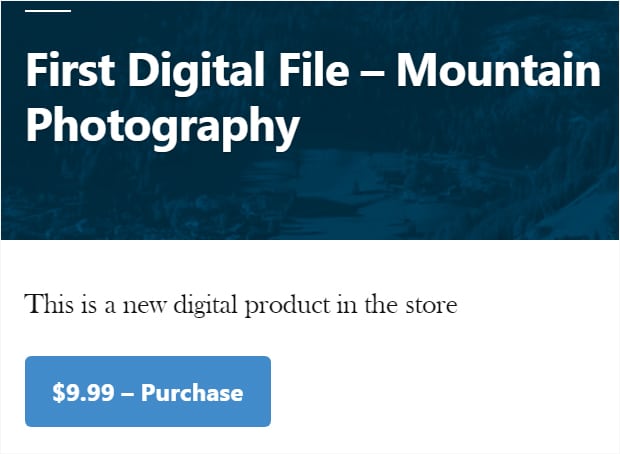 But if you want to set variable pricing for your product, you'll need to check the Enable variable pricing option in the Download Prices box.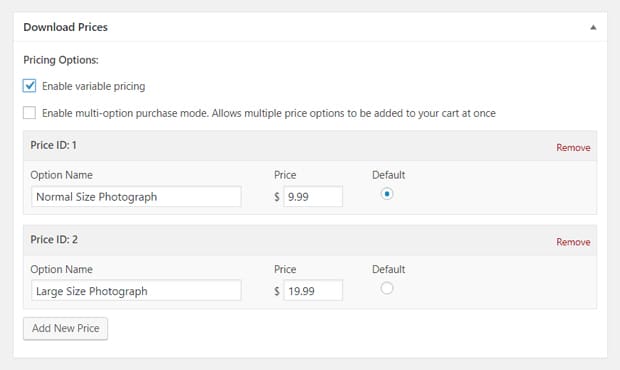 Now you can add different prices for different options of your digital product. For example, if you're selling photographs, you can use it for differing image sizes.
Once you add your various pricing options, you can go down to the Download Files section.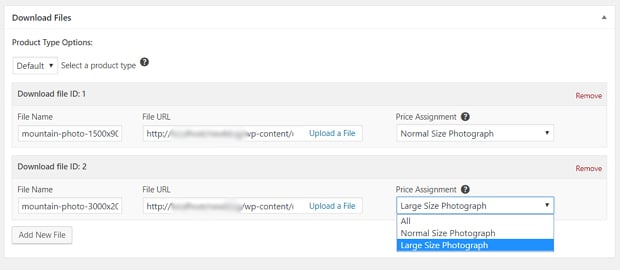 Here, you'll need to upload your digital download files. In this example, you're selling a photograph in different sizes, so upload the image in all its different sizes, as shown above. Then, assign respective pricing for each.
After that, add a featured image for your product, specify the file download limit, assign categories and tags, and click Publish. Then, preview your product page. You'll see your digital product on sale like below (tested on Twenty Nineteen theme):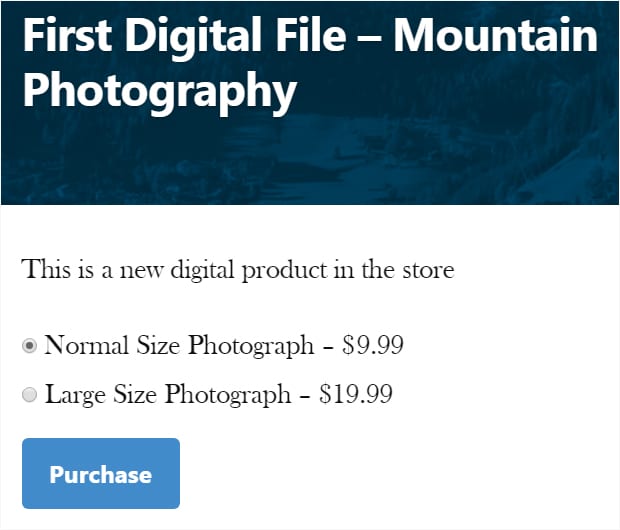 Now, if you want to display this product on other pages for sale, you can copy the Purchase Shortcode and paste it onto any page or location on your website. Additionally, you can insert the [downloads] shortcode anywhere on your site to display all items on sale.
That's it! If you have more digital products, you can add them to your store by repeating the same steps above. It's easy and quick!
Step 4: Track Your Digital Downloads and Get Insights for Growth
Once you've set up your WordPress eCommerce site perfectly and started selling your digital products, you'll want to know how your online store is actually performing. You'll definitely want to find out your most popular products, conversion rates, total sales, total revenue, etc. just out of curiosity.
However, in addition to satisfying your general curiosity, these stats are also of great importance for growing your business to be even more successful. If you have these reports, you can understand your customers and their shopping behaviors better. Using this data, you can make informed business decisions and build highly effective marketing campaigns.
So, do you want to know how to track your digital download sales? Look no further than MonsterInsights because it's the perfect solution for tracking your Easy Digital Downloads store's performance.
MonsterInsights is the best, most beginner-friendly Google Analytics plugin for WordPress. It has easy-to-use options to set up advanced tracking like eCommerce, downloads, forms, and ads.
First, install the plugin and connect your online store with your Google Analytics account. If you need detailed instructions, here's our complete guide on how to set up Google Analytics in WordPress using MonsterInsights.
Then, navigate to Insights » Settings » Tracking and open the eCommerce option.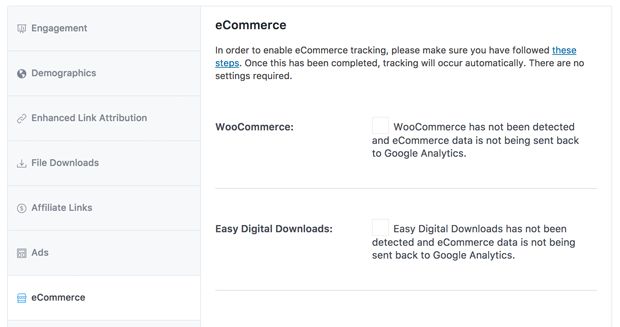 Make sure there's a check on the Easy Digital Downloads option. Easy-peasy!
Now you can view your eCommerce reports in your MonsterInsights dashboard reports. All you need to do to view your eCommerce reports is visit Insights » Reports » eCommerce from your dashboard.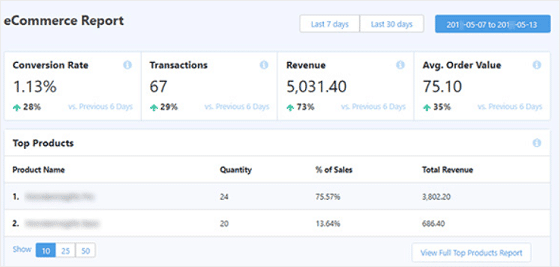 Now you can view detailed reports on your customers and their interactions with your digital downloads store. Then, you can create strategies to grow your sales by using this data.
We hope this article helped you to learn how to sell digital downloads and boost revenue. You may also want to learn how to add a countdown timer in WordPress to boost sales.
Don't forget to follow us on Twitter and Facebook for more helpful Google Analytics tips.